Cruise with a Toddler: Everything You Need to Know
Are you considering going on a cruise with a toddler? Then you are in the right place! This post gives you all the tips, tricks and advice you need to have a successful and memorable cruise with a toddler!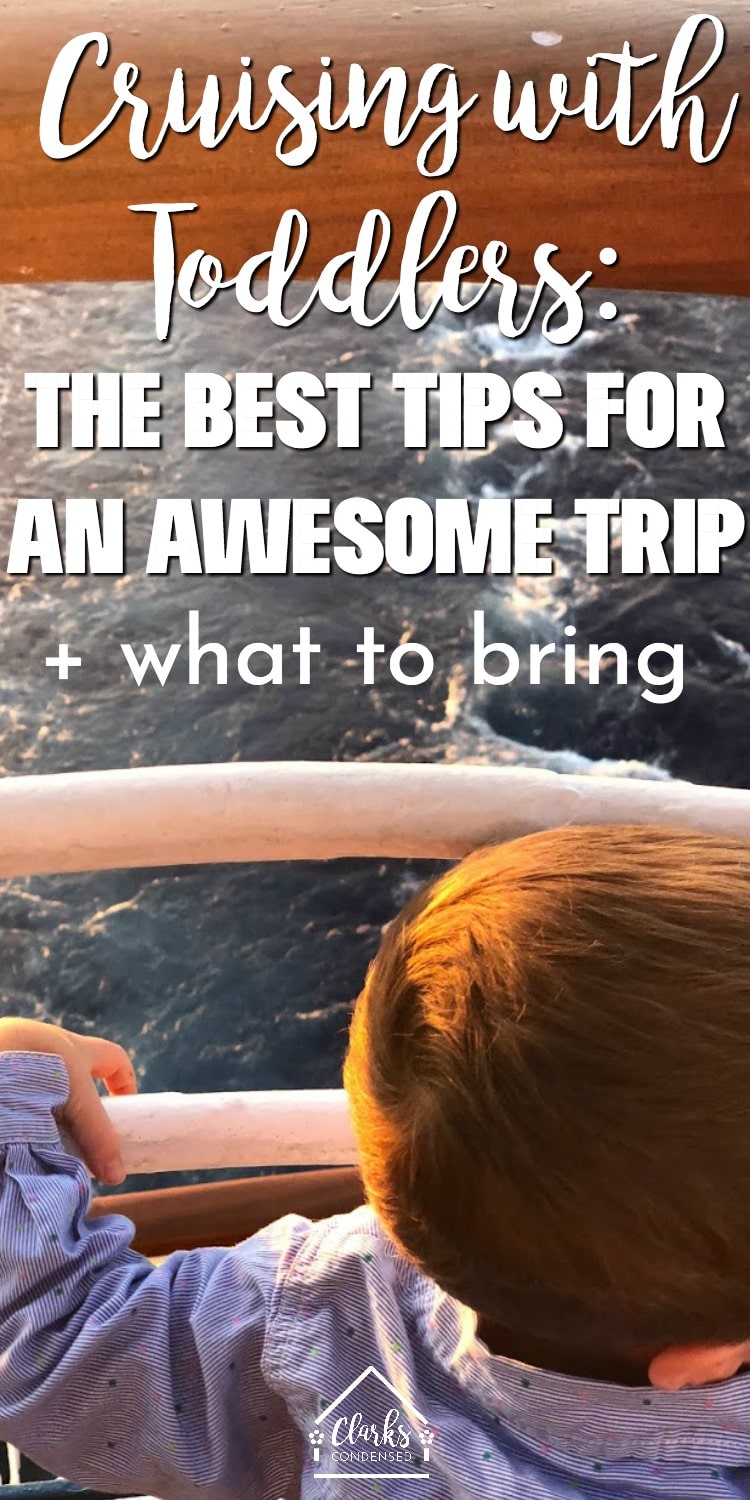 When we first decided to go on a cruise, there was no question that we would be taking our kids.
Not only would this cruise with my kids – but with a toddler.
It ended up being one of our favorite vacations, and it was surprisingly a very toddler-friendly excursion.
While cruise and toddler may not seem like they go hand in hand, it can be a wonderful family vacation.
In this post, we're going to share everything we learned from taking a cruise with our toddler to help you decide if it's a good choice for you!
Should You Take Your Toddler on a Cruise?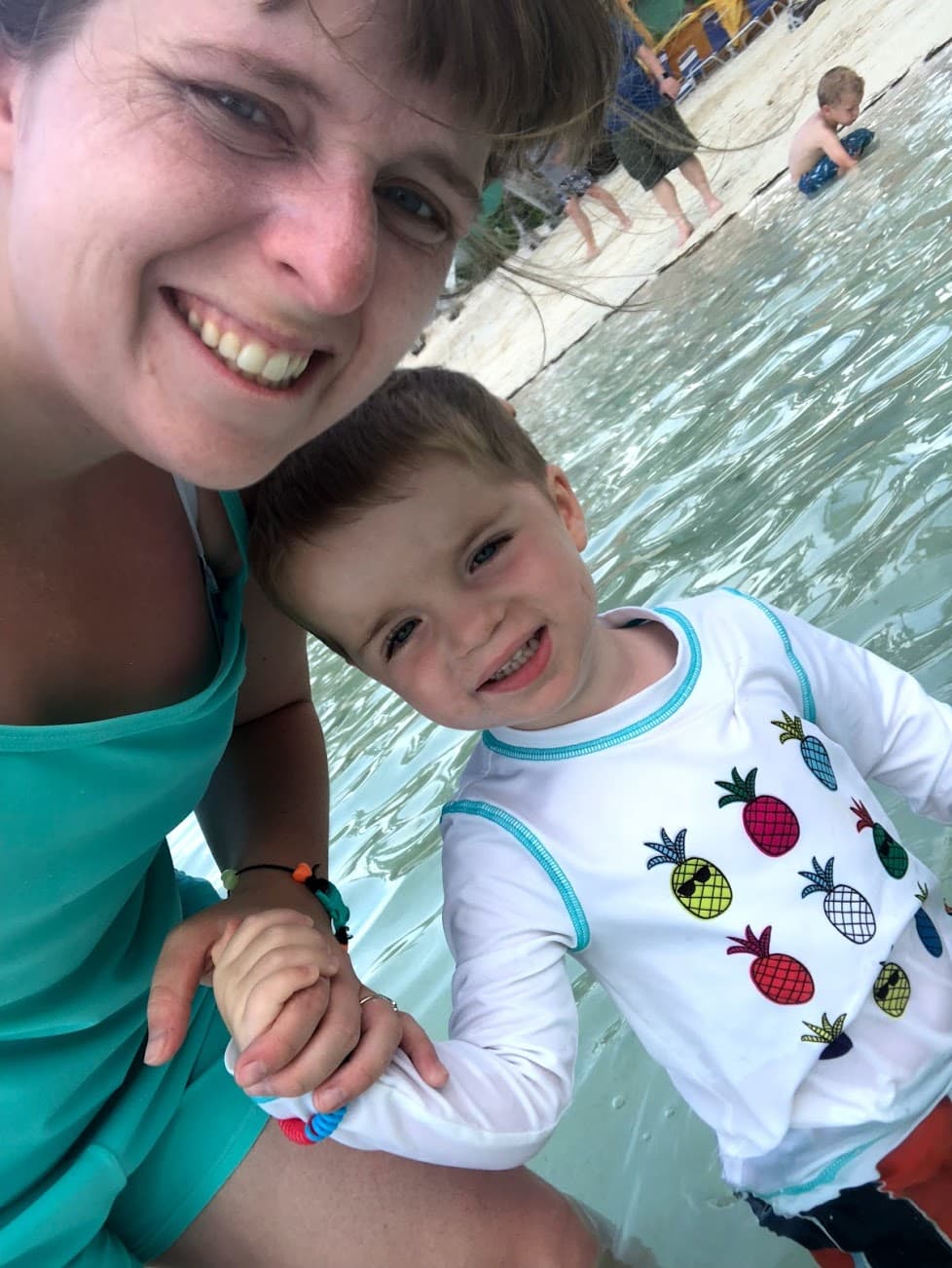 Well, if you read my introduction, you will probably know my answer to this.
Yes!
I mean, if you are looking for a couples getaway, then perhaps it might not be the best time to take your toddler.
But if you are looking for a fun, family vacation – having a toddler shouldn't hold you back.
We found that the staff on the cruise LOVED our kids – and they loved interacting with them. Many of them have children that they don't see very often because of the demanding nature of a cruise employee lifestyle. So it was a nice reminder for them at home.
The most important thing is to do your research! Talk with your travel agent beforehand about the size of stateroom available, childcare (which I'll discuss below), if any staterooms have bathtubs, etc.
Make sure you book with Get Away Today – they will be able to answer ALL of these questions (and more) for you. 
Hopefully, by the end of this post, you will feel more excited and confident about taking your kiddo on a cruise!
Best Cruises with Toddlers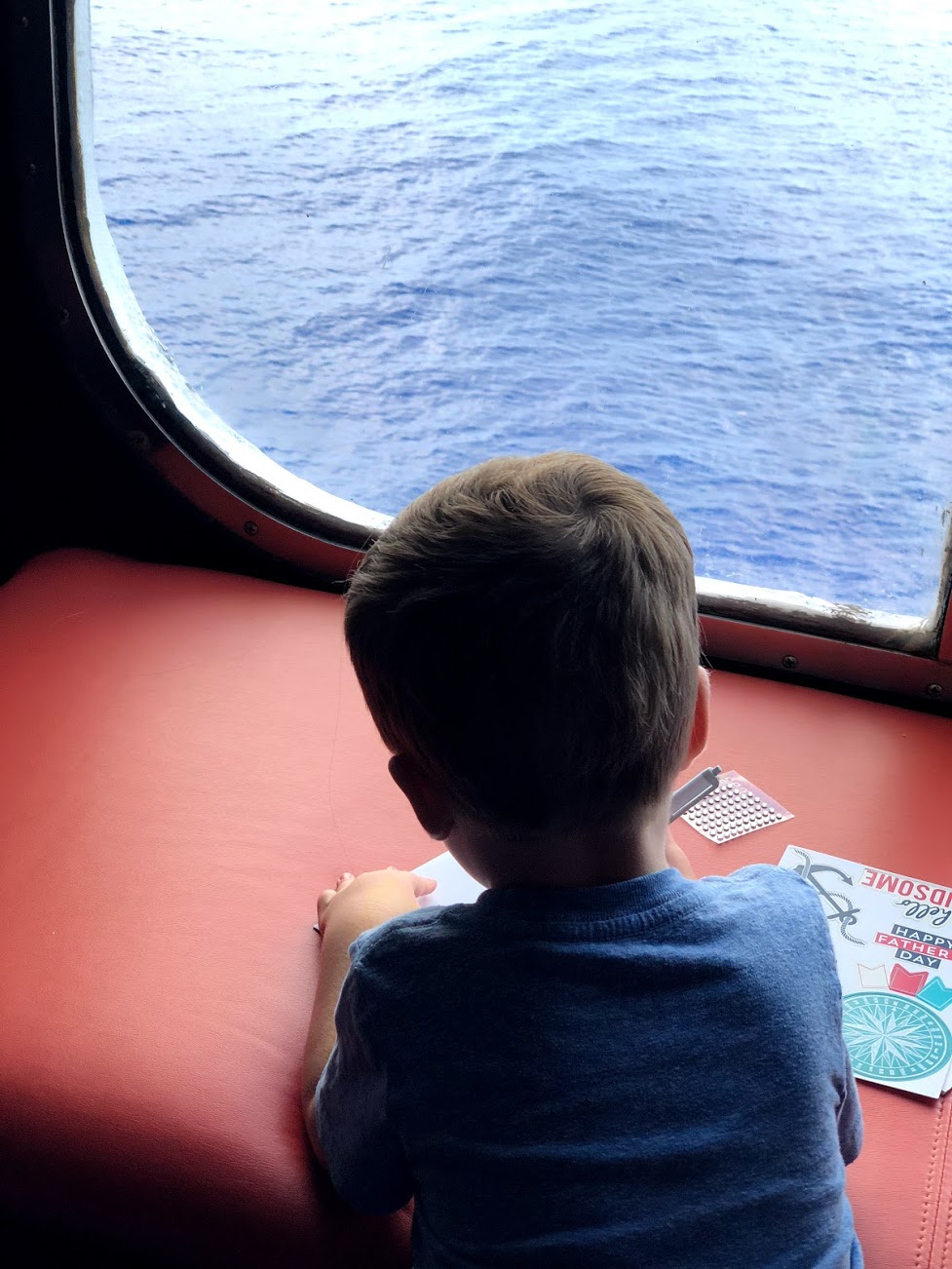 While all cruise lines are adult-friendly, not all are kid-friendly.
And some are better suited for teenagers versus younger children (and vice versa).
I've already talked about picking your perfect cruise itinerary, but it's important to make sure a cruise line is going to be well-suited for your family before booking with it.
From all my research and my personal experience, these are the top three cruises to take toddlers on:
Disney Cruise Lines
Carnival Cruise Lines
Royal Caribbean
For a more detailed looked at why these are great for toddlers, you can check out this article – The Three Best Cruise Lines for Toddlers. However, here are a few things about each cruise line.
Disney Cruise Line
Disney is known for their top notch experiences around the world – and their cruises are no exception. They are truly wonderful for taking toddlers (and the whole family) on. We just went on one a few months ago, and it was just wonderful.
They have great child care – if your child is under three, you do have to pay extra for the nursery services. Children three and older must be potty trained in order to go to Club Oceaneer, but it's a really fun place for the kiddos to hang out.
They have a very child-friendly menu – and they are always willing to make adjustments. Our three-year-old was thrilled that he could order a Mickey ice cream bar every night!
The activities and entertainment are a blast and very engaging/family friendly. I was grateful that all the movies that played by the pool were always family-friendly.
There are Disney characters all over the cruise!
There are so many kids and families on the boats – you get more sympathetic and kind responses than dirty looks when your child spills something, makes noise, or acts, well, like a child, than might be typical on other cruise lines.
Carnival Cruise Line
Carnival was the first cruise line we went on, and at the time, our second child was 2.5. We weren't sure what to expect, but it was actually a great experience.
Childcare was free for children two and up. This was ultimately the reason why we chose Carnival when we did. We were very impressed with it!
They offer flexible dining times – while you can opt in to have a set time (which includes the same waiter every night), you can also choose to be able to go in during a more broad window of time. This can be helpful when dealing with naps and hungry toddlers!
Carnival is one of the more affordable cruise lines
Everyone was so nice to our son and happy to see him!
Royal Caribbean Cruise Line
We haven't been on Royal Caribbean (yet!), but I know a lot of people rave about their cruises for all ages.
Free child care is available for three and up, and they offer a paid nursery for children under three.
They also have flexible dining times
If you have older children, this is a cruise line that is great for toddlers and teens alike!
Regardless, I would strongly recommend booking your cruise through Get Away Today. They made the process SO easy, and they are great at answering questions. They are always offering great deals and promotions for cruises, and they are all about family vacation planning. HIGHLY recommend.
Toddler Cruise Packing List
I've talked a lot about what you should and shouldn't bring on a cruise in this post – 22 Things I Wish I'd Packed for My Cruise (and 11 Things I'm Glad I Did).
This is a great starting point for any cruise packing list. We also have an in-depth list here – the ultimate cruise packing list for toddlers. Here are a few other things to consider:
Time of year
Destination
Forecasted Weather
Any special theme or formal nights
What does the specific cruise line recommend packing?
In general, I do recommend overpacking when you are traveling with a toddler – most of the time, anything you forget won't be available OR it will be extremely expensive.
Travel Documentation
No matter the age your child, a passport is an important document to have.
While you aren't required to have a passport if your port ends and begins in the same country (and you are a citizen of that country), it just makes life easier if you have one – especially if, for some unexpected reason, you get stuck in a foreign country.
If you choose not to bring a passport for them (or yourself), you will need proof of citizenship, such as a birth certificate.
It can take A LONG time to get a passport, so make sure you plan ahead for this.
Cruise Childcare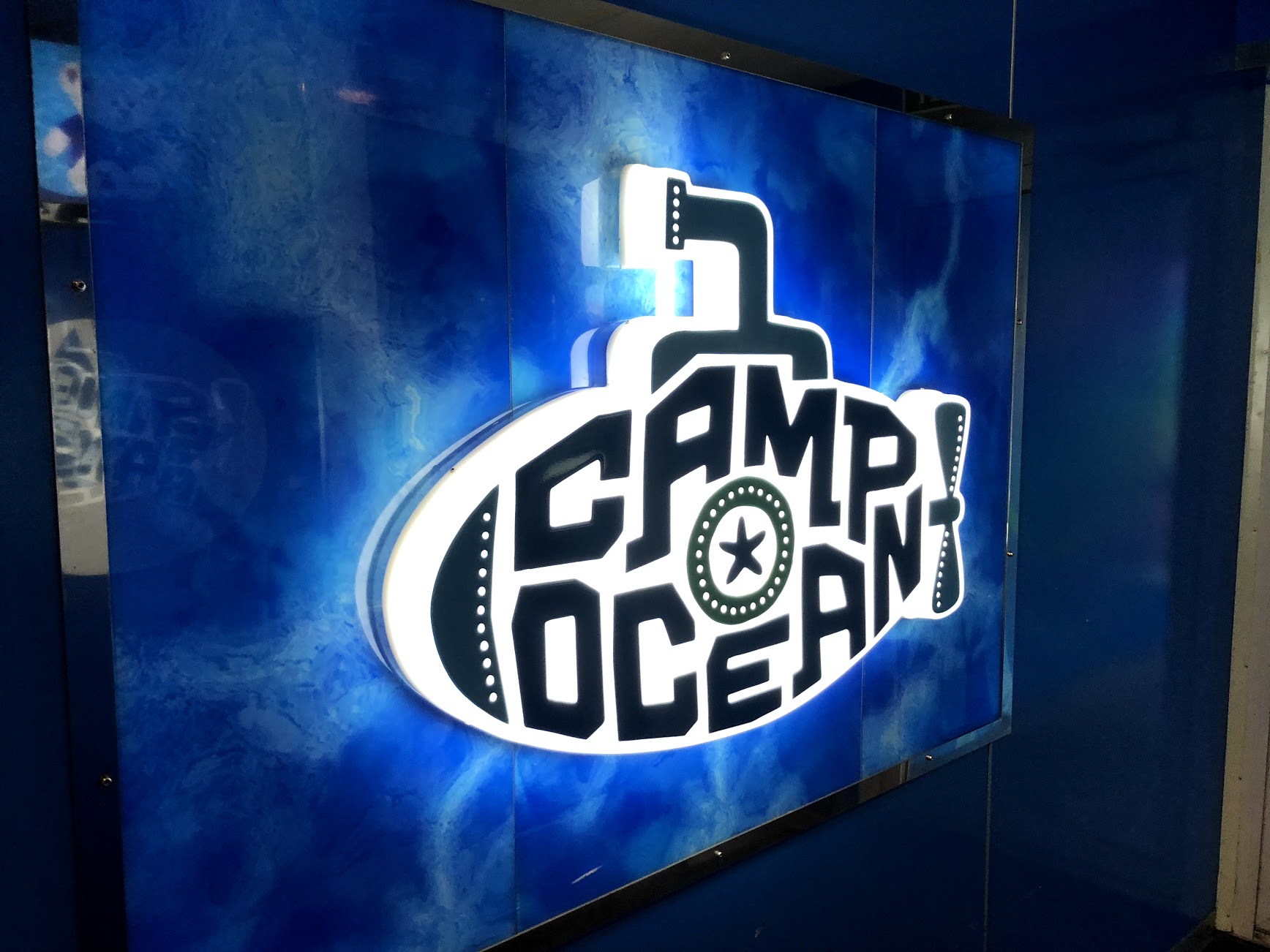 Most cruise lines have some kind of childcare – and above a certain age, it's usually included with your fare.
However, the age limits may vary. The main reason we chose Carnival was that Oliver was two. Most cruise lines we checked had free childcare for three and up, but you had to pay extra for under three.
However, Carnival was free for two and up! For that reason alone, we were sold on the Carnival Cruise line.
Here is an overview of the childcare options for different cruises for children that are of toddler age (12-36 months):
Carnival
Children 2 and up are invited to participate in "Camp Ocean", which is included with their fare.
For children 2-5, they are in the "Penguins" group, which was separate from the older kids on the ship we were on.
They also DON'T need to be potty trained – many cruise lines do require potty training to be left in the free childcare.
The child care includes:
Age-appropriate activities
Staff will serve your children meals, etc.
They sometimes combine with the older kids, so if you have an older child, they will be able to do activities with them occasionally.
You are given a cell phone for the duration of your trip when you check in, which is their way of contacting you if they need you.
They give you a document when you check-in that shares all the times it is open, different activities, and meal times.
You can learn more about Camp Ocean here.
For children under 2, there isn't a nursery setup like some of the other cruise lines. However, there are specific times that children six months and up are welcome in Camp Ocean:
Sea Days: There are limited times throughout the cruise for 'Under 2′ time. Check onboard for specific times offered. Parents have the option of leaving their child in the care of the Youth Staff (fees apply: $6.75 USD per hour plus an 18% gratuity, per child) – or – they can stay and use the Camp Ocean facility at no charge. This time is designated for the use of 'Under 2's' and their parents only.
Port Days: While in port, parents have the option of leaving their child in the care of the Youth Staff (fees apply: $6.75 USD per hour plus a 18% gratuity, per child), however, we do not provide meal times for any children Under 2.
Evenings: Night Owls (babysitting fees apply: $6.75 USD per hour plus an 18% gratuity, per child). From 10:00pm-1: 00 am each evening in the Camp Ocean facility, a 'slumber party' type atmosphere, including movie time, toys and room service snacks. During this time, there will be children from other age groups (2-11 years) participating in Night Owls. Cribs are available if needed.
Honestly, we wish we had taken advantage of the Carnival kid's clubs more. Our kids just went a few times, but they had so much fun.
There were lots of fun activities for the kids, and I'm sure they would have enjoyed it more than some of the things we brought them to. Oliver LOVED the toddler center – the staff was so fun.
Most cruises do you allow you to leave your child with the child clubs while you go off the ship, but there's a lot of debate online about whether or not you should actually do this. Definitely, do your research to decide what is best for your family!
Disney Cruise Line
For children six months to three years, you can put your child in the nursery (on most Disney ships it's called "it's a small world" nursery).
Space is limited, so you will want to make your reservation as far in advance as you can.
This is NOT included with your fare. The prices are:
$4.50 per half hour for the first child
$4.00 per half hour for any additional children in your family
The staff is trained to:
Feed your child
Provide age appropriate activities
They will change your child's diaper – you are welcome to bring diapers/wipes, clothing, blankets, and pacifiers.
Royal Caribbean
For children 6-36 months, there is the "Royal Babies and Royal Tots" program.
There are soft play areas, sleeping areas, and toys appropriate for this age, and you can drop and pick up your child for the hourly rate of
Not all Royal Caribbean ships offer this, so make sure you book one that does!
In regards to activities…
There is also an open play area that parents can come with their children during the day to play.
It's unsupervised, but it can be a nice place to come and play that's away from the hustle and bustle of the cruise ships.
Make sure you check out what kind of activities are available and what people generally think.
Pools and Splash Areas
One thing to keep in mind is that children who are not potty trained are not allowed to be in any public pool or splash area on most cruise lines. On Disney Cruise (at least on the ship we were on), they did allow children in a swim diaper in the splash pad.
There is typically no exception to this – even if they are wearing a swim diaper. I saw some children who were clearly not potty trained splashing in the water – you are not the exception! Don't do this!
This is kind of a bummer, but it's for safety and sanitation reasons. So if you have a child who is going to throw a fit when they can't go into, make sure you avoid the pools!
Food
I've talked a lot about Carnival Cruise Food, and I did find it very family-friendly.
We felt like the "Anytime Dining" was the best option for our family so we didn't feel rushed, didn't have to interrupt naps, etc.
We also sat by ourselves, so we didn't have to worry about our kids disrupting someone at our table's meal.
I'm not sure if this is an option available on all cruises, so I would double check the dining options with your cruise line.
Here are a few general tips for eating with toddlers on a cruise:
When eating in the dining room, ask for the kid's meals to come out first. Otherwise, it might take a while for them to get their food, and it's nice to have their food out as soon as possible.
Carnival Cruise ships have booster seats and high chairs available upon request
The kid's meals can be huge!
Kids can usually order off the main menu!
Carnival didn't have mac and cheese listed on their kid's menu, but they definitely had it by request! I actually thought it was really delicious, as did my boys.
Bring your own sippy cups! Oliver was given a large, glass cup filled to the brim with water, and I was shocked that we didn't have more water catastrophes than we did!
Embrace the treats – I mean, you don't have to let your kid have five plates of desserts…but maybe be a little more lax than you would at home – especially for the 24/7 soft serve!
There are several quick service areas that are available on cruises, which can be a better option if you have a wiggly toddler that doesn't want to sit for an hour.
The buffet usually serves similar food to what is being offered in the dining room. Pizza and sandwiches are almost always available, and if you are looking for an easy morning – order room service!
As I mentioned, with the Carnival Cruise Line, if your child is at Club Ocean during meals, they will eat with the other kids! So if you are looking for a romantic dinner with your spouse, this can be a good thing to do at some point.
Beds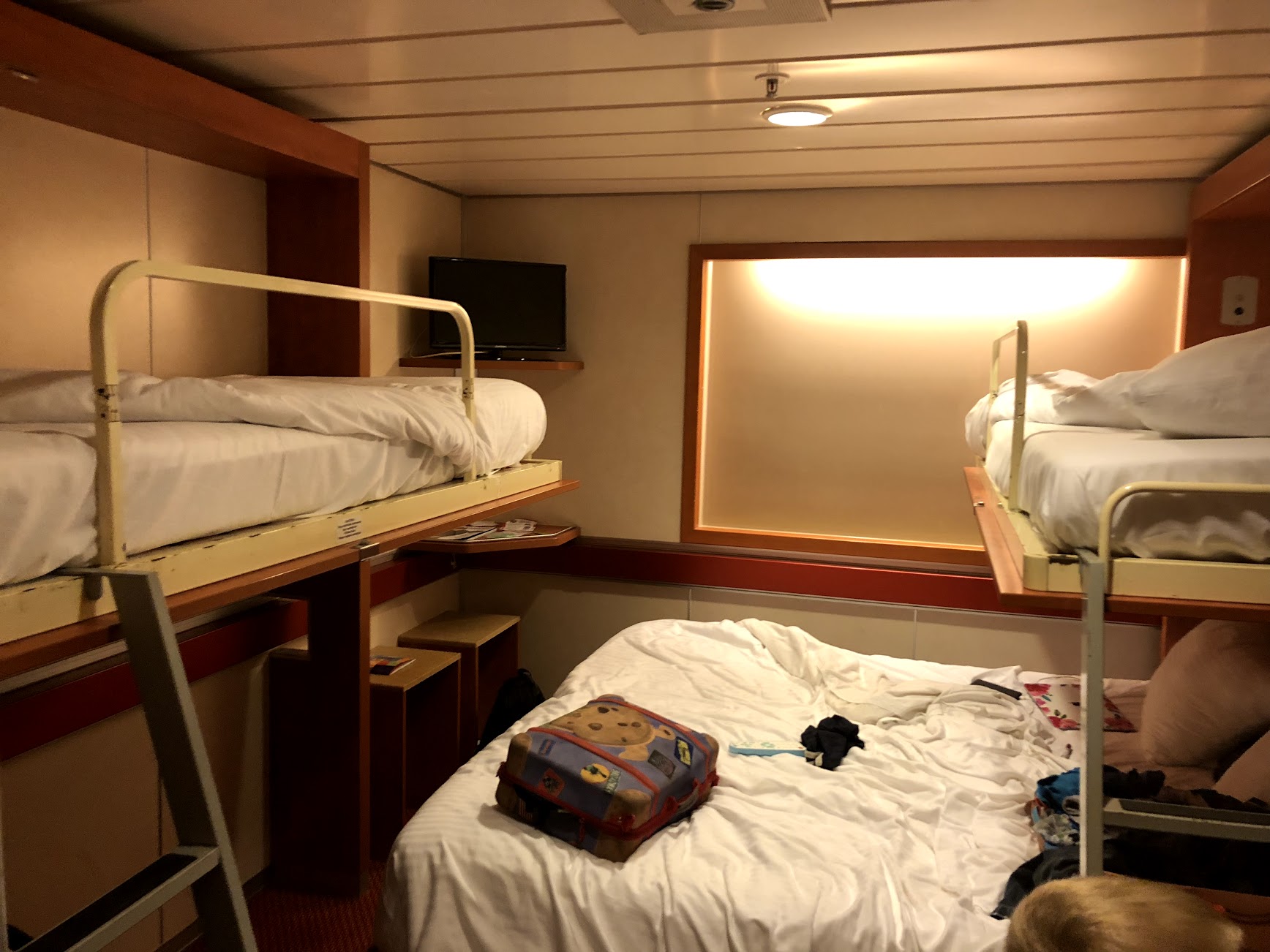 Be aware of the sleeping arrangements before you go on your cruise. While you can certainly bring along your own Pack-and-Play, I would recommend seeing if they have a crib option. This will save you from lugging it around.
Most cruise lines will have cribs available by request, as well as bed guard rails. These are really helpful! Our oldest son fell off the top bunk on our first cruise – thankfully, our bed was right below!
Naps
Ahh, naps always seem to be hard to navigate when traveling.
Even if your toddler isn't taking naps anymore, I would try and plan on at least one. Oliver had quit taking naps a few months before our cruise, but he crashed midday almost every day on the cruise.
Making sure your toddler takes a nap can prevent some nasty meltdowns later on.
I would recommend either bringing a white noise machine or downloading white noise onto your phone. We were close to the engine, which was really loud and kind of scared Oliver. Having white noise drowned that out a little bit.
If you are in an interior room, they can get especially dark. So if your kiddo gets scared in the pitch dark, make sure you bring along a night light.
Best Length of Cruise for a Toddler
A 3-5 day cruise is probably going to be best for a family cruising with a small child.
We have gone on two 5-day cruises, and I think it was perfect. Our toddlers did really well, but I think they weres pretty well exhausted by the time we left.
Longer cruises tend to be more geared toward older people/retirees as well, so a shorter cruise might be a little more kid-friendly.
Make sure to read this post to learn more about cruise itineraries.
Gratuities
On most cruises, you won't be charged a gratuity for children under two. I would double-check this before you go.
Even though they aren't included, I think it's nice to leave something – especially at dinners if your toddler makes a big mess.
What type of room?
There are generally a couple of different types of rooms available on cruises:
Interior rooms – have no windows
Porthole rooms – a small, porthole is in your room that lets in some natural light from the outside
Balcony rooms – private balcony attached to your room.
And of course, there are suites, which will generally give you more space BUT are pricier.
I don't know that one kind of room is better than the other with a toddler – a lot of that will depend on your child and family.
We had an interior room, primarily because it was the cheapest. However, it worked out well because it was pitch dark, which is how both of our kids sleep best.
If anyone in your party is prone to feeling claustrophobic, a room with some natural light would be ideal.
If your toddler takes a lot of naps and you don't want to feel trapped, a balcony room might be best so you can relax out there while your child sleeps.
I think I would have been too nervous with a balcony that my toddler would fall off. But I'm just overly paranoid!
You should also be careful about the location. If it's near an elevator or stairs, there tends to be more noise.
Embarkment/Disembarkment
If you are on Carnival, I think one of the best things you can do is get "Faster to Fun". This is something you purchase beforehand, and it was 100% worth it to us.
It basically lets you go in a special line at the beginning and end of your cruise. We passed by SO many people, and we hardly had to wait at all.
I was by myself with my two kids, and I think I would have gone crazy had I been in the long line.
It was sold out the first time I looked after we booked our trip, but it was available again shortly before we left, so just keep checking.
I brought our stroller along, which I'm grateful for as well. I think a light umbrella stroller is a must for anyone taking a toddler!
All cruise lines have different procedures, though, for this. Become familiar with this beforehand!
Are cruises safe for toddlers?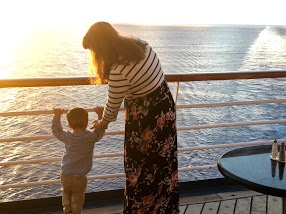 While cruises are generally safe, you can't just let your toddler run wild.
If they are not in childcare, it is YOUR responsibility to always be watching them.
Make sure when you are outside, you are making sure they don't dart toward the guard rails.
While they can't just fall through, they definitely can crawl through if they try. I was so paranoid about this the entire time.
If your child is going to be swimming, make sure you don't just let them run free.
Just use common sense. Keep an eye on your child at all times. Don't expect the cruise ship employees to notice if they are doing something unsafe or assume everyone on the ship is a "good guy".
Activities for Toddlers
The best place for age-appropriate activities for your toddler will be in the childcare – however, there is family fun to be had everywhere.
I highly recommend reading the schedule each day and picking out which activities sound like something your child might enjoy.
For instance, our cruise ship had LOTS of very toddler-friendly activities, such as a Dr. Seuss celebration and parade, a Dr. Seuss breakfast (that cost $5 per person), a family game night, etc.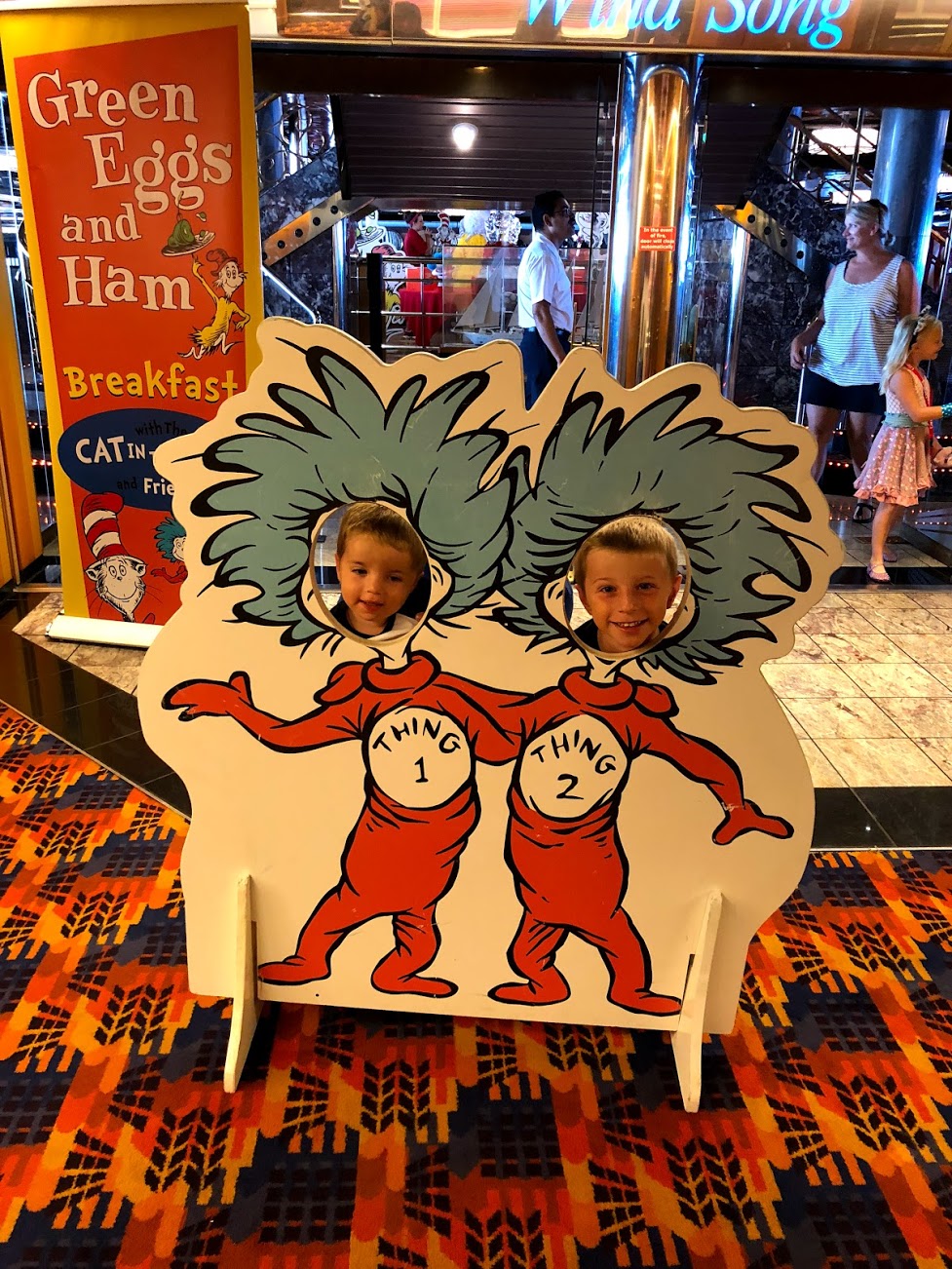 We went to the cruise director's speech on the first day, and our boys walked away with a coupon for a free Build-a-Bear at the Build-a-Bear workshop at a later day on the ship.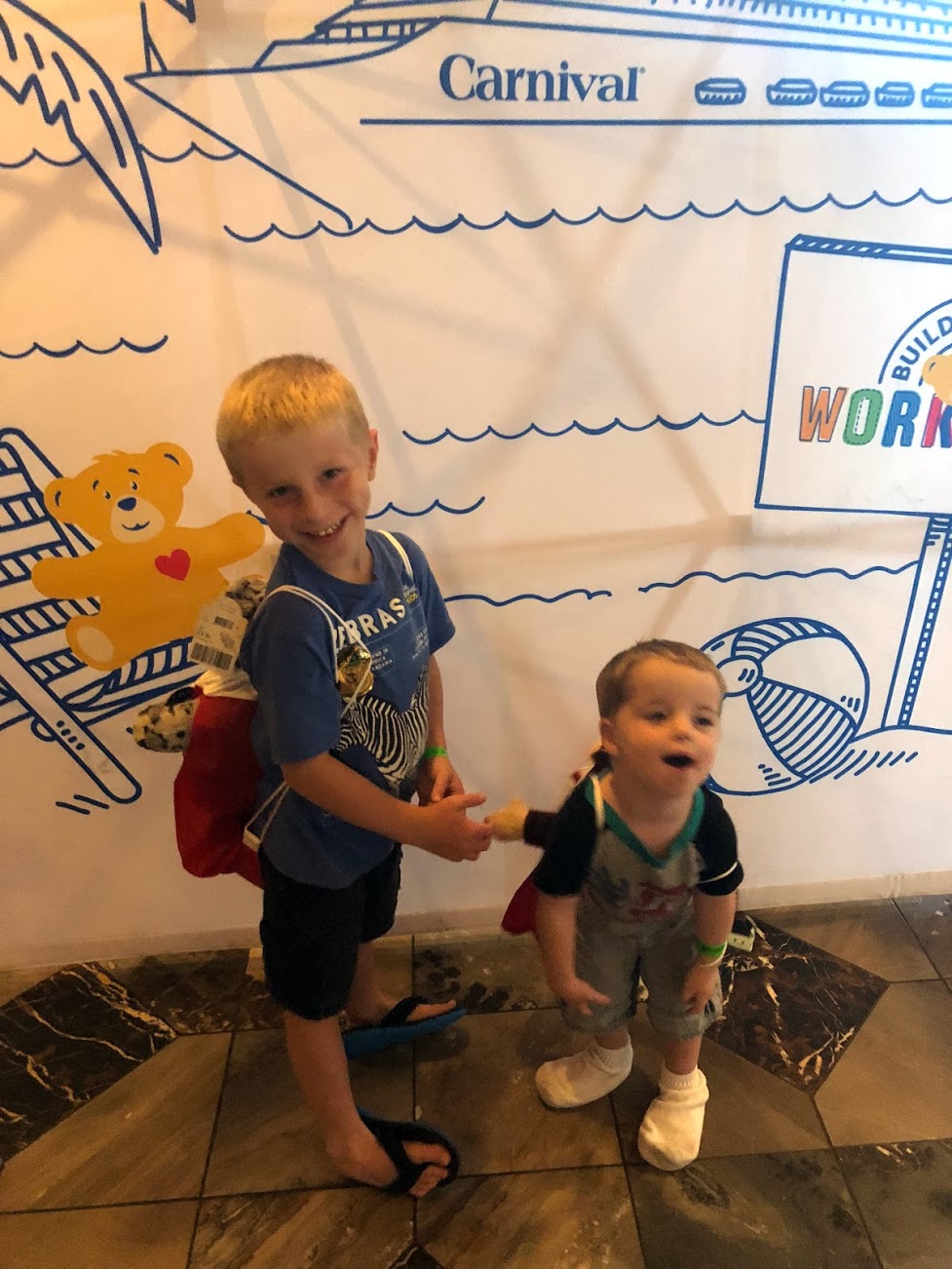 Not everything will be family-friendly – even the shows that claimed to be were a little loud and risque – but there are a lot of great things you can do with your toddler. Just be aware of what's going on.
Transportation
If you are flying in and going directly to your port, it might be easiest if you find a shuttle service that provides car seats.
That way, you don't have to tote around car seats for your child everywhere! If you fly in, we LOVE this CARES Safety harness for making flying a little safer for a toddler.
If you do bring along your car seat, just check it as some of your luggage. This will make your life a lot easier as you board.
Keep in mind that when you get to different destinations, there will likely NOT be car seats available if you have to get into a taxi, shuttle, or car for any reason.
If you know you will be walking a lot at a destination, you should consider bringing along a lightweight umbrella stroller, or if your child isn't too big, a carrier. I love the Ergo because it has a pretty high weight threshold.
Watch the Weather
While you can never 100% predict the weather, you can get a good idea about a week out from the cruise.
Make sure you have clothes appropriate for the weather for your child – and be aware that children tend to overheat quickly.
Hats, sunglasses…those will also be useful to have.
On our Disney Cruise, it ended up being really windy and rainy, and we didn't have very warm clothes.
By knowing what type of weather to expect, you can have a better idea of how to realistically plan your trip with your toddler.
Manage expectations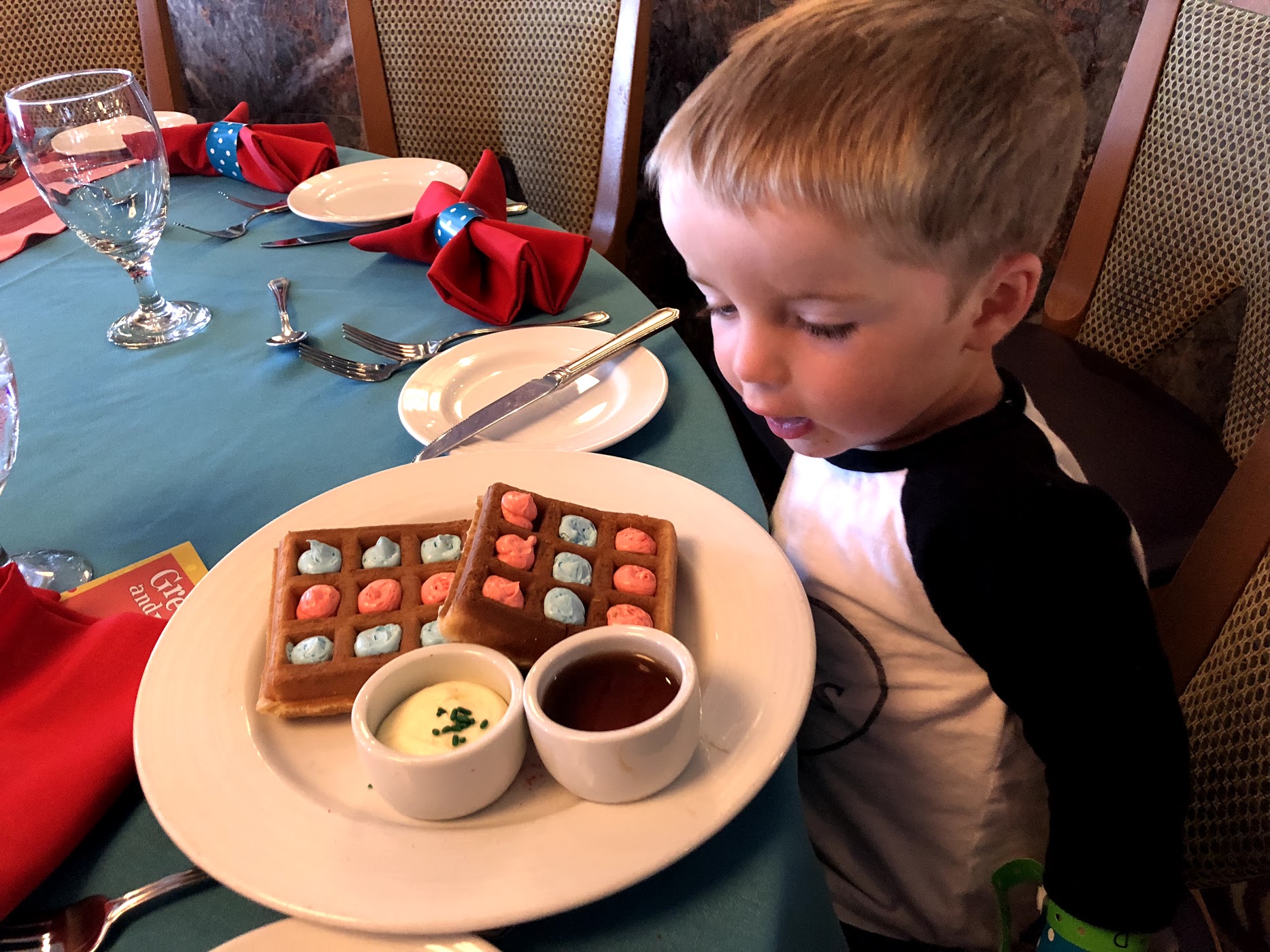 As with anything with toddlers, things rarely go as planned.
They get cranky. They get hungry at inconvenient times. They need naps.
Before you step foot on the cruise ship, just have realistic expectations! Try and stick to your child's current schedule as much as possible to prevent meltdowns.
You may not be able to do everything that you want to do, but if you are realistic about being flexible, it will be a great time.
Excursions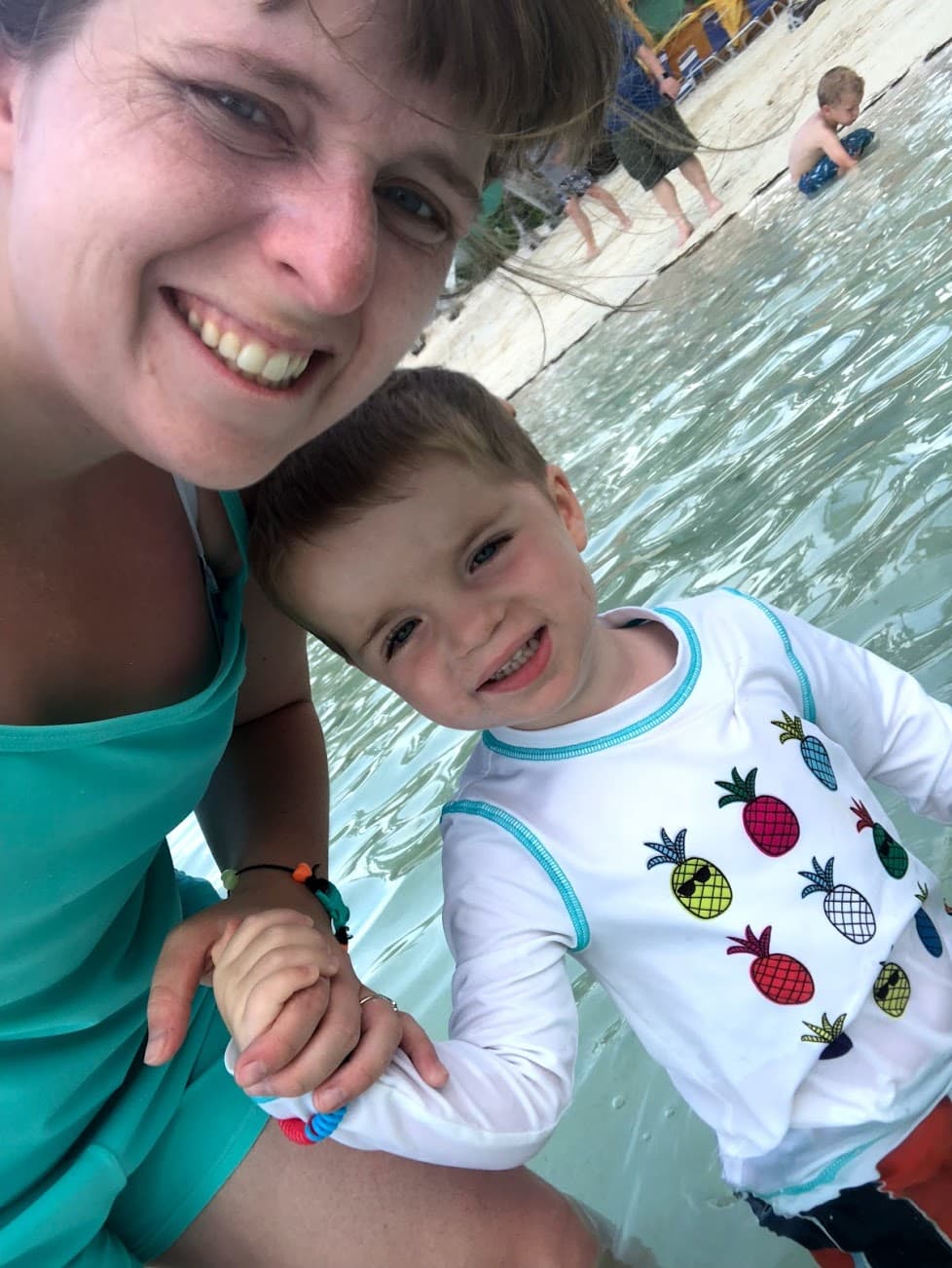 I recommend scheduling an excursion when you have children – especially if you are an in an unknown/less safe area.
We went to Nassau, which isn't necessarily unsafe, but it is hard to navigate if you don't know what you are doing.
I am SO glad we booked an excursion that was very toddler-friendly.
Most excursions (whether they are through the cruise or somewhere else), will tell you any age limits or recommendations.
I was a little sad because there were a couple of excursions that Jack could do, but Oliver couldn't…but in the end, we were able to find something that was very family-friendly for everyone.
I generally recommend booking with the cruise – just so you don't get left behind. However, I recently learned about Venture Asore, and I think they could help you get a very family-friendly excursion. If, by no fault of your own, your family gets left behind, they will pay to get you to your next port!
Well, I hope that this was helpful in preparing you for cruising with toddler. Be sure share your tips or questions in the comment section below!
Other Cruise Posts You May Enjoy: