The Ultimate Great Wolf Lodge Packing List for Families
The Great Wolf Lodge is a great place for families to go and spend time together. Whether you are looking for indoor or outdoor activities, the Great Wolf Lodge has it all. But packing can be stressful if you have never been there before. Fear not! This packing list will help make packing easy by telling you what to bring with you on your next trip to the Great Wolf Lodge!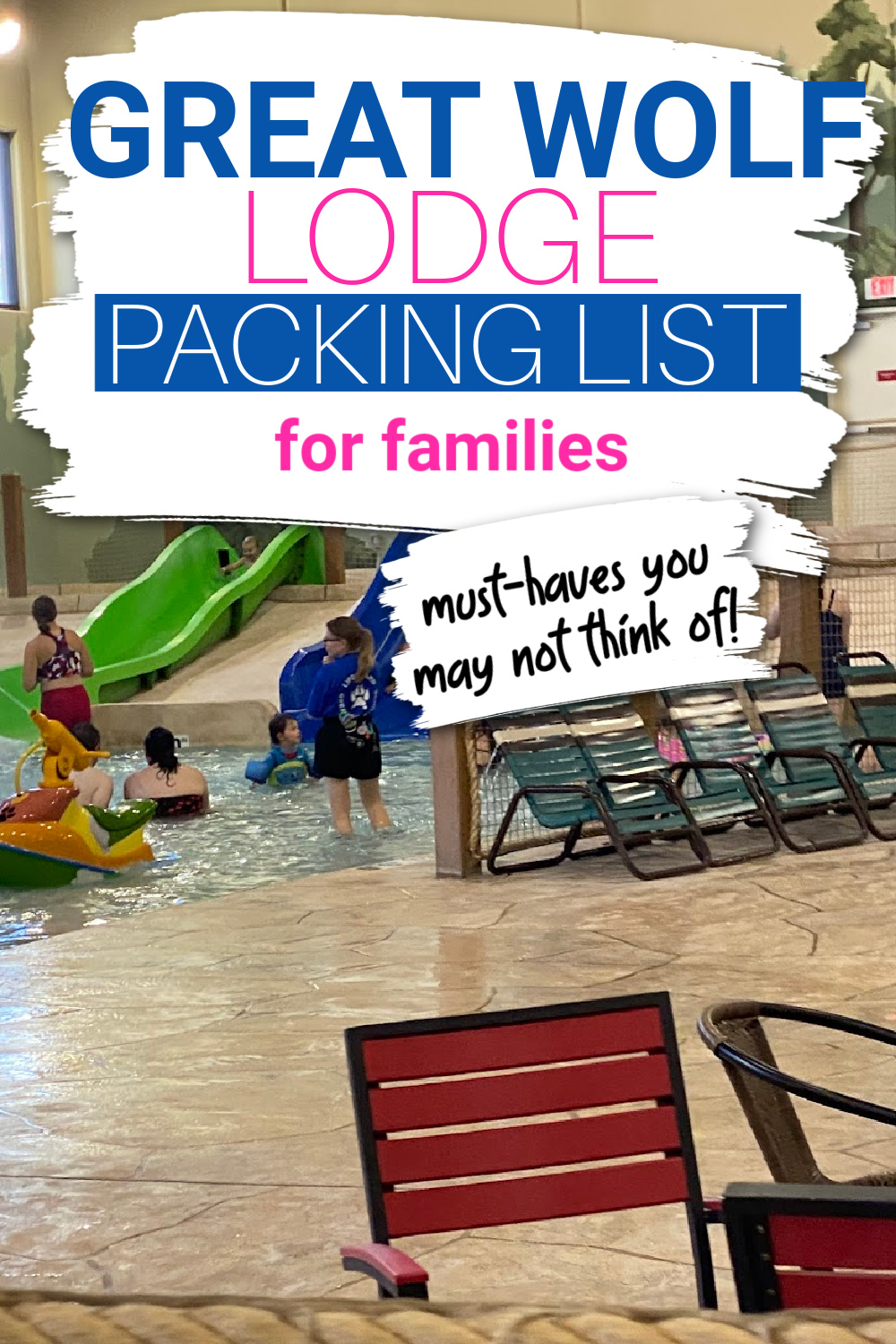 Great Wolf Lodge: What to Pack
Great Wolf Lodge is a really fun family-friendly resort – it's one of our favorite places to go for a family vacation. Located in various locations across North America, Great Wolf Lodge features indoor water parks, kids' activities, and more. It's great for teens and young children alike!
If you're planning a trip to Great Wolf Lodge, you might be wondering what to pack. We have gone to the Great Wolf Lodge many times, and I think we've got it down to an art by now!
Here's a comprehensive packing list for your next Great Wolf Lodge adventure. Keep in mind, there are different amenities at different Great Wolf Lodge locations, so make sure you look at the specific page for that one when you are packing. Our experience is with the Colorado Springs location.
Swimming Supplies
The biggest attraction at Great Wolf Lodge resorts are the huge swimming pools and slides – you definitely want to make sure you have everything ready for that. If you forget something, they do have a gift shop – but take it from me, everything is SUPER expensive.
Here are a few items not to forget:
Swimming suit – triple-check this! I forgot my swimming suit bottoms one time, and that was not a fun surprise. I would recommend bringing multiple swimming suits as well. They do have dryers in the changing rooms, but I still find having a couple of swimming suits to trade off between help.
Swimming suit cover-up or Robe
Waterproof phone case or cover – here is a great option. We always love taking photos and videos while we are there, and since there's water everywhere…you want to protect your phone
Water shoes or flip flops – I think this is just good for hygiene reasons, even if you are just using them in the bathroom. During our last trip, our two youngest children ended up with some pretty intense dermatitis all over their bodies – especially on their feet. We don't know for sure why it happened (they've never had issues with chlorinated water in the past), but I can't help but feel like there was something environmental going on. I always like to have them in the wave pool, too.
Swim Diapers – all diaper-dependent guests must have a swim diaper. I recommend having a disposable and reusable one to put over it, just to contain any messes.
Sunscreen – Colorado Springs does not have an outdoor pool, but some locations do, so make sure you bring sunscreen!
Dry Clothes – If you are going to the pool after you check out or before you check-in, you might want to bring along some dry clothes to change into.
Pool Bag or Beach Bag – This is just helpful to have your money, extra clothes, snacks, etc.
Wet Bag or Plastic Bags – I would bring something to put a wet bathing suit in if you aren't going to be able to go back to a room right away
Clothes
Chances are, you won't be spending the entire time in the pool, so you'll need some other clothes for your trip.
Pajamas – obviously, for sleeping! But they also have a fun dance party and story times at night where pajamas are DEFINITELY encouraged! It might be fun to even splurge on matching cute pjs or bring some fun slippers.
Tennis Shoes – if you plan to do the climbing wall or ropes course, closed-toe shoes are a necessity. They won't let you do these activities without them!
Any type of shoes – even if you aren't doing one of the more active activities, you need some shoes for walking around in, going to the bowling alley, mini golf, or just getting ice cream! There are lots of fun activities where you are going to need regular shoes for.
Seasonally appropriate casual clothing – just some comfy clothes to wear when you are participating in non-swimming activities.
Active Clothing – These will be helpful for the climbing wall and ropes course as well.
Other Necessities
There are a few other things you should remember to pack for your trip to Great Wolf Lodge.
Download the Great Wolf Lodge app before you get there – while this isn't something you pack, it will make your trip A LOT simpler if you have this downloaded. We found it really helpful especially for ordering food. I also found it helpful for online check-ins.
ID and Credit Card for checking in
Water bottles – reusable ones are even better. We love the Owala water bottles.
Toiletries
Chargers for electronics
Prescription Medications
OTC medications such as Tylenol/Advil, Benadryl, etc.
Bandaids and other First-Aid supplies (This little first-aid kit would be perfect!)
Portable power bank – THIS is our favorite portable bank. We had one for probably five years and just purchased another one.
Snacks – granola bars, popcorn, fruit snacks, protein bars, trail mix…those are some of our favorites!
FAQs
Can you bring your own food to the Great Wolf Lodge?
You can bring your own food – and unless you are planning on splurging on the restaurants (and it will be a splurge!), I highly recommend this. You should always check with your specific location, but I believe this is the policy across the board. You can also bring food into the pool area.
Do you need to bring pool towels?
This is where I've heard mixed things. In the pool area, you can check out towels, so you don't need them there. However, we thought you couldn't bring them back to your room, so we brought our own towels so we didn't have to shiver the whole way up.
However, on our last trip, the person at the pool said we could bring them to our rooms, so I don't know what the official policy is. They do charge you if towels are lost, though, so I am not sure I would want to risk that!
What amenities are in the hotel room?
It's always helpful to know what is included in your family suite. Each room has towels, soap, body wash, and shampoo. They also have a mini fridge and a microwave.
Does the Great Wolf Lodge provide life jackets?
Yes! They have a ton of life jackets available in various sizes for young kids. I saw other people who brought their own, but I find the ones they provide to work just fine – one less thing to pack along, too!
Are there locker rooms are the great wolf lodge?
Yes, there are changing rooms, bathrooms, and locker rooms available at the Great Wolf Lodge. You have to pay extra for a locker, but it can be a good idea if you will have valuables with you at the time of your visit.
Packing Tips
Here are a few tips to help make packing for your trip to Great Wolf Lodge a breeze:
Start packing a few days before your trip so that you're not rushed.
Make a list of everything you need to pack so that you don't forget anything important. 
Pack clothes and swimsuits that can be easily washed in case they get wet or dirty during your stay. 
If possible, pack lightweight clothing and items so that they don't take up too much space in your suitcase. 
Now that you know what to pack for your Great Wolf Lodge vacation, all that's left to do is start planning your adventure! With this packing list in hand, nothing will be able to stop you from having an amazing time at the world-famous family-friendly resort. Have a great time with your entire family!
More Articles You May Enjoy: