Disneyland is a place full of lots of delicious foods….but not all of them are worth getting. Here are a few that made my list of treats I won't be buying next time.
People often talk about all the Disneyland treats they loved.
Myself included. There is a lot to love – here are a few of my favorite Disneyland snacks.
But what about we don't post stylized pictures of on Instagram stories.
The ones that we wish we could get a refund on the money we spent, AND the calories we ate.
Well, those are the ones I'm sharing today! I'm sure that many people will disagree with these – as I've seen plenty of people raving about these…but for me, they weren't that great.
Some of these were seasonal or limited-time treats, so you may not find them there currently…but there always seems to be something similar available!
**If you are still in the planning stages of your Disneyland trip, make sure you consider booking through Get Away Today. We exclusively use them for booking our trips to Disneyland – because they really are the best. Use the code Clarkscondensed to get $10 off any Disneyland vacation package of two or more nights with a two-ticket minimum**
Mint Juleps
I heard soooo many people rave about how amazing these were.
I actually enjoy mint-flavored things (Forrest, not so much), so I thought I would like it.
But man, I felt like I was drinking toothpaste! Forrest and I both couldn't even finish ours. It just wasn't enjoyable or tasty to either of us.
So sorry, Mint Julep fans. This is one drink we will not be getting again at Disneyland!
Pumpkin Spiced Beignets
These are a seasonal beignet, and I don't think they even have them every year…but they were just meh.
I love anything pumpkin-flavored. Before I had even tried these, I actually made Mickey-shaped pumpkin beignets at home, and they were SO good.
So when I saw that this was one of their special flavors last fall when we went to Disneyland, I was so excited.
Such a letdown! They basically had pumpkin spice sprinkled on top with sugar…nothing that I could actually taste in the dough.
It was disappointing. I wish we had just gotten the regular beignets. We had their creamsicle ones the year before, and it was a similar experience – just flavored sugar sprinkled on top. Though I think I liked those ones more!
Mickey Pretzel
So there was nothing bad about the Mickey pretzel. But really, when it comes down to it…it's just a pretzel that's shaped like Mickey.
If you are craving a pretzel – go for it. But I am not a big pretzel fan, and it just tasted like any pretzel I've eaten at a baseball game or fair.
Mac and Cheese Cozy Cone
The Cozy Cone Motel restaurant is definitely a fun spot to stop and eat.
But I would definitely opt for another cone flavor. I like good mac and cheese, but this is not that.
It just kind of felt like Kraft Mac and Cheese in a cone.
Okay, maybe not that bad. But I didn't find it that special. I preferred the chili one for sure.
If you have a child that only will eat mac and cheese, then this might be a good option for them…but if you are looking for something gourmet, this is not the place to go.
Turkey Leg
I know this is a controversial one, but I don't know why anyone would want to walk around with one of these! They are so huge and just not something *I* personally love to eat!
The Popcorn
People swear that the popcorn at Disneyland IS THE BEST IN THE WORLD. And I just don't get it. It tastes just like any other popcorn I've gotten at the Zoo or theme park – which always results in me feeling totally overloaded in salt 🙂
Sourdough Bread
We saw someone walking around with one of these, so we decided to try one out. It just looked so fun!
Again, this is another thing that wasn't terrible, but it didn't blow me away. It had a good sourdough taste, but it was just kind of big and cumbersome…and a lot of bread.
I think it more exists for a novelty factor than anything. It IS really cute. It just isn't at the top of my list of things to eat when we go back.
I don't even know if they still sell it, honestly. It may have just been a limited time thing. We got the plain version, but they also had a jalapeno cheddar one, which may have had more flavor.
I don't know if they even have these anymore, but they do sell sourdough bread…and it's just not my favorite (and I'm a BIG fan of sourdough!)
Mummy macaroon
If you can't tell, we went during the Halloween season last year. A lot of people recommend the mummy macaroon.
I didn't think the flavor was very good. It just wasn't my favorite, and I didn't even finish mine.
Wasn't worth wasting the calories.
Now get me one of those raspberry macarons, and we'll be talking business. I could eat my weight in those!
So what Disneyland treats have you tried and didn't love? Which ones do you love?
Just to end this on a positive note – here is a food at Disneyland that really did live up to the hype in my opinion: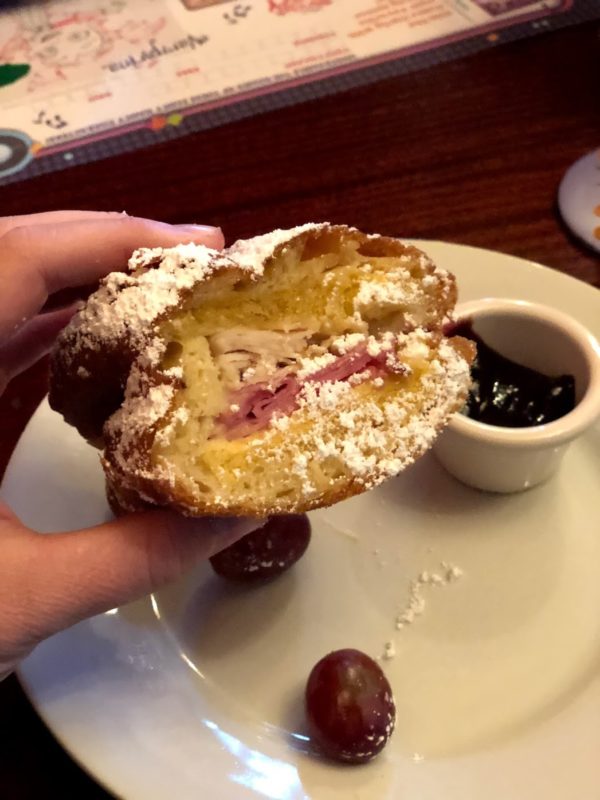 The Monte Cristo Sandwich. Oh man. This was SO good – I couldn't get enough of it!