Long road trip ahead? Here are 15 easy road trip games for kids that will make the drive go by a little faster!
My dad worked for United Airlines until I was about eight.
Because of that, we traveled fairly frequently – and unless we were driving to Utah or Idaho – it was almost always by plane.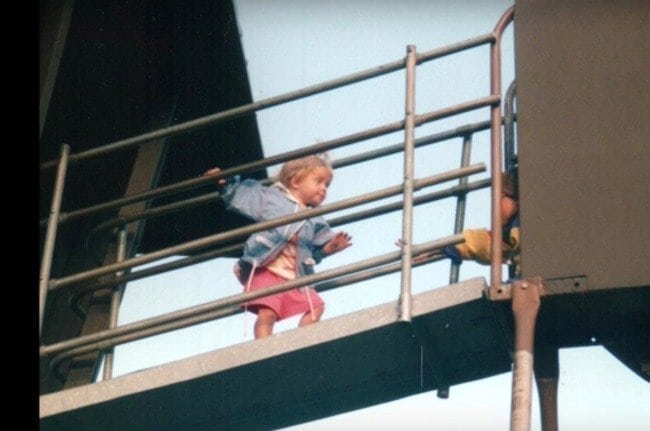 Why not? It was dirt cheap, fast, and probably a bit easier than driving cross country with five kids.
Well, he left United in 1998, and our air travels quickly turned to road trips.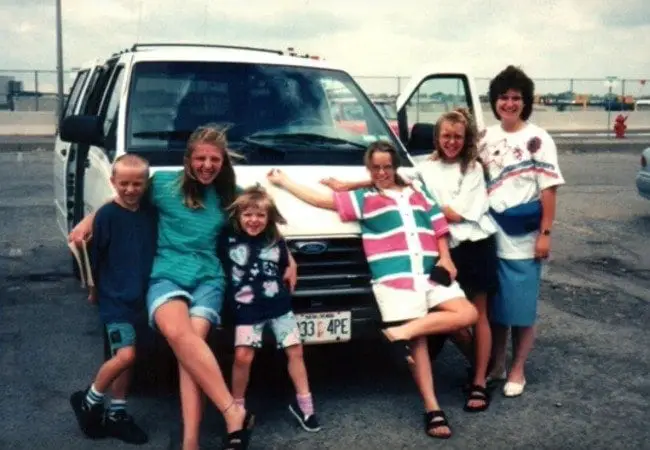 Even though it was different than flying, I grew up loving to travel with my family.
Even from a young age, my favorite memories were the trips we went on as a family.
Because of that, traveling is something that we've tried to do with our kids from the time they are born. It's never too early to introduce them to those memories!
While we do fly, we drive a lot more frequently to destinations, and I love these road trips. Our kids are still young, and that can make road trips a little longer and sometimes more stressful, but Forrest and I have taken on this mantra from Pixar's Cars:
Well, the road didn't cut through the land like that interstate. It moved with the land, it rose, it fell, it curved. Cars didn't drive on it to make great time. They drove on it to have a great time.
So make your road trips fun – no matter what age your children are. Don't worry about getting somewhere as fast as possible – and if your kids require lots of extra stops, remember that it's all apart of having a great time.
We love finding adventures off the road and making memories.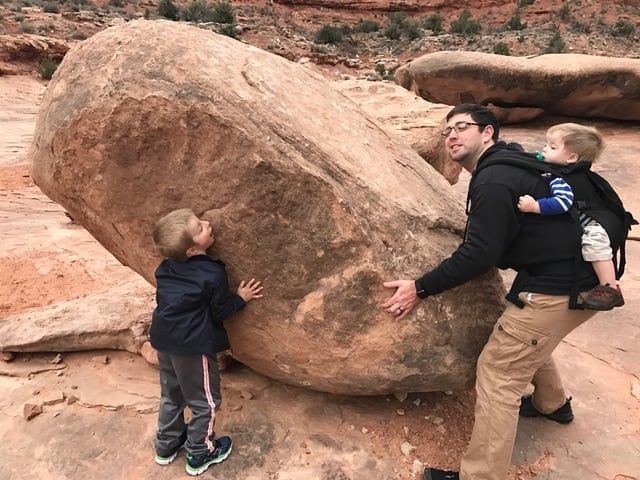 However, I know road trips can be long, especially with preschoolers who get antsy. While you could easily turn on a movie, hand the kids a tablet or a book, and turn up the music, I think that it makes the trip more memorable if you play some games.
So I put together this list of the best road trip games for kids – so, no matter where you are driving, it is sure to be a fun trip!
I Spy
Each person takes a turn saying, "I spy with my little eye something . . . " and then they use an adjective to describe what they are looking at. Everyone guesses what the other person spied – whoever guesses correctly gets a turn.
20 Questions
Come up with a category and each person takes a turn thinking of an item in that category. The others get 20 turns to ask questions to try and guess what the person is thinking of.
Popular categories in our family are animals, foods, and places. To hype up the destination that you are going to, you can have it be surrounded around that.
Would you Rather
This game can get so silly! You basically give two ideas and everyone has to choose which they would rather do or have.
The sillier the options – the better. You don't want there to be an easy choice! You can come up with scenarios on your own or you can search the Internet. There are tons of ideas – especially ones specifically for children.
License Plate Game
This is a classic one – whoever can spot the most license plates from other states win.
To make it more interactive and educational, you can give each child a map of the United States – for younger kids, you can print one of that has each state's license plate in it (there are plenty of templates online) and for older kids, you can have them find the state themselves. When they spot a state, they can color in the map!
Road Trip Bingo
We love getting Road Trip Bingo cards a The Dollar Tree or Target.
Road Trip Bingo is a great way to get the kids watching out the window – especially if they are competing against siblings or mom and dad. There are a lot of templates online that you can print off (with lots of different themes – animals, common road trip items, restaurants, etc.) or you can easily make your own!
An alternative would be a road trip scavenger hunt – you give each child a list of things to find, and whoever finds them first, wins!
I'm Going on a Picnic
This is a great memory game. You start at with one person saying, "I'm going on a picnic, and I'm taking a *blank*", and that person says what they are taking. Then next person says, "I'm going on a picnic, and I'm taking *first person's item* and *blank" and they put their item.
You keep going and going until you can't remember all the items. You can change it to going to Walt Disney World® Resort, going to the beach, going to the mountains, etc.! If you think your kids are up for the challenge, you can even require that it be alphabetical.
Cloud Stories
I always remember looking at the clouds on road trips as a child and making up stories about what I saw – it really helped the time pass by!
For this one, everyone just looks at the clouds and then tells everyone a story about what they are seeing in the clouds.
Restaurant Game
Each person selects the name of a fast food restaurant that is "theirs". Throughout the trip, each time you spot your restaurant, you get a point.
You can put a time limit on it (if you'll be driving through a lot of towns), so there is more incentive to keep their eyes peeled. However, if you are going to be driving through long strips of land where there are no services for a long time, you can make it extend the entire trip.
Car Hide and Seek
Jack loves real life hide and seek, so I think he would love this. You start out by deciding on a location (home, the park, or the destination you are going – such as Walt Disney World® Resort) and then the person whose turn it is thinks of a place they are hiding.
Everyone asks yes or no questions about the location until it is guessed!
Destination Game
This is one I just kind of made up, but I think it would be really fun, though it does take a bit of planning.
You make a list of landmarks, signs, etc. that you know you will see along the route you are driving. You can make a visual list, or if the kids can read, just a text list. Make them in order of when they will see them or mixed up.
Cow Counting
If there's one thing you are almost certain to see on a road trip, it's cows! Give each child a piece of a paper for mark each time they see a cow throughout the trip. This can get particularly exciting when you encounter a pasture!
Rock Paper Scissors
Simple, but this can really keep kids entertained for awhile!
Guess how far
This can be a great way to combat the "are we there yet?" or "how much longer?" questions that are sure to ensue on a road trip.
You just come up with a destination (I prefer smaller destinations throughout the trip, rather than just the final destination) and everyone has to put in a guess for how long it will take to get there.
It can be random cities, the place you are stopping for lunch, or a tourist attraction along the way. Make sure to set a timer!
Car Game
You are certain to encounter many cars on the road while traveling. So why not make it into a game?
For younger kids, have them spot cars of different colors. They get more points if the color is more obscure!
For older kids, you can specify the type of car – either the body type, the make, or even the model. You can make it as hard or easy as you want.
Who am I?
We are obviously big fans of guessing games in our family. For this one, each person takes a turn thinking of a person or character (dead, alive, fictional, or real) and everyone asks them questions about the person.
Again, if you are traveling somewhere that has lots of people associated with it, you can have them pick something in that category.
As I've said before, I believe that traveling with your young children is something that is absolutely worth doing. It opens up their mind to a whole new world (literally), and I believe the greatest memories come from experiences with your children.