Guide to Snowbird Ski Resort: Great Utah Destination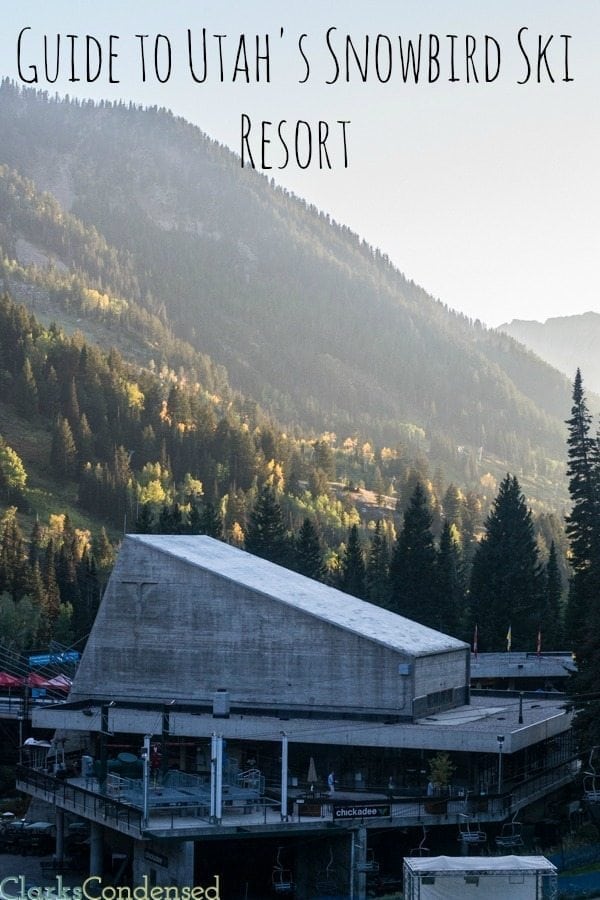 When Forrest and I were still dating, I was invited to go to a nearby resort called Snowbird with his aunt and uncle's family. Even though his aunt and uncle are super nice, and I had met them a few times previous to that, I was super nervous! One of the main things I remember about that trip is that Forrest wouldn't kiss or hug me in front of anyone. I was convinced he didn't like me (and if you talked to me at all during our relationship, I was always convinced he was on the verge of breaking up with me. He wasn't. I know. I was crazy.) It was still a fun trip though, and I have fond memories of it!
The next year, Forrest and I were married, and we were invited up again for a few days. I had found out I was pregnant a week or so before, no one knew, and my morning (aka, all day) sickness was already rearing it's ugly head. As such, I mainly just wanted to lay in our room and do nothing. Of course, because no one knew I was pregnant, I had to put on my best face (hard for me to do – I don't hide my emotions well). Still, it ended up being fun. We played shuffle board, ate ate a yummy restaurant, and enjoyed the lovely mountains of Utah.
The next few years, we were not in Utah during the summer and weren't able to come. However, this year, we were invited up again. We had a great time, minus that I got altitude sickness (I blame anemia.) Fortunately, about a month and half later, we were invited to come review the Snowbird Resort, and it was probably our best trip yet!
Having gone in late September and the middle of July, I have to say, I prefer September! It was a little cooler, and the leaves were starting to turn colors. Jack is getting old enough to really enjoy different activities, and we had a great time as a family. Since we've gone to Snowbird Ski Resort several times (ironically, never to ski), I feel like we've gotten to know it pretty well, and I"m really excited to share this little guide to Snowbird for anyone who's going there. It's really a great place for a staycation if you are here in Utah!
Snowbird Lodging
Until our most recent visit, we stayed at the Iron Blosam Lodge. It's a timeshare lodge, and I'm not entirely sure about the details on how to rent one of the rooms/condos there from a current timeshare holder. With that said, we always have enjoyed our stay there. There are many different room sizes, and all the ones we've been in have had a full kitchen, pull out beds, and balconies. The only downside is that there doesn't seem to be air conditioning! They have an outdoor pool, an indoor (adult only) spa and hot tub, plenty of board games to rent, a pool room, shuffle board, tennis courts, and access to everything that Snowbird has to offer.
Now, in September, we had a bit different of an experience. We were given a two night stay in the Cliff Lodge, which is, I believe, the nicest place to stay in Snowbird.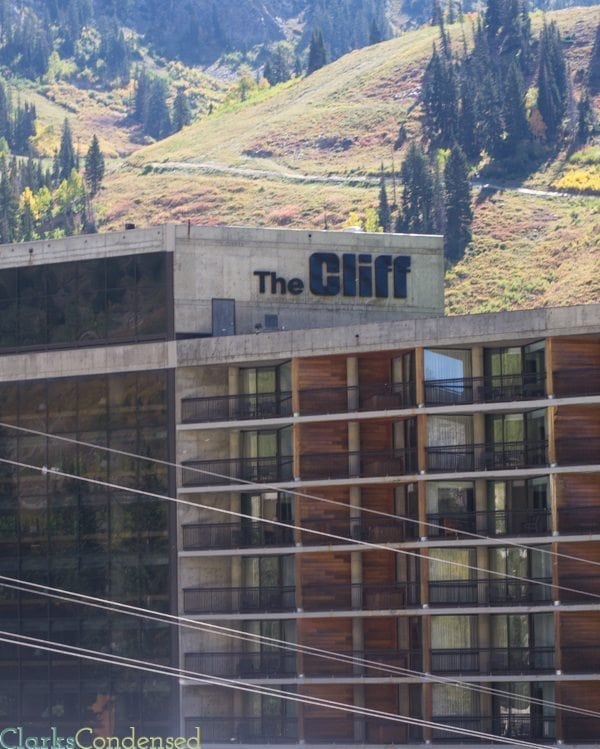 While it wasn't the fanciest place we've ever stayed,the rooms were cozy, the employees were friendly and helpful, and it was a pretty fun place to be. I'll admit, it was a bit confusing to navigate at times (it took us about 20 minutes to find our room!), but once we figured out the layout, it was a great place to stay.
Our room had two queen beds, a mini fridge, and a nice bathroom. Something we thought was kind of funny was that there was a huge window from the shower to the bed area (with a curtain you could pull across.) We didn't get the point of it! However, the beds were very comfortable, we had a great view, and there were plenty of channels on the television.
The Cliff Lodge had a lot of different accommodations for both those staying at the Lodge, and people who were just visiting Snowbird. There were plenty of dining options (more on that in the next section), two pools (though one was closed while we were there), exercise facilities, and the Cliff Spa. I was able to spend a bit of time in the Cliff Spa, and it sure was relaxing. It does cost a bit of money (I believe it was $15 a day or so, and some features cost more), but it was a nice place to go at night just to relax for a bit. Guests at the Cliff Lodge can also take part in daily exercise classes  for free (typically something like yoga or pilates.) I was really sad I didn't have a chance to do any of these.
Snowbird Dining
So, here's the thing. There are lots of dining options at Snowbird — fast casual, fancy restaurants, and everything in between. Unfortunately, all of it is rather pricey. There aren't any fast food places you can go(unless you want to drive back down the canyon, which, if your car has issues getting up to Snowbird, isn't really an option). We brought food for our breakfasts and lunch while we were there, which, personally, I think is a good idea if you need to save that money.
With that said, we did splurge and go out to dinner both nights we were up there (not part of the resort review — we paid for them both ourselves.) Since we were there during Oktoberfest, we felt it was our duty to buy a brat as well, which was good. Even if the food was more than we typically like to pay when we eat out, everything we had was delicious, and the service was great as well.
The first restaurant we went to was El Chanate: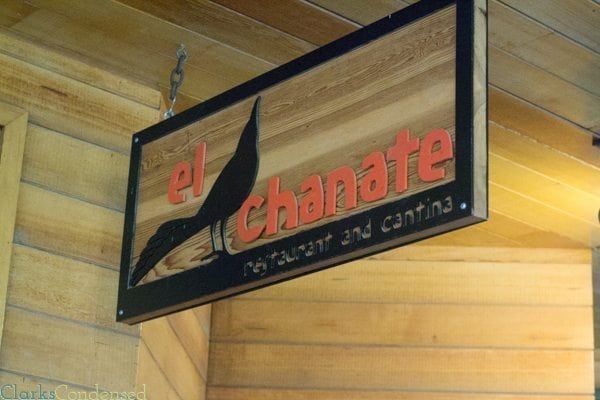 This restaurant is located in the Cliff Lodge, and I really enjoyed everything about this restaurant. Even though it was a Friday evening, we were seated immediately. Our first glasses of water had no ice, which was a kind of weird, but I didn't really care, because we were sitting on the patio. Who could be upset about no ice when you are looking at this?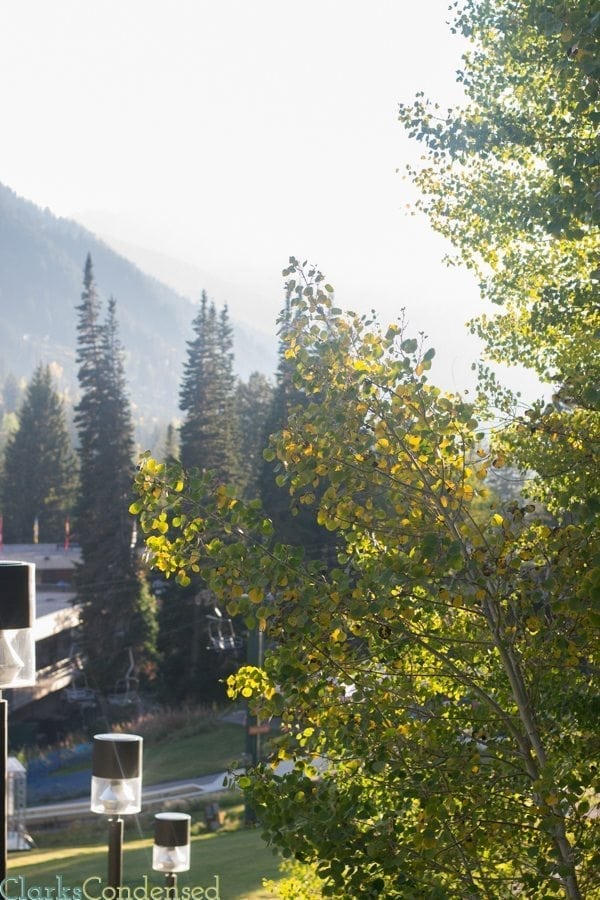 Our waiter brought out some delicious chips and salsa, which Jack was very excited about. I'm kind of picky about chips and salsa, and I felt like what they offered was great. It had a bit of spice to it, but it wasn't so bad that I felt like my mouth was on fire. The chips were lightly salted and fresh — you could tell they didn't just pour them out of a bowl.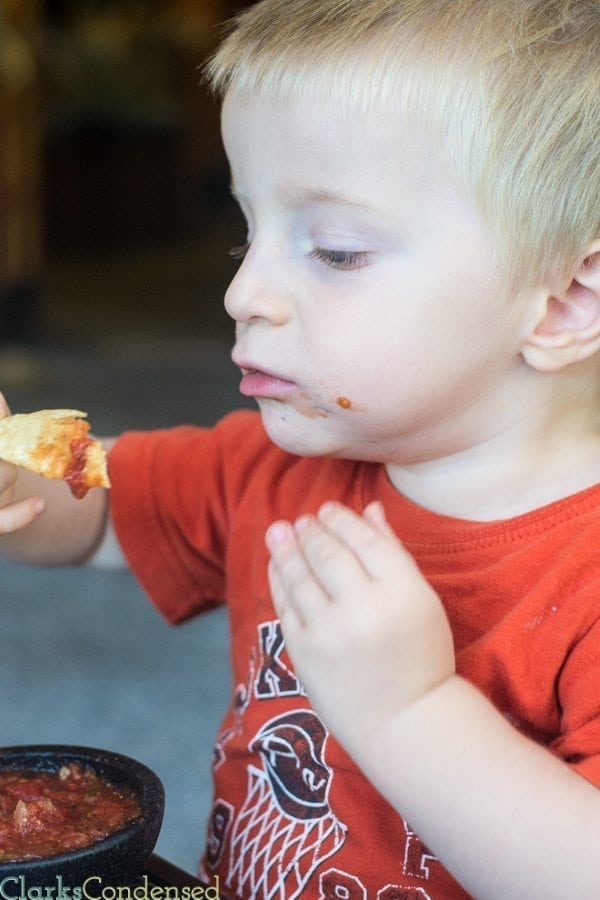 The menu had tons of different options (which is great, but bad for an indecisive person like me!) Fortunately, Forrest and I looked at the menu beforehand and knew that we were going to order the Asada Burrito.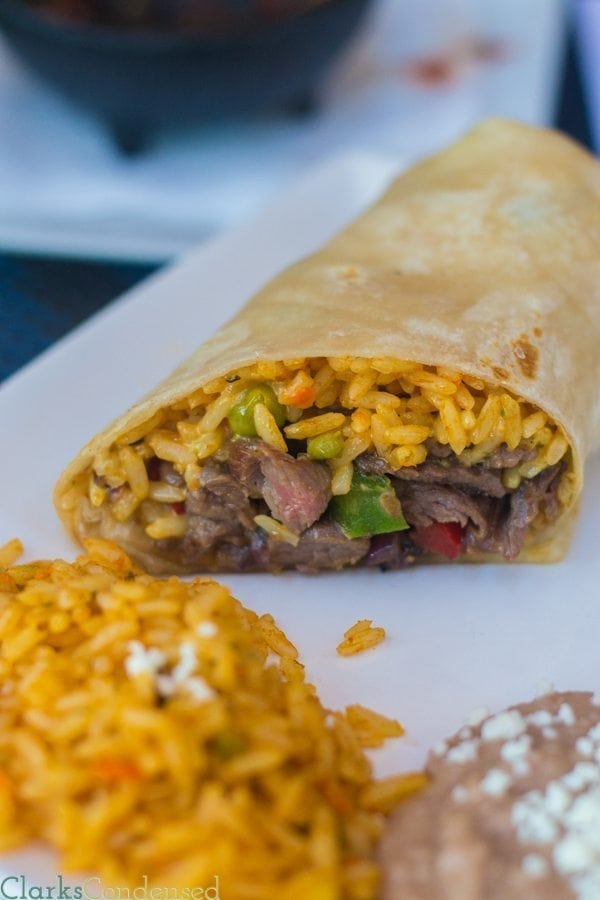 The burrito was delicious — one thing I don't usually love about burritos at restaurants is that they typically use thick tortillas, and the inside is filled with cheese and greasiness. Not this one. While we had the option to "smother" it, we decided not too, and it was a healthy, delicious burrito. The tortilla was thin, and all the ingredients were fresh and cooked perfectly. It even had peas in it! It came with a side of refried beans and rice, and it was more than enough for Forrest and I to share.
They did offer a kid's menu (at about $10 per meal), but since Jack couldn't have the drink that came with it, we just asked if we could order a small taco on the side. I think it was about $4. Jack wasn't really that excited about dinner that night though. However, it was a good taco — it actually felt like they put effort into making it (which can't always be said when we get tacos from restaurants.) I thought the chicken in it was cooked very well.
Overall, we really enjoyed El Chanate. In fact, I liked it so much, I wanted to go back the next night (even though we didn't.) There was a lot of wild life out there though, so if you don't like squirrels running around you, then I might opt to sit inside. This furry friend was at the table next to us: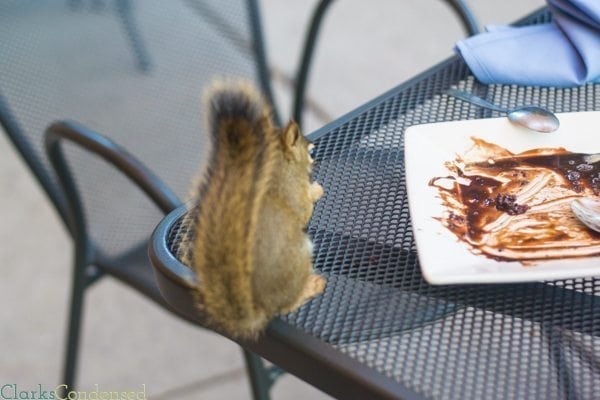 The next evening, we decided to go to the Aerie, which was also in the Cliff Lodge.

This was definitely a fine dining place. It overlooked all of Snowbird, which was beautiful, and it was on the 10th floor (I believe) of the Aerie. We were once again sat down immediately at a table that was really close to the window, which was pretty cool. There was a beautiful view.
Our waiter came out right away to make some recommendations on meals. We had previously decided what we wanted to get, so that process was pretty simple. While we waited for meals, we were given a little mini appetizer (I'm sure there's some fancy name…but I don't know what would be). I can't even remember what it was, but it was basically just a little piece of meat. We were also given two different kinds of rolls, which I loved. I was absolutely starving at that point, so I probably ate way too many. But they were worth it.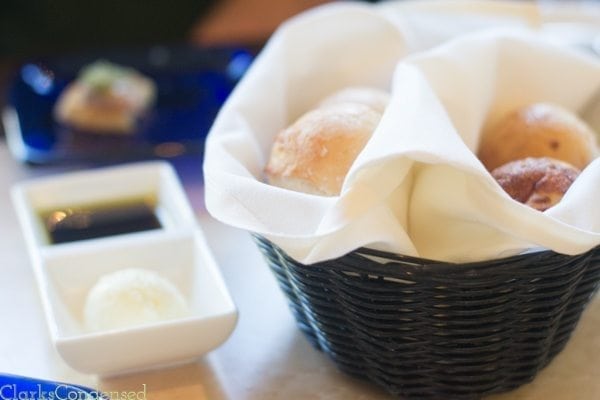 Forrest and I shared chicken and bacon sandwich with french fries. I appreciated that they split the meal into two plates, and it was very filling for both of us.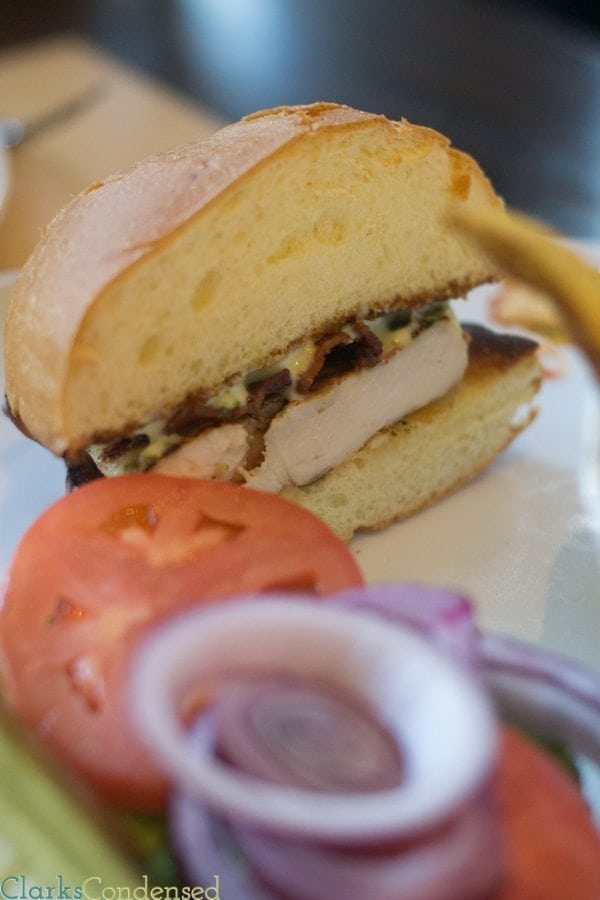 The chicken was very juicy, and it was topped with a scallion aioli, lettuce, tomato, and onions, all on top of a brioche bun. I loveee brioche, so that was a fun surprise. The french fries were delicious as well. They were thick and had a lot of flavor. There wasn't one that was too soggy or too crunchy — they were all really cooked perfectly.
We let Jack choose what he wanted for dinner, and he decided on spaghetti (his current favorite.) I was impressed with the quantity of food he was given, and I felt like the meatballs were seasoned really well. He doesn't really complain about his food, and he did seem to enjoy it. I was a little annoyed that they forgot to bring out the carrot and celery, and his dessert, but that's okay!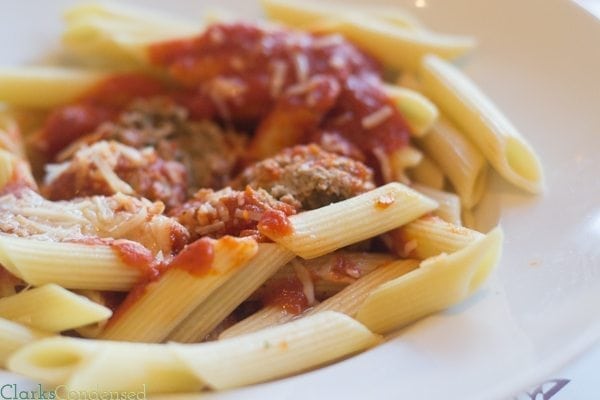 The Aerie was definitely a tasty, high quality restaurant. We felt like the service was really good, and our food was tasty as well. Plus, they always kept our water glasses full! I did feel like our table was really close to the people next to us, but that was just a minor issue. It really didn't affect much.
While these were the only places we ate at during our trip, I'm confident that most restaurants are good at Snowbird. I don't think you'll be disappointed anywhere you go!
Oh, and if you need some snacks, the vending machine in the Snowbird Center is great!
What to Do In Snowbird
Snowbird has a lot of activities — both paid and free. Obviously, since it's in the mountain, there are a lot of great little hikes. We always enjoy a little hike that goes to a little deck, where you can overlook the area. It's really a lovely, peaceful place to be.
If you want to get the most bang for your buck, getting an all day activity pass is probably the way to go. It's a little bit expensive, but it's cheaper than buying a couple different activities. The activities pass included (unlimited) rides on the Alpine Slide, the Alpine Coaster, the Peruvian Chairlift, the Tram, climbing wall, bounce house, and a bunch of other things.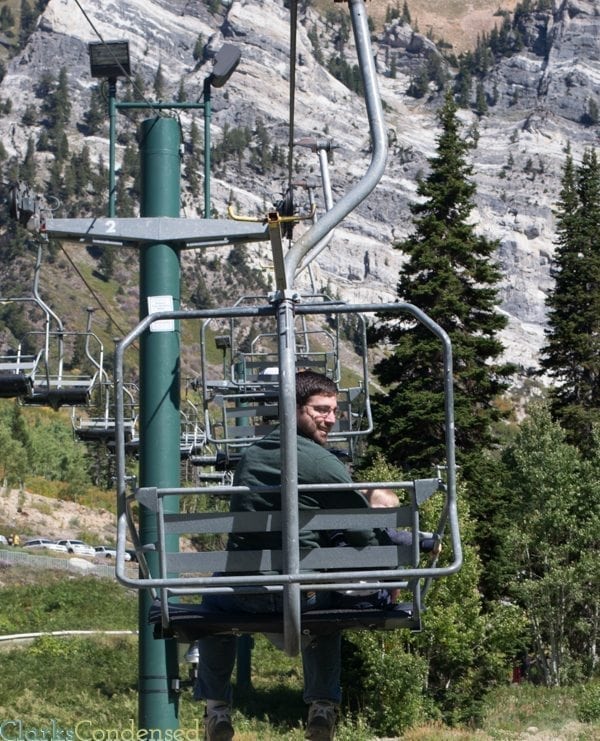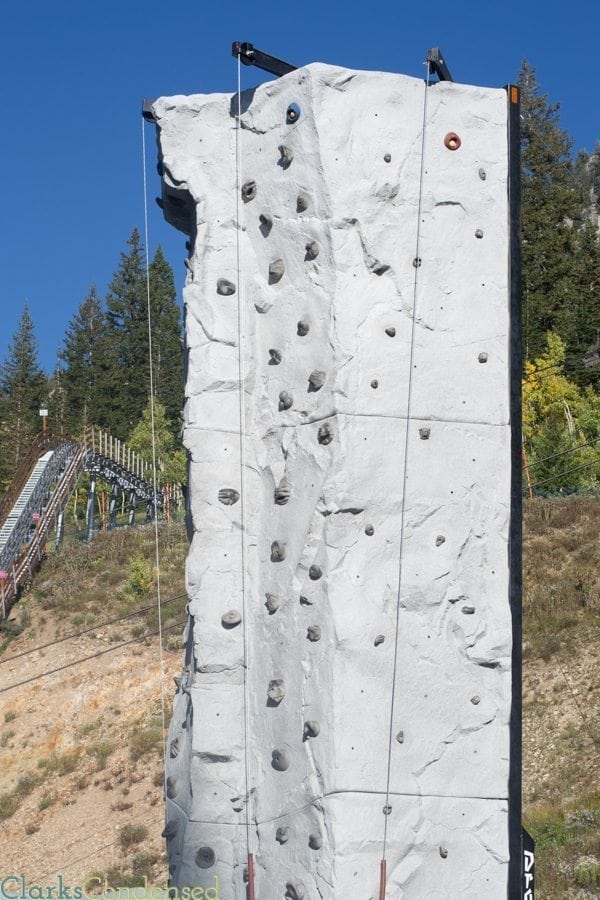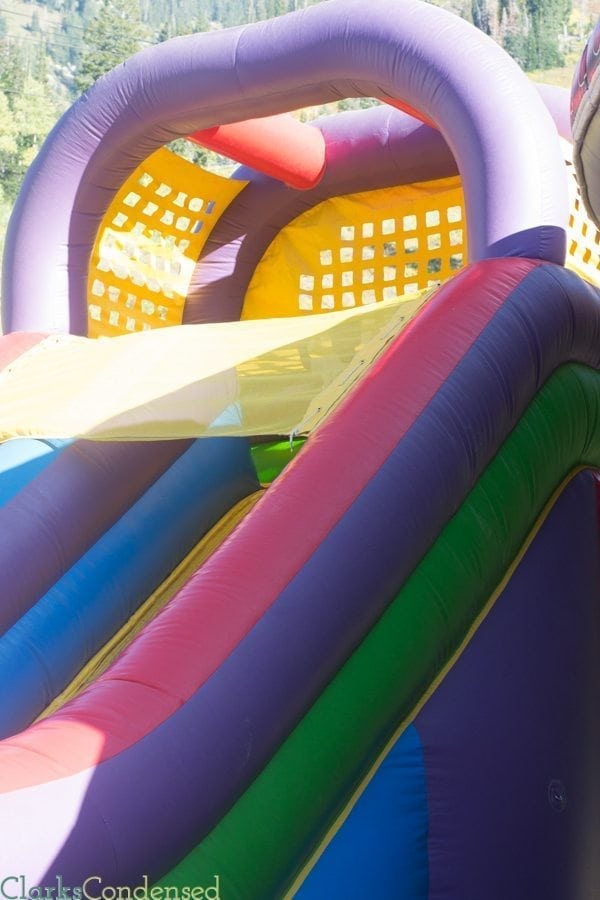 Jack really loved the alpine slide. He thought it was probably the coolest thing ever. Forrest really enjoyed going on the bungee jumping-esque "ride." It made me a little bit nervous, but he seemed to think it was a lot of fun!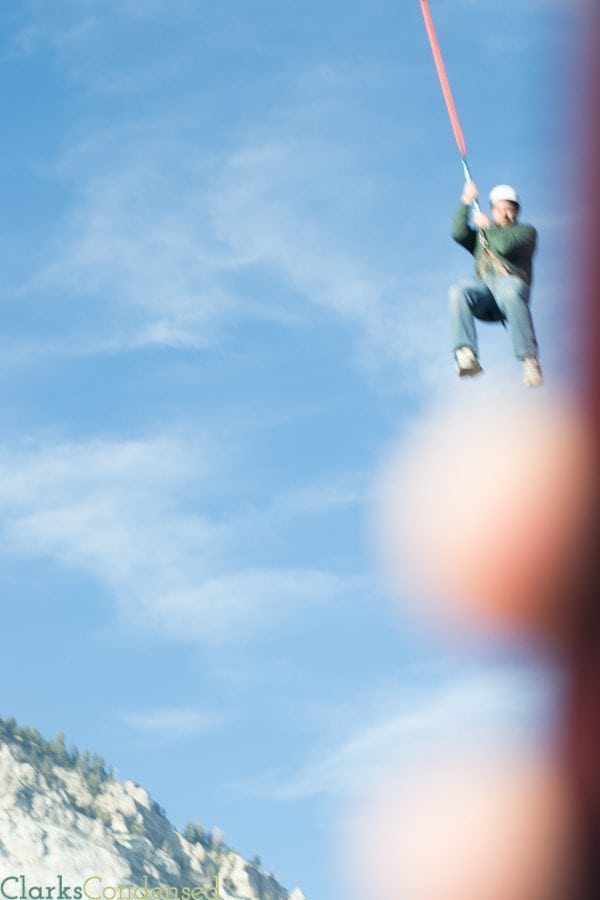 I think if there's one thing you have to do while you are at Snowbird, it's to ride either the Peruvian Ski Lift, or the Aerial Tram. You really get to see a breathtaking view of the surrounding mountains, and it's so peaceful.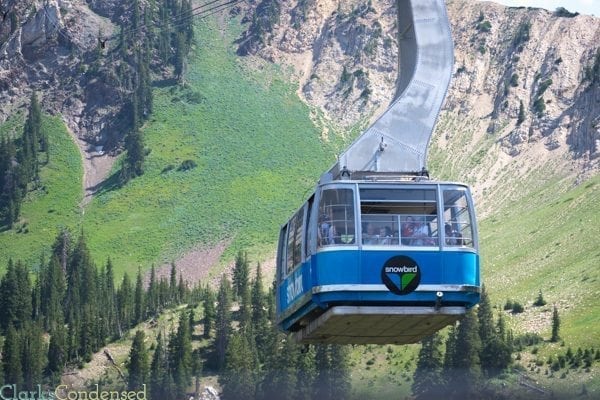 We went on the Tram during our July visit, but we decided to try out the Peruvian chair lift this time. While I was really nervous about taking Jack on it, he did a great job. It was a bit chilly on the ride down, since the wind was blowing toward us, so I would definitely be a jacket. However, the cold air was worth it for these views: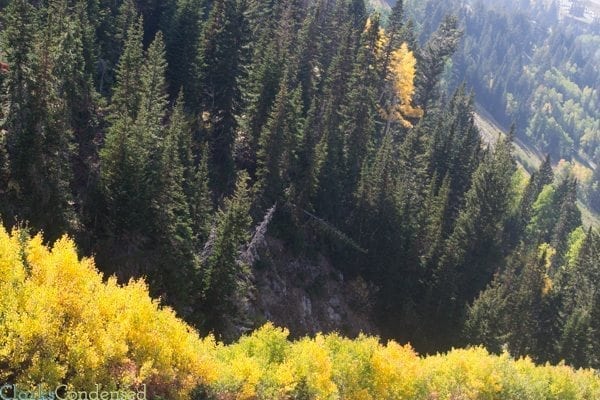 We really enjoy going to Snowbird. It's an excellent family vacation location. I will say, that if your car doesn't have a lot of power, it may have issues getting up there. We had to pull over several times because our car was overheating. But, that's obviously not Snowbird's fault…just something to keep in mind! Whether you are going for a little staycation, or coming from out of town, I don't think you'll be disappointed!