How to Save Money on a Cruise: The Best Tips For Cruising on a Budget
Cruises are an affordable and fun way to travel – but the extras can add up quickly. Here is everything you need to know about cruising on a budget – including what's included with your cruise fare, what isn't, and how to save money BEFORE and DURING your cruise!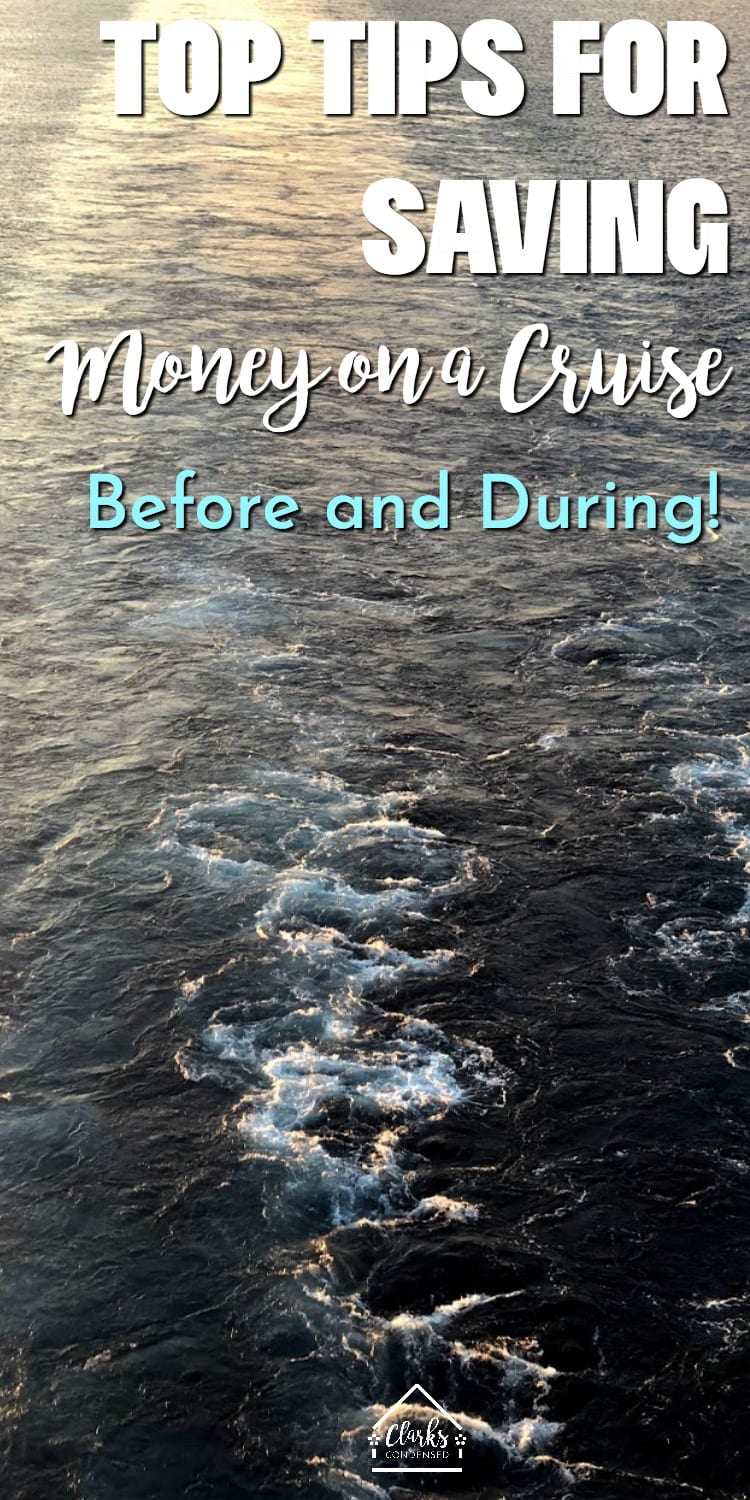 Cruise Budget
Cruises are a pretty affordable way to travel – but there are always ways to save even more!
One thing to keep in mind is that while your cruise will be all inclusive…they take every opportunity to squeeze more money out of you throughout the entire cruise. 
While some things are worth indulging in, I would make sure you have a strict budget in mind before you get on the cruise – especially if you are the type that's not good under pressure. 
When looking at activities, remember that many of these will end with some kind of sales pitch. Forrest went to some art history events, which he actually really enjoyed. They even had giveaways! However, most of those giveaways were for $200 "free" at an art auction…and let's just say it wasn't valid for any of the $200 artwork 🙂 
With that said, there are a lot of free and fun activities. Just always pay close attention to who the sponsor is and what the description of it is. On our cruise, they had a lot of fun things like nightly shows, comedy acts, mini golf, giant game boards, trivia, and more. These didn't cost us anything extra, and they were a lot of fun. Make sure you take a look at your ship's schedule every day!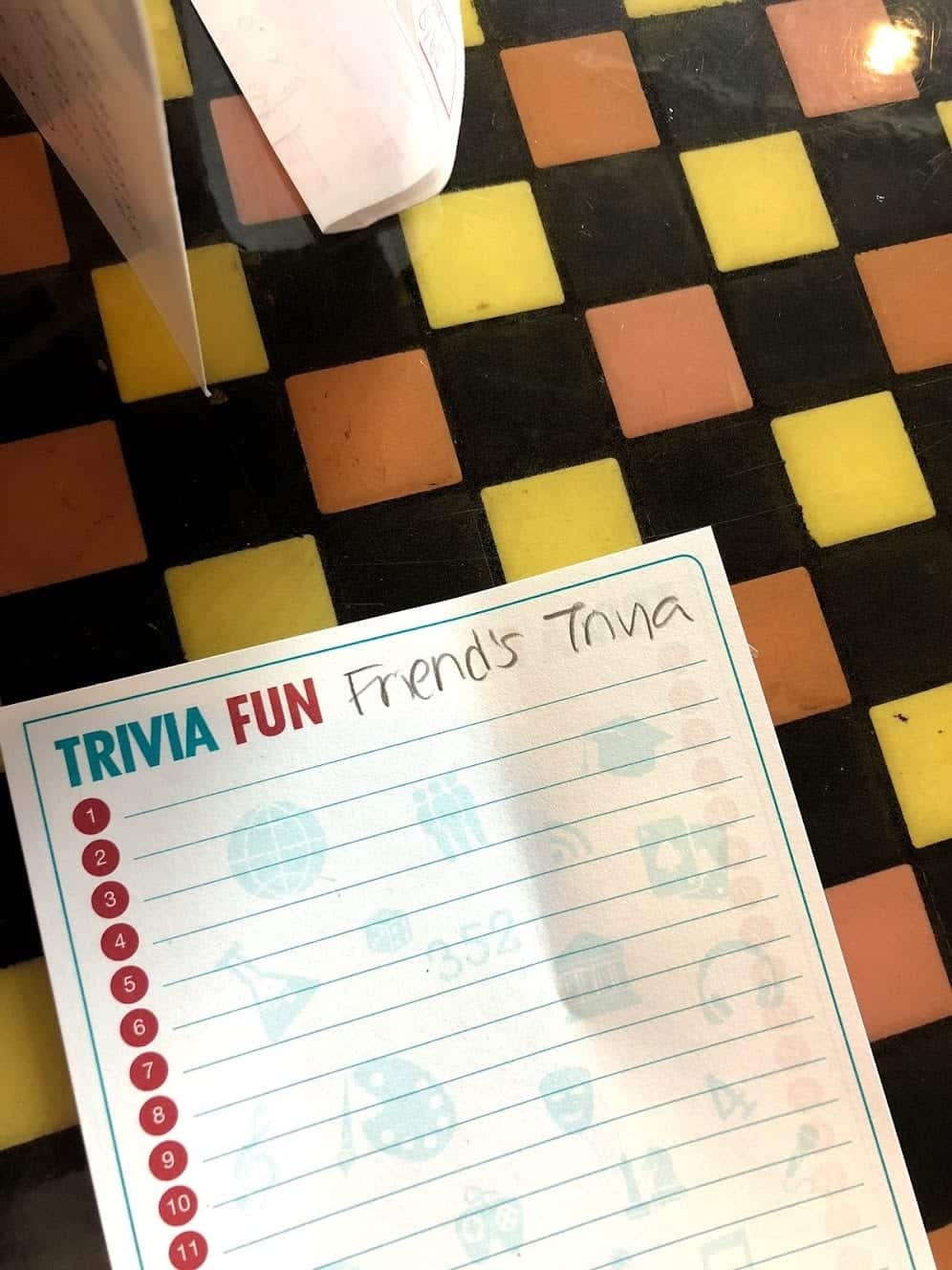 One other tip – go to the ship informational meetings that are usually hosted by the ship toward the beginning. We went to one – which was hosted by the cruise director – and he gave out tons of 100% free items. My boys both got a free Build-a-Bear voucher, which was seriously awesome. 
What is Included with a Cruise?
This will vary depending on cruise line, but in general, the following is included with your cruise fare:
Meals at various places on the ship (breakfast, lunch, and dinner – you can really eat unlimited amounts of food at these places, so long as they are open). You are welcome to bring food back to your room.
Water and lemonade from dispensers
Room
Daily housekeeping
Tons of free activities and entertainment
Fitness center
Pool
Childcare (age limits apply)
Definitely search for your specific cruise line to see what they include. 
What is NOT Included With a Cruise
Here are a few added expenses that they will try and sell you on your cruise: 
Spa Treatments – We went to a tour at the spa tour at the beginning of the cruise so we could try and win something free…which was dumb. Forrest and I decided to "splurge" on a couples massage, which was also a huge waste of money. Seriously, I don't think the spa treatments are worth it because they are so expensive. They also really try and sell you on super expensive products afterward, and I could tell the person who did our massage was NOT happy when we declined. 
BINGO – I'm sure some people spend hundreds of dollars on BINGO. I wanted to play, but we decided that we would only play one round because it is pricey. Keep in mind that you probably won't win, haha. It wasn't a great use of money, but it was a fun experience. Next time I think I'll just buy one card. If you want to play, look at your schedule to see when they have special promotions going on, because sometimes it is less expensive. 


Gambling
Art Exhibits and Sales – The exhibits don't cost anything, but they all lead up to getting you to come to an art auction, which, in my opinion, is a total waste of time and money
Jewelry – There were all sorts of jewelry sales going on. Once I did get a free necklace, which was fun. But they really push the on ship jewelry shop. One of the events was supposed to be about how to navigate one of the port cities, and all it ended up being was someone trying to get us all to upgrade our diamonds at a shop in Naussau. 
Excursions – Obviously, these are going to cost money. They are always talking about them on the cruise. We did buy one from Carnival (excursions are a whole other post I will write about sometime). While it can be the best idea to get an excursion from the cruise line, ShoreTrips is an awesome way to get them for probably less. My main concern with booking a non-cruise line excursion was that if you do one of those and you are late getting back, the cruise ship won't wait. However, with ShoreTrips, if you are left behind (for a reason that's not your fault), they will make sure they get you to your destination at no cost to you. 
Specialty Dining – You can go through your entire trip without paying for extra food, however, pretty much every cruise ship has some kind of specialty dining. We didn't check out any of the special restaurants, because we were plenty satisfied with the Carnival Cruise Food, though we did pay $5 a person for a Dr. Seuss Breakfast (more on that in a minute)
Alcohol and Soda – These are all extras on the cruise. There are drink packages you can get if you don't think you'll be able to live without these. Our cruise gave us all the water and lemonade our heart's desired 🙂 
Laundry 
WiFi – WiFi is definitely not free. If you aren't able to totally disconnect for the week, there are usually WiFi packages available. 
Childcare (for under a certain age) – A lot of the childcare is free, but if you have an infant, you'll definitely be paying extra. We went on Carnival Cruise because two and over are free. However, most of the cruise lines I looked at were three and over. 
Tips – These are not included with your initial fare, and they are automatically added to your final cruise bill – they are usually $13-15 per person, per day. You can go to the concierge desk to have them adjust them or remove them if you plan to tip people with cash. We found it simplest just to leave the tips on. Keep in mind that you will typically have to still pay tips on certain alcoholic beverages as well as salon/spam services. 
Photos – I think this is the BIGGEST rip-off on a cruises. They take pictures of you at meals, at ports, etc., and then they display them for you to see…and they charge a ton. Maybe other cruise lines do this, but Carnival didn't offer any kind of photo package with the digital prints. Maybe they should take a leaf out of Disneyland's book. 
Souvenirs 
Exercise Class – I talked about how much I enjoyed the exercise facilities in my post about how to not gain weight on cruises, and these are free. However, our cruise line offered a lot of exercise classes – most of which you had to pay for. I was kind of bummed when I realized you had to pay for Yoga!
Other Onboard Activities – tours, newer things like Laser Tag – The ship we went on was pretty barebones when it came to specialty activities. We had a pool with a slide, and that was about it. However, I know that a lot of newer ships offer really fun and exciting experiences on board. Some of these may be free, but a lot of them do require you to pay. 
How Much Does an Average Cruise Cost? 
This will vary largely depending on the cruise line, how many days you are on cruise, time of year, extra splurges, etc. 
According to Cruise Market Watch, the average cost per person (in 2018), the average cost per person, per day is $212.80 per day (broken down to $161.26 for the ticket per day, and $62.16 or on board spending). That link has some interesting information, so I would take a look at that. 
The best thing you can learn before going on a cruise? How to say no!
You will be presented with many opportunities to buy upgrades – but you need to decide in the beginning what you will say yes to – and forget the rest. If you go into your cruise without a plan, you may end up spending a lot more than you wanted to!
Extras that were worth it to us
One thing we really enjoyed on the Carnival Cruise we went on was the Dr. Seuss Breakfast. It was $5 a person, and it was so, so fun. Lots of themed food, fun characters, music…it was one of the best things we did. We signed up at the beginning of the cruise for it, and it was definitely money well spent.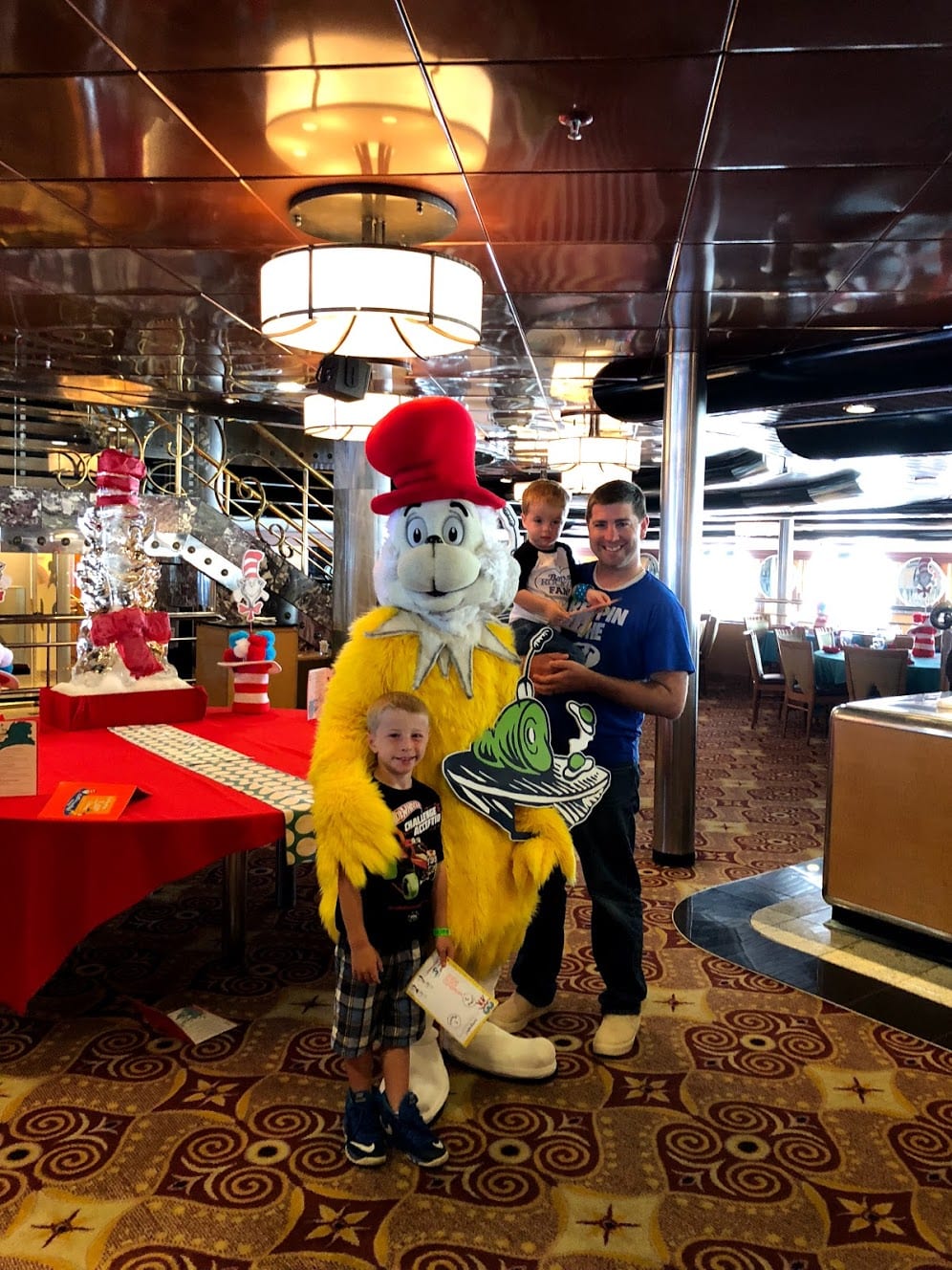 We did get the WiFi, primarily so I could check on our business at night to make sure it didn't go up in flames. That was worth it to me, but I think for the average person, it really isn't. 
At our first stop, we paid like $25 for one of these clamshells. It was SUPER sunny without a lot of shade, so even though it seemed a little bit ridiculous, that was worth buying.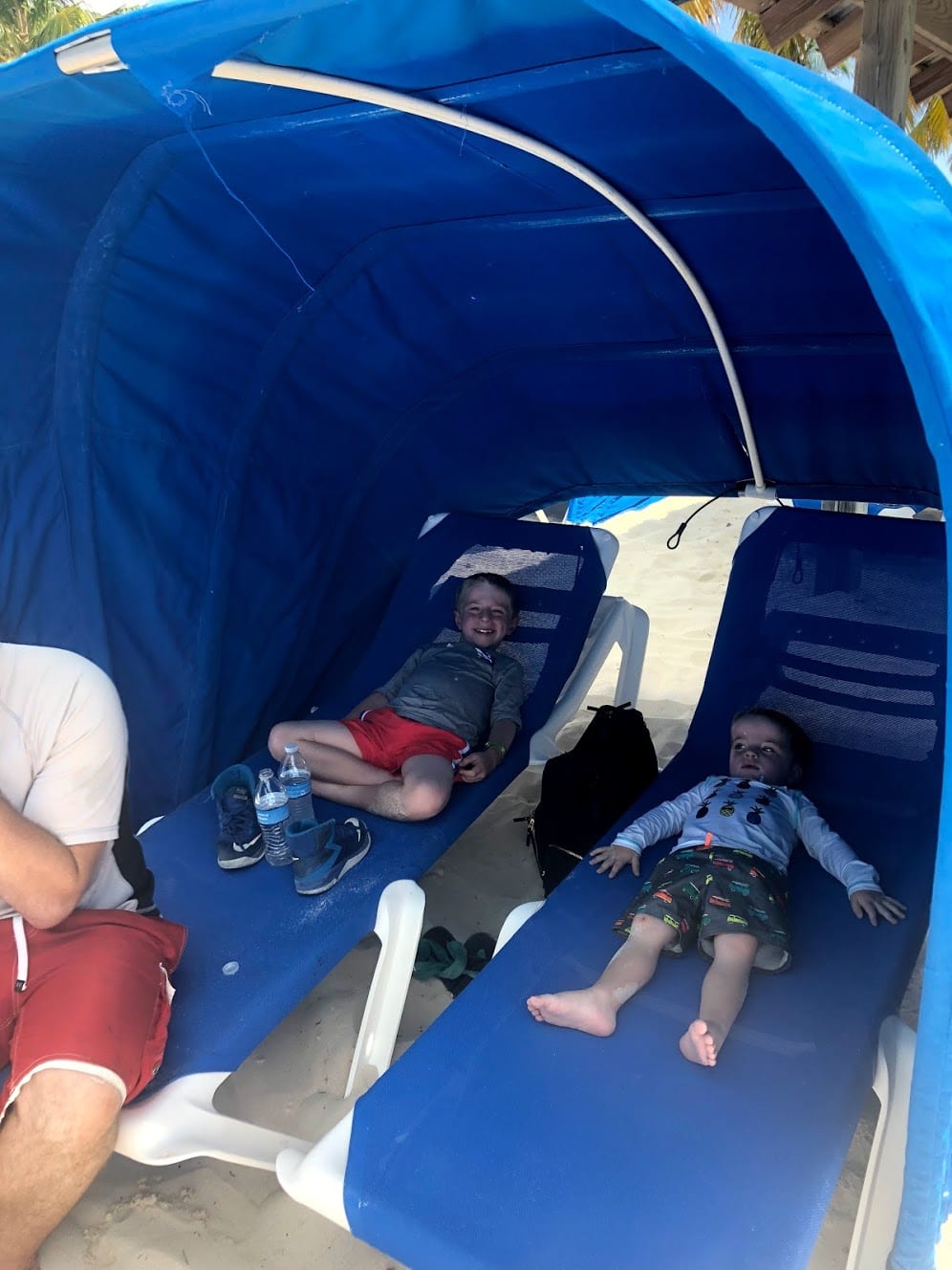 We really did enjoy the excursion we went on. We went on a fun, 30-minute boat ride to a private island where we had a delicious lunch, were able to interact with lots of different animals, and it was just nice to have a place to go. Naussau can feel a little overwhelming, so having a safe place to go without much effort was worth it to us.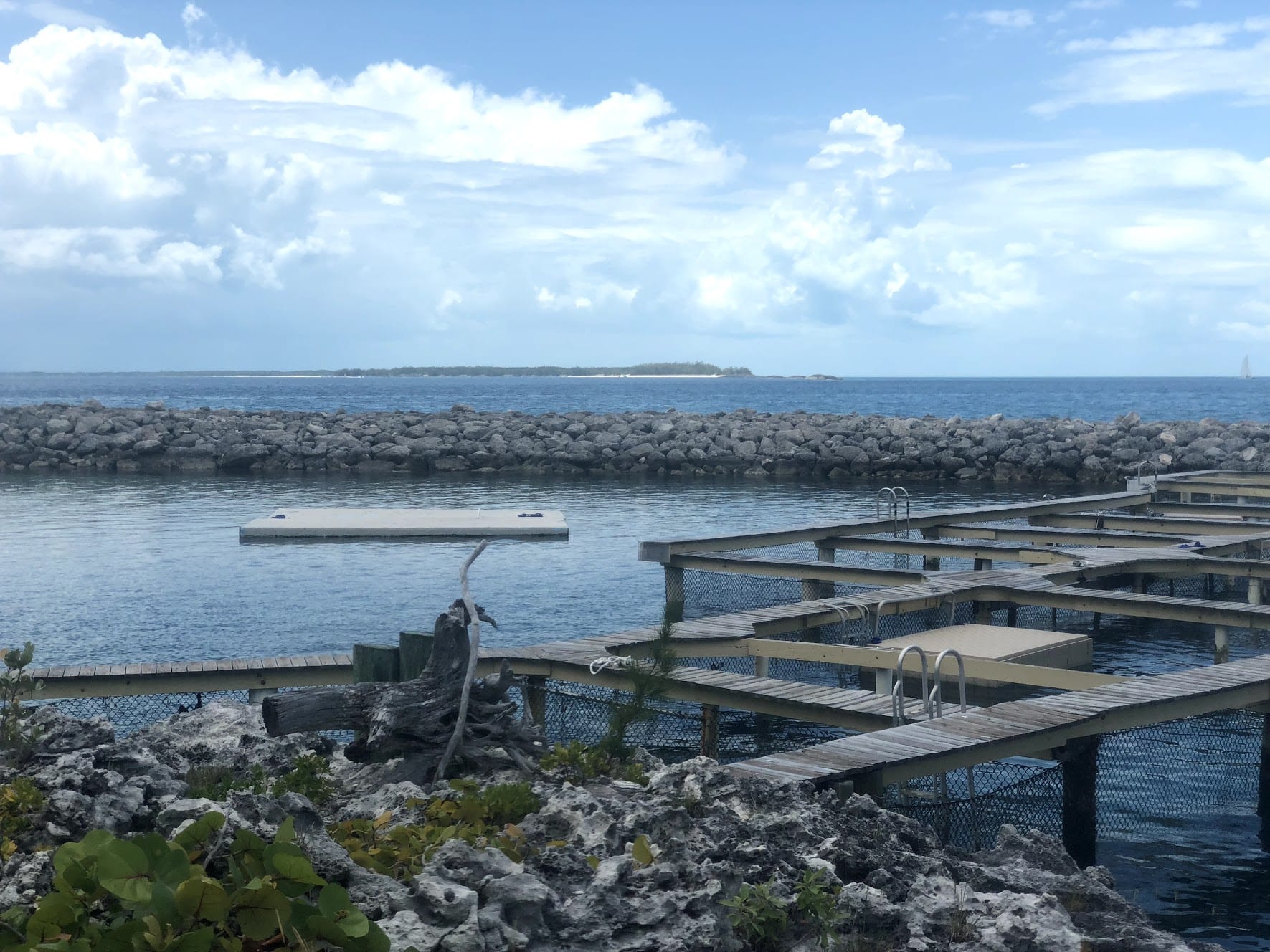 How Much Cash Should You Bring? 
The good news is, nowadays, most cruises are pretty cash-free. Your cruise card will be connected to your credit card (don't worry, you can choose which cards have access), and 99% of the time, you can just swipe that card. 
Even when we were on the private island we went to for our first stop, the cruise card was connected to all of our purchases there. 
Now, if you are going to a destination that is not specifically tied to your cruise line – that is probably when you will want cash. You may be able to just use your credit card, but some places will only allow cash. Make sure you check beforehand what currency they accept!
You will want to bring some cash to tip people off the cruise ship – for instance, if you go on a tender for an excursion, or for your excursion hosts. 
Some people like to bring dollar bills to give to cruise employees they see going above and beyond, so if you are that type of person, maybe bring a stack of those as well. 
How to Save Money
Planning for Splurges
As you read through this, you might think, "Wow, you really don't think we should spend any extra money on anything!" 
That is not what I'm saying. I just want to help people save money where they can so they can splurge on the things that really mean the most to them. One of the worst feelings is spending money willy nilly, only to realize it wasn't on things that truly brought you joy. 
So yes! You can indulge a little bit. Just plan ahead so you can make sure you are spending the money where you really want to. And if you don't want to spend extra? That's great, too, and entirely possible!
For instance
Okay! Now that I've gone over all the things that aren't included with your cruise so you can be prepared, let's talk about how you can save money!
Offseason
Offseason cruises will almost always be less expensive – and offseason may be different depending on what cruise line you go on. 
Hurricane season is known for rock bottom deals, but there's no guarantee that you'll actually even be able to get ON your cruise ship. And if you do, it's very possible it could get diverted, cut short (or in some cases, go on for longer than you anticipated).
I have a friend who had a cruise canceled due to a hurricane. She ended up getting refunded for that cruise, a credit for another cruise, plus like $500 in ship credit, which was
Just keep in mind that there are always going to be some downsides to going offseason – the water might be colder, the ocean might be rougher, and your cruise might be canceled altogether if you go during hurricane season.
However, some upsides include avoiding lots of partiers, cheaper fares, and possibly a less crowded ship. 
Interior cabin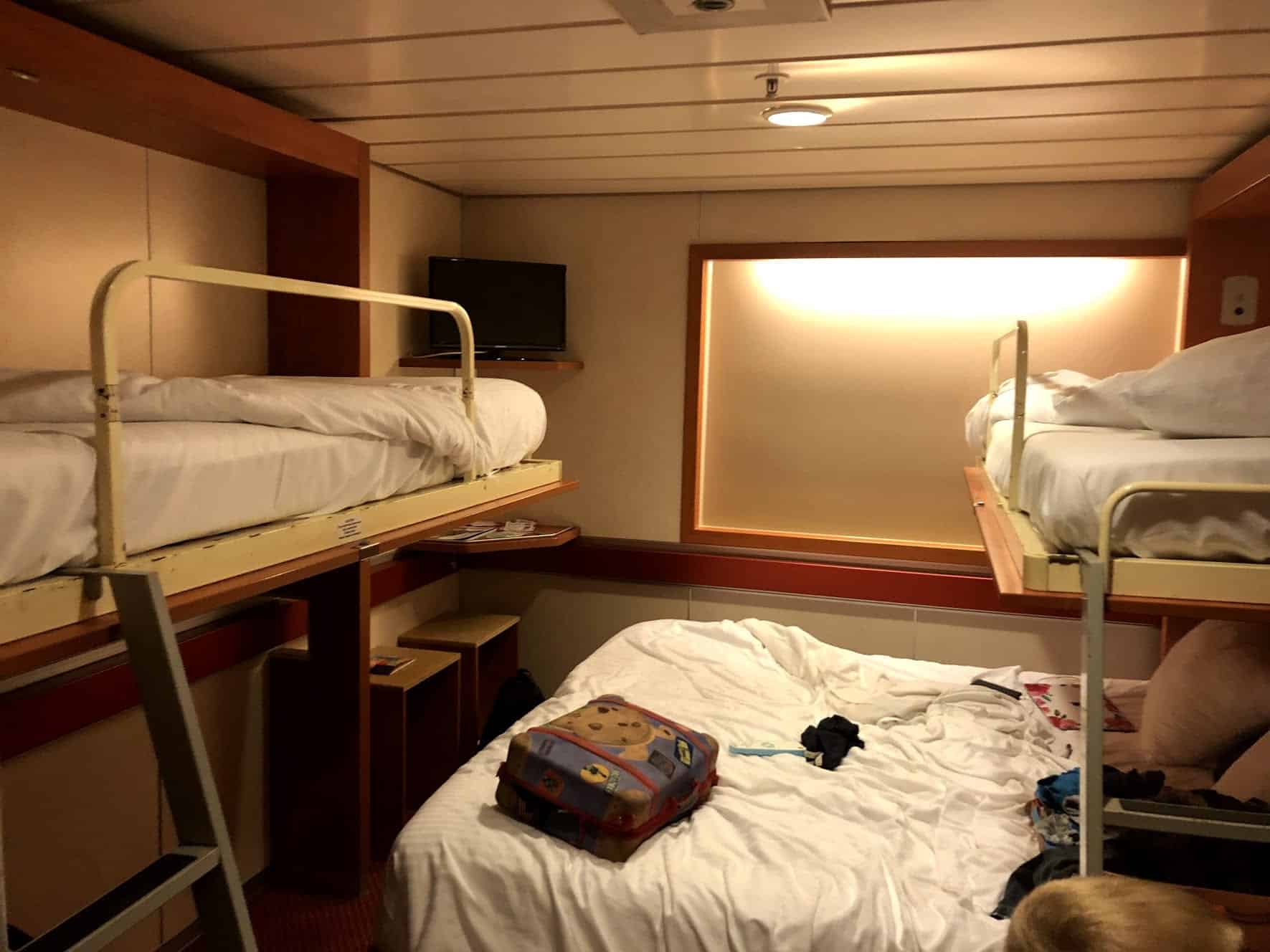 Interior cabins are almost always going to be your cheapest option. We were in an interior cabin, and while it may have been nice to have some view of the outside world…it wasn't bad. 
Honestly, we mainly just slept in our cabin, so getting an interior cabin was not a big deal for us. We saved several hundred dollars by doing this. 
Sometimes cruises will offer a "free" room upgrade promotion, so you can keep your eye open for that. I know some people have had luck calling a few weeks before their cruise and somehow getting their interior room upgrades for free. But I wouldn't count on it. 
Different cruise lines and ships will have different room offerings, but in general, here is the rank of least expensive to most expensive staterooms:
Interior room (no windows)
Exterior room with port hole
Exterior room with large window
Exterior room with balcony
And of course, there are suite options which will typically cost you a lot more!
Eat free food
There is absolutely no reason you can't get through your cruise without paying an extra dime for food (except for when you are at different destinations unless you are only gone for a couple of hours). 
There are tons of dining options on cruises, and most of them are free. On our cruise, there was a buffet, various quick service restaurants (such as pizza, sandwiches, hamburgers, and Mexican food), and then the dinners were suffered in the nicer, sit down area. 
The only extra meal we paid for was the Dr. Seuss breakfast I mentioned above, and it was super cheap. 
Our cruise had some fun options for breakfast that were included in case you wanted something fancier. 
Honestly, we thought the food was delicious. There was a huge variety, and you could eat as much as you wanted. With room service, there were some free options (though you have to pay tip), as well as some inexpensive paid options, but we never opted for the paid options. 
There are premium restaurants available on cruises, and if you just are dying to try them…then go for it. But you don't have to pay extra to eat your meals, and if you can avoid the extras, you will be saving money in the long run. 
Skip the drink packages (or buy the second day)
We only really drink water, so this wasn't even a temptation for us. So if you don't normally drink soda or alcohol – no reason to start on your cruise by buying the drink package. 
However, if you are a regular soda or alcohol drinker, one of these packages can be alluring. The best advice I've read is to wait until the second day of the cruise, because it will be discounted. I don't think you can usually buy it past the second day, but you'll save a few dollars by waiting. 
Most cruises will allow you to bring a small number of sealed soda cans on the ship – just double check your cruise ship's policy before going. 
I know on Carnival Cruise lines, you can bring up to 12 cans of milk, soda, or juice. Bottled water is no longer allowed because it was the most common way to smuggle alcohol on the ship. 
Some cruises will make everyone in a room purchase the drink package, so make sure you read the fine print. 
"Free" Kids on Excursions
So for the excursion, we went on, children under five were free. Awesome, right? Well, for the most part. 
Because Oliver was free, it didn't include lunch for him. There was a mixup, and I didn't realize that it was a buffet and Oliver could have easily eaten off my plate. 
Forrest was somewhere else, and the boys were starving, so I went to get them some food, and I used Forrest's meal voucher for Oliver. We had heard an additional meal ticket was $8, which didn't seem like a big deal. 
However, that was bad information. It was actually $25 for the food (and let me tell you, it was not worth $25). We did realize there was a little cafe that had cheaper food, but it was too late at that point. 
Oliver didn't even eat most of the food on his plate. Does this look like a $25 meal to you? Ha!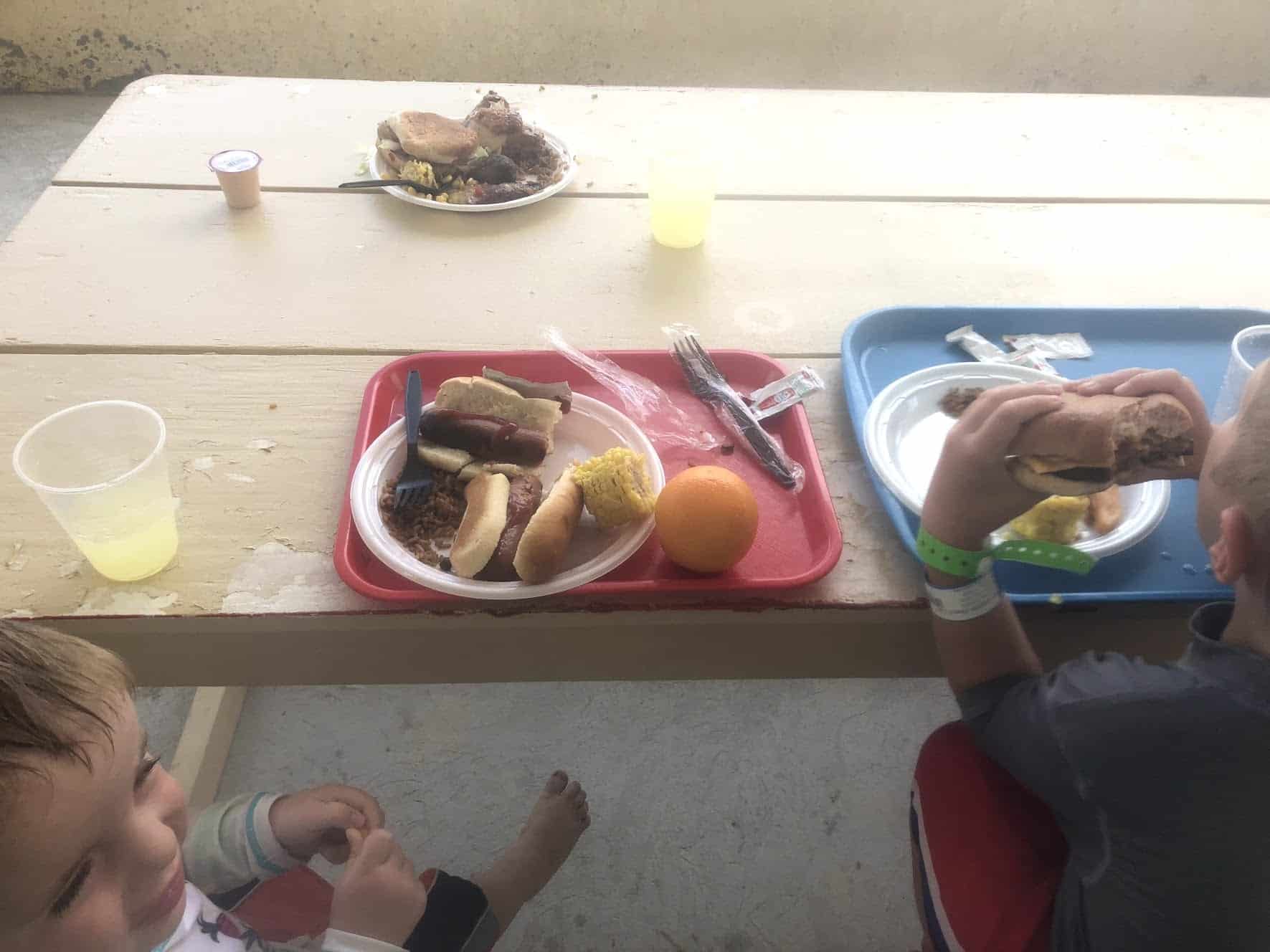 So just make sure you plan ahead if you have a little one getting a free excursion!
Buy water bottle packages
So we actually just brought our large, 64-ounce water bottles (empty) onto our cruise ship and filled them up with free water from the buffet. This worked well for the days we were on the cruise ship. 
However, when you are at a port, you can't bring any water off the ship unless it's one of the ship approved water bottles (at least this was the case on our ship). 
We ended up paying an arm and a leg for water when we were off the ship. You can usually buy a case of water for pretty inexpensive on your ship, and I think this is a good idea. Just save the water for when you are off the ship, and otherwise, drink the free water!
You can carry the cups from the buffet around the whole ship!
If you pre-purchase the water package, it should be delivered before you get on the ship. If you order it afterward, you will be subject to an auto-gratuity. 
Look for Drink Specials
If you really want to get that specialty drink, you can usually find a deal at some point throughout the cruise. Just keep your eyes peeled! 
Cruise for more days
Obviously, if you go on a long cruise, you'll be paying more overall – but it will usually end up being less per day. If you are wanting to get the most bang for your buck, a longer cruise will typically give that. 
I think that a three-day cruise would be too short. We really enjoyed our five-day cruise, but I think we could have gone for a couple more days without getting stir crazy on the ship. 
Use a Travel Agent
I booked our cruise through Get Away Today. Honestly, the prices were pretty similar at all the places we looked, but I think it's valuable to book through a travel agent. They can help you navigate the confusing process of booking a cruise and getting the most value for your money, and they often throw in certain perks for booking through them. 
I was really confused when I was trying to decide on our cruise, and it just was a lot simpler when I got on the phone with our agent at Get Away Today. We primarily use them for our Disney trips, but when I saw they offered cruises, I knew that was going to be our best course of action. 
It typically doesn't cost you extra to book through a travel agent, and it can save you money in the long run since they know all the tips and tricks of the trade. 
Another great company to go through is Cruise Direct. They offer amazing deals on cruises from all the different lines across the world. 
Consider non-cruise excursions
We went on a Carnival cruise excursion, primarily because I was terrified that we would get left behind if we ventured out on our own or used another service. 
We were happy with the one we went on, especially because we didn't really want to navigate Naussau by ourselves. But if you are adventurous, you can arrange your own tours or go through a non-cruise line excursion company for more savings. 
Just make sure you are back in plenty of time. I found Shore Trips, which seems like your best bet for booking a non-cruise line excursion. They have awesome prices, and if, for some reason, you get left behind due to the excursion (by no fault of your own), they will pay to get you to the next port. That would alleviate some of my stress for sure!
And keep in mind – you don't have to to get an excursion. You can go out on your own or even stay on the ship if the destination is not your favorite! Excursions are not required. 
Buy extras ahead of time
At least on the Carnival Cruise line, if you booked certain things ahead of time, you got a discount. I believe the WiFi packages were less expensive before we got on the ship, I think they had discounted spa services, etc. So take a look at these beforehand to see if there's anything you want!
Order wine and ask them to save it
We aren't alcohol drinkers, but I know a lot of people are! If you order a bottle of wine at dinner, don't feel like you have to chug it all down right that second. You can ask your waiter to cork it and save it for you for another time on the cruise!
Gift cards
There are a lot of discount gift card websites out there, and some of them have gift cards for different popular cruises. You may not save a ton by getting these, but hey, every dollar counts. 
Avoid Double Tipping
So with the gratuity added to your bill – this is for your restaurant servers, housekeepers, etc. When you do a spa service or go to the bar, they will often include a tip automatically. 
However, you may also see there is ANOTHER line that says tip. Make sure it hasn't already been added into your receipt before you add in an additional gratuity unless they really went above and beyond and you want to to tip more. 
Timeshare Presentations
If you can't say no and fold under pressure, just skip this tip! However, if you have a strong arm and won't be pressured into actually buying a timeshare, this might be a good way to either get a free/discounted cruise, a free excursion, etc. 
There are always timeshare presentations going on at popular tourist destinations, and there is usually some kind of reward for sitting through them. When my brother and sister-in-law went to Cancun recently, they were able to get a pretty cool excursion. 
Keep in mind they are very high pressure, and they aren't usually very happy if you say no. But it can get you some pretty cool things! You can google "Cruise timeshare presentations" to see if there are any going on near you before you book!
Also, keep in mind that there are usually fees still tacked on. I think your best bet would be a presentation for an excursion. 
Look for special deals – ship credit, kids cruise free, etc. 
A lot of cruise lines will run specials throughout the year. If you can nab one of these, it can really save you some money in the end. I always think ship credit is pretty nice. And the kids cruise free is great if you are going with your children!
Eat on the boat at excursions
Eating off the boat can be pricey, and you can't really bring food with you. If you can, eat breakfast before you go, maybe buy a snack on the island to tie you over, and eat lunch when you get back to the boat. 
Obviously, if you are on an all day excursion, this won't be possible. But if you aren't planning to be gone all day, it will save you money. Food off the ship is EXPENSIVE – at least in my experience. 
Some excursions will provide lunch, so that's something you can try and look for if you are booking one. 
Don't get the WiFi (download movies beforehand)
I did get the WiFi, but I have an online business that I needed to make sure didn't go down the drain while I was on our ship. I only used it for about five minutes a day, though, which was perfect. 
If you don't need WiFi, though…don't get it! It is kind of pricey, and if you are looking to disconnect, there is no better place than on a cruise ship. 
You should download movies from Netflix or other sources beforehand so you aren't feeling tempted to get WiFi to watch shows (though depending on the WiFi, you may not be able to stream anyway). 
Loyalty program
Join your cruise ship loyalty program as soon as you can. You may get certain perks just before signing up. But more so, it's great if you are planning to go on another cruise eventually. You can sometimes earn points or upgrades for your next cruise, and these are typically free!
Don't shop at stores closest to the ship
If you are stopping in a tourist-y place, there are bound to be lots of shops set up. The ones that are closest to the ship will almost always have their prices jacked up a ton. Try and venture out a little further to find better prices. 
Bring everything you need
I talked about all the things I forgot in the 22 Things I Wish I Packed for my Cruise post…so don't be like me! Quadruple check that you are bringing everything you need…because trust me, it's going to be more expensive if you have to buy it on the ship. 
Remember that everything has a catch
I feel like at least half of the activities we went to on our cruise (probably more) had some kind of catch or upsell…and people were not very happy when you didn't buy into them. While not everything is, I recommend making sure you look at who the sponsor is and remember you can say no. 
I went to a "Women's Pampering Hour", where someone taught some stuff about skin and we tried some products. It was actually really informative. But then she really pushed us all hard to signup for her services right after, and it was kind of intense. I ended up saying I would need to talk to my husband, because she wouldn't stake no for an answer.
Services on port days
Now, I haven't tried this myself, but I have heard that on cruise services (such as the spa) can be less expensive. So keep that in mind!
Plan a group cruise
If you can convince a big group of friends to go together, the organizer of the group will typically get a free room! There are rules and regulations on how many people have to book in order to qualify for a room, but it's certainly an option. Just make sure you are upfront with your group about this from the start that it's a perk you get for organizing everything. 
Stay in airplane mode
When you get on your cruise ship, just put your phone in airplane mode. While many cell phone carriers offer free roaming in foreign countries…unless you are 1000% positive, you don't want to risk getting crazy fees for accidental phone calls or text messages. 
Plus, putting your phone in airplane mode right away will make sure it stays in your departure ports time zone, which is typically the time the cruise will stay on (even if you go to a new time zone). 
Book early or late
As I've researched the best time to book a cruise, it seems to be the extreme ends of the spectrum – either very, very last minute, or a year or more in advance. 
While you can get some killer deals on cruises last minute, this isn't something I would recommend if you have a specific cruise you want to go on. The cruise we went on ended up selling out, and even booking when we did, there were pretty slim pickings for rooms. 
We booked about three months before, and I think we could have saved money had we booked sooner – as well as gotten a better room!
Unless you are the type that just really likes to live on the edge, it's going to be in your best interest to book far in advance. 
Cruise close to home
Sometimes, the most expensive part of a cruise is just getting there. When researching cruises, try and find ports that are either a) close to your hometown or b) inexpensive to travel to. 
We decided to go on a cruise that went out of Charleston because we were able to double up the trip with a family reunion that wasn't too far from there. We were also able to visit with Forrest's brother and his family, who live pretty close to Charleston, which saved us on hotel costs when we got there. 
There are ports all over the place, and many of them will get you to similar destinations. If you live in Florida, there's probably no reason to fly to Texas to go on a cruise. 
Phew! That was a lot. I do hope that this was helpful – and I would LOVE to hear any tips you have for saving money on cruises.