Where Can I charge My Phone At Disneyland?
Going to the happiest place on earth? Don't be left feeling sad with a dead phone battery and no idea what to do! Be sure to read our article to help you prepare ahead of time to make sure you know where to charge your phone at Disneyland!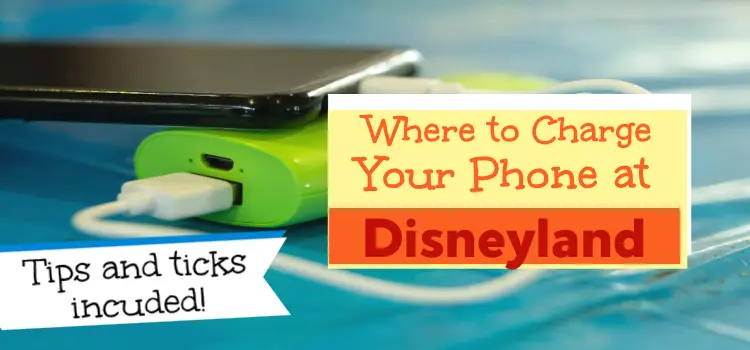 If you've ever been to Disneyland, you know that every moment is filled with excitement, wonder, and a fair share of photo opportunities. Naturally, you'll want to capture these magical moments with your smartphone.
However, as any avid Disney-goer knows, a day at the park can quickly drain your phone's battery. I know that I'm constantly taking pictures, using Disney Genie+, or checking our ride photos in the app.
So, the pressing question for many visitors is: Where can I charge my phone at Disneyland?
Fret not, for Disneyland has embraced the digital age, offering various charging options to ensure that your device stays powered up and ready to capture all the enchantment.
Where can I charge my phone at Disneyland?
Charge at Charging Kiosk Stations
Disneyland has got you covered with their charging kiosk stations. For $30, you can pick up one of their charging sticks, and when it runs out, just head to another charging station and trade it in. This is a one-time fee, so you can bring it to every trip.
They include:
One fully charged portable battery
One 3.5" USB to micro-USB cable (for most Android devices)
One USB C Adapter (needed for some Android Devices)
One 3.5″ Apple Lightning to USB cable (for iPhone generations 5+)
I personally don't think they are the highest quality chargers, but if you want the ultimate convenient option, this might work for you.
You'll typically find them near restrooms, dining areas, and other high-traffic spots. These charging stations are a handy way to top up your battery while taking a brief break from the magic.
Disneyland App
Disneyland offers its very own app, which is a must-have for navigating the park efficiently. Alongside ride times, maps, and dining options, the app also provides useful information about the location of charging stations.
You can use it to plan your charging breaks strategically, ensuring you're never too far from a power source when you need it.
Bring Your Own Power Bank
One of the easiest solutions to keep your phone charged throughout the day is to bring your own power bank or portable charger.
Disneyland allows visitors to carry these devices, and you can use them while waiting in line or enjoying a meal. It's a smart way to ensure your device stays juiced up without needing to find a charging station.
We have used this one for YEARS, and it has ever let us down. It keeps its charge for quite some time, and it has built-in charging cables. It can easily be recharged with a wall outlet. It's expensive, but it's bene one of our best purchases.
Outlets throughout the Park
There are actually some outlets available for public use throughout the park. They aren't heavily advertised, but they are definitely available. This article tracks all of them, so be sure to check that out for more tips.
Guest Services
Don't hesitate to ask Disneyland's helpful Guest Services for assistance with your charging needs. They can direct you to the nearest charging station or provide valuable advice for keeping your phone powered up.
Plan Ahead
Lastly, the best way to ensure your phone stays charged is to plan ahead. Start your day with a fully charged device, close any unnecessary background apps, and lower screen brightness to conserve battery life. We always put our phones on low power mode before we get to the park.
Consider using airplane mode when you don't need a data connection, as this can significantly extend your battery's lifespan.
Disneyland recognizes the importance of staying connected and capturing memories, so they've made it relatively easy to charge your phone within the park. By utilizing charging stations, the Disneyland app, or your own power bank, you can ensure that your device is always ready to capture the magic of this extraordinary place. So, go ahead, snap those pictures, and share the enchantment with the world. Disneyland is waiting, and your phone will be fully charged to make the most of it!