How to Choose a Cruise: Tips for Picking the Best Cruise Itinerary
Choosing which cruise you want to go on is a big decision! Here are several things to consider on how to choose a cruise for the best cruise itinerary ever!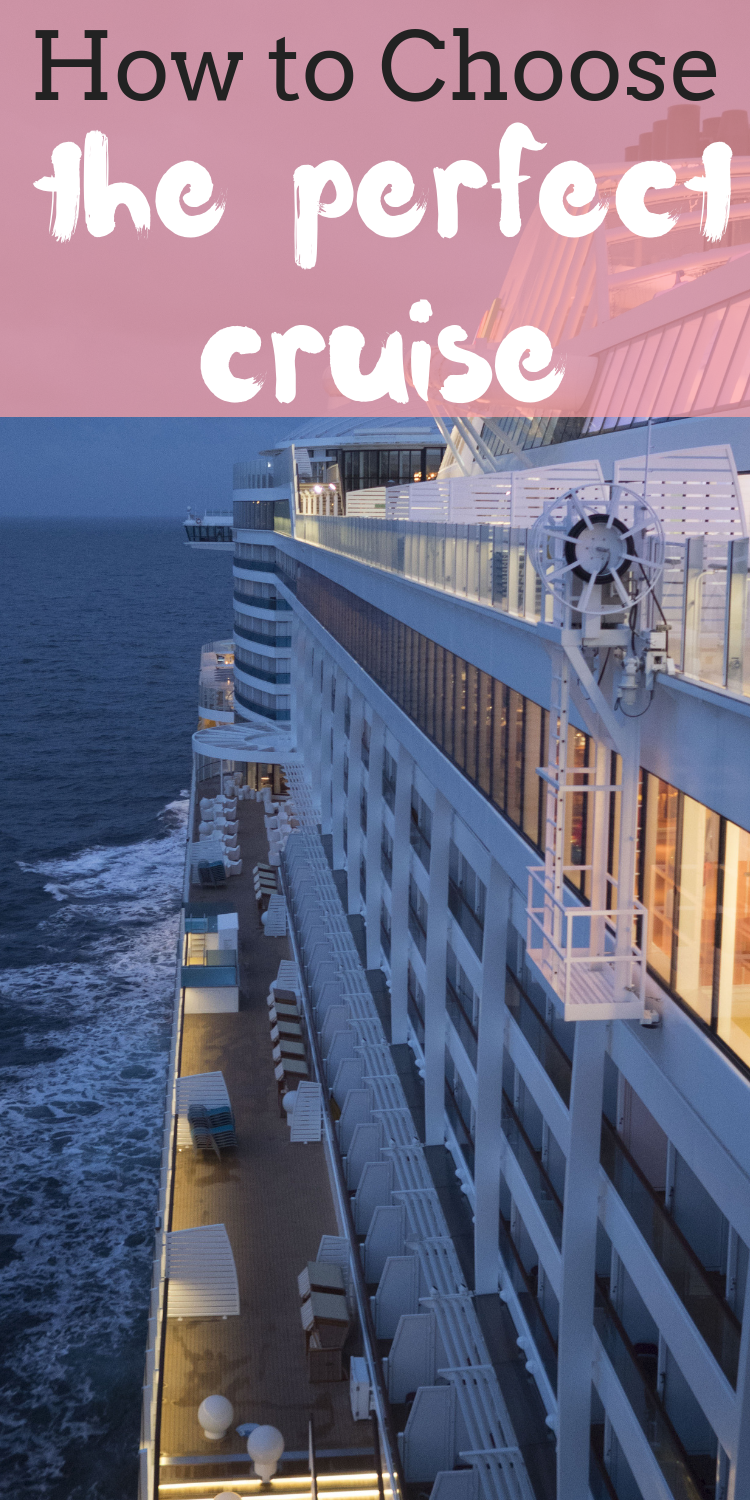 How to Choose a Cruise
Earlier this year, we went on our first cruise – and we had such fun time!
I'm convinced that cruising is one of the best ways to travel – you wake up in a different place every morning, lots of food, tons to do…it's just really fun!
We took our two boys (6 and 2 at the time), and we all had a great time.
The hardest part – in my opinion – is just deciding on your cruise itinerary.
There are seriously SO many options out there, and it can be super overwhelming as you go and start searching for them.
So I thought I would share a few things to consider when choosing your cruise itinerary that I think
Where to Book?
One thing to keep in mind about booking a cruise is that most places will have the exact same prices (source). If it seems cheaper than another website, it's likely because they haven't included all of the prices, and it typically says "Cruise price from …", meaning, the prices start there and typically just go up.
So when booking, I would just go with a place you feel most comfortable with. Some booking agents will offer little perks to get you to book with them, but I think it's most important to book with someone that you trust.
I went back and forth between Costco and Get Away Today. I love both of these places, but in the end, I decided to go with Get Away Today. They've always been so helpful to us for our Disneyland trips, and I knew that they'd be the same with our cruise.
Everyone who helped us book was so kind and responsive – and their website is so easy to navigate. I definitely recommend booking with them! They book for many of destinations, ports, and cruise lines. You can browse their website, and if you need any help, they are just a phone call away.
Cruise Direct is another great option from what I've seen.
You can definitely book directly through the cruise website as well. For some, this may make you feel more confident in knowing you've booked directly from the source
Destination?
Where would you like to go? There are cruises all over the world, so I think the first step is to decide where you'd like to go. Some popular cruises include:
Bahamas
Mexico
Alaska
Europe
Hawaii
Once you've decided the general location, you can start to research some of the next things – such as the port and cruise line. You should consider things like the time of year you are going, what kinds of activities you would like to do, etc. For us, we narrowed it down pretty quickly because there aren't a lot of Zika-free areas for the type of cruises we were interested in, so the Western Caribbean it was!
What is the Best Cruise Line?
I wasn't sure if I should talk about cruise line or port first, but I think that cruise line is probably most important.
There are quite a few different cruise lines out there, and this can be overwhelming. Everyone has an opinion on what is the best – and for what reason.
One thing to keep in mind is that not all the ships on a specific cruise line are going to be the same – so once you choose a cruise line, you'll be faced with choosing a ship as well. But even if the ships vary, cruise lines tend to be pretty streamlined across all their ships in terms of food and service. However, amenities and activities can vary substantially – even amongst cruise lines – so that's definitely something to research as well once you've decided on the cruise line.
Now, as I said before, you'll get LOTS of opinions on what cruise line you should go on. However, through my research, here are the general feelings I got about some of these major cruise lines here in the United States. Keep in mind that I mention children a lot, since that's what we were primarily looking for. But if I mention it, it doesn't mean you can't have a great time without kids.
There are plenty of other cruise lines, but these are definitely the most popular. I would consider what is most important for you for your cruise and then do some Google searches on those terms to see what you find out! A lot of it comes down to amenities and where you want to go.
I would caution you about reading reviews online. We went on the Carnival Ecstacy, and not all the reviews were glowing on some of the websites I went to. Some of them made it sound like we were basically cruising off to our death. It was an older ship with not as many amenities as some, but we had a BLAST. It's all about attitude if you ask me! Obviously, if all the reviews are bad, that is something to keep in mind.
Port?
What port do you want to leave from? This is an important thing to consider, along with how you plan to get there.
For instance, we were interested in a Western Caribbean cruise, which narrowed down our port options quite a bit:
Galveston
Several in Florida (Miami, Ft. Lauderdale, Cape Canaveral, etc.).
Charleston
Because we have family in the Charleston area – and there was going to be a family reunion in North Carolina around the time we were going on our cruise – we decided that we would go with that port. Even though the ship was older, it made the most sense for us. A lot of people were surprised that there was even a port in Charleston when we would mention it – as far as I know, only Carnival sails out of there. We went on the Ecstacy, though they are bringing a newer and fancier boat there in 2019 – the Carnival Sunshine.
Anyways – once you've figured out what cruise line you are going on – as well as your destination – you can pick your port. It's important to consider how you are going to get there – before we started considering Charleston, we looked into Florida and Texas, and the most affordable flights for us would have been to Texas.
How Long Should You Go?
Cruises last anywhere from three days to a few weeks long! So what should you choose?
Obviously, the longer you go, the more you are going to have to pay overall – though you may see a decrease in cost per day for a longer trip.
When choosing how long to go, you should consider:
How many days are sea are there? Some people love these, some people hate them.
What destinations will you be going to? Are there a variety of new things at each stop that makes it worth it to have extra stops?
Ages of those going with you?
Are you prone to seasickness? While I wouldn't say this would indicate you need to go on a shorter cruise – if you are a first-time cruiser, it might be best to keep it on the lower end of things, just in case you are miserable!
How long can you take off from work?
Check flights (if you are flying in) to see what days surrounding the cruise are cheapest to fly in and out and build the length around that.
We went on a five-night cruise, and it seemed to be perfect for our family. We had 2.5 days at sea, and then we had two days at destinations. I could have probably gone another day or two, but the five-night cruise fit our budget the best.
Three and four-day cruises are generally the cheapest options, but I do feel like it would feel a little bit short – especially after going to the effort and expense to get there. But again – if that's what you can afford, that's what you can afford.
I don't know that I'd go much longer than seven days – especially if you are a first-time cruiser or you have children. A lot of people who love cruising will go on longer cruises, and I think that could be fun at some point in my life. But I don't think they are ideal for most people.
What is included? 
When looking at the cost of your ticket, make sure you know about all the extra charges – there are often port charges, taxes, and more that may or may not be included in the price you are looking at.
Most cruises are going to include food, some entertainment options, and lots of activities. But most cruises also really like to push their paid options – such as the spa, BINGO, and gambling, alcohol, etc.
You can even look at some of the add-ons that you are considering to see what ends up being the best deal. For instance, not all cruise ships have amazing Internet – in fact, until recently, most cruise chips charged by the minute for subpar (at best) Internet connection.
Other Factors to Consider:
I've touched on a lot of these factors above, but I felt they were worth diving more deeply into.
Budget
Honestly, this is the first thing I think you should consider before you do ANYTHING! Cruise can be very affordable – but they can also be very expensive.
You have to pay per person – not just per room. And while children are usually discounted, you still have to pay for them. Here are some expenses you have to keep in mind when coming up with the budget:
Cost of the cruise (with taxes and port fees included) per person
Tips (these are typically added automatically to your final bill after your cruise is over. It's typically around $12-15 a person per day, though you can adjust it to whatever you want. Tips aren't technically required, but it would be pretty poor form not to pay them. The cruise employees work hard!)
Excursions – these aren't required, but they can enhance your experience
On board experiences – spa, gambling, etc. You can look online before you book to see what types of experiences are paid and which require additional payment
Transportation to the port (flight, rental car, etc.)
Hotel before and/or after the cruise
Time of year?
The time of year will definitely impact the cost of your cruise – and it can also impact your experience.
You can get some killer deals on cruises during a hurricane – but you have to consider at what cost. There are very real possibilities that your cruise will be canceled. And if it's not, you may have to miss a stop or two if the destination is having bad weather. If the weather is poor while you are on the ship, it might not be very fun to have to stay cooped up inside the ship for days on end either.
Cruising season will be different based on where you are going – I found this article to be helpful in talking about the best and cheapest times to cruise. It breaks it down by destination, which is helpful.
Ages of people going
Some cruises are better for senior citizens. Some are great for families. And some are more geared toward parties. You definitely need to consider the ages of the people are going and research the cruise lines for that demographic. While most cruises will accept people of all ages, that doesn't mean they are meant for every age.
What do you like to do?
As I mentioned some of the cruise lines toward the beginning of this cruise, I mention some of the activities available on those cruises. If you have a specific interest, look for a cruise that offers something along those lines. Choosing a cruise with a destination that has activities you want to do can help narrow it down as well.
I hope that this will help you figure out the best cruise line for your family. Again, I can't say enough good things about Get Away Today. If you are still feeling overwhelmed, they will definitely walk you through the process.
Other Cruise Posts You May Enjoy: