10 Secrets, Tips, and Tricks for The Wizarding World of Harry Potter in Hollywood
While most of our time in California surrounded Disneyland and California Adventure, a few of us really wanted to go to visit the Wizarding World of Harry Potter in Universal Studios Hollywood. It just opened in April, and since we are big HP fans around here, we knew we couldn't miss it.
I was really excited to be able to get a couple of press tickets – we had an extra one, so my little brother, Michael, was able to come. What did he think?
Well, he said dreams came true that day, and it would be practically his dream job to work there.
I'd say it was pretty much a success.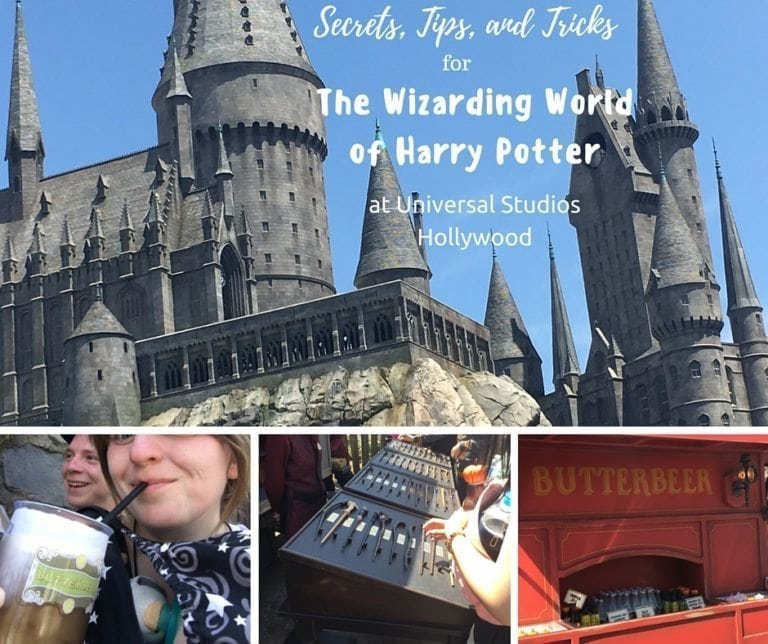 Leading up to our visit, we all were getting SO excited. We drove up from Anaheim in horrible traffic (but isn't that always the case in California?), and it was pretty hot outside, but none of that mattered when we first entered the gates. It was so magical from the moment we got there. It's about 1/3 the size of the Wizarding World in Orlando, but it was still incredible.
If you are a Harry Potter fan, this is a must-visit location. It was a bit out of our way, but I'm so glad we went. Since it's a new place, I thought I would write a few tips and tricks for navigating the Wizarding World of Harry Potter in Hollywood's Universal Studios!
First off, if you are going to buy tickets, buy them from Get Away Today! You can buy them just for Universal Studios, OR you can buy a bundle with tickets to Disney, which is awesome. I think they have the best prices on tickets (especially when you bundle with Disney), and their prices on hotels are pretty unbeatable as well. If you book your tickets and a hotel through Get Away Today, you can get $10 off using the code ClarksCondensed!
Plus, you can use their awesome layaway plans so you don't have to pay for the entire trip until two weeks before you leave. We planned most of our California trip through Get Away Today, and they made it so easy.

Now, on to the good stuff!
When to Go
We went in the middle of the day, and it was quite busy! Everything I've heard and read has said that you should either go first thing in the morning or wait until later afternoon.
With that said, the longest line I saw as for the Ollivander's Wand choosing ceremony. The other two main attractions really didn't have the longest waits at all. We went right in the middle of the afternoon even!
What to do First
There is a lot to look at inside the Wizarding World, so I recommend taking your time. However, the two places that had the longest lines were Ollivander's Wand Shop and Harry Potter and the Forbidden Journey. I will talk about these more in a bit, but they definitely had the longest lines.
I recommend grabbing a big cup of butterbeer while you wait in the line – if it's out outside, it will definitely help make the wait a little less long.
The Three Broomsticks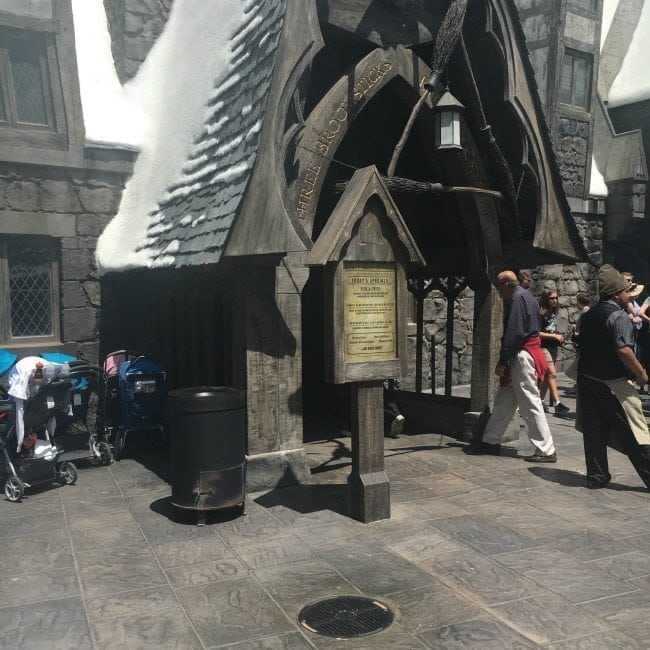 We didn't get a chance to eat here, but I wish we would have. It sounds amazing, and if you go, I think you should definitely make an effort to eat there. It sounds like it has a lot of traditional British fare.
One of the employees at Honeydukes told us that if you have a party of four or more, the cook will bring the meal out to you personally. I thought that was kind of cool!
Even if you don't want to eat there, you can take a tour. We didn't get the opportunity to do this, but I wish we had.
Butterbeer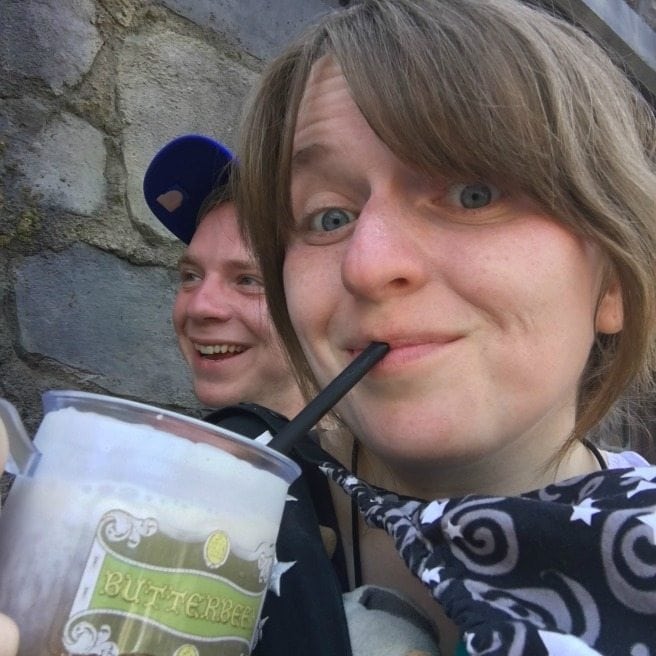 You can't visit without getting Butterbeer. Not gonna lie – this is what I was looking forward to most! They have two stands throughout the Wizarding World, and you can also get it in the Three Broomsticks and at Hogshead.
They have two versions – the frozen kind and the regular kind. Forrest and I opted to try out the frozen version, and it was SO good. I wanted to go back for another one! We also bought it in the collectors mug, just because we could. My brother, Michael, got the non-frozen kind, and he said he preferred it over the sip he had of ours.
My friend, Brittany, said her favorite thing to do is mix the two kinds together. That sounds pretty amazing to me!
We also really enjoyed the pumpkin juice, which was another option available at the drink cart!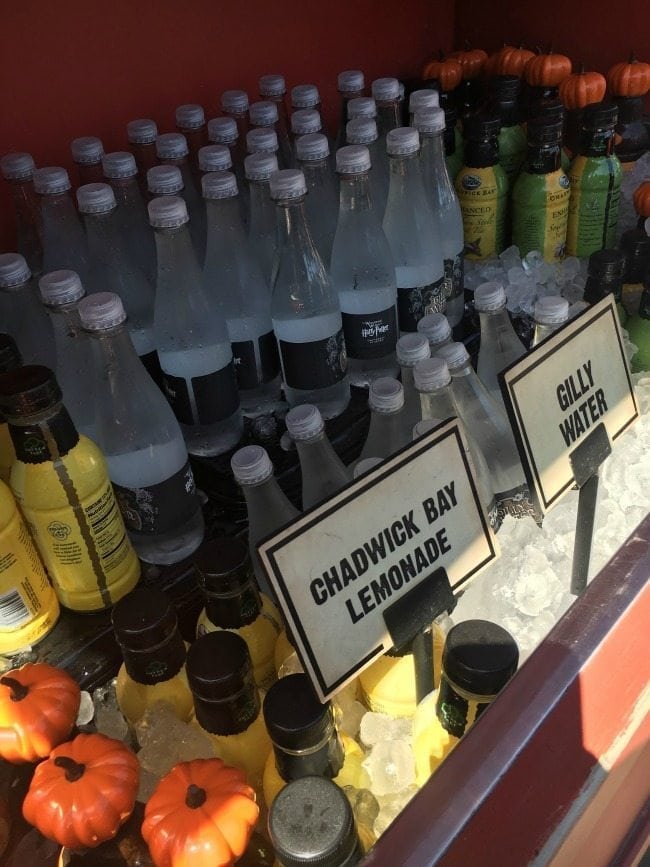 Rider Switch
This isn't just in the Wizarding World (it's available throughout all of Universal Studios), but it's worth mentioning. I think they have one of the best rider switch programs in all of the theme parks I've been to. I was especially impressed with how it was set up in the "Harry Potter and the Forbidden Journey" ride. There was a big room setup where you can go and sit with your kids and can switch with the other adult after they ride. I like that you could take your kids all the way through Hogwarts, because it's seriously the most amazing place! I don't think kids should have to miss out on it just because they are too short for the ride.
Ollivander's Makers of Fine Wands
We didn't buy wands, but you can buy them in Ollivanders. I believe they ranged from about $30 to $50, depending on what kind of wand you purchased. They have interactive wands for purchase, which are really cool. They are set up to work at different spots throughout the Wizarding World (I believe there is a map included to show you where.) It really can make your visit that much more magical.
Even if you don't want to buy a wand, definitely visit Ollivanders. It's really pretty cool. We enjoyed looking at all the wands for different characters for Harry Potter.
If you do choose to buy one, you can either choose a wand from one of the Harry Potter characters, or you can select one based on personality types. There's one for everyone!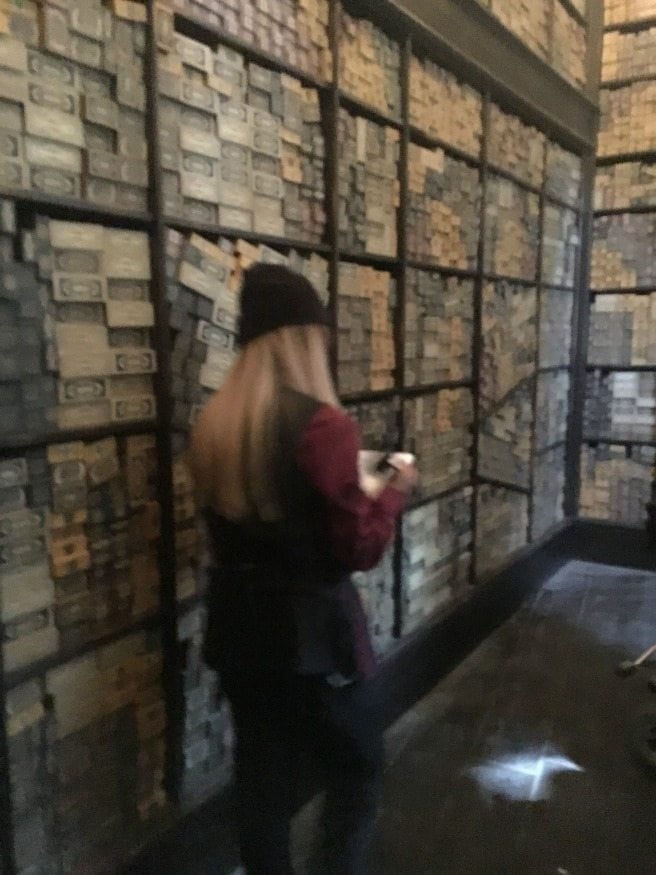 Attached to Ollivander's is a place where you can watch a wand choose a wizard. There was a super long line for this. About 10 people are taken into a room at a time, and one or two people in the group are chosen to be a part of a wand choosing ceremony. It's pretty fun to watch!
I wasn't entirely sure if you had to buy the wand if you were chosen, but from my research you do. Some people say that if you are a chosen you can get a discount, but others said they didn't. So I don't really know! What I did find out is that if you have a AAA membership, you can get a discount.
There is also a cart outside of the Flight of the Hippogriff where you can purchase wands.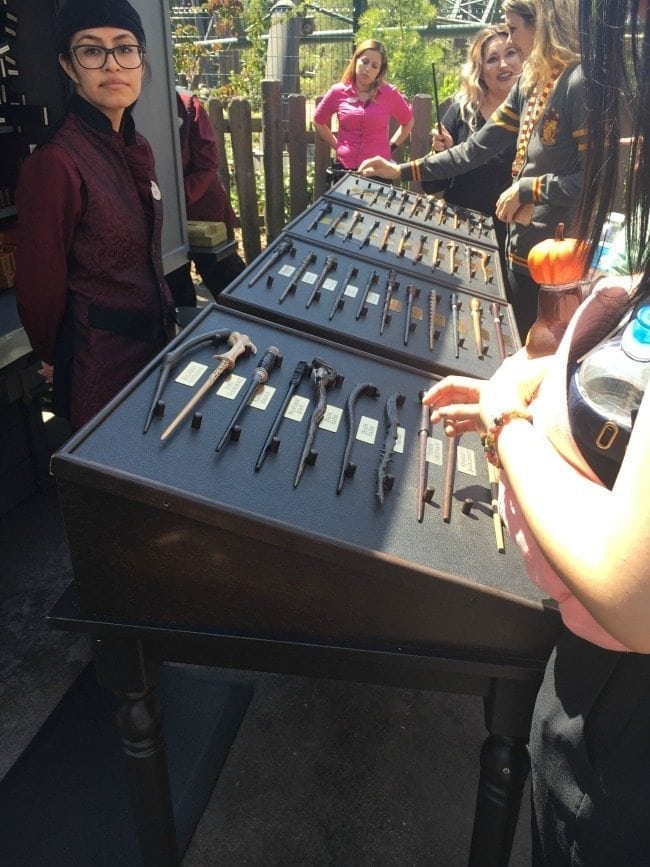 Performances
On the center stage in the middle of the Wizarding World, there are different performances throughout the day. Don't just pass these by – there are so fun to watch. I believe they have the Frog Choir and a TriWizard Spirit Rally. It really felt like we were right in the middle of Hogwarts attending school. I loved it!
Harry potter and the Forbidden journey
This is seriously the coolest ride I have ever been on. I can't even explain how amazing it was! We had front of the line passes, but I would have been more than willing to stand in line for awhile for it. It's a virtual reality ride that moves around. I loved how long it was, and how real everything seemed in it.
The line for this ride goes through Hogwarts, which is an amazing attraction in and of itself. It really feels like you are walking through the corridors of Hogwarts as a student. I wish we hadn't have rushed through it so quickly!
Owl post 
There is an Owl Post in the middle of the Wizarding World where you can go and buy different products (including stuff owls). It's kind of a fun place! You actually can send a letter to someone here, which would be a nice surprise for any Harry Potter fan. I do recommend bringing your own stamps, though!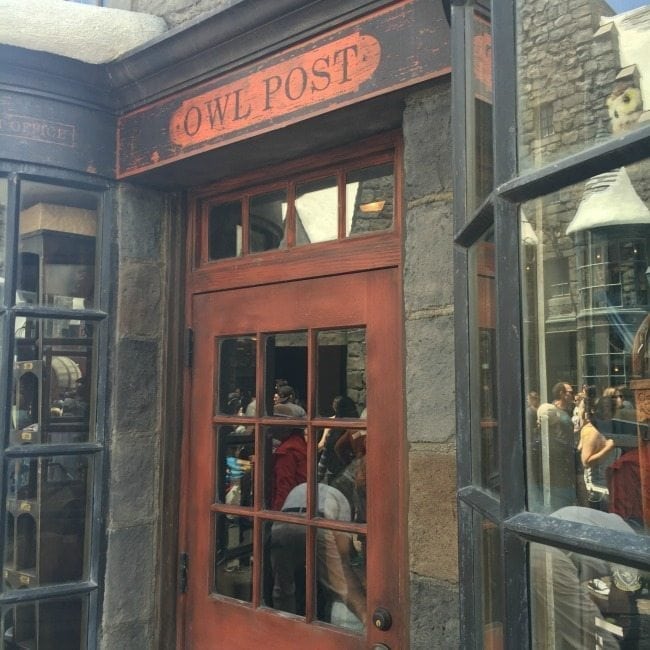 Flight of the Hippogriff
This was a fairly fast ride, and the line was pretty short. Most of the time, it said the wait was about five minutes. It was fun, but it wasn't really anything special. So if the line is super long, don't feel like you are going to be missing out on anything magical. It's a little rollercoaster, and it made me feel like I got a little bit of whiplash afterward. It was still fun, though!
Honeydukes
You have to go to Honeydukes! It's every bit as amazing as I imagined it to be. They had tons of different kinds of wizarding treats. Jack was in heaven (even though he didn't end up getting anything.)
I do recommend hitting Honeydukes on your way out, though. They have lots of delicious candy and treats, but I'd be worried about them melting as you walk through the park. Also, it's a good way to get your kids to behave if you bribe them with a trip to the candy store 🙂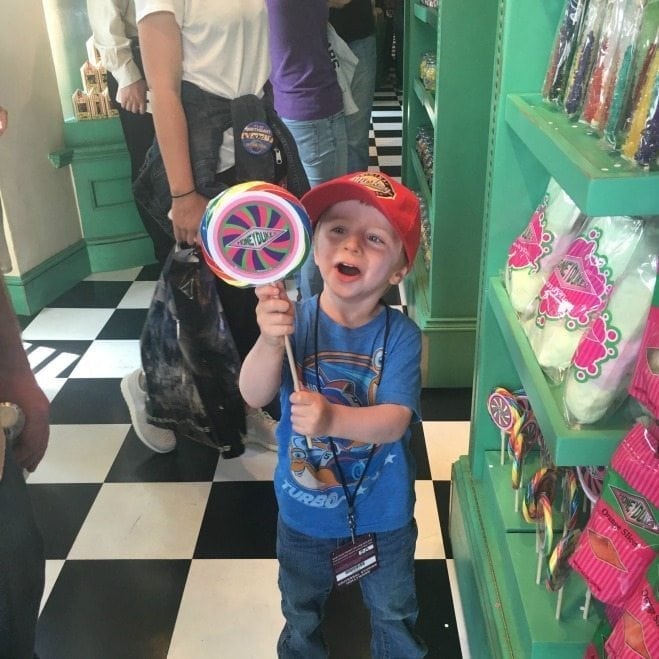 Shopping
There is a lot of shopping all around the Wizarding World. They have Ollivander's and The Owl Post, as I already mentioned,
Photos
You can take most of your own photos inside the park. We loved being able to take pictures in front of Hogwarts and other places throughout the area. However, there is one place where you can get a professional collectible photo taken as if you are inside the Hogwarts Express. We opted not to do this and instead took one on our phones in front of it with the conductor. But if you want a nice memorable one, you can definitely go this route!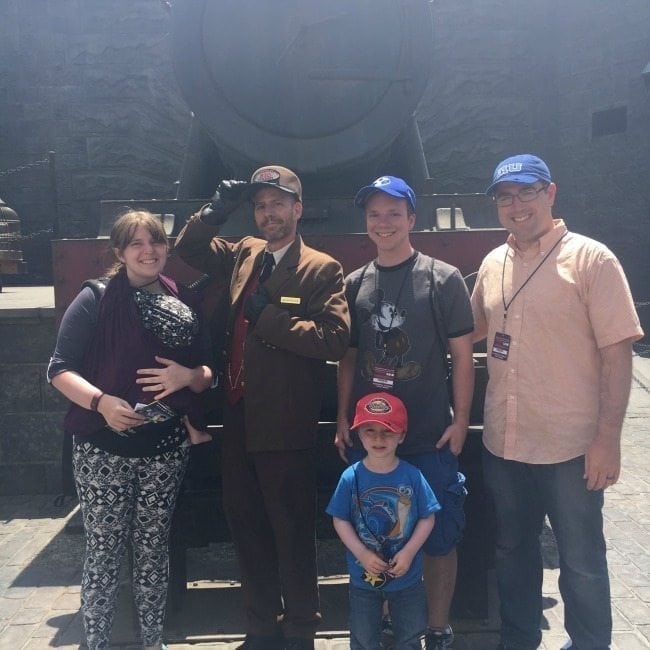 Take time to  look around
Finally, just take enough to walk around and soak everything up. So much attention to details were put into creating the Wizarding World of Harry Potter. You can see mandrakes, quidditch equipment, wanted signs, the Hogwarts Express…everything just feels so magical. It really reminds of exactly what I thought living in Harry Potter's shoes would feel like. I wish we had more time (and it hadn't been so hot) so I could have looked at everything!
Don't forget to the get BEST ticket prices and vacation packages in Southern California through Get Away Today, including $10 off vacation packages booked with the code MFTG.