The Vail Winter Family Guide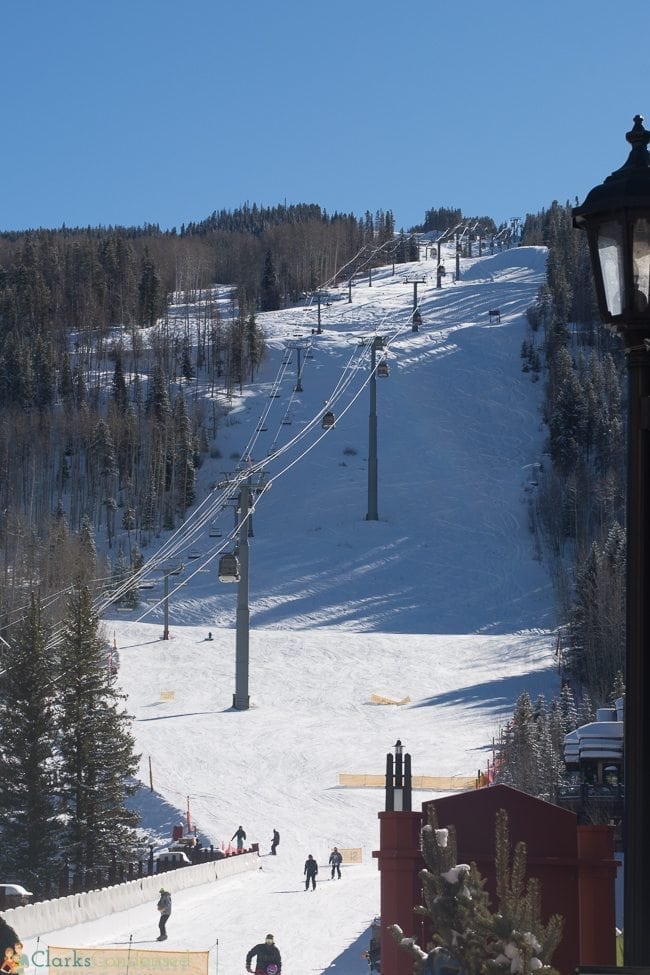 Vail is a city that we have driven through countless times. Growing up, we got stranded there during a snow storm. The past few times we have driven to Utah, we have stopped there for lunch.
That's about where my experience ends. Well, up until a few weeks ago.
You may have seen my post about the Lion Square Lodge, which is where we stayed a few weeks ago. Although we could have easily just hung out in our condo, we ventured out a bit. There are so many fun, family-friendly activities there, especially during the winter.
So, if you find yourself wanting a family vacation in Vail with small children, here is a guide of yummy places to eat and things to do in Vail!
Where to Eat in Vail
I wish I could spend a week in Vail just eating. There are so many unique and delicious restaurants. I looked forward to meal time every day just so we could try something yummy again!
One thing we loved was thT no matter how busy a place was, we were always seated quickly and our food always came out fast  I think that tet definitely know that hungry skiers don't want to wait forever!
El Sabor
The first place we went was El Sabor. This is the restaurant that is part of the Lion Square Lodge, and we are there twice.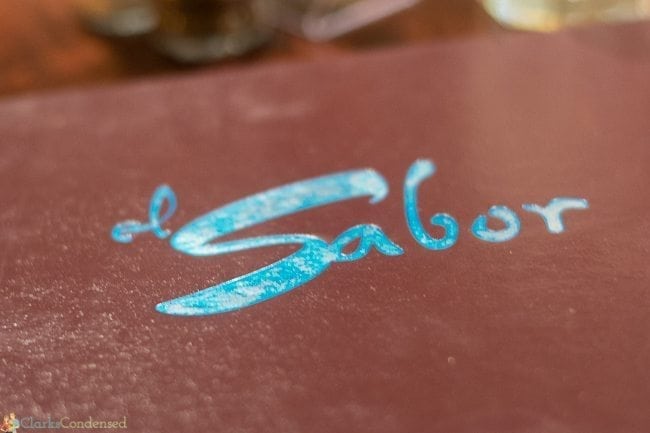 We first went there for dinner after we arrived in Vail. I love Mexican food, so I was really looking forward to it. There was no wait, and we had our choice of seats!
There was a large menu with lots of yummy meals. We started our meal out with complimentary chips and salsa. I loved the chips, and the salsa was good – thought a bit spicy. Our friendly server offered us some cheese sauce to mix in with it to make it a little more mild. I was skeptical at first, but it actually tasted really good.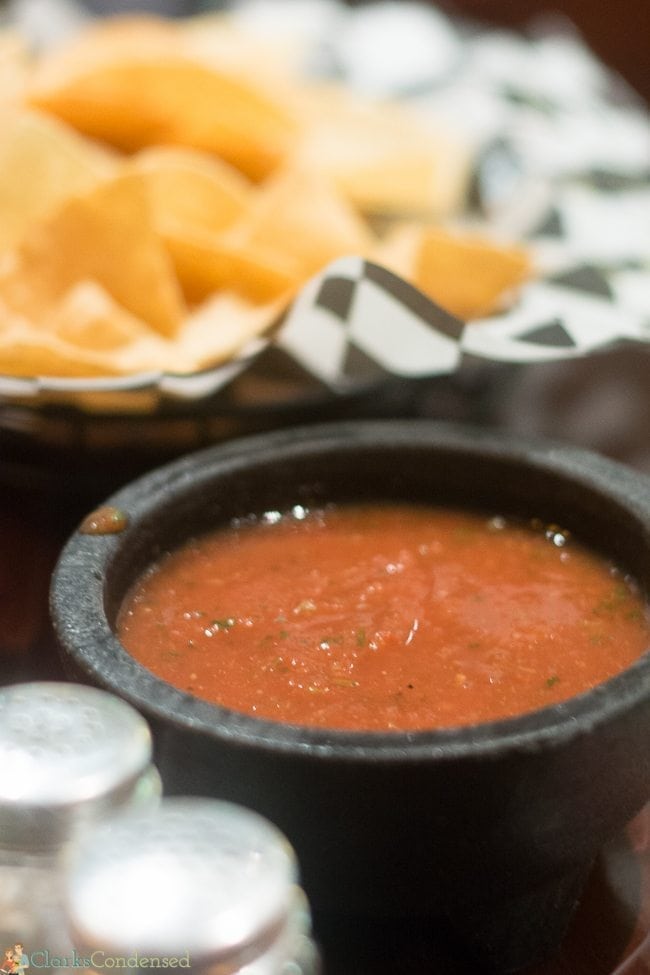 Forrest and I shared a carne asade plate. It was so good. I loved the guacamole especially.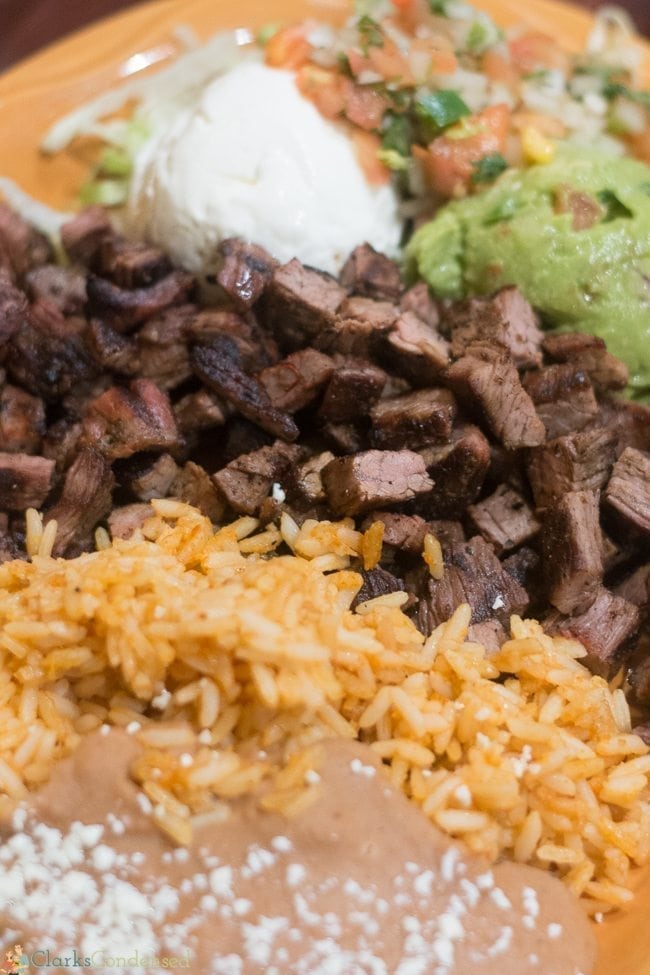 We let Jack choose what he wanted from the kids menu, and he opted for nachos. They worked well for him! We felt like the prices were reasonable, especially for the large portion size.
We went there for breakfast as well. There weren't quite as many choices, but enough for us to have a wide variety of things to decide on. We ended up getting an omlette. We also got a chorizo hash, which I really enjoyed.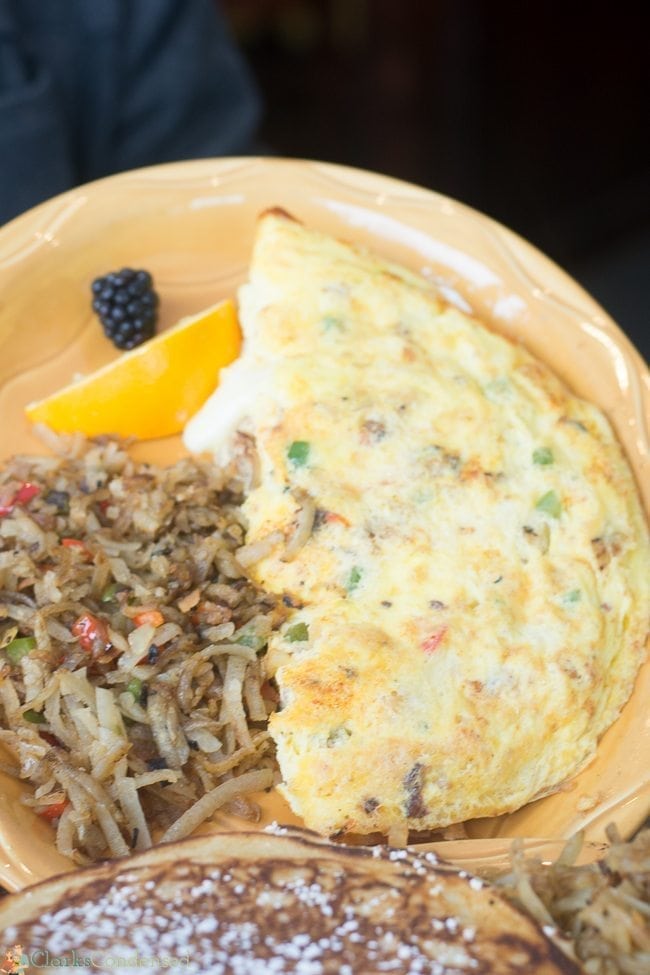 Jack loved his pancakes!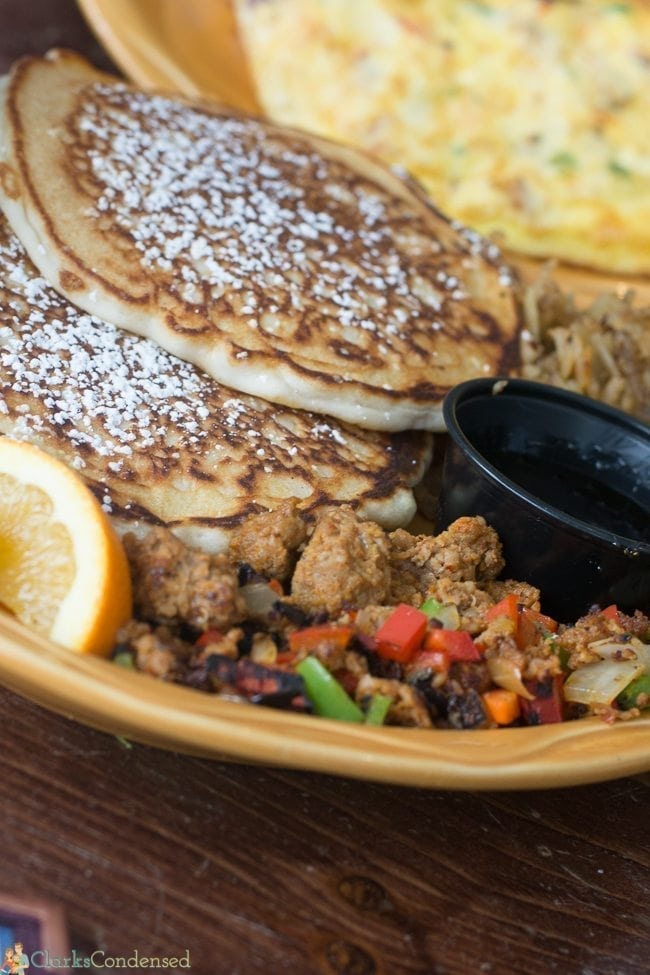 El Sabor also has a great view of the mountains. I loved watching the snow softly fall as we ate breakfast.
Blue Moose Pizza
One night we were really craving pizza, so we decided to check out this place. It seemed to have good reviews online. We were seated immediately, and we had the most friendly waiter! He went above and beyond to make sure we had a good experience.
He recommended that we order 2-3 pieces of pizza per person…and for me? That was way too much! One slice was more than enough. Both of the pieces I got were pretty good though. Jack got a kid's pepperoni pizza slice, and we all shared a salad. Forrest had eaten earlier, so he just got a side of brocolli and ate off of my plate.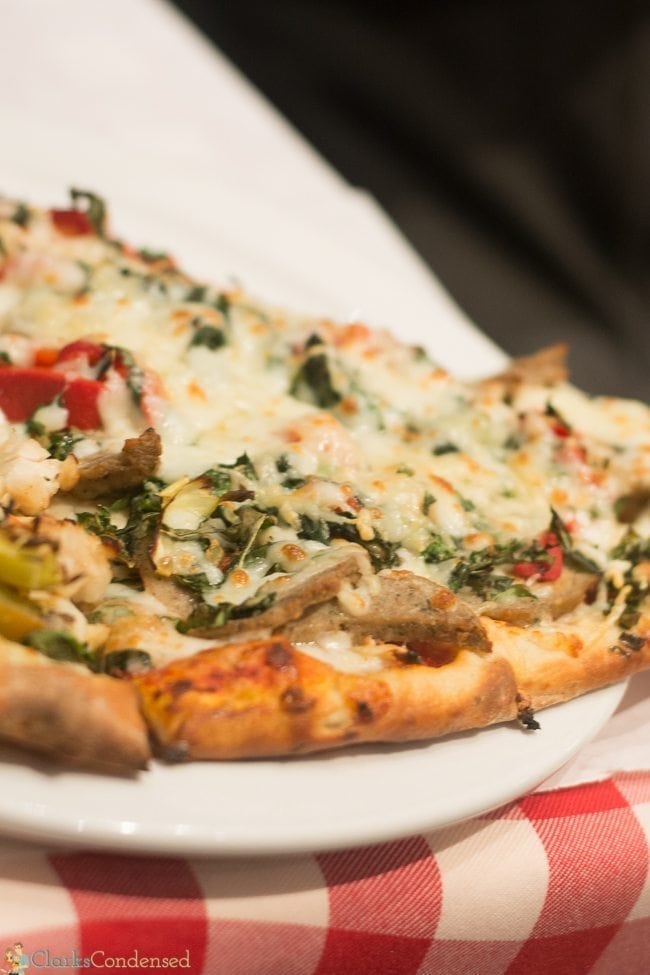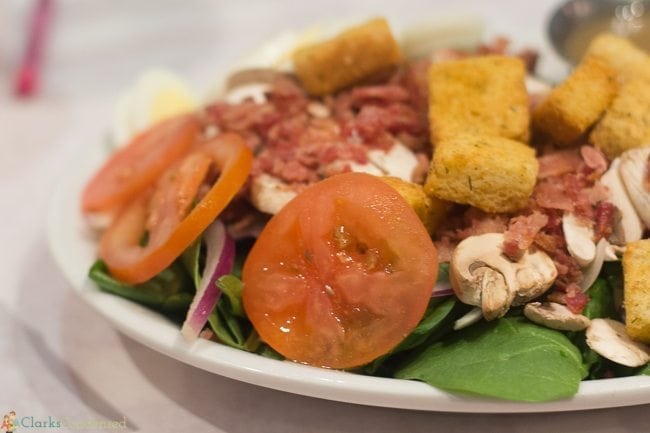 It was quite the eclectic place, and it seemed to have a lot of families – so I definitely think it's a good place to stop by. It wasn't my favorite pizza ever, but it was pretty good. I liked that there were a ton of toppings, but it was just a little bit thin of crust. Still, it was good. The salad was really large though with lots of great toppings!
Vail Chophouse
This was a restaurant that seemed to be recommended a lot, and it is right outside of the Lion Square Lodge. It is a bit more expensive and nicer, so it would be a good place to go when you are wanting a little bit higher class food.
We started out with the garlic french fries with a variety of dipping sauces. This was probably my favorite part of the meal. I loved the parmesan on top, and the dipping sauces were fantastic. It was a large portion, and we still had about 1/2 leftover after we were finished eating.
I wasn't super hungry, so I got chili. It had good flavor, and just the right amount of beans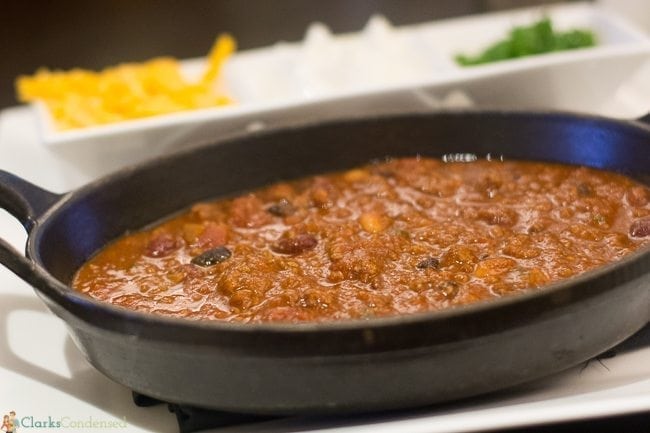 Forrest got the shrimp and grits. I really enojoyed the grits. They were a bit thinner than most grits I've had, but they tasted good. The shrimp had a very nice flavor as well. 
Family Friendly Activities in Vail
There is so much to do in Vail! We didn't get to do all these activities, but here are a few ideas:
Skiing
Obviously, a big draw to the resort is the skiing! Forrest and Jack went skiing,a nd they both really enjoyed it.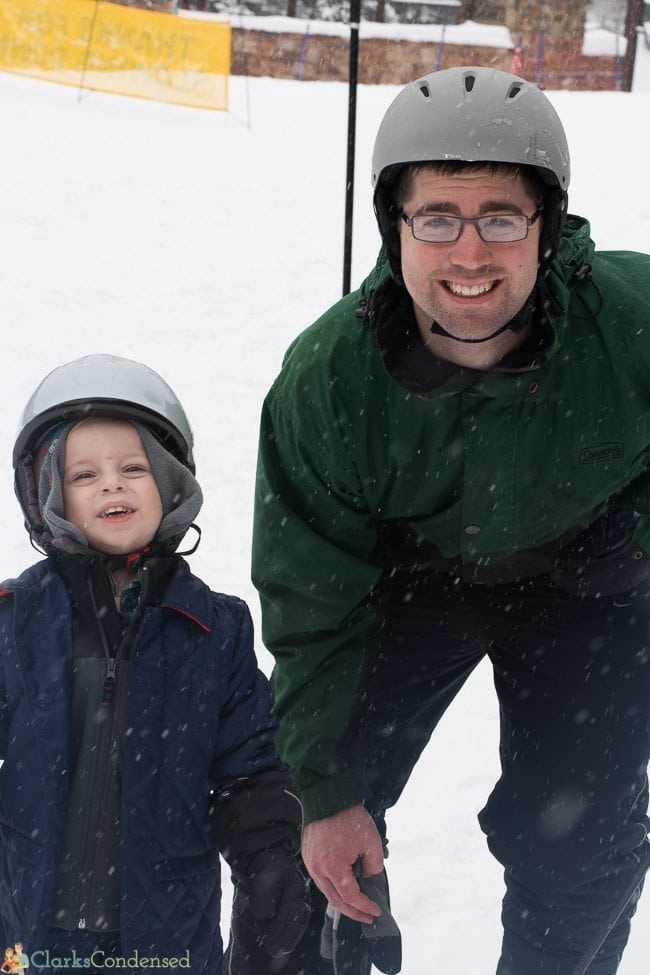 Forrest just took Jack on a smaller hill and let him try out the ropes of skiing, but they have a lot of ski school options for kids (and adults, even!) We might do that next time. Kids under 5 ride the slopes for free, which I think is a great reason to ski at Vail.
They both rented equipment at a little shop near the Lion Square Lodge. It wasn't very expensive, especially because we rented the equipment online and got a discount. Forrest loved that after getting off the slopes, he didn't have a very long walk to our condo!
Ice skating
There are a couple different ice skating rinks that you can go to. First, there is one right in the middle of Vail Square – the Alderhorf Ice Rink.
I thought it seemed like it would be so fun to go ice skating on it – kind of magical. If you don't have your own skates, you can rent some – $20 for adults and $15 for kids (I believe.) I think it might be more advantageous to skate outside if you had your own skates.
There is also an indoor rink called the John A Dobson Ice Arena. The prices were cheaper, and it looks like it has good reviews. Make sure you go during open skating time, though!
Adventure Ridge
Adventure Ridge wasn't open yet when we got there, which I was a little bummed about. It seems like a lot of fun, especially for kids. It features snow tubing, ski biking, kid's snowmobiles, snowshoeing, and more.
Carriage rides
The Concergie at the Lion Square mentioned to us that there were carriage rides nearby. They were a bit pricey – I think almost $100 for adults. However, it sounded really fun. I've seen Groupons for them as well, so be on the lookout for a coupon!
Playground
There was a playground in Vail Square that we thought was pretty cool. Jack loved playing on it. The weather was pretty reasonable on the day we walked around, and it was a neat place to play. It's free, too!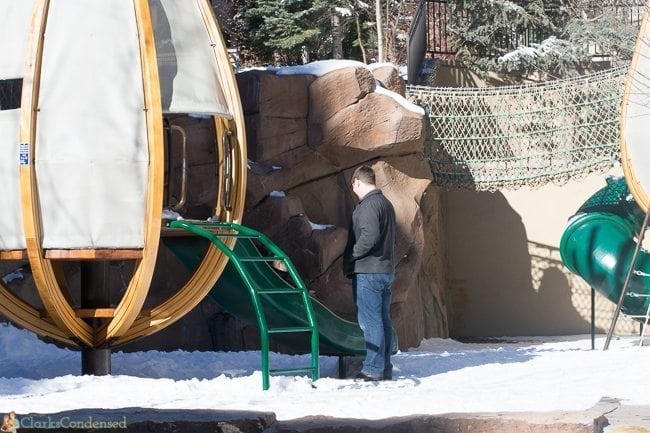 We really enjoyed just walking around town. Vail is such abeautiful place, and there's so much architecture and neat statues. It's worth just going on a stroll, looking at the stores, and maybe stopping for some ice cream at Haagan Daaz or a caramel apple hot cider at Starbucks!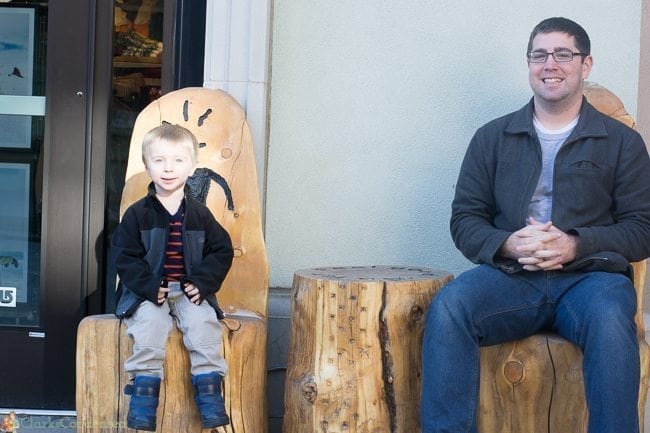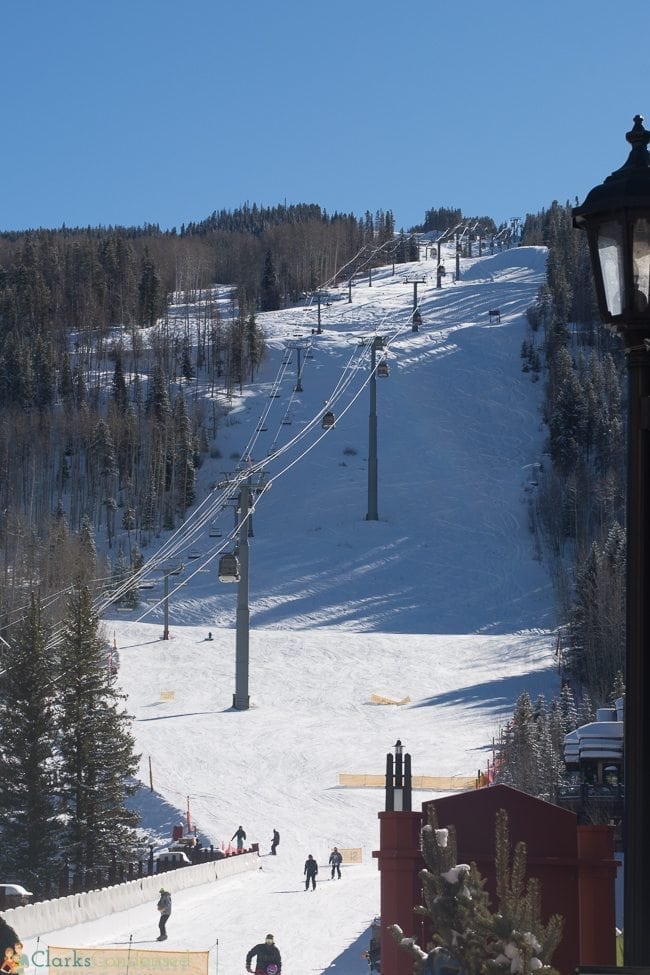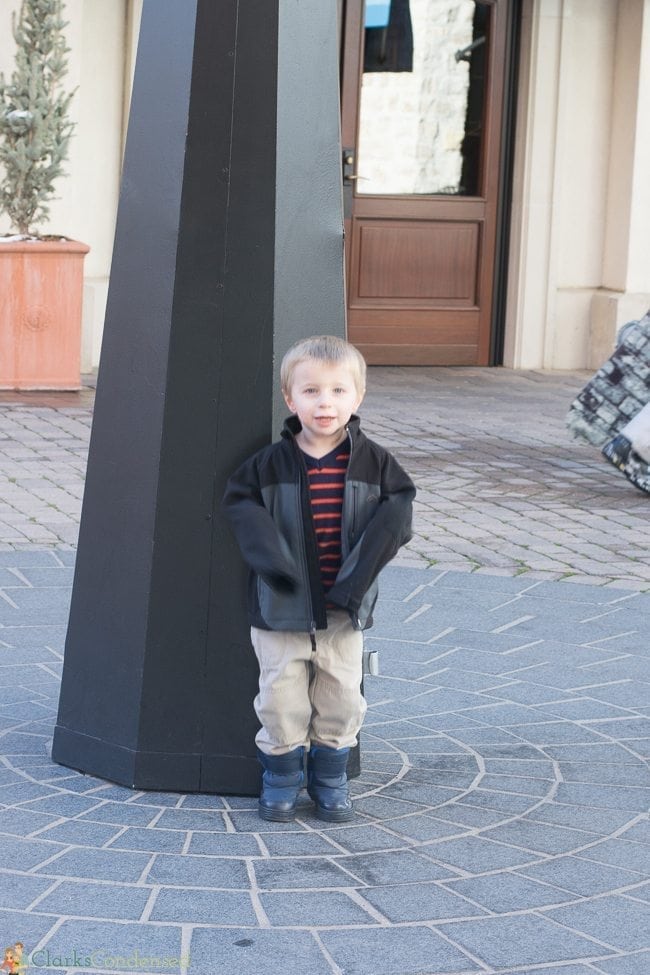 Festivals
Vail has different festivals throughout the year that are worth checking into. The weekend we were there, they had the Snow Daze festival going on.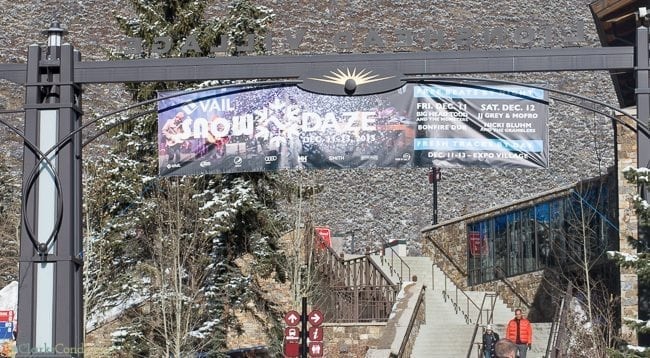 During the Snow Daze festival, there are a bunch of different concerts, musicians, and events that go on. All the concerts are free, and I know one of the big draws is inexpensive drinks (but we don't drink, so that wasn't a big draw for us.) Forrest attended some of the live music at the Tavern in Vail Square,a nd he really enjoyed it. He said that people would just yell out a song, and the person singing would just sing it. I heard him from our condo, and it was really fun. If you love music, definitely come up next year for this event. It's pretty cool.
If you want to attend other festivals, just check out the Vail events calendar for updates on when these will be occuring.