What to Wear to Disneyland in January: Your Complete Guide
If you're heading to Disneyland in January, you'll want to make sure you're dressed for the weather of Southern California! This guide will help you choose the right clothes to wear so you can have the BEST TIME of your day at the park. Keep in mind that it can be cold and windy or sunny and hot in Anaheim in January, so versatility is KEY.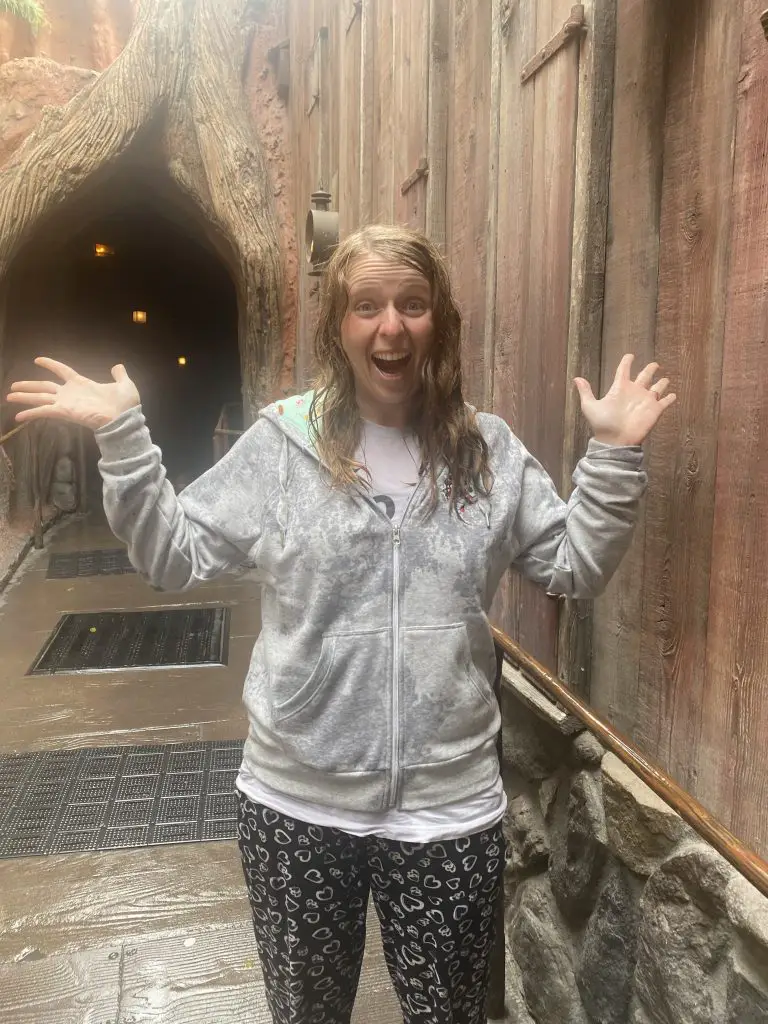 Packing for any vacation can be a daunting task. However, when you are going to Disneyland, it's important to be especially mindful.
January is one of those months where you don't always know what you are going to get. While some feel like it's the best weather of the year, others worry that it's too cold to enjoy their time.
Regardless of how you feel, it is possible to pack in a way that prepares you for every type of weather. So in this post, we'll be sharing exactly what to wear to Disneyland in January for the best trip!
Looking for some Disney attire for your upcoming vacation? Make sure you check out this post – The Best Places to Buy Disney Clothes for Your Disney Vacation
January Disneyland Packing List:
For those of you in a hurry, here is a little "at a glance" list for packing for January. This list can be applicable to all ages!
Long pants that are breathable. I personally love wearing joggers or leggings this time of year.
Comfortable shirt – we prefer a short-sleeved t-shirt, though if you are more prone to being cold, long-sleeved t-shirts might be a better option for you.
Sweatshirt, light sweater, or light jacket
Sunscreen
Hat – any hat will do! If you have an infant, you might want to pack a soft knit hat in case they get chilly.
Sunglasses
Water bottle
Poncho
Blanket for a stroller if you have an infant or toddler
Comfortable shoes (preferably waterproof)
Dress in layers so you can adjust as needed
One of the best tips I can give you for what to wear to Disneyland in January is to dress in layers.
Not only will this help you be comfortable no matter what the temperature ends up being, but it will also help you be prepared for any sudden changes in weather.
For example, if you're inside a dark attraction and it's suddenly freezing cold, you can put on a jacket. Or if you're out in the sun and it gets too hot, you can take off a layer or two.
Some good clothing options for layers are:
Skirts with leggings
Jeans over leggings
Tank top with a t-shirt or cardigan
Jackets and hoodies of all types
Socks with your sandals – yes, this might be totally nerdy, but you might be grateful for the versatility of your footwear!
You might also want to consider bringing along a small backpack so you can carry around any extra layers. It can also be helpful to have easily removable layers in case you want to take off your jacket to pose in your cute Disney shirt with your favorite character!
Wear comfortable shoes
No matter what time of year it is, I always recommend wearing comfortable shoes when visiting Disneyland.
There's a lot of walking involved, and you don't want your feet to be hurting by the end of the day.
A good rule of thumb is to wear shoes that you would feel comfortable walking around in all day and that are well broken in. Don't buy new shoes the week before your trip and expect to be comfortable.
If you know you'll be doing a lot of walking, you might also want to consider bringing along a pair of flip flops or sandals to change into later in the day. I also think waterproof shoes or shoes that dry easily are a good idea as well, in case of rain storms.
Here are my favorite shoes for Disneyland:
Hoka One – These are not your average tennis shoes. They feel like you are walking on air!
MYGNA Sandals – I LOVE these sandals more than any shoe I've ever had. I have worn them the entire time at Disneyland and Disney World with no issue, gone on miles-long walks, and even a five-mile hike through the words. They are great for winter and summer months, and they look stylist enough to make the perfect outfit.
Don't forget sunscreen and a hat!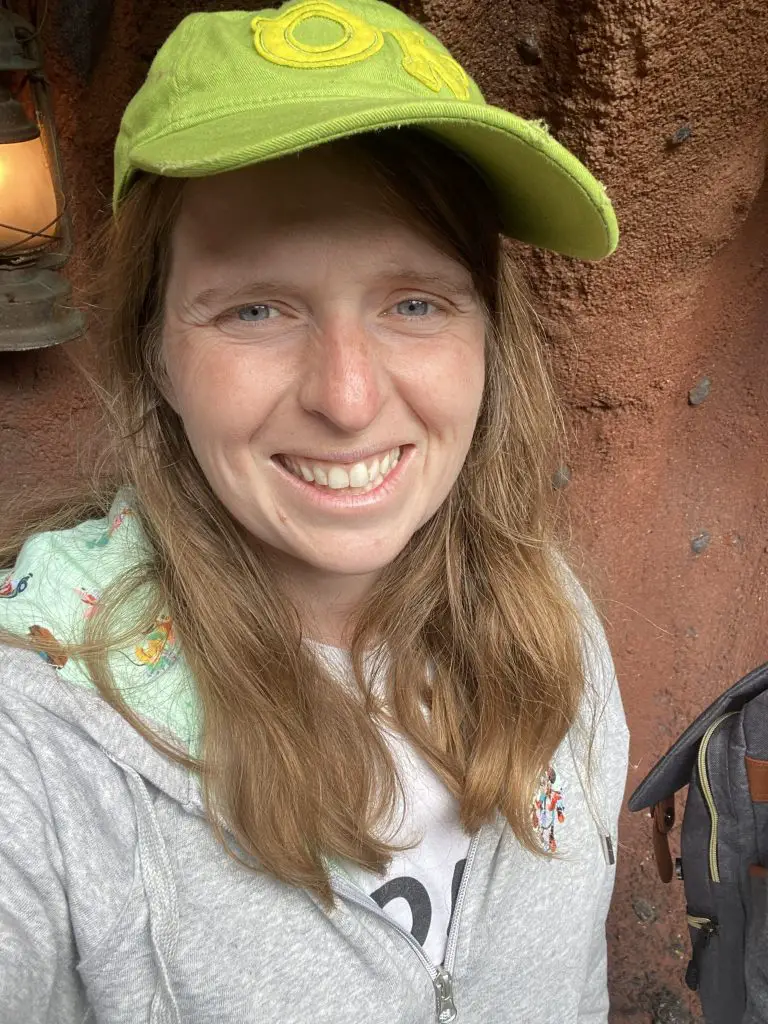 Even though it's not as hot in January as it is in the summer, you can still get sunburned if you're not careful.
I like to apply sunscreen before we enter the park, and then again after we've been in line for a few rides.
If you're going to be in the sun for extended periods of time, you might also want to consider wearing a hat.
A baseball cap is always a good option, but if you really want to keep the sun off your face and neck, a wide-brimmed hat is better.
I always wear my Monster's University hat (well, the green on that says O.K. on the front) when we go – while I love Mickey Mouse ears, they don't really do much in terms of protection.
For young children, I would definitely bring hats that don't easily fall off, so maybe not a ball cap. I like knit hats that are a little tighter fitting or a sun hat with a strap.
Long pants and a comfortable t-shirt
These are a good base for your Disneyland outfit. While you might be able to get away with shorts, I think most of the time, long, breathable pants are a good option.
You could also consider just wearing capris or board shorts for a more "in-between" option.
Everyone has a different style, but I think you can never go wrong with a nice t-shirt at Disneyland. I personally always go with a short-sleeve shirt, but if you are someone who gets cold really easily, a long sleeve might be a good option.
Bring along a sweatshirt or light jacket
This is an essential part of layering – if you get cold, you can easily take these on or off. I actually prefer a zip-up jacket, so I don't have to be constantly messing up my hair, and I just find them to be easier to take on and off. I got a super cute Disney zip-up jacket during our last trip when I forgot to pack any layers! It was super expensive, but I love it.
Don't forget your rain ponchos!
If you love rides like Splash Mountain or Grizzy River Run, you should definitely bring a poncho. If it happens to be overcast or chilly when you go to Disneyland, the last thing you want is to get soaked and not have the sun to dry you out.
Trust me – this happened to me. We went on an overcast, chilly day, and we went on Splash Mountain first. I sat in a front way, and I was DRENCHED the rest of the day. It was actually kind of miserable!
Here is a list of our favorite ponchos for Disney World and Disneyland!
Average Temperatures in January in Anaheim
While the weather can vary greatly depending on the year or even week, the average high temperature in January is 69 degrees and the average low is 47 degrees. 47 is pretty cold weather for some people! However, your daytime temperatures usually won't be that chilly during this month of the year. You should plan for chilly mornings, though.
For some, this sounds like perfect shorts and t-shirt weather, while others will be pulling out the park the moment is hits 69 degrees. You know yourself best, so just be aware of that when packing. It's not uncommon to see some rainy days at the happiest place on earth when you are visiting in January. Don't let this scare you away though, you may have a sunny day during your trip as well.
I do recommend checking the weather app on your cell phone in the days leading up to your trip the to get an idea of what to expect. For instance, we went in early February last year, and we were fully expecting mild weather with some clouds.
Nope. It was the mid-90s and sunny, and it was NOT what we were expecting. So even though you might expect cooler temperatures in January, it is not always the case!
Is January a good time to visit Disneyland?
January can be a great way to avoid long lines and have fewer people in the parks than may have been seen in previous months during the holiday season or during warmer months of the year. In fact, most of the winter months (Excluding December) can make for a great Disneyland park visit.
Toward the end of January begins the Lunar New Year fest, so there may be increased crowds then. But overall, January is a great time to visit Disneyland if you can handle the possibility of cooler days.
And that's it! With these tips, you'll be sure to have a great time at Disneyland, no matter what the weather is like. Be sure to let us know your top tips for what to wear to Disneyland in January in the comment section below!
Have an amazing time at your Disney vacation!
More Articles You May Enjoy: