The Best Time to Buy Airline Tickets for Thanksgiving (Plus Other Travel Tips) 
If you're like most people, you're starting to think about your Thanksgiving travel plans. Will you stay close to home or fly somewhere? If you're thinking about flying, now is the time to start looking for deals on airline tickets. In this blog post, I'll share some tips on when to buy airline tickets for Thanksgiving , as well as other tips for saving money on travel.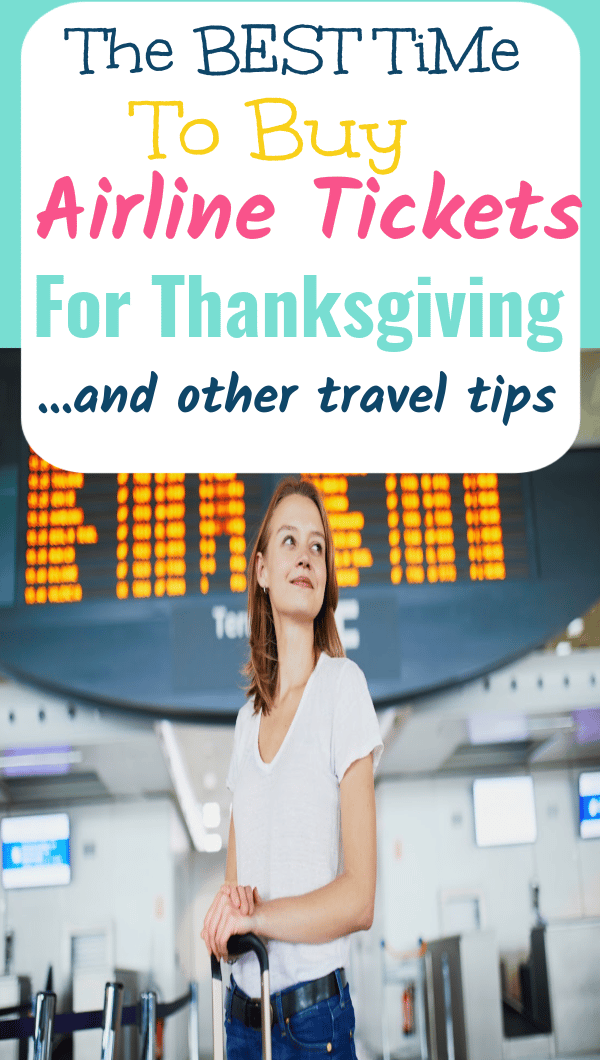 If you're reading this, you're probably planning a vacation during the Thanksgiving weekend! Vacations are a great way to unwind, spend time with family, and make memories to last a lifetime. Plus, you'll get to skip out on cooking a massive Thanksgiving dinner or running between family parties – going on a trip during this holiday truly is a win-win situation.
While the Thanksgiving long weekend is one of the best times to travel, you're not the only one who's thinking that way – it's one of the biggest travel weekends in America. Don't let this scare you though! There are plenty of ways to make sure your Thanksgiving vacation is smooth-sailing from start to finish.
First, let's talk about the best time to buy airline tickets for Thanksgiving. If you have a family tradition of Thanksgiving travel, you already know the drill. But if this is your first time, there are a few rules to live by when it comes to cheap holiday flights:
Buy Your Tickets Before October 31 at the Latest
Thanksgiving is about three weeks after Halloween, so waiting until then to buy your plane tickets might come at a cost. The best time to get your tickets will be late August or early September. If you're planning to travel during Thanksgiving, try as hard as you can to get your tickets before October 31! This way, you'll get the best deals and flight prices, and you won't have to deal with any last minute issues.
Buy Your Tickets Three Months in Advance
Three months ahead is the sweet spot when it comes to airline tickets. So ideally, if you're booking for thanksgiving, you'll want to get your Booking earlier or later than that could result in higher fares, so try to get them right around 3 months before your departure date. Your wallet will thank you, especially if you have a big family. Buying in advance gets you the lowest prices, even during the holiday season.
Use Google Flights
Google Flights is the best way to go when it comes to booking domestic flights and international flights for a good deal. It compares all of the airlines, flight times, layovers, and ticket prices, then gives you the best options for your round trip flights. If you're looking for the lowest fares for nonstop flights, this is definitely the way to go! It will also tell you the least expensive days to travel.
Buy Tickets on a Tuesday or Wednesday
Tuesdays and Wednesdays are typically the best days to buy airline tickets because there are more discounts and deals available. If you're flexible on your travel dates, aim for one of these days when you're buying your plane tickets! The day of the week you choose to travel on can make a huge impact on the fares you get. The most expensive days to travel are typically weekends.
Use a Credit Card with Travel Perks
Credit cards like American Express and Capital One Venture have great travel perks! Research which credit cards can get you the best hotel and flight deals, then book your trip on it. It can save you tons of money and get you the best fares on major airlines.
Now that we've got the best time to buy airline tickets out of the way, let's talk about some other tips to make your Thanksgiving travel go as smoothly as possible:
Get to the Airport Early
No one likes being rushed through an airport, especially during one of the busiest travel weekends of the year. To avoid this stressful situation, aim to get to the airport at least two and a half hours before your flight is scheduled to take off. That way, you'll have plenty of time to get through security and find your gate. Remember, Thanksgiving is the most popular time to travel, so plan accordingly!
Travel on Non-Peak Days if Possible
If you're able to travel before or after the Thanksgiving long weekend, do it! You'll avoid the massive crowds at the airport and you might even be able to snag cheaper flights. Just make sure you give yourself enough time to travel – the last thing you want is to miss your scheduled activities because you were stuck in traffic! This will get you the cheapest flights.
Pack Plenty of Entertainment for the Kids
If you're traveling with young kids, it's important to keep them entertained during the plane ride. No one wants to be that family with a screaming child on a long flight! To avoid this, pack some of your child's favorite toys, books, or movies to keep them occupied. It's also a good idea to bring along some snacks and drinks to keep their energy up.
Pack Light
This tip applies to everyone, not just those traveling with kids! Packing light will make your life a lot easier, both at the airport and on your trip. If you're worried about fitting everything into one suitcase, consider wearing your heaviest items on the plane. That way, you'll have more space in your bag for souvenirs – especially if you're traveling during Black Friday!
Be Efficient in the Airport
The airport is set up to get everyone where they need to go as quickly as possible. You can be more efficient at the airport the week of Thanksgiving by doing the following:
Check in for your flight 24 hours in advance.
Add your boarding passes to your Apple Wallet on your phone.
Print your bag tags at the kiosks as soon as you get to the airport. 
When going through security, remember the rules – if you're older than 12, take off your shoes. All electronics bigger than a tablet should be taken out of your bag and put in a separate bin. Take off your belt and empty your pockets.
Wear shoes that are easy to slip on and off.
When picking up your bag, don't stand right by the carousel – your bag will get to you eventually, so stand back until you see it.
Be Kind to Workers
From the TSA employees to hotel staff, no one wants to be working during a holiday weekend. To make things even harder, Thanksgiving is one of the busiest travel times of the year, which makes for a lot of angry people. Even if an inconvenience comes up, do your best to be kind! You'll most likely make their day, and you might even get better accommodations in return (although you shouldn't expect anything like that). This is especially important if you're traveling on Thanksgiving day or Christmas day!
Drive If Possible
If you want to avoid the stress of the airport altogether, the best bet is to drive to your destination! This is especially a good option if you're traveling with young kids or a lot of luggage. Just make sure to plan your route in advance and take into account rest stops, traffic, and bad weather. If you're traveling as a big family, you can save a pretty penny by not purchasing plane tickets!
By following these tips, you'll be sure to have a stress-free Thanksgiving travel experience! Just remember to be patient, efficient, and kind, and you'll be on your way in no time. Happy travels!
Thanksgiving is a time for family, friends, and food. And if you want to get the best deals on your airline tickets, now is the time to buy them. We've provided some other tips in this blog post that will help make your holiday travel as smooth as possible. So what are you waiting for? Get started planning your trip today!
Other articles you may enjoy: