The 9 Best Thanksgiving Vacation Spots for Families 
Move over, pumpkin pie. It's time to start planning your Thanksgiving vacation. Whether you're looking for a festive getaway or a chance to escape the family drama, we've got you covered. From the Rockies to the coast, these are our favorite spots for a Turkey Day Vacation.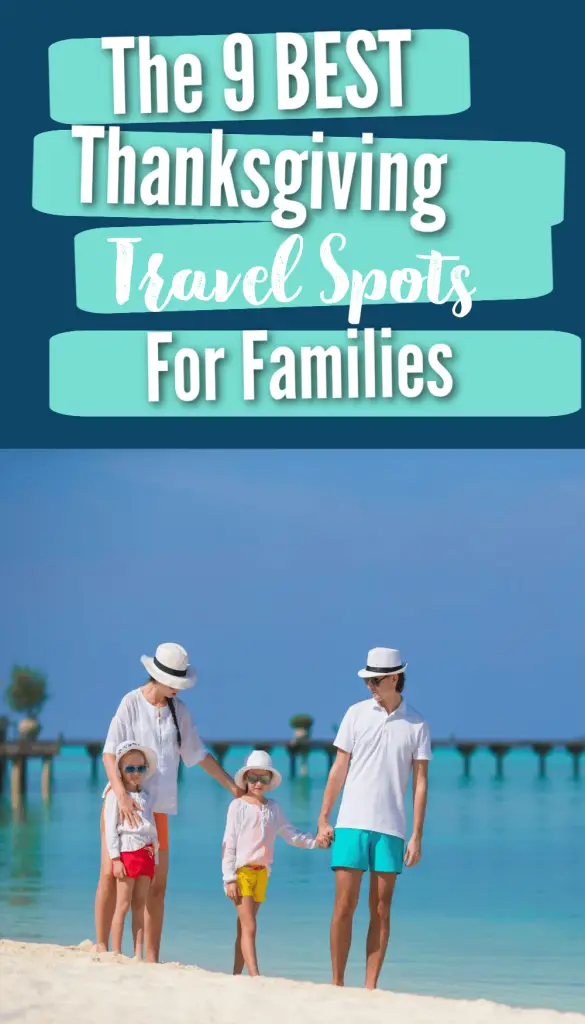 Thanksgiving is right around the corner! When you think of Thanksgiving weekend, you probably think of a big feast that takes all day to cook, family gathered around the table, a football game playing on the TV, and maybe even a little family drama.
There's no doubt that the Thanksgiving holiday is a fun one, but it can be stressful – especially if you're the one hosting. I have often dreamed about what it would be like to just skip out on the extended family Turkey Day festivities altogether and go on a fun vacation instead.
With the long holiday weekend, it's the perfect time to travel without missing too much school or work. Even if you want to take a full week of vacation, pulling your kids out of school for two days or taking a couple days off of work is much more doable than taking an entire week.
Planning a Thanksgiving trip doesn't have to be stressful either – just focus on you, your family, and the quality time you'll spend together and it'll be the perfect vacation!
For the best plane tickets and hotel rates, you'll want to book at least a few months in advance – click here to learn more about Thanksgiving plane ticket prices. However, if you're thinking of planning a more spontaneous trip, that'll work too – you might just have to be a little more creative when it comes to transportation and lodging.
Before you even start thinking about booking though, you'll need to figure out where to go! This is the fun part. Here are some of the best Thanksgiving vacations for families in the United States:
1. Hawaii
What better place to escape the cold weather than Hawaii? It's the perfect place to spend Thanksgiving if you're looking for some sun, fun, and beautiful beaches. The average temperature in Hawaii in November is a warm 82 degrees, so you can definitely leave your jackets at home. You'll want to make sure to book your flights and hotel well in advance though, as this is a very popular travel destination during Thanksgiving. Hawaii is always a great time for everyone in the family.
2. Long Beach, CA 
If you live on the West Coast or are looking for a beach vacation without having to travel too far, Long Beach is a great option. The weather is usually sunny and mild in November, with temperatures averaging around 70 degrees. You can enjoy all that southern California has to offer – the beach, mountains, theme parks, delicious restaurants – the list of things to do is endless, and the whole family can enjoy it.
3. Disney Parks
Speaking of theme parks, Thanksgiving is the best time to visit Disneyland or Walt Disney World! If you go the week of Thanksgiving it'll be a little more crowded than usual, but don't worry – the seasonal food, holiday decorations, Christmas lights, Main Street vibes, and overall atmosphere make up for it. There's nothing better than sipping on hot chocolate while waiting for the fireworks to start!
Plus, with the new Genie+ system, you'll be able to ride everything you want even if the parks are crowded. Going to a Disney park during late November will really set the mood for the rest of the holiday season.
Here is some more information that might be helpful – How Busy is Disneyland on Thanksgiving?
4. New England
If you're looking for a more traditional Thanksgiving experience, New England is the place to be. There are so many charming towns and villages to explore, each with their own unique history and culture. And of course, no trip to New England would be complete without seeing the leaves change color! The peak time for leaf-peeping is usually mid-October, but you should catch the tail end of the leaves changing during Thanksgiving. The entire east coast is stunning this time of year, so you really can't go wrong. It might even become a new tradition!
5. New York City
Looking for a big city experience? The Big Apple is always bustling with energy, but during Thanksgiving it really comes alive. There's the Macy's Thanksgiving Day Parade, which has been a tradition since 1924 – it's definitely something you have to see! New York is a lot of fun, but it's not the best place to take small children. If your kids are a little older though, they'll love it! Go to Macy's Thanksgiving Day Parade, walk through Central Park, visit Coney Island, see a Broadway show, eat some world-class food, and do a little shopping. It's the perfect place to be for Black Friday!
6. Park City, UT
If you and your family love the outdoors, Park City is the perfect Thanksgiving destination. It's the perfect place for outdoor activities all year round, but it's especially beautiful in the fall. You can go hiking, biking, fishing, or horseback riding through the stunning autumn scenery. And of course, no trip to Park City would be complete without a visit to one of the many ski resorts! Even if you don't ski or snowboard, the resorts are still worth visiting – they're so big and impressive! You might even see some professional athletes or celebrities at the luxury hotels taking advantage of the ski season. If you can swing it, I would recommend staying at the Park City Mountain Resort. It's absolutely beautiful!
7. Colorado Ski Resorts
Speaking of ski resorts, Colorado has some of the best in the country. If you and your family are looking for a more adventurous vacation, this is definitely the place to go. There are so many different resorts to choose from, and each one has something unique to offer. You can find a ski resort that's perfect for your family, whether you're looking for a place to relax or a place to ski and snowboard. You'll even find some delicious local restaurants!
8. Scottsdale, AZ
If you want warm weather but don't want to go on a vacation as elaborate as Hawaii, Scottsdale is a great option. The average temperature in November is a comfortable 75 degrees, so you can enjoy all the outdoor activities that Scottsdale has to offer. There are also tons of golf courses if that's your thing. You could even book a spa day for yourself! There are plenty of options when it comes to family activities in Scottsdale as well.
9. Leavenworth, WA
Leavenworth is a small town in Washington that's incredibly charming. It's the perfect place to get away from the hustle and bustle of everyday life and just relax. The whole town is decorated for Christmas, so it really gets you into the holiday spirit! And if you love German food, you'll be in heaven – there are so many delicious German restaurants. You can even go on horse-drawn carriage rides! You'll truly feel like you stepped into a fairytale storybook – Leavenworth is so beautiful!
These are just some of the places I would recommend for the best Thanksgiving getaways. Each place has something different to offer, so it's up to you to decide what kind of vacation you want to have. Whether you're looking for a traditional Thanksgiving experience or something more adventurous, there's a place for you and your family!
No matter where you decide to spend your Thanksgiving vacation, we hope that you have a safe and happy holiday. We would love to hear about your experiences in the comments below. Where are you spending your Thanksgiving this year?
Here are more articles you may enjoy: