Cheap Thanksgiving Vacation Ideas for Families
Thanksgiving is a time for family, friends, and of course, food. If you're looking for a cheap Thanksgiving vacation that everyone will enjoy, look no further! We've put together some great ideas that will have you celebrating in style without breaking the bank. So take a look and start planning today!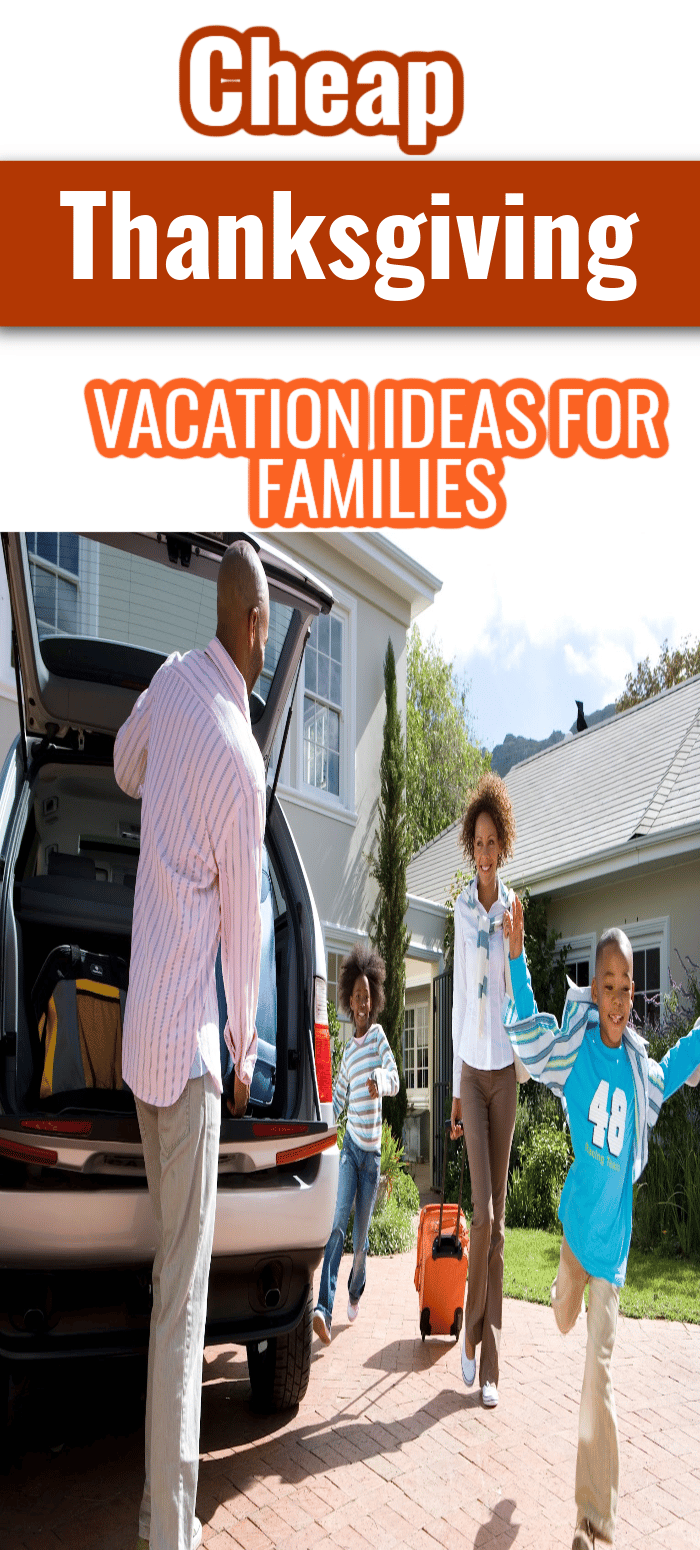 Thanksgiving is almost here, but that doesn't mean it's too late to start planning your family vacation over the holiday weekend!
Maybe you travel every Thanksgiving, or maybe you're looking to skip out on the stress of Thanksgiving dinner and extended family time this year.
Whatever your reasoning is for going on a trip during Thanksgiving break, your reasons are justified! And you're in luck, because it just so happens to be one of the best times of the year to travel.
Sure, the airports will be packed and you'll probably run into holiday season traffic, but that shouldn't deter you from creating lasting memories on vacation with your family.
Speaking of things that shouldn't stop you from taking a trip, let's talk about budget. It's no secret that vacations can get very pricey very fast with the cost of transportation, lodging, food, and activities.
However, there are so many options available if you're looking to take a budget-friendly trip with your family.
No matter what your financial restrictions are, you're sure to find something that's fun, fits within your budget, and creates lasting memories for the entire family. Here are ten of the best places for cheap Thanksgiving vacation ideas for your whole family:
Road Trip
A road trip is the perfect option for families who want to travel without spending a lot of money. You can pack your own food and snacks, which will save you a ton of money, and you can make pit stops at any number of tourist attractions along the way.
If you live on the East Coast, consider driving down to see the historical sites in Washington D.C., or if you're on the West Coast, take a drive down to sunny Southern California. No matter where you live in the United States, you most likely have a cool destination within 10 driving hours of your home.
Theme Parks
What's more fun than spending the holiday weekend riding roller coasters with your family?
While Disney parks might not be the cheapest way to go, there are plenty of other amusement parks your family will love.
You could visit Universal Studios, LEGOLAND, Six Flags, Knott's Berry Farm, Hersheypark, SeaWorld – the options are endless. If you are going to California, here is a list of all the California Theme Parks!
If you want to save some extra money, look for deals on admission tickets and pack your own food! Just make sure you read the park's rules and regulations about outside food beforehand.
Our friends at Get Away Today always have the best deals on theme parks – make sure to check them out, especially if you are heading to California.
Camping
Camping is a great way to get away from it all and enjoy some quality time with your family. You can find camping spots at any number of national or state parks, which are typically very affordable. We LOVE Yellowstone, and it's very affordable.
If you want to make things even easier on yourself, consider renting an RV for the weekend through a company like RVShare.
This way, you'll have all the amenities of home while still being able to enjoy the great outdoors. Bonus points if you can find campgrounds with golf courses, fishing, trails, horseback riding, and other outdoor activities!
All-Inclusive Resort
If you're looking for a more luxurious (but still affordable) vacation option, consider booking a room at an all-inclusive resort. All-inclusive resorts typically include the cost of your lodging, meals, and activities in one price. You can find amazing deals on all-inclusive resorts if you take the time to look!
Some of our favorite places include Florida, Costa Rica, Puerto Rico, and Mexico. You're sure to get a delicious Thanksgiving feast at an all-inclusive resort as well, and you might even catch some football games on TV!
Get Away Today always has great offers for all-inclusive resorts as well!
Cabin AirBNB
If you're looking for an outdoor adventure without the camping aspect, consider renting a cabin on AirBNB. This is a great option for families who want to enjoy the beauty of nature without giving up the comforts of home.
You can find cabins in any number of scenic locations, from the mountains to the beach. Just make sure you read the reviews before booking to ensure that you're getting exactly what you're looking for!
Read More – The Beginner's Guide to Airbnb
National Parks
If you want to explore some of America's natural beauty, consider visiting one of our amazing national parks. There are 59 national parks throughout the country, so there's sure to be one near you!
This is a great option for families who love hiking, camping, and spending time outdoors. Some of our favorite national parks include Yellowstone, Zion, Glacier, and Grand Canyon. These are perfect if you're looking for a small town feeling and a short drive!
Southern California
If you live near the West Coast, escape to sunny SoCal for Thanksgiving weekend. With its amazing weather, beautiful beaches, and world-famous tourist attractions, Southern California is the perfect place to spend the Thanksgiving holiday with your family.
You could visit Disneyland, Knott's Berry Farm, San Diego, go to an Angel's or Los Angeles Dodgers game, do some Black Friday shopping, or even just spend some time relaxing on the beach. No matter what you decide to do, you're sure to have a great time!
Washington D.C.
If you live on the East Coast, take advantage of the proximity to our nation's capital and visit Washington D.C. over Thanksgiving break! There are so many historical and cultural sites to see in D.C., and most of them are free!
You could visit the Lincoln Memorial, the Smithsonian museums, or take a tour of the U.S. Capitol building. D.C. is also a great place to eat, with plenty of restaurants and food trucks to choose from. You don't have to stay in luxury hotels to have a great time here either – it's the perfect destination all around.
Staycation
Last but not least, don't forget that you can always stay close to home and enjoy a staycation! This is a great option for families who want to save money or don't have the time for a long vacation.
You can visit local tourist attractions, go on day trips, or just spend some time relaxing at home. Whatever you do, make sure you take some time to enjoy the holiday with your family!
You can go ice skating, bake pumpkin pie, watch the Macy's Thanksgiving Day Parade, visit an indoor pool, sip hot chocolate by the fire, enjoy the cold weather, go on local carriage rides, or go snow tubing. Another perk of the staycation? You can still make it to all your family Thanksgiving festivities.
These are just a few of the best Thanksgiving getaways for families. No matter where you go or what you do, the most important thing is that you spend time with your loved ones and create memories that will last a lifetime.
We hope you love these Thanksgiving vacation ideas for families that will let you explore new places while spending quality time together. So pack your bags and get ready for some fun! What are you waiting for? Start planning your Thanksgiving getaway today.
Other articles you may enjoy: