Theme Parks in California: Which One Should You Choose?
Choosing which theme park in California to go to can be a hard decision – there are so many options! Here is a breakdown of all the different options so you can make the best decision for your family!

Best Theme Park in California
This is a sponsored post written by me on behalf of VacationRenter. All opinions are 100% mine.
When you think about California and family vacations, Disneyland probably comes to mind. 
And for good reason – it is the Happiest Place on Earth after all!
However, there are actually quite a few different theme parks within just a couple of hours of each other in California, and they all have something unique to offer. 
So, I thought I'd share the pros and cons about each park so you can decide which one might be best for your family. 
And if you decide you want to visit more than one of these parks during your trip to Southern California? I highly recommend looking into the Southern California CityPass. It allows you to build your own package of tickets to some of the popular theme parks in Southern California at a discounted rate. I think it's a great value!
Where to Stay?
Regardless of the theme park you decide to attend, you will need a place to stay. 
In fact, I think before you get your heart set on a certain theme park..scout out all the options in that area when you want to go to see how much accommodations will be. 
That can really make or break your budget!
We've stayed in hotels and rented rental homes, and both options have their pros and cons. However, if you really want to save money, I do think that a rental home can be one of your best bets. 
They can come at a premium cost, but there are many that are affordable near all of these theme parks. I think getting one with a kitchen can be really helpful and save you a lot of money in the long run. 
We really like to go with family members to theme parks, and I think in that situation, a rental home, condo or apartment is the best way to go. 
Regardless of what you choose, a great resource for searching ALL the options is VacationRenter.com. 
It's a very easy-to-use website where you just type in your location and dates, and it pulls up all the available options. 
Here is an example for a search I did for Anaheim, California: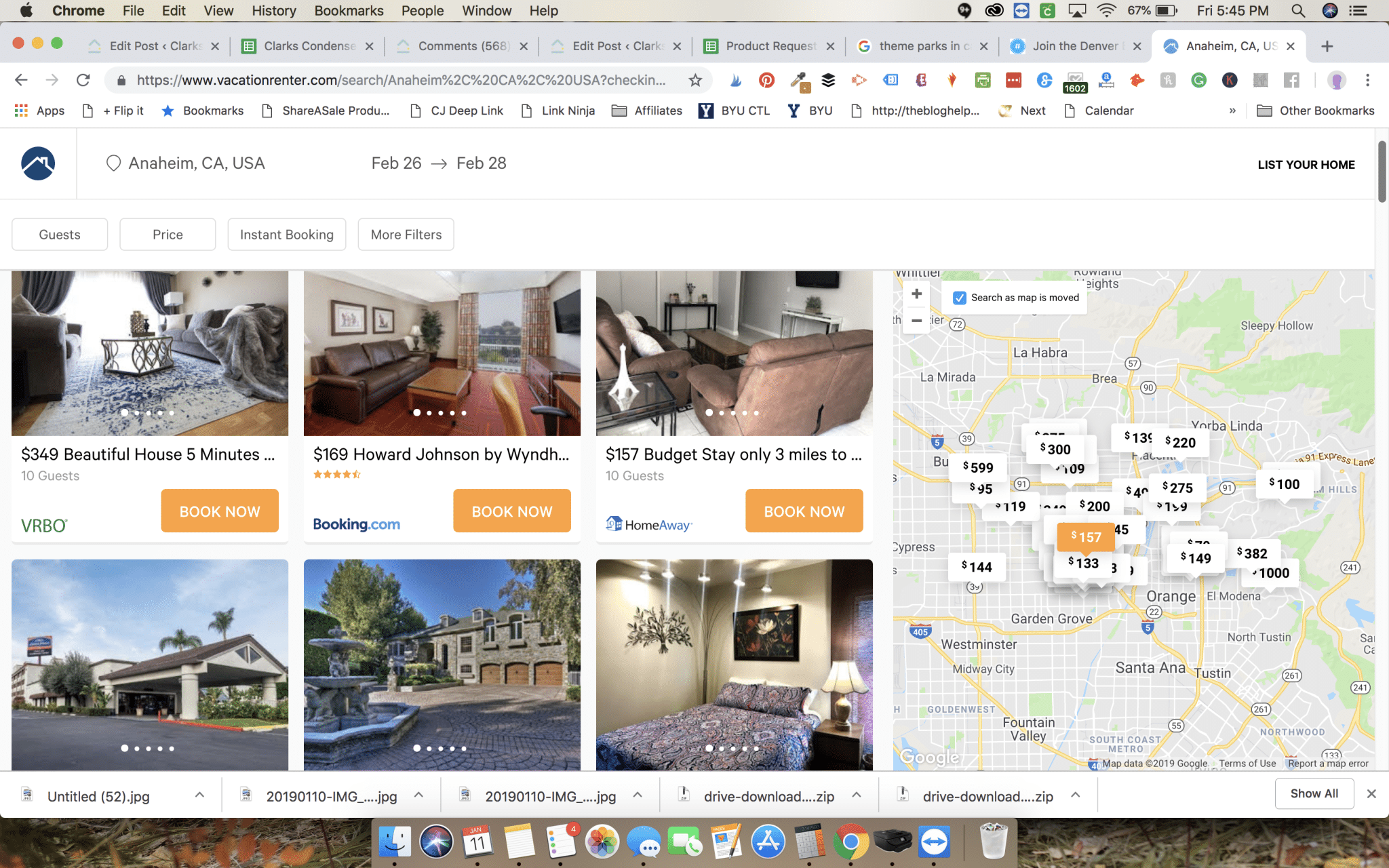 As you can see, it shows you a map with all the different prices, and then you can look and brose through the different rental homes and hotels. It tells you where the deal is so you can book immediately. There are also multiple filters you can use to make your search even more customizable. 
I've done a lot of booking hotels and vacation homes over the past few years – some for just my little family and some for larger – and this is an invaluable resource. 
My favorite part of VacationRenter? How easy it was to navigate. I feel like when I've been on sites that offer similar things, there are just popups and an overload of information. Plus, it's nice that you can see the deals BEFORE clicking to the site where it's hosted. 
California Theme Parks
Disneyland/California Adventure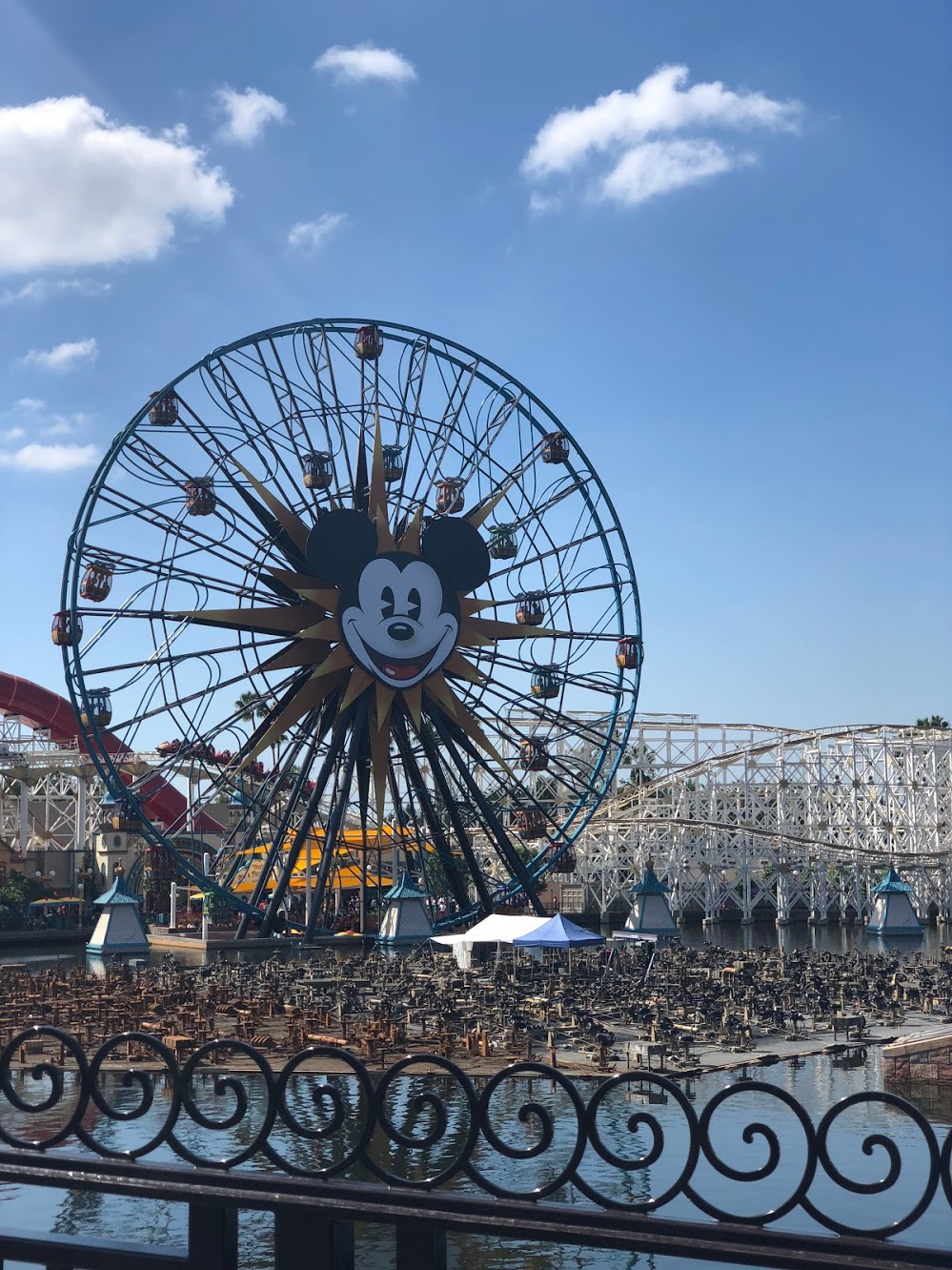 I really do love Disneyland. It's very family friendly, magical, and just fun. 
If you only have it in your budget for one place to ever visit, I think I would definitely suggest Disneyland and California Adventure. 
Although these two are usually paired together, they are two separate theme parks. You can purchase a ticket to go to one over the other if you feel like you won't love one of the parks. You can also do this if you just think you will just spend one entire day in one park. 
We always get the park hopper passes, though, because I think it's the best value, and we often do split our time between the two parks during the day. 
What We Like: 
Very family friendly – fun for all ages (especially Disneyland. California Adventure is definitely a little more geared toward older children/teens)
Classic – this is just a classic place to visit
Can take your own food and drinks
Lots of great lodging options nearby
Fun events throughout the year
Fast Passes are Free (unless you get a MaxPass on your phone)
Not a ton of upcharges in the park 
What We Don't Like:
Expensive – Everything is just pricey – the tickets, the food, the parking. And it all adds up. Disneyland is one of those trips that you can do on a budget, but that budget has to be realistic. The nice thing is, there are lots of great ways you to spend less and still have a great time. It's just expensive to get there!
Crowded -We have gone at different times of the year, and it is always crowded. Sometimes of year can be less crowded, but we went during a "low traffic" time of year this last time, and it was still insanely crowded. If you plan it well, you can 
Cost for Tickets:
Prices will vary depending on how long you are going for, if you get a park hopper, the time of year, etc. The more days you stay, the less expensive it is per day. Kids and adult ticket prices are different, but it's not uncommon for a deal to pop up where you can get adult tickets for kid's prices. 
Currently, the cheapest ticket for one day for people over 10 is $104, which is their value ticket (which has blackout days). A "regular" ticket is $129 and a peak day ticket is $149. For kids that are 3-9, a value ticket is $98, the regular ticket is $122, and the peak ticket is $141. Children under 3 are FREE.
Again, the more days you stay, the less expensive per day it becomes. 
We always suggest going through Get Away Today for the best prices on tickets. 
Cost for Parking:
Parking is $25 per day. If you can, I suggest staying in a nearby hotel and just walking (Vacation Rentals are also a great option for nearby stays). 
Can you bring food in?
You are can! This is one of the big things you can do to make your trip less expensive. Just make sure you review their rules for coolers and bottles. In general, they ask that you bring in premade food and snacks – not items that need to be warmed up or prepared (like cold cuts and jars of mayo and mustard). Non-alcoholic beverages can be brought in as long as they are not in glass bottles. 
You can read more of their rules here. 
Ideal Age: All! We've come to Disneyland with babies – and I'm of the opinion that this can be such a fun experience. I think toddlers, teens, adults, and grandparents can all have fun. It's all about finding the most suitable activities for the ages that are going. 
California Adventure is better for older children and teens – with the removal of Bug's Land (which was our favorite!), there aren't a ton of rides babies and toddlers can go on. Jack was tall enough the year we went when he was 5.5, so probably 5 and up are ideal. 
You may also enjoy: The Best Tips for Disneyland with Young Kids
Universal Studios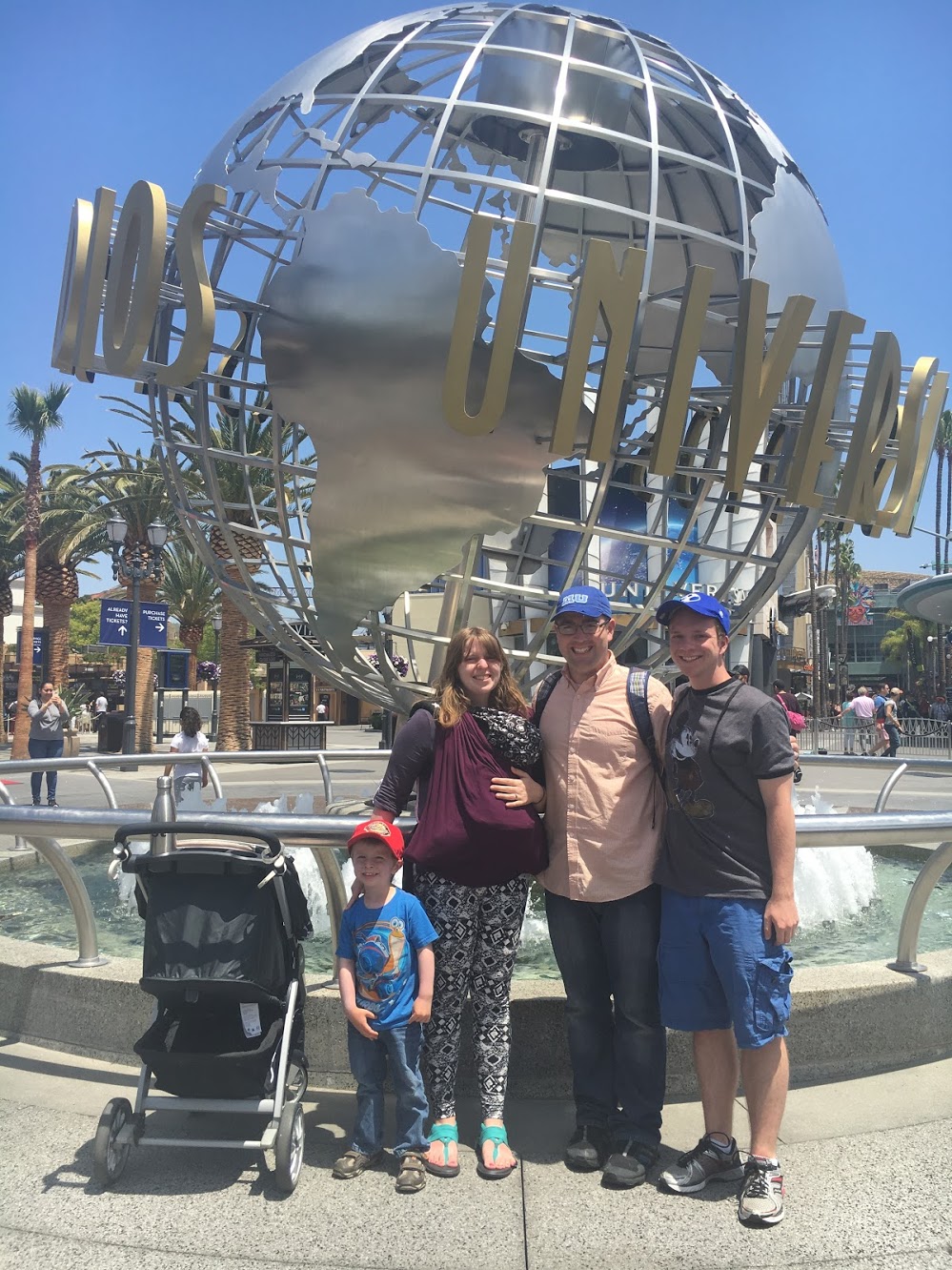 We went to Universal Studios a few years ago, primarily to see The Wizarding World of Harry Potter.
We enjoyed our time there, but it definitely was a bit too old for our kids at the time. Jack could have gone on a couple of rides, but he was terrified out of his mind at the thought. 
What We Liked: 
You can usually find a good deal 
Big variety of rides based on popular movies – I'm not that big into movies, but everything there was pretty cool. I liked all the characters we saw.
We really enjoyed the Wizarding World of Harry Potter. A lot of people say it's not that great compared to Orlando, which I'm sure is true…but we had nothing to compare it to and enjoyed it. It was pretty small, though, so we only spent a few hours there. Very cool rides and atmosphere though. 
The fans that sprayed water – this was really nice because it was so hot out. 
What We Didn't Like: 
Not super kid-friendly – there was a small children's area, which was basically carnival-esque rides. 
The jerkiness of the rides – this is just something I personally didn't love. I felt like all the rides we went on were pretty intense and jerky. I don't do great with things like that, so I didn't enjoy the rides as much as I do at some parks.
Cost for Tickets:
Here are ticket prices as currently listed on their website. Keep in mind that you can often find other deals from different travel agents, such as Get Away today: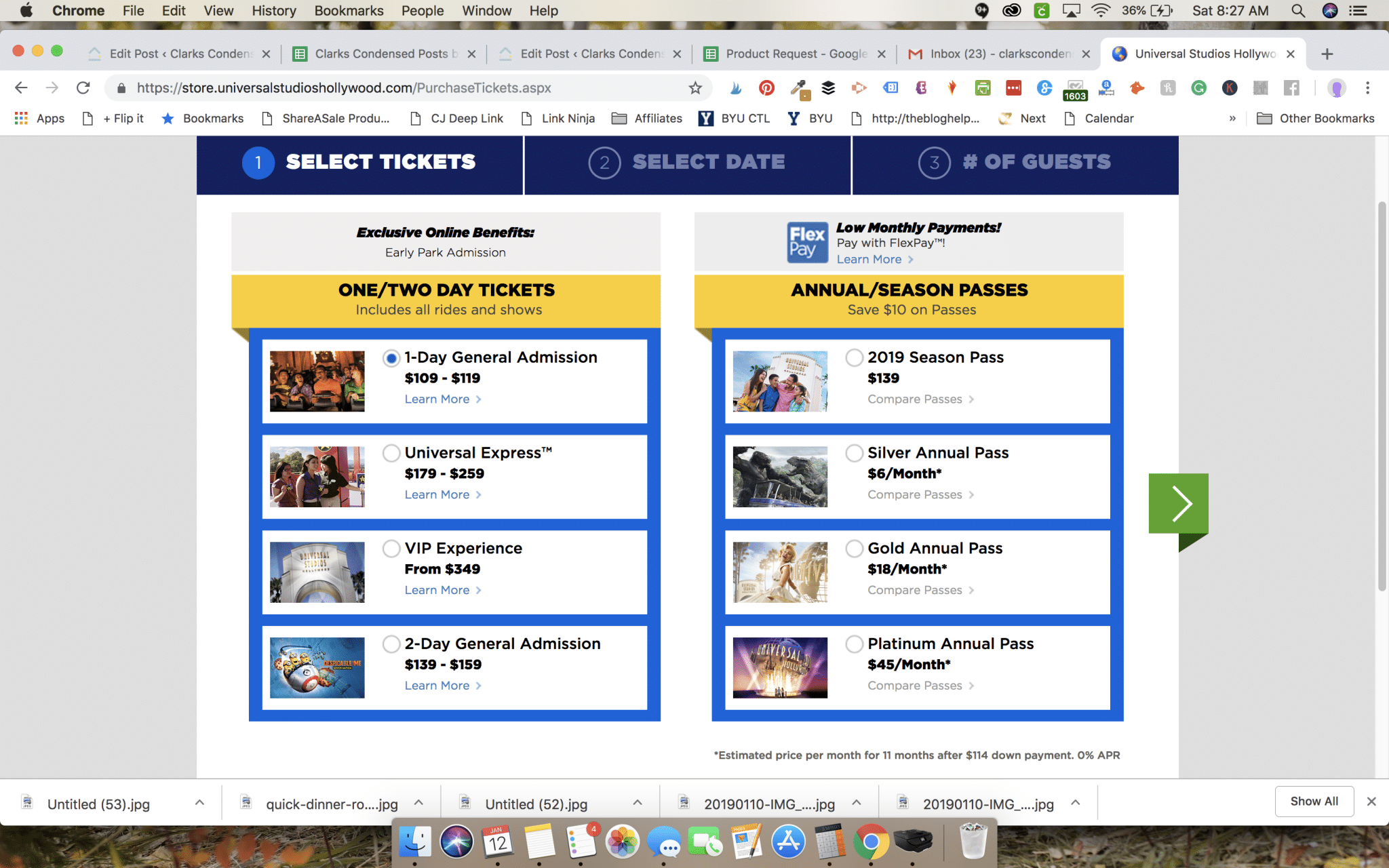 Cost for Parking: 
There are several parking options to consider that range from $10 to $50, depending on where you want to park and what time of day it is. 
During the day, prices range between $25 and $50 per car
After 6 PM, prices range between $10 and $30
They also offer valet parking at $25 for the first two hours and $45 for anything over two hours. 
I remember feeling really confused about the parking situation. Here is more information on parking.
Can You Bring Food In: 
You can bring in the following (source).
Bottled water (maximum 2 liters)
Small snacks
Any food required for special dietary needs
Any food required for medical purposes and medically-indicated nutritional supplements
Baby food/baby formula
Soft-sided insulated bags no larger than 8.5" wide x 6" high x 6" deep
We ate lunch before we went in. Since we only stayed for about 1/2 a day, this worked pretty well for us so we didn't have to pay for park food. 
Ideal Age:
I would say 10+, maybe even a little older depending on what their interests are. 
Seaworld San Diego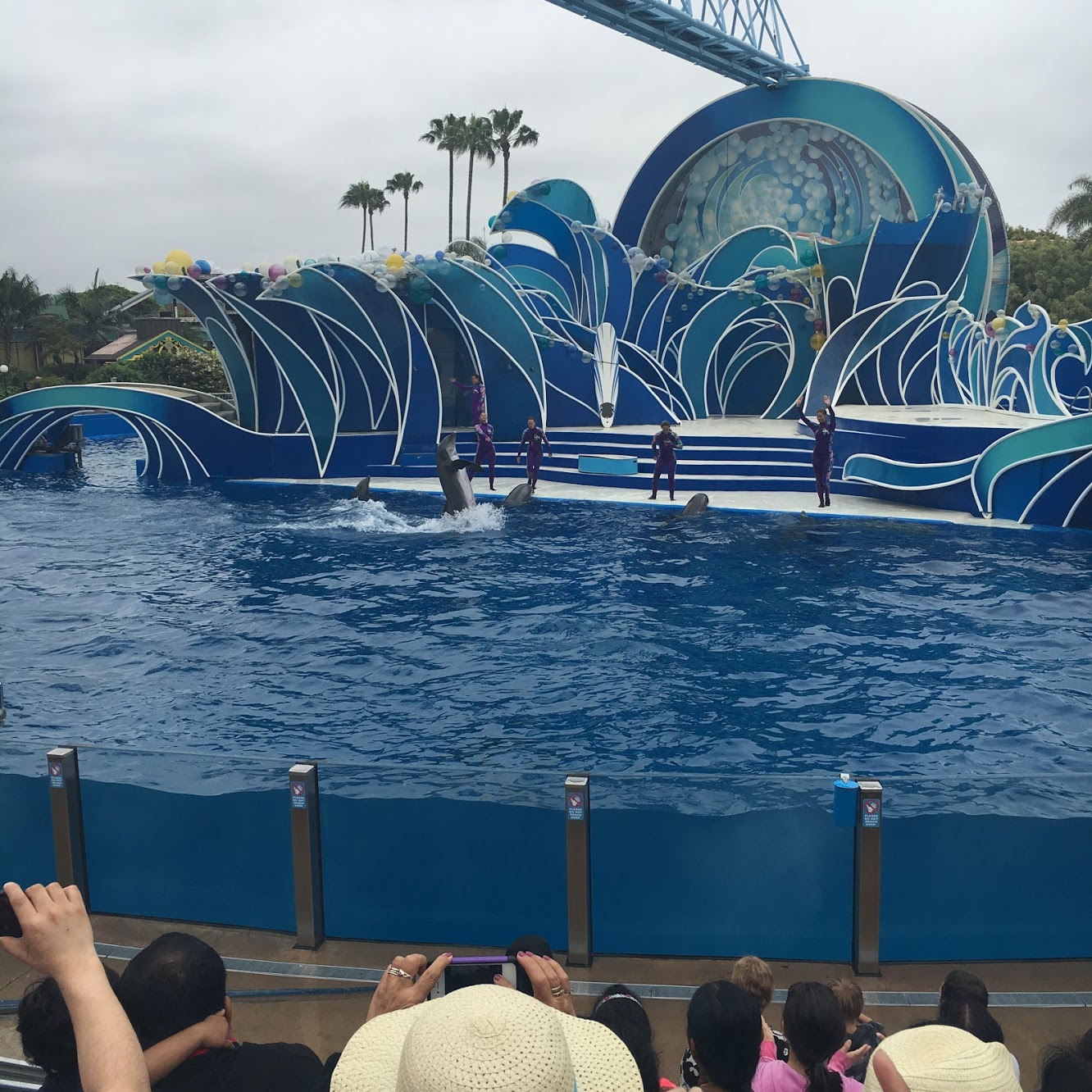 We went to Sea World with my parents and brothers a few years ago (you can read my brother's full review here – Why You Should Plan A Visit to Sea World San Diego), and it was actually really fun. 
This was at the tail end of our trip, and it was actually the day we flew out, so we weren't able to spend the entire day there, but we wish we'd had more time. 
After some really busy days at Disneyland and Universal Studio, it really just felt like the perfect, low key activity. 
What We Liked
Not Crowded
Tickets are reasonably price
Fun activities for all age
Wide variety of activities
Hands-on experiences
Dolphin show
What We Didn't Like
We didn't have enough time! As I said, we had to cut our time short, because we were flying home the same day, but we had so much fun. The weather was perfect, and did I mention how it wasn't crowded!? haha. 
Scheduling of events and getting there early
Rides were better for older children
Cost for Tickets:
General admission for adults is $91.99 for a single-day visit and for children it is $86.99. Children 2 and under are free. However, they are always running deals (for instance, when I was looking right now, you could buy the one day ticket and be able to come back throughout the year, minus a few blackout dates). They also have another great deal for $15 off – so always look for a discount. 
Cost for Parking:
Parking is $22 for general, $27 for up close, and $35 for VIP Parking
Can you bring food in?
This is definitely a downside – you can't bring in food (unless it's been previously cleared for a medical condition or a baby). They do have food options inside – but they are definitely theme park priced. You can bring in water bottles. 
Ideal Age:
Any age! Some of the rides might be too big for younger children (under five), but there are lots of interactive exhibits, live shows, and more. We all had a great time here. 
Legoland
I have very mixed feelings on Legoland. If you have a child between the ages of about 3 and 10, they will probably love this park. You can read my full review here – LEGOLAND California Tips: What to Know Before You Go.
Jack LOVED it, and he's always begging us to go back. Oliver was about two at that point, and he was not happy that he couldn't go on most of the rides. We also had some pretty bad customer service experiences, and the lines were LONG. 
With that said, there is a lot to do!
What We Liked 
Great for LEGO fans – Jack really had a great time. He was just starting to love LEGO products when we went, and it was fun to see how much he enjoyed it. I think he would love it even more now. 
Lots of themed rides – It's very on brand throughout the park. You can really feel like you are in a Lego Land!
Can be a low traffic place – So, as I'll say below, we went on a bad day. However, everyone else I know who has gone said it was not busy at all when they went. I would say going during the week is going to be your best bet. 
Neat displays – I have to admit, I really loved the Miniland USA area. I could have spent forever there! I loved all the amazing Lego displays all around the park. So much attention to detail. 
Fun hands-on experiences – There were various opportunities for hands-on activities with LEGO blocks. 
What We Didn't Like
Lots of add-on fees – I felt like everywhere we turned, there was another opportunity to spend money. This is pretty typical in a lot of theme parks, but I felt like it was especially bad here. 
Lots of rides were broken – not sure if this is the norm or not, but there were a lot of broken rides!
The cost of adding the water park – so before we came, we accidentally got tickets that were just for the Aquarium and the main LEGOLAND. The difference online between this ticket and the one that included the water park was less than $10 (through our travel agent). When we realized this mistake when we got to the park, they wanted us to pay a crazy amount to upgrade, which was really frustrating. 
It was busy – we were told that Legoland was NOT busy, but apparently, we went on the one day of the year it was. The lines were so long, and they didn't move very quickly, so we spent a lot of time waiting.
Rude employees – We just had a really bad experience when we got there with an employee that really spoiled the whole day. 
Cost for Tickets:
There are almost ALWAYS deals going on with LEGOLAND. When we went, I think our tickets were something like buy one day, get five days free – which would have been fun if we had been staying down there (we just drove down for the day from Anaheim). There are often free kids tickets in specially marked LEGO DVDs or even in certain LEGO packages. So keep your eyes peeled! 
With that said, tickets start at $95.99 for adults and $89.99 for adults and get more expensive with add-ons for the Sea Life Adventure and Water Park. 
Cost for Parking:
$20
Can you bring food in?
Not really – you can bring in plastic water bottles and granola bar-type snacks. 
Ideal Age: I would say ages 3-10 would have the most fun at Legoland. 
Knott's Berry Farms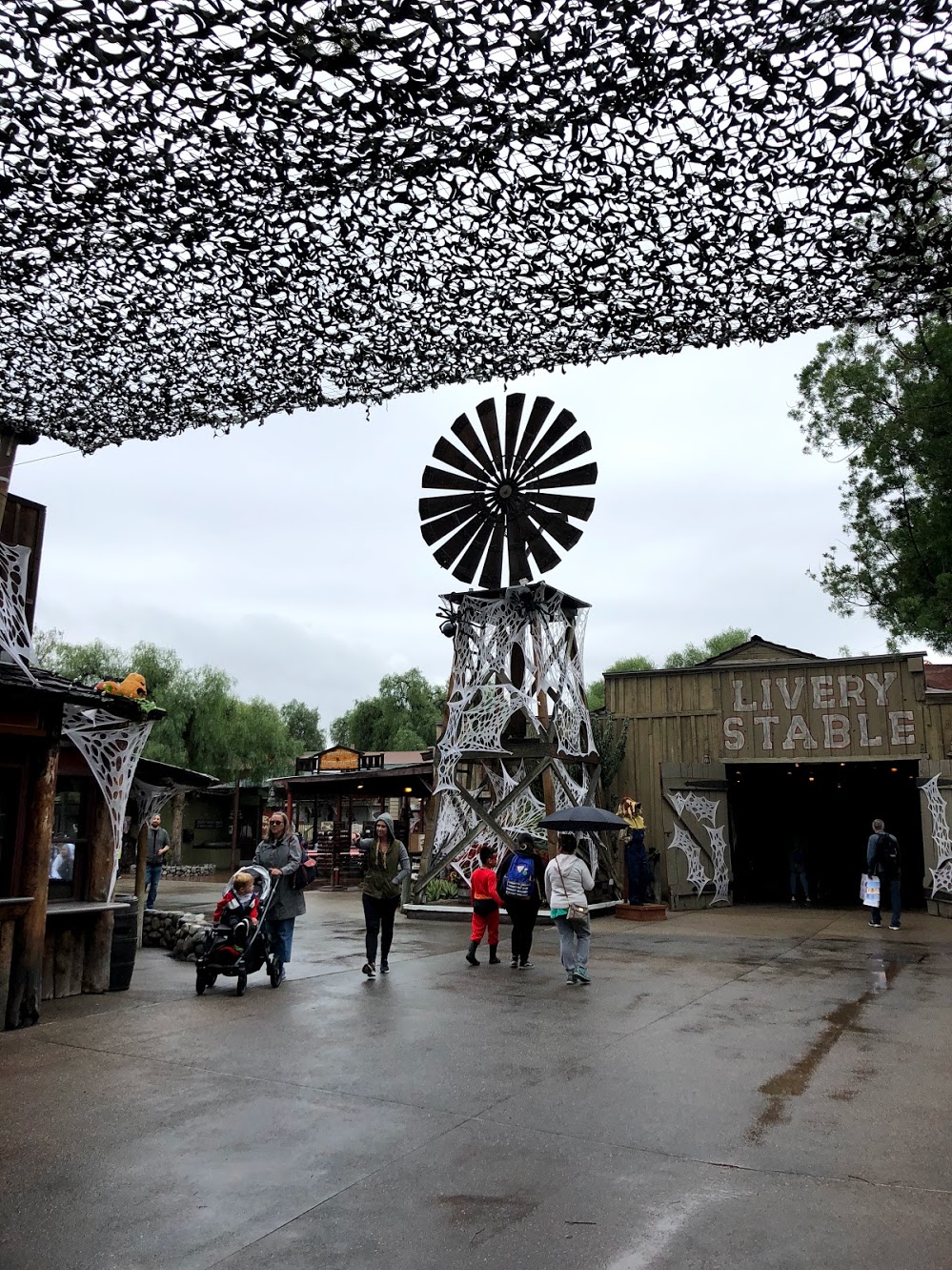 We went to Knott's Berry Farm for the first time last year at the suggestion of my friend, Hilary. I wasn't sure what to expect, but I was pleasantly surprised by the low crowds and how fun the rides were. 
What We Liked
Low Key – After Disneyland, this is a great place to go for a more low key kind of day. 
Very Cute – It's just a cute park. Lots of Snoopy-themed rides and characters, amongst other things. 
Often have good deals – You can usually find a great deal on it, especially if you go during off-peak season. 
What We Didn't Like
Slow – even though the lines weren't very long, I felt like everything was soooo slow. I remember getting in line for a ride that only had a few people in front of us, and it felt like the wait was forever. 
Older Rides – some of the rides felt like they might break underneath us. They were still fun! Just a bit rickety. 
Some employees weren't very friendly – a lot of people were very nice (we went at Halloween, so all the employees dressed up for that and handing out candy were so nice), but I felt like the people running the rides were a bit cranky. 
Rides closed down for rain – so I understand having to do this, but it was barely sprinkling at one point, and the rides were turned off. 
Cost for Tickets:
As low as $46 per ticket, depending on when you go. 
Cost for Parking:
$20 per car
Can you bring food in?
Coolers with baby food are allowed, but no other outside food is allowed. 
Ideal Age:
3+ – there is a big variety of rides for all ages, from kiddy rides to thrilling roller coasters to rides the whole family can enjoy together. They are a bit older, but they are still fun. 
I hope that this post has been helpful in helping you decide which theme park is best for your family. There are usually deals throughout the year for all of these places, so just keep your eyes open for those!