7+ Must-Have Disney World and Disneyland Apps
Here are the best apps for Disney World and Disneyland to make your vacation even more magical!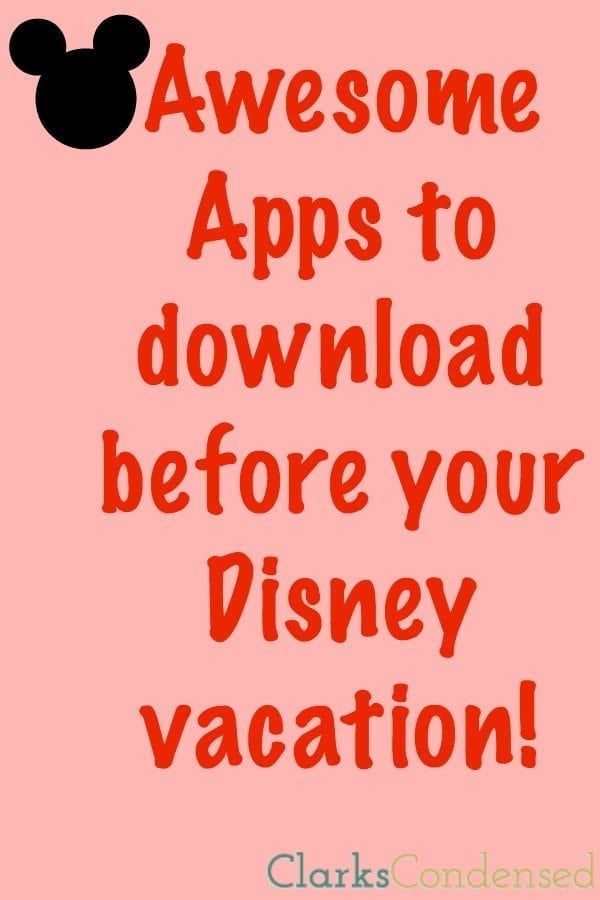 Best Disneyland Apps
Over the past few years, we have gone to Disneyland three times – it's easily becoming one of our favorite places.
When I went about ten years ago, there really weren't apps that you could download for your trip. I remember purchasing a program that allowed you to plan out your day, print it off, and it told you the plan you should take to make for the best time.
It was nice, but it was also a little cumbersome! So when we went a few years ago, I was THRILLED to see that a lot of progress had been made in that respect. There are so many great Disneyland and Disney World apps available – including official ones from the parks that make life so much easier.
So today, I am going to share the best Disney World and Disneyland Apps that will hopefully make your trip a little bit more magical and fun.
If you are hoping to go to Disneyland, be SURE to check out Get Away Today! They have the best prices and perks around, plus if you use my code ClarksCondensed, then you can get $10 off any package. They have amazing layaway plans that just have to be paid off two weeks before you leave!
Originally posted in 2015 – updated October 2018. 
Disney Official Apps:
Before you leave on your Disneyland or Walt Disney World vacation, you'll want to make sure you download the official Disney Park app for either park. if you download just one app, this should be it.
Both of these apps give you wait times for rides, entertainment schedules, where you can meet characters, restaurant menus and so much more. Although they are very similar, you'll want to be sure to know the differences between the two before you go.
This is why I'll give you a detailed explanation of what you can do with both apps below, so you'll be a Disney app expert before you even step into the park. Luckily, both are available for free on iOS and Android devices.
Disneyland App: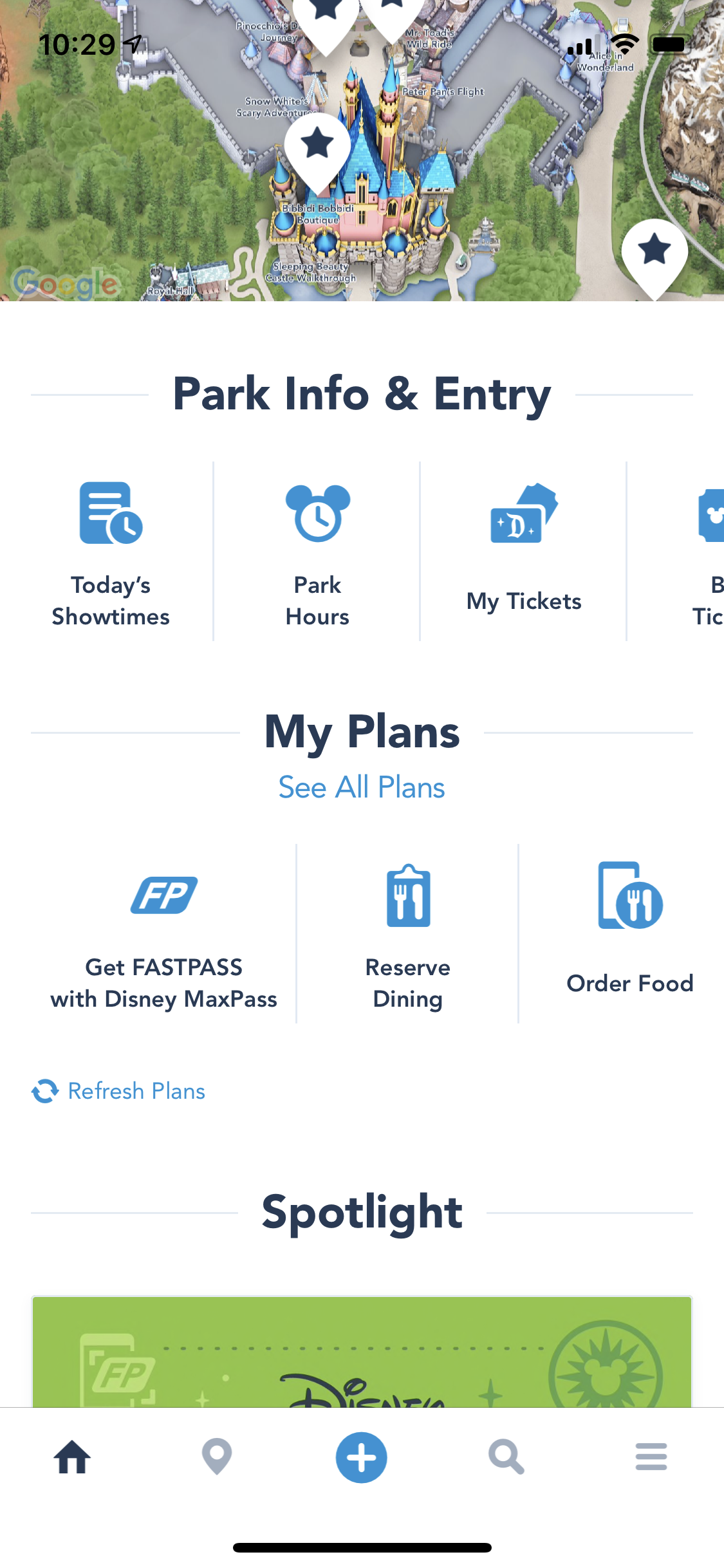 Like I mentioned before, the Disneyland app is filled with ways to make your vacation experience as seamless as possible. At the top of the app, you'll be able to see a map of both Disneyland and Disney California Adventure. Not only will you be able to see where attractions are located, but this is where you'll also be able to view wait times and character locations. Plus, you can also view dining areas, entertainment locations, restrooms, shops and more. This map alone is extremely useful when you're on
your trip.
In addition to the map, the Disneyland app will let you view Park Hours for the day, as well as Today's Showtimes. But, some of my favorite parts of the app are where you can reserve dining to your favorite restaurants, use mobile ordering and purchase MaxPass.
If you're not sure what MaxPass is, it's a feature within the Disneyland app that lets you reserve FastPasses directly from your mobile device. This way, you don't need to worry about running back and forth from Disneyland and Disney California Adventure to get FastPasses for your favorite attractions (learn more about the Disneyland MaxPass here).
Plus, MaxPass also includes PhotoPass for the entire day that you purchase it. With PhotoPass, you'll be able to download any photos you take with a Disney Cast Member Photographer or ride photos directly onto your phone. PhotoPass is the perfect way to save vacation memories. While MaxPass is $10 per person/day, it's well worth the cost for the convenience.
However, if you're not looking to spend any extra cash, make sure you take advantage of Mobile Ordering. This feature on the Disneyland app will let you order meals directly from your phone, so you can skip the line and chow down. There are currently 18 restaurants to choose from in both Disneyland and Disney California Adventure, so you're sure to find something everyone can agree on. The best part?
This feature is completely FREE!
Let me tell you, it's SO nice just to breeze past everyone in line and pick up your food.
My Disney Experience:
My Disney Experience is Walt Disney World's official app, and while similar to the official Disneyland app, the entire Walt Disney World vacation experience is completely different. As you might know, when you travel to Walt Disney World, you usually start planning for FastPass+ and dining reservations at least 30 days in advance and even 60+ days if you're staying at a Walt Disney World property. This means that if you're traveling to Walt Disney World, you'll want to download this app well before you leave on vacation.
Unlike Disneyland, Walt Disney World does not have the MaxPass feature. However, Walt Disney world will allow you to make FastPass+ selections up to 30 days in advance, starting at 7:00 a.m eastern time.
So, if you're looking to glide on the newest attraction, Avatar Flight of Passage, you'll want to set your
alarm to make sure you snag a reservation.
With the app, you can plan up to 3 FastPass+ experiences for each day of your vist. Once you arrive, the FastPass+ selections will be linked to your MagicBand or card. Luckily, once you enjoy all 3 FastPass+ selections, you can start reserving more within the same-day. As a tip, book all of your FastPass+ selections in the morning so you can choose even more throughout the day.
While Walt Disney World does have Mobile Ordering, you'll want to consider reserving your dining as soon as you possibly can. You can do this through the app or online, up to 60 days before your reservation or 180 days before if you're staying on a Walt Disney World Resort property. If you can, try to snag reservations to popular restaurants like Be Our Guest Restaurant and Ohana as soon as they become available. However, if you didn't get it the first time, you can keep checking to see if any time
slots have opened up.
Since Walt Disney World is much larger than Disneyland, the map feature becomes especially helpful when trying to find dining locations, resort hotels, character experiences and even other parks. To change the park map that you're seeing, just select the "Filter" option in the top, left-hand corner of your screen.
Other Disneyland Apps
I was recently told about the "Where in Disney?" app, and let me tell you, I think it's one of the coolest apps for Disney visitors. It's only for Disney World, but it helps you search and find souvenirs (such as an Elsa plus doll), gluten free snacks, restaurant menu items, services, and more. It works with all the theme parks at Disney World, as well as Downtown Disney. The free app is awesome, but if you upgrade to the new one, it will show you photos to help you identify what you are looking for and it uses Google Maps to help you find things even quicker. I think it's an awesome app to help you spend less time searching for things at Disney and more time having fun!
Anaheim Disneyland Guide & Map
This app is awesome because it can help you find your way not just around Disneyland, but all of Anaheim. We all know that Disneyland has crazy expensive food prices, so it's not usually an option for everyone to eat every meal there. I really liked this app because it helps you find lots of different restaurants in the area, as well as things to do in the area (in case you get burnt out from the ol' Mouse!)
This is just a tool to help you keep yourself organized while at Walt Disney World! You can put all your itinerary information into it (such as hotel confirmation numbers and addressess/phone numbers, flight information, etc.) You can also view all the restaurants at Walt Disney (and search for them by type of food, cuisine, etc.) and even make a reservation at one.
I don't know why, but this one seems SO cool to me! Basically, it helps you have a walking tour of Disney World Main Street! It has all sorts of information on the history, secrets, and stories of different windows of Main Street at Disney World. This could be a really fun activity to do with your family when you are taking a break from the rides.
There are hidden Mickeys throughout all of Disney World (and Disneyland!) This app is great for those who are wanting to find them all and learn some fun stories along the way. It's a guided tour that would be a lot of fun to do with your family, or whatever group you are with. It includes pictures of the Mickeys for the beginning tour, and for the more "advanced", it leaves out the Mickeys so you can try and find them yourself.
This is just another app that tells you secrets and stories about Disneyworld. It has tons of trivia, and it can be fun for either leading up to a trip to Disneyworld, or as you're walking through the streets!
From what I've read, this is one of the best apps that you can download before you go to Disneyland. It not only has 2D GPS maps of Disneyland, Downtown Disney, and California Adventure, but it allows you to selcect which rides, restaurants, and stores you want to visit and place them on your customized map so you can plan your day! It also shows the wait times for different times, right on the map. It will even send you a text reminder to tell you when to get to a ride at a specific time.
It also lists the times of different events at Disneyland (such as Character meet & greets and parades), tons of information on menus, a live WebCam of different areas, information on rides, trivia, and more. It even tells you where to find wall chargers. There are a lot more awesome features though, so if you want an all-in-one app for Disney, I'd say this would be a great option.
Plus… more Disneyland events & times, more restaurants now with pictures, more menus, add in-app pictures & notes on over 400 pages, LIVE WebCam, customizable wait times list, Character Meet times & locations, Passholder blackouts, more shows, ride info, videos, park pics, trivia.
These are some more apps that offers wait times, though the unique feature it offers is that you can submit your own wait times (and others can to), which can sometimes be more accurate than just waiting for Disney to update them. You can see the history of wait times as well, so you can kind of gauge if it's a ride that's always busy, or if kind of ebbs and flows throughout the day.
 Just some more apps that offer dining options – you can browse by type of food, location, organize a dining schedule based on your reservations, etc. It's not the coolest app, but it doesn't require you to connect to the Internet, so that can be helpful if you are using it on a device that doesn't have data enable (Disney doesn't have WiFi either.)

[thrive_leads id='30551′]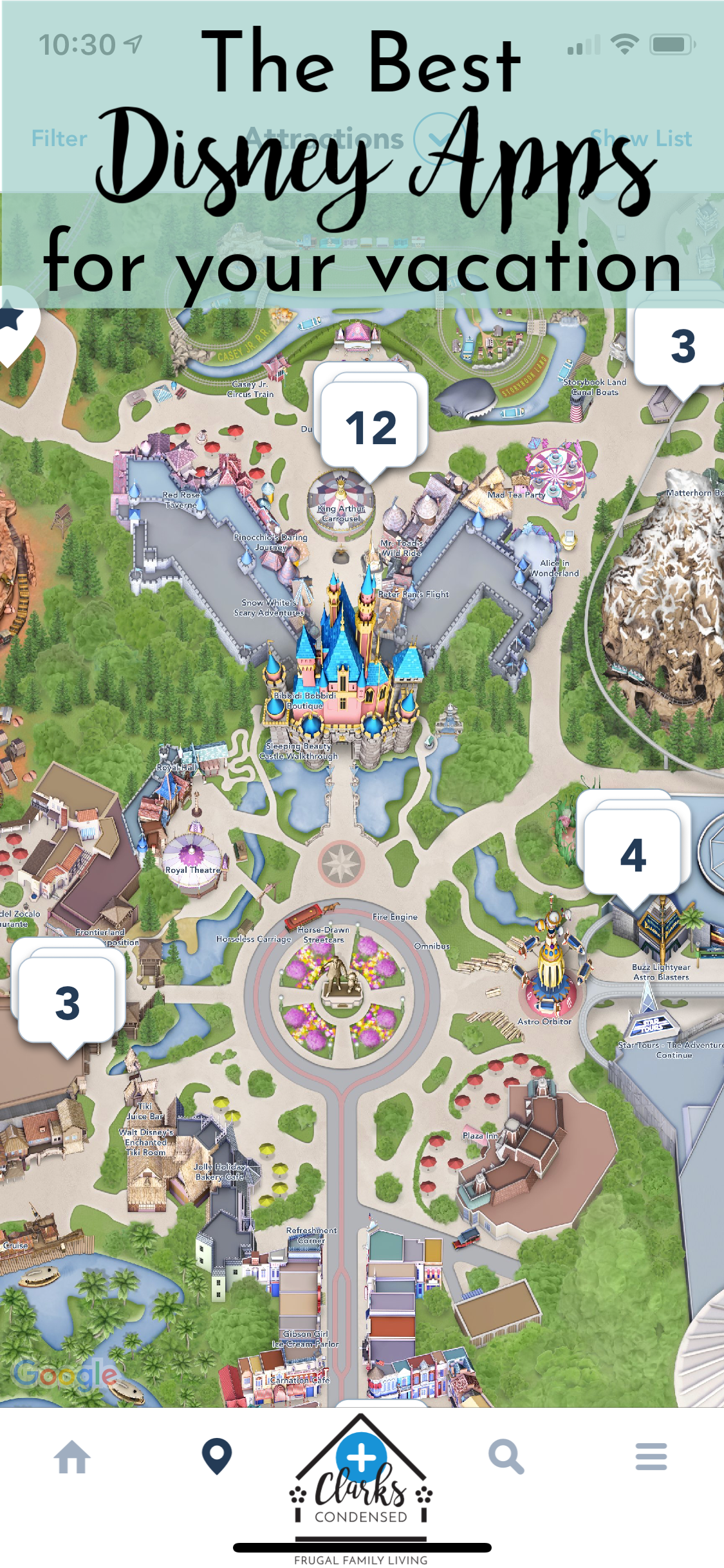 Don't forget to check out this other awesome post on Disney vacations!