8 Tips for Road Trips with Young Children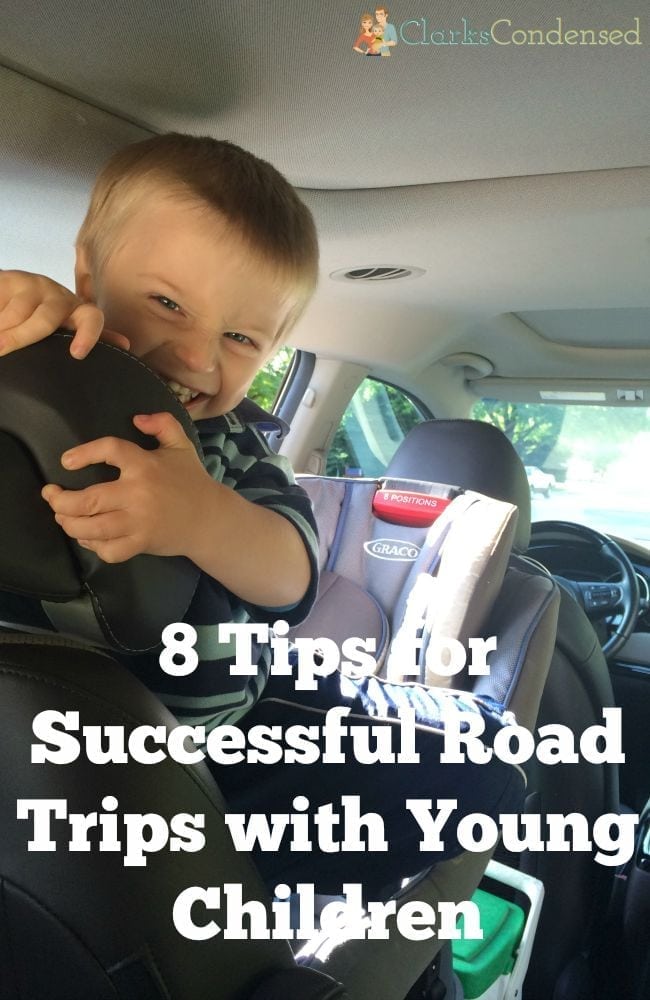 It's been awhile since I've written a post about traveling with children – my post on road tripping with a baby always seems to garner a lot of attention. Jack is three, so he's kind of in that range of toddler/preschooler. Since we've taken plenty of road trips with him as a toddler, and now a couple as he's entered that preschool age, I figure that I might as well write a post that focuses on road tripping with young children!
I'll put this out there up front – Jack is very good in the car. He rarely, if ever, complains or cries, and he loves sleeping in his car seat. So, I'll admit, my advice isn't going to have a lot of experience with children who hate being in the car. However, I think that most of this is pretty generic, and I hope you can apply it to your situation!
We recently went on a super long road trip to Northern Idaho. It was over 2,000 miles round-trip, and let me tell ya – it was a doozy! Road trips are normally one of my least favorite things to do, but I think they are even worse during pregnancy. Let's not even talk about how swollen my feet got.
Fortunately, we actually drove in the same car as my parents and little brother, which made the trip a little bit more fun. Jack loved being in the car with them.
1) Fun Bag
Growing up, the best part of road trips was the "fun bag" my mom would put together for each of my siblings and me. I remember that my bag was yellow, and there was always so much anticipation to getting to the car and seeing what was inside. In hindsight, there wasn't anything too fancy – just some candy, maybe a small toy or book, but it was so fun to have this to look forward to.
I've continued this little tradition with Jack, and he absolutely loves it. I mentioned it to him a few days before this last road trip, and he couldn't stop talking about it. I just stocked up on a few things from the dollar section at Target, and he was overjoyed when I let him open the bag on our trip. Here are a few ideas:
New crayons/coloring book
Small snacks like graham crackers, goldfish, or fruit snacks
A new book
A sticker book (or a package of stickers with a blank notebook)
mini etch-a-sketch or magnadoodle
Quiet Books
Window markers
Finger Puppets
You can easily find a little bag at the Dollar Tree or Target. However, I like having something that's a little more durable and that we can use on multiple trips. We were sent a PaddlePak from Trunki.com, a company that specializes in travel gear for little ones, and it was perfect for putting Jack's fun bag together. It had tons of room for everything we got him, and it was nice that it was water resistant, in case something spilled inside. Jack picked Ribbit the Frog, and it is so cute and very well-made.
2) Snacks in little containers
I bought several different snacks for Jack to have throughout the trip, but I wanted to make sure he didn't just eat them all in the first hour we were driving. I got some cute little cups with lids from the Target dollar section (if you can't tell, I love this section). I used about four different cups and put different snacks in each one. I kept larger bags of the snacks in my bag, so I could replenish the snacks when I needed to. I feel like it kept things more organized and less messy.
3) Make sure they are comfortable
No one wants to be uncomfortable in a vehicle, but I think adults can handle it a bit easier. If your child is uncomfortable, they will definitely let you know! Long road trips are bound to get uncomfortable, but there are a few things you can do to ease that discomfort.
Regulate the temperature: Depending on the kind of vehicle you have, the backseat may get rather warm, even with air conditioning on. My friend came up with this interesting way to keep your child cool in the car. If you don't feel like making something like that, I think buying a car seat fan attachment is a great idea, as well as rolling down the windows when you can.
Bring familiar blankets and other sleep items: This will help your child fall asleep easier in the car!
Bringing along a pillow probably isn't the best idea, especially when your child is in a car seat. We were also sent a Trunki.comTrunki.com, and it really is the perfect solution for children in car seats. It helps to keep their neck from getting too stiff or tired, and the fact that they are animals is even more fun. Jack LOVES his, and he uses it even when we aren't in the car! He has Leeroy the Lion.
4) Be willing to stop frequently
Jack was potty trained right about when he turned three (you can read all about our secret to potty training.) This is something we were very happy about, especially since I really didn't want to have two kids in diapers once this new baby arrives. However, it does mean that you have to stop a lot more frequently. Jack doesn't seem to quite understand the concept of "holding it" for awhile, so the moment he needed to go potty, he didn't let us forget it. This meant that we stopped quite a few times (often on the side of the road – which he thought was soooo cool), and it was something we factored in.
If your child has just recently been potty trained, and you aren't sure if there are good places to stop at a moment's notice, you may want to consider having your child wear pull-ups in the car. Jack didn't want to do this, so I wasn't going to force him to, but if you're at that in-between stage, it might be a good idea so you don't have to worry about it if they have an accident.
It's also good to stop and let your kids stretch their legs and run around for a little bit. No one likes being cramped in the car for hours on end!
5) Healthy snacks
From all of our road trips, I've learned this – junk food may be tempting to buy, but it's far better to buy healthy snacks. Whenever we just load up on salty snacks and junk food, we always end up feeling horrible by the time we stop. Forrest and I started making sure we had a good supply of snacks that would keep us satisfied, but that weren't complete junk. While we may have a package of cookies as well, we typically bring a lot of fruit (bananas, cutie clementines, and apples are our favorites), Annie's snack crackers, granola bars, and, of course, lots of water! We recently started buying Motts Medley's Fruits snacks from Costco, and they are a great treat to bring along as well.
One kind of candy I do recommend bringing is licorice. Traveling often results in constipation. TMI maybe, but it's true. This goes for children as well! My mom swears that if you eat licorice while traveling, it helps a lot with travel bloat and constipation. I think there's definitely some merit in this!
6) Don't give them all their "surprises" at once
If you are going on a long road trip and have bought different surprises (whether it be a game, a book, or maybe a new movie), don't give it to your child all at the beginning! Chances are, they will go through everything really quickly, and then they will start to get antsy and act board. Spread out the surprises to be available at the times when they seem like they are having the hardest time. I mean, with Jack, he was content about 95% of the time, but during that other 5%, it was nice to have something to distract him. Some people may not agree with doing this, but with as boring/frustrating/mind-numbing as a car ride can be, I honestly don't care! If my child is content in the car, that's pretty much all that matters to me when we are driving.
One surprise that might be fun to give your child when they get to their destination is a new suitcase! We also were asked to review Trunki's signature product – the Trunki suitcase. It's a ride on suitcase, available in a variety of different styles, and it's a lot of fun for kids. When you arrive at your destination, it might be a fun treat for your child to see a brand new suitcase – just for them – that they can ride to their hotel room (or wherever you are staying!) Plus, these are guaranteed for five years – so you know they are built to last (also – random side note – I think this would be amazing in an airport!)
7) Make sure they are in the proper car seat
I couldn't go through this post without putting a shout-out for car seat safety. I wrote a post awhile back that touched on car seat safety and proper car seats. When you are on a road trip, you are driving for long periods of time, and I think there's probably an increased risk of getting in an accident. You want to make sure your child is as safe as possible, just in case something bad does happen!
8) Mess-free activities
The last thing you want to do is arrive at your destination (or home) and have a huge mess in the back seat. While your child may love painting or playdough, a road trip is not the best time for this! I recommend finding a variety of mess-free activities for them to enjoy throughout the trip. Here is an awesome list of mess-free road trip activities for preschoolers! We also love finding travel editions of little games, crayons (not markers – unless it's Color Wonder!) and a new coloring book, or car bingo!
Going on a road trip to Southern California? Be sure to check out Get Away Today before you book your next trip – they have a best rate guarantee, and from my experience, they are the best company to work with. Get $10 off your package when you book using the code CLARKS2015!