Universal Volcano Bay – Everything You Need to Know!
Thinking about making a trip to Universal Studios Volcano Bay? Here's everything you need to know!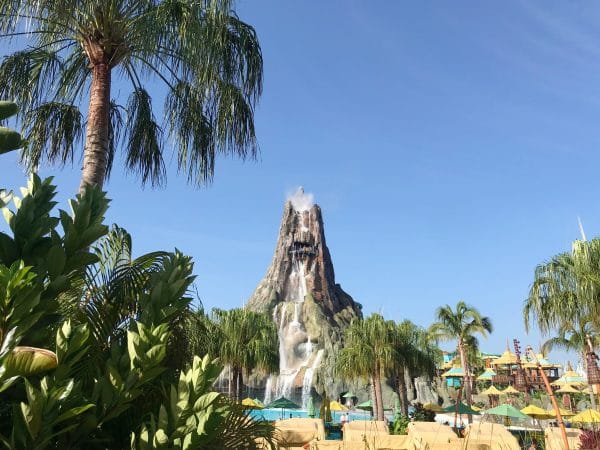 Volcano Bay Orlando
I've shared travel tips for Universal Orlando Resort before, and today I'm excited to tell you all about Universal's Volcano Bay.
Did you know Universal Orlando has three separate theme parks?
Universal Studios Florida focuses on blockbusters and TV shows while Universal's Islands of Adventure focuses on superheroes and myths.
Universal's Volcano Bay is a water theme park based on the fictional Waturi people, and it transports you to an island paradise.
Volcano Bay Tickets
In order to gain access to Volcano Bay, you will either need to purchase a three-day pass to Universal Orlando Resorts. There is a one-day ticket for Volcano Bay ONLY that you can purchase as well.
For a limited time, when you book Universal Orlando Resort vacations with Get Away Today, you get admission to Universal's Volcano Bay for FREE. With dozens of attractions, it's hard to believe a deal this good is real!
When Universal set out to create their very own water theme park, they made sure to include awesome perks no other park has.
Volcano Bay is conveniently located right next to Universal's Islands of Adventure, Universal Studios Florida and Universal's CityWalk.
Even when this deal is over, we still recommend getting your tickets to Universal Orlando Resort and Volcano Bay through Get Away Today for the best deals.
Universal Orlando Resort – Volcano Bay Attractions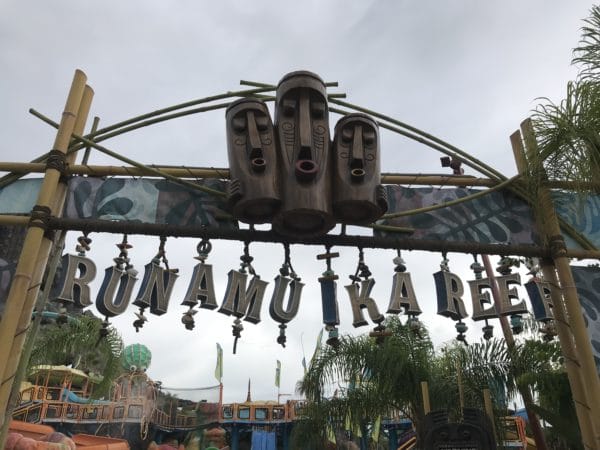 There is fun for all ages at Universal's Volcano Bay. From lazy rivers to splash areas, you'll find options to keep you cool for hours. Here's a look at some of the rides you can expect to enjoy at Volcano Bay:

Kopiko Wai Winding River: This lazy river is perfect for all ages. Strap on your life jacket and leisurely float through Volcano Bay.
Ko'okiri Body Plunge: Designed for thrill-seekers 48 inches and taller, the Body Plunge drops you through a 70-degree chute so you can experience 125 more feet of twisting slides to the pool below.
TeAwa The Fearless River: White water river float for guests 48 inches and taller. You'll face the waves in your flotation device and nothing more!
Tot Tiki Reef: Designed for even the youngest of guests to splash and play, the Reef is a shallow splash pad area. 
Krakatau Aqua Coaster: A water coaster that winds around the man-made volcano, this attraction is for riders 42 inches and taller. You'll ride a four-person canoe around and through the volcano and a waterfall.
Waturi Beach: Leisure area for all ages by the entrance of Volcano Bay. 
Puihi of Maku Puihi Round Raft Rides: Multi-person raft ride through caves and fountains, suitable for riders 42 inches and taller.
Runamukka Reef: This play area features shade and interactive structures for guests of all ages.
Volcano Bay Hours
The hours for Volcano Bay will vary from day to day, but it's typically open from 9 AM to 9 PM. You can always check the daily schedule here.
Universal Orlando Resort – Volcano Bay TapuTapu Bands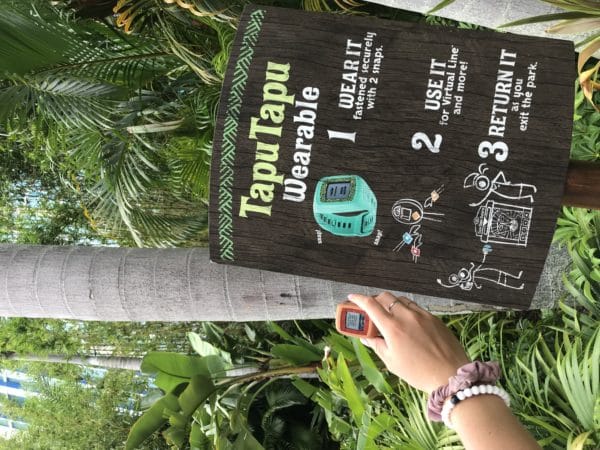 One of the best parts about Volcano Bay is the TapuTapu Bands system. Upon entering the water theme park, you're given a TapuTapu Band. It serves as your ticket to get into virtual lines so you don't have to spend time queueing for your favorite attractions.
While wearing the TapuTapu Band, you step up to a ride and tap your wrist to the line totem.
This puts you in the virtual line (for one ride at a time) so you can splash and play elsewhere in Volcano Bay until it's your turn to ride.
When your time approaches, your TapuTapu Band will vibrate. If there's ever any temporary closure for a ride you're queueing for, your Band will notify you.
TapuTapu Bands can also make interactive features come to life, such as fountains or tiki statues. With the TapTu Play element, you feel like you really are in an enchanted island paradise.
TapuTapu Bands are also your ticket to making electronic purchases throughout Volcano Bay. Link your band to your credit or debit card so you can easily purchase meals and souvenirs without having to carry around a wallet. Additionally, your band opens your locker so you don't have to keep track of a key.
Finally, TapuTapu Bands are used to snap photos throughout Volcano Bay. In designated areas throughout the water theme park, you'll find Selfie Spots. Your TapuTapu Band links the photos to your account so you can access them later and purchase your favorites.
Volcano Bay Cabanas
While you wait for your return time for various rides in Volcano Bay, you can rent a private Cabana in which to lounge, eat and organize your day.
Cabana rentals include electronic access to virtual lines throughout Volcano Bay, as well as remote ordering from restaurants in the water park. Your Cabana will be stocked with a complimentary snack basket, a mini-fridge with water, towels and padded lounge chairs.
A single cabana on the ground floor is anywhere from $149.99 a day to $449. Upper level go from $199 to $549.99.
A family cabana starts at $299 and goes up to $599 – they can hold up to 14 people!
These features are so helpful in making your day at Volcano Bay fun, and I wish all water parks had them!
Universal Orlando Resort – Book with Get Away Today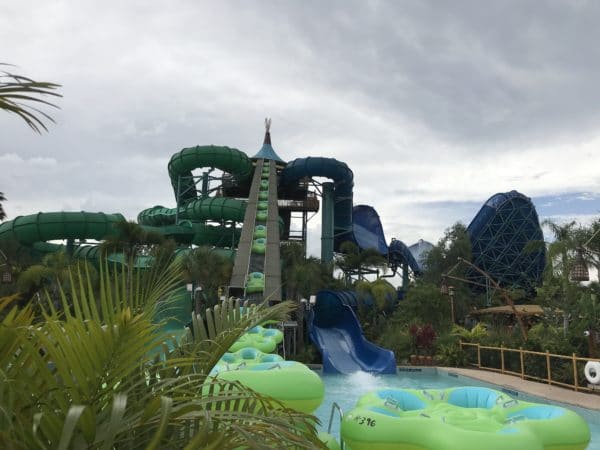 Can you believe all the fun available at Universal's Volcano Bay? It's truly worth spending an entire day of exploration in order to experience the kid-friendly rides, leisure pools and racing slides.
To book a Universal Orlando Resort vacation, head to www.getawaytoday.com and choose between the 3-Park 3-Day Base Ticket or the 3-Park Park to Park Ticket.
Base Tickets allow admission to one park per day, and Park to Park Tickets allow admission to more than one park per day.
If you want to be able to ride Hogwarts Express between Universal Studios Florida and Universal's Islands of Adventure parks, you'll need to purchase Park to Park Tickets.
To get the 3rd Park FREE deal, purchase by December 2, 2019 and complete your trip by May 22, 2020*.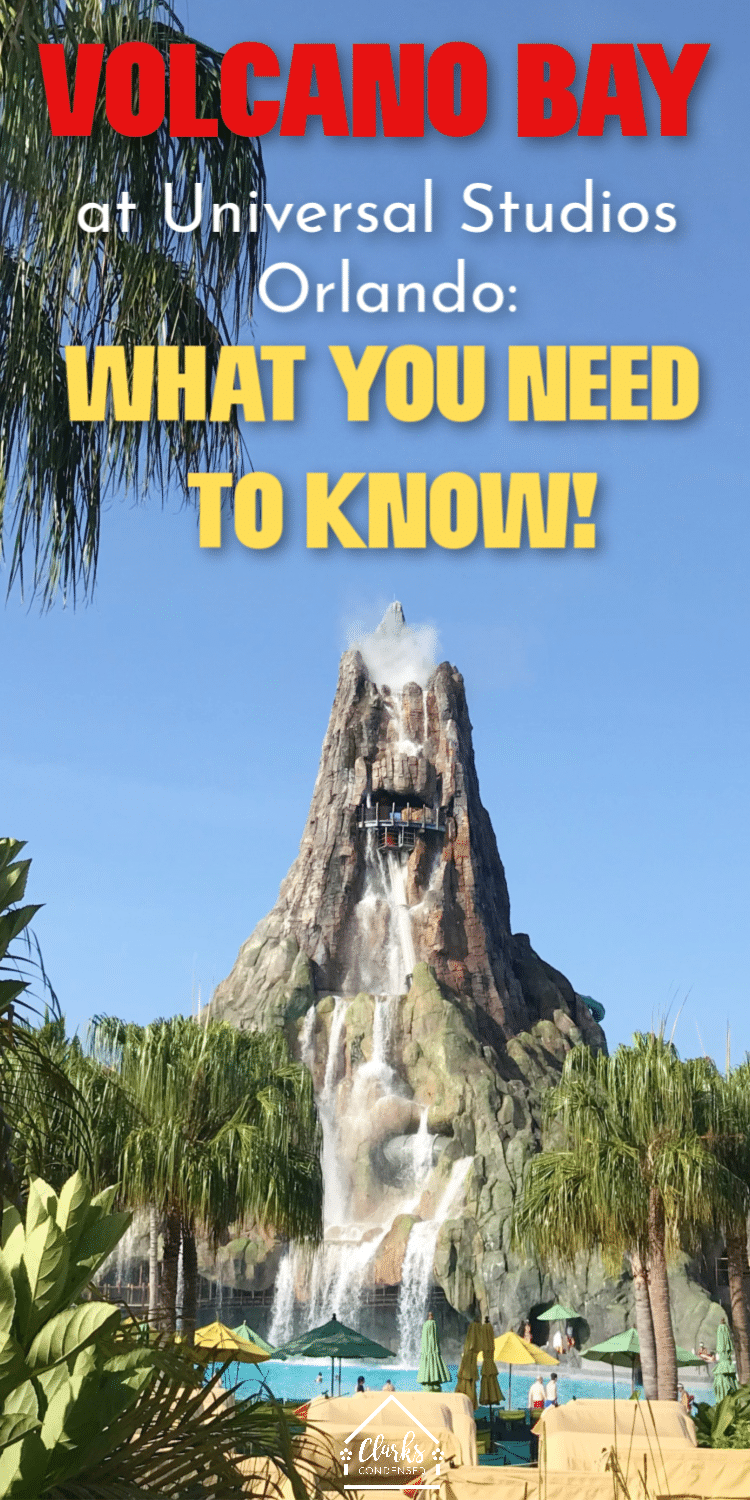 *Blackout dates of December 26 through and including December 31, 2019.