Yellowstone Family Vacation: Top Tips for a Successful Trip with Kids
Planning a family vacation to Yellowstone can be so much fun with the right planning. This article will share the best places to stay in Yellowstone, the best family-friendly sites in Yellowstone, what to pack for Yellowstone, where to eat, and how to plan the best family Yellowstone vacation.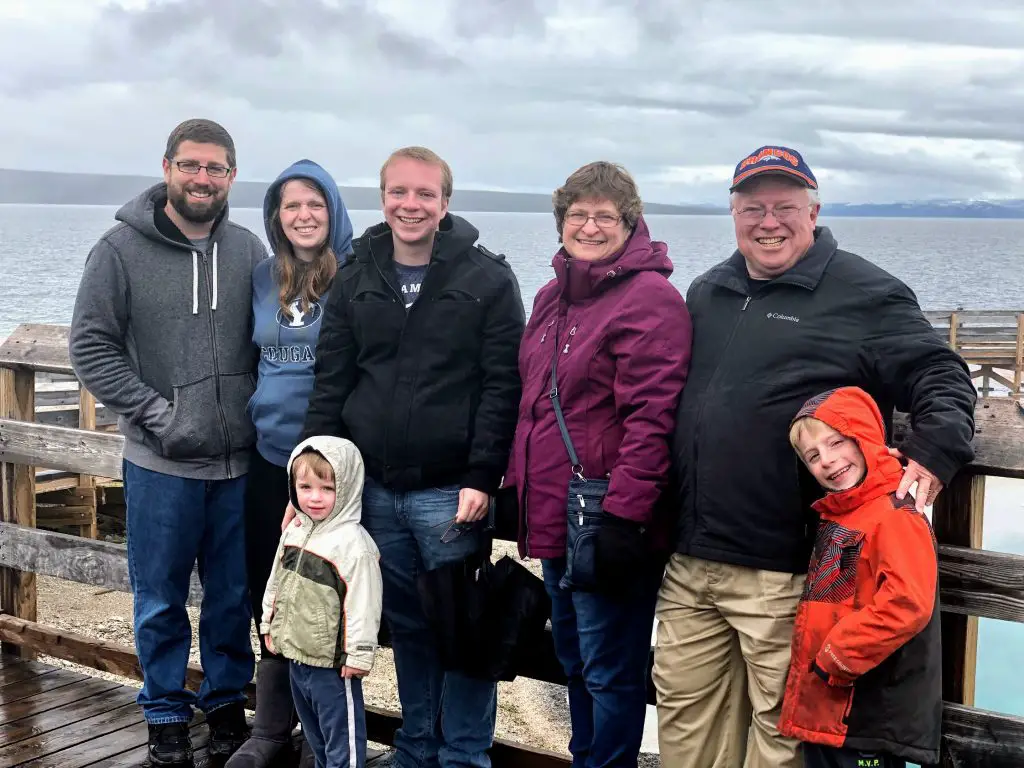 When you think of "magical adventures" with your kids, a trip to a National Park might not be the first thing that comes to mind.
However, I think exposing kiddos to the great outdoors is one of the best adventures we can take them on. And Yellowstone is one of my favorite destinations.
There is a lot of driving, but it's full of so much wonder. Every time we have gone, my kids proclaim how much fun it is at the end of the trip.
Many people think of Yellowstone National Park as the place to visit if you want to see some exciting wildlife. However, there are other great reasons why a family should consider visiting this famed park.
In addition to all the amazing animals, there is plenty of hiking and outdoor activities that can be enjoyed by even the youngest family members while they explore one of America's most beautiful natural wonders!
If you're looking for a vacation that will have something for everyone in your family, then make sure to pack your bags and head out on an adventure with us today! We'll provide you with some top tips so you don't miss out on anything during your trip!
When to Go to Yellowstone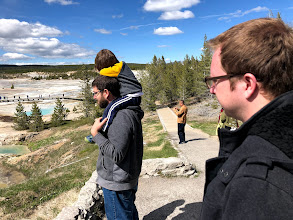 As with most destinations, Yellowstone can be busy. You are most likely to see the highest crowds during the summer. This tends to be the easiest time to see a lot of sites and animals because the weather is warm – however, it's also prime vacation time for families, since kids aren't usually in school.
Planning Your Trip
So how do you plan your best Yellowstone vacation? Start by choosing what type of trip meets your needs (day trips from nearby towns, short hikes without backpacks) then look at the different sites, hikes, and options.
It's impossible to see the entire park in just one, or even two, days. Definitely get a hold of a map of Yellowstone and plan out some routes.
Where to Stay in Yellowstone
Yellowstone has a variety of accommodations for all budgets. There are lodges as well as campsites where you can pitch a tent or park your RV. No matter what type of lodging you prefer or can afford, Yellowstone is sure to have something that will meet your needs.
Staying in Yellowstone
During our most recent trip to Yellowstone, we stayed in the park in an RV that we rented. It was such a great experience. There are pros and cons to staying within the park (such as pretty much having no cell phone service), but overall, we preferred it.
Yellowstone is a lot of driving and some of the popular off-site locations aren't super close. Even if you stay somewhat close by, it can feel like it takes forever to get into the park. With little kids, it can be nice to limit driving as much as possible.
On the other hand, you might be able to find more fun or comfortable accommodations off-site. Yellowstone books out pretty quickly, too, so it can take some planning ahead of time to get what you want.
If you've decided to stay in Yellowstone, there are a few different options:
Best Campgrounds in Yellowstone
This is definitely the most affordable option for staying in Yellowstone. Yellowstone offers various campgrounds. They have very basic amenities – such as bathrooms, showers, and wash stations. But they keep you close to nature.
They do fill up quickly, so make sure you book this as soon as you know you are going on a trip. You can use a tent, RV, or tent trailer. We parked our RV and had a great time. Our site had a fire pit and a picnic bench. While they don't have hookups, they do have a water station and a dump station, which is nearby.
What we loved about staying at the campgrounds was how close to nature we were. There was a resident buffalo we saw frequently, and we also saw lots of buffalo!
I feel like they were pretty affordable – I think it was around $25 a night? Much cheaper than most campsites here in Colorado!
We stayed at Bridge Bay Campground. It wasn't my first choice – but it was my only choice since the trip was somewhat last minute. There wasn't a lot of shade, and it felt pretty crowded…but we still really enjoyed it. Minutes away some beautiful sites. It was also the furthest from the entrance, so that added a lot of driving onto our trip.
Here are all the campsites:
After spending some time in Yellowstone, I think with kids, next time we will try and stay at Madison Campground. It's super close to the entrance of the park, and it is close in proximity to Old Faithful and the Upper and Lower Basins. It also seemed more wooded.
I would definitely take the time to read the descriptions of each site and decide from there. I think the Canyon Campground also sounds amazing.
Lodges/Inns
Not really into roughing it? No problem! There are several inns and lodges within Yellowstone that are great for families. These can be a nice option if you want to stay close to some of the more popular sites (and if you want access to WiFi).
There are cabins and more hotel-type rooms and some are only available during certain seasons. They all have their pros and cons, and I would pick based on what you are wanting to do while you are in Yellowstone.
The Old Faithful Inn is probably the most popular lodging option, just because it's right in the middle of Yellowstone, and, obviously, near Old Faithful. You can find more secluded places as well.
Here are the different options:
Staying Outside of Yellowstone
On our first trip a few years ago, we stayed in a cute little cabin in Island Park. It was a lot further from the entrance of Yellowstone than we anticipated, which made for some long days. But it was really fun, and we got it for a great price. You can usually find a good deal outside of Yellowstone!
There are a lot of different cities, and it just depends on where you are coming from – there are places in Idaho, Wyoming, and Montana that you can easily stay and then trek into Yellowstone.
Here are some of the popular cities people like to stay in:
Big Sky, Montana
Bozeman, Montana
Cooke City, Montana
Ennis, Montana
Gardiner, Montana
Red Lodge, Montana
West Yellowstone, Montana
Cody, Wyoming
Dubois, Wyoming
East Yellowstone, Wyoming
Jackson Hole, Wyoming
Island Park, Idaho
I would say that West and East Yellowstone are going to be your closest cities (obviously depending on where you are driving in from). We really enjoyed visiting West Yellowstone – lots to eat and there are a lot of hotels. It is quite busy though!
There are some great camping and RV sites outside of Yellowstone as well. Just be aware that they book up fast!
I definitely recommend checking out sites like Airbnb and VRBO to find some places to stay. There are plenty of hotels as well.
I do think it's best to stay inside Yellowstone – or in East/West Yellowstone – when traveling with your kids. But it's entirely up to you!
Must-See Sites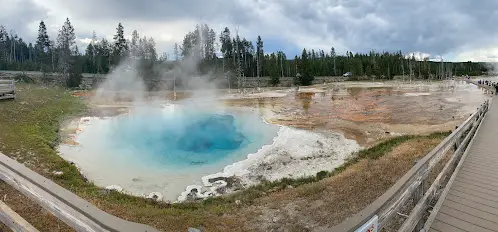 Yellowstone National Park is home to so many beautiful sites with an amazing variety of animals.
There are many other places that you could visit in Yellowstone National Park. Part of the fun of Yellowstone is driving around and seeing what you can find on your own. Don't be surprised if you run into some animals that you see on the side of the road – this is how we've seen elk jumping in water and a grizzly bear (we didn't get too close!).
I definitely recommend planning a picnic or BBQ in one of the picnic sites. This can be a lot of fun. We had a very close encounter with a buffalo (scary at the time) in a picnic site.
There is a lot of walking, so make sure you and your children are prepared for that. If you have younger children, make sure to bring along a carrier or stroller.
Beyond exploring on your own, some of the best places to visit in Yellowstone are:
– Old Faithful Geyser, which shoots water into the air every 60-110 minutes. This is one of the most popular and majestic sites in all of Yellowstone, and it's great for all ages. It is usually pretty busy, but they have some dining facilities. Don't forget to grab some ice cream before or after! They have guesstimates of when Old Faithful will go off.
– The Grand Prismatic Spring, the largest hot spring in North America, and also the third-largest in the world. It is in the Midway Geiser Basin, and it's very fun to see.
– Make sure you check out the Grand Canyon of Yellowstone where you can hike down to a rushing stream and enjoy watching wildlife. There are harder hikes, but there are some great ones for families, and it doesn't take very long to get to the views. We love the upper falls at The Grand Canyon. It's so majestic! This is one of our family's favorite places to visit.
– Mammoth Hot Springs Terraces, a 5 mile long series of terraces where you can see fossilized remains of ancient plants and animals. This is further north than most sites. I would definitely dedicate one day to going on this loop.
–Hayden Valley and Lamar Valley are the two best places to see wildlife. Lamar Valley always seems to have a ton of buffalo and Hayden Valley often has other animals.
– One of the most famous features of Yellowstone is the Painted Pots. There are three different colors that make up this beautiful landmark: red, green and white. The red paint comes from iron oxide in the ground, while calcium carbonate makes up the green and white colors. My kids really enjoyed seeing these!
Yellowstone Packing List of Families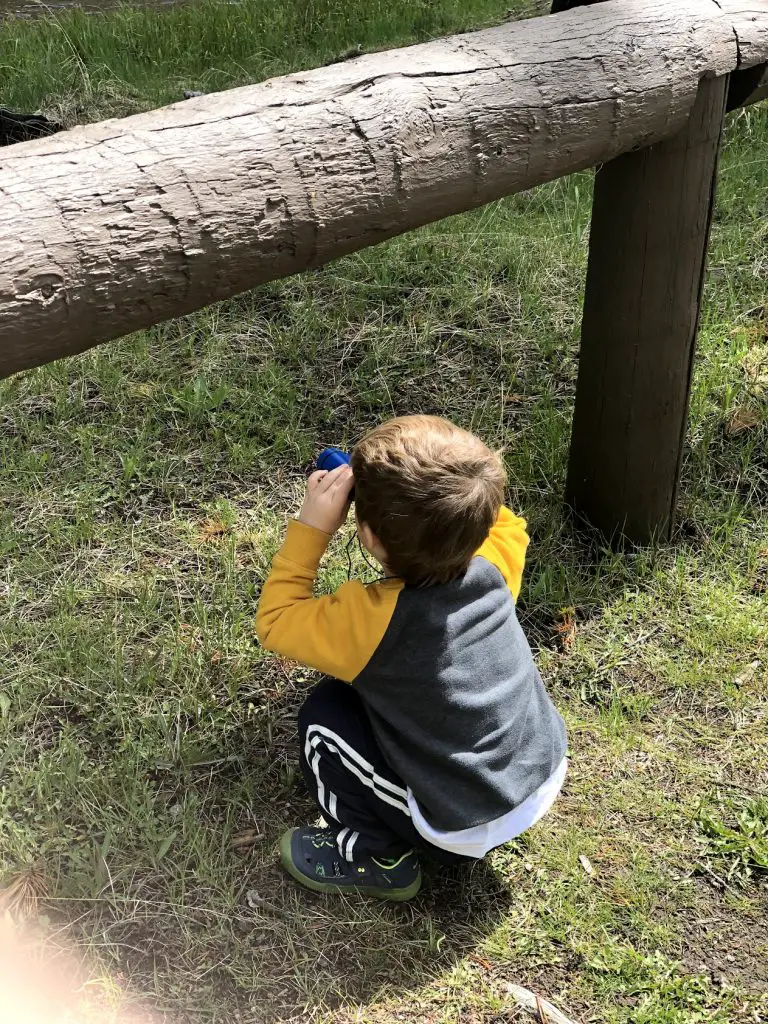 What you bring to Yellowstone will depend entirely on when you are going and where you are staying. If you are planning to camp, you'll have a lot of different packing lists than if you were just going to stay in a hotel or lodge. I won't be sharing a camping packing list – just a general list of things you might want to have while you are there.
Every time we've gone, it's rained at some point, and I feel like it's pretty common. Even if you are going in the heat of the summer, don't forget to bring some extra layers just in case.
Jackets, Coats, or Hoodies
Ponchos
Appropriate footwear – make sure everyone has socks and closed toe shoes
Umbrella
First Aid Kit
Snacks
Bear Spray
Headlamps/flashlights
Camera, spare batterias, and memory cards
First Aid Kit
Blankets (for picnics)
Binoculars
Snake Bite Kit
Water Bottles – at least one bottle of water per person, per day
Backpacks
Stroller
Baby Carrier
Insect Repellent
Sunscreen
Snacks (lots of snacks)
Swimming suit – they don't really recommend you go swimming in most areas in Yellowstone (and it's prohibited in some areas), however, tehre are some little streams that a lot of people like to spalsh around in. I would bring water shoes or flip flops for this as well.
Diapers, Wipes, etc.
Hand Sanitizer
Picnic table cover
If you are planning to cookout or have a picnic in the park, you will also need to remember to bring all the supplies you need for that, which may include a portable grill, cooler, cooking utensils, plates, utensils, etc.
We like having a picnic cover table for any place we stop to eat. This makes cleanup a lot easier!
Where to Eat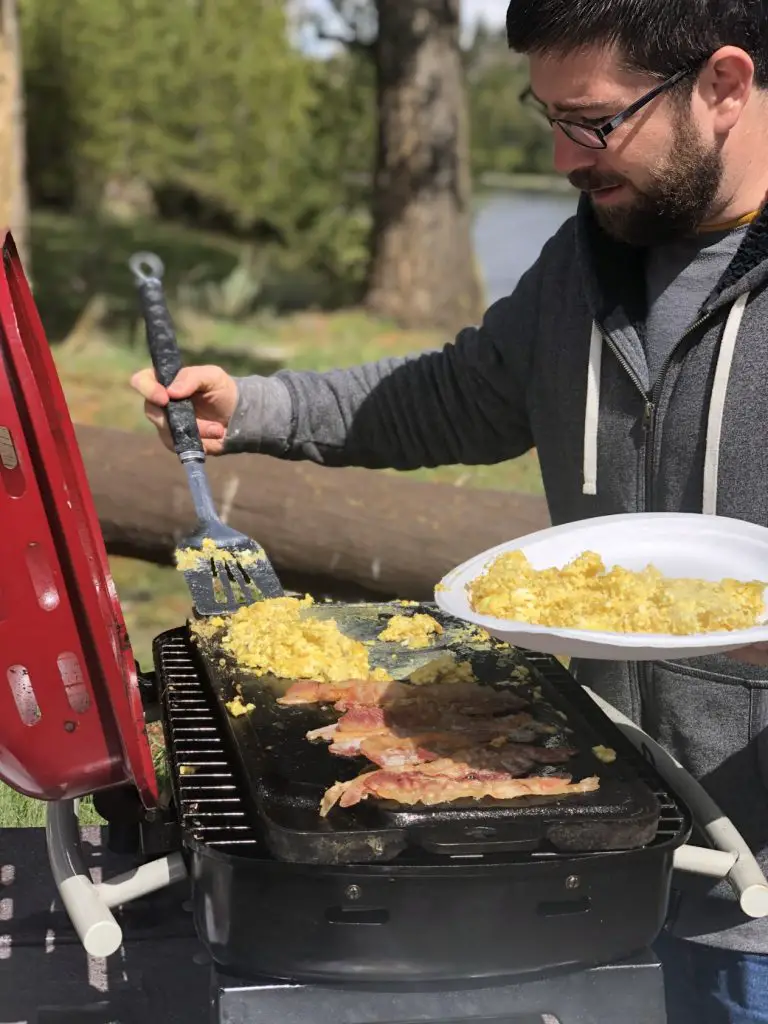 There are several places to eat within Yellowstone. Remember – it might take a while to get to one, so make sure you plan ahead. There are plenty of places outside of Yellowstone, but for the purposes of this article, I'll just touch on the ones you can get while you are actually inside the park.
Whether you are looking for something quick on-site such as hot dogs at The Artist Point Restaurant located near the Lake Village area overlooking the Great Fountain Geyser, or if you want to enjoy a leisurely meal with family and friends in the elegant dining room of the famed Old Faithful Inn one of America's oldest hotels – there are plenty places to eat for all budgets. Here are a few popular places:
The Mammoth Hot Springs Hotel
Lake Lodge Café              
Old Faithful Inn Deli        
Greater Yellowstone Visitor Center
Plan a Picnic
There are so many great picnic areas around Yellowstone National Park. I highly recommend taking advantage of one
If you prefer to camp or RV at Yellowstone, you may also want to bring your own food supplies with you. Keep in mind that camping and RV parks have limited supplies, and stores are restricted as well. The only places that sell groceries will be the small town of Gardiner and Mammoth Hot Springs Store when open (which is only for winter months). The majority of restaurants here are fast-food-type establishments or sandwich shops with deli meats and potato salads.
Tips for Success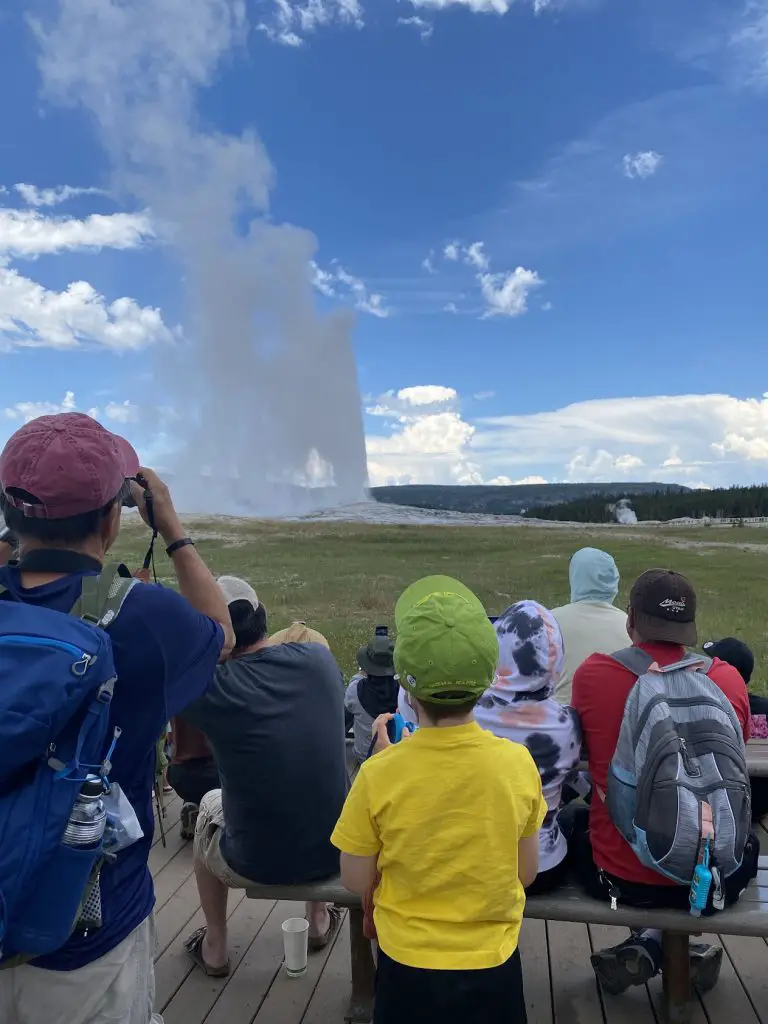 Be prepared
Once you are in Yellowstone, you don't want to have to leave until you are ready – and that means having all the necessary supplies. For instance, don't forget to bring diapers and wipes and plenty of snacks!
Some of the General Stores have basic supplies, though they are kind of expensive and hit or miss. We were able to find diapers at one, but they were only available in one size.
Grab a map
You should be given one of these when you check in, but if not, make sure you grab one. Since you likely won't have any cell phone service, this will be your key to not getting lost and finding the places you want to go. I am constantly referencing it during our trips!
You will probably be given a Yellowstone Newspaper, which is filled with helpful tips and resources. Definitely devour this!
Camera for Kids
Something I strongly recommend is having a camera for your kids to take pictures with. They could use a tablet, old smartphone, or even a disposable camera. My kids have these VTech Kids Cameras, and they love using them.
I feel like this helps them capture their memories of the trip and feel involved. My boys loved using their cameras throughout our trip, and it's something that really helped them stay engaged.
Disconnect from technology
Yellowstone purposefully keeps out most cell phone services, so it's a bit of a forced disconnection. However, it's 1000% worth it to put your smartphones and tables away and enjoy and time together as a family. Plan ahead to bring screen-free activities for the car ride and things to do together as a family.
Picnic places have bathrooms
Sometimes it can be hard to find a bathroom, especially when you are just driving around. Most of the major attractions will have them, but the picnic places also do – and I find these to be less crowded!
Teach kids what to do when approached by an animal
This is so important. You have no idea if you are going to be approached by an animal. No matter how old your child is, make sure they know now to approach an animal themselves and what to do if one unexpectedly gets close to them.
We were at a picnic stop when a lone Buffalo started walking straight toward my family while I was in our RV. Although we had just barely been close to a herd of buffalo, this was surprisingly terrifying to have one walking straight toward them. We had gone over scenarios like this with my kids, and they knew to be quiet and listen to their dad. I was so glad they knew what to do!
Have fun!
Yellowstone is a place like no other – try and make the most of it! Go with the glow, plan a basic plan, and enjoy the time in the great outdoors with your family!
Have you been to Yellowstone with your family/kids? Be sure to share your best tips below!