How Busy is Disneyland in June? 2022 Crowd Predictor
Disneyland is always busy, but in June it can be especially crowded – as you can expect during any major school break. The busiest times are usually during the weekends and the middle of the day. However, there are ways to avoid the crowds and still have a great time at Disneyland. In this article, we will explore what to expect during the month of June and how to make the most of your trip to Disneyland.
Heading to Disneyland in June? You might be wondering what you can expect crowdwise.
We hate to the bearers of bad news – but it's going to be crowded. However, don't let that deter you from going – it can still be a very magical and fun trip with a little bit of planning.
Our Crowd Predictions for June at Disneyland: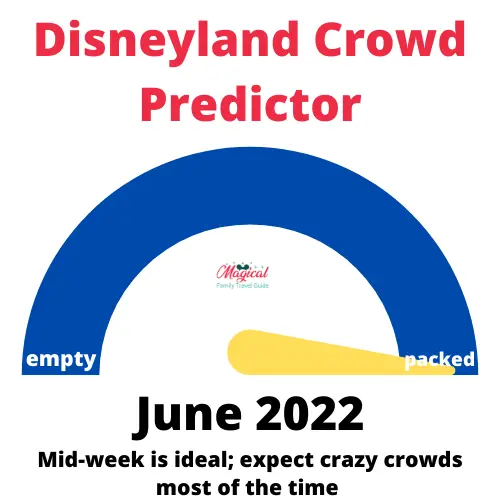 June is one of the busiest months at Disneyland Resort, especially during the weekends. It's the first full month of summer vacation, which usually means long lines and a busy time. So if you are looking for a low-traffic time, June is not going to be the best time for that. With that said, because it is summer break we know that is the only time people can go – so just know, you can still have a good time regardless.
Weekdays: Expect moderate to heavy crowds, with the heaviest crowds usually occurring mid-day. The best times to visit are in the early morning or evening, when crowds tend to be slightly lighter.
Weekends: Crowds are typically very high on weekends during June, with the heaviest crowds occurring in the afternoon. If you can, try to visit on a weekday instead for lower crowds and shorter wait times for rides and attractions.
What is the Best Day To Visit in June?
While we don't have a full Disneyland Crowd Calendar, after looking at quite a few, we think that the best days to visit are:
The summer months are just going to be busy no matter what way you look at it, and even if you hit one of these days, there is no guarantee it will be a perfect time.
One way to avoid the crowds at Disneyland is to visit during the week instead of the weekend. The middle of the week is typically less crowded than the weekends, so you may find it easier to get around and enjoy your time at the parks. However, keep in mind that some attractions and restaurants may be closed during the weekdays.
What are park hours like during June?
During the summer, there may be long hours with both parks often staying open until eleven or even midnight. This can depend on other special events that may be going on.
Attraction and Ride Closures
As of right now, these are scheduled attraction and ride closures for June 2022. Keep in mind that these can change at any time. Rides often close randomly throughout the day for undetermined periods of time.
Disneyland
Tarzan's Treehouse
Blue Bayou Restaurant
Pirates of the Caribbean (may open in June)
Mickey's Toon Town
Magic Happens Parade
Finding Nemo Submarine Voyage
Star Wars Launch Bay
Mickey and the Magical Map
Storytelling at Royal Theater
California Adventure
Mater's Junkyard Jamboree
Paint the Night Parade
Frozen: Live at the Hyperion
Disneyland Special Events in June
Grad Nites
Grad Nites continue through June for local graduating seniors. These are definitely days that you will can expect big crowds – especially of recently graduated high school students – in the parks, so you will want to plan accordingly. The June Grad Nights are:
June 1
June 3
June 4
June 7
June 8
June 10
June 11
June 17
Because of the cost of tickets and the logistics of the event, it seems likely that students attending will likely spend the bulk of their day in California Adventure. So if you happen to be in the park those days, you might be better off visiting Disneyland Park instead for low crowd levels .
Disneyland After Dark: Grad Nite Reunion
Not to be confused with the actual Grad Night, Grad Nite Reunion is one of Disney's new events that will be held for three days in June at California Adventure.
This is a separate, ticketed event that anyone can attend. It is meant to commemorate decades of the past with cafeteria-inspired food, live music and dance parties, and much more.
Because of this event, California Adventure will close early on the dates it is happening, so if you don't have a ticket, you will have to leave early or go over to Disneyland (if you have a park hopper!).
Disneyland Prices in June
Ticket prices should remain pretty stable throughout June. I haven't heard of any price increases, though you should always contact Get Away Today to make sure you are getting the best price and taking advantage of any deal they have going on!
Best Disneyland hotels to stay at in June
One of the best ways to avoid the crowds at Disneyland is to stay at one of the on-property hotels or off-site hotels nearby. With that said, you probably won't find too many great deals during this time of year.
The on-property Disneyland hotel options are typically more expensive and can be crowded during peak times, such as the summer season, but they offer many perks such as early access to the parks and free transportation.
If you're looking for a more affordable option, there are several off-site hotels located within walking distance of the parks. These hotels typically offer lower prices and fewer amenities, but they can still be a good option for avoiding the crowds.
Here are a few hotels that might consider:
Camelot Inn and Suites
Howard Johnson by Wyndham
Grand Legacy at the Park
Park Vue Inn
Del Sol inn
Fairfield by Marriot Anaheim Resort
Best Western Park Place Inn
Disneyland Weather in June
The weather in June at Disneyland is usually pretty warm, with the average high temperature at 81 degrees. You'll also want to pack sunscreen and hats to protect yourself from the sun.
Generally it is very dry without a lot of rain, however, anything is possible. THere are sometimes wildfires in the area during the summer as well, so you may want to prepare yourself for the possibility of soot and smoke.
What to Pack for Disneyland in June:
Sunscreen
Hats
Windbreaker or light jacket
Shorts
Short sleeve shirts
Sunglasses
Water bottle
Good walking shoes
In general, you'll want to be prepared for everything when visiting Disneyland in June. The crowds can be pretty big and the weather can be unpredictable, so make sure that you're well-prepared before your trip. With some careful planning and a little bit of luck
Tips for Visiting in June
Visiting in June, you are likely to have to battle a lot of crowds. Here are a few things you can do to combat that:
Take advantage of nighttime entertainment to cool down – such as main street electrical parade and World of Color
Stay close by
Be patient – with your family, yourself, and others
Use the app to find shorter lines
Expect a long wait on popular rides
small world is your best friend for hotter days!
Take advantage of the Genie+ lightning pass (similar to the Fast Pass)
In Conclusion
Disneyland in June can be pretty busy, but there are ways to avoid the crowds and still have a great time. It's important to remember that it is always the Happiest Place on Earth, even though it's crazy. We recommend that you visit during the week and take advantage of Disneyland's many events happening throughout the month. And most importantly, don't forget to pack everything you need to make the most of your trip!