All of these theme park menu options are great tasting and different. They're the best Disneyland Kids Meals on the menu right now.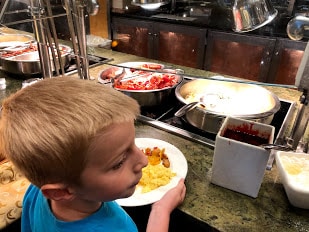 Disneyland Kid-Friendly Food
Nothing against Hamburgers and Chicken Breast Nuggets, but there is a lot more for kids to enjoy when dining at Disneyland. They may like the comfort of familiar foods and even have a preference for the way Disney does Mac and Cheese versus anywhere else.
I have to admit – I even enjoyed the Mac and Cheese at Disneyland (and unless it's my slow cooker mac and cheese, I'm not usually a fan).
However, if they want to make the dining experience a more exciting part of their day, here are a few children's meals tat Disneyland you may not know about. Some are Disney Mickey Check Meals and others are just off of the regular Kids Menu. All of them are great tasting and different. They're the best Disneyland Kids Meals on the menu right now.
The food at Disneyland is definitely part of the experience, so I think it's a good idea to budget it in. If you need some advice on doing this without breaking the bank, make sure you read this post – Disneyland Dining on a Budget
**If you haven't booked your trip yet, make sure you do it through Get Away Today. They are our most trusted travel agent, as we have used them for four trips to Disneyland as well as our Carnival Cruise in the summer of 2018. They are truly the Disney experts and will help you plan a trip of a lifetime. I especially love their Layaway Plans, which allow you to make payments on your Disney trip – all you need is to have it paid in full two weeks ahead. If you book a trip for two nights or longer with a two-ticket minimum, you can use the code Clarkscondensed for an additional $10 off**
What is a Disney Mickey Check Meal?
I mentioned this previously, but you might be asking – what is this?! And you aren't alone.
Essentially, it's a simple designation that helps you to find nutritious choice for your family amongst all the grease and sugar (regardless of how delicious that is). Meals that have the Mickey Check meat strict Disney-set Nutrition Guidelines, which limit calories, saturated fat, sodium, and sugar.
Walt Disney World Resort, the expansion of the Mickey Check helps families easily find nutritious choices, part of an ongoing program that launched in 2006 with nutrition guidelines. The Mickey Check makes it even easier to identify healthier food options in all of the Disney theme parks and resorts.
Chicken Fried Chicken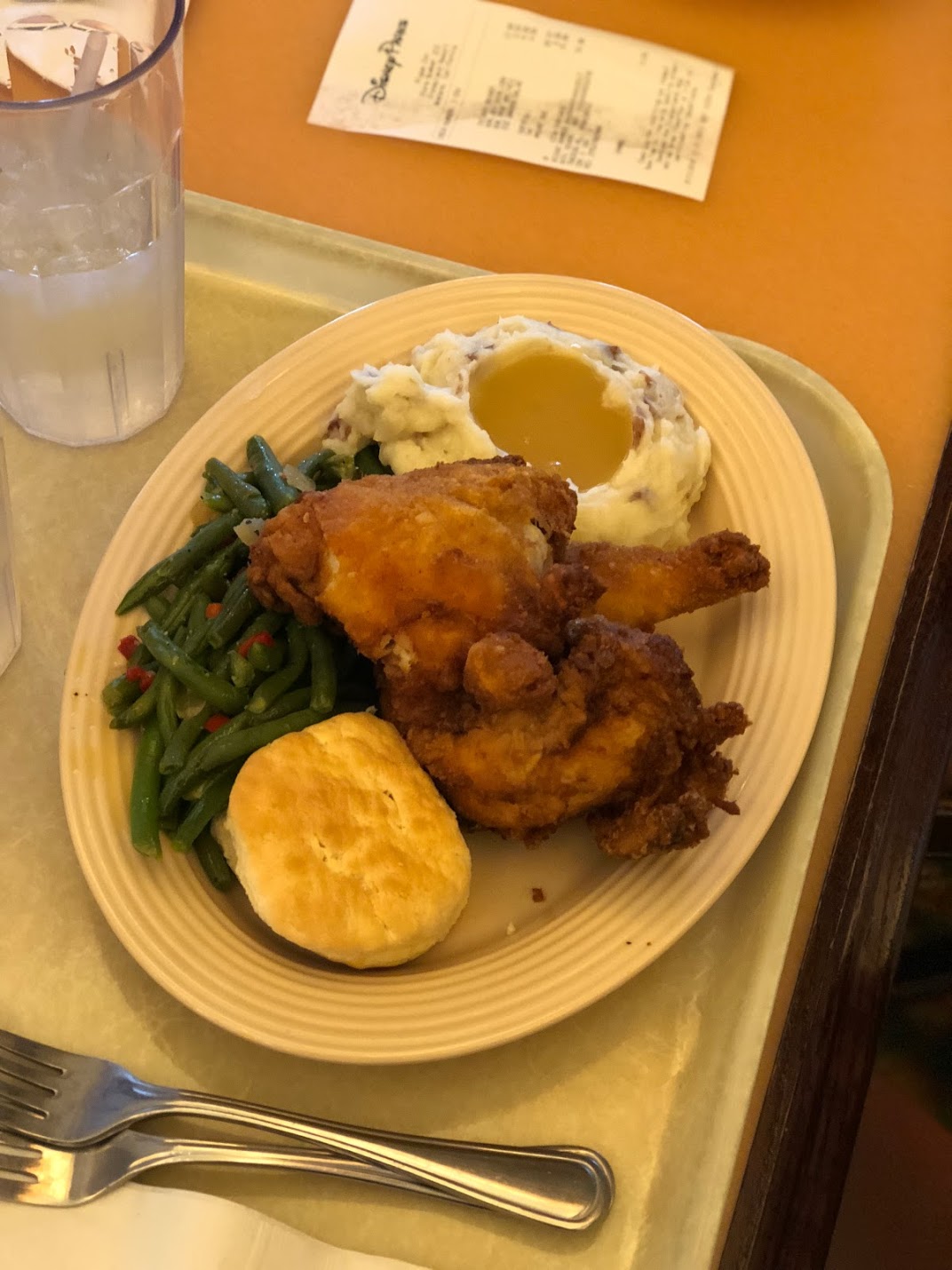 Carnation Cafe is the first stop on Main Street to enjoy a meal, it is one of the table service dining locations. Most likely you pass by without a thought as you draw near the castle undeterred. Otherwise, you may regularly enjoy it as a traditional spot.
I actually had never been here until our most recent trip, when my friend, Hilary, suggested it as a good place to go that isn't insanely crazy.
The food and the atmosphere here are some of the best you will find in Disneyland and that extends to the Kids Menu. The best Disneyland Kids Meals offer something a little more.
That's why the Chicken Fried Chicken is such an excellent choice. The recipe is exceptional and the dish is so unique
to other fried chicken meals in the park. This meal comes with Mashed Potatoes, Broccoli and Fresh Fruit as sides.
We actually got Jack the baked chicken leg, instead, which he loved!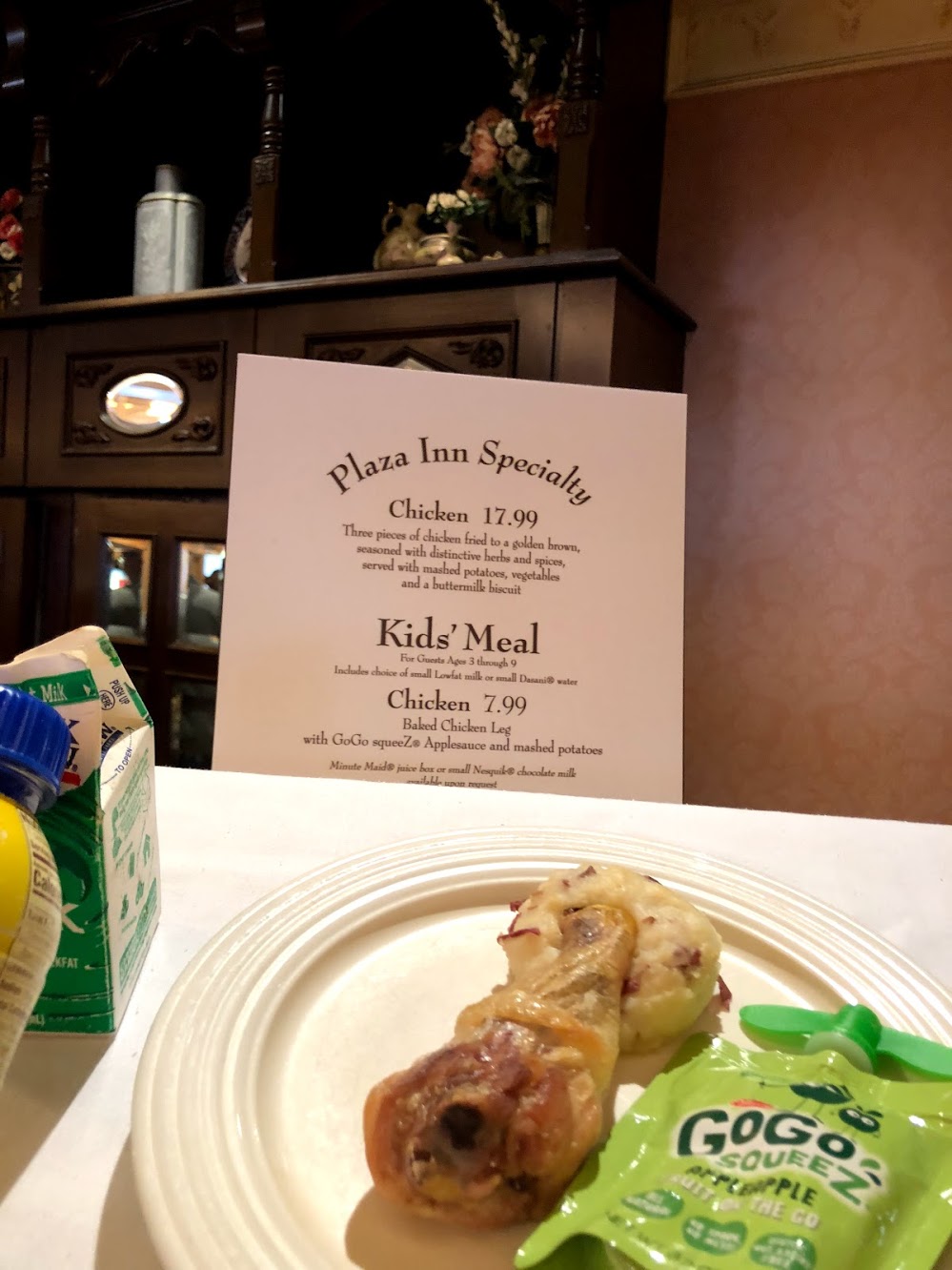 Carved Turkey Sandwich
Red Rose Tavern is a Wonderful stop for families enjoying most of their time in Fantasyland. Here you can enjoy an assortment of flatbreads and sandwiches.
The Carved Turkey Sandwich on the Kids Menu here immediately stands out as one of the best Disneyland Kids Meals. This
is a Disney Check Meal, which meets stricter nutritional guidelines.
Chicken Taco
Rancho Del Zocalo Is another wonderful place for families. It may be even better than Red Rose Tavern depending on your taste in food. The options here are barbecue and Mexican.
There are even Toddler Meals here in addition to the Kids Meals. The thing for kids to order here is the Chicken Taco, which is served with Rice, Fruit and Vegetables. This is another Disney Check Meal, so it's tasty and nutritious.
Shrimp and Grits
When I think of the best Disneyland Kids Meals, I always think of, Cafe Orleans. You can't go wrong, with any kid here. They have the usual kid-pleasing meals, but the Shrimp and Grits option is so unique and satisfying to seafood-loving kids who like to be more adventurous.
The shrimp is sautéed and the grits are cheesy. Cafe Orleans is a table service restaurant in New Orleans Square.
But if your kids are a little less adventerous, their Mac and Cheese is fantastic here as well.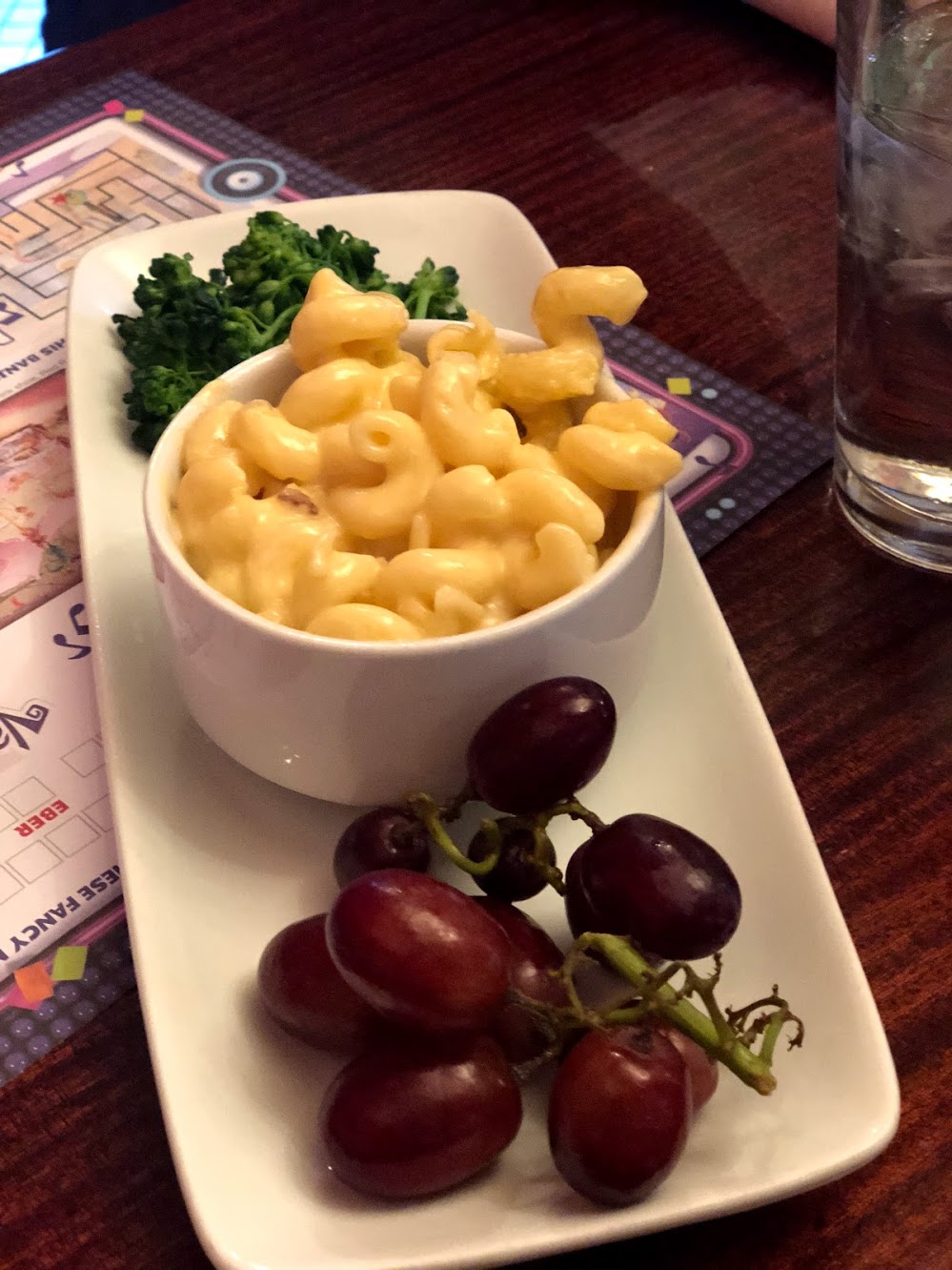 Forrest and I shared a Monte Cristo (of course!), and Oliver actually really loved this. I think that was primarily because he could dip it into the delicious berry coulis.
BBQ Ribs
For the meat-loving kid, River Belle Terrace has the best of the best Disneyland Kids Meals. This is also a key place to go for breakfast, which along with Red Rose Tavern in Fantasyland serves Mickey Mouse Pancakes.
River Belle Terrace isolated along the Rivers of America where Frontierland and Adventureland converge with New Orleans Square and the entrance to the Pirates of the Caribbean.
This is the only place where kids can have the option of tasty
barbecue ribs, which are accompanied by seasonal vegetables and fruit.
Corn Dogs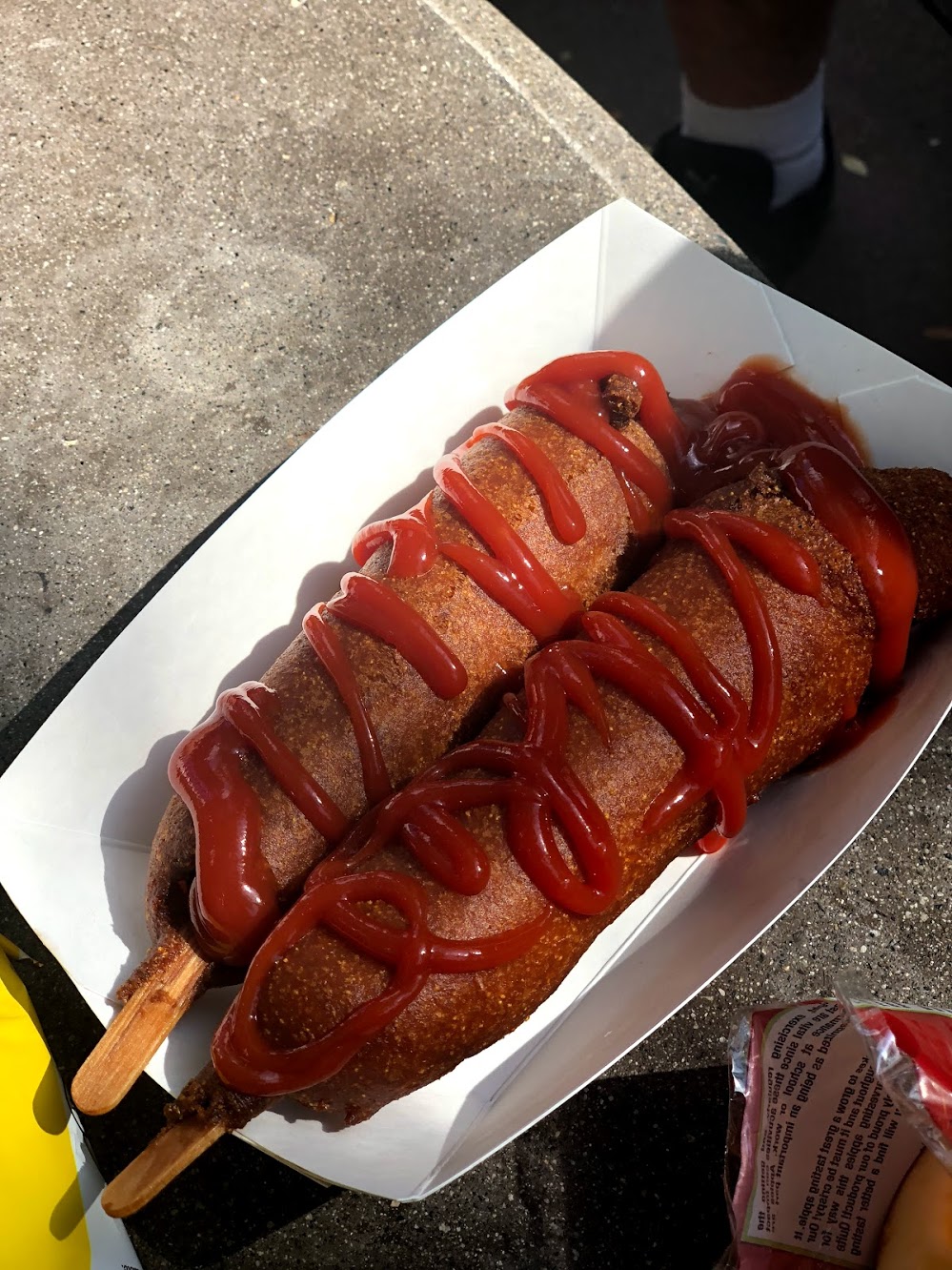 This aren't exactly the healthiest option on the menu, but our boys really enjoyed them. Plus, I think they are an essential part of any trip to Disneyland, don't you think?
They are around $9, which is pricey for just one item, but you can EASILY share one amongst two children (or more! I actually felt full after about one bite).
Earl of Sandwich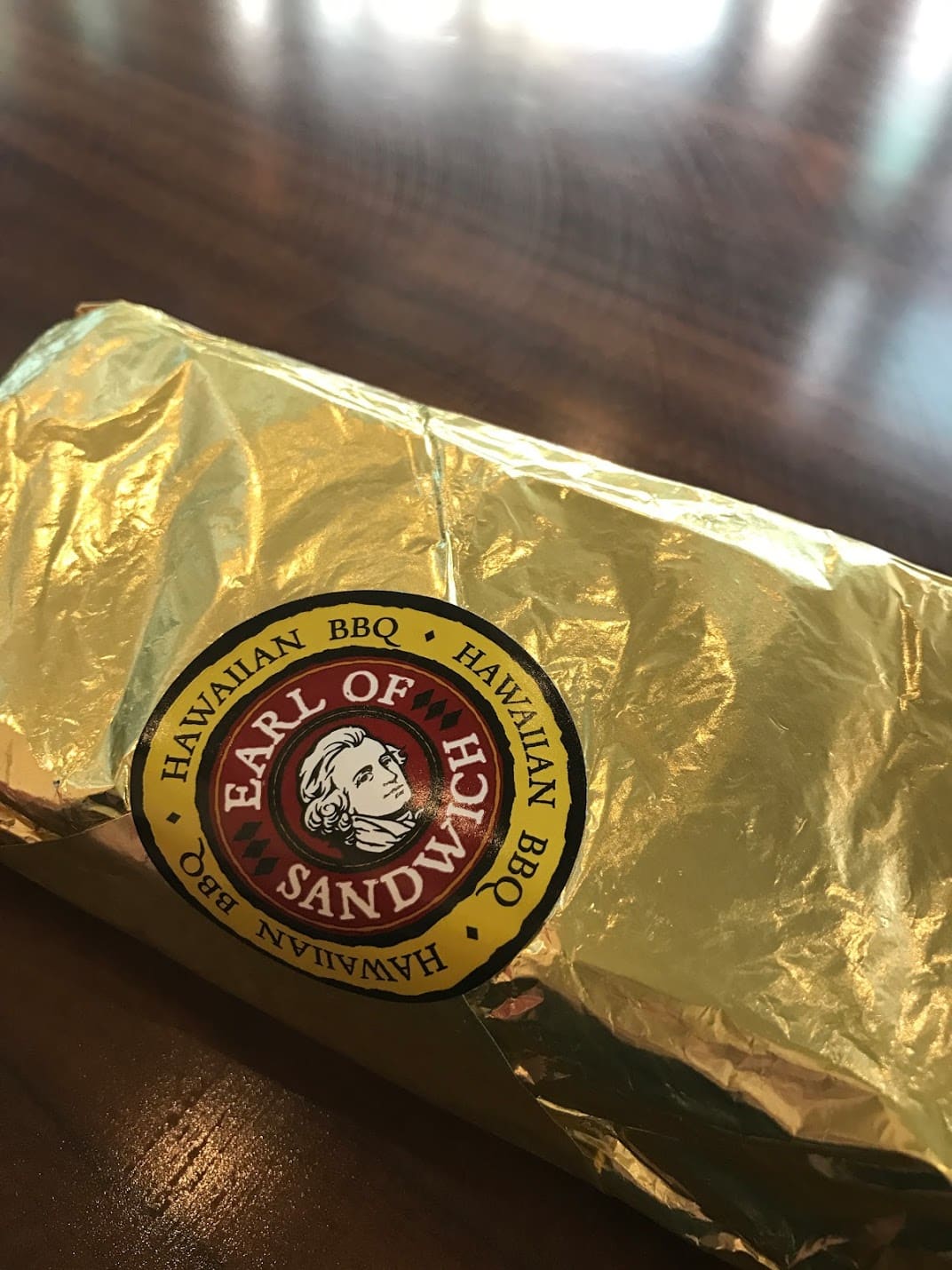 This is in Downtown Disney, but it was one of our favorites when we went with Forrest's parents. They have very reasonably priced sandwiches, salads, and soups – some of the most reasonable in the park, I think. They have kids meals, which we thought were very good.
Pizza Planet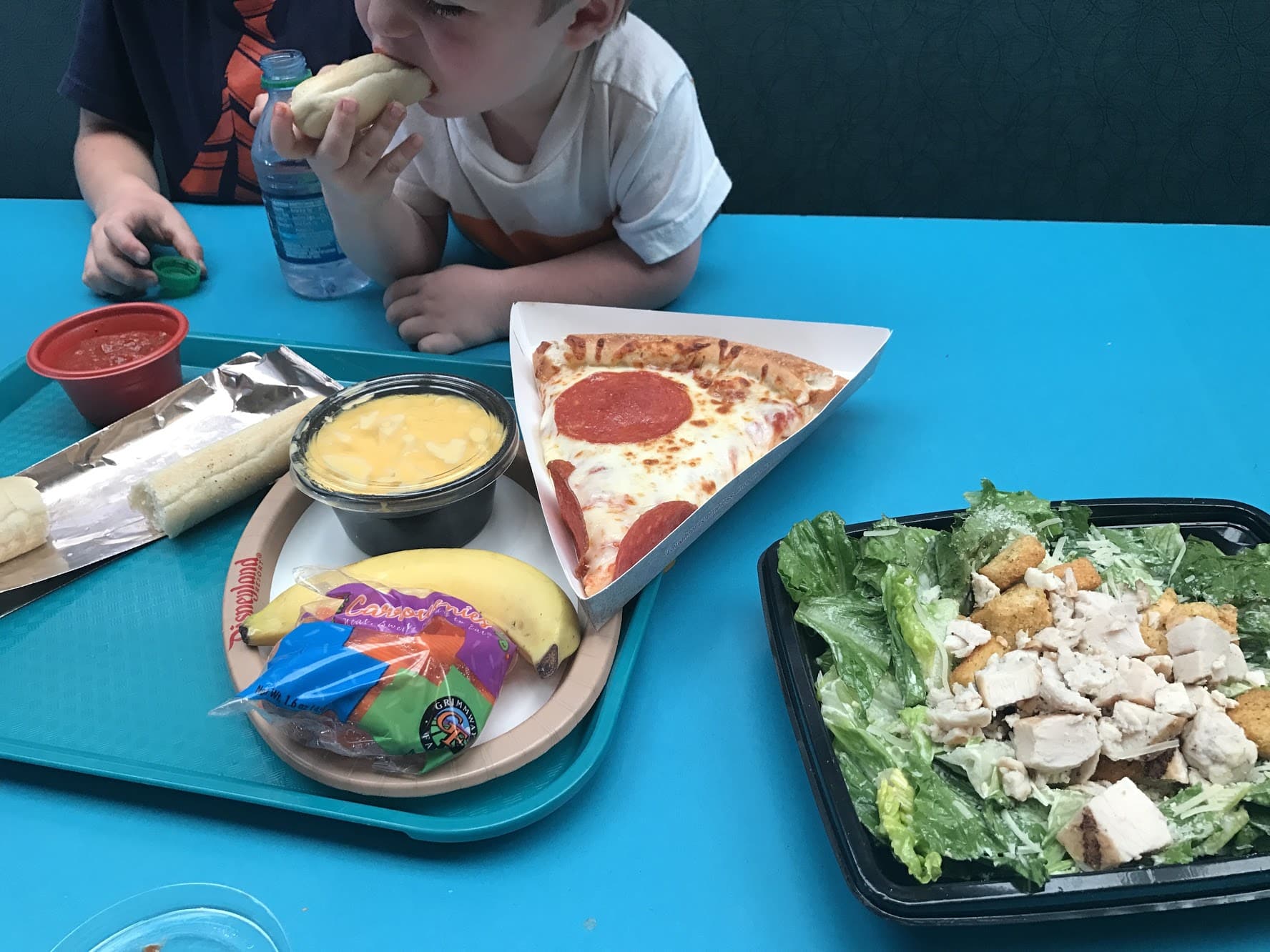 This restaurant is based off the restaurant based off the beloved Toy Story movie, and it sits right in the heart of Tomorrowland. We always enjoy coming here for their pasta, pasta, and salads. The lines are hardly ever long, and there's always something for everyone.
They have kid's meals with a variety of options, or you could easily share a slice of pizza or bowl of pasta.
What are your kid's favorite meals at Disneyland?
Other Disneyland Posts You May Enjoy:
And for all our Disneyland tips and tricks – head over to this page: The Best Disneyland Tips You HAVE to KNOW about