Can You Bring Food Into Disneyland? + Best Places to Eat
Disneyland is a great place to visit, but it can be expensive if you're not careful. One way to save money is to bring your own snacks with you into the park. However, there are some restrictions on what types of food you can bring in. This article will discuss what foods are and are not allowed in Disneyland.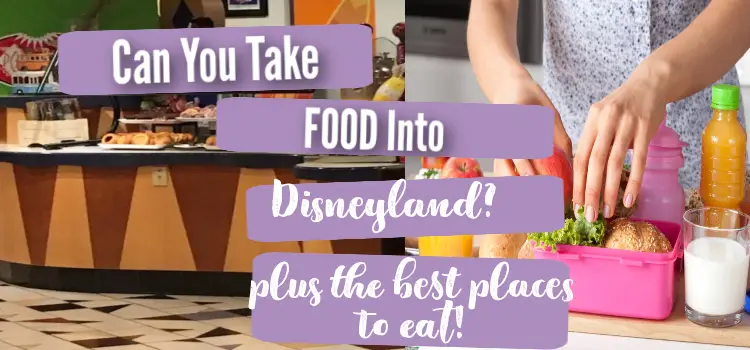 If you are going to a Disney Park you are probably going to eat something while you're there.
Disneyland has amazing snacks and food to eat.
In fact we will share some of our go-to Disneyland restaurants that you shouldn't miss out on.
But, all of that can get expensive. And you may not want to wait in lines for food when you could be enjoying the rides.
If you are wanting to save some money and time you might want to think about brining in food to cover some of your meals.
Here is everything you need to know.
Can you bring food into Disneyland?
The short answer is yes.
But you have to follow some rules.
As of the posting of this article (2022) you are allowed to bring snacks and non-alcoholic beverages into the parks.
Here are a few things to take into consideration before deciding on what food to bring into Disneyland:
Must be non-alcoholic
No glass bottles  (excluding small containers such as baby food jars)
Cannot require reheating or refrigeration
No pungent odors
Bags, coolers, or backpacks taken into the theme parks must be no larger than 24″ long x 15″ wide x 18″ high
Can you bring plastic water bottles into the park?
Yes, you can! To keep it extra cool, most quick-service restaurants will give you a cup of ice for free.
What are good food ideas to bring into Disneyland?
Bringing your own food into Disneyland is a great way to save money. Below we share some ideas on yummy, quick snacks, but you might want to include something more substantial if you are wanting to avoid paying for an actual meal.
Here are a few ideas:
Bags of chips
Uncrustable PB&J
Homemade sandwiches (PB&J, turkey, and cheese – don't forget to put it in your cooler)
Baby carrots with individual hummus packs
Drinks: water, Capri sun, soda, Gatorade
Where can you eat your food?
If you are not eating at a restaurant, it's polite not to take a table from a paying patron. However, many benches and shady areas are sprinkled throughout the parks.
There is a great area near the main entrance in between Disneyland and Disney California Adventure park. They also have lockers there if you need to store anything.
What are some good snack ideas to bring to Disneyland?
This really depends on what you like to snack on and how much room you have. If you bring in a cooler, you should definitely bring a fresh, healthy snack to munch on.
Here are some ideas:
string cheese
grapes
apple slices
trail mix
fruit snacks
granola bars
protein bars
crackers
The Best snacks to purchase at Disneyland:
There are plenty of snacks to be found at Disneyland in case you decide to purchase some. Here are some considerations:
Mickey Mouse Sugar Cookie
Corn Dog
Dole Whip
Mickey Mouse Pretzel
Jalapeno Cheese Stuffed Pretzel
Loaded Funnel Cakes
New Orleans Mint Julep
Raspberry Macaron
Giant Pickle
Churros
Jack-Jack Cookie Num Num
Popcorn (we loved flavored popcorn from the Cozy Cone)
The Best Restaurants in Disneyland
There are definitely lots of delicious restaurants at Disneyland, but these are some of our favorites.
The Blue Bayou is located at New Orleans Square in Disneyland Park
Oga's Cantina, located at Star Wars: Galaxy's Edge at Disneyland Park
Trader Sam's Enchanted Tiki Bar is located at Disneyland Hotel
Lamplight Lounge located at Pixar Pier at Disney California Adventure Park
Carnation Cafe, located on Main Street
Flo's V8 Cafe, located at Cars Land in California Adventure
The Golden Horseshoe located at Frontierland in Disneyland Park
So there you have it! You are more than welcome to bring food into Disneyland as long as you follow the guidelines. This will save you a lot of money and ensure you can eat something that suits your dietary needs.
Do you have any questions about what you can bring into the parks? Let us know in the comments below!
More Articles: