The Ultimate Guide to Disneyland Character Dining
Debating whether or not Disneyland Character Dining is worth the splurge? Here is the ultimate guide to character dining at Disneyland – including the best prices, which character dining experience is the best, and tips for having the best experience ever!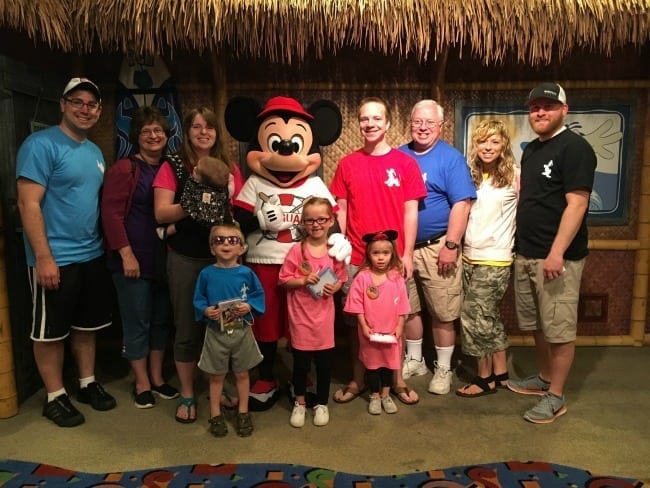 When we were planning our trip to Disneyland, I debated whether or not we should purchase tickets for character dining at Disneyland.
After talking with my mom and sister, and reading different reviews online, we all decided it would be worth the splurge.
It was hard to decide which one to sign up for – they all sounded so fun and delicious. I wish we could have done all of them!
I'm by no means an expert, but I thought I'd share this Disneyland character meal guide to show you your options and how to decide what's best for your family. It was definitely one of the best splurges we did on this trip.
UPDATED 2/2020: We have gone to three character dining experiences over the past three years, so I think I've gained a little more insight into how this works 🙂 
As you are planning your Disneyland vacation, I highly recommend using Get Away Today. We have used them since 2008 for multiple Disneyland trips, and they always make the process so easy.
You can even do a Lay-Away plan so you don't have to pay for the whole trip right away. Make sure to use the code ClarksCondensed at checkout for an additional $10 off Southern California vacation packages.
Is Character Dining Worth it?
This is the million dollar question – is it worth the splurge? This is something I asked myself over and over while we tried to decide if we wanted to do it.
Obviously, in the end, we did, and I'm so glad we did. It was honestly one of the highlights of the trip for all of us, and it was totally worth it to watch Jack interact one on one with the characters.
We have loved it so much, that we have chosen to do it three times now, and I think we will continue to do it every year.
I think that it's really great for young children who really want to see the characters, but they may not be able to stand in line for a long time at the park waiting to see their favorite characters (or if you are impatient like me, you don't want to stand in line).
I asked a few friends on Facebook, and here are a few different opinions:
You just have to expect that you are paying for the experience more than the food. I remember my son eating fruit loops and ice cream and that's all he would eat. lol! Pretty expensive for that but the atmosphere is fun. – Kara

It's been years since we've been but I always thought they were worth it. Mostly because you have the time to meet up with the characters and then when you are in the park you can focus on the attractions vs hunting down the characters. We did Goofy's Kitchen a few times and Ariel's Grotto. Again, though, this was years (at least 5 years) ago. – Rachel

I don't love them. I did a princess one for P. I thought we got a similar amount of time when we did the princess visit thing (who's name I am blanking on). We did it with her BFF, so it was superfun and we will always remember it. But it is INSANELY OVER PRICED. I think itw as close to 70 for just the two of us. – Hilary
It is expensive, but I feel it was worth the money so that the rest of the day we were focused on doing things together as a family and going on the rides and not waiting in line for a meet and greet. – Tia
I think the general consensus that I've found is that it's great for younger children. We didn't do a lot of other splurges during the trip, so it was worth it to us!
Best Prices for Disneyland Character Dining
When we first started to plan our character dining, I wanted to make sure we got the best price. We ended up booking through Get Away Today (which is also where we bought our Disneyland tickets).
Unfortunately, travel agents had to stop selling character dining packages in 2019, which is a bummer. However, don't forget to use the code Clarkscondensed if you book through Get Away Today – you can put that the extra $10 you save from booking a package toward character dining!
If you are an annual pass holder, you can get a discount on Character dining – I believe it's between 10-15% off.
The cost of your character dining experience will fluctuate depending on the time of day and even the time of year. Some experiences (such as the Princess Breakfast) are quite a bit more expensive than others.
Disneyland Character: Breakfast, Lunch, or Dinner?
Character dining is available for breakfast, lunch, and dinner. They are typically all-you-can-eat.
Originally, I thought that if you are going to pay the extra for "Premium Character Dining", you should do dinner. However, after doing Goofy's Kitchen for dinner, and then two breakfasts at other locations, I have to say, I think breakfast is the best.
I felt like the food was pretty cafeteria-like. There were lots of options, but nothing really stood out to me as amazing. However, at breakfast, I LOVED so many of the items. Lots of super delicious options and a lot of them are pretty unique.
I also feel like it's a nice way to start the day. When we did the dinner, I felt so stressed trying to get to it on time. Having it be the first thing we did in the morning was perfect.
**PRO TIP – Book your reservation for the earliest breakfast time possible. You will often get more attention from the characters, and it is less busy**
Disney Character Dining Reservations
You need to make reservations through the Disneyland website. They are available up to 60 days before the date you are going, and if you are going during a  peak time, make sure you book early.
There is a credit card required to book, but you aren't charged until the time of service or if you don't show up.
Make sure you include EVERYONE in your party in the reservation – including children under three. You won't be charged for them, but you do need to make sure they are listed as a participant.
Best Character Dining at Disneyland
Here are the different character dining experiences you can have. Keep in mind that the characters that attend can vary. Most of these are in hotels, and you do not have to be staying at the hotel to eat there.
Pricing may also vary, so keep that in mind. All of the prices I list below do not include taxes or tips.
Mickey's Tales of Adventures Breakfast Buffet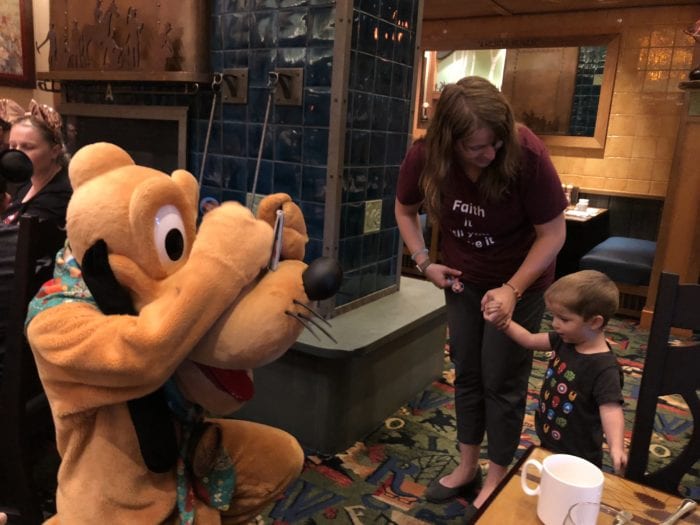 Pricing: Price varies – breakfast is typically $45 for adults, $26 for children and brunch is $47 for adults, $26 for children.
Serves: Breakfast every day; brunch on select days
Hours: 8 AM to 12 PM
Where: Grand Californian Hotel
This is a newer addition to the Character Dining options at Disneyland. We went to this one on our most recent trip, and we absolutely LOVED it.
This is located at the Storyteller's Cafe inside Disney's Grand Californian Hotel. It was similar to the Surf's Up! Breakfast we attended a few years ago, but it definitely had more of an "adventure" type theme to it.
We got an early reservation, and we were seated about 15 minutes after our reservation time. We were immediately given drinks, then set loose to the buffet.
All of the food was very good. There was a large variety, and I thought they had some fun and unique options. I really loved some of the fancy drinks they offered.
All of the characters were dressed up in adventure gear, which our boys loved. Oliver was a little nervous around them, but he did much better than he did the year before when he wouldn't even go near them.
You can read our full review here – Mickey's Tales of Adventures Breakfast Buffet Review
This is the only one that doesn't have a PhotoPass/MaxPass photographer there, so make sure you bring your own phone or camera.
Donald Duck's Seaside Breakfast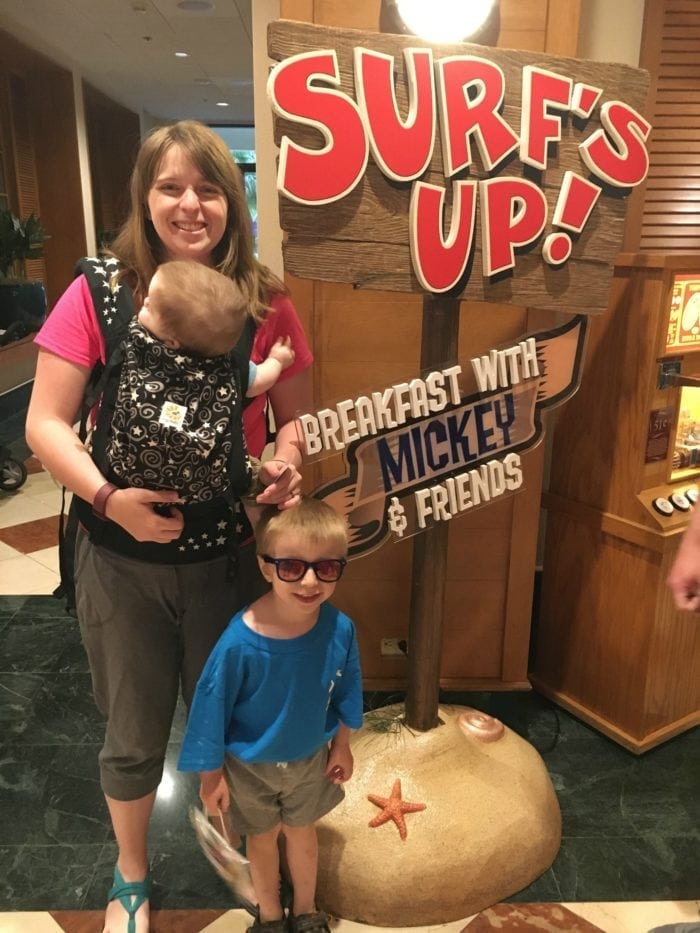 Pricing: $39 for adults, $23 for children
Serves: Breakfast every day and Brunch on select days
Hours: 8 AM to 2:30 PM (may vary from day to day)
Where: Grand Californian Hotel
When we attended this one, it was Surf's Up! Breakfast with Mickey and Friend's, so that is why my pictures show that. However, from what I understand, this breakfast is just the same – except for a different leading character.

This is the one we attended. It is at Disney's Paradise Pier Hotel, and it serves a buffet of delicious foods for breakfast. I was very impressed with the variety of food. They had amazing banana foster's french toast, chilaquiles (which I couldn't get enough of), an omelet bar, fresh fruit, and much, much more.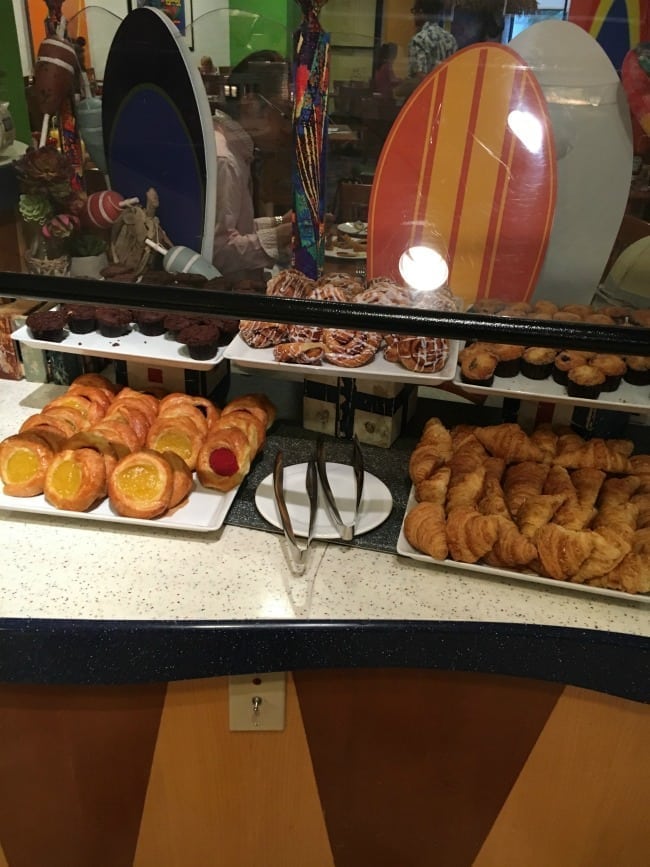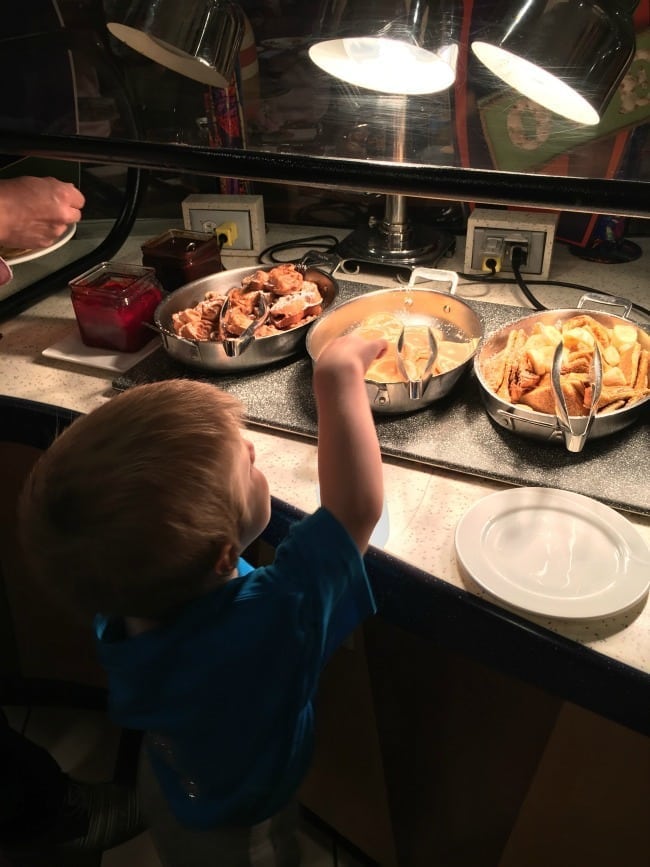 I loved that this breakfast had many of the classic Disney characters – we saw Mickey, Minnie, Goofy, Daisy Duck, as well as Stitch – who was hilarious. Our kids got a lot of attention from them, as we were some of the first people there.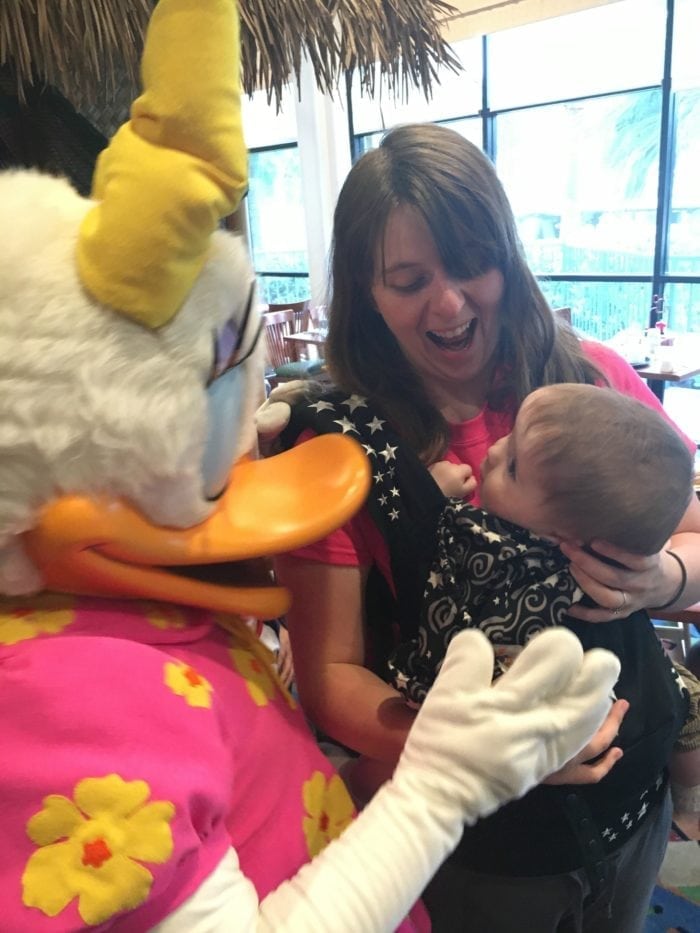 It's a really casual environment, and we had a lot of fun. Mickey Mouse is always guaranteed to be there. They have a fun dance party every hour, which our kids really got into!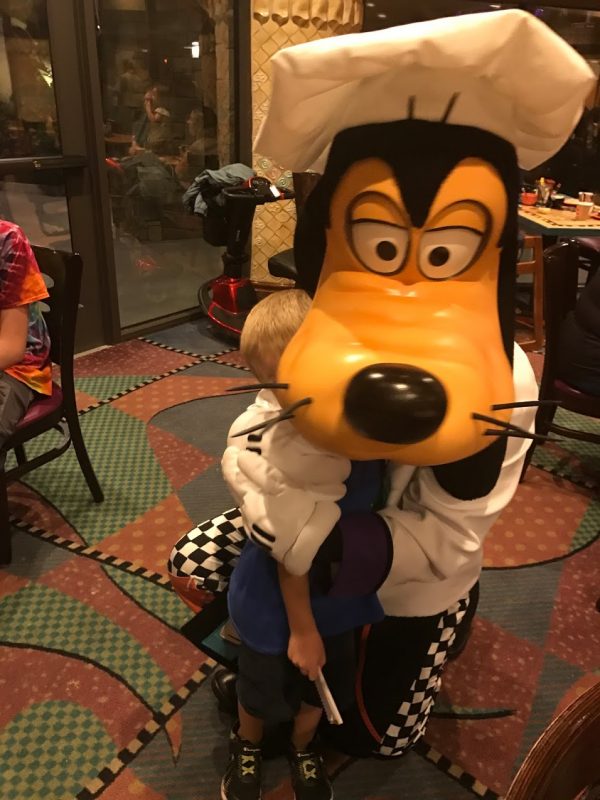 Pricing: Breakfast is $45 for adults and $27 for children; Dinner is $49 for adults and $29 for children
Serves: Breakfast and Dinner
Hours: 7 AM to 12:30 PM; 5:00 to 9:00 PM M-F, and 4-9 PM on Saturday and Sunday
Where: Disneyland Hotel
When I initially asked people for character dining recommendations, people often recommended this one. I've heard it's quite the experience for everyone, though I've heard mixed reviews on the food.
We went to Disneyland again in October of 2017, and we decided to try out Goofy's Kitchen. We did it for dinner time – the line was rather long, even though we had a reservation. There was also a really long line to see Goofy, which we ended up not doing.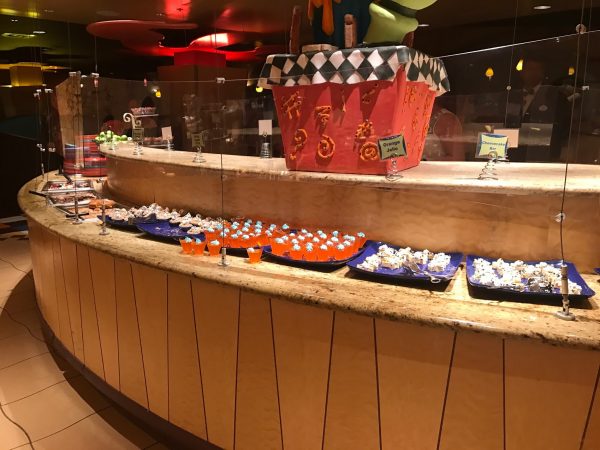 Overall, I was not super impressed with the food. There was a large variety, but I just didn't think it tasted that good. Our boys really liked it, though – especially the dessert table. There were a lot of kid-friendly options, as well as things that were more appealing to adults (like carving stations).
We didn't get as much personal attention from the characters either, but my boys seemed to be fine with the interaction we got. Overall though, I definitely didn't love it as much as the breakfasts we have had – I think if I were to come here again, it would be for breakfast.
Here are a few reviews from friends:
We went to Goofy's Kitchen. It was a fun experience for the kids, mediocre food- although a decent variety and was super pricey. We had a discount thankfully, but would have felt it wasn't worth it if we paid full price. We won't do it again. – Sara

We've loved Goofy's Kitchen in the past. Pretty expensive for that but the atmosphere is fun. I recommend going for breakfast since the prices are much less than dinner. – Kara

We had a great experience at Goofy's Kitchen. We saw Goofy of course, Minnie, Chip and Dale and Pluto. Food was awesome. Many visits to our table by the characters and posed for pics for as long as we wanted. Our two year old grandson loves it. We went for breakfast before Disneyland opened and timing was perfect. Highly recommend and we will be doing this again in the very near future. You do need to make reservations months in advance. – Sandy

Most recently we did Goofy's Kitchen and we were disappointed on the lack of characters and the amount of time they spent in the room. Reservations are key. – Lori
At a Glance:
Pricing: $44 for adults, $26 for children
Serves: Breakfast
Hours: 8 AM to 10 AM
Where: Plaza Inn in Disneyland at the top of Main Street USA
This one takes place in Plaza Inn on Main Street U.S.A. inside the park. Although the characters vary, from what I've heard, it has some of the older characters frequently, such as Captain Hook and the Fairy Godmother.
Of course, Minnie is the host! And from what I've heard, it's a mismatch of random characters, but there are always a lot. I think this one actually has the most characters present.
They serve buffet breakfast with a large variety of food. I think it sounds like it would be a lot of fun. I think next time we go, we might do this one.
We've done the character breakfast at Plaza Inn several times and love it! Reviews of the food are always poor, but we've never had an issue. We always leave full and get to take photos with the characters while eating. For us, it's worth the price! – Camille

We've been to the character breakfast held at the Plaza Inn – located adjacent to the castle. We've had great experiences every time we have done these. Reservations are needed most of the time. There is a nice variety of breakfast food and drinks are unlimited while dining. Characters are continually coming and going so this is a great opportunity for autographs and photos! – Jodi

We also did the one at Plaza Inn and it was fun too! Lots and lots of characters coming and going so the opportunity for pictures and autographs is great! We made a reservation for both but probably didn't need one for Plaza Inn. But we went durning a down time on a Tuesday morning for breakfast. – Amanda

We have been to Breakfast with Minnie at The Plaza Inn. It was really fun with many characters to see and take photos with. Our breakfast included a family picture with Minnie. We had to have a reservation.The food was very good and we had unlimited drinks. I would definitely do it again. Our kids loved it! – Jolynn
You can read more reviews here.
Disney Princess Breakfast Adventures
At a Glance:
Pricing: $125 per person (3 and up); not including taxes and gratuity
Serves: Breakfast, Brunch, and Lunch
Hours: 8 AM to 12 PM
Where: Napa Rose in California Adventure
This dining experience has taken on various forms over the years. However, it is definitely a must-attend for anyone who a Disney princess fan.
This is located in Disney's California Adventure at the Napa Rose. I've heard that the food at this one is excellent. It is open from 8 AM to 12 PM.
The Princess Breakfast Adventure is quite expensive! It costs $125 per person aged 3 and up, and that does not include taxes and gratuity.
It is a two-hour experience with games, lots of interaction with princesses, and some of the best food you can find in the park (from what I've heard).
While you can see the princesses for free at the Disney Princess Fantasy Fare, this is a good opportunity to be able to see and interact with them without standing in line forever.
It is extremely popular, and reservations open up about 60 days before
The breakfast and lunch are served family-style, though there is a kid's menu for lunch. Here are a few reviews from my friends about the older princess breakfast:
This year I decided that we spent a lot of time waiting in lines and so I took her to the princess breakfast at Ariel's grotto in California adventure I liked that we could go before the park even opened and so it did not eat into the day at all. I really liked that this one was inside the park so we could just meet my husband and son at the gates when we were done eating. It was a really special thing for her and I to do and she was over the top excited. My daughter loved having the princesses come to our table. I really enjoyed the food and felt like there was an abundance of it. They first brought a plate of sliced fruits and 4-5 pasteries. Then we got to order something from the menu. They even offered to box up our pastries and fruit to take with us into the park for the day which we did because it was just too much to eat for the two of us. I would do a different one next time just to experience the others they offer. – Tia

We went to the Disney Princess breakfast. It was so awesome! Our girls were 4 and 2 and it was so magical for them. All of the princesses were there. I remember Belle scooping up Alexis in her lap and talking to her. It was definitely worth the extra money because it was so hard to see the princesses anywhere else without standing in a huge line. It was definitely the highlight of that Disneyland visit. – Diana

We did Breakfast with Minnie and Friends at the Plaza Inn with both the twins and Maizy when we took them before their third birthdays. It was perfect for that age group. Good way to start the day.It was good because our girls weren't big talkers at the age, so there was no pressure. Hugs, high fives, see ya later. – Brianne

We did Ariels Grotto and my daughter (3) loved it! All the princesses came around and spent time with each table and took a picture. It was great! – Amanda
Tips for Disneyland Character Dining Success:
Make a Reservation
A reservation isn't required, but it is recommended. The restaurants fill up quick, and I can't imagine anyone would want to get there and be turned! away (especially a child). You don't have to pay anything when you make a reservation, and you can make them on the website or by calling (714) 781-DINE. You can make them up to 60 days in advance.
We originally were going to try and go to the Minnie Mouse breakfast, but two weeks out, they were booked solid for when we were going to go. So make those reservations ASAP!
Earlier the Better
My mom made our reservations, and I wanted to groan when she told us they were for 7:45 AM. However, it turned out to work out really well. When we arrived, there was only one or two other families there, and all the characters came over to us right away.
We were able to get lots of one and one with the characters and got first dibs on everything in the buffet!
We stayed for about an hour and a half, and it started getting very congested around 8:30 AM.
Come Ready to Smile!
This is one of the best opportunities to get take pictures with your favorite characters. We didn't have to wait in any lines, and we got some great pictures. I loved that we could really interact with the characters. When you are out in the parks, there are usually tons of people waiting, so you don't get to see the characters for as long.
They have a professional photographer that can take a photo. We did this, and while they try and sell you on buying it in an expensive package, we were able to download it with our photo pass later on.
Bring an Autograph Book
This is a great opportunity to get your child's autograph book filled up. As with getting pictures, it was nice not to have to wait outside in the hot sign to get our son's favorite character's signatures.
They do offer autograph books on site, but, as to be expected, they are PRICEY. You can even buy an official Disneyland autograph book from Amazon.
Pictures
When we first arrived for our breakfast, we were given the opportunity to have a group picture taken at the front with Mickey. We had someone take them on our phones, but the professional photographer did as well.
Of course, they tried to sell us a super expensive package of pictures, which we declined. However, we were able to add it to our Disney account later, and I was able to download the photo for free. So I think that's a pretty good option!
If you have a MaxPass, all the photos they take will be included with that, so that's awesome! Even if you don't want to get a MaxPass for everyone in your family, you could just get it for one person and get all the pictures.
The only dining experience that does not have a professional photographer is Mickey's Tales of Adventures Breakfast. You can bring your camera and take pictures at all of the events yourself!
Let me know if you have any questions. I would LOVE to hear what your experience has been with character dining at Disneyland.
[thrive_leads id='30551′]