River Run RV Resort Review: From a Family of Five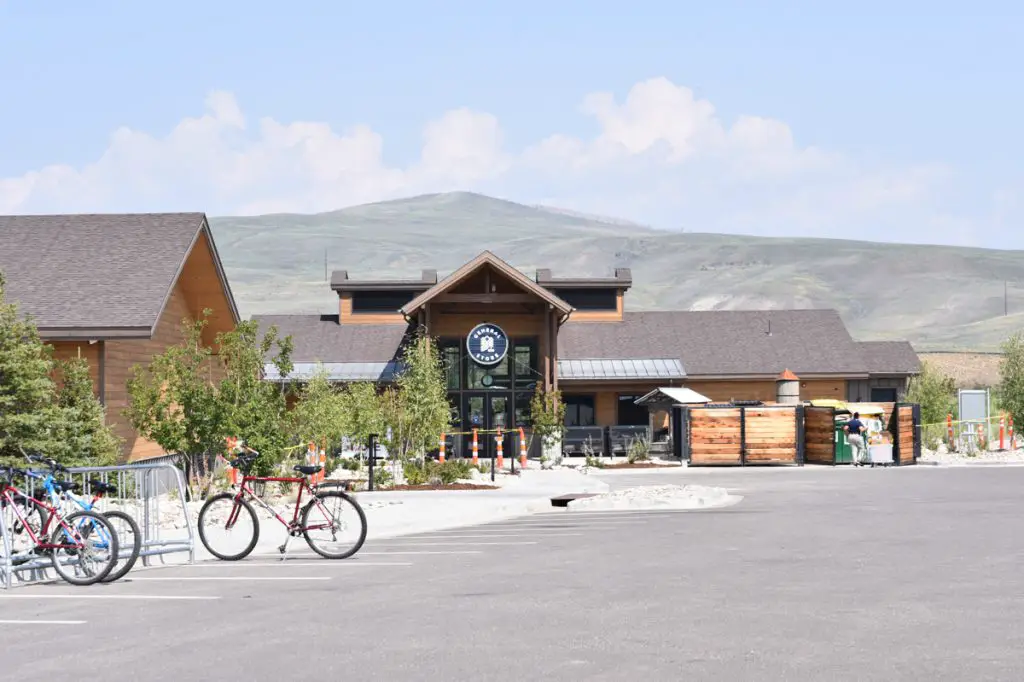 Since we got our pop-up trailer, we decided we should go take it out for a spin before we rented it out through RV Share. We thought it would be a good opportunity to see what needs to be fixed, take some great pictures, and most of all, enjoy some time together as a family.
We saw an advertisement for a BOGO deal at an RV resort about an hour and a half from our home called the River Run RV Resort. The dates worked out for us, so we decided to book a couple of nights there.
We've never stayed at any type of RV resort, so we knew it would be a fun adventure, especially for our boys. I'd read mixed reviews about this place on Google, so I wasn't sure what to expect.
While there were some blips in the road, overall, it was a very comfortable and fun experience. They offer camping, glamping, cabins, and, you guessed it – places to park your RV and pop-up trailers!
River Run RV Resort Granby Overview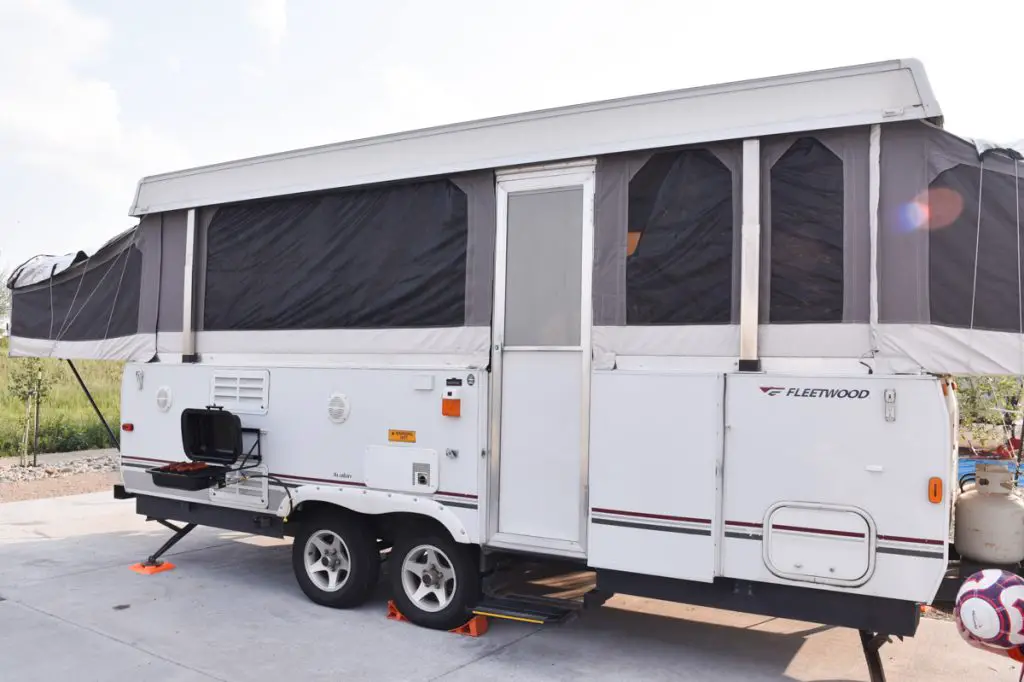 The River Run RV Resort is great location for your next RVing adventure. They have tons of amenities and ways to enjoy the great outdoors – from concrete RV Pads to cabins and glamping vehicles – there really was something for everyone.
It is located super close to Rocky Mountain National Park and Granby, so if you want to venture out, you have some great places to go.
They are definitely more of an upscale RV resort and can accommodate any size RV or towable unit. The average site is about 70 feet in length, which provides plenty of room for your rig and to relax and enjoy the views of the surrounding land as you unwind from your day of adventure.
The RV pads all have full hook-ups, which is really convenient. We found the staff to be really helpful as well pulled in, and they seemed really invested in helping us get settled.
At the resort you will find manicured lawns and lowers…and plenty of great views to take in while taking a relaxing walk around our park or swim in their zero-entry pool. They also have a great lake that you can walk around.
They have activities and restaurants, and it's really a very fun place to come with your family while enjoying your RV (or cabin!)
River Run RV Resort Amenities  and Activities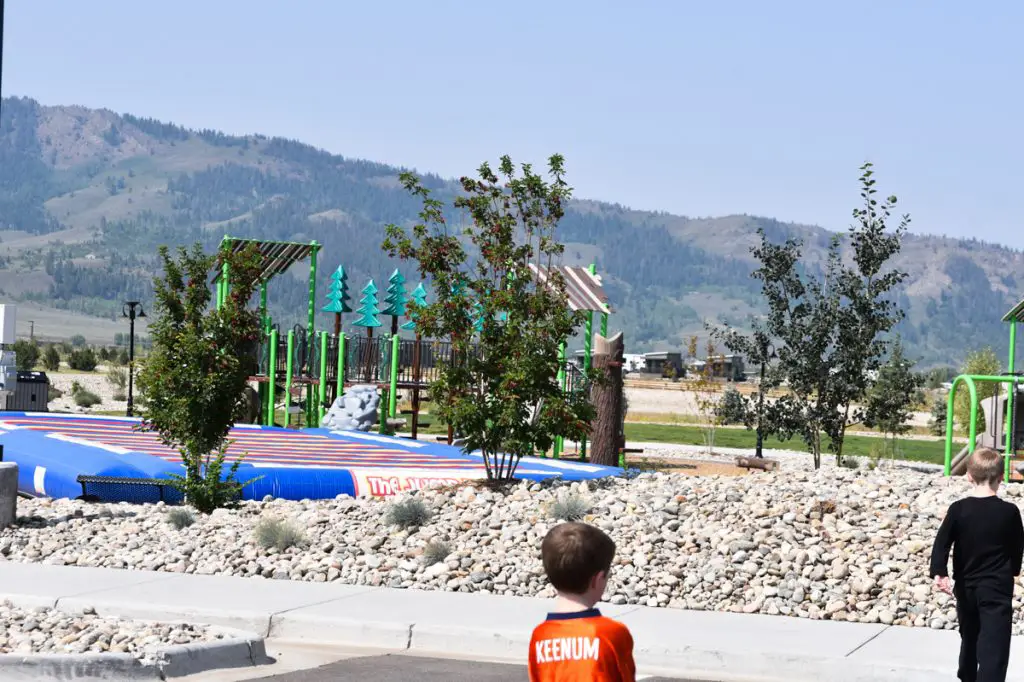 River Run RV Resort offers a variety of amenities and activities. Whether you just want to park your rig, cook food outside, and enjoy visiting at your site, or you want some more structured fun, they have something for everyone.
– They have an outdoor pool with a zero-entry design (great for the kids or adults who enjoy a pool). They also have multiple hot tubs, which we all really enjoyed. I love that you can see such great views while swimming.
– They have lots of outdoor games set up and ready to go – Horseshoes and Bocce Ball are just a few
– Wi-Fi – Complimentary! I found it got a little slow at nights, but overall, it worked pretty well!
– Full-Service Laundry Facilities onsite
– Nice, well-kept bathrooms and showers
– Great park for the kiddos to play at, including a giant jumping pad
– Pickleball courts! We LOVE pickleball, so this was really fun to find this.
– Gas firepits throughout the resort that anyone can use. This was nice, because restrictions made it so we couldn't use our own fire pit. Only sites with gas fire pits could start a fire, so I was glad there were public use rooms.
– An arcade room for the kids and teens (and adults who love that type of thing).
– Mini bowling – our family LOVED this! It was seriously so much fun. It's an extra cost, but we felt like it was worth it.
– A store that is fully stocked with beverages and snacks so you don't have to run out or leave the resort.
There are also several activities near our resort such as fishing ponds, hiking trails, and horseback riding (equestrian trails).
Our Favorites
The Pool – we really enjoyed the pool that they had. It was zero entry, which made it great for our youngest child. But it also had some deeper ends. It was kind of cold, but it was really fun to swim around in. They also had multiple hot tubs, which was probably a good thing because there were a lot of people using them!
Mini Bowling – I think this was our number one activity while at the River Run Resort. I wish we could have played more! I do wish it was included with yours tay, but it's definitely worth playing at least once. I think I liked it more than regular bowling!
The Pizza – We got some pizza from The Headwaters Tavern, and I can't even tell you how much I enjoyed it. I was really hungry at the time, but I felt like it was one of the best pizzas I have had in awhile. The service was a little mediocre, but the pizza was delicious.
Pickleball Courts – We love Pickleball, need I say more!? They had a couple of courts that were well-maintained and fun to play one.
Playgrounds for the Kids – Our kids loved this! There was a giant jumping pad and some great playground equipment to romp around on.
The ambiance – The whole resort was just really pleasant to be at. It was a very relaxed, chill environment. All the other guests were SO friendly and helpful, which helped as well.
Location of River Run RV Resort in Granby Colorado
River Run RV Resort is located at 1051 Summit Trail, Granby, CO 80446. . They are just very close to Rocky Mountain National Park and lots of other adventures throughout Colorado.
River Run Resort Pricing
Our RV Pad was around $80 a night, however, we took advantage of a sale they had going on at the time where it was buy one night, get one free. It was only valid during the week, so we did miss out on some of the more fun activities they have on the weekends.
They are always offering different promotions, so make sure you check out their website to see if you can grab a deal, too.
River Run RV Resort Review – Pros and Cons
PROS
The resort has a great location with lots of amenities
There are many activities and entertainment available for guests
Campers can enjoy the beautiful scenery that surrounds the campground 
Guests have access to clean restrooms and showers as well as laundry facilities 
Close to great hiking and other amenities
The other campers and RVers were truly some of the nicest people I've ever met
Nice, large spots that are easy to pull into
Very clean
There are plenty of activities and attractions near the campgrounds such as fishing ponds, hiking trails, horseback riding trails as well as a park for the kids.
CONS
Not many grocery stores nearby – they did have a King
It can be a a bit expensive, especially for a long term stay. I suspect they offer deals for longer term RVers
We couldn't use the fire pit at our camp spot due to fire regulations, and they didn't have gas fire pits at all the RV spots
The staff was hit or miss. Some of them were really great while others seemed a bit distracted, bored, or just not super well trained.
Overall, we had a great time at the River Run RV Resort. We'll definitely be going back again sometime!