Snow Mountain Ranch at YMCA of the Rockies Review: The Perfect Family Get Away
Snow Mountain Ranch at the YMCA of the Rockies is one of a kind. It's the perfect getaway for families, whether it be in the summer or winter. There are tons of activities, comfortable accommodations, and a big dose of the great Rocky Mountains. Here is a review of our recent stay.

YMCA of the Rockies Granby
Over the past few years, I've really found the value in being a tourist in your own area. 
Not only does it save you on costly airfare, but I think it's important to "bloom where you're planted" – and that includes learning to love where you live. 
Now, I grew up in Colorado, and I've always loved living here – don't get me wrong. But sometimes I just really want to travel somewhere else. And we do!
But I often remind myself that traveling to Colorado is a trip that people from around the world try to do – so I shouldn't take for granted all that this beautiful state has to offer. 
I love the mountains – whether it's during the summer or the winter. There's just so much they have to offer, and I don't think anything can beat the fresh air of the mountains. 
Colorado has a lot of different places you can go in the mountains, but one that I think doesn't get as much attention as it deserves is Snow Mountain Ranch at the YMCA of the Rockies. 
The first time I came here was when I was about ten, and we came for a family reunion – then I came back about six years later for a youth conference. 
Both of these experiences are forever cemented into my mind – they were just so fun and laid back. And I think those are some of the best kind of memories – especially for a child. 
We have spent a few other trips up at YMCA of the Rockies Snow Mountain and have enjoyed it thoroughly – in fact, next week, we are going there next week.
Every time we leave, it truly feels like our time there was much too short. It's a gem of a place to visit for families and people of all ages!
Lodging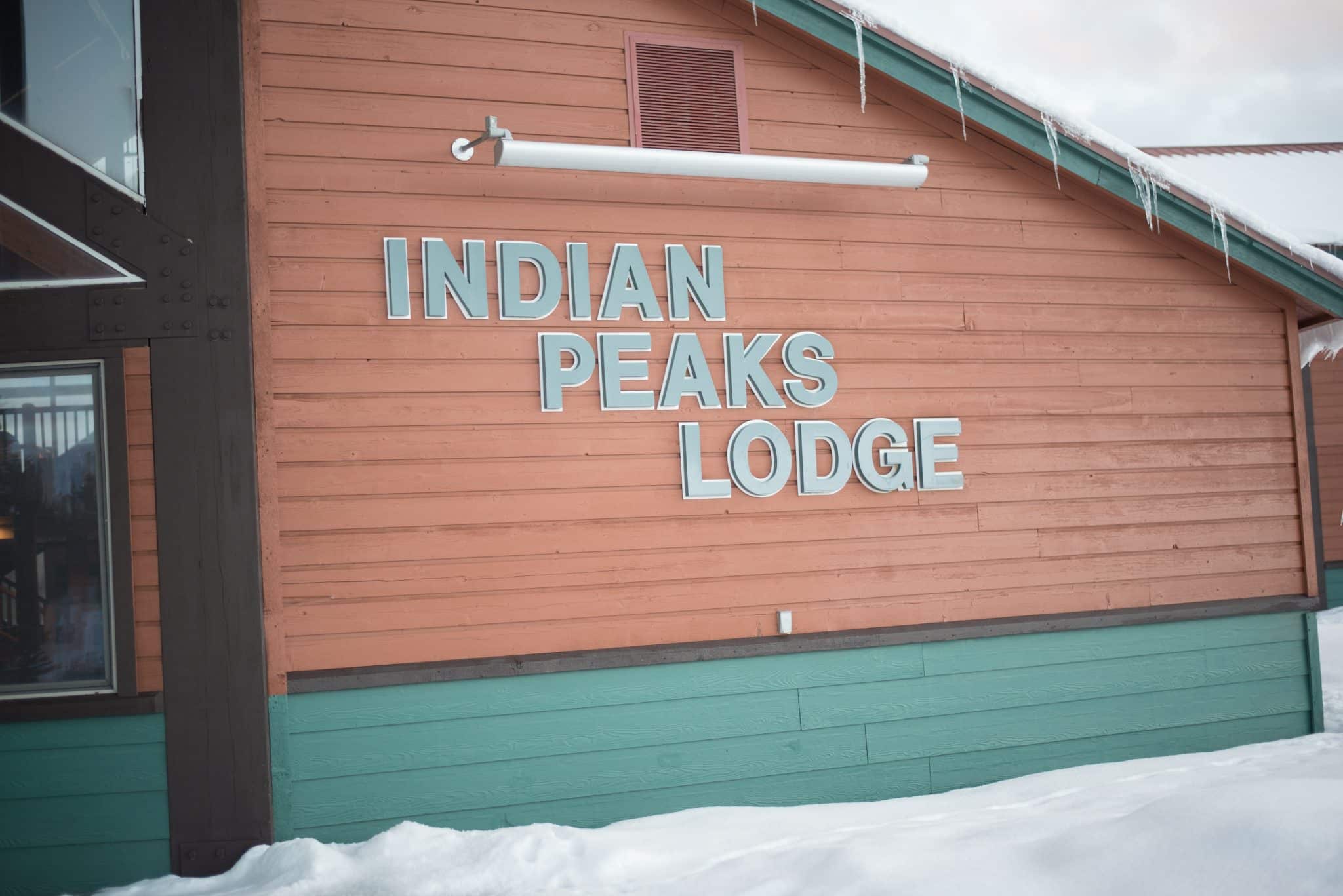 There are a variety of different lodging accommodations available – and there's really something for every budget. We stayed in the Indian Peaks Lodge, which is one of their hotel-like lodges. 
We were very comfortable there. It came with two queen beds, as well as a full-size couch bed, so we had plenty of room. There was a standard bathroom with a bathtub and shower, as well as a vanity outside the shower/toilet area. 
The room came with a microwave and nice sized mini refrigerator, which we thought was really nice to have. We especially loved that we had a sliding door that opened to a porch with some patio furniture. There was a playset right outside that our boys were thrilled to see…until they realized it was covered in snow 🙂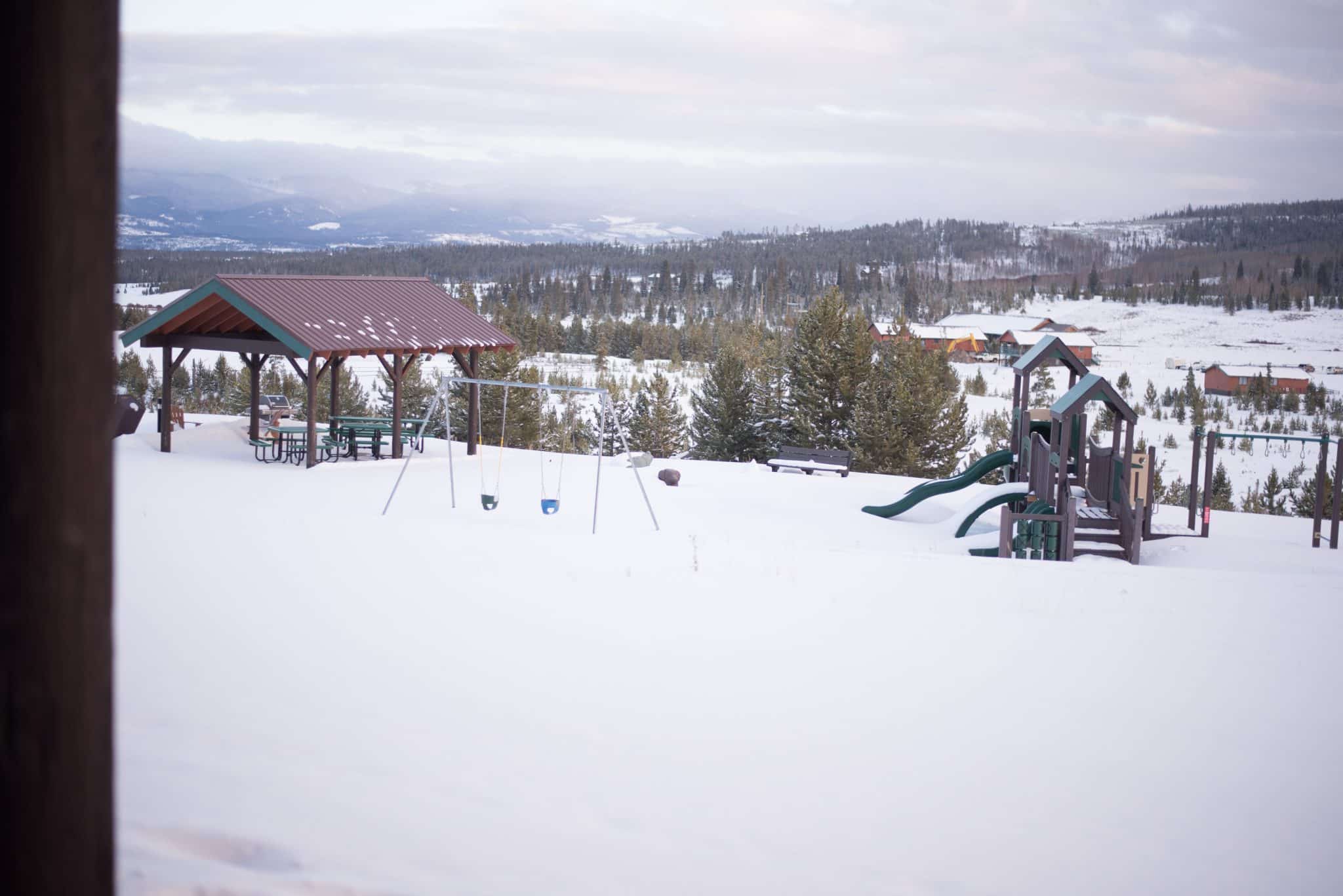 There was no TV in the room, but that is to encourage more family together time. It was surprisingly nice not to have a TV. They do have WiFi, though. It worked really well for us the first night, but the second day it had kind of disappeared. 
It had a couple of large, public lounges with games, TVs, and books. I was thinking it would be a perfect meeting place for a family reunion – maybe even if you bring some slow cookers you could gather out there for a meal. 
There are a few lodges that you can choose from at the Snow Mountain Lodge at varying prices. They also offer cabins, family reunion lodges, as well as Yurts and camping. There really is something for every budget. If you come for a reunion, you could easily let people choose the accommodations that fit the budget best. 
Groups of 15 or more can book up to two years in advance. 
You can check out availability, prices, and options here. 
Snow Mountain Ranch Activities
There is SO much to do at the YMCA of the Rockies – it's hard to decide what to do first. Our boys were over the moon with all the fun activities we were able to do. 
What we loved most about the YMCA of the Rockies was that many of the activities were included with our stay – and the ones that were very affordable. 
Free Activities
Free Winter Activities:
Rollerblading
Basketball
Foosball
Tubing Hill – I believe the Saturday we were there was the first day it was open
Ice Skating – This was not open while we were there, but it should be opening soon
Indoor Pool
Mini Golf (weather pending)
Disc Golf (weather pending)
Summer Activities
Game Room
Hiking
Historical Sites
Mini Golf
Playground
Disc Golf
Roller Skating
Sand Volleyball
Summer Tubing
Swimming
Tennis
Paid Activities
Winter
Craft Shop
Archery
Nordic Trails (these are included with the overnight stays)
Snowshoeing
Snowmobiling
Sleighride
Summer
Archery
Biking
Challenge Course
Rocking Climbing
Craft Shop
Fishing
Horseback Riding
White Water Rafting
Zip Line
You can view a full list of activities by clicking here.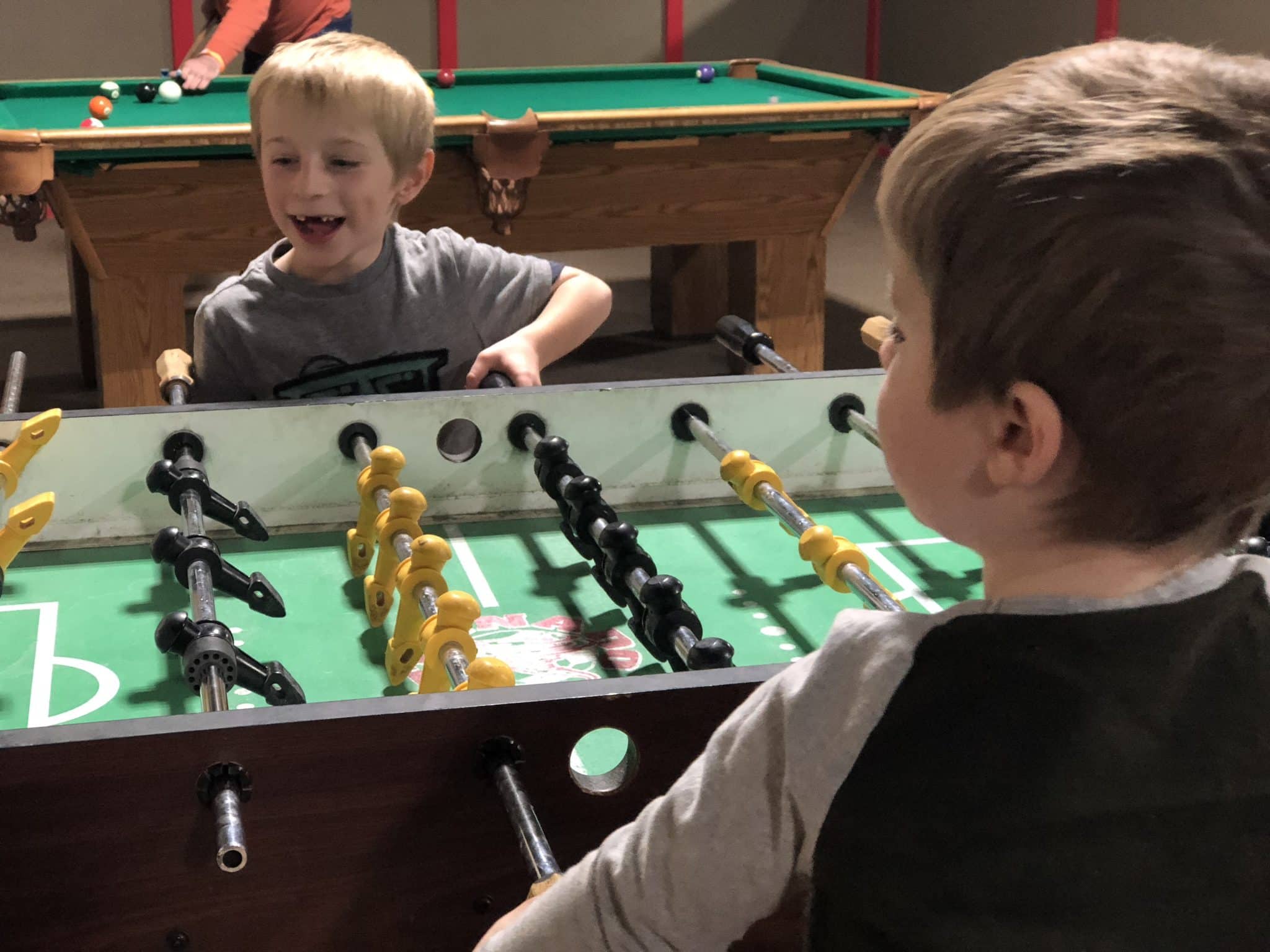 If you are staying at the Snow Mountain Ranch, the free activities are all included. However, if you are just coming up for the day, you can purchase a day pass. 
In addition to the activities above, they have daily programming that is fun for the whole family. While we were there, they had s'mores, movie nights, life-size Hungry, Hungry Hippos, Yoga, and more. I love that they provide organized activities like this.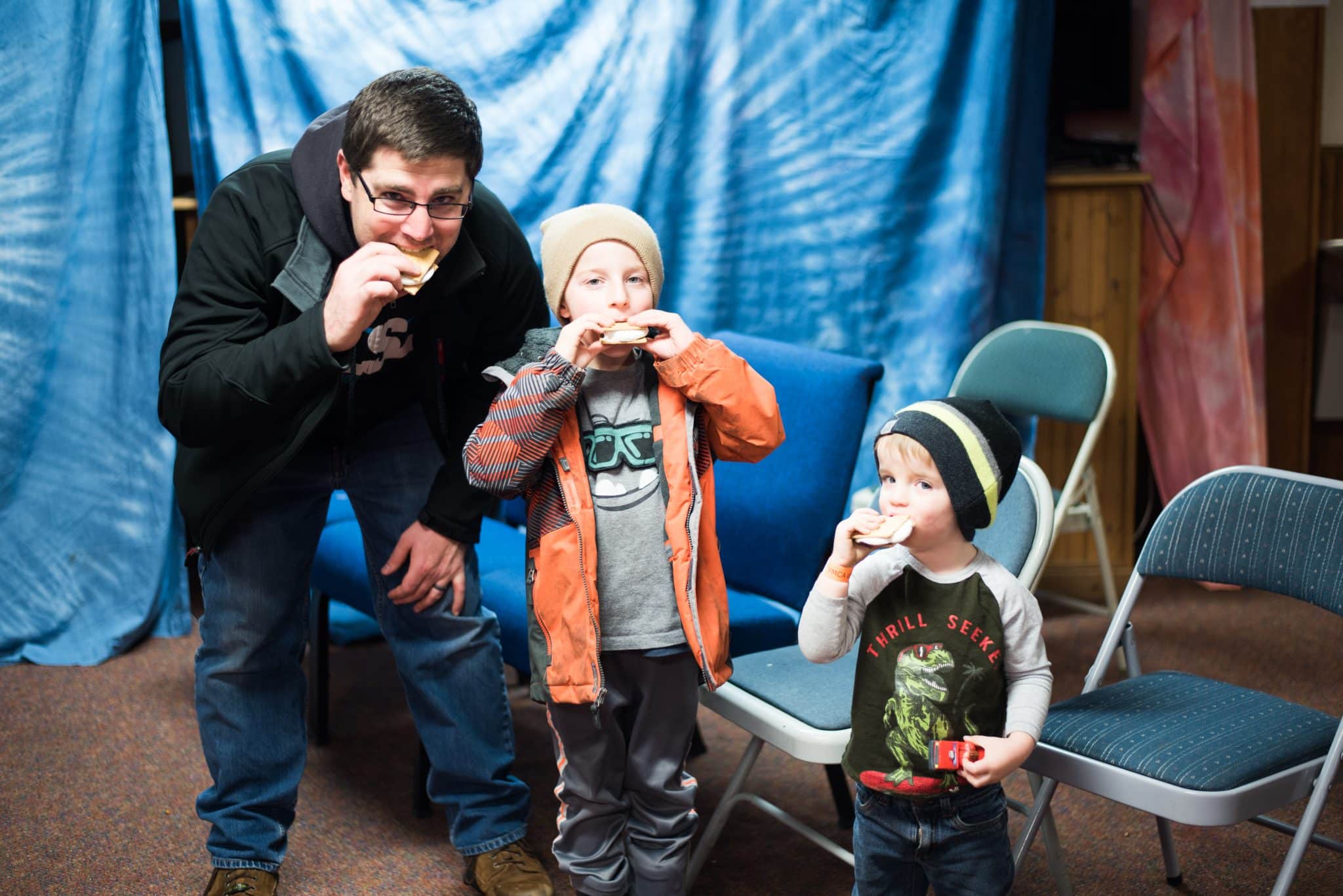 Nordic Skiing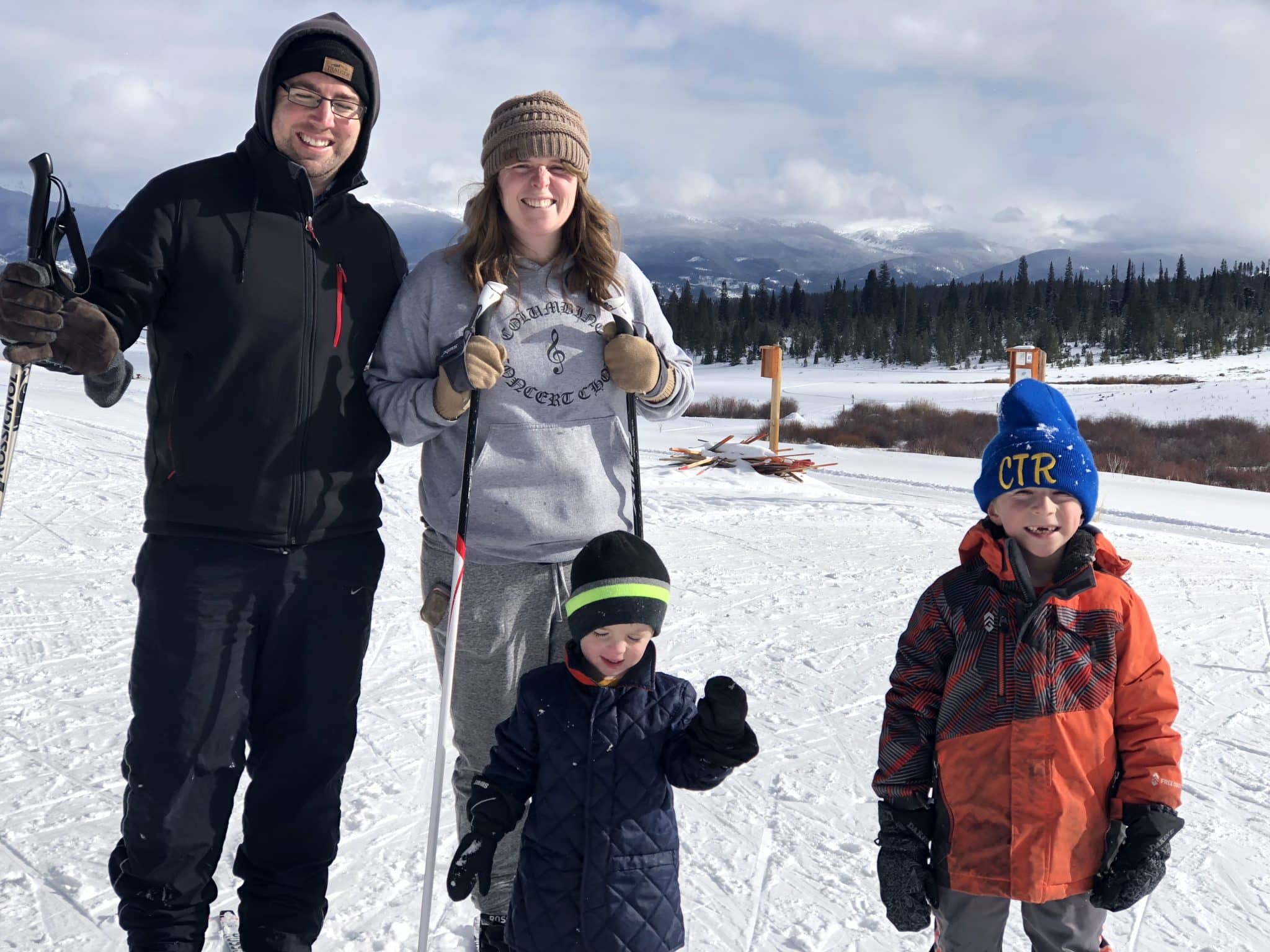 Our favorite activity, by far, was Nordic skiing. In hindsight, it was not the best decision for me to participate, considering I just had my endometriosis surgery about six weeks ago (and I definitely paid for it afterward!), but we all had so much fun. 
Nordic skiing – also known as cross-country skiing – is a big draw to the Snow Mountain Ranch for people. It is very affordable – much more so than downhill skiing – and Forrest and I were so impressed by that. I believe it was around $20 for a full-day adult for equipment, and it was $10 for a full day child. If you are staying overnight and have your own equipment, there will be no equipment fees. 
We were able to have an hour-long ski lesson for our family, and it was fun for everyone, right down to three-year-old Oliver. The ski instructors were SO nice, patient and encouraging. It made it a much more pleasant experience not feeling like they were annoyed with how slow I was at turning around or how I kept forgetting how to stand up when I fell down.
Jack was a natural – they kept saying how they were so impressed with how they were doing. Oliver wasn't able to really keep up, so he had a ski instructor that stayed with him as he scurried around a flat track. He loved it, and I could tell how proud he felt when he was done. 
Forrest and I would both love to come back and just do this – there are so many places you can go. We noticed that you can rent a ski trailer (basically a bike trailer on skis), which would be nice so we could take Oliver once he got tired. 
Craft Shop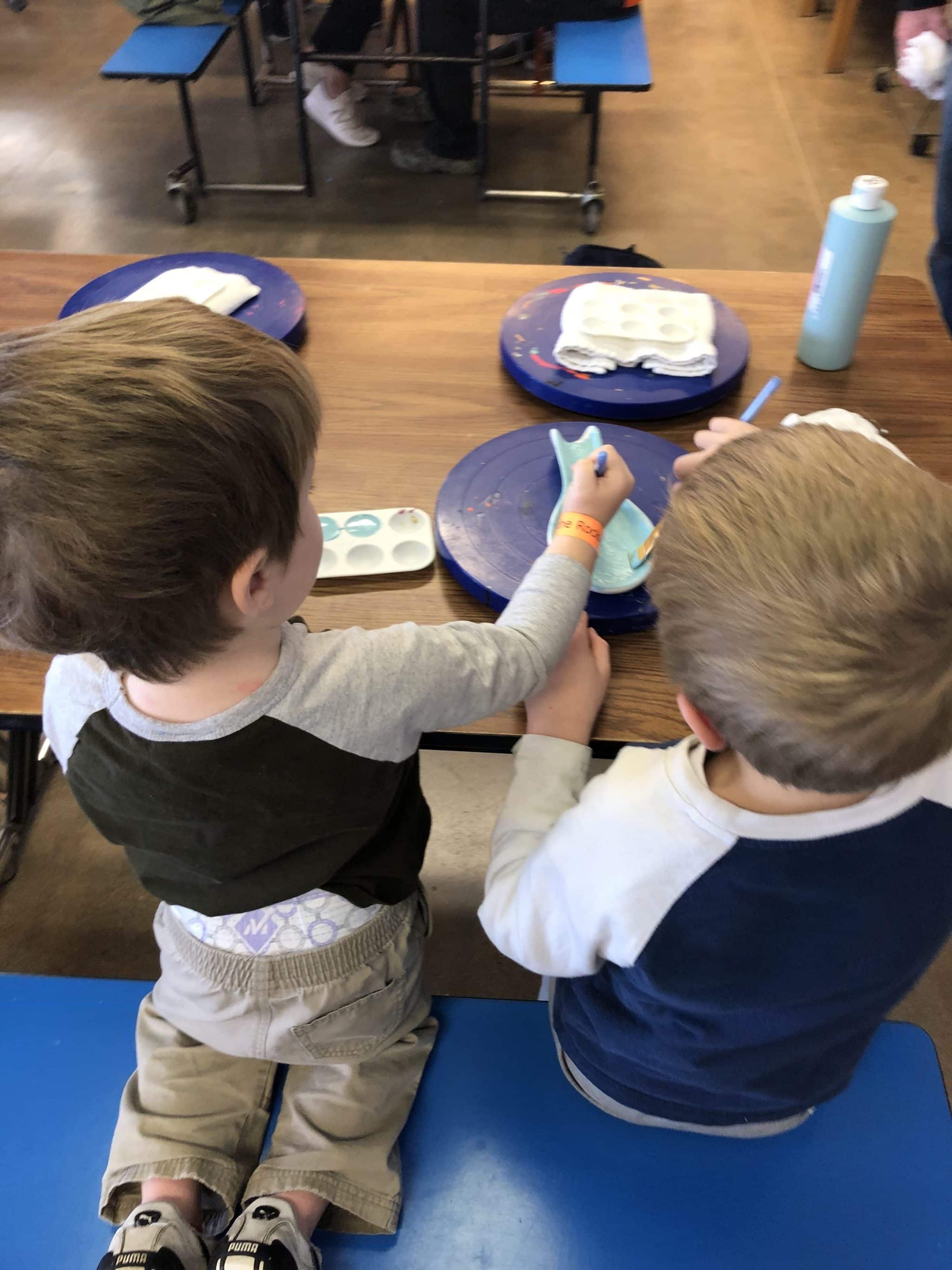 We had a lot of fun at the craft shop. We went there right before we left, though we wish we had gone earlier in our trip. We ended up doing some ceramic glazing, but they only fire once a day, so we had to pay $12 to have them ship our projects to us, which was kind of a bummer. They had TONS of things you can paint, though, and our boys really enjoyed it. 
In addition to the ceramics, they had tons of other crafts that you could purchase and make there, including some very inexpensive crafts for children. It's the perfect place to come and make a memorable souvenir to remember your time at the Snow Mountain Ranch. 
Tubing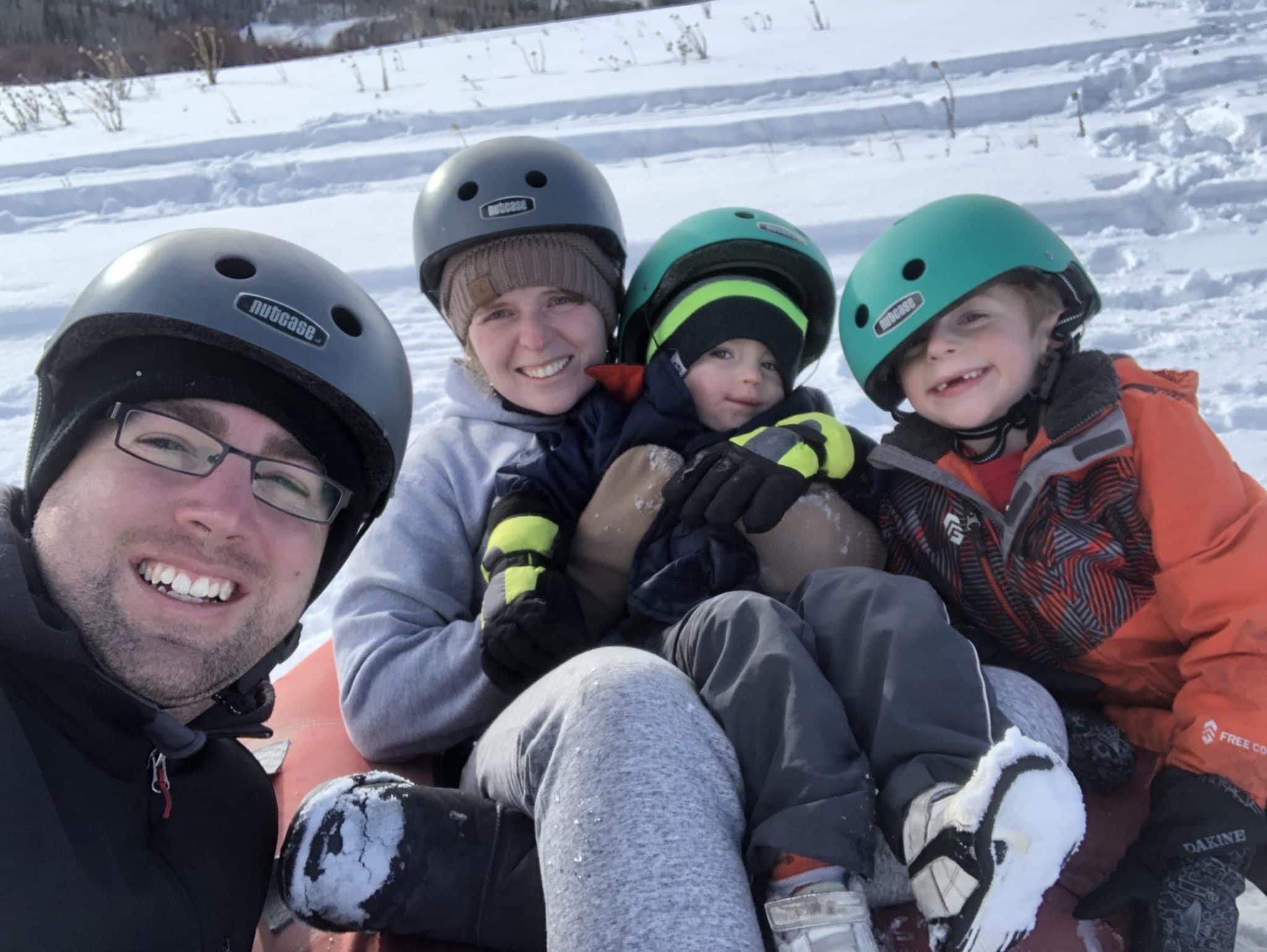 This is the one activity I remember doing here in the past, so I was excited to take my boys. They let you use helmets and their tubes, which was nice. They had adult-sized tubes, as well as child-sized, and they even had some tethered together, which was nice for taking Oliver down. 
This was another activity I probably shouldn't have done – you have to climb back up the big hill with your tube, and it just about killed me. I was able to go down twice, and I wasn't sure I'd make it back up. But it was so fun going down. The boys love sledding, and the hill was really fun to go down. 
Archery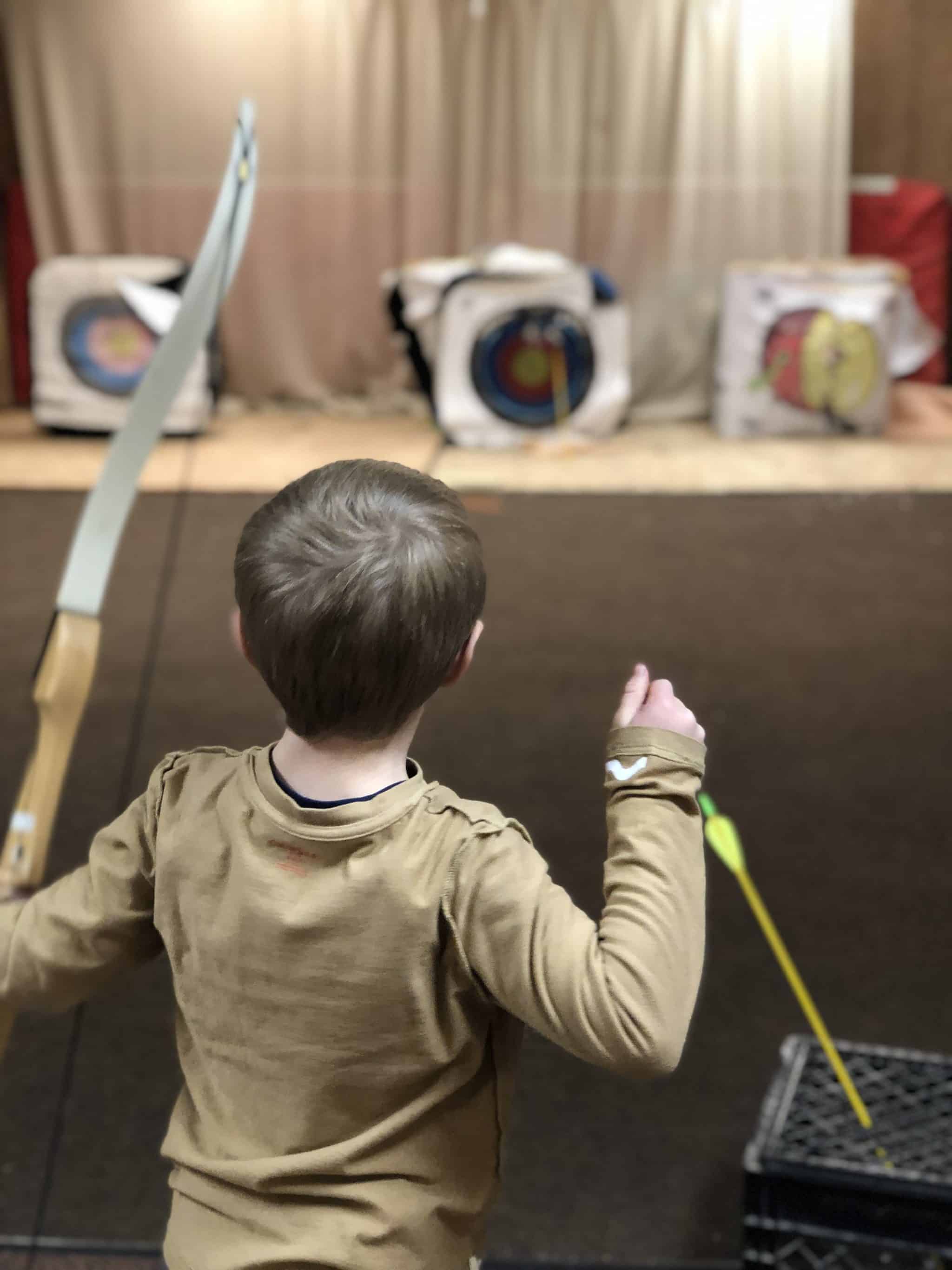 This was a fun indoor activity, and I think it was like $5? Forrest, Jack, and Oliver went the first time, and the second time I joined them. It was so much fun! Oliver was a little bit small, but Forrest was allowed to let him help a couple of times. I haven't done archery in years, and it was a neat activity. Jack had a blast!
Indoor Rock Climbing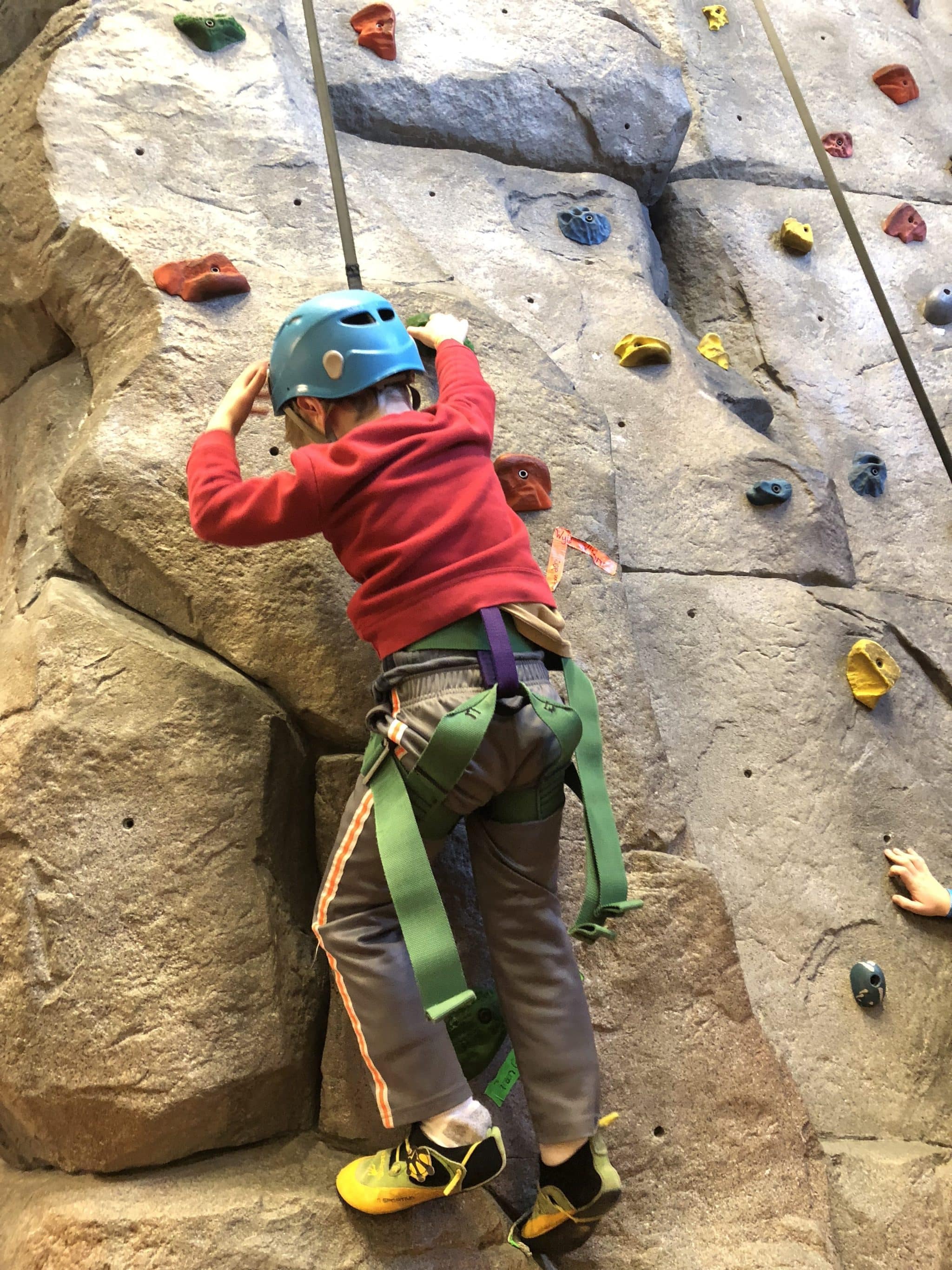 This was an activity that Forrest and Jack did while I was resting for a while. They have an indoor climbing wall, and it was pretty inexpensive. Forrest was surprised by how sore he felt afterward. They both had a good time though – they provide the helmets and the climbing shoes, which was nice. 
We loved all the new experiences our boys got to have while we were up there. Forrest and I both really like for our kids to be able to try new things – and this was a great time to let them do this. 
Food at Snow Mountain Ranch
There are a few different options for food while staying at the Snow Mountain Ranch. 
While we were there, we personally took advantage of their cafeteria-style dining. I'll admit, I was a little skeptical at first…because I just don't always love all-you-can-eat buffets. 
However, I quickly discovered how much I enjoyed the food they offered. There was a huge variety, and it changed every day. Breakfasts were hearty with fruit, meats, eggs, bread, and more. Lunches and dinners always had a nice variety.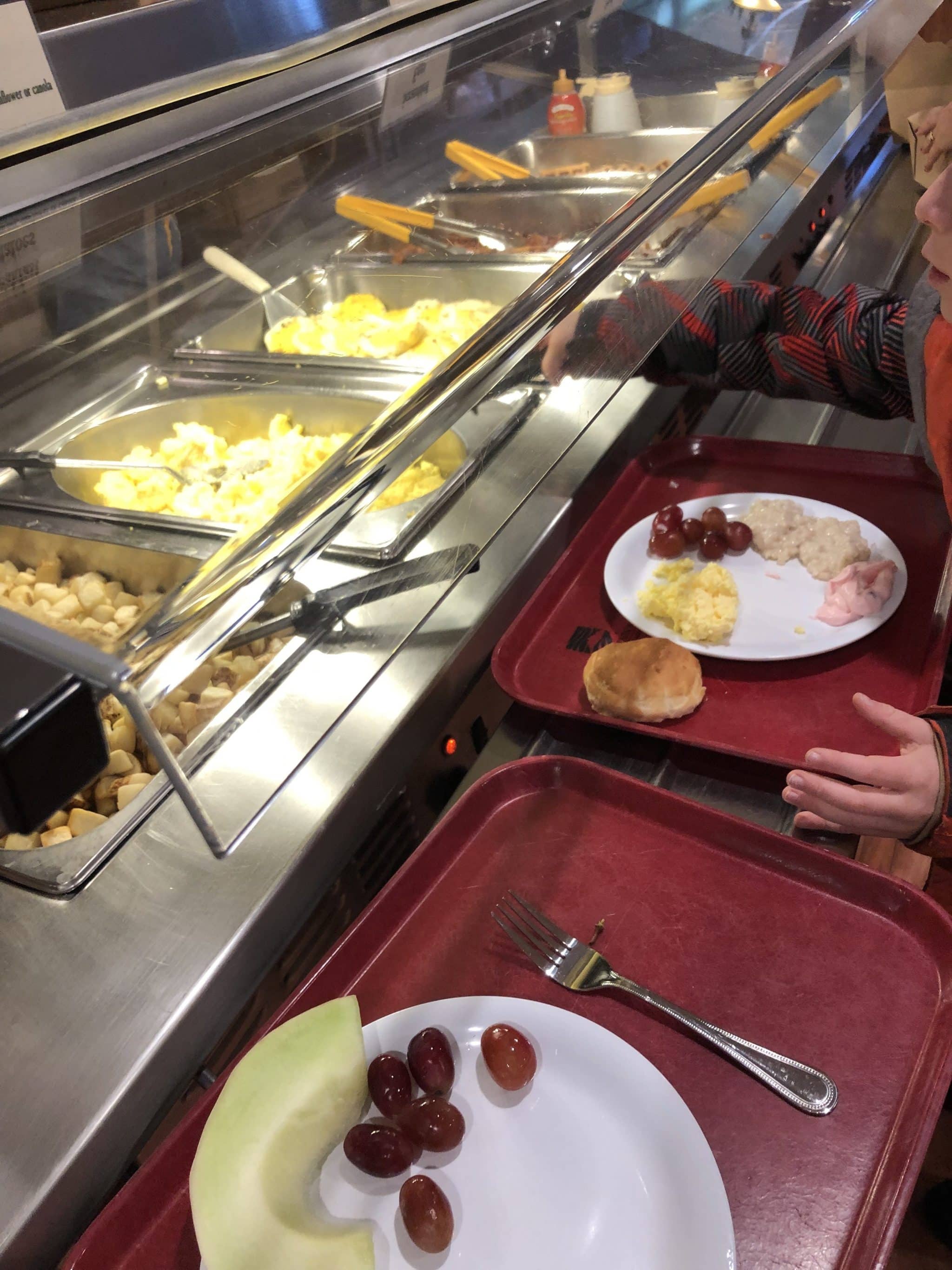 Our personal favorite was the gyro meat with pita and lots of different toppings. The meat basically melted in your mouth. 
Although we don't have any food restrictions, they seemed to be pretty allergen friendly. If you have issues with food, be sure to contact them beforehand. 
The one thing we noticed was that some of the food was lacking in seasonings, but fortunately, there were lots of salt and pepper shakers around that helped that out. 
If you are staying at one of the lodges, you receive two free adult breakfasts with your stay, and children under five are free. Otherwise, the prices are as follows:
This is a little bit pricey, but I have found it similar to other places we have stayed like this (for instance, the Trinity Center that we stayed at in North Carolina this past summer offered similar food for a similar price). It is very convenient, and you don't have to worry about cooking. 
They also had a litttle pizza restaurant that you could go to, but we felt pretty satisfied with the food we got. 
Cabins definitely have cooking amenities, which can help you save on money if you don't want to eat in the 
YMCA of the Rockies Staff
The staff was amazing – we were so impressed by this. Everyone was always smiling and helpful – which isn't always the case we've found when visiting places like this. I kept waiting for someone to get after us for something (kids being too loud? Walking on the wrong side of the road?), but it never happened. From check in to check out, we felt like the staff was wonderful. 
I definitely think this is an awesome place to be able to come and enjoy the beautiful mountains. It's great for families of all sizes!
Have you been to Snow Mountain Ranch? Let us know in the comments!
More Articles You May Enjoy: