Gaylord Rockies Resort Review: The Perfect Family Staycation
Do you find yourself itching to take a vacation, but don't want to spend the money? We have the perfect solution. Check out Gaylord Rockies Resort in Denver for your next family staycation! With an indoor waterpark and tons of activities, we guarantee that this will be one experience your kids will never forget.

Gaylord Rockies Resort has been voted "Best Family Hotel" by Travel & Leisure Magazine. The resort is located just minutes from downtown Denver and offers plenty of family-friendly amenities such as a full-service spa, golf course, movie theater, and children's pool area with splash pad. You'll also enjoy complimentary shuttle service within two miles of the hotel! This post will share our experience there with our family to help you decide if it's the right destination for you!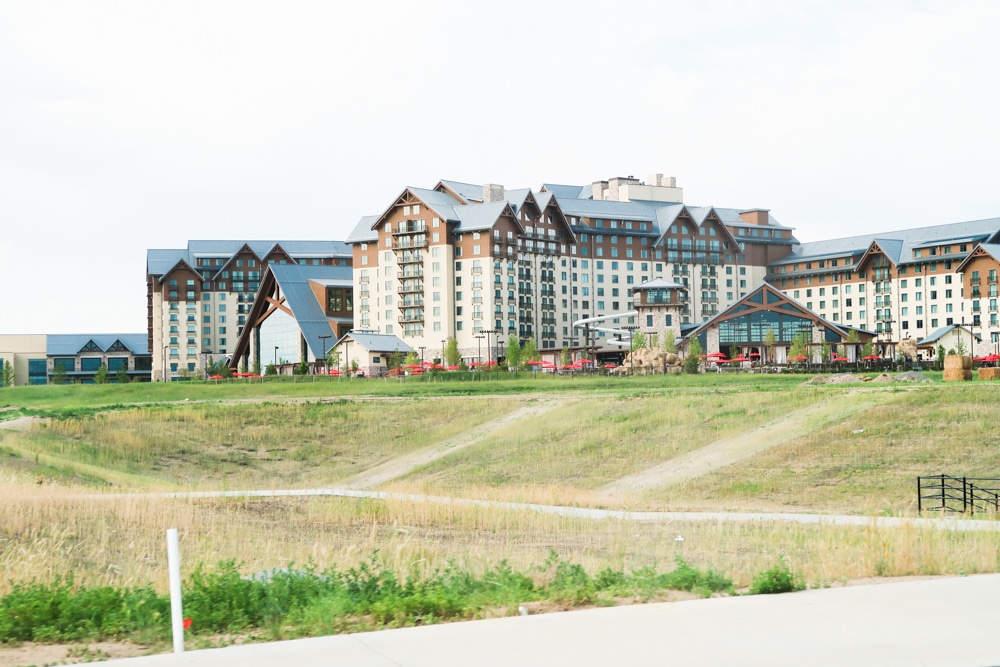 I really do enjoy traveling.
It's the getting there part that I less than love.
Especially when I'm pregnant. After a four hour flight, stuck in the middle seat of a very bumpy flight in June, I swore off anymore flying until after this baby arrives.
So I am all about finding fun and relaxing destinations within an hour or so of where we live.
Fortunately, we live near Denver, so options are plentiful. We had thought about going to the Great Wolf Lodge this summer, but when we heard about a new resort near the Denver Airport – The Gaylord Rockies – and their fun Summerfest, we decided to try something new.
I honestly wasn't sure what to expect. I knew it would be new and beautiful, but I wasn't sure how "family-friendly" it would be.
We had gone to a resort in Park City when Jack was about two, and while families were certainly allowed… we felt totally out of place for various reasons.
However, we thought it was worth giving a shot – and I'm so glad we did.
From the moment we checked in until we checked out, we felt comfortable, welcome, and like we were at a place made for families of all sizes and ages.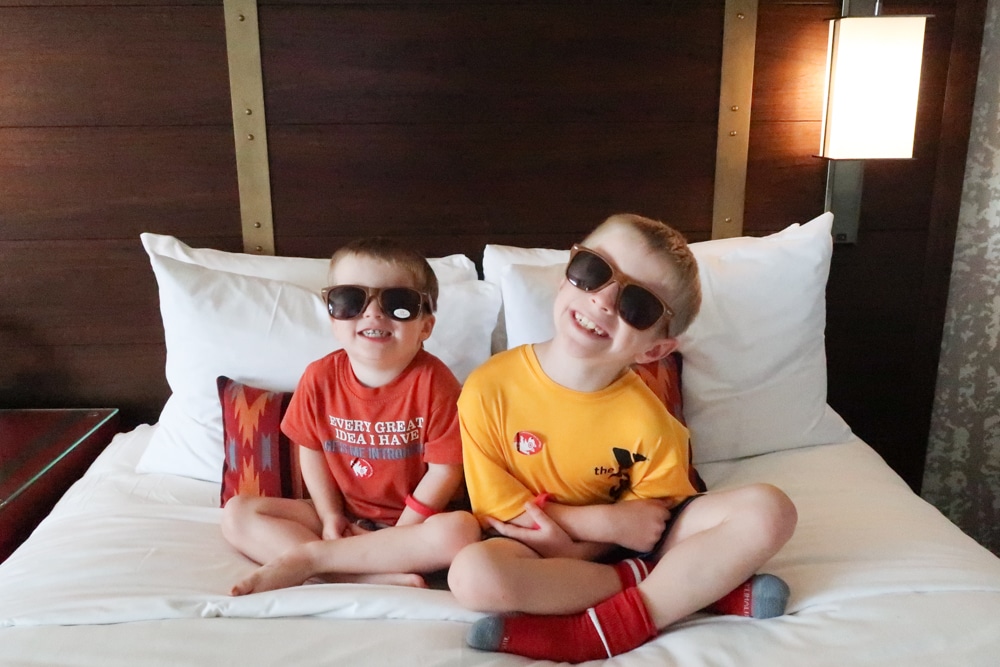 Because this is a new resort, I wanted to write a thorough overview of our experience so you can decide if it's the right resort for your getaway.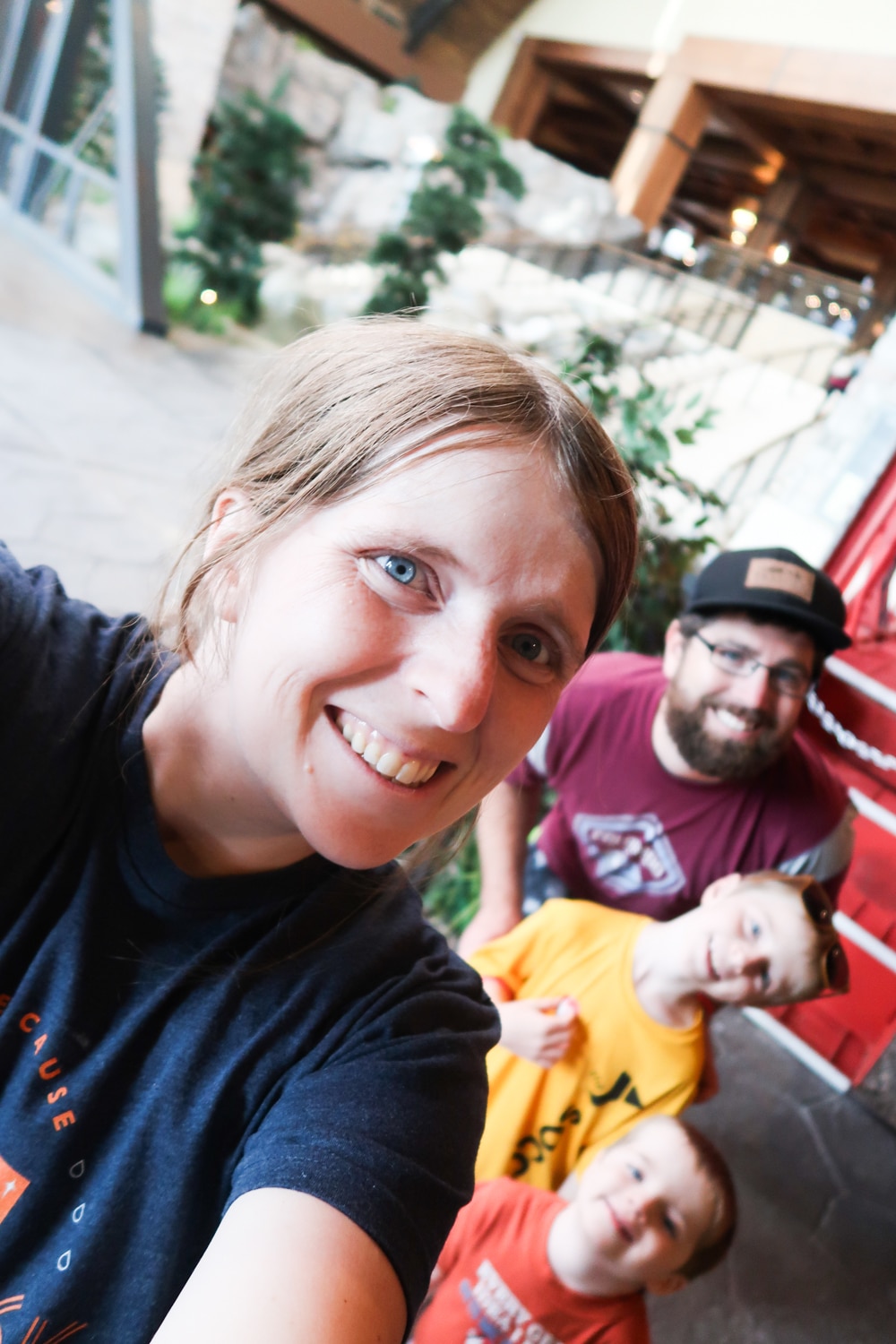 This post was originally posted in 2019 on Clarks Condensed. It was moved to this site for more relevancy.
Location
The Gaylord Rockies is located in Aurora, right near the Denver Airport.
I was actually worried it would be noisy because of air traffic, but we couldn't hear any airplanes. It was actually a very peaceful location, and we really felt like we were able to get away.
One complaint I read is that it's not actually *that* close to the Rockies – like, you still have to drive quite a ways to get to the mountains. Which is true. However, you do get a great view of the mountains, which was fine by me since we weren't planning to drive to the mountains while we were there.
The location was perfect for us – it was about 45 minutes from our house, so just far enough to feel like we were really getting away. With me being pregnant, that's about as far as I can handle these days, anyway!
The actual premises are beautiful. It is HUGE – I felt like we were staying at a fancy castle. When you walk in, everything seems so big and welcoming. I definitely got my steps in during the days we were there!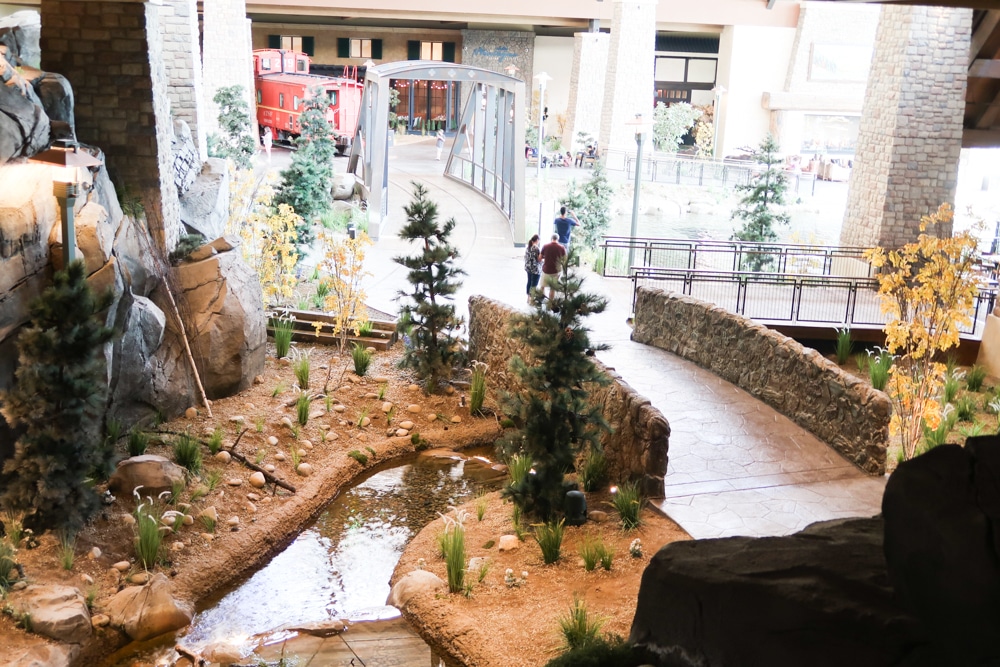 It is over 500,000 square feet, including the conference center. There were a couple of conferences going on while we were there, but we never felt like it was overcrowded.
The thing I really liked though was that I didn't feel like it was too ritzy. Unlike the resort we stayed at when Jack was little, we just felt comfortable and like it really was a great place to take our family.
I absolutely loved the ambiance though. There was a nice area inside with lots of waterfalls, a pond, a little cave, and even an old train. We loved just walking through there and relaxing.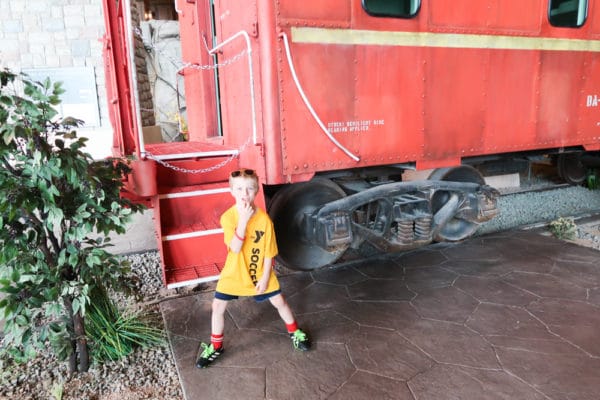 There are lots of elevators, and I found there to be no lag time at all with getting one – which is often a problem at hotels!
Room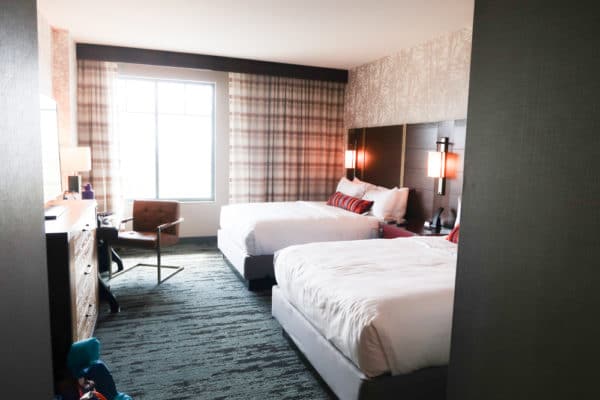 We stayed in a Queen Room suite, which had two queen beds, a mini-fridge, TV, and bathroom.
It wasn't fancy, but it was very comfortable. We had a great view of the Rocky Mountains from our room, which was awesome.
I think we were in the base room for the resort, so there are certainly fancier rooms. But it was just right for our needs. Plenty of outlets – which is often a complaint I have at hotels!
The beds were very comfortable, and I was able to sleep pretty soundly. Since I've been pregnant, sleep has been difficult. I've stayed at a few hotels over the past few months, and this is the first one where I actually was able to sleep without tossing and turning all night long.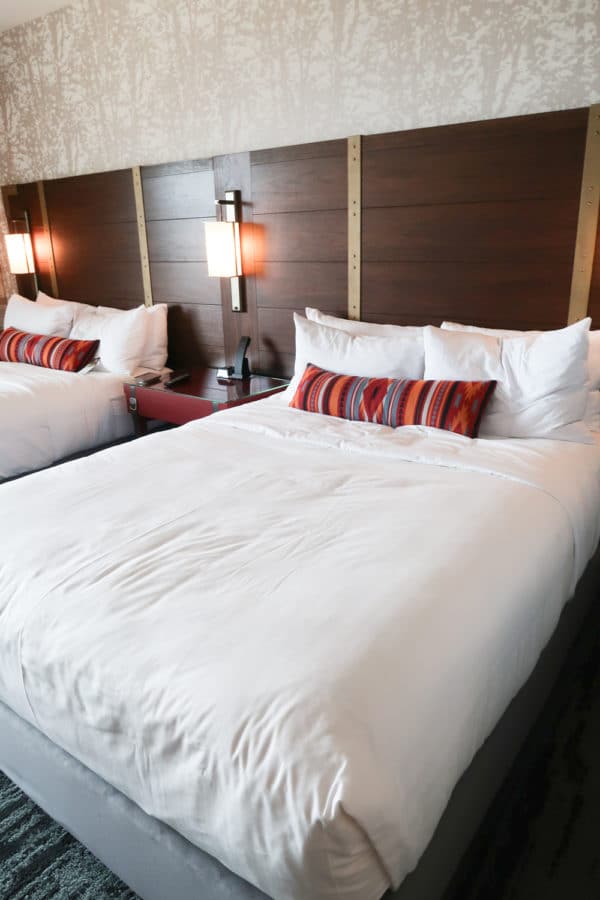 The bathroom just had a shower – not sure if there are rooms with a bathtub or not. It wasn't that big of a deal, but with small children, we usually like to have a bathtub. I also like being able to take a bath when I go to a hotel, since I don't have a bathtub in our master.
Something I loved was that they had tons of amenities in the room – not just the typical shampoo and lotion (which they had as well). They had a nice assortment of items that you may have forgotten, such as a razor, shaving cream, deodorant a toothbrush, etc. I actually had forgotten my razor, so it was nice not having to figure that out.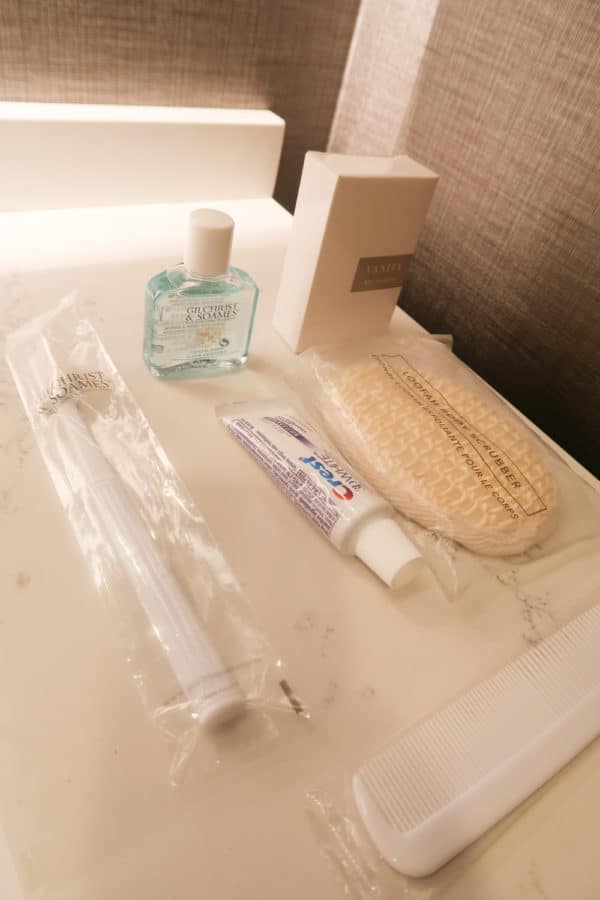 The TV was large and had a good variety of shows – you could also login to things like Netflix and Hulu.
Food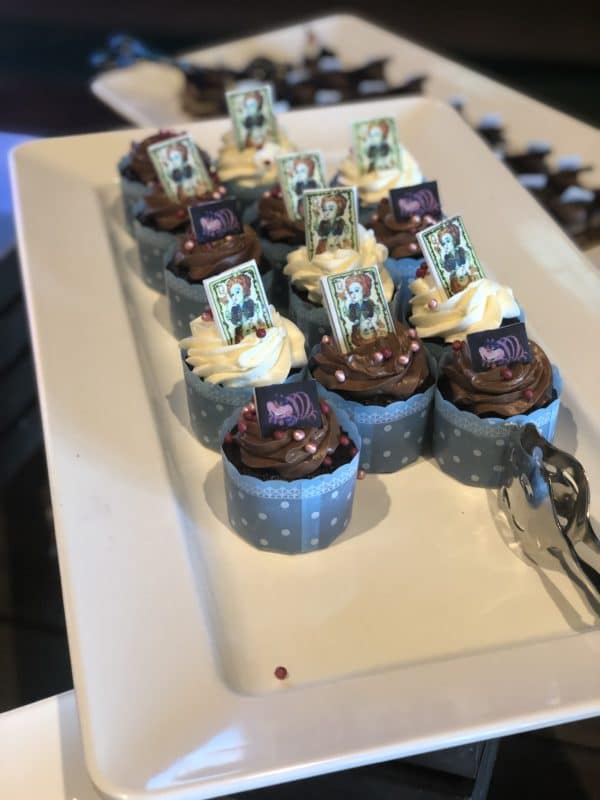 The Gaylord Resort has a wide variety of food available for you to eat while you are there.
One thing to keep in mind is that it is a resort, so you'll definitely be paying resort prices for food – which can be a bit shocking if you aren't prepared.
For instance, the kids meals were all around $10, which is quite a bit more than we'd typically spend.
You just have to go into it with realistic expectations. If you feel that you can't afford or justify the cost, there are quite a few restaurants and fast food places within just a few miles of the hotel.
With that said, here are the different options they have:
24 Hour Room Service
Vista Montagne – Italian
Monte Jade – Asian
Pinyons – variety but primarily alcohol
The Cocoa Bean – Marketplace/Coffee House
Rockies Marketplace – Grab and Go
Arapahoe Springs Bar and Grill
While we were there, we tried out the Arapahoe Springs and Bar as well as the Mountain Pass Sports Bar. We walked through the Cocoa Bean, and while we didn't buy anything, they did seem to have a really nice variety of food.
So I can't give an opinion on some of the "finer dining", but they sure smelled good!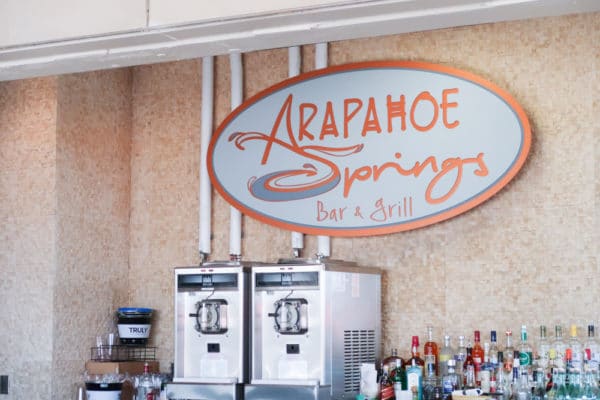 So first the Arapahoe Springs Bar and Grill. This is a casual, poolside grill and bar that you can order from and enjoy while you are swimming or lounging by the pool.
We had lunch there one day, and unfortunately, the wait for food was 1-1.5 hours. So make sure you factor in the time of day when you are ordering food.
I was happy that our food came out earlier than expected though, which was a nice surprise.
Our boys each got a kid's meal – Jack got a hot dog and Oliver got a cheeseburger. They both had the choice of chips, fries, or a fruit cup. It was around $6, and I thought it was a pretty good deal.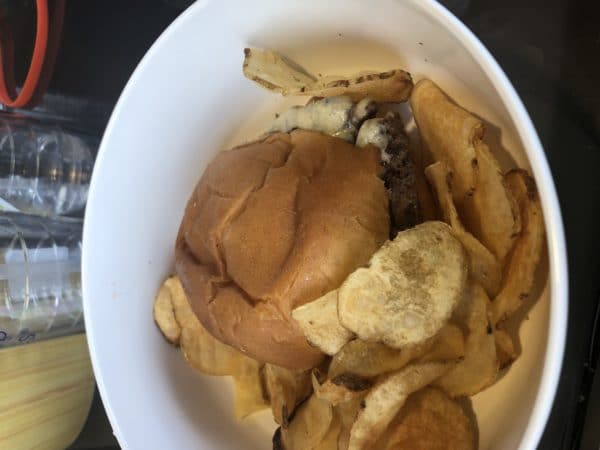 Unlike at the fancier restaurants, anyone can order a kid's meal, so it may be a less expensive option for some.
I ordered a grilled chicken sandwich with a yummy aioli on a potato bun. It didn't come with any lettuce or tomatoes, which seemed a little bit odd. THe chicken was *slightly* overdone, but overall, I thought it tasted pretty good.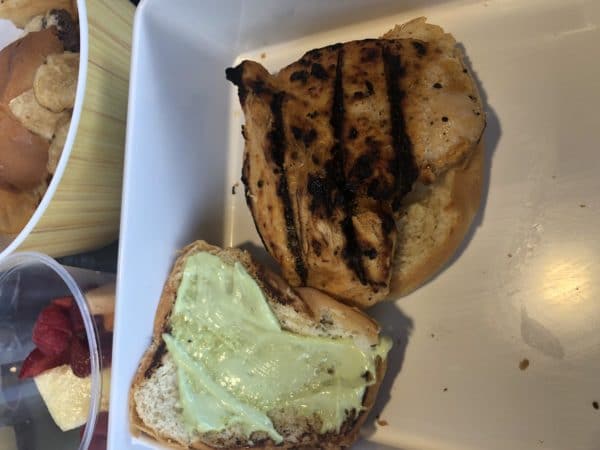 Forrest got some steak tacos that were yummy, which he got with some chips and salsa.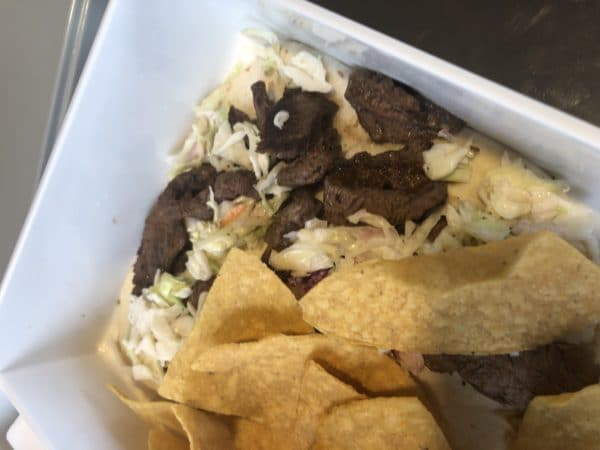 I had a few bites of Oliver's hambuger, and I thought the flavor was amazing! I did not try Jack's hotdog, but he seemed to like it.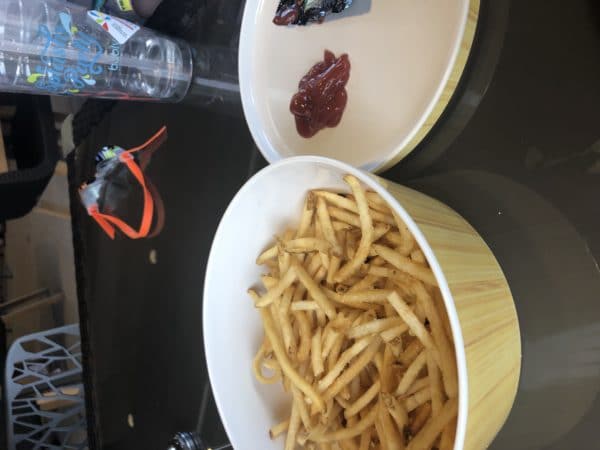 The french fries are definitely shoestring fries, so if you are expecting steak fries or something thicker – you're out of luck. They still tasted pretty good though.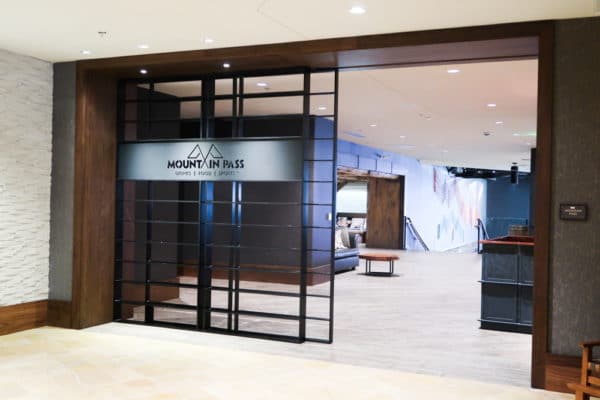 Now, on to the Mountain Pass Sports Bar. We decided to go here for dinner one night. It seemed like the most family-friendly place at the resort.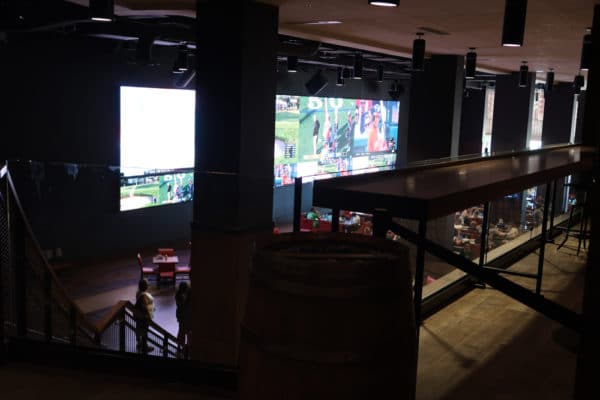 It's a pretty fun atmosphere. They have huge screens on the wall where they play different sporting events. We went around 5 PM, and there was plenty of seating, though it did seem to get busier the longer we were there.
We ended up ordering one kid's meal for the boys to share, along with two appetizers – it still ended up being over $40, just to give you an idea of the price.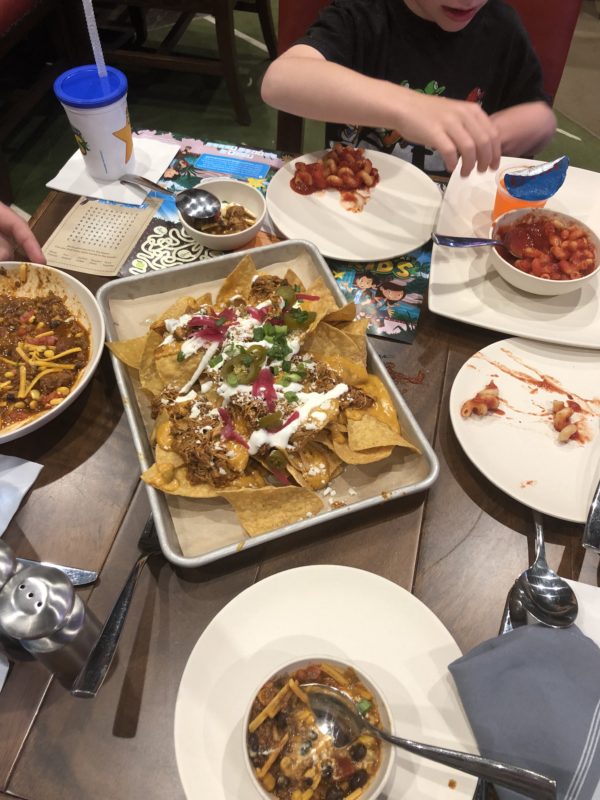 The kid's meal came with a main dish and a side, and the boys picked pasta with marinara sauce, as well as some yogurt.
Forrest and I ordered the nachos and a buffalo chili, which came with some corn bread.
Because of my Gestational Diabetes, I have to be careful about the carbs I eat, so I couldn't eat too many nachos. However, I did have a few, and they were FANTASTIC. A little bit spicy for our boys, but I thought they were great.
They were piled high with tons of ingredients, and I just loved the queso that they were drenched in.
The chili was really good as well, though we wish there had been more in the bowl. It was spicy as well, but it had awesome flavor.
I did really enjoy this restaurant and the ambiance of it. Forrest loved that they had major games playing on the screen and really wanted to come back and watch a soccer game on them!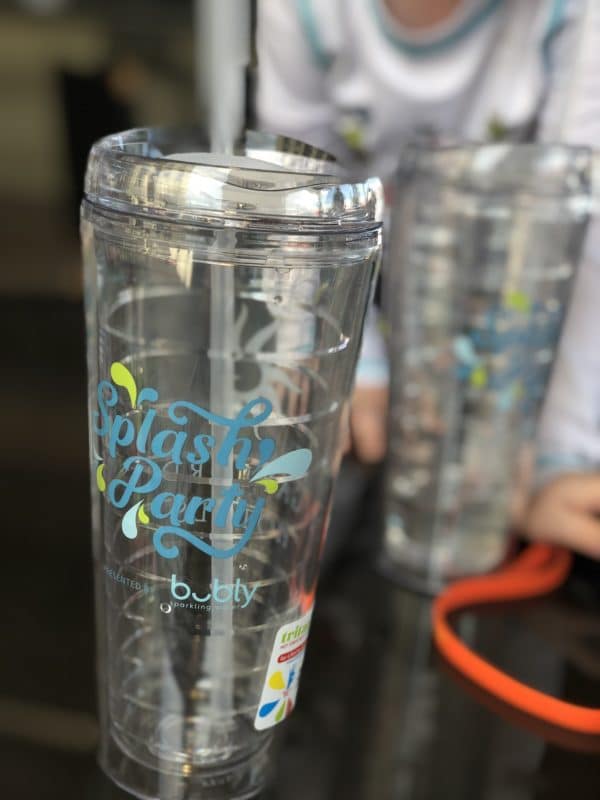 Oh! One thing that's pretty cool – you can buy these souvenir cups for around $10, and then you can get free refills during your entire visit. I don't think this is advertised much, so there's a fun little tip for you if you are a big soda drinker!
Pool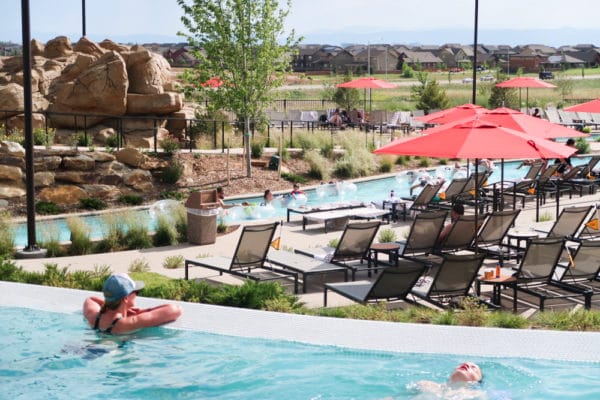 One of the big attractions of the Gaylord Rockies Resort is their amazing pool and slides!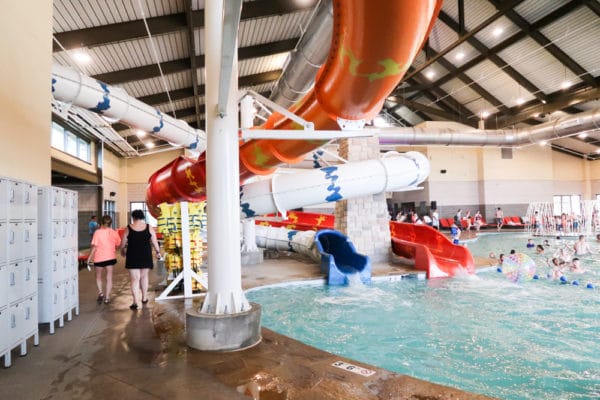 There is an indoor pool and an outdoor pool, several hot tubs, a lap pool, along with several slides, and our personal favorite – the lazy river!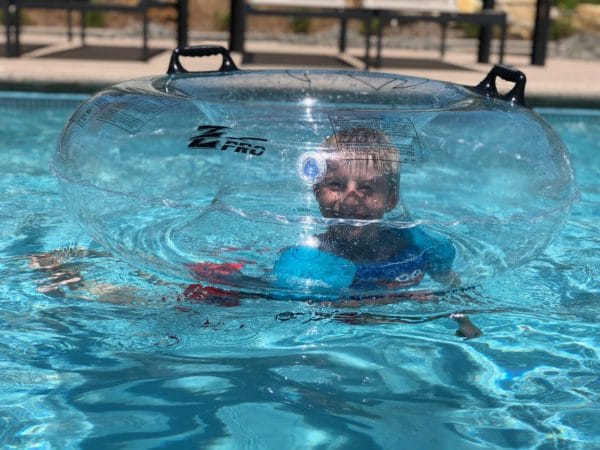 It was rainy off and on while we were there, so it was nice to have the option of the indoor pool.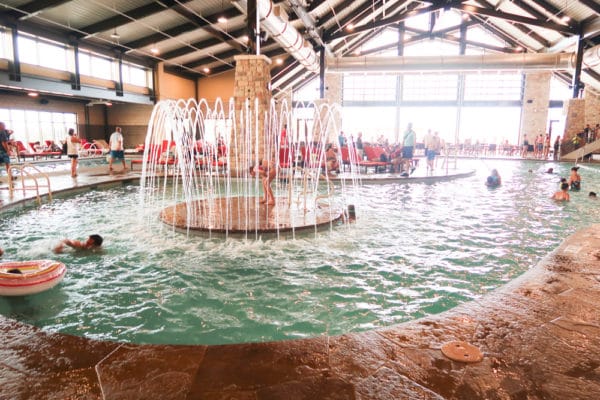 The indoor pool is definitely ideal for younger kids, but anyone can enjoy lounging around in it. Our boys absolutely LOVED it. It's zero entry, and I think it goes up to about four feet. It was the perfect area for both of our boys to practice swimming – Oliver got especially brave with jumping in by himself and going under the water!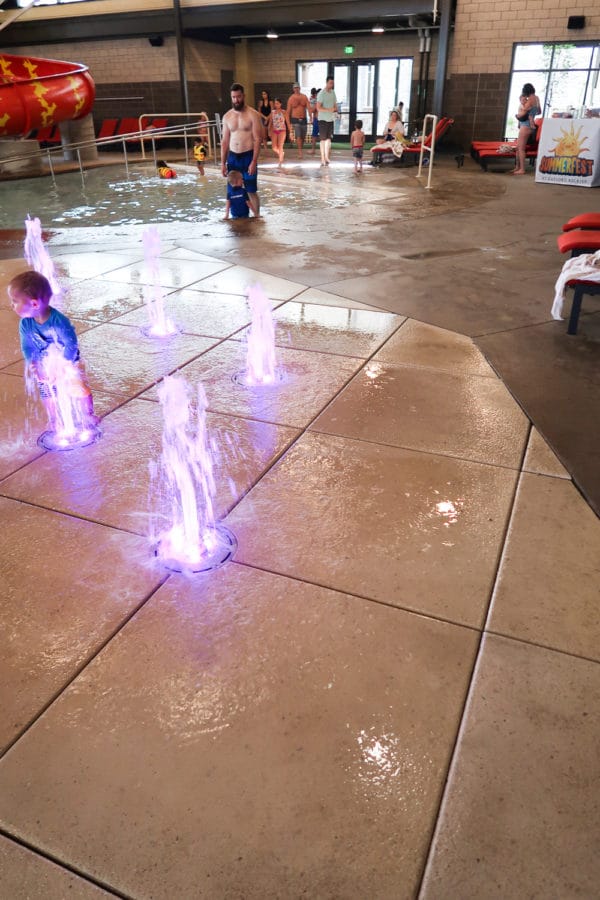 There is a little splash pad as well that I saw a lot of little babies and toddlers enjoying.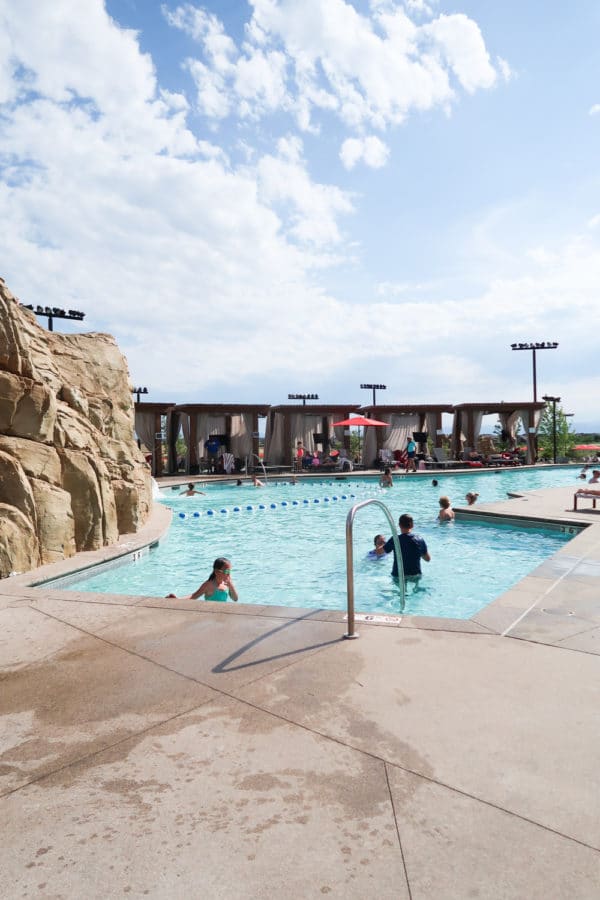 The outdoor pool is pretty fun – one night it was kind of cold, but the next time it was super warm.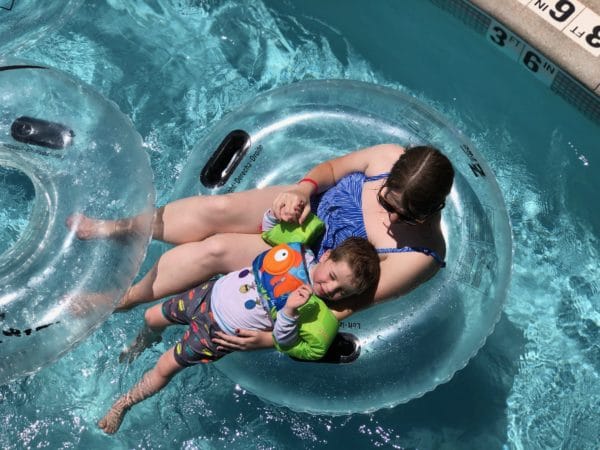 We loved the lazy river! It was the perfect temperature, and it was so fun to just float around in it. This was Jack's favorite for sure – and I think it was mine as well!
The hot tubs were nice, though they seemed to keep going out of order while we were there.
Jack went down the little slide that was outside, and it was the perfect size for him. I think he was a tad too short for the indoor slides (48″ minimum), but he was okay with that. He's not a big slide person.
Forrest went on the slides a few times, and he was actually pretty impressed. He said they went pretty fast and were fun.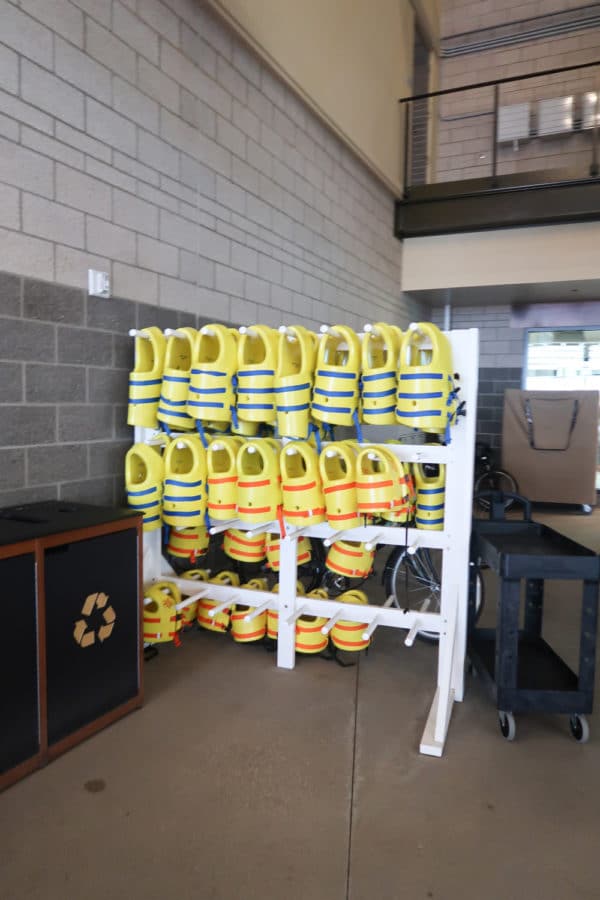 They have life jackets available for children, but we just brought our own puddle jumpers. However, it's nice that they had them – in case you forgot to bring your own (which has happened to us!).
Forrest felt like the water was salt water – we asked someone, who said she wasn't totally sure, but she thought it was. Definitely didn't feel like a chlorinated pool!
You can rent out a Cabana for your family and friends if you want a little more privacy – I think it's around $250 for the day or so. There's also a firepit for anyone to sit around which was kind of fun!
Kids 3 and under have to wear swim diapers, which they offered complimentary. I thought that was really nice!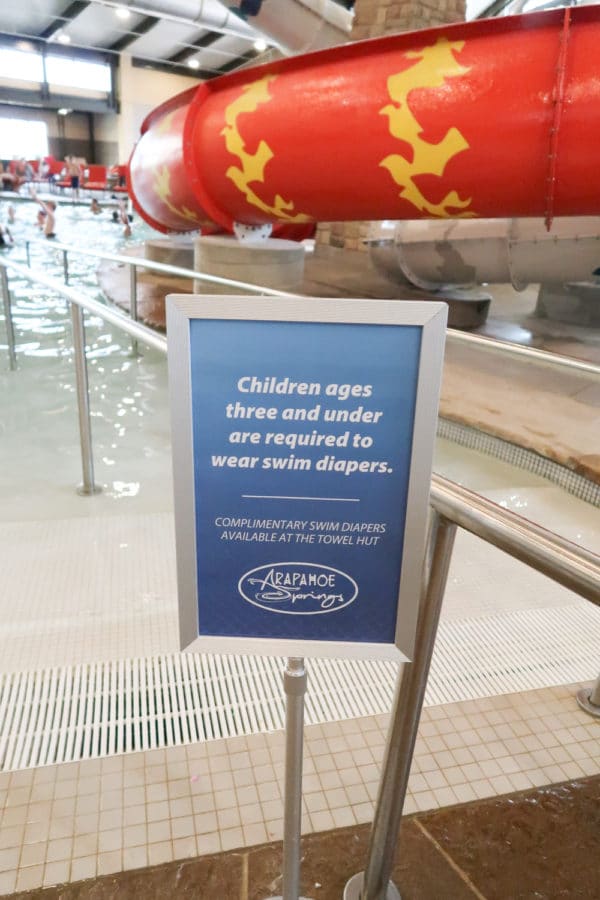 Activities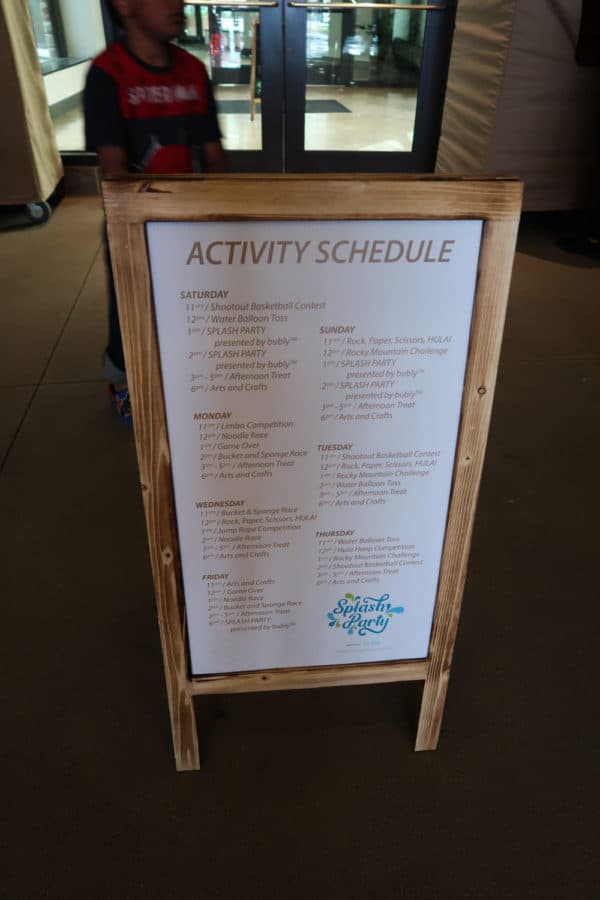 There are lots of activities at the Gaylord Resort, and most of them were free. I loved that they didn't upcharge you for them.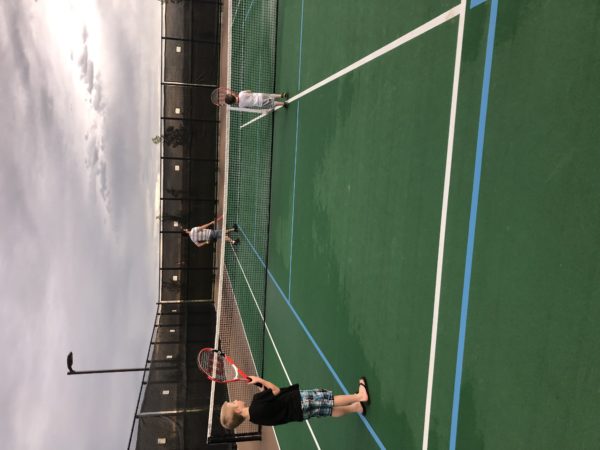 They have a great area outside of the pool where they have mini golf, tennis courts, and a basketball court that you can use – free of charge! You just have to check out the equipment. They also have bikes you can check out, as well as ping pong and an outdoor walking/running trail.
I will talk more about the SummerFest in a bit, but even outside of that, I heard them announcing some activities on the Monday we were there that people could participate in, like a basketball competition.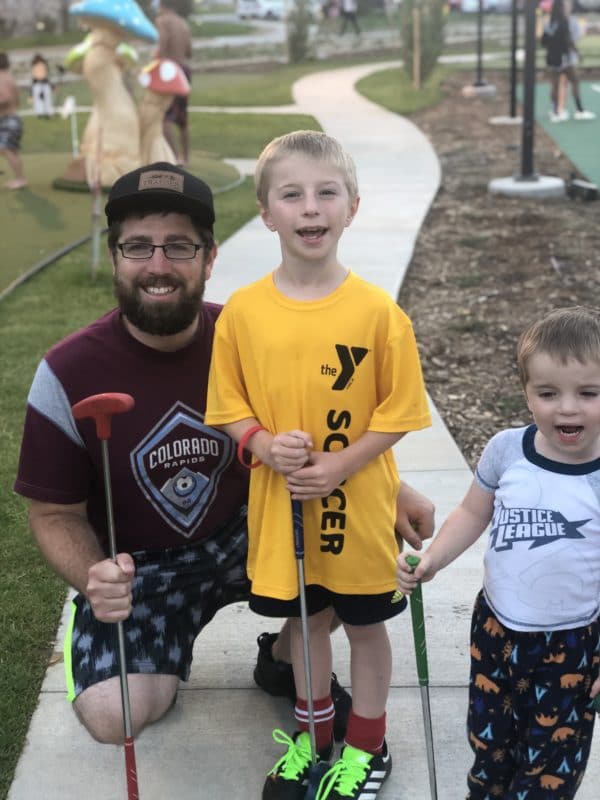 My boys LOVED the miniature golf, and I loved that we could play as much as we wanted. The course wasn't overly difficult, and we had a lot of fun with it.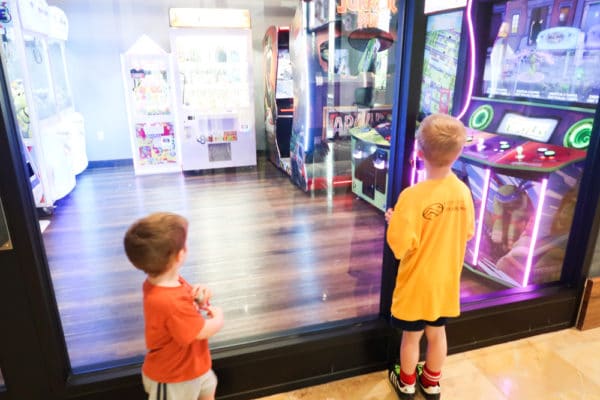 They have an arcade room, which, much to my boys' dismay, we did not go to. But it did look like fun!
Staff
I was really impressed with the staff – for the most part, everyone was very friendly and went above and beyond to help us.
I really loved the person who checked us in. She made us feel so welcome, and the sunglasses they gave us was a nice touch.
My only complaint was that our room didn't get cleaned the first day until around 5:00. I kept seeing them on our floor all day when I would run upstairs, but somehow, they seemed to skip our room. Not the end of the world, of course! It eventually was tidied up – it just seemed a little late.
Price
This will definitely depend on when you are going – weekends and last-minute bookings will definitely always be more expensive.
I just checked for a month from now, and a room is about $199, which I think is reasonable for the location and amenities. Always be on the lookout for special deals though!
Parking
This was definitely a downside that I saw to the resort – the parking fees. The self parking was around $25 a night, and the valet was around $50. There was no covered parking, and I've heard people complain about how they think it's unfortunate that you have to pay for uncovered parking in a place that has a lot of hail storms.
With that said, I have never stayed at a resort that didn't charge for parking, so it's really something that you have to just factor into the cost of your stay – as well as the resort fee.
Summerfest
The big reason why we went to the Gaylord Rockies was to check out the Summerfest. It was so fun!
The Summerfest takes place on this summer on the weekends, and it's Alice in Wonderland-themed. We ALL had a blast with it.
They have various activities throughout the day at the pool and outside, and they also have specialty events like an Escape Room and Character Breakfast.
We were fortunate enough to be able to check out most of the events – so here's what you can expect!
Hatter's Escape Room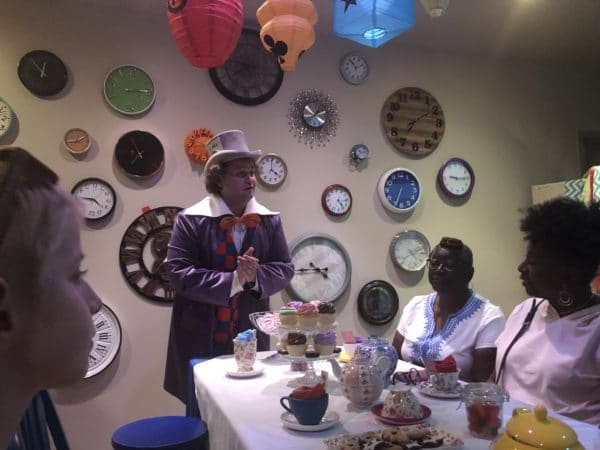 This was an activity that we did on our first night, and it was a blast. We've never done an escape room, so it was a fun activity.
I think it was a little bit different than some escape rooms, but it was fun for all ages – even our three-year-old got really into it and even helped figure out clues!
The person who played the Mad Hatter was amazing. He was so engaging and fun, and we felt like he was really the Mad Hatter.
We were put with another family during our reservation time, which was a blast. They were a lot of fun! I loved the clues and it was definitely a highlight of the weekend.
It is $14.99 per person to participate, and you definitely want to make reservations ahead of time. They were totally sold out on the day we checked in.
You can make a reservation here.
Breakfast in Wonderland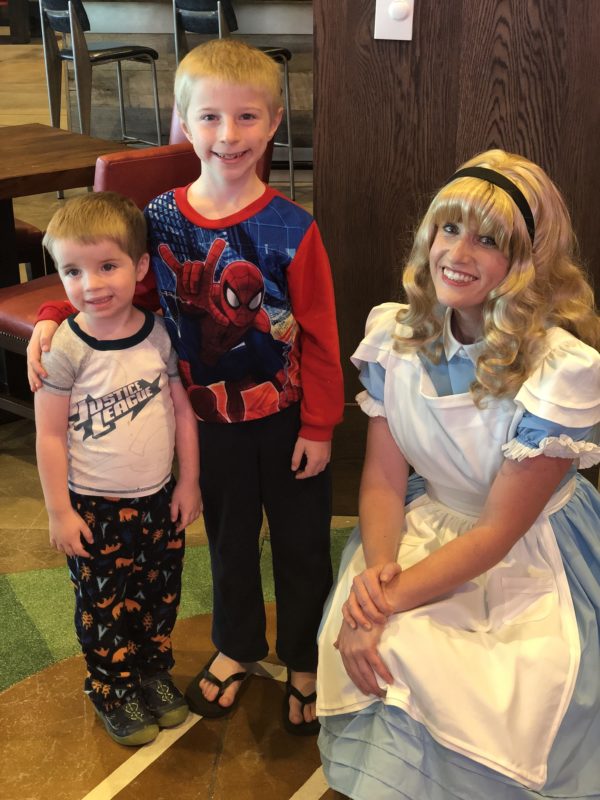 The morning after we arrived, we were invited to "Breakfast in Wonderland". It was a fun and immersive character dining experience.
We are no strangers to character dining, as we always try to attend one when we go to Disneyland. So I wasn't really sure what to expect!
It was actually a lot of fun. The Mad Hatter, Alice, and the Rabbit were there, and they were so engaging. Because there weren't a ton of people at the time we went (8:30), our kids got a lot of attention.
The people who played the characters were spot on with their accents and mannerisms, and I just loved how much they interacted with our kids.
The food was delicious as well! It was an all-you-can-eat buffet with tons of options from cold cereal, oatmeal, yogurt and fruit, to delicious sausage, bacon, eggs, French toast, assorted bread…and my boys' favorite – the dessert table.
Yes, they do serve dessert for breakfast. I was so sad I couldn't really eat any of those desserts, but I did take a little nibble, and I thought it was fantastic.
Overall, we really enjoyed it. It is a little bit expensive though – it is $32.99 for adults and $19.99 for children ages 4-11. So if your kids are big Alice in Wonderland fans and you want a nice breakfast, it may be worth it – it really was a lot of fun.
Click here to make a reservation
Splash Party by Bubly
This was a fun event by the pool from about 1-5 on Saturday and Sunday, and from 3-7 on Friday. There were characters from Alice in Wonderland who hosted it, and there were lots of fun games and activities for the kids.
They also had fun lawn games available throughout the day, like giant Jenga and Connect Four. Our boys LOVED these.
Cheshire Cat's Colorado Adventure Scavenger Hunt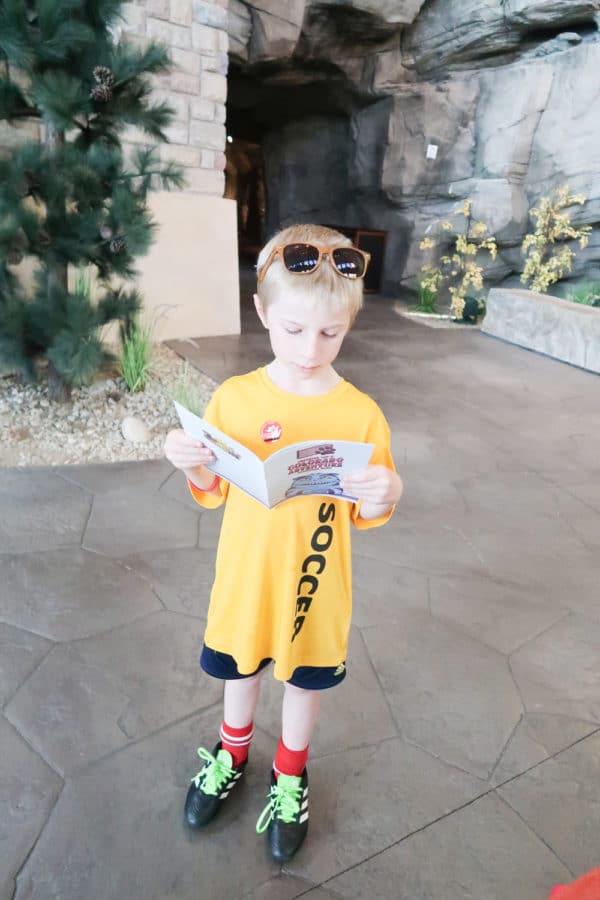 This is a low-key activity available that is fun for all ages. I was resting one afternoon when Forrest took the boys on it.
It is $7 per booklet, and you roam the entire resort looking for clues to finish the puzzle. The boys really enjoyed it, and the LOVED the prize at the end (though it probably is only really cool for kids under about 10).
There was one clue that they couldn't figure out, and the person at the towel hut said she guessed that it got blown down in the rainstorm and replaced later on. She was really helpful though!
You can get the booklets at the Concierge desk or at the towel hunt – or you can purchase them in advance here.
Queen of Hearts Mini Golf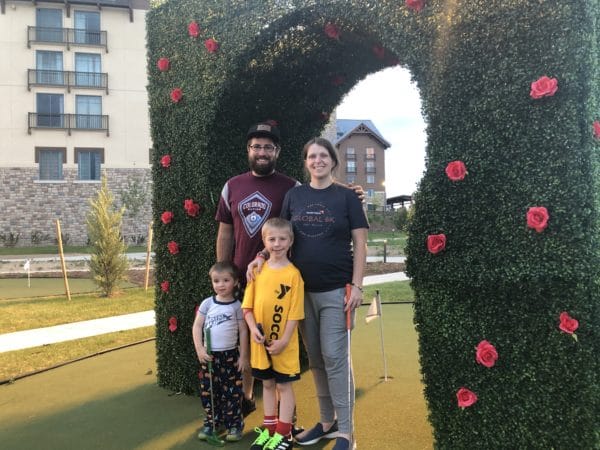 I already mentioned the mini golf, but it's all decked out in Alice in Wonderland decor, which made it even more fun. It's open from 9 AM to 9 PM.
Dive in Movies
On Friday through Sunday starting at 8 PM, there are complimentary movies shown on a big screen right by the indoor pool.
Jack was SO excited about this, and we went one evening. He loved swimming around and watching the movie. They are family-friendly films that everyone can enjoy – while we were there, they showed "How to Train Your Dragon 2" and "Trolls"
Overall Thoughts
We truly had a wonderful weekend here. It was just a fun and easy place to escape day to day life, and just enjoy being with my children and husband before our new baby arrives.
Whether you are coming from out of town or are just looking to get away from the hustle and bustle of life for a few days, I really think the Gaylord Rockies is the place to go.
Even though it's a beautiful property that feels so grand, everyone was so friendly and laid back. I love that type of atmosphere – it's definitely the kind of place our family likes to go.
I am really hoping we can make it back for their winter festivities, because they seem SO fun.
Other Posts You May Enjoy: