Mickey's Tales of Adventures Breakfast Buffet Review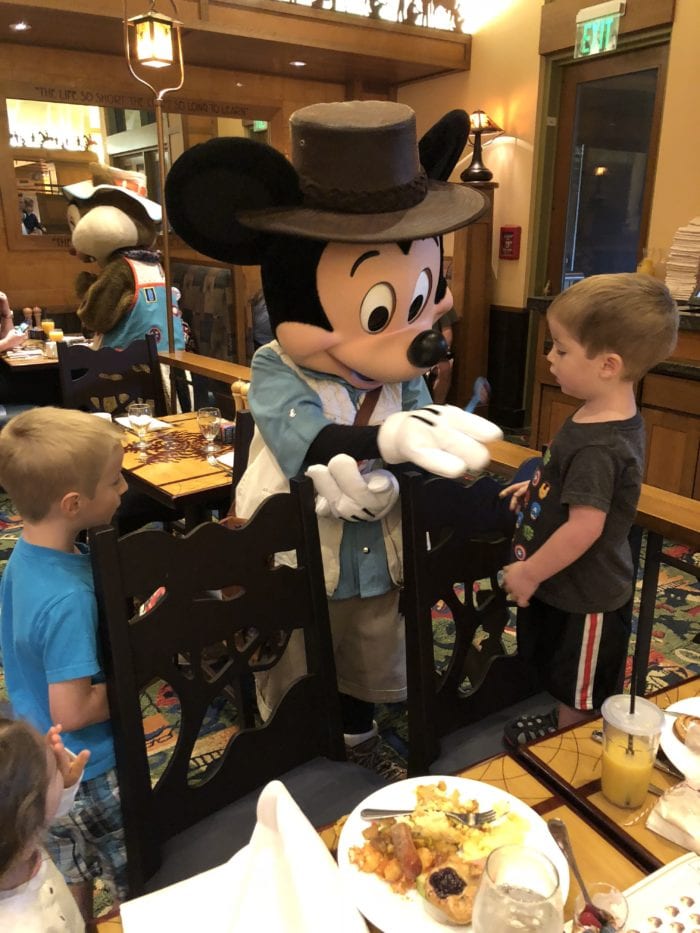 Over the past few years, we have attended three Disneyland Character Dining Experiences.
These are honestly one of the highlights of our trips, and even though, yes, it is really overpriced…what isn't overpriced at Disneyland?!
We've tried three separate dining experiences, and since the one we attended most recently is pretty new to their lineup, I thought I would do a review of it.
We attended the "Mickey's Tales of Adventures Breakfast Buffet" at the Grand Californian Hotel.
Why did we choose this one? Simple. I procrastinated in making a reservation, and it was the only one (besides Goofy's Kitchen, which we didn't love last time) available for the dates we were going to be there.
Sometimes it's nice not to have to make a decision 🙂 We had initially thought about doing Minnie's Breakfast at Plaza Inn, but I was totally fine with this one – especially since it was new.
Plus, I thought my boys would enjoy a more "adventure" themed breakfast, anyways. They are all about adventure these days!
I've written a post in the past about Disneyland Character Dining, which goes over LOTS of details on reservations, tips for success, as well as all of the different character dining options, so I recommend reading that if you haven't decided for sure on what dining experience you wanted.
With that said, we really enjoyed this breakfast, so hopefully, our review will give you some good insight into deciding if it's the right one for you 🙂
Mickey's Tales of Adventures Breakfast Buffet Cost
Normally, it is $49 for people 10 and up, and $29 for children ages 3-9 – and that's not including tax or tip. So it is a bit pricey!
Food
We attended the breakfast buffet, and it's definitely one of the best breakfast buffets I've been to. With that said, the only breakfast buffets I usually go to are at 2.5 star hotels, so there's not much to compare to 🙂
There was definitely something for everyone. Both of my boys got plates full of food that they liked – and Forrest and I also found lots of things we really enjoyed.
They have a variety of egg and potato dishes, tons of pastries, fruits, meats, and more. My boys especially loved the pancake and waffle station – I mean, can you really resist the Mickey shaped waffles?!
Although I didn't try it, they hade a made-to-order omelet station, which is great for people who love omelets. I do enjoy a good omelet every now and then, but I set my sights on other foods.
To be honest, I have a hard time finding food at Disneyland that I just RAVE about (don't hurt me. haha). And while this isn't the best food I've ever eaten, it's definitely some of the best I ate while at Disneyland. I do really like breakfast though, so I'm sure that plays a part in it.
Here are a few photos from the breakfast: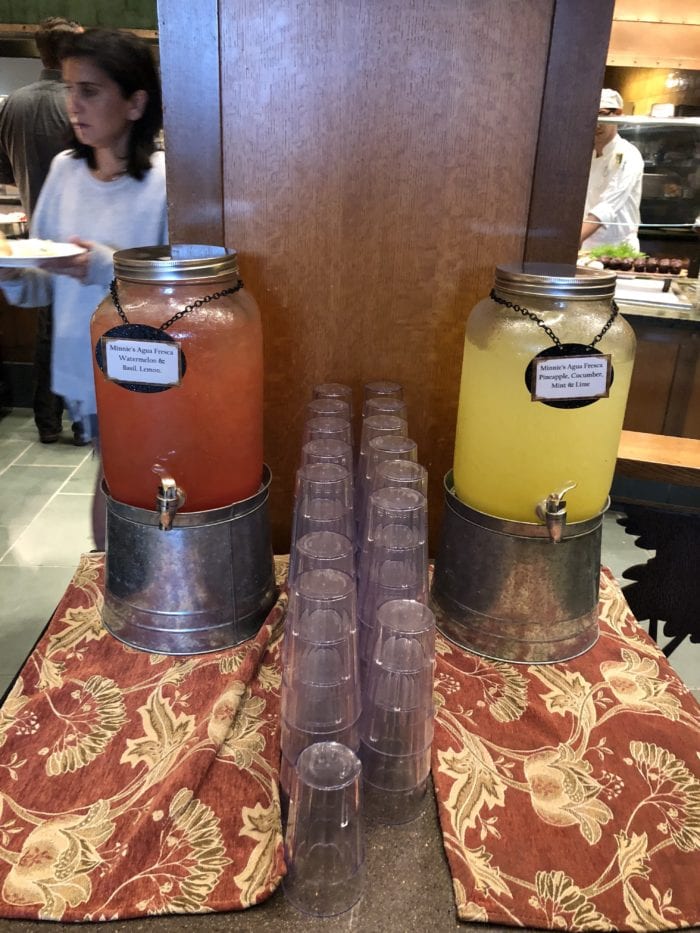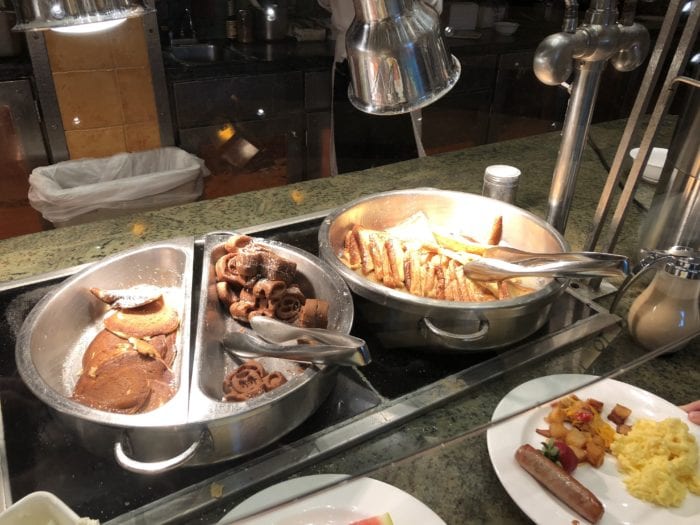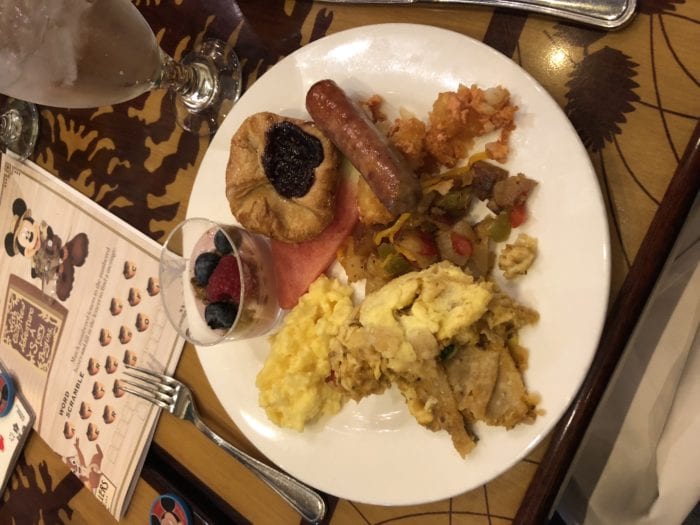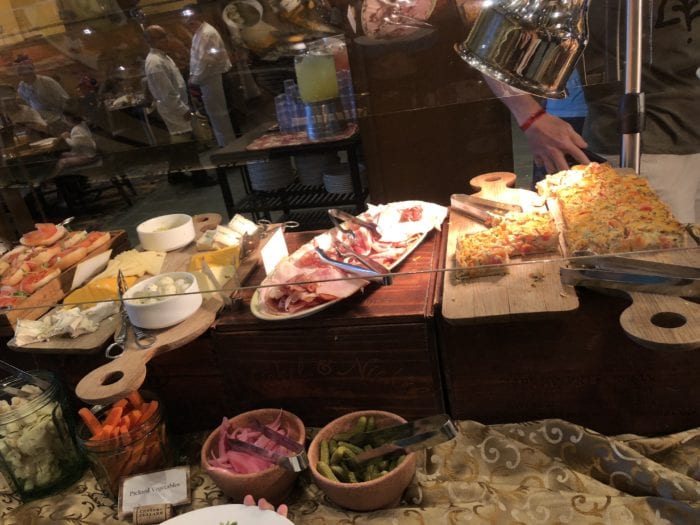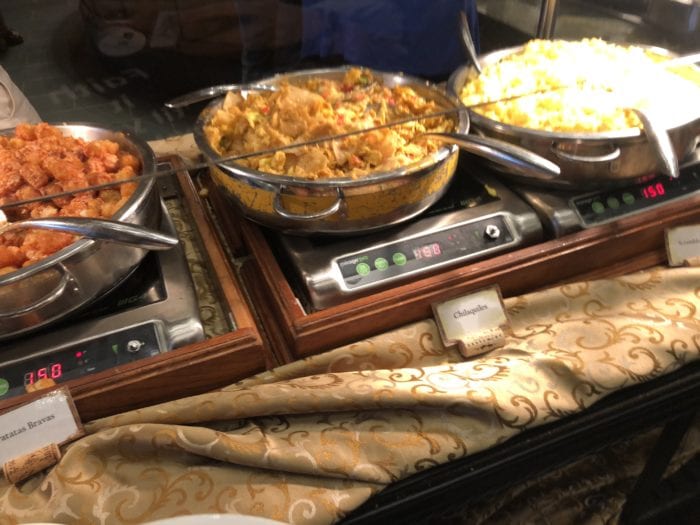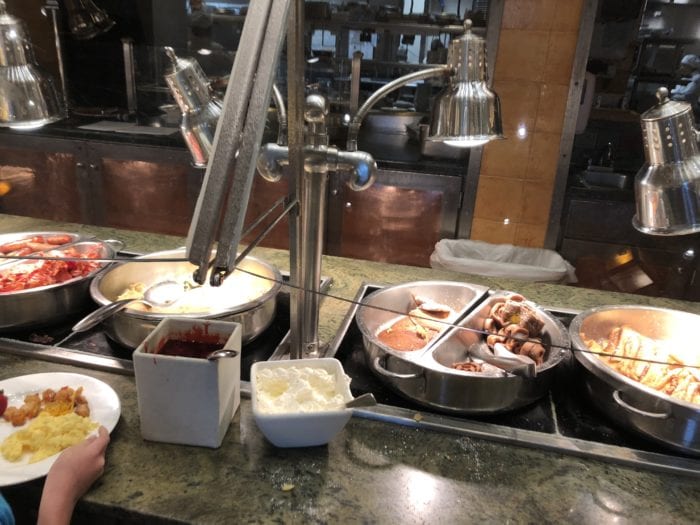 You can read other reviews on the food at the Storyteller Cafe here.
Experience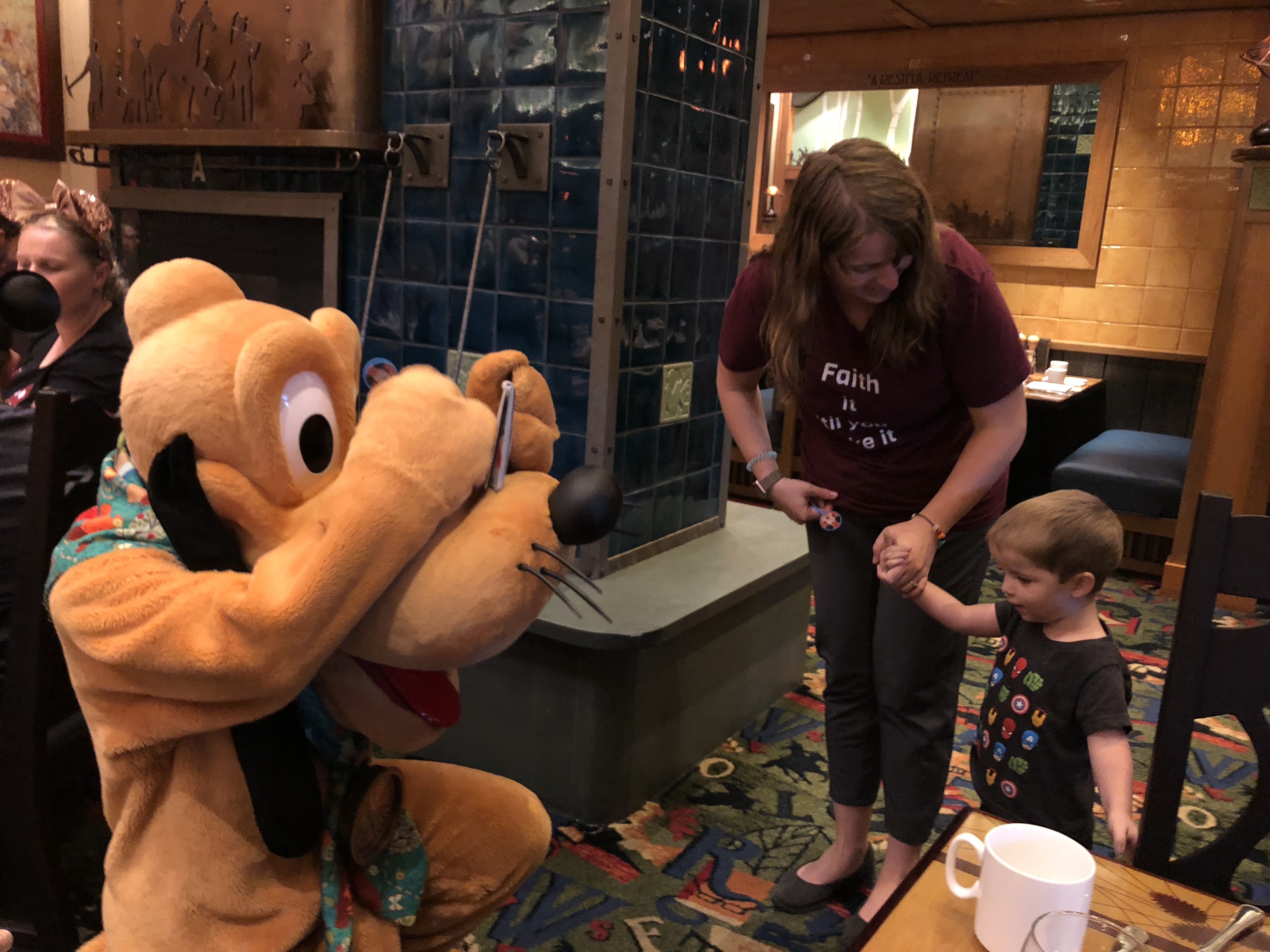 The experience is really what you are paying for when you come to a character dining experience at Disneyland. As I've said before, being able to have one-on-one time with lots of different characters is invaluable.
While we were at Disneyland this time, the lines to see characters were SO long. And to be honest – I don't like waiting in lines for rides – much less for characters. So having the characters come right to your table while you eat is so much more enjoyable in my opinion – and it gives you more time for the rides (which heaven knows you spend plenty of time in line for).
Obviously, not all of the characters are at the breakfasts – at this one, there were a lot of classics; Mickey, Minnie, Chip and Dale, Goofy, etc.
At this particular breakfast, they were all dressed up in Adventure-type wear, which I thought was so fun. It's unique because you won't see these characters around the park, so you almost feel like you are getting a really exclusive experience (which, really, you are).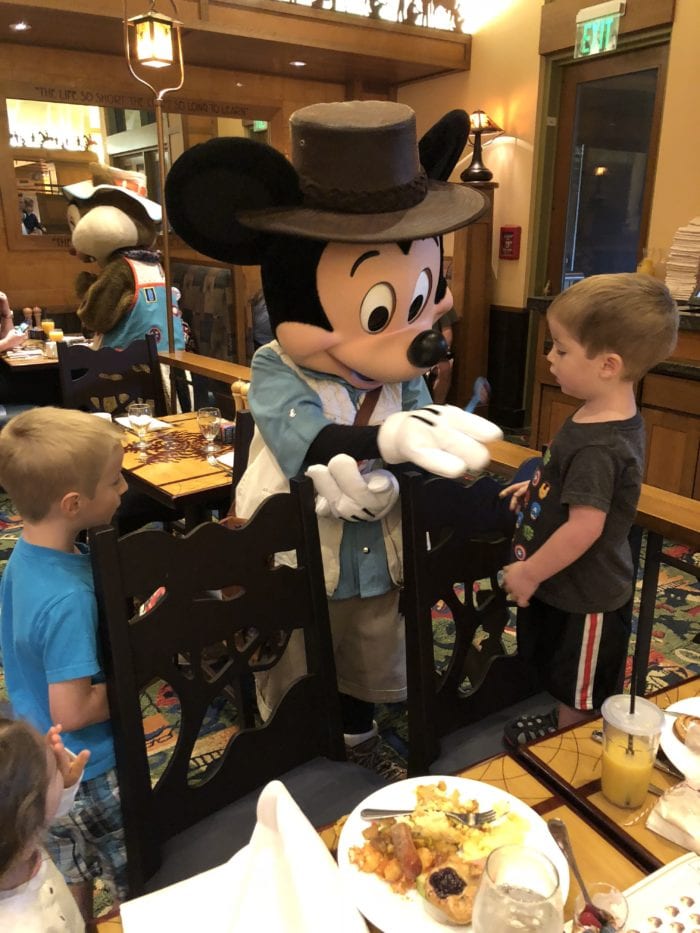 Anyways – now that I've rambled enough. The experience! We arrived and gave our name – although we had a reservation, we still had to wait about 15 minutes before we were seated.
We were brought back to our table eventually, and our waiter immediately appeared to take our drink orders. In my experience, the servers are always so friendly and try so hard to make it a fun experience for the family.
As soon as we ordered our drinks, we were able to go get our food. There are lots of food stations, so I didn't feel like we had to ever wait in line to get food.
After we got our food, we just waited for the characters to come around. They come directly to your table, and you are able to interact with them there. You can get pictures taken and get autographs, which our boys loved doing. I felt like they were so good with my kids, and they really stayed in character. Oliver was a little timid, but they always tried to be really friendly and gentle with him – which I appreciated.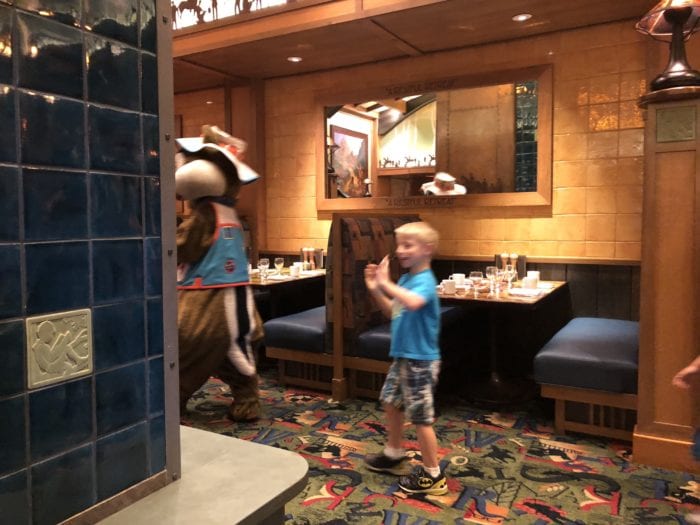 I'm not sure if it's every 30 minutes or every hour, but at least twice while we were there they had a little show. They had music, and all of the characters paraded around the room with different musical instruments. Jack LOVED this, and he didn't hesitate to jump in with it every time it came around. He was grinning from ear to ear.
I think we were there for a little over an hour, and we had a lot of fun. I would definitely say it was comparable to Surf's Up! Mickey and Friends (which is now Donald's Surfside breakfast- and is also now considered "Premium Character Dining).
One thing we didn't get was a photo. I can't say definitively that they didn't offer pictures as part of the meal, but we were never told where to go for one or given any information on where to get one taken. This was kind of a bummer because I forgot about it until afterward. The picture we got taken while we were at the Surf's Up! breakfast is still one of my favorite photos from our Disneyland trip.
Overall, I highly recommend this. Because it's a standard character dining experience (at least at this writing), it is a little bit less expensive. We found it a little tricky to figure out how to get into the Grand Californian, and I think we actually snuck in a way we shouldn't have gone. But it was an overall very positive experience. Our children had a great time!
Again, feel free to check out this post to learn more about other character dining experiences – The Ultimate Guide to Disneyland Character Dining.
And as always, if you are planning a vacation to Disneyland, make sure you book through the experts at Get Away Today. They are the only travel agent we trust with our vacations, and I know that they will make the process SO much easier for you. If you book a vacation for two nights or longer with a two-ticket minimum, you can get an additional $10 off with the code MFTG.