Fun for Under 40″ and 'Fraidy Cats at Disneyland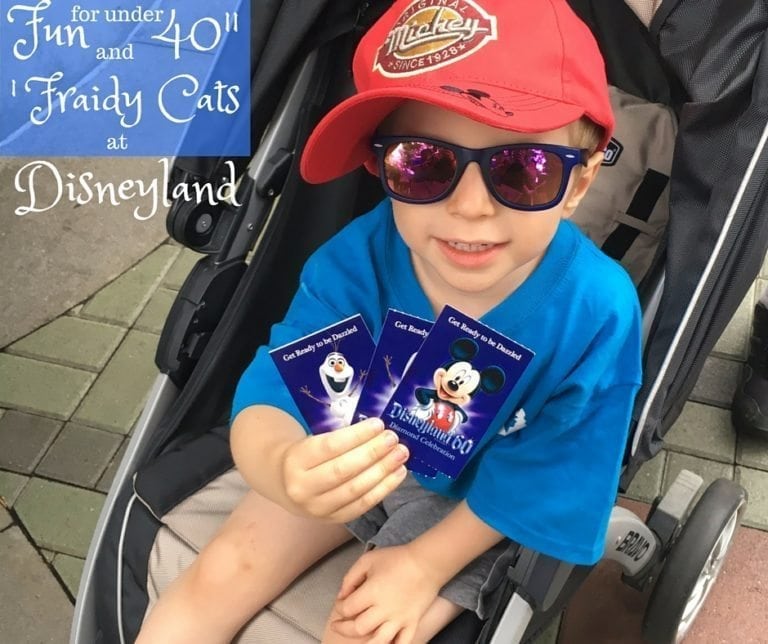 Is Mickey's Halloween Party at Disneyland worth the price? Here are the pros and cons to help you decide if this not-so-scary adventure is right for you!
In just a few short weeks, we are going to be heading to Disneyland!
We just got back from Disneyland a few days ago, and it was so much fun! Despite having a few ups and downs (such as losing Jack), we have so many wonderful memories.
Going to Disneyland with people of all different ages is a different experience than when you go as a teenager or with other adults. It's still a magical time, but you really have to adjust your expectations for how things will go.
As my mom put it, you have to realize the trip isn't just about you. It's about making sure everyone has a good time!
Jack was just about 1/4-1/2″ too short for a lot of the rides. I was disappointed about this at first, but I realized that they have those height limits for a reason. I mean, I would have been so afraid of him flying out on some of those rides!
Fortunately, Disneyland was built with families in mind. I love this quote that is underneath the Walt Disney statue in the center of Disneyland:
I think most of all, what I want Disneyland to be is a happy place . . . where parents and children can have fun, together.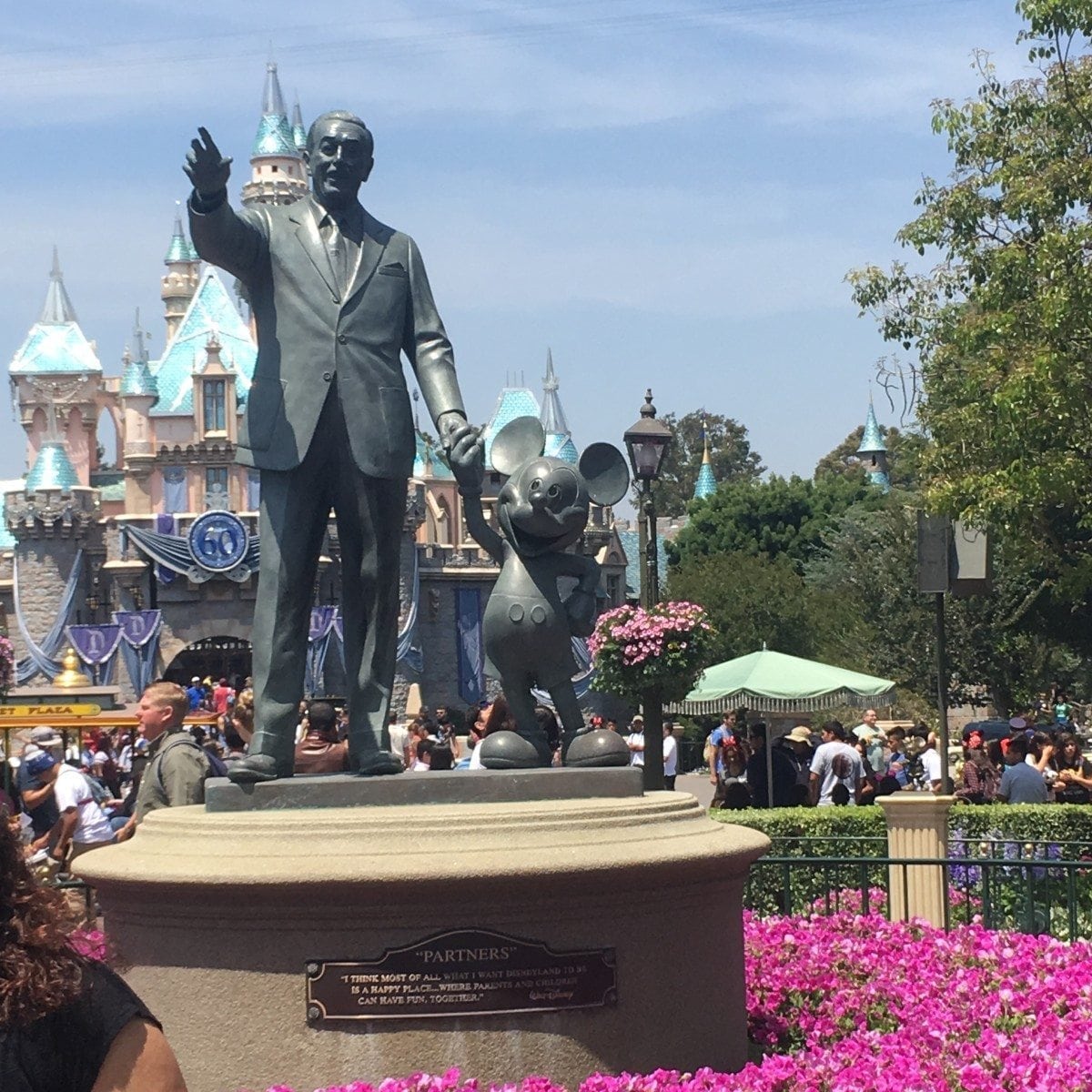 And I think that's exactly what Disneyland is. There's really something for everyone between the two parks in California. With that said, I do think it's important to know realistically what you are going to be able to do before you go.
So, Forrest and I thought we would share some tips for fun for children under 40″ at Disneyland, which may also be helpful for people who may be over 40″ and a little bit scared. I also have put together a kid Disney survival kit to make the day a little more enjoyable.
Rides with Height Limits
Here are the rides with height limits 40″ or taller. I think it would be a good idea to know about these beforehand so you don't hype up a ride, only to tell your kid they can't ride them!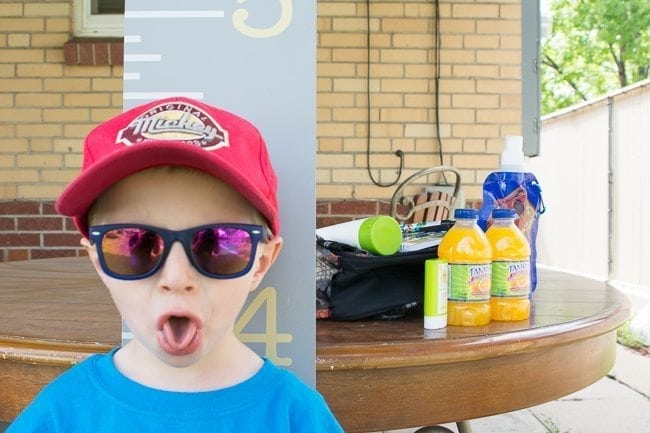 Indiana Jones – 46″
**Big Thunder Mountain Railroad – 40″
**Matterhorn Bobsleds – 40″
Autotopia – 54″ to drive alone (32″ to ride at all)
**Space Mountain – 40″
Splash Mountain – 40″
Star Tours – 40″
Grizzly River Run – 42″
Soarin' Over California – 40″
**Twilight Zone Tower of Terror – 40″
California Screamin' 48″
Goofy's Sky School – 40″
Silly Symphony Swings – 40″
Radiator Springs Racers – 40″
**Even if your child is 40″, exercise caution with these. They can be dark, loud, or somewhat scary. Jack is short for his age, so there are plenty of four-year-olds that would be tall enough. However, even if Jack was tall enough, there's no way he would have wanted to go on them.
Best Rides
There are a ton of rides for people under 40″, but to be honest, some of them are totally lame or kind of scary. Jack was TERRIFIED of some of the "kiddie" rides, such as the Pinocchio's Daring Adventure,, Snow White's Scary Adventures, and the Many Adventures of Winnie the Pooh. He thought they were too loud, dark, and scary. So we avoided anything like that after the first few rides. Similar rides to those would be Alice in Wonderland and Mr. Toad's Wild Ride.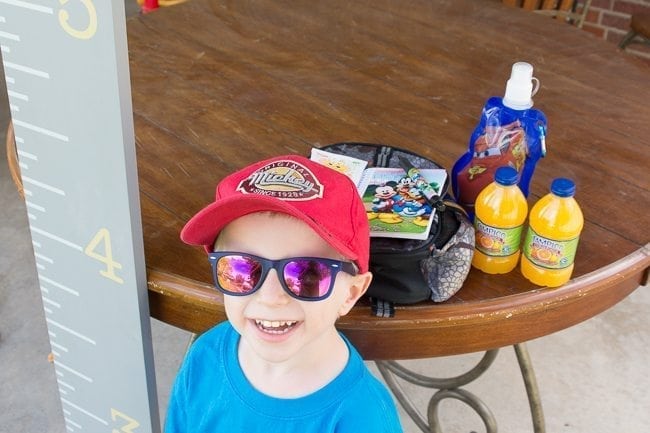 These are the rides or attractions Jack really enjoyed. I liked a lot of these, too:
Dumbo – LOVE this ride. It's so relaxing and fun!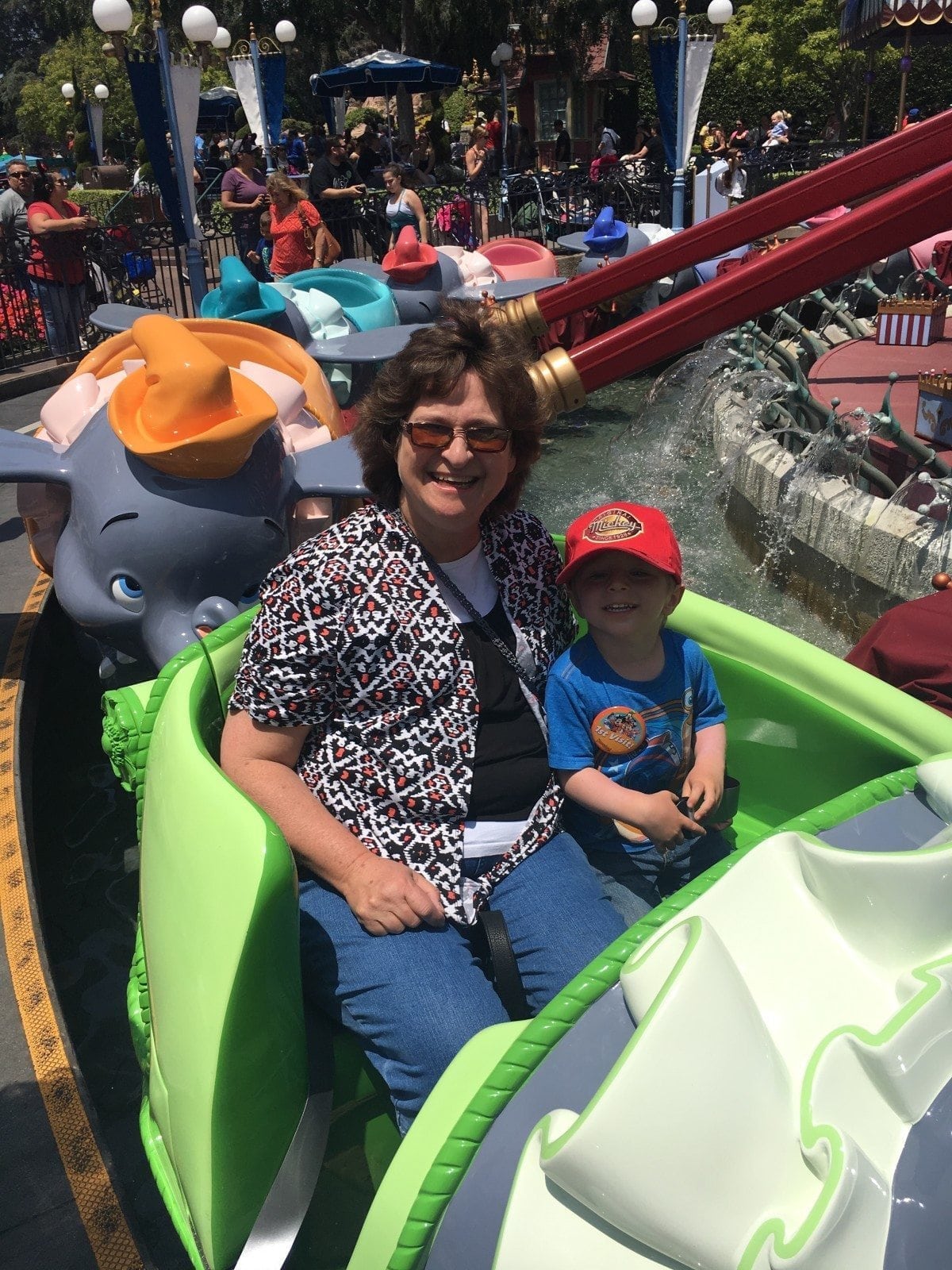 It's a Small World – Jack thought this was scary at first…but then he took off his sunglasses and loved it. I liked the air conditioning!
Mad Tea Party
Jungle Cruise
Roger Rabbit's Toon Spin
Gadget's Go Coaster (35″ minimum)
Autotopia
Buzz Lightyear's Astroblasters
Finding Nemo's Submarine – I really don't like this ride. I get claustrophobic. But it's fun for others, I think! You basically watch a condensed version of Finding Nemo.
Haunted Mansion – Be careful with this one. I actually think it's kind of scary, but Jack surprisingly loved it.
Frontier Land's Shootin' Exposition
Tarzan Treehouse
We didn't go on these ones, but I think they are great for kids:
Storybook Land Canal Boats
Casey Jr's Circus Train
King Arthur Carousel
Pirate's Lair on Tom Sawyer Island
Monorail
Disneyland Railroad
Davey Crockett's Explorer Canoes
Pirate's of the Carribean – might be a little dark/scary, but it's not that bad. Anyone can go on it, and it's a great way to cool off!
In California Adventure, we loved:
Flik's Flyers
Francis' Ladybug Boogie (this was weird because they made me take Oliver out of my carrier and put him beside me…pretty sure that was not safer than being my carrier.)
Heimlich's Chew Chew Train
Jumpin' Jelly Fish
Mickey's Fun Wheel – I actually do not like this ride. It freaks me out. But Jack said it was his favorite ride, so I thought I would put it on here. If your kids don't want to go on something that moves fast, you can go in the stationary carts!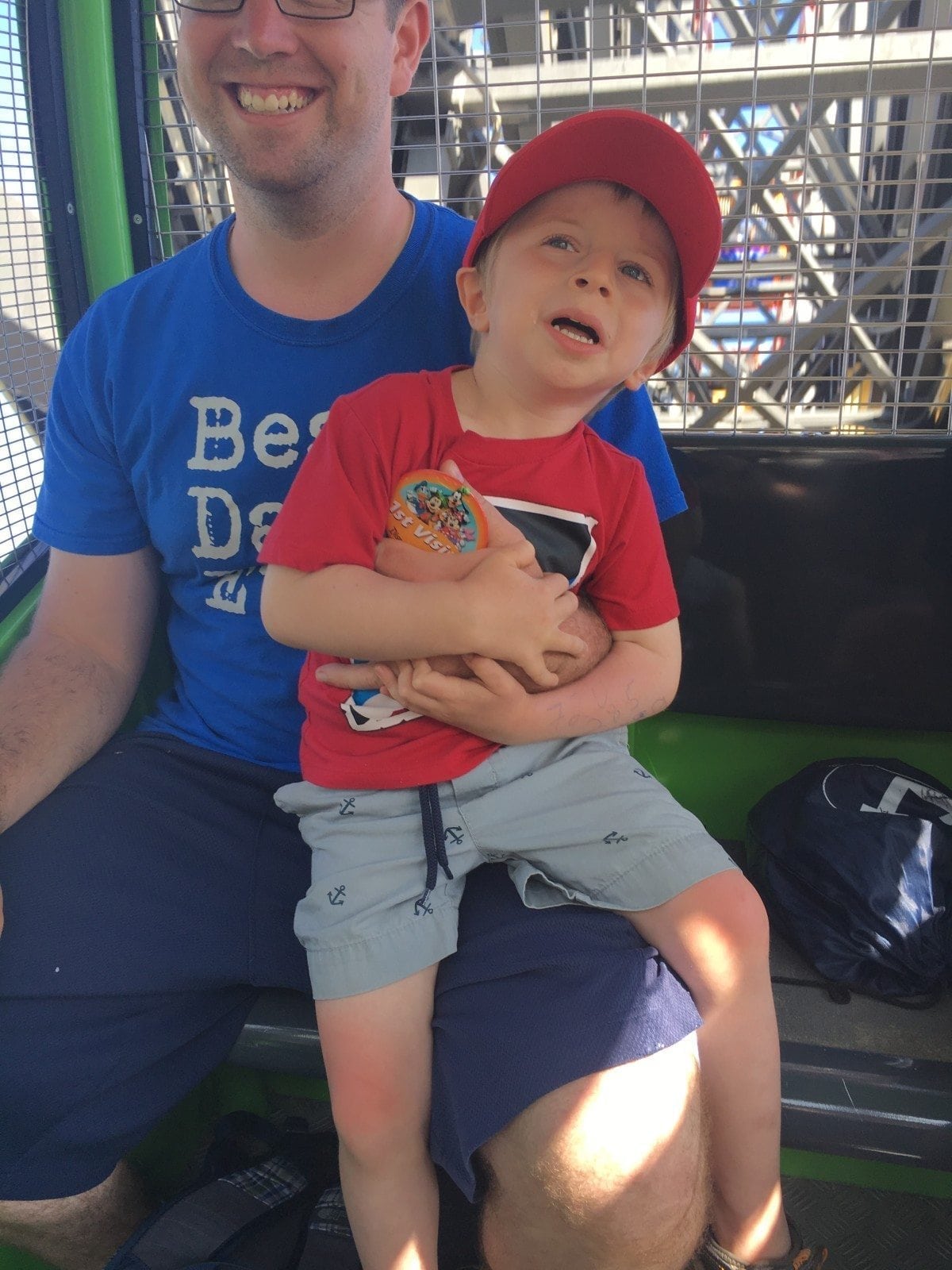 Mater's Junkyard Jamboree (32″ minimum)
We didn't ride this time but have heard great things about:
Toy STory Mania
Ariel's Undersea Adventure
Monster's Inc Mike and Sully to the Rescue
Luigi's Rollickin' Roadsters (32″ minimum)
Shows and Entertainment
There are so many family friendly shows and parades around Disneyland and California Adventure. They certainly know how to put on a good show!
We happened to be walking around in California Adventure when their Pixar Parade started. I think it was around 5:00? This is a must-see. The streets weren't crowded at all – Jack was right up to the street and interacted a lot with the performers. THey had characters from a lot of Pixar movies that we love, and it was so fun to watch Jack. I think this is a great one that is not crowded.
I absolutely loved the Disneyland Paint the Night Parade. This one you really have to get there early to get a good seat. We showed up an hour early, and we could hardly see! It's really magical though, and I highly recommend seeing it one night.
Afterwards, you can see the nightly fireworks which are incredible. I do recommend getting some kind of ear protection for your children though. Jack really loved it, but he was covering his ears the whole time.
We didn't see it, but during the day in Disneyland, they have Mickey's Soundsational Parade. It sounds like fun! We saw a similar one when I went when I was 19, and I remember loving it!
We also didn't get to see the World of Color in California Adventure, but I wish I had! It goes on at night, and from what I've heard, it's pretty fantastic.
There are a lot of other types of entertainment in both parks. Here are a few we enjoyed or that we've heard are good for children:
Hyperion Theater: We were SO sad that they didn't have any shows going on. They just stopped the Aladin show we saw last time we went, and the new Frozen show doesn't start until the summer. But these performances are incredible and everyone can enjoy them.
It's Tough Being a Bug: This 4D show goes on all day long, and it's a lot of fun. There is one part that scared Jack, but he enjoyed it for the most part. You do get a little wet and poked, so if your child has sensory problems or anything like that, it might better to avoid. But we really liked it!
Jedi Show: I'm not exactly sure what this is called, but around noon in Tomorrowland, they had some kind of Star War's Jedi Show. You can sign up your kids ahead of time to participate, and we were sad we didn't do this with Jack!
On Main Street of Disneyland, there is often a barbershop quartet singing, which is really fun to sit and listen to. When I went with  my parents and brother when I was 19, they sang to me!
In California Adventure, there are Newsies that sing on the trolley throughout the day. It was awesome!
There are probably others, but we really enjoyed all of these!
Character Breakfast
I wasn't sure if we wanted to do a character breakfast, but I'm so glad we splurged on it. It was one of the coolest experiences, and Jack LOVED it. We got an early reservation at 7:45 AM for the Surf's Up! Mickey's breakfast, but I was so glad we did. We got there before a lot of people, so our kids got more attention. You should have seen Jack's face light up when the characters came to our table.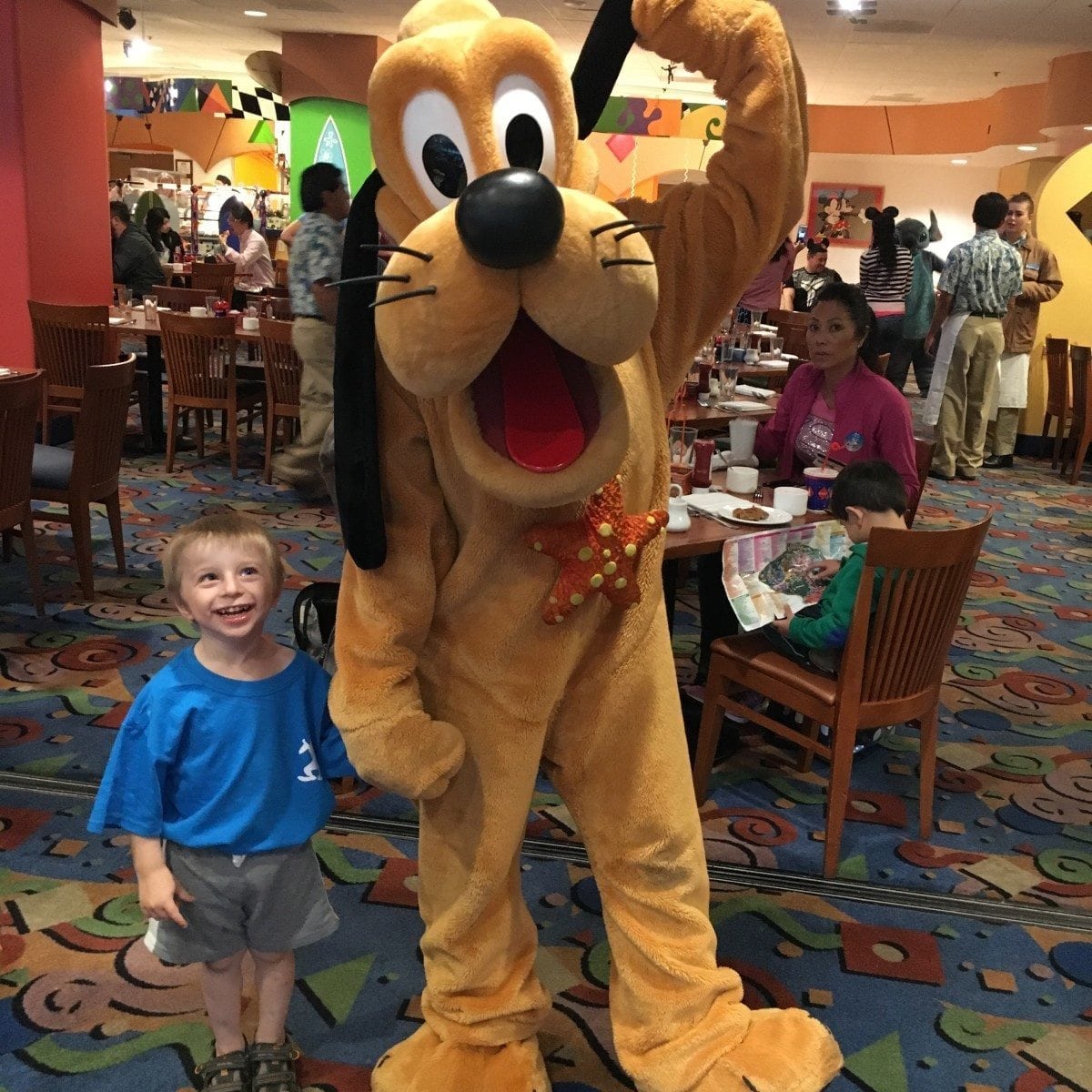 The breakfast was amazing, too! I couldn't get enough of it. The banana's foster french toast was to die for, and they had everything you could possibly think of. I highly recommend doing one of these breakfasts. The best deal I've found on it is from Get Away Today. The vouchers include breakfast, tip, and tax. Make sure you order them several weeks ahead of time, and then make your reservation online, because times do fill up. There were no openings for the Minnie one three weeks before! If you book a breakfast and decide to book the rest of your trip through Get Away Today (which I highly recommend), you can get $10 off using the code Clarks2015.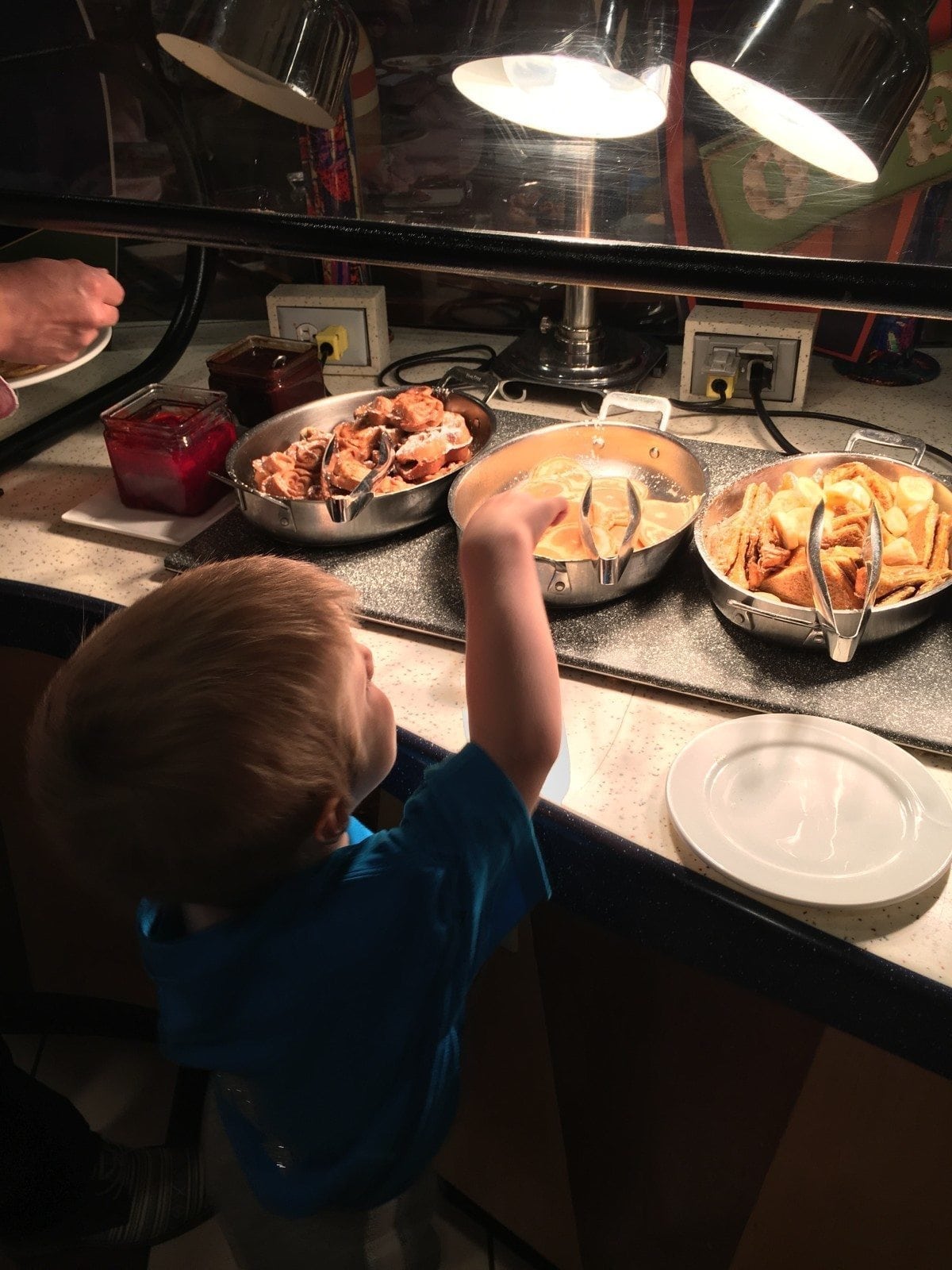 Finding Characters
Children love seeing the characters. I think one of the best ways to see them (especially princesses) is by doing a character breakfast, as you can avoid long lines. However, you can definitely see them throughout the park.
We found that California Adventure had more characters just wandering around, and they often had less lines there. The Disney characters are dressed up in more "Hollywood" type clothes, so classic characters are better to look for in Disneyland.
We found that the best time to get short lines was right after the character goes on break. It's kind of annoying when you get there, and the character is going for a break, but if you wait for a few minutes for them to come back, you can get right to the front of the line.
I think the Disneyland app is an awesome app to download because it tells you where certain characters will be during the day. There always seems to be several characters right at the entrance of Disneyland.
There is a Princess area in Disneyland that is great if your child really wants to see the princesses. These lines can get REALLY long, but if it's important to your child, I recommend waiting in it!
Other
Toon Town: This is a great place for children, though it felt pretty crowded. They have all sorts of fun houses (like Minnie, Mickey's, Chip and Dale's Treehouse, etc.) as well as a few rides. I remember going here as a child with  my mom because everyone else was going on Indiana Jones, and I loved it!
Main Street – Disneyland Main Street has a lot of fun things on it. You can see characters, get yummy treats like ice cream, and even get your child's silhouette! They have a cinema that shows old Disney cartoons, which is a fun way to relax with tired or hot kids. There is a street trolley you can ride on to Fantasy land, and there is also a carriage! I recommend spending some time here.
Downtown Disney – I love Downtown Disney. It has shopping, restaurants, etc. Some of it might be a bit boring for kids, but there is a lego place that is pretty cool. There's lot of yummy food!
Car's Land – This is one of the coolest attractions in California Adventure. It wasn't open when I went in 2008, but it was really cool. Jack loved it! We saw Mater, Red, and McQueen, which he thought was the coolest thing ever (it kind of was.) It really feels like you stepped into Radiator Springs. They have several rides that most kids over 32″ can ride. I do think it's unfortunate they made the coolest ride – Radiator Springs Racers – for only 40″ and over, since a lot of Car's fans that are under 40″. But it's still a really cool place.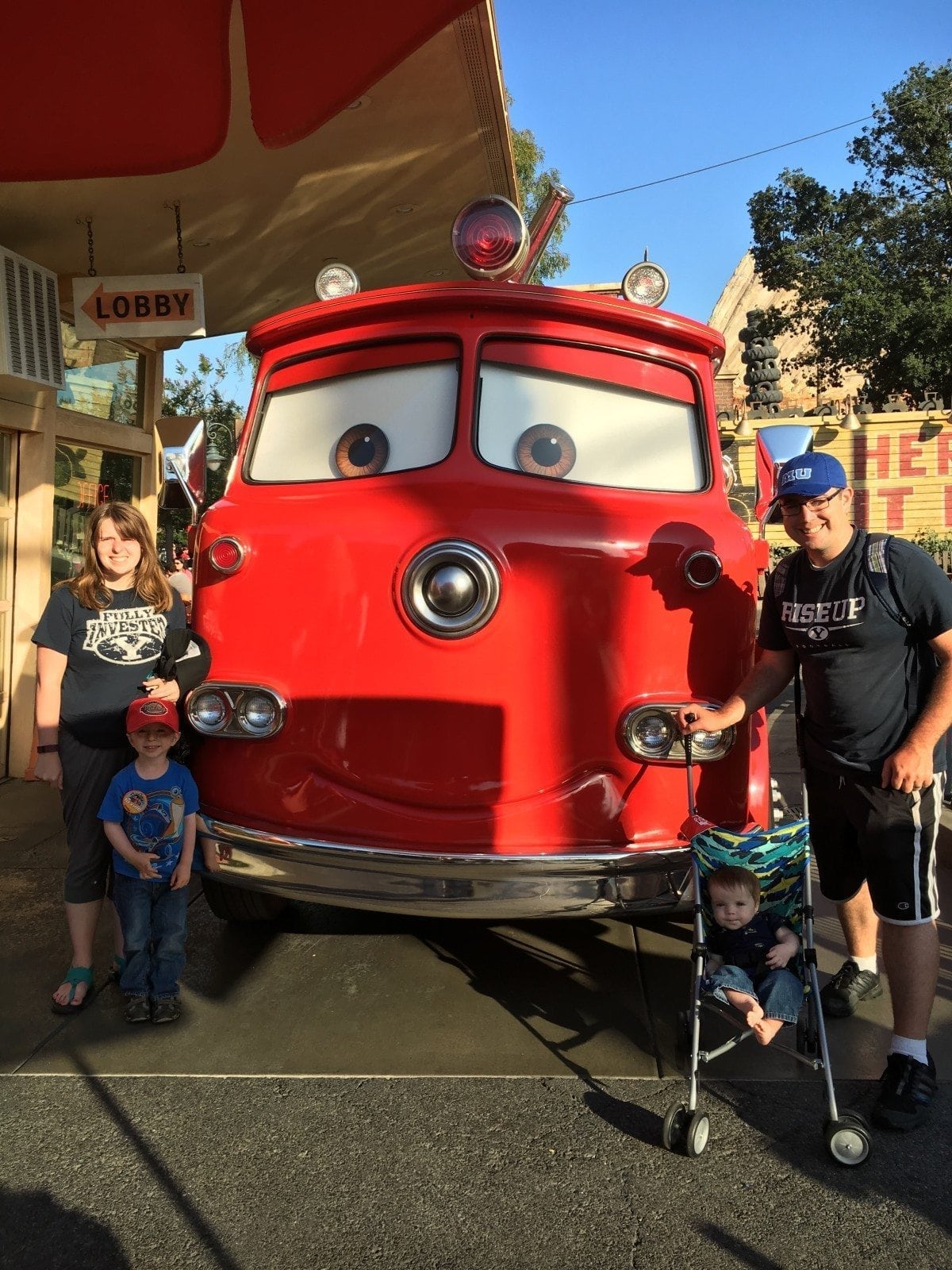 Disneyland App – I wrote a post awhile back about the best apps for a Disney vacation, and I think a lot of them are relevant. However, I LOVE the free Disney app! It gives you wait times, tells you how to get to places, where you can find certain foods (we used that a lot!), tells you if a ride is closed (even just temporarily), first aid, and height restrictions, and much  more. If you get the photo pass, it makes easier to add pictures throughout the day to your photo pass. It's free, so you need to download it!
Rider Switch
Even if you are spending the majority of the time wanting to go on rides with your children, I do recommend making sure you can go on some "big kid" rides. Disneyland has a great Rider Switch program in place, where, if you have chidlren that can't go on ride, you are given a voucher (for Fast Pass rides) to go to the front of the line and ride again. With the non-Fast Pass rides, you are able to ask for a Rider Switch and do the same.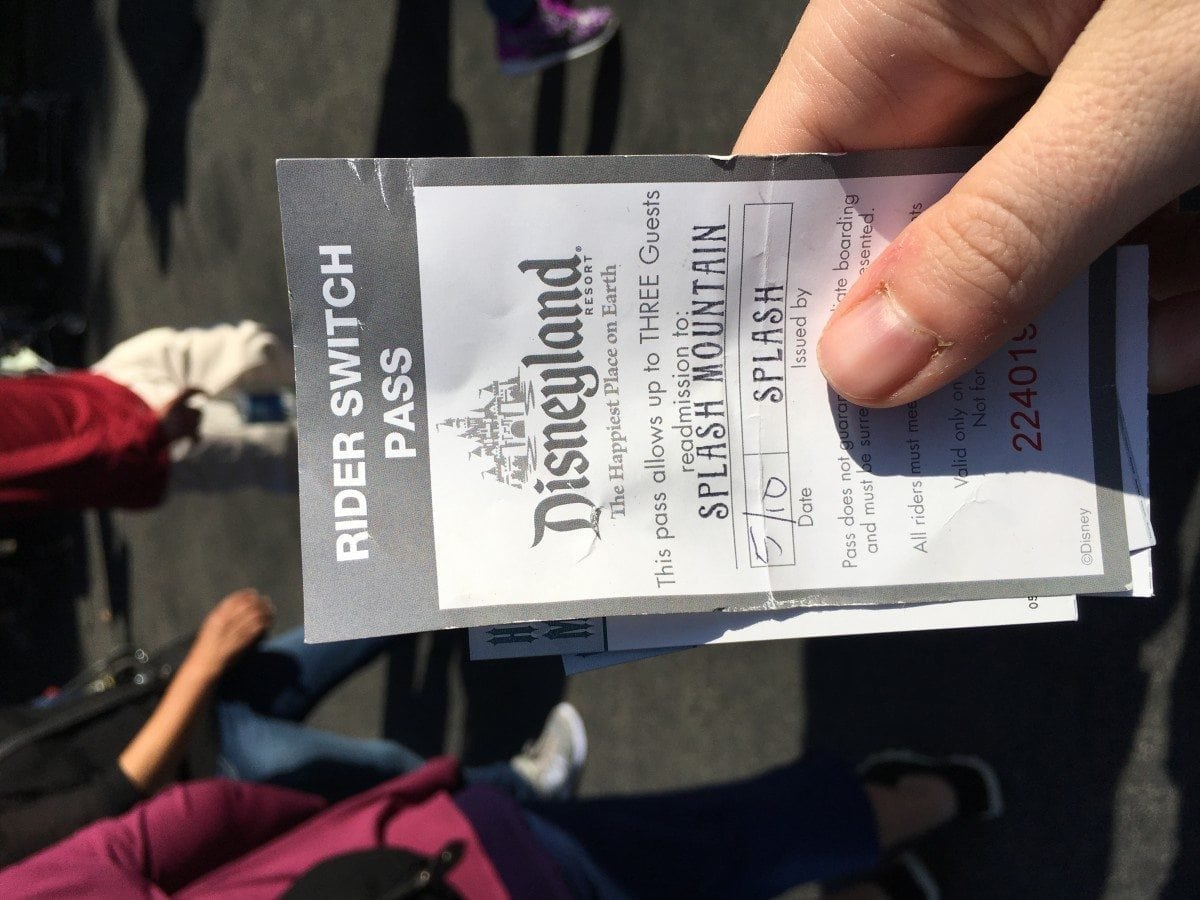 Avoiding long lines
No one likes standing in line, especially for kids. You can bring entertainment for them, but I think it's best if you try and avoid them.
If you go during peak times of the year, good luck. We went during a time that was supposedly not busy, but it was. So, make sure you use Fast Passes! This will definitely cut down the wait time. Unfortunately, most of the fast passes are for the bigger rides.
If you get a three or more day pass, you can take advantage of Magical Morning. You get access to the park an hour early, and the ride lines aren't long at all.
If there is a ride you really want to go on, I recommend going straight there in the morning. When we got there a little after nine, the lines weren't long. So if there's something everyone really wants, do it right away.
Survival Kit
Here's a few things that I think will help make your Disney trip a little easier. You can pack this in a little backpack for your child: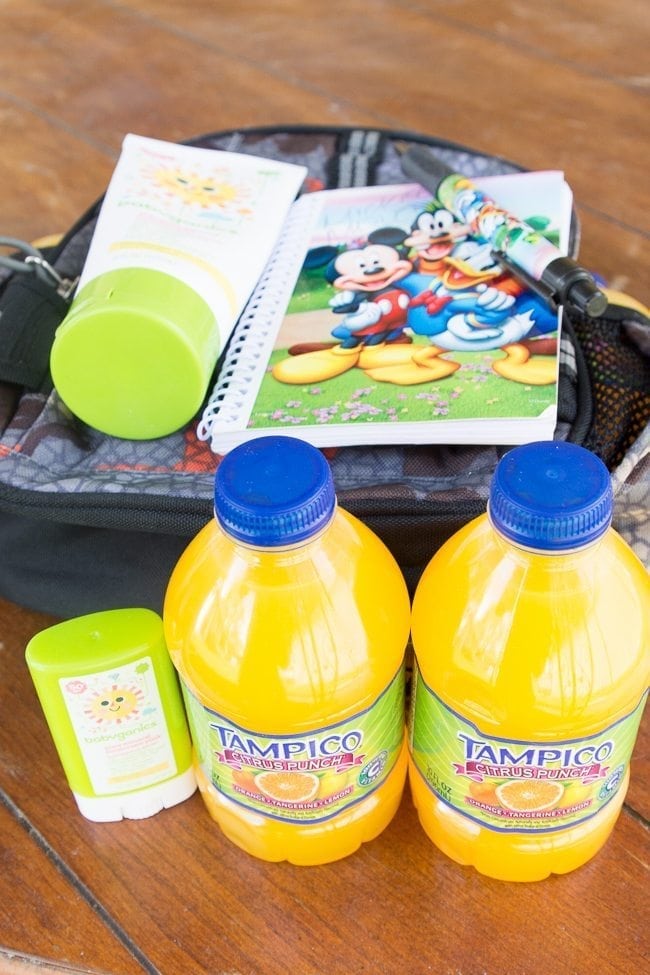 Ticket Holder: I'm still kicking myself for not getting these for us! It was such a pain to keep track of our tickets! We ended up losing Jack's at one point and had to get a new one from customer service.
Fruit
My KidPod: We lost Jack while we were at Disneyland, and it was terrifying. I heard about this wearable bluetooth watch for kids that I wish I had! You can bet I'm going to have one of these the next time we go.
Water
Snacks
Disneyland Autograph Book: We purchased one at Target for like $5, but you can buy them in park for a lot more! I love this Disneyland autograph and activity book, which is great for young kids.
Sunglasses – we bought a pair for $1 at Target that worked great!
Hat – We got the cute Mickey hat that you see in pictures for $7 at Target!
Sunscreen
Bonus: 
The night before we went to Disneyland, we stopped at Target to try and find an autograph book because I forgot Jack's in Colorado. We were thrilled to see that they had TONS of Disney memorabilia for way cheaper. I recommend coming here and buying some souvenieers to surprise your kids with. Jack loved whenever we pulled something out of my backpack!