Legoland Florida: What to Expect During Covid-19
Legoland Florida has been open through the Covid-19 global pandemic…but is it worth going? This post highlights our recent trip and the changes that have been made at the park to help you decide if it's the best time for YOUR family to go!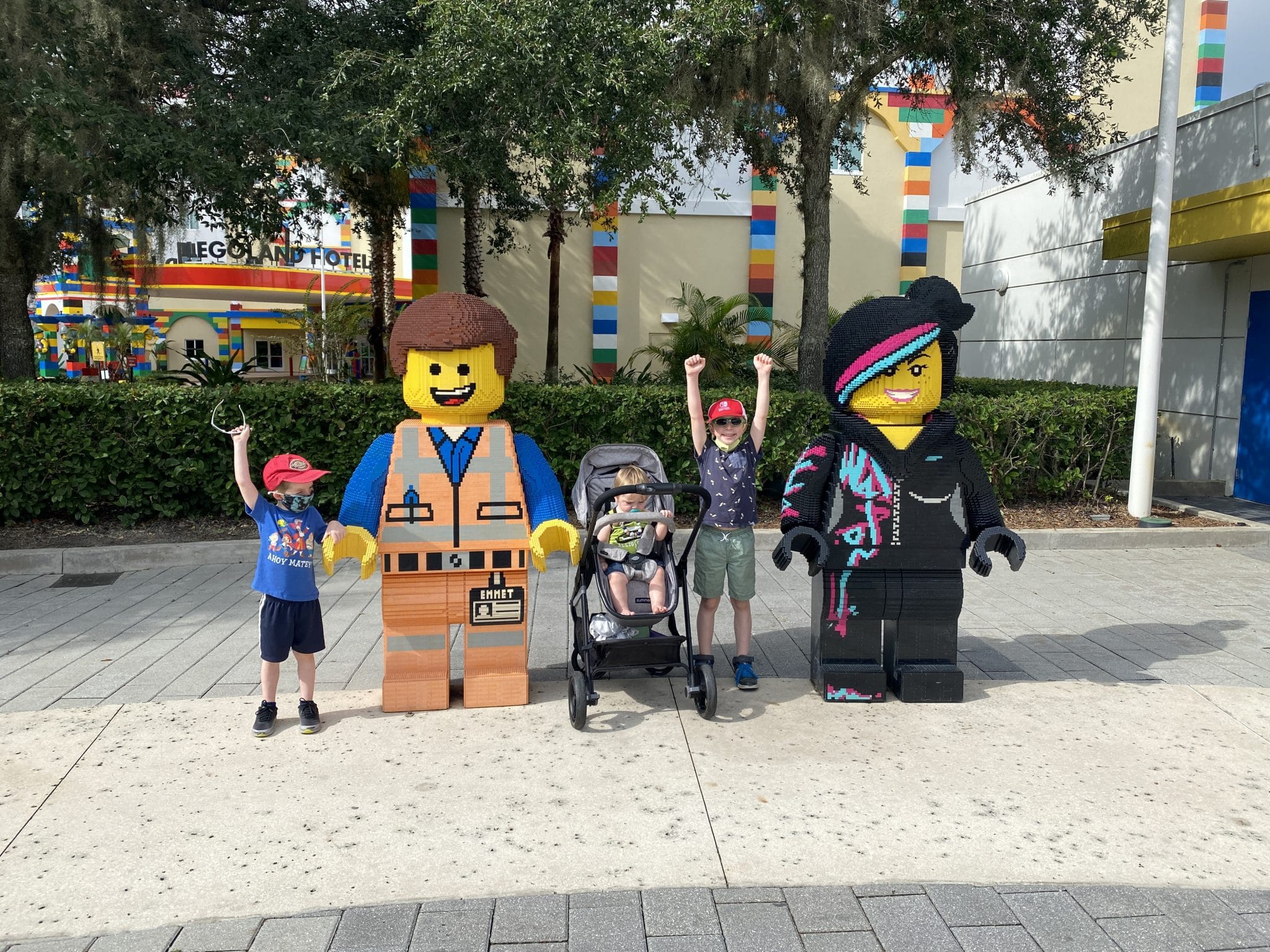 Last November, we went to Florida for a family vacation, and we decided to spend a day at LEGOLAND Florida.
My only other experience was at the California location, and it was less than positive. Seeing that we were going in the middle of a global pandemic, I wasn't holding my breath that it would be amazing.
Boy, was I wrong! We had a fantastic time. My boys were in heaven. We had been at Disney World for a few days before that, which was an experience in and of itself… and honestly, Legoland was a nice break.
It's been a few months since we have been there, so things may have changed since then. But in case you are planning to go to Legoland while Covid restrictions are still in place, I hope this post will be helpful.
Booking Your Trip
There are various ways to book your trip – Legoland is always offering different deals, so check their website for those. You can also often get free kids tickets through LEGO movies and playsets.
While Get Away Today doesn't currently sell Legoland Florida tickets, if you are planning to go to Disney World at the same time, they always have the best deals and can help you plan your trip (including lodging). They are who we always book our trips through – and you can get $10 of any vacation package of two days or more with the code clarkscondensed.
Screening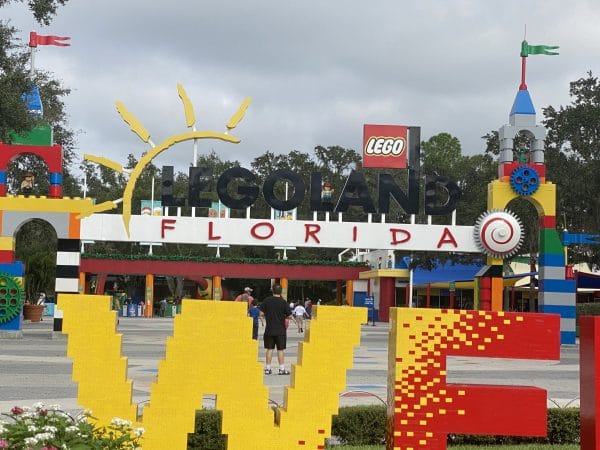 Before you can enter the park, an employee will do a prescreening before you enter the park. They will ask you questions about exposure to illness, if you've had any symptoms in the past 14 days, etc. and they will also take your temperature with a touch less thermometer.
It was a pretty simple process and didn't take very long. I did find the question about if we had been in an area with widespread Covid cases in as a little funny – isn't it widespread pretty much everywhere?
Anyways. If you've been sick, don't go. If you are sick – don't go! Though I think that should be expected whether or not there is a global pandemic going on!
Mask Wearing
Masks are required at Legoland, but their rules are much more relaxed than Disney. Honestly, they made more sense to me, and it made for a much more pleasant experience.
If you are inside or on a ride, you must wear a mask. I also took this to mean when you were in line.
However if you are walking around, you don't have to wear a mask. Because the crowds were so low, we weren't even close to anyone. I was grateful for the mask breaks and not having to wear them all day long.
They are only required for individuals 8 years and older. If you are in the water park, they are only required in dry areas.
Social Distancing Markings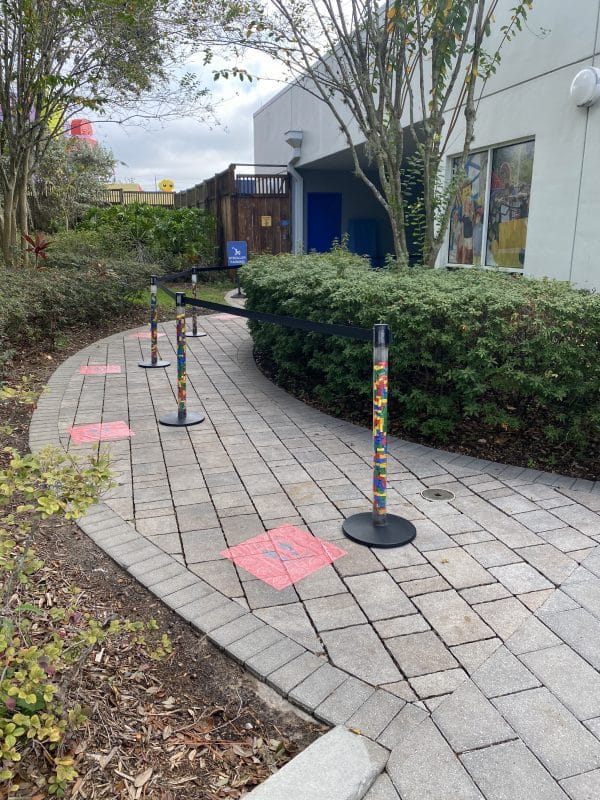 While you are in line, there are markers on the ground to indicate where to stand to stay a safe distance from the groups in front of and behind you. I found that everyone paid attention to these, and there weren't any issues.
If you have a larger group, you may want to take up two spaces to ensure adequate space between you and those in front of you.
Low Crowds
I think Legoland, in general, isn't a huge crowd drawer, especially when compared to Disney World. But the lines were so short.
And I hate lines and waiting, so that was perfect for us!
When we were walking around, we rarely even saw another group. And when we did see them, you generally weren't even close to them.
But Lines Can be Deceiving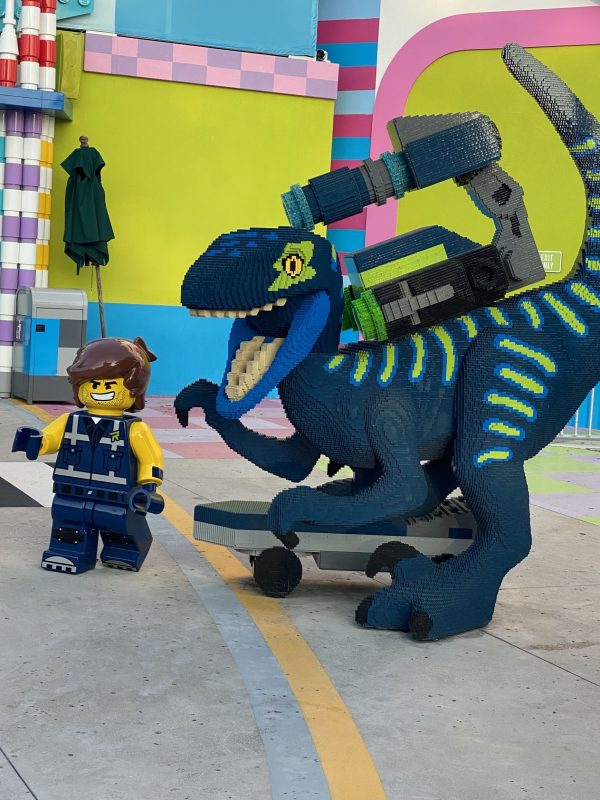 Although the crowds were low, there were sometimes longer wait times than you might expect.
This was due to some of the rules in place because of Covid. They have limited capacity on the rides. This was due to having to have social distancing between people that were not in the same party.
Longer wait time for rides also happened because of increased cleaning of the rides.
It wasn't anything crazy, but you might be surprised if the line took a little longer despite there only being a few parties ahead of you.
Limited Food Options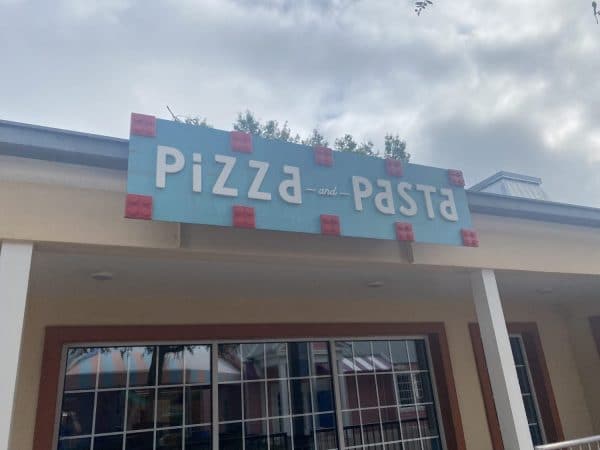 One thing that was kind of a bummer was that the vast majority of the restaurants were closed. Granny Apple Fries was open, though, so that was a plus.
When we were looking for lunch, it seemed like it took forever to find a place (though eventually we thought to look at the map in the app, and it guided us to an open place).
It was kind of a bummer that some of the food places weren't open, but we were able to find some food, so that's good!
Hand Sanitizer Stations
There were lots of hand sanitizer stations all over the park. I honestly hope this a permanent fixture at all theme parks! They can such germy places, and I loved being able to sanitize easily right when we got off a ride with a touch less sanitizer station.
Less Interactive Experiences
One of the best things about Legoland is how immersive of an experience it can be. While it still has some elements of it, not all of those were present – such as Lego building stations in the lines. These were all empty (for good reason). At least we didn't have to wait in line long!
There were also no meet and greets, which is also understandable. Thankfully, Legoland has so many amazing displays, that the kids were enamored by those.
Playgrounds were open!
I was actually quite surprised that they had several play areas open. Since I had my one-year-old with me, who couldn't go on a good number of rides, I appreciated these little areas, and he did too!
I was happy that the toddler area was open as well. Andrew and I spent a lot of time there, and, like the vast majority of the park, it was pretty empty.
Legoland Hotels
We did not stay at the resort, but I kind of wish we had. Like the park, you must wear a mask when you are inside (unless you are eating or in your room). They have markers that help you to keep social distance.
Some rooms may not be available because their goal is to keep them empty for 24-72 hours between guests to ensure proper cleaning.
They have lots of PPE for the staff and other protections in place to keep them safe.
The restaurants are open, but condiments and cutlery are given when you sit down or on request, since those are normally available in high touch areas.
Instead of a buffet, platters of food are brought to your table, with more always available by request. Everything is served family style at your table. Love that!
Dining entertainment isn't currently available.
Surprisingly Laid Back
It was actually a very relaxing and fun experience. I felt they took things seriously and had plenty of protocols in place to make sure everyone was safe, but it didn't take the fun out of visiting the park.
Should you go to Legoland during Covid-19?
No one can make this decision but you! However, I found it to be a very fun experience. They have a lot of things in place to help mitigate the risk as much as possible, and with the very low crowds, I think this might be one of the best times to visit!
More Posts You May Enjoy: