Disneyland PhotoPass Review: Is it Worth Getting (and other FAQs)
I am so excited – we are starting to plan another trip to Disneyland in October, and I feel like it can't get here soon enough.
One thing I know that we will be getting this time is the Disneyland PhotoPass. We weren't sure if we wanted it last time, but after using it, it's definitely a must-have on our list.
I often see people asking if the PhotoPass is worth getting – which is understandable. We asked ourselves the same thing.
So, I thought I'd share a little bit more about the PhotoPass  how to make it a little more affordable, and answer common questions…and hopefully it will help you decide if it's worth getting for your upcoming trip.
Also, if you are still in the process of booking your trip, make sure you check out Get Away Today for the best deals on vacations! You can get $10 off any Southern California vacation pacakge when you use the code clarkscondensed at checkout!
What is the Disneyland PhotoPass?
PhotoPass is Disneyland's professional photography serice. YOu can get photos throughout the park at iconic locations,  with characters, magic photos, character dining, all your ride phoots (such as from Splash Mountain), and more.
It's really just a great way to make sure you get high quality and memorable photos from your trip – and of your entire group.
According to Get Away Today, here are the locations you will usually find the PhotoPass+ Photographers:
Disneyland Park:
New Orleans Square
Mark Twain Riverboat
Fantasyland
Mickey's Toontown
Matterhorn Bobsleds
Plaza Inn (during Breakfast with Minnie & Friends)
Disney California Adventure Park:
Buena Vista Street
Hollywood Land
Cars Land
Radiator Springs Racers
Redwood Creek Challenge Trail
Ariel's Grotto (during character breakfast and lunch)
Why should I get one?
It's really a personal decision. Here are a few things to consider:
Do you want pictures from rides like Splash Mountain?
Will you be traveling with multiple people?
Do you not want to worry about remembering to take pictures, keeping track of your camera/phone, etc.?
Do you want professional quality photos to remember your trip by?
If you answered yes to any of the above, you should definitely consider getting the PhotoPass. It makes it SO much easier to get pictures taken throughout the park – and you don't constantly have to ask a stranger to take a picture of your group. Oh, and selfie sticks are banned, so that's out of the question.
I am so glad we got ours – and, honestly, we didn't even take full advantage of it. We were able to get so many fun pictures of our entire group. I especially loved being able to get pictures from rides like Splash Mountain and Tower of Terror, which, on their own, would have cost a pretty penny.
However, if you don't care for the extra pictures and are fine with just getting some fun shots from your phone, that works, too! You can actually ask the Disneyland photographers to take a picture with your camera – you just don't get some of the "extras", like the magic shots 🙂
How much does it cost?
I was super excited to hear that Disneyland recently revamped their PhotoPass program – it's even better than when we went. Here are the options:
Disney PhotoPass+ One Day: $39
Disney PhotoPass+ One Week: $78
With each of these, you can get unlimited photos taken by PhotoPass+ photographers that you can download later on from your computer. You can also order prints directly from the Disneyland website (though I'm too cheap).
Obviously, if you are there for more than two days, the one week pass is going to be the best investment. However, $39 a day is cheaper than what we paid last May, so I think it's a great deal.
How does Disneyland's PhotoPass Work?
Whenever you get a photo taken by an official PhotoPass photographer, you will be given a card with a barcode. You can scan this directly into your Disneyland Photo pass app afterward. You can also have other PhotoPass photographers scan that same card, and then you can load it into your account later on.
Personally, I took a picture of my barcode from the Disneyland app and put it as my lock screen on my phone. It made it so easy just to whip it out when we were getting pictures taken and request that they scan it. I didn't have to deal with keeping hold of a card!
For ride photos, just take a quick photo or jot down the number that shows up on the picture on the review screens outside the rides. You can add
What are Magic Shots?
These are really what make the PhotoPass worth it, as they are photos you really can't get any other way. There are certain locations throughout the parks where the photographer will have you pose in a certain way, and they will add in something "magical" to it that makes the photo just a little special.
I have heard that you typically do need to ask your photographer to do a magic shot, unless it's already set up specifically for that purpose (such as outside the Haunted Mansion).
 You can also choose to have animated shots, which has a character introducing your photo at the beginning.
Here is one place we were able to get a Magic shot…however, it's actually just the picture someone took with my phone. I'm having trouble remembering where I downloaded all of our professional pictures. However, the professional one looks way cooler!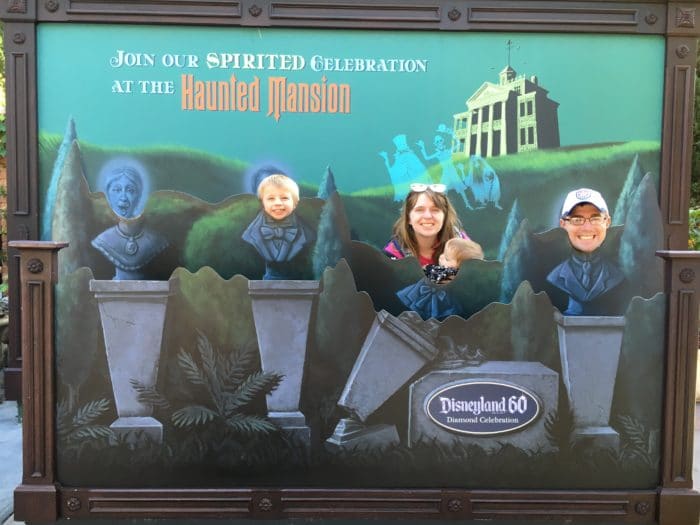 How can I access the pictures?
Your photos will be available on the Disney PhotoPass website, where you can download and print them off. They will typically show up on your account 20-30 minutes after they are taken.
How long do I have access to the pictures?
You can access the photos for up to 45 days after your trip – however, you can pay do a one time extension of the time for $19.95 on the Disney website…but I just recommend downloading them as soon as you get home 🙂
Don't forget to book your next Disneyland vacation through Get Away Today. They are my #1 source for all things Disney, and we are currently planning ourn ext trip through them. Make sure you enter clarkscondensed or mention our name over the phone for a $10 discount off any Southern California vacation package!

[thrive_leads id='30551′]