The Best Rides for Toddlers at Disney World + Disneyland
Disney World and Disneyland with toddlers can be so fun and magical – with the right planning. These parks are incredibly toddler-friendly, and in this post, we're sharing what we think are the best rides for toddlers at Disney World and Disneyland!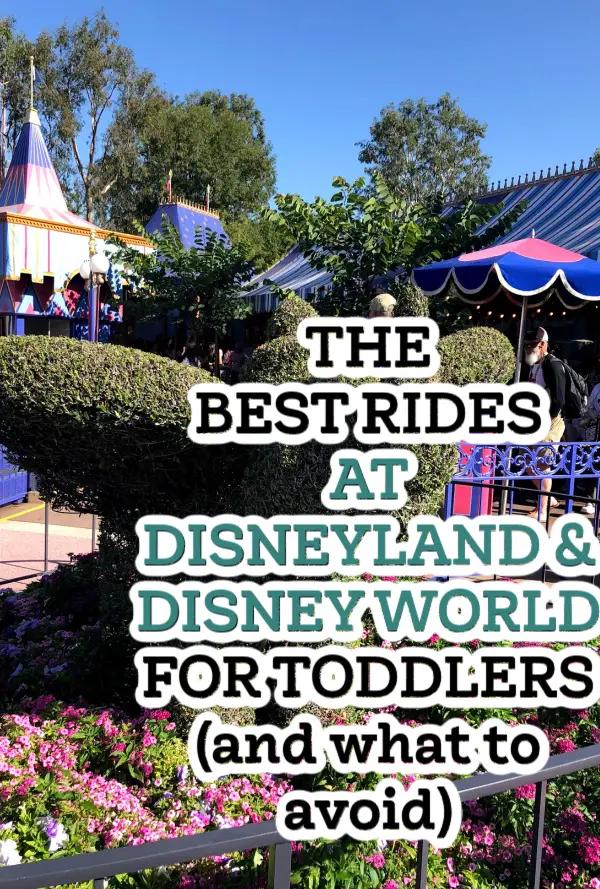 Going to Disneyland with a toddler and other young children is a different experience than when you go as a teenager or with other adults. It can be SO magical – but it's important to manage your expectations a little bit.
As my mom put it, you have to realize the trip isn't just about you. It's about making sure everyone has a good time – your toddler included.
Fortunately, Disneyland was built with families in mind. I love this quote that is underneath the Walt Disney statue in the center of Disneyland:
I think most of all, what I want Disneyland to be is a happy place . . . where parents and children can have fun, together.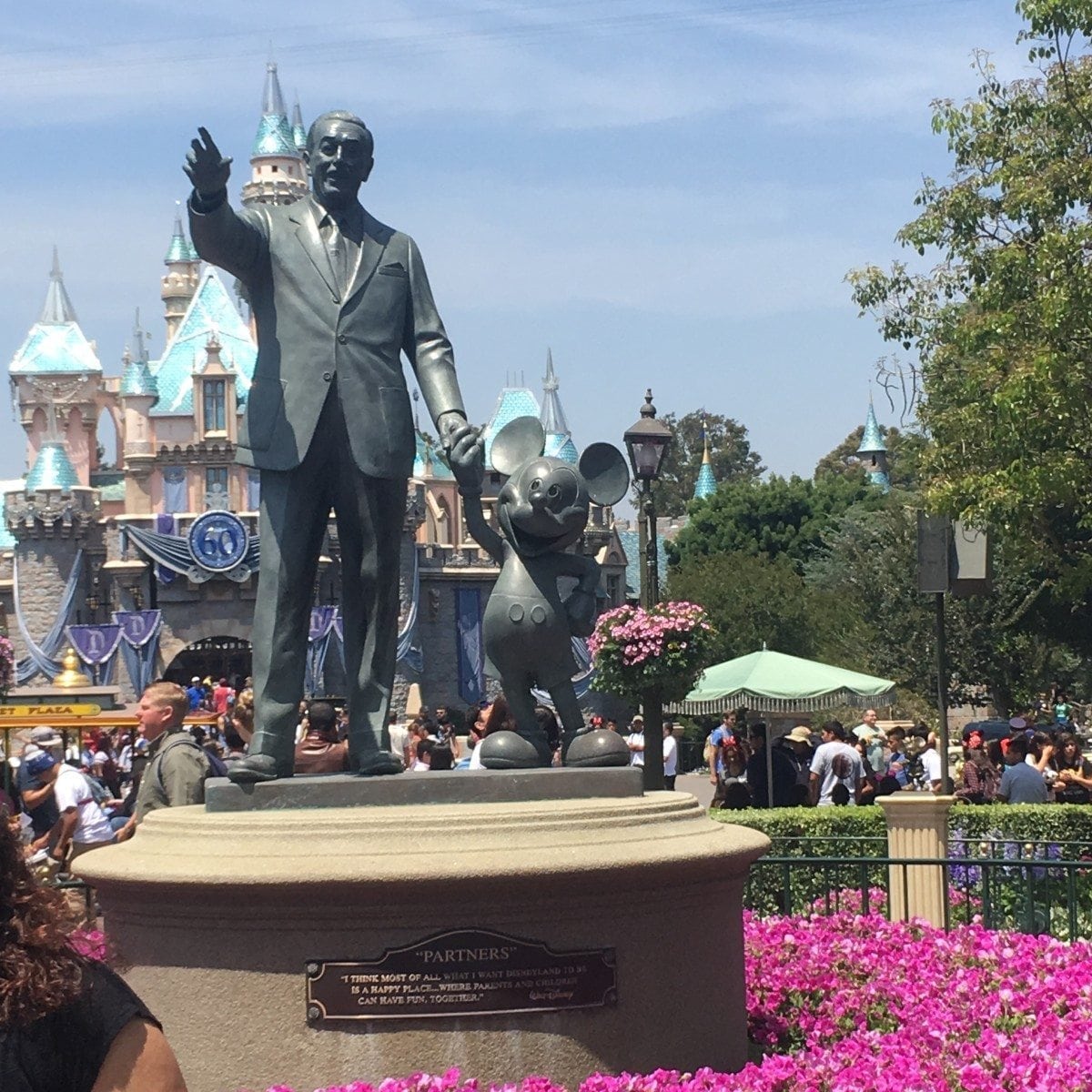 And I really believe that's what Disney World and Disneyland are! However, there are rides your toddler won't be able to go on (or won't want to!)
So, if you are about to head to the parks with your toddler, you're in the right place! Let's dive into the best rides for Toddlers at Disney World and Disneyland.
Book your next magical family adventure through our friends at Get Away Today! They are truly the Disney experts and can make planning your trip a breeze for both Disneyland and Disney World. You can browse their website or call 1-855-GET-AWAY. Make sure you tell them Magical Family Travel Guide sent you or use the code MFTG for $10 off a Southern California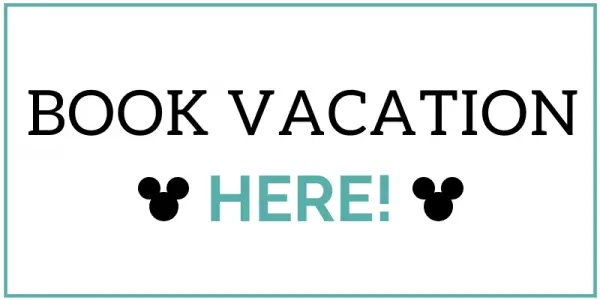 Factors to Keep in Mind
Sound level
Some children are more sensitive to loud noises than others. For instance, our five-year-old hates anything loud, but noises don't even faze our two-year-old.
Some rides might not be scary, but they might be really loud, making it unpleasant. Some of the older rides that may seem harmless can be really loud! I do think noise-canceling earmuffs can be a good investment.
Drops
Disneyland is a land of drops! Many rides have small drops. I don't think most of the rides on this list will have scary drops, but if your child is nervous about them at all, a small drop can result in big drama.
Dark Rides
Many rides are quite dark (not content-wise, but they are literally lacking light). If your child is afraid of the dark, sticking to the brightly lit rides can be a better idea.
Long lines
My kids actually do quite well when it comes to lines, but there are some rides with lines that I can't even tolerate! It's a good idea to learn about what rides tend to have the longest lines so you can plan those toward the earlier hours of your day or during times when rides might not be as busy – especially if it's a must-ride for your kiddos.
Rides with Height Restrictions
First, let's talk about the rides with height requirements of 40″ or taller.
It's a good idea to know about these beforehand so you don't hype up a ride, only to tell your kid they can't ride them!
Many of these don't even make my list of best rides for kids, but it's good to be aware!
Disney world
The Barnstormer – 36"
Big Thunder Mountain Railroad – 40"
Seven Dwarves Mine Train – 38"
Space Mountain – 44"
Splash Mountain – 40"
Tomorrow Speedway – 32"
Mission: Space – 40"
Test Track – 40"
Alien Swirling Saucers – 32"
Millennium Falcon: Smugglers Run – 38"
Rock 'n Roller coaster – 48"
Slinky Dog Dash – 38"
Star Tours – 40"
Star Wars: Rise of the Resistance – 40"
Twilight Zone – 40"
Avatar Flight of Passage – 44"
DINOSAUR – 40"
Expedition Everest – 44"
Kali River Rapids – 40"
Primeval Whirl – 48"
Disneyland/California Adventure
Indiana Jones – 46″
Big Thunder Mountain Railroad – 40″
Matterhorn Bobsleds – 40″
Autotopia – 54″ to drive alone (32″ to ride at all)
Space Mountain – 40″
Splash Mountain – 40″
Star Tours – 40″
Grizzly River Run – 42″
Soarin' Over The World – 40″
Twilight Zone Tower of Terror – 40″
Mission: Breakout! – 40″
California Screamin' 48″
Goofy's Sky School – 40″
Silly Symphony Swings – 40″
Radiator Springs Racers – 40″
Best Rides for Toddlers
There are a ton of rides for people under 40″, but to be honest, some of them are totally lame or scary. Our kids have been absolutely TERRIFIED of some of the "kiddie" rides, such as the Pinocchio's Daring Adventure, Snow White's Scary Adventures, and the Many Adventures of Winnie the Pooh. They thought they were too loud, dark, and scary. So we avoided anything like that after the first few rides. Similar rides to those would be Alice in Wonderland and Mr. Toad's Wild Ride.
You know your toddler best, though, so try and be aware of how you think they'll respond.
Here are some rides and attractions that I think just about all toddlers enjoy at Disney World and Disneyland.
Also, you will see I don't mention the live shows that they have in the various parks. If YOU think your child can sit through a 60-minute show, then, by all means, take them to these. But if your kids are like mine as toddlers, that's a lot to ask – regardless of how engaging the show is!
In general, we tend to avoid rides with water, big drops, or lots of darkness/loud noises with toddlers, but again, you know your child best.
I have divided each list by park in Disneyland and Disney World.
Disney World
Magic Kingdom
Buzz Lightyear's Space Ranger Spin – dark and loud at times, though every toddler I've gone on this with has loved it
Journey of the Little Mermaid
magic carpets of Aladdin
Casey Jr. Circus Train
Dumbo the Flying Elephant – one of my personal favorites!
Jungle Cruise
Mad Tea Party
The Many Adventures of Winnine the Pooh – this one can be surprisingly scary for some kids, but it's overall a very fun ride for youngsters
Peter Pan's Flight – typically has long lines all day long. Jump on this first if you don't want to miss it!
Prince Charming Regal Carousel
Pirate's of the Carribbean – this one is dark, has drops, and it can be a little scary, but it's a ride the whole family can go on. My toddlers have typically done well on it.
Tom Sawyer's Island – not really a ride but great for exploring
Swiss Family Robinson
Walt Disney World Railroad
Walt Disney's Carousel of Progress
Animal Kingdom
Na'via River Journey
Kilimanjaro Safaris
Flying Dino
it's dough to be a bug – this is a fun show, though it does get a little bit intense at times
Maharajah Jungle Trek
TriceraTop Spin
Wildlife Express Train
Gorilla Falls Exploration Trail
Epcot
Meet and Greet Anna and Elsa
Beauty and the Beast Sing Along
Frozen Ever After
The Seas with Nemo and Friends
Turtle Talk with Crush
Gran Fiesta Tour Starring The Three Caballeros – this can have a deceptively long line
Hollywood Studios
Alien Swirling saucers
For the First Time in Forever Sing a long
Muppet Vision 3D
Toy Story Mania
Voyage of the Little Mermaid
Mickey and Minnie's Runaway Railway 
Disneyland
Disneyland Railroad
Walt Disney's Enchanted Tiki Room
Jungle Cruise
Tarzan's Tree House
The Many Adventure's of Winnie the Pooh
Pirate's Lair on Tom Sawyer Island
Goofy's Playhouse
Donald's Boat
Chip 'n Dales Treehouse
Minnie's House
Mickey's House
it's a small world
Peter Pan's Flight
Storybrook Land Canal Boats
Dumbo the Flying Elephant
Casey Jr. Circus Train
King Arthur Carousel
Mad Tea Party
Buzz Lightyear Astroblasters
Disneyland Monorail
Finding Nemo Submarine Voyage – I hate this one and often feel chlostrophobic…but most kids love it 🙂
California Adventure
Monster's Inc. Mike and Sulley to the Rescue
Turtle Talk with Crush
Mater's Junkyard Jamboree (32″)
Luigi's Rollickin' Roadsters (32″)
Redwood Creek Challenge Trail
Web Slingers: A Spider–Man Adventure
Golden Zephyr
The Little Mermaid: Ariel's Undersea Adventure
Inside Out Emotional Whirlwind
Toy Story Midway Mania!
Pixar Pal-A-Round
Jessie's Critter Carousel
Shows and Entertainment
There are so many family-friendly shows and parades around the parks. They certainly know how to put on a good show!
One time, we happened to be walking around in California Adventure when their Pixar Parade started. I think it was around 5:00? This is a must-see. The streets weren't crowded at all – our oldest was right up to the street and interacted a lot with the performers. They had characters from many Pixar movies that we love, and it was so fun to watch the kids. I think this is a great one that is not crowded.
I absolutely love the Disneyland parades. They are 100% worth staying late to watch. This one you really have to get there early to get a good seat. We showed up an hour early, and we could hardly see! It's really magical, though, and I highly recommend seeing it one night.
Afterward, you can see the nightly fireworks, which are incredible. I do recommend getting some ear protection for your children, though. Our kids love these, but they don't love the sound. There are some restaurants in California Adventure where you can get priority seating at this show if you eat there, so that's something to consider, too, with younger kids since it can be hard to get a good seat.
I have never seen the World of Color in California Adventure, but I have heard it's pretty amazing for all ages.
There are a lot of other types of entertainment in both parks. Here are a few we enjoyed or that we've heard are good for children:
Character Breakfast
I wasn't sure if we wanted to do a character breakfast, but I'm so glad we splurged on it. It was one of the coolest experiences, and Jack LOVED it. We got an early reservation at 7:45 AM for the Surf's Up! Mickey's breakfast, but I was so glad we did. We got there before a lot of people, so our kids got more attention. You should have seen Jack's face light up when the characters came to our table.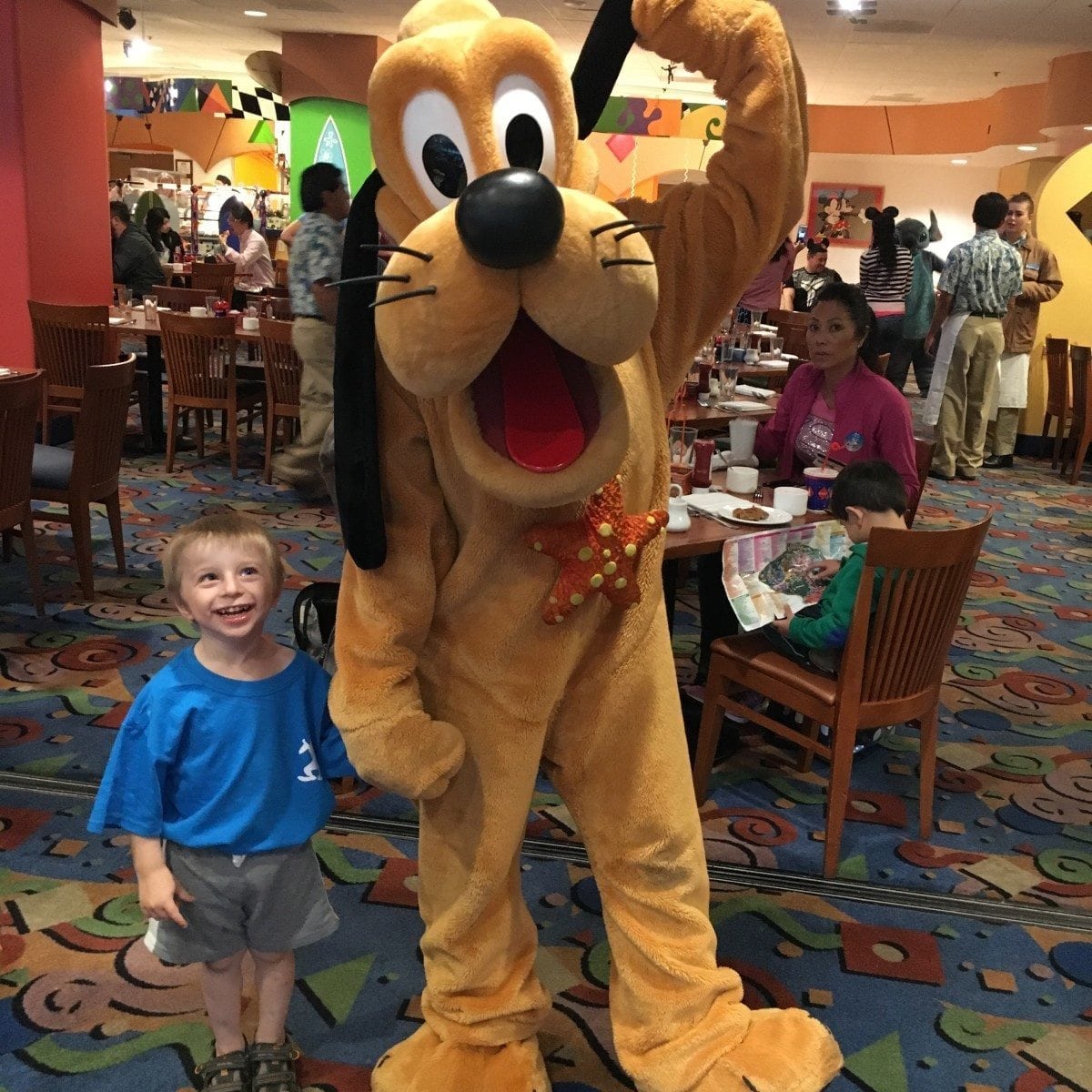 The breakfast was amazing, too! I couldn't get enough of it. The banana's foster french toast was to die for, and they had everything you could think of. I highly recommend doing one of these breakfasts. It's a great way for the kids to see LOTS of characters at once, and then you don't have to spend as much time in long lines in the park to see them!
Enchanted Tiki Room
This is a delightful animatronic show that takes place in an air-conditioned building. It's great for all ages, and I think children can really enjoy it – especially if you grab a Dole Whip beforehand!
Hyperion Theater: 
This is where they have Broadway shows, such as Frozen. Definitely a must-watch for all ages, and it's a great place to cool off!
Finding Characters
Children love seeing the characters. I think one of the best ways to see them (especially princesses) is by doing a character breakfast, as you can avoid long lines. However, you can definitely see them throughout the park.
We found that California Adventure had more characters just wandering around, and they often had fewer lines there. The Disney characters are dressed up in more "Hollywood" clothes, so classic characters are better to look for in Disneyland.
We found that the best time to get short lines was right after the character goes on break. It's kind of annoying when you get there, and the character is going for a break, but if you wait for a few minutes for them to come back, you can get right to the front of the line.
I think the Disneyland app is an awesome app to download because it tells you where certain characters will be during the day. There always seem to be several characters right at the entrance of Disneyland.
There is a Princess area in Disneyland that is great if your child really wants to see the princesses. These lines can get REALLY long, but I recommend waiting in them if it's important to your child!
Toon Town:
This is a great place for children in Disneyland, though it felt pretty crowded. I remember going here as a child with my mom because everyone else was going on Indiana Jones, and I loved it! They have all sorts of fun houses (like Minnie, Mickey's, Chip and Dale's Treehouse, etc.) as well as a few rides.
Main Street
Disneyland Main Street has a lot of fun things on it. You can see characters, get yummy treats like ice cream, and even get your child's silhouette! They have a cinema that shows old Disney cartoons, which is a fun way to relax with tired or hot kids. There is a street trolley you can ride on to Fantasy land, and there is also a carriage! I recommend spending some time here.
Downtown Disney and Disney Springs
There's a lot of yummy food!- I love Downtown Disney. It has shopping, restaurants, etc. Some of it might be a bit boring for kids, but a lego place is pretty cool.
Disney Experience App
It is free, so you need to download it! It gives you wait times, tells you how to get to places where you can find certain foods (we used that a lot!), tells you if a ride is closed (even just temporarily), first aid and height restrictions, and much more. If you get the photo pass, it is easier to add pictures throughout the day to your photo pass. It's free, so you need to download it!
Rider Switch
Even if you spend most of the time wanting to go on rides with your children, I recommend making sure you can go on some "big kid" rides. Disneyland has a great Rider Switch program in place, where, if you have children that can't go on ride, you are given a voucher (for Fast Pass rides) to go to the front of the line and ride again. With the non-Fast Pass rides, you are able to ask for a Rider Switch and do the same.
More Posts You Might Enjoy: