Five Pro Tips for Flying on an Airplane with Kids
Have you ever flown with your kids? If so, you know it can be a stressful experience. As the mother of two young children, I have found five pro tips to make flying on an airplane with kids easier. For more advice on how to fly safely and comfortably with little ones in tow, keep reading!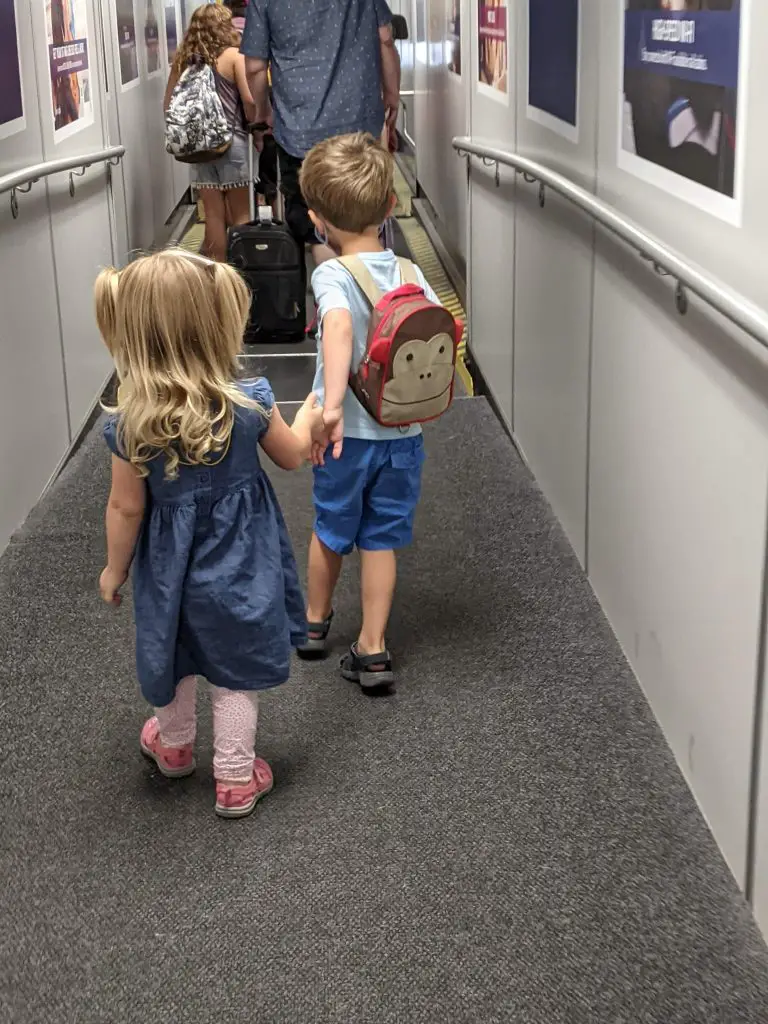 From the time my first kid was four months old, I've been traveling cross-country to see family regularly. Over the years, I have gathered lots of tips and tricks to make travel with kids less stressful, from getting through TSA to maneuvering through the airport and surviving the plane ride. These tips are actually helpful without adding more to your to-do list or increasing the stress you'll have while traveling.
Be Prepared
The more prep you can do before flying, the less stressed you will be on the day you travel.
What to Pack in a Carry-on for Kids
First, only take necessities as carry-on. Keep in mind as you pack: Everything you take on the plane has to be carried… by you. Limiting what you pack will make screening at TSA, walking through the terminals, and sitting on the plane a whole lot easier. Pack what you need to get through the flight, plus an extra change of clothes, pajamas, and sleeping essentials like blankets and toothbrushes. Check the rest to give yourself a break.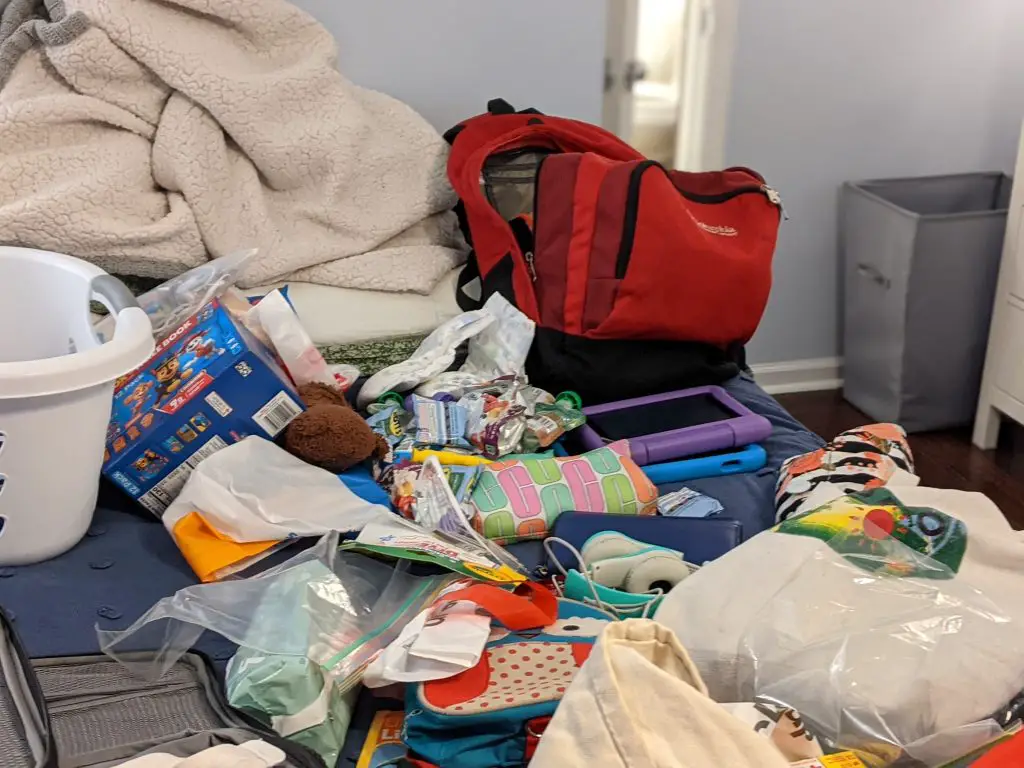 Prepare your Devices
Second, don't forget to charge your devices, and load them with content! Tablets drain battery life even when they're not used, and most content you upload expires after 15-30 days. Load or refresh the content before both legs of your trip, and make sure they're fully charged. We love the Amazon Fire for kids, and it goes on sale several times a year. It comes with a very durable carrying case, which is great for travel.
Organize Your Bags
Third, organize your bags. There's nothing more stressful than searching through your bag at 30,000 feet looking for a beloved stuffed animal or favorite snack.
I break mine by use: What we will use for entertainment goes in one area, food in another, clothes in a third area, and things we won't likely need for the plane goes in a carry-on I store overhead.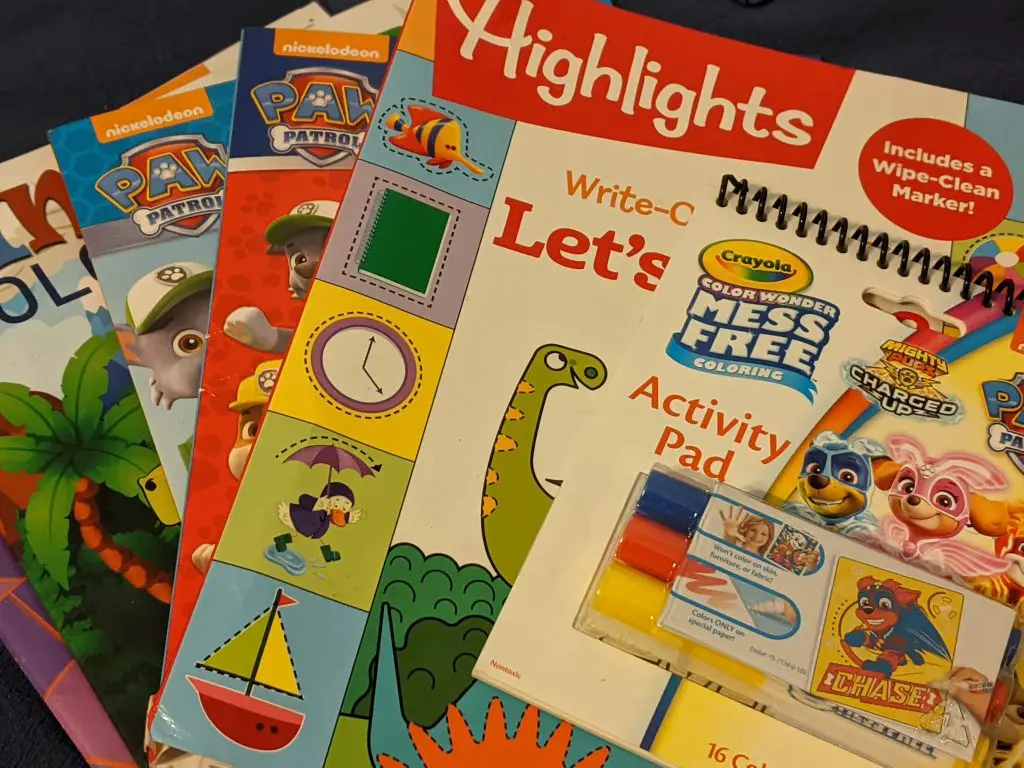 Arrive Early
Fourth, get to the airport early. Especially these days with labor shortages, you need to plan for extra time. Lines everywhere are long, you'll be more likely to check bags, TSA takes longer with kids, and you can't run through a terminal with a crying four-year-old. Add 30 minutes to your arrival time. It's better to be at your gate early enough to get a treat and use the bathroom than it is to worry you might have to sleep overnight in Terminal A.
PACK FOR THE FLIGHT
Best Travel Advice Ever: Pack a complete change of clothes for every person, in a Ziploc bag, and keep it within arm's reach. Travel can make kids' tummies unpredictable, and messy.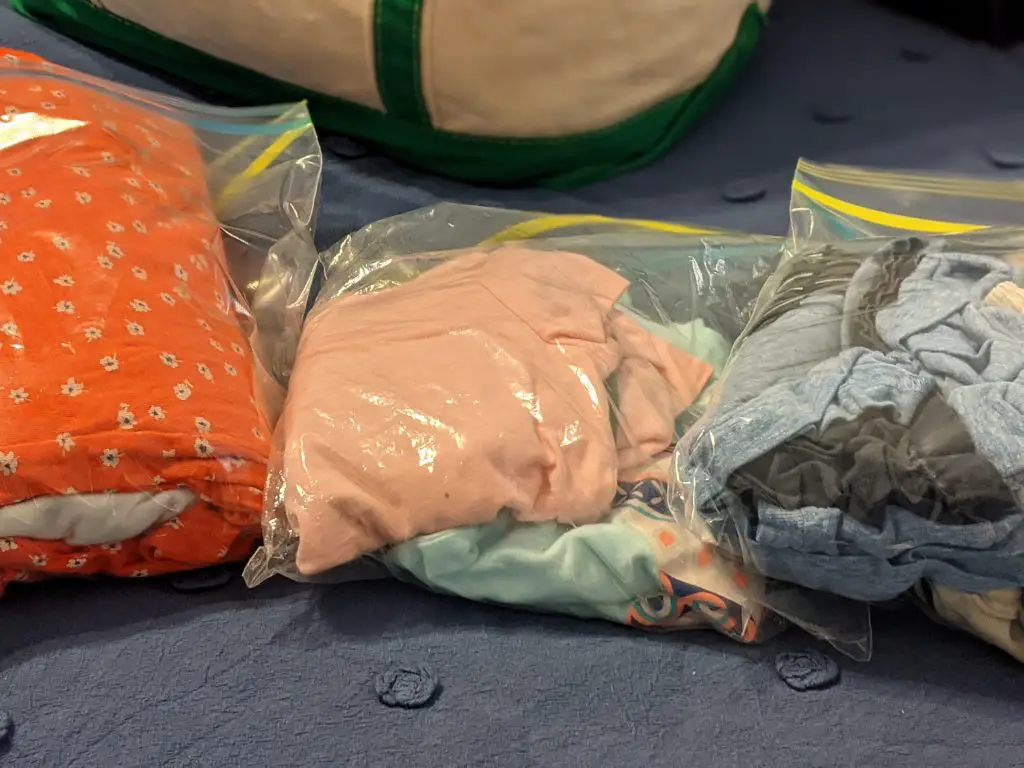 I've only had a travel blow-out one time, but I will never forget that trip. Having the clothes (and diaper and wipes) for my infant son, as well as a complete (down to the undies) change for my husband made a really messy experience a lot less awful.
Along with clothes, you need diapers and wipes. I bring extra diapers, and undies for older kids, and shove them in cracks and corners. Messy tummies, flight delays, and travel jitters are real. You'll want to have five to ten extra diapers, plus wipes and disposal bags to go with them.
Snacks are essential, too. Bringing single or small portioned snacks will stave off temper tantrums (and not just for the kids), save money, and make the trip more exciting. Airport food is about twice as expensive as regular take-out, and can quickly bust your budget. It's also unreliable, slow, and not always available in your terminal.
Everyone wants a treat. Having a fun treat can be a great way to motivate a tired or fussy kid. Reminding them they can have M&Ms once you're through TSA or in your seats can stave off a meltdown mid-terminal. And don't forget snacks for you!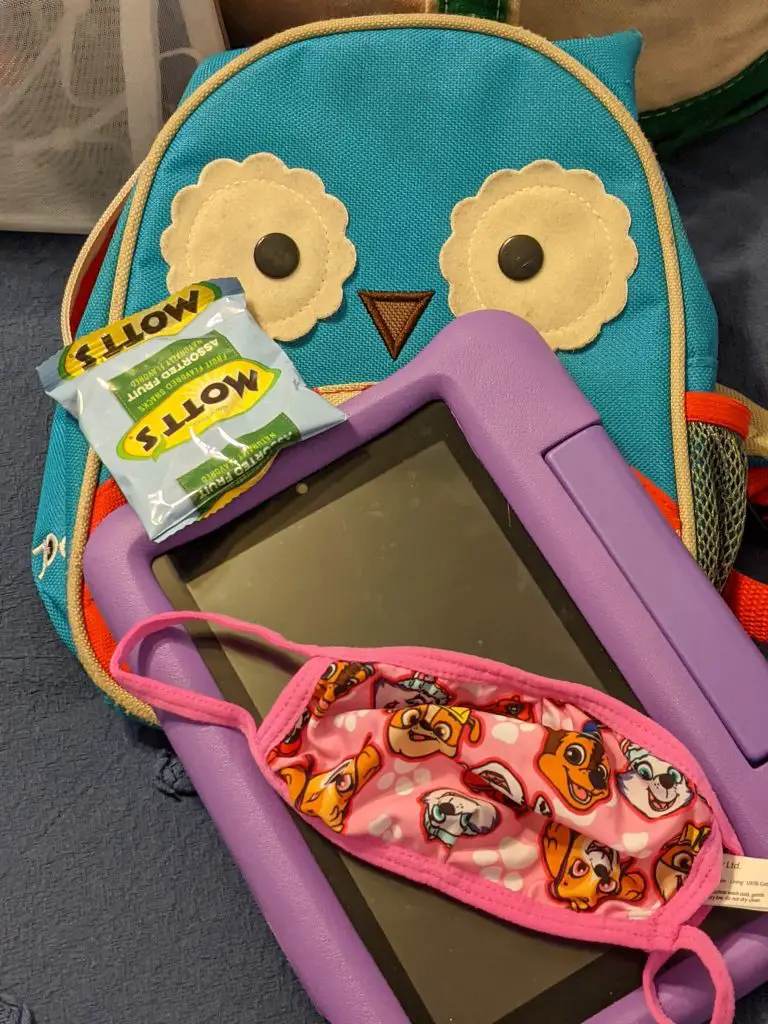 PLAN FOR TSA
Security has been around for a long time, but going through TSA with kids is a whole different experience.
TSA singles out food, baby wipes, formula, in addition to electronics and shoes. They may not announce it, but they will visually search food and wipes, so it saves a lot of time if you have these items pulled out and placed in a bin before your bags go through the screener. Yes, even baby wipes. These seem to set off alarms more than anything else, so save yourself the hassle, and pull them out every time.
I literally pack all my food in one small bag, my tablets and electronics in another small bag, and other items I know will be pulled out at TSA (liquids, baby wipes, and more) in a third. All these bags go into one larger bag that I empty in the security line. This way, I'm only dealing with one bag, not rummaging through everything and risking losing items or having personal things fall on the floor in public.
Pro Tip – If you have snacks that are in non-see-through bags, they may have to swab them individually. Taking them out of the bags and putting them into Ziploc bags can save you a lot of time and stress. Not all airports do this but many larger ones do.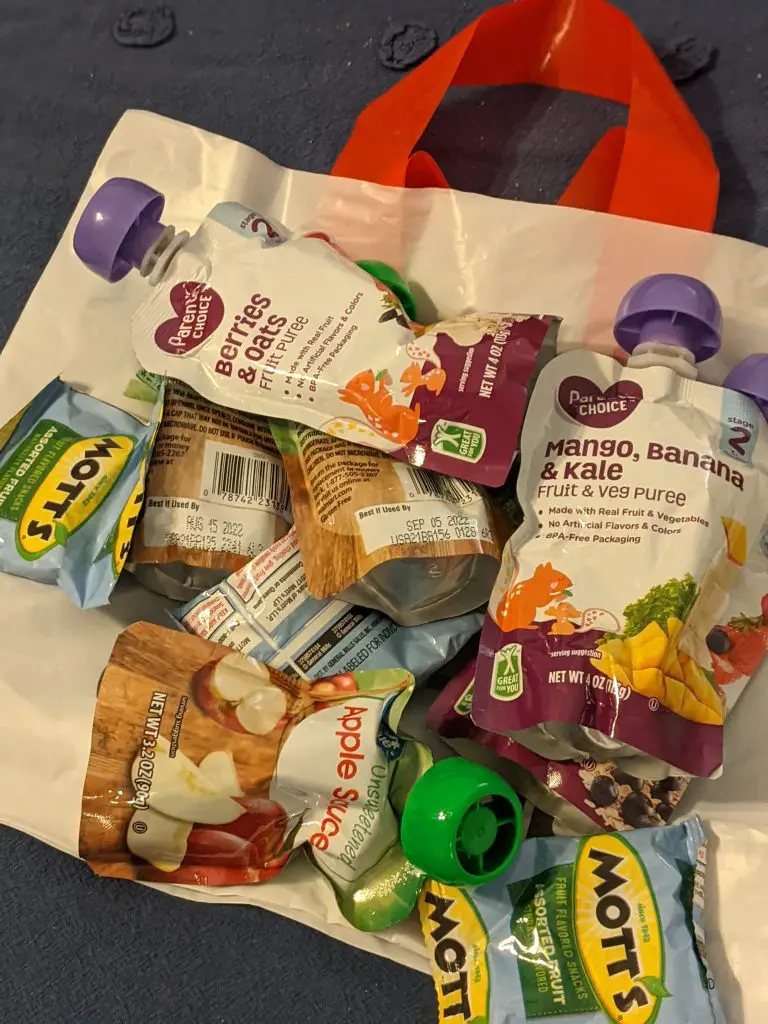 Because you have to pack specifically for TSA, plan to take a few minutes to rearrange your bags at the gate. Give the kids their personal items in their backpacks, put the snacks together, entertainment in one place, and items you don't plan to need for the flight in another place.
Pro-Tip – Consider getting TSA Pre-check for you. It's under $100 for five years, and children under 15 automatically will get TSA Pre-check clearance alongside you. TSA Pre-check can save you so much stress, and it can make it so you don't have to get to the airport (and entertain your children) for quite as long.
Masks on Airplanes for Kids
One of the biggest stresses these days is the thought of getting kids to wear masks and be compliant for an entire flight. It is important to comply with federal guidelines about mask compliance, and being prepared will make things much less stressful.
Let me reassure you, in reality, most flight attendants and airline staff are kind and understanding about children in masks. The horror stories we see are the exception, not the norm.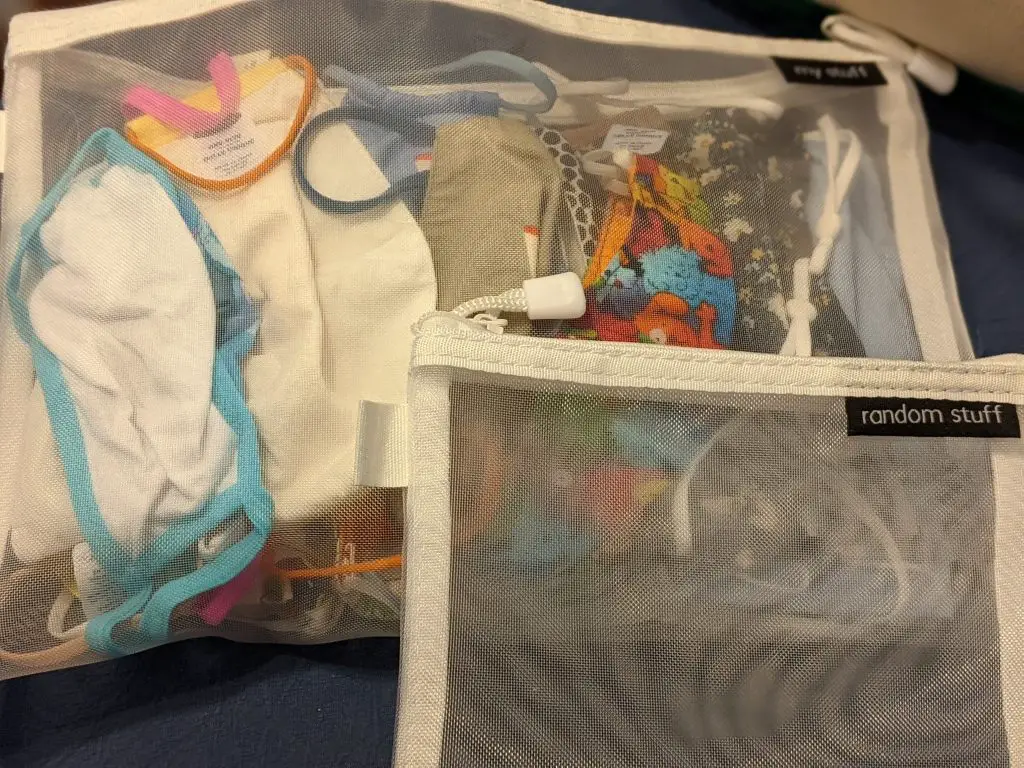 If your kids don't wear masks often, practice wearing masks with your kids before your trip.
Masks don't have to be worn during eating, so if your kids need a break, feed them snacks. This is especially helpful advice at the start of the flight when most compliance issues come up.
Because my toddler struggles with masks, we wait to board until the very last minute. That way, we're less likely to draw the ire of a flight attendant if my child is having a tough moment.
Don't forget to take extra masks. Masks fall on the ground, they attract germs and moisture, and you'll want several extra on hand. Use a small laundry bag for clean, and another for dirty.
Bonus Tips
If everything goes sideways, just remember that eventually, the plane will land, you'll get off, and never have to see the other passengers again.
Use those tablets and electronic devices. Now is not the time to restrict tablet time; this is survival. Let them watch as much as they want to keep them entertained and happy on the flight.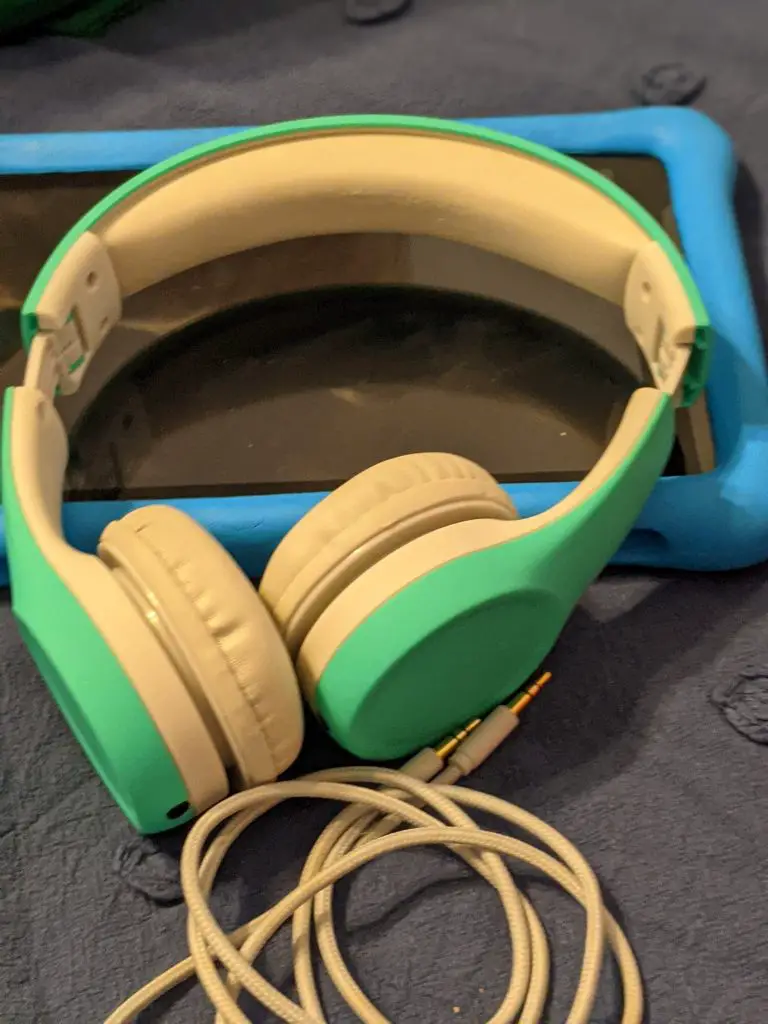 Bring snacks, treats, rewards, and other activities. You can get these at the Dollar Tree, Target in the cheap section, or print things off the internet. Bring extra crayons, and store them in a sealed baggie for easier travel.
Don't forget the headphones. You can get cheap kid headphones from Amazon for under $15, and you won't regret it. The big earphones make them easy for kids to wear, and the volume control keeps them from damaging their hearing.
We like these ones; they have a volume control, they fold up so they don't break when stored, the cord can plug into either ear, and the plug can come out from the device and the headphone, making it safer if kids accidentally jerk on the headphones.
Accept and ask for help. Most people are kind, and willing to help, whether it's lifting a bag or watching one kid while you attend to the other.
Pro Tips
Dress for success. Wear comfortable clothes that can be layered. Lugging everything plus the kitchen sink is a sweat-inducing workout, but airplanes are chilly. Be prepared for both climates, as well as the one at your destination. And do the same for kids–comfy clothes, jackets or sweaters if possible, and coats if you're landing in a wintery climate.
You can check car seats at the check-in counter for free. Some airlines and airports have free bags to protect the car seat, but availability is not guaranteed. If you're concerned about the safety of your car seat, you can buy a bag from Amazon for under $20. Keep in mind, they go through considerable abuse and handling while in transit, so don't be surprised if the bag only lasts a few trips.
We love this bag; it's lasted a few short-haul and two cross-country trips!
If you check a car seat, you can stuff things in the bag at check-in, like coats, jackets, or bulky items you didn't fit into the luggage.
Take advantage of Amazon, Target, Shipt, and other delivery services. Ship things like soap, sunscreen, diapers, and wipe to your destination to avoid having to haul them cross country. Have a grocery pick-up scheduled for after you land to get items you need right away, to start your trip off right.
With these tips and tricks, your trip will be smoother and less stressful. And, as I always remind myself: The plane will land and I'll never have to see these strangers again!
More Posts You Might Enjoy: