The Best Disney World Park for Toddlers (From a Toddler Mom)
Disney World is one of the most memorable vacations, especially if you have kids. There are so many attractions there that your kids will surely love it. If you are wondering which Disney World park is going to be the best most toddler-friendly, keep reading. In this post, we will share the best Disney World Park for Toddlers!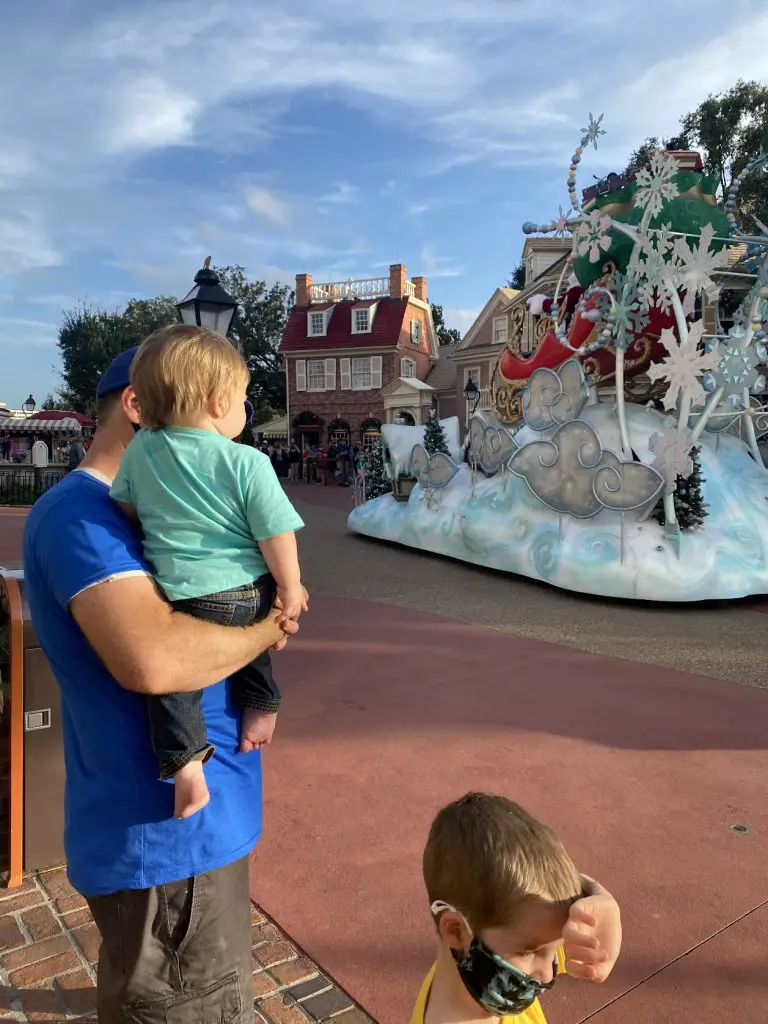 It goes without saying that Disney World is a HUGE place to visit – even as an adult. With a toddler, it can feel even bigger and more intimidating.
That doesn't mean that it isn't super magical with toddlers (we are big fans of going to Disney with children of all ages) – you just need to set up your expectations a little more.
At the end of the day, there are going to be a lot of rides and attractions that just aren't suited for your toddler. Knowing where to find fun for them throughout your visit is essential – and while you can find this in every park, some of the parks are a better fit than others.
Book your next magical family adventure through our friends at Get Away Today! They are truly the Disney experts and can make planning your trip a breeze for both Disneyland and Disney World. You can browse their website or call 1-855-GET-AWAY. Make sure you tell them Magical Family Travel Guide sent you or use the code MFTG for $10 off a Southern California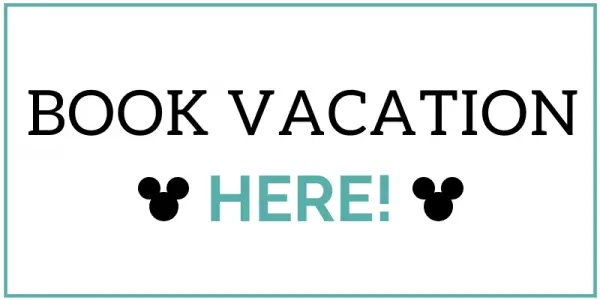 Our Favorite Disney World Park for Toddlers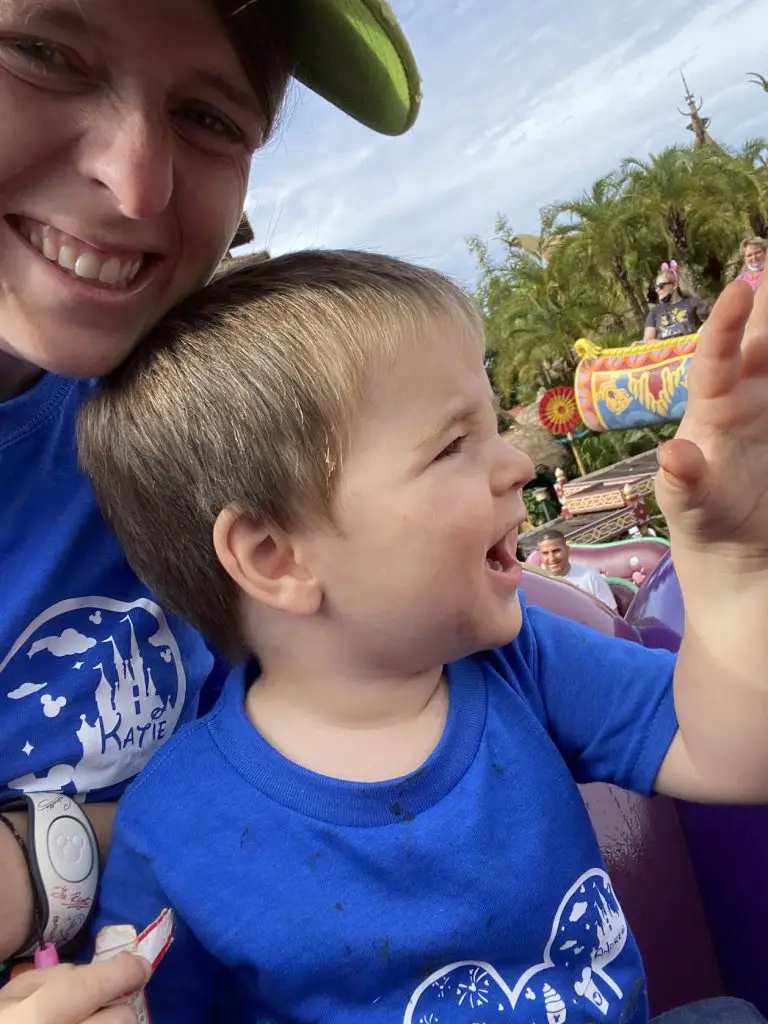 In our opinion, the best park for a toddler is Magic Kingdom.
Magic Kingdom is the most popular park in Disney World. It has so many things to do and so many great attractions for kids of all ages.
You can go on a boat ride with Winnie the Pooh and his friends, you can meet Cinderella and Snow White,  you can even fly through Neverland! There are many wonderful things to do in the Magic Kingdom.
If you have small kids, you can go to Fantasyland, they have many attractions there for children 3 years old and below. It is a very safe place for your kids because there are a lot of parents that accompany their toddlers. Make sure that you take a good camera with you so that you will be able to take some nice pictures of your kids having fun!
Why We Love Magic Kingdom for Toddlers
Some of the reasons we like Magic Kingdom for toddlers:
There are TONS of rides and attractions they can enjoy
It's filled with popular Disney characters
The whole family can ride on many of the rides together
Lots of great toddler-friendly meal items
While you can find something for a toddler to do in all the parks, we definitely find that when we are in Magic Kingdom, our toddler is able to participate more than in some of the other parks.
The Best Rides and Attractions in Magic Kingdom for Toddlers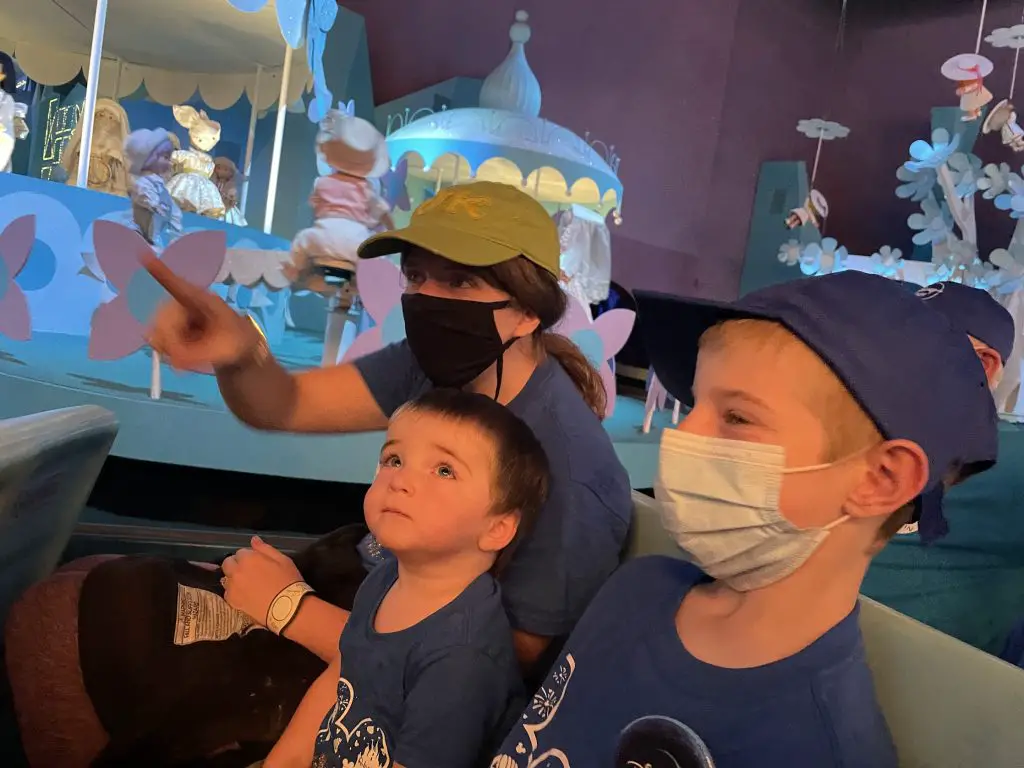 Here are the rides and attractions in Magic Kingdom that you should consider taking your toddler with you:
This is always the FAVORITE ride for our toddlers when we go (and to be honest, mine, too!). They just get so captivated by the colors, the music, and the boat ride. Our son who is six still remembers how much he loved going on this the first time (that he could remember, at least) when he was two.
It is a longer ride, and it's a great way to cool down and relax. I always head here when we need to decompress a little for the day!
This is a very popular ride because your kids can get to fly high up in the air like Dumbo, the famous elephant from the movie! Your toddlers will surely enjoy it and they will want to go back here again and again! This is one of those rides that we never miss.
There's also a waiting area where your child can play as you wait for your turn!
Is there anything more magical than a carousel? This is one of our favorite rides to take our toddler on while we are in Magic Kingdom. It usually has a shorter wait, and your toddler can pick from an array of colorful horses. The up and down movement and the music make it even more charming.
This is a theater ride where 4D effects are used. It is narrated by Donald Duck, and there are appearances from traditional Disney characters like Mickey and Minnie, as well as newer characters like Miguel Coco. Your kids will surely love it because it is a 3D show which looks very fun and colorful!
Our toddler was singing and bouncing along throughout the entire presentation – it definitely kept his attention.
This is a boat ride through the jungle world of animals, your toddler can see real animals doing their own thing while you enjoy a relaxing boat ride. The jokes told by the captain might go over your toddler's head, but they will keep the older members of your party laughing.
This was one of our son's favorite rides last time we went.
This is a play area where your kids will have so much fun. They can interact with their favorite characters from Winnie the Pooh and also play a lot of games! Your kids will love it!
I took our toddler on this one probably five times in a row one day, and he never tired of it.
Peter Pan's Flight is a super popular ride. The line is always quite long, but it is pretty fun to fly throughout Peter Pan's story! If you can stand the wait, it's definitely one toddlers usually love.
Goofy's Barnstormer
This is a roller coaster for kids that are only 36 inches tall or taller, your toddler can enjoy this ride together with you! Just make sure that you hold your toddler tight while riding this ride because it can get a little bit scary!
This is a train ride where you can see the whole park from above. Your kids will surely enjoy seeing all the Walt Disney World attractions while riding on the railroad with you! Our toddlers are big train fans, so this is a great ride.
Best Food for Toddlers in Magic Kingdom
Popcorn Refills – I know not everyone feels comfortable feeding younger children popcorn. But if you can watch them carefully, the refillable popcorn bucket is so worth getting. The line for popcorn is usually short, and it can help to ward off some of those food-induced tantrums.
Churros – This is a favorite of almost everyone at Disney World – toddlers included. They can hold and it them pretty easily.
Pretzels
Most Quick Service Restaurants serve kids meals. The offerings may vary, but in general, you'll find some of these options – there's usually 1-2 sides and a child-friendly drink included. We usually try to pick at least one fruit/vegetable side if it's offered. We have found that most have an option for a Danimals Yogurt.

Mac and Cheese
Chicken Tenders
Hamburger/Cheeseburger
Pasta
Pizza
Hot Dog or Corn Dug
Smuckers Uncrustables

Pecos Bills has a great kids meal that a lot of children really enjoy – especially if you want something a little different
Runner Up – Animal Kingdom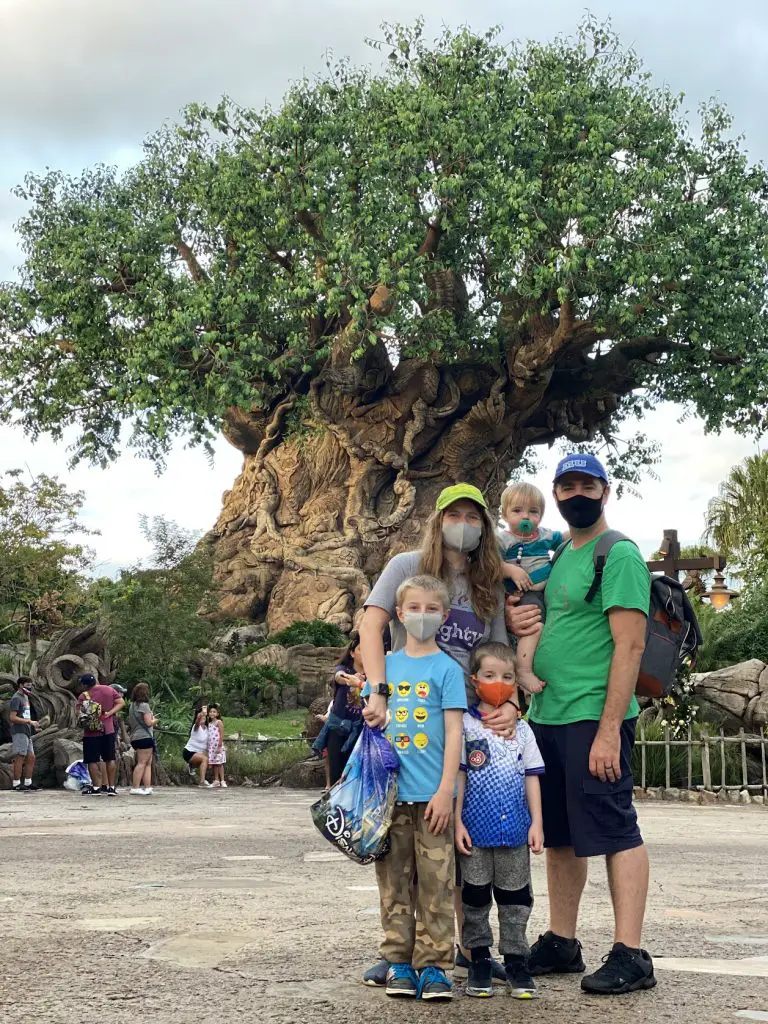 If we had to pick another park that we loved for toddlers, Animal Kingdom would definitely take the second-place spot. There are many things we LOVE about Animal Kingdom, and honestly, it's one of Disney World's most underrated parks.
While there aren't a TON of rides for toddlers here, there are so many fun walking paths, animal attractions, and even a really large slide and sandpit area. Even when others were going on rides like Avatar: Flight of Passage, the person who stayed behind with our toddler wasn't left twiddling their thumbs.
Here are a few things we really enjoy in Animal Kingdom: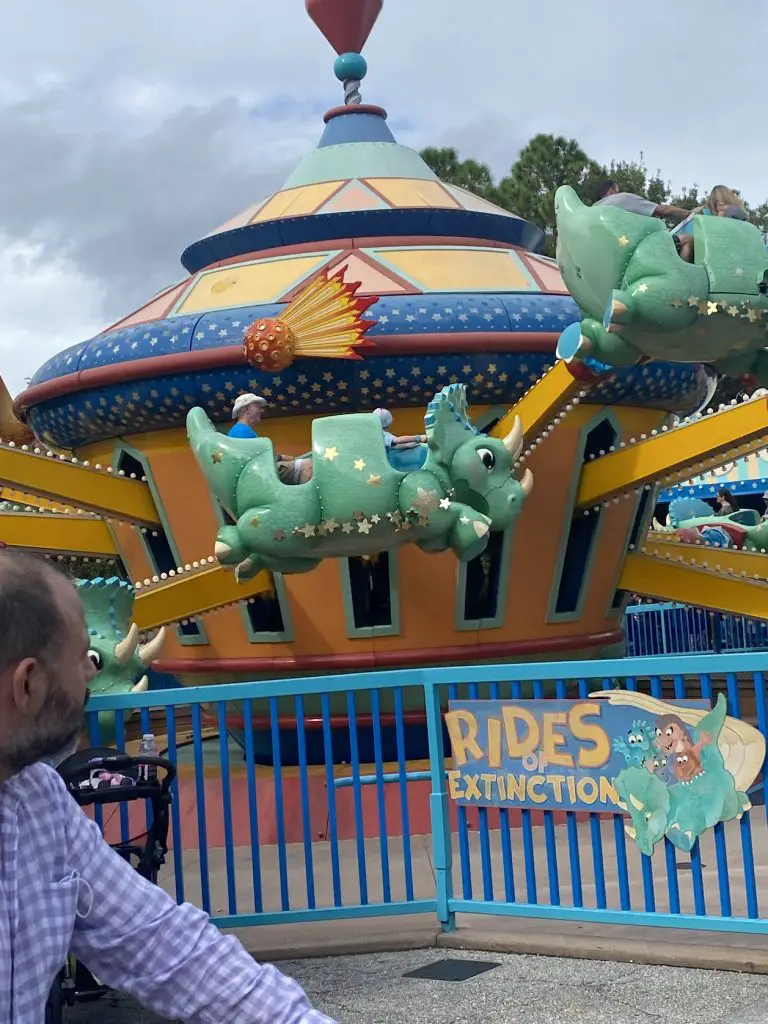 TriceraTop Spin – this is basically Dumbo but with Triceratops. Still super fun!
Na'vi River Journey – This is a slow paced boat right with lots of colors. Our son loved it!
Kilimanjaro Safari – we love the Safari! This one tends to get long rides pretty quickly, so it might be one to get a

Disney Genie+

pass for right away.
Gorilla Falls Exploration Trail – This is a fun path to walk on and find lots of fun animals!
Celebration of the Festival of the Lion King – this had just reopened the last time we went, and it was a favorite for everyone. Our toddler was captivated the whole time (though I recommend trying to have them sit in the front row if you can manage. The seats don't have backs, and our son kept kicking the person in front of us).
Wildlife Express Train to Rafiki's Planet Watch – Our son really enjoyed the train ride, and there were some fun things to once we got to Rafiki's Planet Watch. Our son loved the "Affection Section", which was a petting zoo.
it's tough to be a bug – I put this one with the caveat that it doest have some scary/surprising parts that not all toddlers will enjoy.
The Boneyard – this is the slide/giant sand pit. My toddler could have spent the entire day here during our last trip!
Animals – there are animals all over the park! It definitely feels like part amusement park/part zoo.
We hope that this helps you plan your Disney World trip with your toddler a little more easily! Let us know if you agree with our opinion!
More Travel Articles You May Enjoy: