The Beginner's Guide to Airbnb
When it comes to traveling nowadays, there are so many options!
One that's especially popular right now is Airbnb. I've known many people to use (and love) it, so I've been intrigued to try it myself.
However, at the same time, I love staying at hotels, so when it came down to planning our trips, I usually opted for that route.
Well, this last weekend we had our first Airbnb experience, and I have to say, I'm hooked!
So, I thought I'd share a little bit about experience, as well as do a little comparison of booking through Airbnb versus Hotel. I think it can be a great option for everyone – especially families – so I hope this will help.
Airbnb Discounts
Airbnb has a great referral program – you can get $40 off your first stay when booking here, and then you can sign up for the program and get a referral credit when you refer someone.
What is Airbnb?
First things first – what exactly is Airbnb. When I first heard the name, I thought it was a bed and breakfast service.
Well, some of the homes on Airbnb may offer a bed and breakfast-esque service, but that's definitely not the main feature of it. Basically, it's an online service that allows people to list and rent our short-term lodging in a residential home.
People can offer just one room in their home or the entire home, and the owner sets the price, rules, etc.
There are two types of bookings with Airbnb – instant book and reservation request.
With instant book, you can book a place right away without the owner having to approve it. With the reservation request, the owner manually approves people. The more you use Airbnb, the more reviews you'll get on your account about whether or not you are a good house guest – so those who manually approve will take that into account!
Tips for Choosing an Airbnb
I think one of the things that freaks people out the most with Airbnb is that it is being rented out by an individual. This can make you feel nervous
Read Reviews
This is really the best thing you can do. People are strongly encouraged to leave feedback on a property after they leave, and I think most people do and are pretty honest with their thoughts.
I would be wary about staying at a place with little to no review – especially if you are traveling with your family. Obviously, someone has to be the first person to stay somewhere, but
Look at the extra fees
When I booked my first Airbnb property, I was a bit taken back when I realized all the fees tacked on. Make sure you are aware of these before you book.
A host determines the nightly fee, what the cleaning fee is, as well as extra guest fees (these may not always be applied). Some hosts will require a deposit upon booking as well. This was actually a deciding factor for us when we recently booked through Airbnb.
Airbnb also has a service fee to every booking, which helps keep Airbnb running with 24/7 support.
Full home or Room
You can book the whole house or just a room or two in a property. This is where it can get tricky – there are some properties that are listed as the whole house when it's actually just the basement, and others are listed as just a room when it's a private apartment that's separate from the house.
So, just make sure you read all the fine details about what you are getting!
If you are traveling for business or with just your spouse, a private room will probably be just fine (and it will generally be less expensive). However, if you are traveling with your family, I think it's usually a better idea to go for the whole home.
Read Things Carefully
Make sure you know exactly what is included with your booking. Don't just assume that you'll have certain amenities (such as WiFi) available to you!
You should also know and understand the cancellation policies. It would stink to have to cancel a trip last minute, only to find out your host doesn't give refunds. Just make sure you know everything up front before you book!
Consider the Location
Usually, if a hotel has good reviews, I'm not too concerned about the area. However, if you are just staying in a residential home, I think it's a good idea to make sure it's not in a scary location or neighborhood.
Airbnb Versus Hotel
So, now that you know what Airbnb is, here are a few tips for deciding whether or not it's best for your family.
You should choose Airbnb if . . .
You need multiple rooms
If you want flexibility in location – you can often find Airbnb locations all over town. You may be able to get closer to a venue or area for a cheaper price than perhaps a hotel in a bustling area would cost.
You want access to a kitchen – obviously, not all Airbnb locations offer this. However, when you are traveling with your family, you will probably be reserving a whole house. Having a kitchen can really save on the costs of eating out!
You want more space – hotel rooms can feel cramped and claustrophobic at times. While many Airbnb locations are just a room in a home, it can still feel more spacious – especially if you can walk outside and go on a walk easily!
You want an adventure! It can be fun to get to know a new area by using Airbnb. If you are staying in a property where the hosts will be home, it can be a neat experience to hear about their lives, the area, and more. I had a friend tell me they stayed somewhere in Australia where they loved getting to know their hosts. It can be a cool way to interact with the locals!
Traveling with multiple families – if you split the cost with others, it can make it even more affordable! We are looking into renting out the properties we went to for a family reunion sometime!
You want something cozier than a hotel
You should choose a hotel if . . .
You only need one room (but you want privacy). While you can certainly book just one room in a home through Airbnb, it often will be in the space of another individual or family. If you want privacy, I would just go with a hotel
You want consistent quality. Generally, if you stay at a certain chain of hotels, you can count on it being of a certain quality and offer certain things. With Airbnb, you can usually get a good feel
You want a free breakfast. Not all hotels offer this, but if you want it, you can generally find it
Last minute booking – while there may be some last minute booking offerings with Airbnb, it's not really the model of Airbnb.
Most reliable bookings – typically, if you book at a hotel, you aren't going to worry about them canceling last minute. While you hopefully won't encounter this with Airbnb, I have heard of plenty of people who had their booking canceled last minute.
I thought I'd do a little comparison from our most recent trip and the prices we paid.
We stayed in Moab, Utah, and the property we stayed at was a very nice, three bedroom, three bath condo. It included a full-size kitchen, a living room with a fireplace and TV, a private garage, and every bedroom had a TV.
We were traveling off season, so the base price was $112 per night, with a $90 cleaning fee, $38 service fee, $43 occupancy taxes. We used a discount from my sister-in-law's referral code and got $35 off since it was our first stay. The total for two nights was $360.
When I looked on Priceline, the lowest price I saw for one room was $64, though for the quality, the average was around $110 per night, with some places as high as $344. You can generally count on about $10-15 in taxes when booking a room. If we booked three rooms (as to compare apples to apples), it would have been a minimum of about $200, and that's for the bare minimum.
Obviously, this will be different depending on where you stay, what kind of home you are staying in, and how many rooms you actually need, but overall, I do think that where we stayed was a great deal (especially since we had a great kitchen!).
Plus, it was nice having the privacy of our own house! We had a lot more amenities available to use than we would have with a traditional hotel, and we LOVED having so much space. The boys (or Forrest and I) didn't get stir crazy, we had a kitchen, BBQ, and even a pool available for our use.
I just looked, and if you were just looking for a private room (so, similar to one hotel room), the prices are very similar. So it just comes down to what you are looking for!
Renting Your Own House
You can be an Airbnb host, too! I have heard of families that rent out their homes while they are own vacation to help finance their trips. Pretty smart!
We have thought about doing this (or just renting out our extra bedroom) for Airbnb, but we haven't done it yet. It can be a bit nerve-wracking, but it can also be a pretty cool experience.
For me, the biggest issue is safety. How do I know that my home will be protected, and I'm not letting crazy people into my house?
Obviously, with anything, there will be a risk. However, here are a few tips for determining whether you want to book out your property or not and to keep yourself as safe as possible.
Is it worth the money? Some locations are going to be more popular than others. For instance, where we live is a rather hot spot, so the price we can charge would probably be worth the added work. However, this may not always be the case. You can find out here how much you could approximately make!!
Make sure all communication stays on the Airbnb website. Anyone who tries to lure you into conversation outside of Airbnb is probably a no-go.
Read profiles and reviews of potential guests. I think it's especially important to not do instant book if you are renting out your house (as opposed to those who have properties that they rent our professionally).
Make sure they have verified phone numbers, connected social media accounts, etc. Do a little research if it's available!
Be very detailed in your description of what you offer. It's important to make sure you lay everything out (including house rules, what is included with staying at the property, etc.) so no one is frustrated and surprised when they arrive. Good pictures are a must!
Install security measures – I think this is important if you won't be there, especially. While I wouldn't put security cameras in the bedrooms, having a good security system can give you peace of mind.
Have a keypad – we use the August Smart Lock and Keypad, and you can set temporary keys for people. I think this is a good idea!
Make sure you have insurance. Airbnb does have a host protection insurance program that "provides primary liability coverage for up to $1,000,000 per occurrence in the event of a third-party claim of bodily injury or property damage related to an Airbnb stay." However, it would be a good idea to talk with your home insurance provider to see if additional coverage would be advised.
Our Experience
We just used Airbnb for the first time last week, and it couldn't have gone better!
We traveled to Moab, Utah, and several books beforehand, we picked out a property we wanted to stay at. After reading a bunch of different reviews, we decided on a condo that was praised for being immaculately clean and great for families.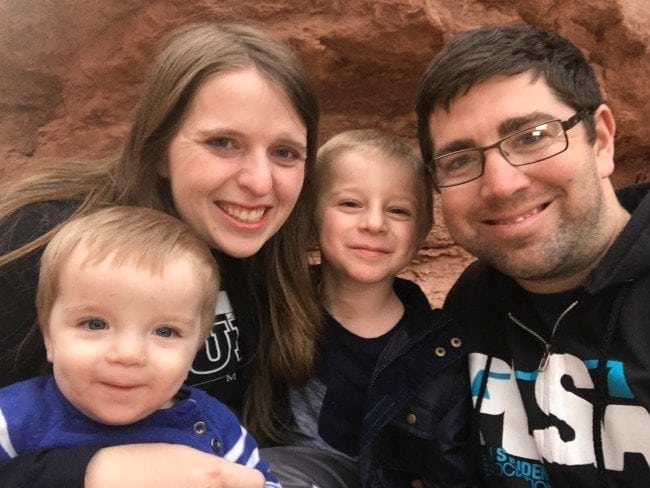 I put in a booking request, and I was given approval within minutes of my booking. The host was very responsive to all my questions and a few changes I ended up having to make.
We were given instructions right away about how to check-in and where the property was located. When we arrived, we were able to self-check in and were given a code to get in the home.
As soon as we arrived, I walked through the property to make note of any issues that were there. Fortunately, there were none! The property was exactly as described, and we were all very impressed.
There was a large kitchen with all the utensils and appliances we could need. I LOVED the counter with bar stools so the kids could hang around while we were in the kitchen.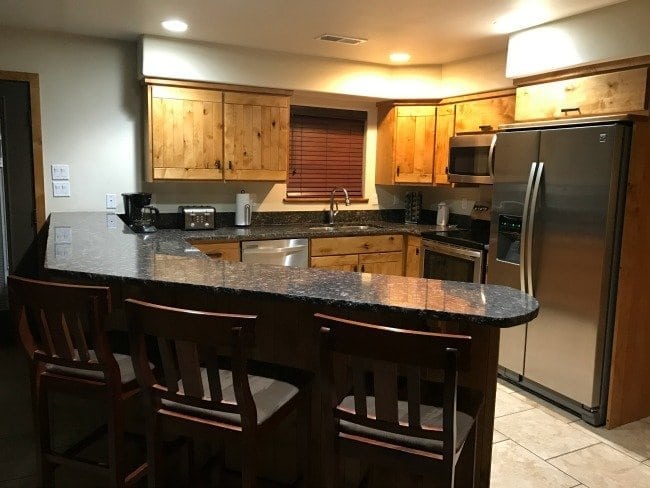 Each room had a comfortable bed (two king bedrooms and one with two full size) and a large, flat screen TV. That was pretty cool!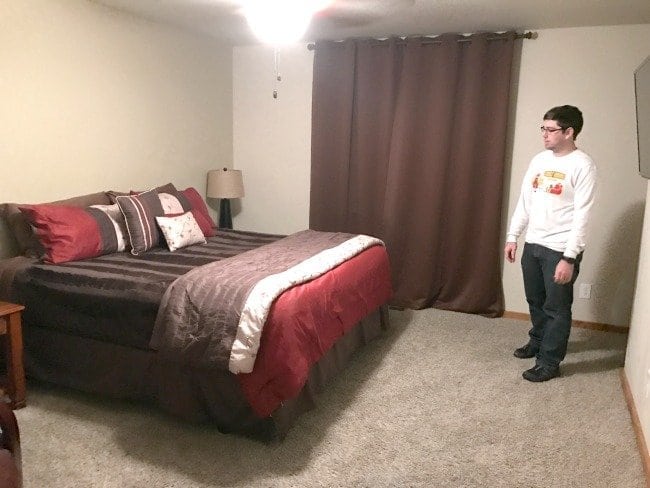 The master bedroom had a large balcony, which was a great place to go and relax.
There was a nice sized living room with comfy couches, a fireplace, and a large TV!
Off the kitchen was a spacious patio with a BBQ.
The home was equipped with all the towels, blankets, and shampoo we needed. It also had a washer and dryer that you could use, free of charge, which was wonderful!
It was also part of a development that had a pool that was available for our use, which was really awesome.
When we checked out, all we had to do was put the dishes in the dishwasher and text the owner. It was SO easy and pain-free.
We were very pleased with our entire experience using Airbnb. The website and app are pretty dummy-proof, and everything was exactly as described. I think that if you use the tips we described above, you can definitely have a great experience!
Is it the same as staying at a hotel? Not in every way. But using Airbnb can be a great way to travel all around the world!
Make sure to grab this digital coupon to get $10 off your next grocery purchase when you buy four or more Airbnb gift cards totaling $100 or more from Kroger stores through March 11th!
This is a sponsored conversation written by me on behalf of Kroger. The opinions and text are all mine.