Is Disneyland open on Thanksgiving day? Tips for Thanksgiving Success
Whether you're a Disneyland regular or this is your first time visiting, you may be wondering if the park is open on Thanksgiving day. Here's everything you need to know about visiting Disneyland during Thanksgiving week! Plus, we've got some tips to make your holiday experience as smooth as possible. Happy Thanksgiving!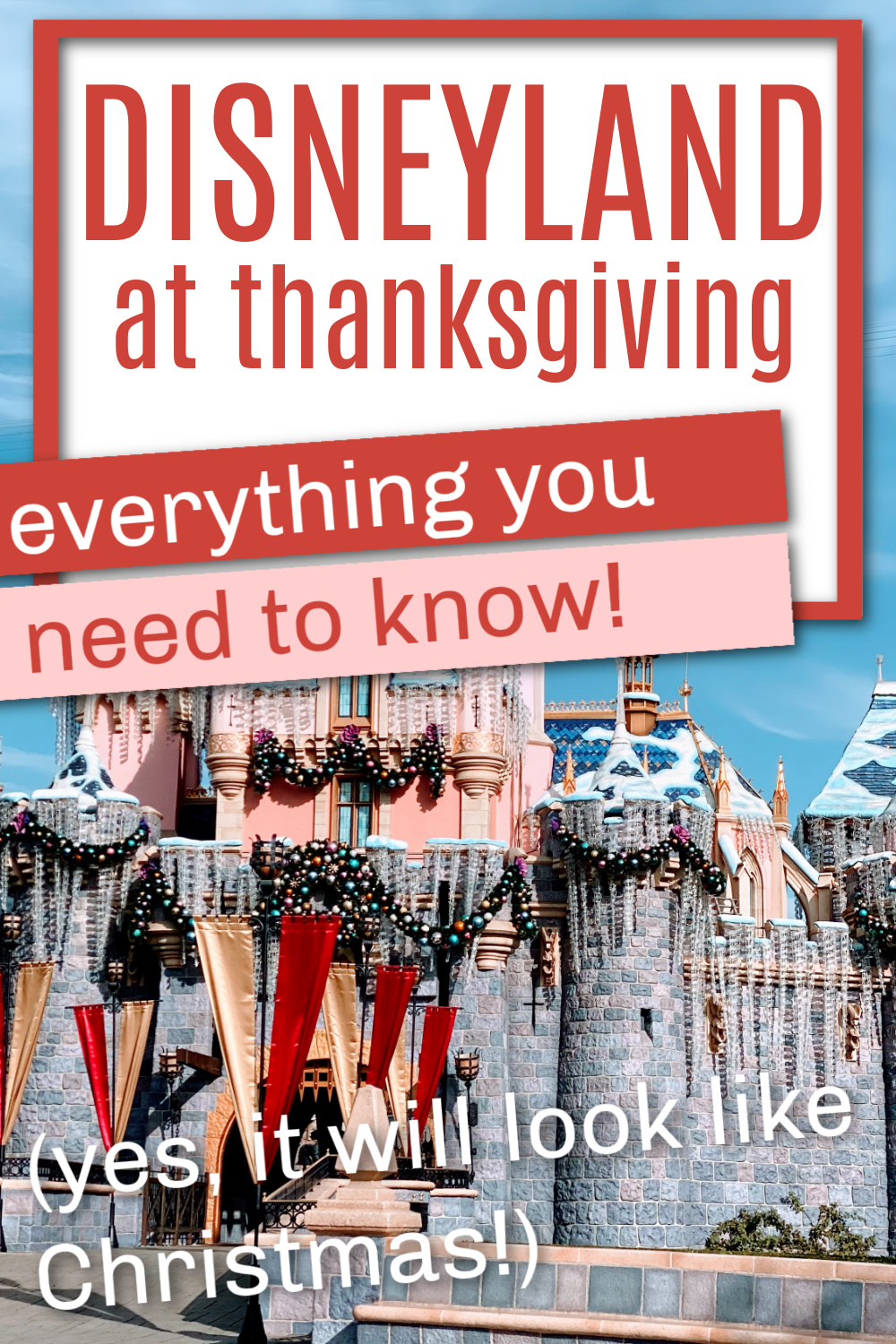 Thanksgiving week is popular at the Disney parks – so if you are planning a trip, you might be wondering if the park is even open!
The good news is – yes! It is open! But it's going to be busy, so in this article, we are sharing everything you need to know about Disneyland and Thanksgiving – including where to find Thanksgiving dinner and other seasonal offerings!
Is Disneyland open on Thanksgiving Day?
Yes, Disneyland is open on Thanksgiving Day! So if you're looking for a fun and festive way to spend Thanksgiving, Disneyland is the place to be. There are some fun meals and foods available during Thanksgiving week which can make it an even more unique event.
How Busy is Thanksgiving at Disneyland
Thanksgiving week is usually a busy day at the parks. Because many schools are off for most of the week, it has become a prime time for visiting the park.
With that said, the Friday and Saturday after Thanksgiving are like the busiest days during Thanksgiving week. You might get lucky and find some lower crowds throughout the day on the actual day of Thanksgiving – especially during typical Thanksgiving dinner times (early afternoon) as many people who are visiting may not want to eat dinner in the park.
Here are the predictions from various websites:
Is it Packed? lists Thanksgiving as "Yup, it's packed!" but it also marked it as a "best bet" for best crowds that week.
Undercover Tourist has Thanksgiving listed as a 10/10 with the highest crowds
Magic Guides has Thanksgiving listed as "above average crowds", one level below their highest designation of "Heavy crowds"
California Adventure's "Festival of Holidays" food fest is also in full swing, which is always certain to bring in crowds.
No matter what way you spin it, you are going to likely encounter crowds while you are visiting. It's certainly not the end of the world, but it's just something to be aware of while you plan your trip.
Book your next magical family adventure through our friends at Get Away Today! They are truly the Disney experts and can make planning your trip a breeze for both Disneyland and Disney World. You can browse their website or call 1-855-GET-AWAY. Make sure you tell them Magical Family Travel Guide sent you or use the code MFTG for $10 off a Southern California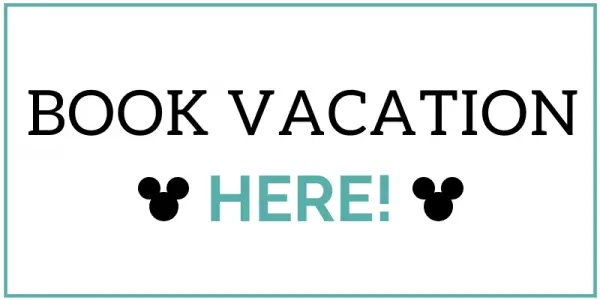 When to book for Thanksgiving at Disneyland
Because Thanksgiving week is going to be busy, the sooner you book your tickets and hotel, the better!
As of right now, Disneyland and California Adventure are still using the reservation system. At the time of this writing, reservations are not currently available, but I am sure once the availability is released, they will fill up quickly.
Hotels – especially those closer to Disneyland – will be filling up quickly as well. We definitely recommend booking your trip as soon as possible through Get Away Today to take advantage of any savings you can.
Pro Tip: Even if single park ticket reservations are not available, they sometimes are available with the Park Hopper. You may need to purchase a park hopper ticket if this is the case.
Does Disneyland serve Thanksgiving dinner?
Yes! There are places that you can get Thanksgiving dinner (or Thanksgiving-esque foods) while you are at the parks during Thanksgiving week. Here are some of the different options that have traditional Thanksgiving meals available.
Disneyland Hotel's Grand Ballroom*
Napa Rose*
Storyteller's Cafe*
Goofy's Kitchen*
Carnation Cafe
River Belle Terrace
Wine Country Trattoria
Many of these restaurants require reservations, which are available 60 days before you arrive. These will definitely go fast, so grab them if you see them! You can cancel up to 72 hours beforehand to avoid cancellation fees.
*These are the restaurants that serve full Thanksgiving dinners and reservations will definitely be limited!
Other Thanksgiving-Themed Foods at Disneyland.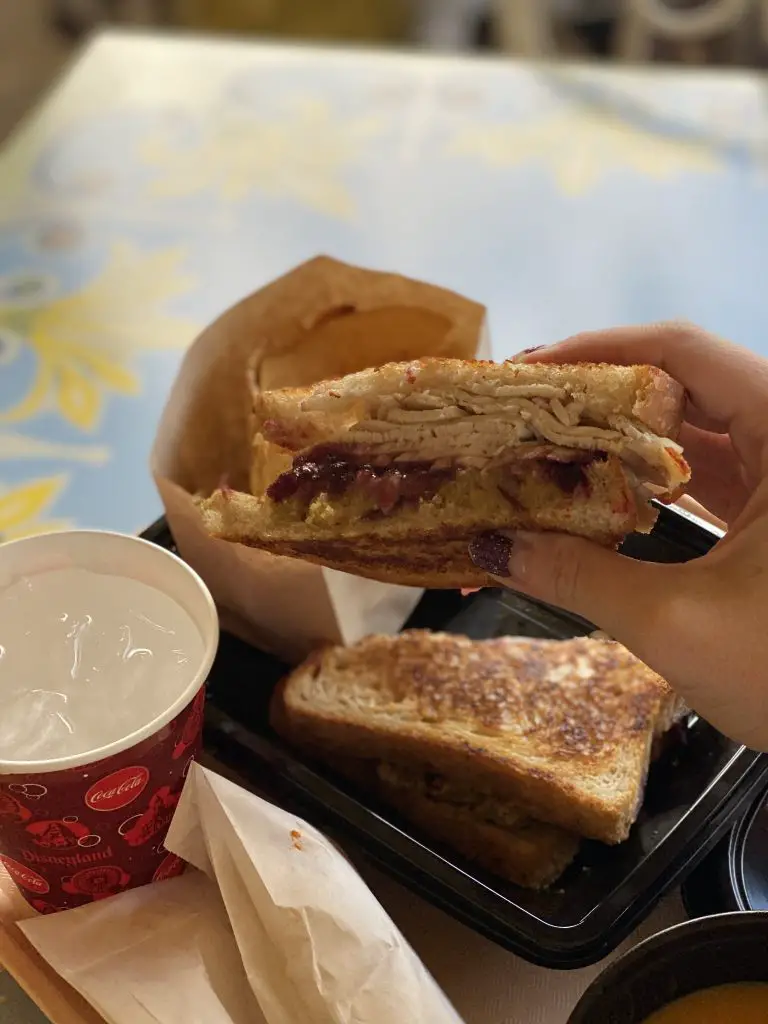 One of the most fun parts of Thanksgiving at Disneyland is the opportunity to try out some of their seasonal offerings.
Not looking for turkey and mashed potatoes? Well, there are still lots of fun Thanksgiving foods (savory and sweet!) available at the park. Here are a few places to check out for some yummy options, though be sure to check your app for random places around the park!
Flo's Cafe – Typically has turkey available but not a specific Thanksgiving dinner. They do serve a delicious "Day After Thanksgiving" sandwich
Pacific Wharf Cafe
Festival of Holiday Booths – there are always some holiday-themed foods at these booths! If you want little bites of a variety of fun foods, definitely take advantage of the food pass!
Cafe Orleans
French Market Restaurant
Plaza Inn
Rancho del Zocalo
Jolly Holiday Bakery Cafe (their Holiday sandwich is to DIE for).
Carthay Circle Lounge
Candy Shops
And of course, you can get a smoked Turkey Leg ALL Year round at both parks. This a great option for those who are looking for a less traditional approach to Thanksgiving dinner!
Tips for Thanksgiving at Disneyland
Many of the tips for a successful Thanksgiving trip are the same ones we'd recommend for ANY busy time of year at Disneyland – but they are always worth reiterating!
Use Mobile Ordering
Download the Disneyland app to take advantage of mobile ordering at select quick-service restaurants. This will help you avoid long lines and enjoy your time in the parks more!
Take Advantage of Genie+
Disney Genie+ is definitely a necessity during peak season at Disneyland! Unless you really love standing in lines, having a holiday Disney Genie+ strategy can greatly limit the amount of time you spend waiting in line.
Arrive Early
Arrive at least 30 minutes before the start of your day! This will almost assuredly give you a couple hours of lower crowds. You should definitely rope drop some of the most popular rides as well.
Make Reservations Early
This is important for both park reservations and for restaurant reservations. I suspect that as soon as these disappear, it will be difficult to grab one. They are both available 60 days before Thanksgiving!
Stay Close By
Stay as close as you can to the park! It will make it easier to get to the parks early, take a break midday, and just take advantage of Disney magic for longer. There are quite a few affordable hotels nearby, so grab one while you ca.
Consider Staying On Site
If you are staying at a Disneyland Resort hotel, you have the opportunity to enter the parks an hour early each morning of your stay. This is a great way to get some extra rides in before the parks get too busy later in the day.
Disneyland is a great place to spend Thanksgiving, and this guide has everything you need to know to make the most of your trip. From restaurants that are serving traditional Thanksgiving meals to tips on avoiding long lines, we've got you covered. Be sure to download the Disneyland app and take advantage of Genie+ so you can make the most of your time in the parks! We'd love to hear your experience at Disneyland during Thanksgiving – share below!