6+ BEST Toddler Shoes for Disney World and Disneyland Vacations
Are you looking for the best shoes for the long days filled with a lot of walking for your upcoming Walt Disney World or Disneyland trip? You're in the right place! In this article, we are sharing our top choices for the best toddler shoes for a Disney trip that will leave your little one happy at the end of the day.
It can be a daunting task to find the perfect shoes for toddlers to wear at Disney World. With so many options available, it can be hard to know which ones will be the most comfortable and practical for a day of walking around the theme park. To help make things a little bit easier, we've put together a list of the five best toddler shoes for Disney World.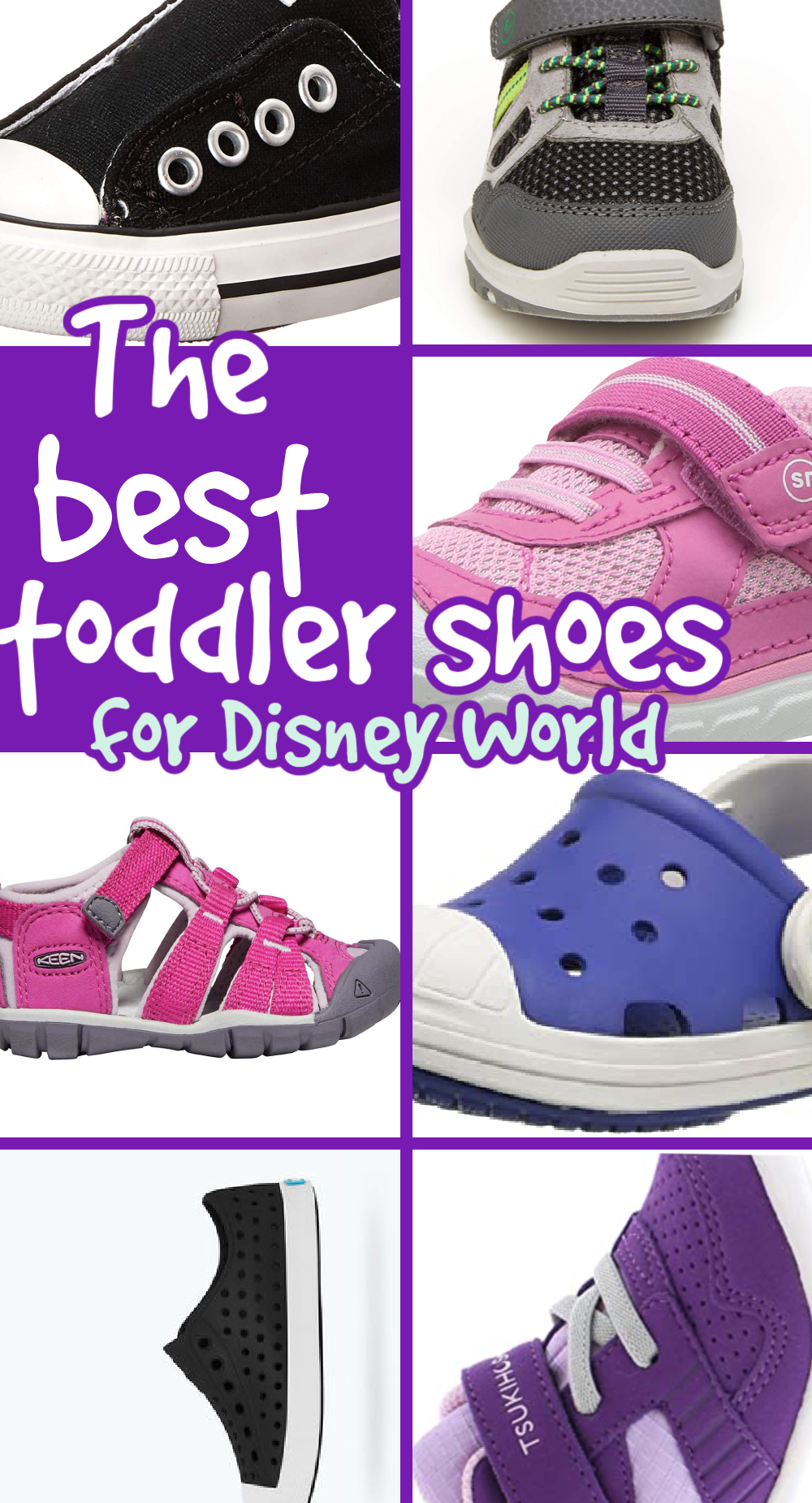 We all know that Disneyland and Disney World with a Toddler can be a little bit daunting. If you have a toddler like ours, you'll find yourself with a child who is wanting to walk half the day and be in the stroller the other half of the time.
You may also enjoy: The Best Disney World Park for Toddlers (From a Toddler Mom)
The importance of the right shoes for these trips cannot be understated – even for a toddler. You want something supportive and sturdy – as well as protective – as they trounce through the parks. The last thing you want is a toddler complaining of hurt feet during your Disney vacation.
While there are many types of shoes that should work just fine, here is a list of the best shoes that would be fantastic options for little feet in the Disney Parks.
We are huge fans of Stride Rite shoes for our kids – we had a great pair of sandals that have lasted through three children (until we lost one of the shoes at Legoland this year. Long story). I really think they are some of the best kid's shoe brands around. They offer very high-quality shoes for toddlers.
You can buy them on their website, Amazon, and various places in the store.
Stride Rite has a lot of different shoe options – from sandals to traditional tennis shoes – and they are just built really sturdily. I feel like they change the names of their shoes pretty frequently, but here is a couple that would be great for the parks:
KEEN Child Sandal
As I looked at different reviews, over and over I came across KEEN sandals being a top recommendation. They have a great reputation for making comfortable sandals for all ages. These are definitely worth the extra cost and many believe they are the best choice for toddlers.
If you want a shoe that's easy to slip on (like a sandal) but doesn't risk your little one's toes being smashed by the wheels of the stroller or other people who aren't paying attention, this is a great brand.
They have various brands, but the KEEN Unisex-Child Seacamp Ii CNX Sandal seems to have the best reviews. It has different colors and has sizes for children 1-8.
The Crocs Bump It Clog is another great option for toddlers who want shoes that are both comfortable and stylish. Okay, maybe stylish isn't the right word. But I often think that Crocs are a great brand of shoes to have at the parks.
These clogs are especially good for young children, as they have a 'bump it' system that allows you to adjust the straps so they fit your child. This ensures that the shoe will stay securely on their foot without hurting or cutting off the circulation.
These can be a nice pair of shoes to pull out for tired feet at the end of the day. It can be a good idea to have a couple different shoes to switch off between.
The Native Jefferson slip-ons are another great option for toddlers who want a stylish and comfortable shoe. These shoes are made with a suede upper and a rubber sole, which makes them durable and long lasting. Plus, they come in a variety of cute colors so your child will look stylish as well as comfortable.
They are also "water friendly" and fast drying, which is essential when you are in Florida. They also boast of a rubber sole, are slip on, and easy to clean.
If you're looking for athletic shoes that provide excellent support and comfort, the Under Armour Unisex Infant Assert Running Shoes are a great option. These shoes are made with a breathable mesh upper and a rubber sole, which makes them perfect for running around on hot days. Under Armour is known for its quality products – they are a bit more than I usually would spend on a toddler, but they do seem like they'd hold up quite well.
This is a classic sneaker available in a variety of bright and fun colors, which makes for cute comfortable shoes. It has a wide toe box (so perfect for those of us who have kids with chubby feet), and they are slip resistant.
I also love that these are washer friendly, so they can easily be cleaned up and appear to be waterproof. They are also really easy to get on and off, and they have a velcro strap to help keep the shoes on. They have a heal stabilizer, which seemed interesting to me! These are very comfortable walking shoes.
Is there anything more classic than Converse Chuck Taylor shoes? I think not – and toddlers look adorable in them.
But in the park, we need something functional as well, and these are definitely an excellent choice for little kids. They are made of lightweight, breathable canvas and are super easy to slip on and off. They also have a supportive, rubber sole which is a must for the parks!
Additional Tips:
Here are a few additional tips for making life a little bit easier with your child's shoes and walking in the park:
Break Them In
Never wear a brand new pair of shoes to Disneyland and Disney World – TRUST me. Even if your toddler isn't walking a ton, just walking a little ways in shoes you aren't used to can be miserable. Make sure you have your toddler regularly wear their shoes for at least a few weeks before your trip for maximum comfort.
Make sure they are waterproof
Disney World is known for its rainy days and sudden rainstorms, and trust me, you don't want to be caught in one of these with the wrong shoes. When we went last year, we were caught in a massive storm where we were wading through about 6″ of water. Let's just say, we didn't go home with all the shoes we came with. Even going on certain water rides – like Splash Mountain – make it necessary to have shoes that are water-resistant. Make sure the shoes you get (for everyone!) are waterproof and water-resistant.
Comfortable socks are important
Sometimes your socks can make a world of difference when it comes to your shoes, especially with toddlers. Make sure you bring along some socks that make walking more comfortable.
Protect the toes!
While it might be tempting to throw on some flip flops or open-toed sandals – the Disney parks are PACKED. I get my feet trampled on all the time and having open-toed sandals put you at great risk for that. Make sure your child has closed-toe shoes!
Finding the best option for your toddler at the Disney theme parks doesn't have to be hard. We hope that you've found some good tips for the type of shoe that will leave your toddler with happy feet after the long hours of walking in the Disney World Parks.
More Posts You Might Enjoy: