The Best Rain Ponchos for Disney + Rainy Day Tips (2021)
A rain poncho is an essential when going to any Disney theme park – not only will it protect you from a sudden rainstorm (which is especially common with Florida weather), but they are so helpful for some of the popular wet rides like Splash Mountain!
How many times have you and your entire family traveled to Disneyland or Walt Disney World, only to be greeted by a lot of heavy rain? If the answer was many times, we've got you covered. If the answer was not much, we are here to prepare you before you get stuck in a bit of rain.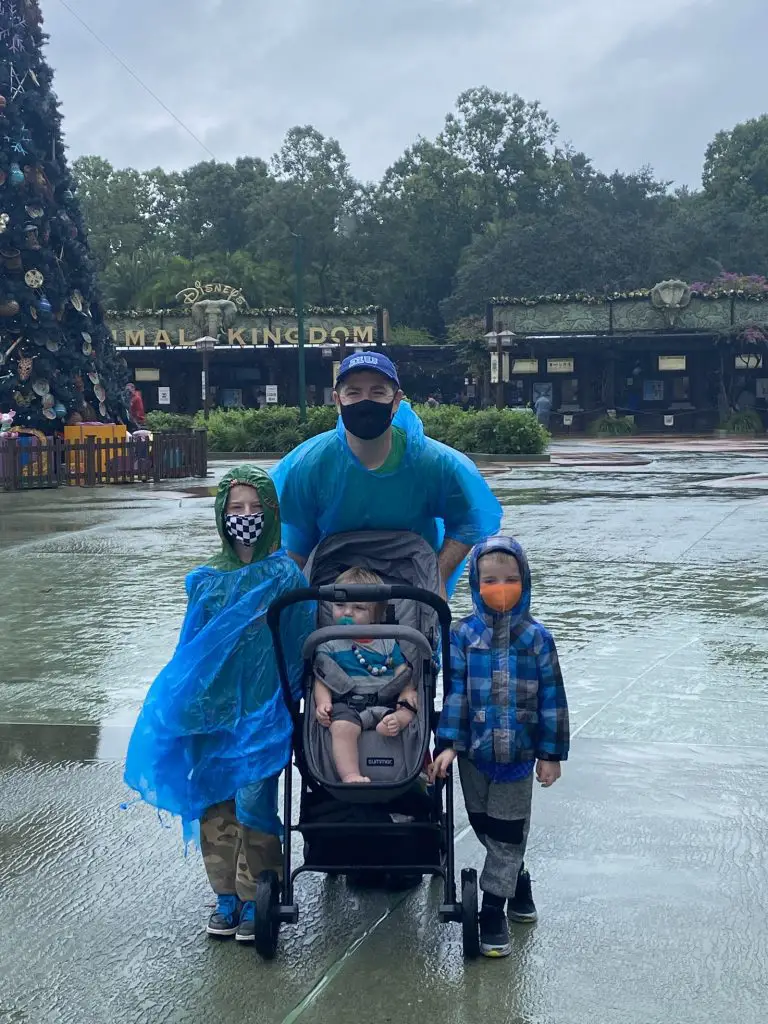 Best Rain Ponchos for Disney
The solution? Rain ponchos! Trust us – it's always a good idea to have one. Whether it's a cheap one from the Dollar Tree, a Mickey Poncho, or a poncho you can use over and over again, a rain poncho is a good choice for every packing list.
Rainy season can be a great choice of when to visit the Disney parks. Don't believe me? Think about it, it is a great way to enjoy an emptier version of the park. Locals will typically go home and come back when the weather forecast is nicer, because they don't enjoy the theme parks under a little rain as much. Central Florida tends to be a little bit easier to manage during that time of year. Gotta love Florida weather!
These leave an almost empty park a lot of the time. Attraction lines will be shortened, restaurants have no need for reservations, and you can enjoy your favorite indoor and outdoor attractions like Seven Dwarfs Mine Train, Big Thunder Mountain and many more.
Rain protection can ensure that you get the most out of your vacation, without getting absolutely soaked. And while this applies well to the rainy summer months, it also applies to a sunny day, when you want to ride your favorite ride like Splash Mountain or Kali River Rapids, without getting drenched and walking around the rest of the day in wet shoes. It can be hard to enjoy the rest of your day at the Magic Kingdom or Animal Kingdom when you're soaking wet and not able to dry off as quickly as you'd like.
When considering the best rain poncho to bring with you to the Disney parks, you first have to think about the different types of rain ponchos and what you and your family will be most comfortable in. They tend to be easier to tote around than rain coats, and they fold up nicely.
Book your next magical family adventure through our friends at Get Away Today! They are truly the Disney experts and can make planning your trip a breeze for both Disneyland and Disney World. You can browse their website or call 1-855-GET-AWAY. Make sure you tell them Magical Family Travel Guide sent you or use the code MFTG for $10 off a Southern California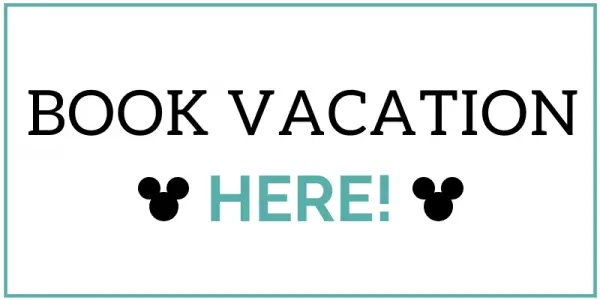 Types of Rain Ponchos
Most often, the popular choice for keeping dry is a disposable rain poncho. They are easy for people to carry in their backpacks and you can throw them away at the end of the day. While a waterproof rain jacket might be a better choice if you are expecting afternoon showers or Florida rain all day, a poncho is better for intermittent showers or for rides.
No matter what style of rain poncho you choose, the important thing is to stay dry while on your favorite rides or during a rainy day. But where do you start?
Disposable Rain Ponchos
If you do choose to go the disposable poncho route, there are plenty of options with different colors, patterns, and styles. These tend to be cheap ponchos.
However, at the end of the day, disposable ponchos are just cheap plastic ponchos. While they do the job, they risk getting holes in them or not performing as well as others may.
We picked up a bunch for The Dollar Tree before our last trip, and while they did get holes in them, they got the job done! Disposable ones are also very lightweight poncho option, and can be an especially good choice if you don't have a large backpack. You can probably even fit it into a fanny pack!
Heavy Duty Rain Ponchos
There are ponchos that are a step up from disposable ponchos, but not quite as durable as heavy-duty ponchos. These ponchos are still made of plastic, but they are thicker and can be customized with different designs.
If you are looking for a heavy-duty rain ponchos, we suggest looking at one of the following:
Heavy-duty rain jackets or ponchos are made with a thicker material that dries off easily and can be worn over and over. No one wants to use wet ponchos! These can be especially useful if the weather forecast says that it will rain on multiple days of your trip.
Often times, these rain ponchos are made large enough to cover not only the user, but the user's backpack and personal items. This can prove useful if you are carrying electronics or snacks in your backpack that you would prefer to keep dry.
But remember, if you are looking to invest in a heavy-duty rain poncho, make sure you are looking for a breathable rain jacket or poncho with a drawstring hood. You don't want a rain jacket that is too tight, but you want to be able to keep the rain out as much as possible during bad weather.
If you're looking for a sturdier poncho, definitely look at some of these.
Disney Ponchos
There are many ponchos with a customized designs that add a little flare to a rainy day during hurricane season. For a little more magic, you can consider getting Disney Ponchos . Mickey rain ponchos are especially fun for all ages!
Kid Ponchos
In a pinch, a child can wear an adult poncho. However, having one that fits them well will make things easier for everyone so they aren't tripping on it and tearing it as they walk.
Here are a couple of great options:
Where to find Rain Ponchos
If it just so happens that you will be expecting rain during your visit, you'll want to start planning what good rain gear to bring with you.
There are many places that sell rain jackets and ponchos. You can visit in store or online options for places like:
Each of these sites will vary in price, depending on what you are looking for. Disposable rain ponchos will be less expensive, and will often come in packs, whereas heavy-duty rain ponchos will be slightly more expensive and sold individually.
You can typically find them in the camping section of the store.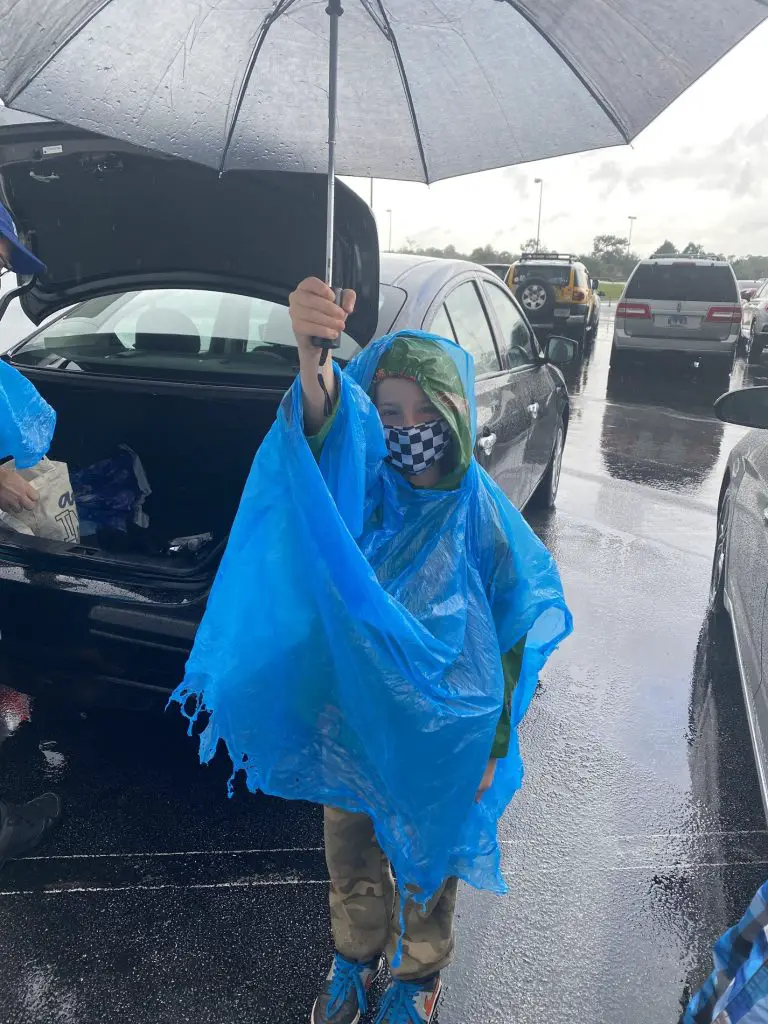 Personally, my family has usually opted for the disposable rain ponchos because of the price and the ability to throw them away and use a new one the next day, if needed. They can also be found in-person at stores like Walmart, Target, the 99 cent store, or dollar stores.
Where can you buy ponchos in Disney World?
Forget to buy a poncho before you left? Be sure to check out this article about where you can buy ponchos at Disney World!
Additional Protection for Rainy Days
Apart from rain jackets or ponchos, there are additional ways to protect yourself and your loved ones.
Stroller Covers
For those of you with little ones, you may also want to consider stroller covers when making your trip to the Happiest Place on Earth.
On Amazon, you can find stroller covers for anywhere from $10-$30. The best seller on Amazon is the Bemece Stroller Rain Cover and "Amazon's choice" is the Stroller Rain Cover.
Most stroller covers are adaptable to different models of strollers, but be sure to check that the cover fits your stroller before you head to the parks, to keep your little one safe and dry.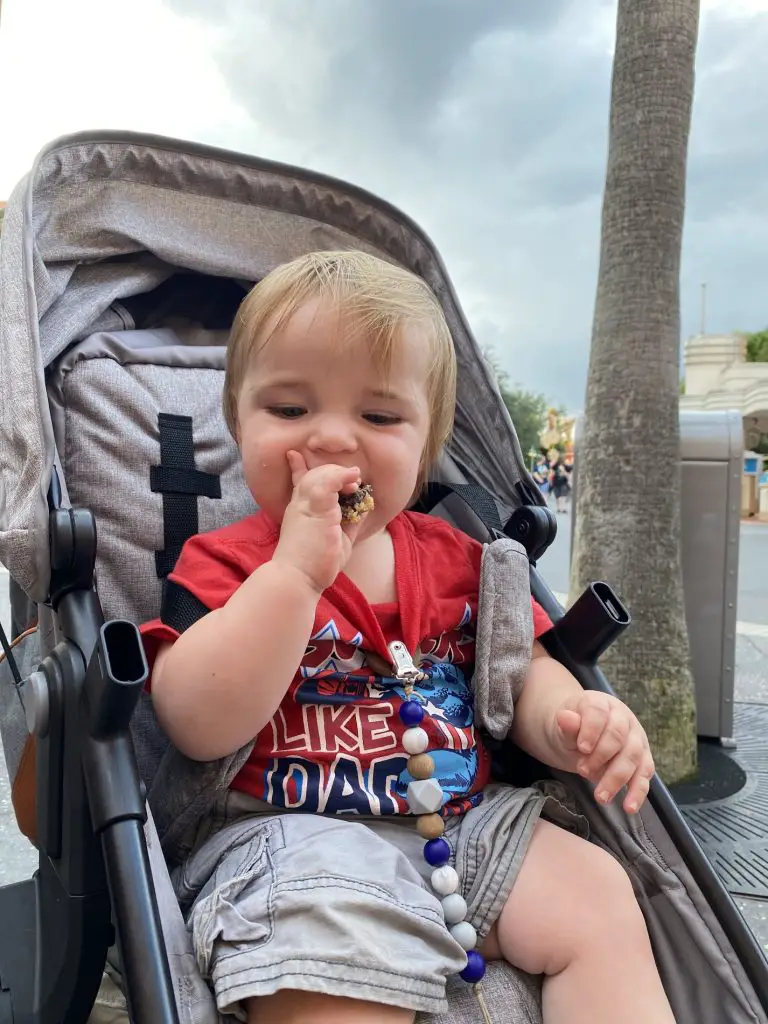 Shoe Covers
To go one step further, you can look into waterproof shoe covers that will allow you to walk "To Infinity and Beyond" without getting your shoes or your feet wet.
There is nothing worse than walking around the park in wet shoes, just waiting for dreaded blisters to form.
Another option for avoiding wet shoes, is packing rain boots in your suitcase. Rain boots are a sure way to keep your feet dry and repel the rain.
You may also want to consider an option like Chaco's when visiting the Disney parks. Chaco's are versatile and durable sandals that are capable of braving different kinds of weather and terrain. Many of my family members have Chaco's and they are their favorite shoes to wear to the parks, because of how comfortable they are and how quickly they adapt to weather forecasts. They can be a pricier option, but they are well worth it.
Ultimately, you need to choose the most comfortable option for footwear at the Disney parks because you are walking most of the day. I have seen people sport tennis shoes, flip flops, Chaco's, rain boots, and even designer Gucci shoes. (And let me tell you, he was not happy when they got wet on Splash Mountain).
So remember to consider the weather, but also choose what is going to be the most comfortable for you as you're walking around the parks.
And, if you're lucky, you may even see a few cast members sporting similar rainy day fashion.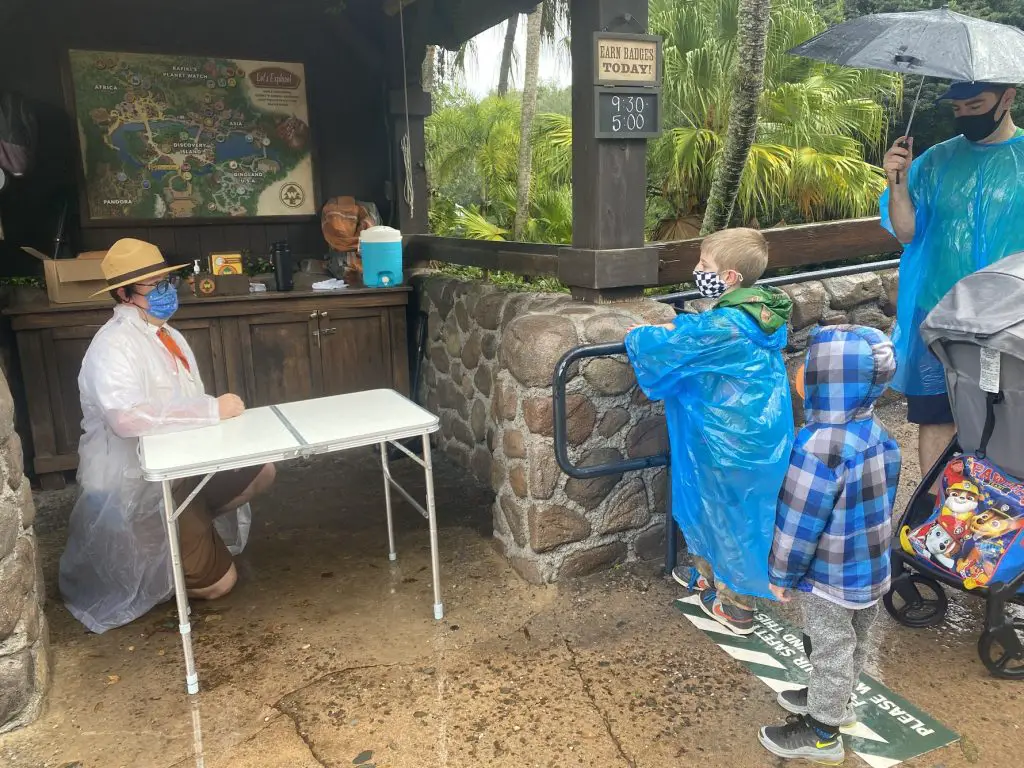 Going Back to the Hotel to Stay Dry
If your family is staying on or near the Disney park you are visiting, it might even be worth it to take a short break from all of the fun. You can take a few hours and go back to the hotel room, change your clothes, take a nap, and rejuvenate before you and your family are ready to brave the rain showers again.
My family has been known to do this on occasion, but it is really only worth it if you have passes to the Disney parks for multiple days. If the rainy day is your only time to visit the park, I would suggest staying and finding other ways to stay dry.
Finding Ways to Stay Dry in the Parks
No matter what park you are visiting, there are always indoor attractions that are a good way to stay dry during a rain storm. Rides like It's a Small World, Pirates of the Caribbean, Space Mountain, and Haunted Mansion are only some of the many indoor rides that last a little while longer and will give your party a break from all the high winds and rain.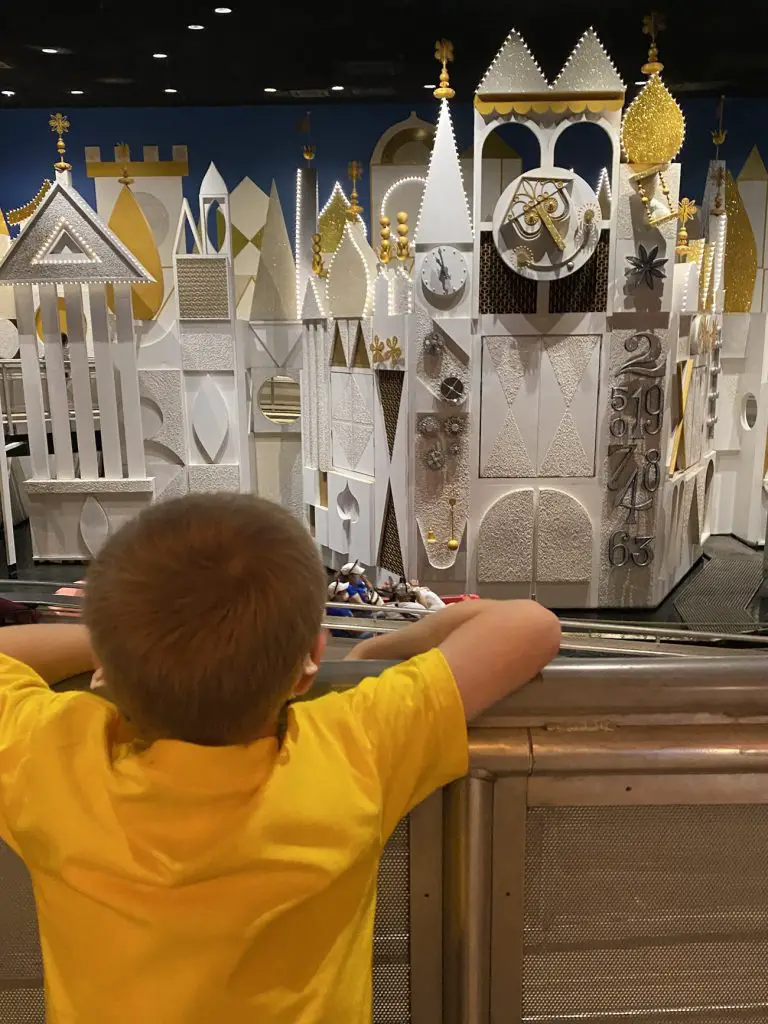 If lines are long and you're looking for another way to stay dry, I suggest visiting one of the many gift shops there are in each of the Disney parks. These shops are almost always indoor and provide shelter from the rain. You can also pick up more protective gear like backpacks, fanny packs, or baseball caps to keep the rain off for the remainder of the day.
These gift shops sometimes carry rain ponchos, but in my experience, they can be harder to find and you may have to visit a certain area of the park to find them. If rain gear is what you're after in the parks, the best people to talk to would be cast members.
In Florida, you can go to a designated information booth on Main Street U.S.A. or City Hall while you are visiting Magic Kingdom, or any of the designated information centers in the other parks at the Walt Disney World Resort.
In California, you can go to a designated information booth on Main Street U.S.A. or City Hall in Disneyland, or the information center in California Adventure.
In all Disney parks, you can find a cast member walking around with a character, or posted at a ride, but they typically do not know information about inventory of gift shops.
Whether you are looking for a simple solution for staying dry or a more complex solution for rainy season, we are confident these solutions will allow you to enjoy all of your favorite outdoor attractions during your visit to the Disney parks. A little water shouldn't stop anyone from still having a great time – preparation is key!