Festival of Holidays at California Adventure: A Non-Foodie's Perspective
Curious about what the Festival of Holidays at California Adventure has to offer? Here is a bit of our non-Foodie perspective on what we tried!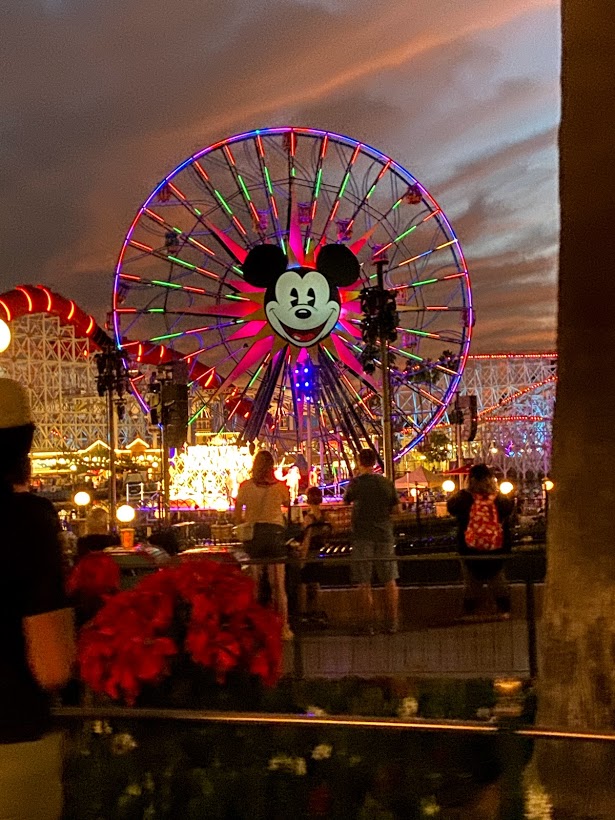 As we planned our trip to Disneyland this November, I was excited that we were going to be there during the Christmas season.
We've spent time there a few times during Halloween, and I was always so impressed with the park at that time – so we looked forward to being there this time of year.
I discovered that there was going to be a special food festival going on while we were there – the Festival of Holidays at California Adventure.
I read about it, and I was so excited to be able to try it out! I've heard how amazing the Food and Wine Festival in the spring is, so I assumed this would be the same.
Quite a few of my friends went to it in the weeks before I did, and they all shared their favorites, which made me even more excited. Everyone raved about it and acted like the food was incredible.
Well, I can honestly say it was an experience. But I'm not sure I would spend my money on it next time around.
This was the best thing I ate: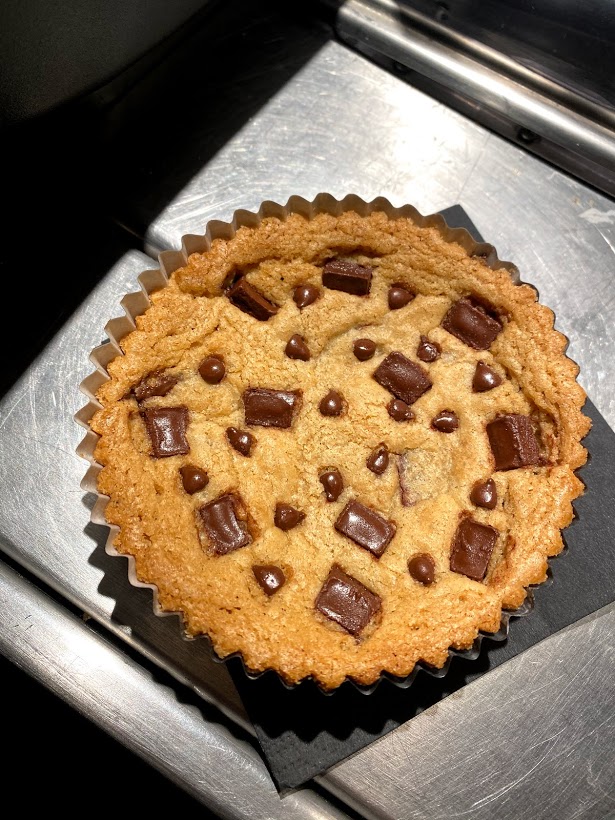 "But Katie…that's a Jack Jack Num Num Cookie! That's not part of the Festival of Holidays."
Case in point.
I should preface that I am definitely NOT a foodie. I feel like my opinions on food always clash with some of my foodie friends, so just take this as the experience of someone who enjoys yummy food (but doesn't necessarily need said food to be unique). I feel that this event is definitely targeted more toward the foodie crowd.
If you are planning a trip to Disneyland, make sure you book through friends at Get Away Today. We have used them to plan our Disneyland adventures, and no one makes it easier! You can use the code Clarkscondensed to get $10 off any Southern California vacation package!
What is the Festival of Holidays at California Adventure?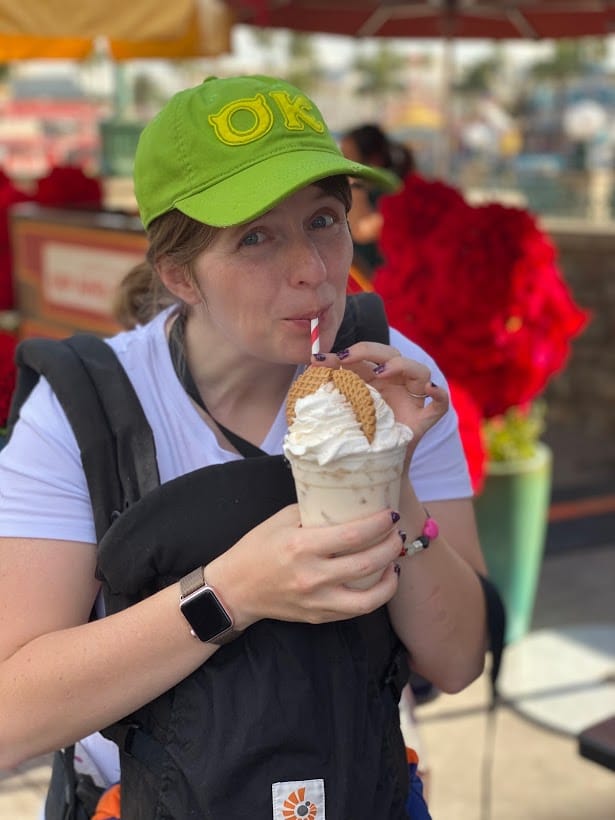 The Festival of Holidays turns one of the walkways at California Adventure into a food festival!
You'll find eight pop up stations where they serve limited time eats, treats and drinks. The foods are inspired by traditional foods that are meant for different holidays and cultures – you'll find items inspired by Christmas, Thanksgiving, Kwanzaa, and Hanukah.
The food items are in smaller portions so you can justify trying multiple things. Here are the different shops: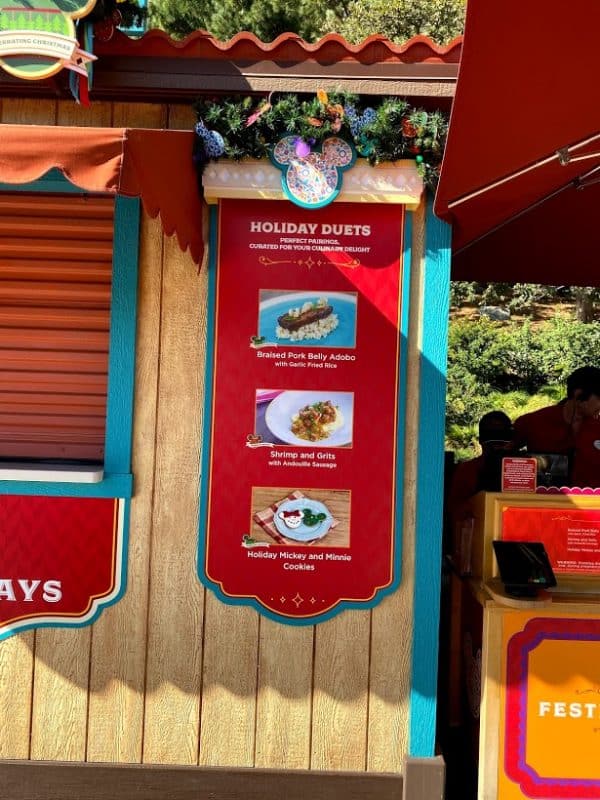 Holiday Duets – Pairings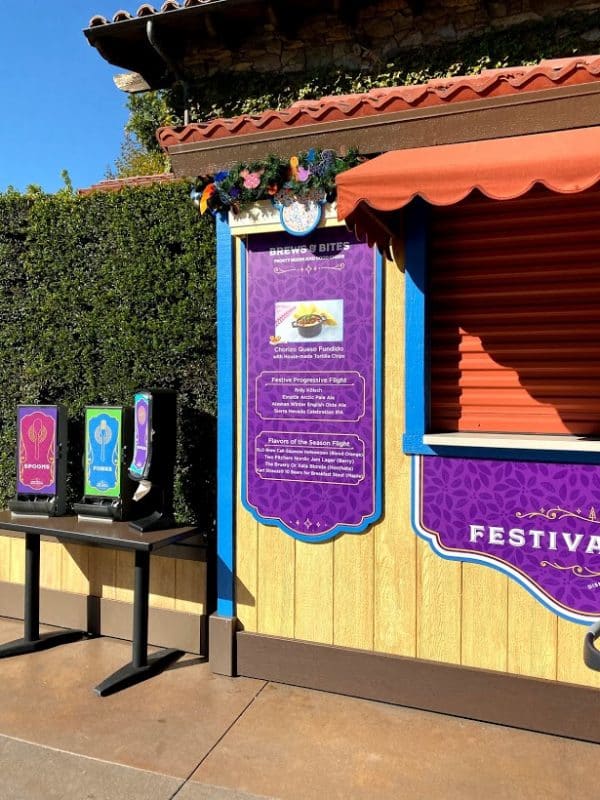 Brews & Bites – Bar foods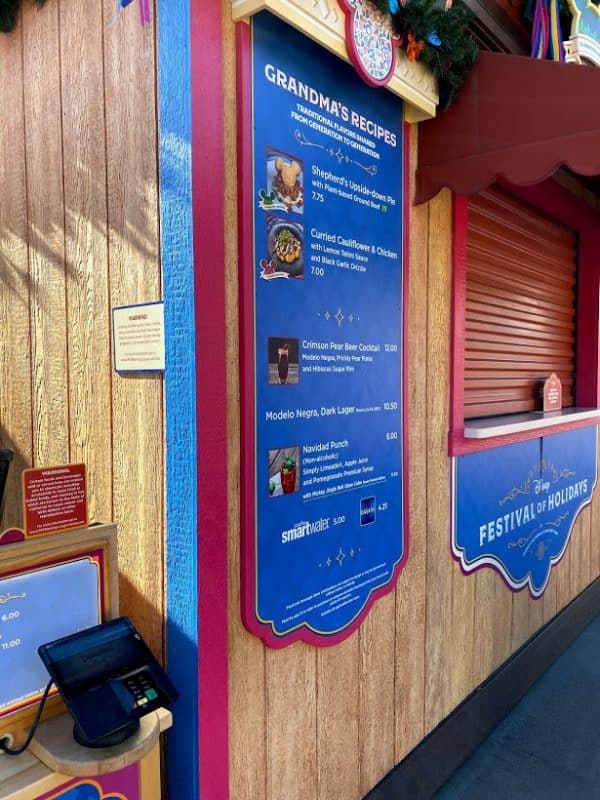 Grandma's Recipes – Traditional recipes with a twist. Has some vegan options.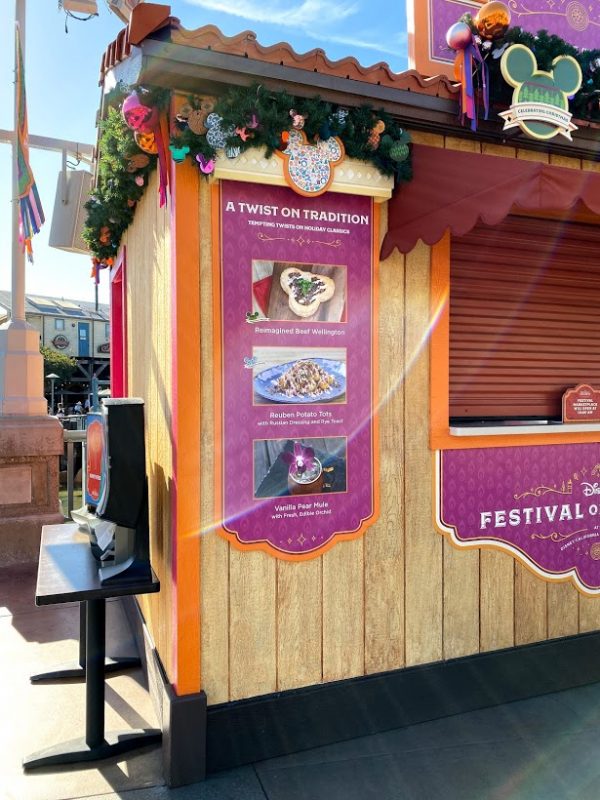 A Twist on Tradition – Holiday classics with a new twist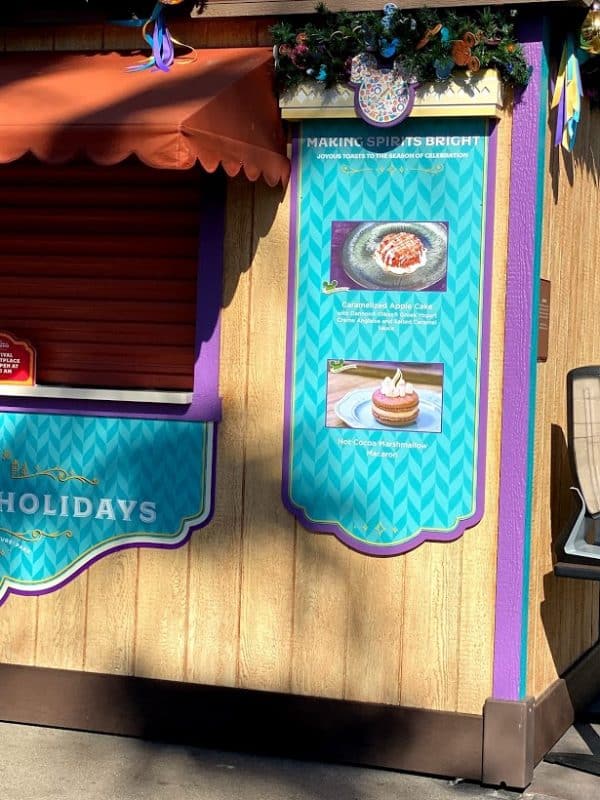 Making Spirits Bright – Drinks and desserts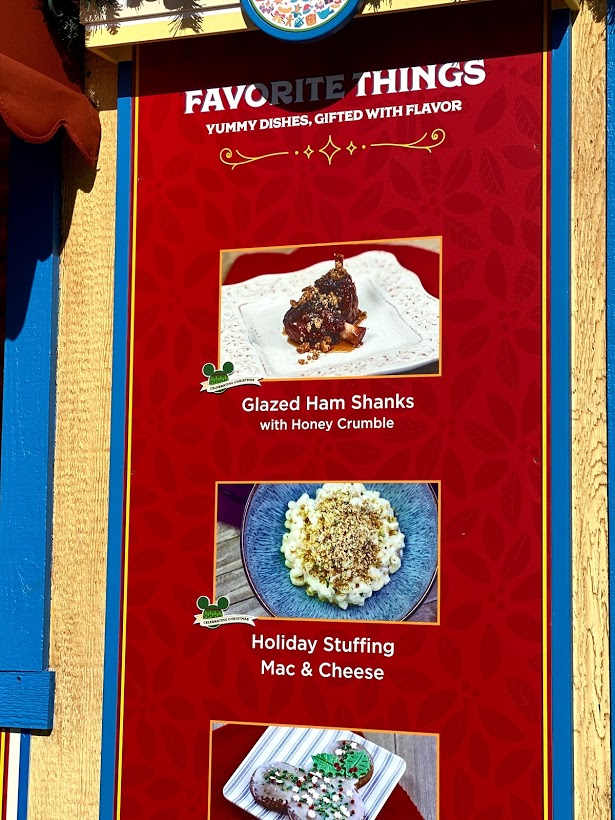 Favorite Things – traditional favorites with a twist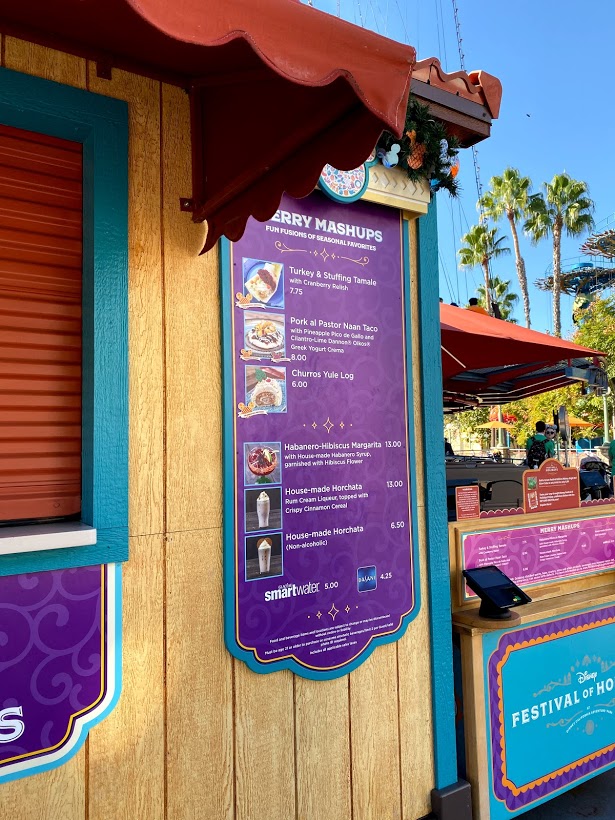 Merry Mashups – Latin inspired dishes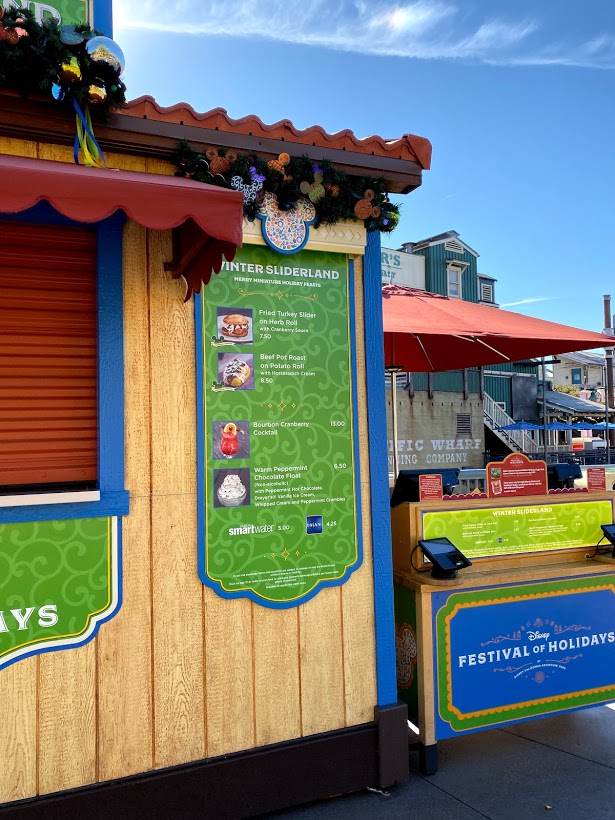 Winter Sliderland – different sliders with festive flavors.
There are also certain stores that are open year-round that also offer some items that are part of the festival and are eligible for use with the Sip and Savor pass.
One thing that is kind of neat is that you can order food from any of the stations at whatever station you are at. Some of the lines get SUPER long (like the Brews & Bites) but some have no one at them, so just find the shortest line and order there!
The Festival of Holidays goes from November 8, 2019 through January 6, 2020.
Sip and Savor Pass – is it worth it?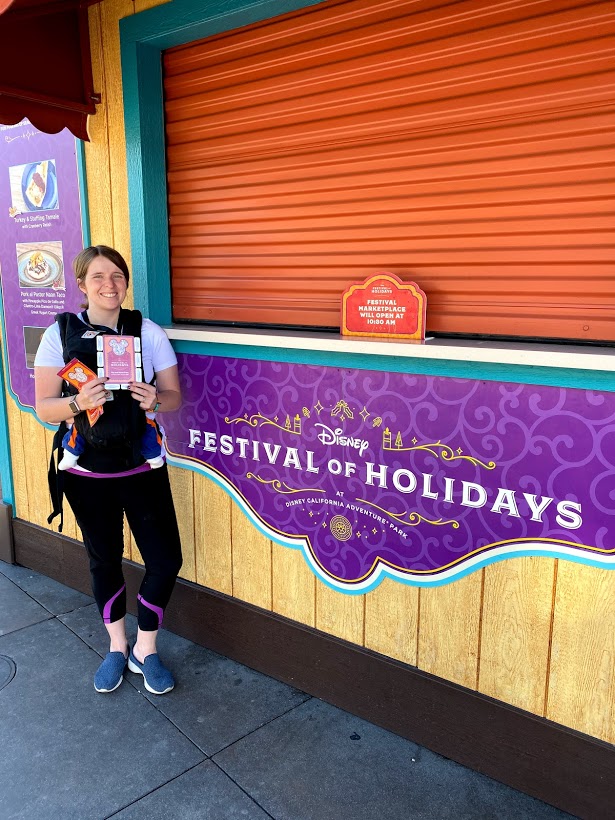 The Sip and Savor Pass comes with eight tickets that you can redeem for food and non-alcoholic drinks that are part of the Festival of Holidays.
We bought one and ended up wishing we hadn't. They cost $54 ($49 for annual passholders), and it comes with eight vouchers.
In order for you to get your money's worth, you would need to get items that were $6.75 or higher.
Many items are higher than that, but not all the drinks and desserts are, so you are kind of stuck buying only the savory dishes…which we realized we didn't really want!
We also felt like we couldn't buy any other foods in the park, since we spent pretty much our whole meal budget on this card. Call me lame, but I would have rather gotten a pesto chicken cone from The Cozy Cone and a traditional corn dog somewhere in the park rather than getting this pass.
If you are coming purely for the Festival of Holidays and you want to try lots of the savory dishes, it's a good deal, as those can be $7.50+.
But if you don't want to limit yourself JUST to the Festival of Holidays, then maybe just pay for a few items that look good to you.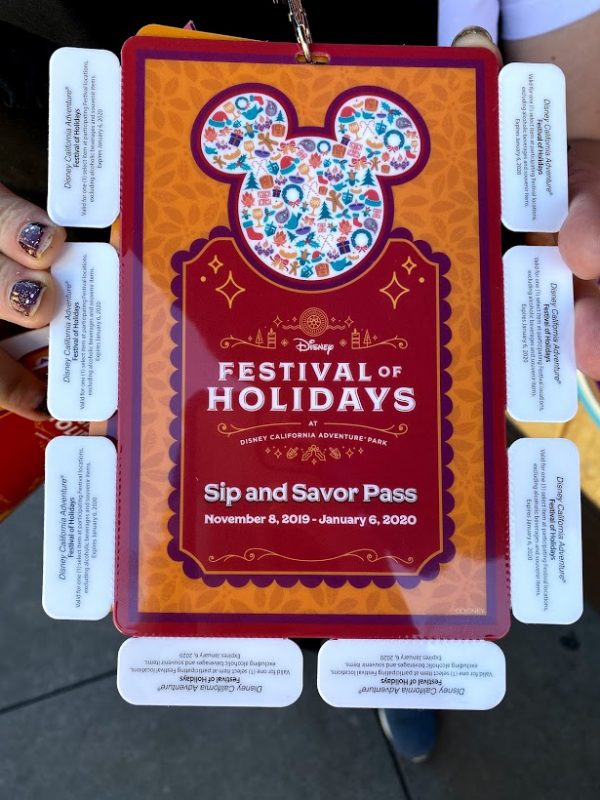 What we tried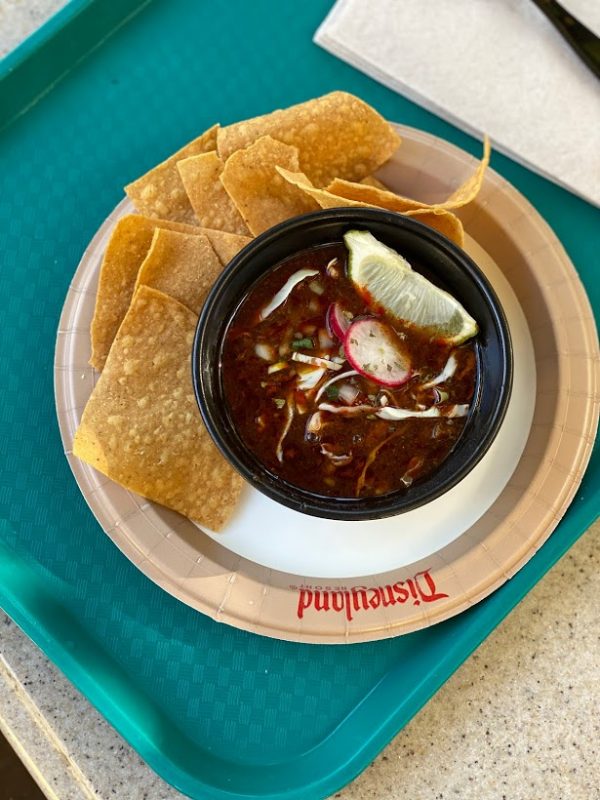 Posole at Cocina Cucamonga
This was the first savory dish we got using our Sip and Savor pass. We actually REALLY loved this dish – and I think it set our expectations high for everything else we would eat.
It actually wasn't at one of the stands – it was at the Cocina Cucamonga. I believe it might be available year-round, but with the Sip and Savor pass, we got a smaller bowl than the full-priced one.
Forrest loves posole, and I think it's rather tasty – but it has to be made right. Forrest said he felt like it tasted how posole should taste.
It was piping hot – which is a good thing! We felt like it had good chunks of meat in it, and it wasn't too spicy.
One downside was that it felt a little fatty – our lips felt kind of coated with fat afterward!
The chips that came with it were a bit stale, sadly. But this was one of our favorite meals from the day.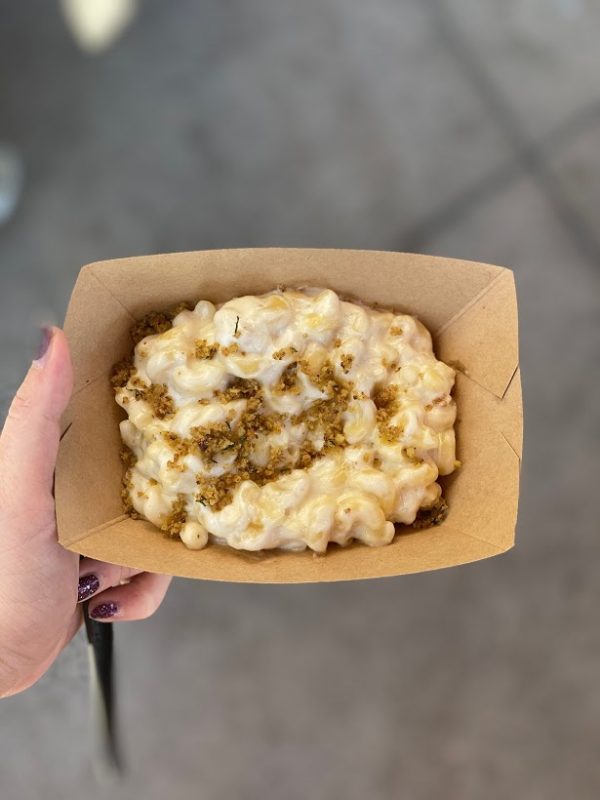 Holiday Stuffing Mac and Cheese
Before we came, I read what people seemed to love – and the stuffing mac and cheese was on every list!
Needless to say, I was so excited to try it!
Total letdown. The flavor was super subtle (which is saying something, because I'm not a strong-flavored cheese fan), and the stuffing on top disappointing. It was very sparse, and it just felt more like bread crumbs than anything.
I only took a few bites, because I didn't want to waste anymore calories on it!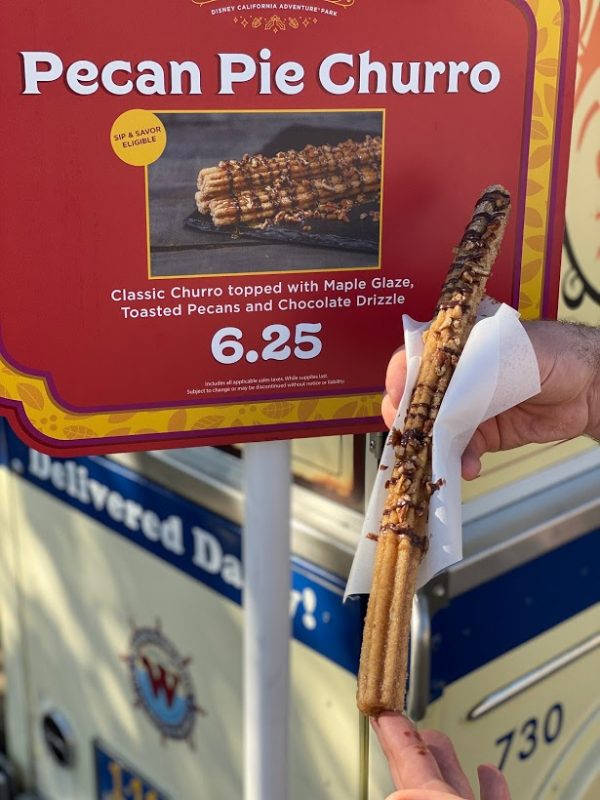 Pecan Pie Churro
Is it really a trip to Disneyland without a churro!? I think not.
This one caught our eye right as we walked into California Adventure, and it did not disappoint.
We loved all the pecans and how all the flavors combined well together. This was just at a churro stand, but it is part of the Sip and Savor pass options.
Fried Turkey Slider
I did enjoy this one – the turkey was quite large, and I thought it had good flavor.
It was a little messy to eat, and it felt like the bun was too big – we ended up running out of food to go with the bun by the end of it!
I loved the sauce, and I wish there was more of it. The coleslaw was well-made.
When you got a little bit of every component of the meal, it DID taste like Thanksgiving.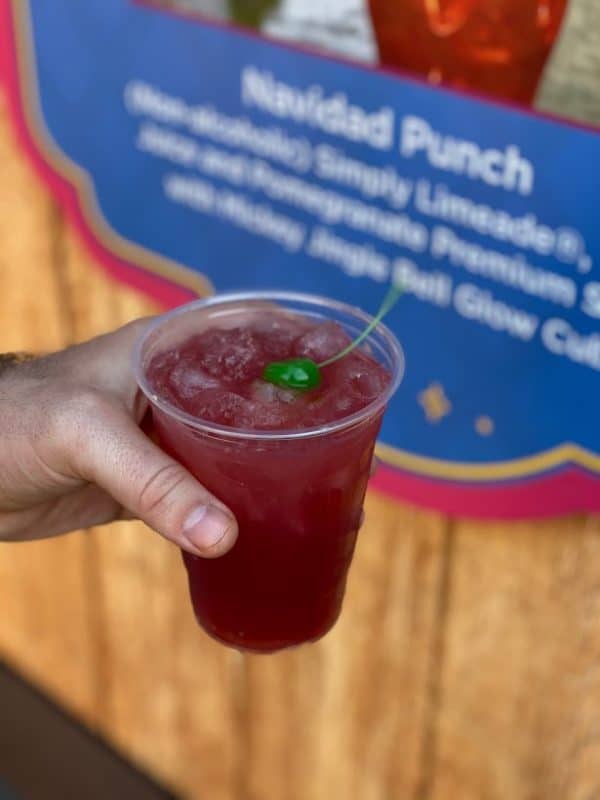 Navidad Punch
We got stuck on the Wheel of Emotions, and it was HOT (90+ degrees – at the end of November!).
We were parched, and Forrest spotted this punch. We both really loved it.
In fact, I craved it the rest of the day and the next day at Disneyland. I even made a copycat version on our side dish blog!
It wasn't overly sweet, and it was super refreshing. One of my favorite items all day.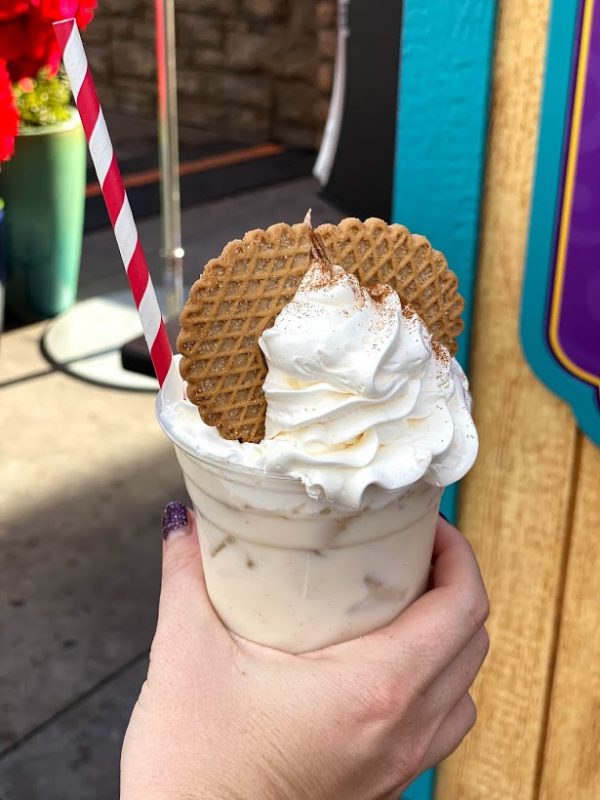 House-made Horchata
Another letdown. I saw everyone carrying these around, so I was excited to try it.
The first couple of sips were decent, but it quickly became overpoweringly sweet and rich.
We love horchata, but this just went a little bit overboard. Even the whipped cream felt too creamy and sugary!
You can get it with or without alcohol (with did it without), and although I don't know much about alcoholic beverages, I feel like this was made with alcohol in mind.
I did like the cookies on top!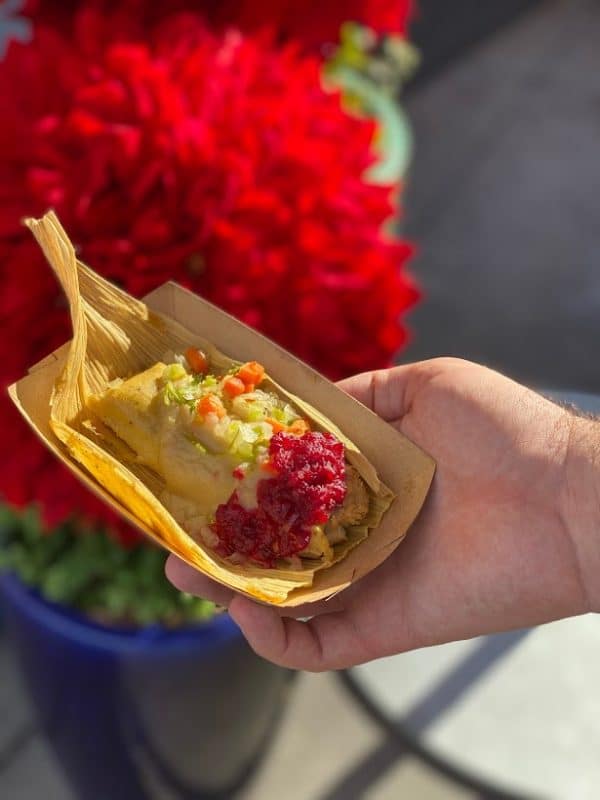 Turkey and Stuffing Tamale
I have been on a big tamale kick recently, so this one caught my eye.
Another disappointment. I felt like the gravy helped to make it so it wasn't dry, but the overall dish was just mushy. I felt like it needed more texture and flavor – I didn't feel like I was really eating anything. It was just kind of blah.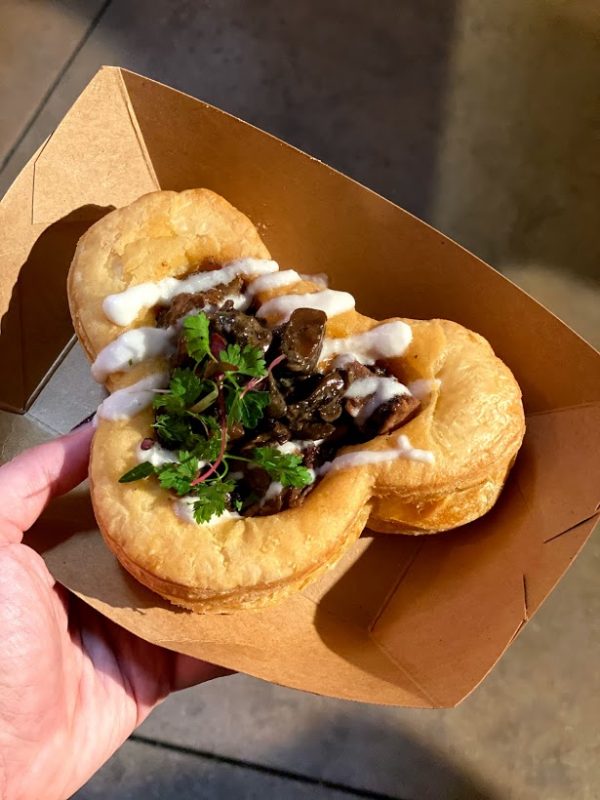 Reimagined Beef Wellington
I've always wanted to try beef wellington ever since I saw Gordon Ramsay make it on Master Chef.
This clearly isn't any beef wellington that Ramsay would make, but it was fun to try. The beef was super tender, and I liked all the flavors.
The puff pastry tasted good, but there was too much of it compared to the filling inside.
It wasn't super special, but I thought it tasted good, and I certainly didn't feel disappointed like some of the other items had left me feeling!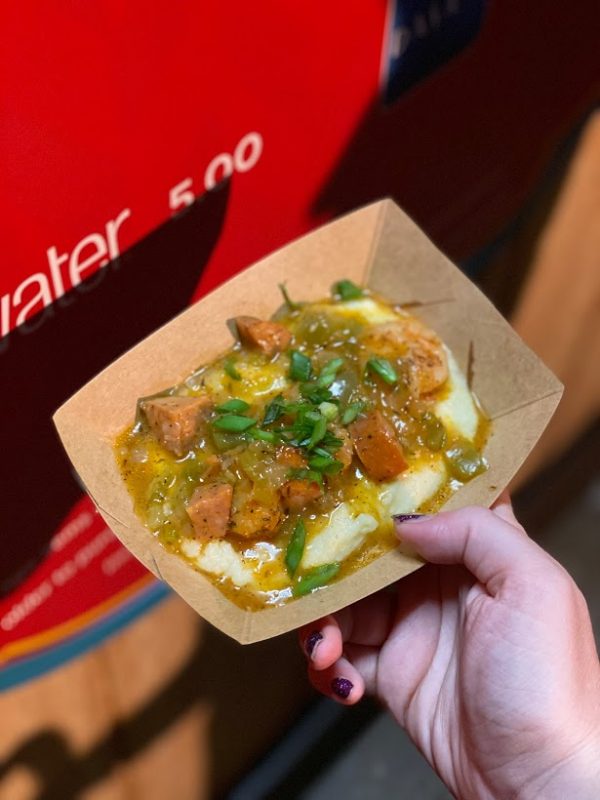 Shrimp and Grits
This caught Forrest's eye – of course. He loves shrimp and grits!
We were pretty impressed with it. It had a nice heat with some spice to it. The grits were creamy, and there was actually a decent shrimp to grits ratio.
It wasn't dry, and there was a lot of sauce! This was one of those meals where Forrest felt like he wanted a big plate – not just a small portion.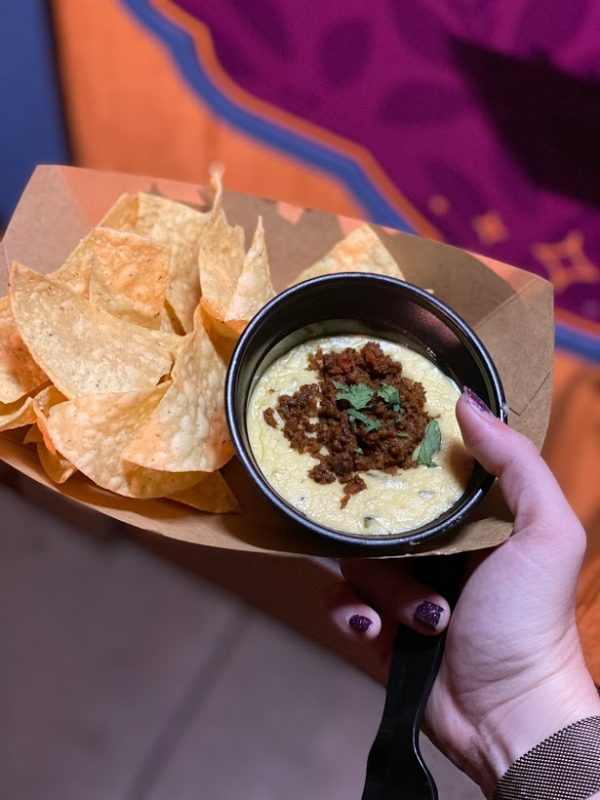 Chorizo Queso Fundido
I love me some good queso, and this was pretty tasty. It had a kick at the end, which was a little surprising. It was creamy, and the chips were fresh!
It did seem to solidify pretty quickly, though.
Overall Thoughts
Overall, the Festival of Holidays at California Adventure is a great way to try LOTS of different kinds of foods.
If I lived in California and went to Disneyland regularly, I would totally come here and spend the day eating from the different booths without really thinking of it.
However, since we don't frequent the parks like that, I would have rather spent the day eating some of my iconic favorites – and in larger portions.
The thing that we don't love about this type of eating is that if you like something – there's not very much on the plate.
Again, we'd rather have a big plate of something we LOVE rather than many plates of things that are just kind of meh.
With that said, I'm glad we were able to try it, so if we go during Christmas-time again, we will have a better plan of action for our dining!