Legoland or Disneyland: Which is Better for Families?
Welcome to the debate between two of the most beloved family vacation destinations: Disneyland and Legoland. In this blog post, we will be discussing which one is better for families looking to spend a fun-filled day together. We'll be comparing the attractions, experiences, and cost associated with each destination in order to help you decide which one is right for your family. So stay tuned to find out whether it's Legoland or Disney that wins your vote!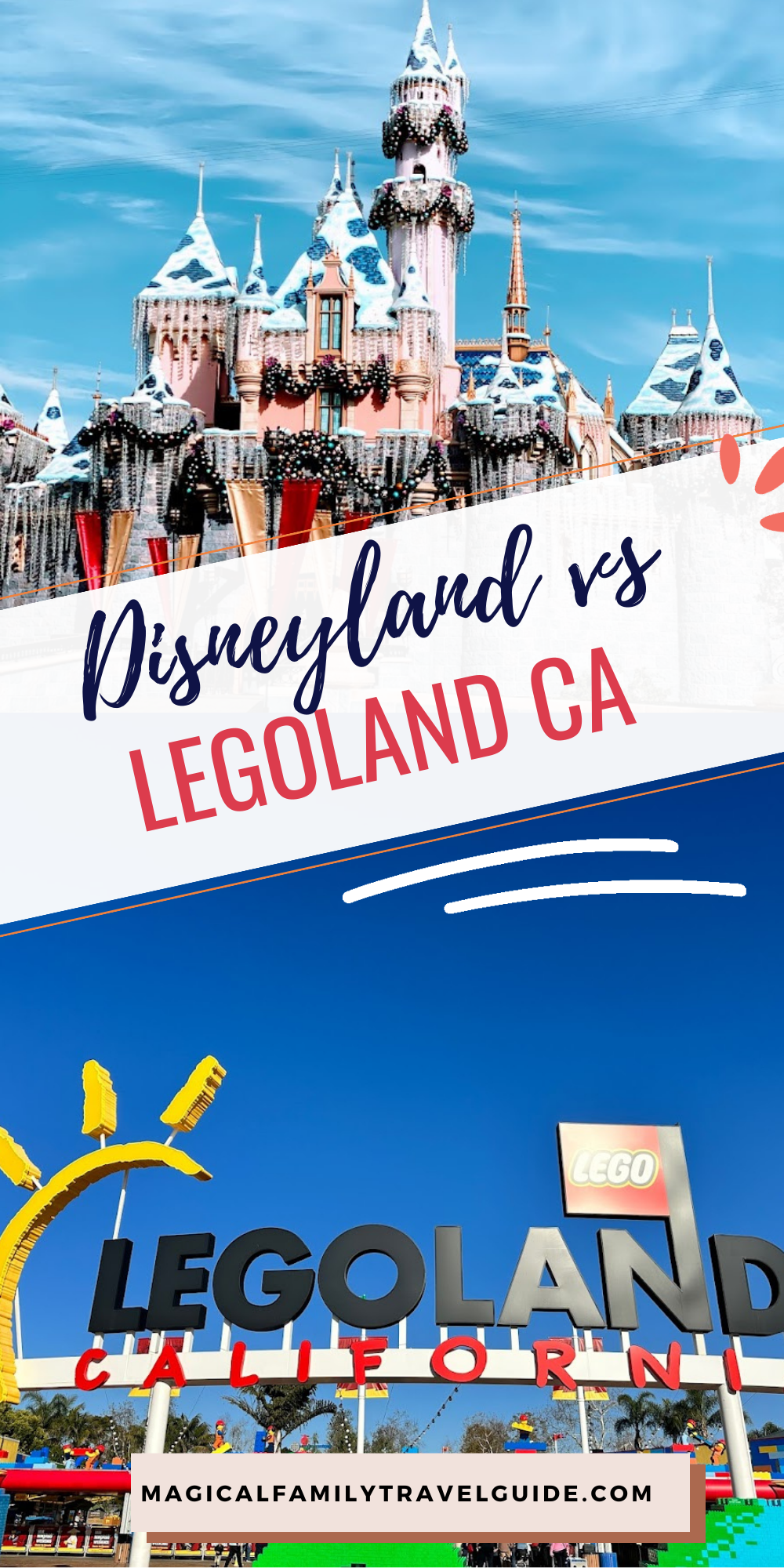 Years ago, I had a friend tell me that her family preferred LEGOLAND over Disneyland.
My sister went to LEGOLAND and said the same thing.
We went a few years later, and it was really a miserable experience, and it left me wondering why anyone would like it more than Disneyland.
And then we gave it another chance, and we realized what a delight LEGOLAND could be. We've gone several times since then, and it continues to be a favorite family vacation.
The truth is, both of these theme parks are different. You can have an amazing vacation at either! But they serve different crowds and interests. If you are planning a trip to Southern California and you're trying to decide which one to go to, this article should help you decide!
No matter where you choose, we recommend booking through our friends at Get Away Today. We have booked almost all of our vacations through them since 2008, and they never let us down. Use the code MFTG to get $10 off a Southern California Vacation package.
Cost
LEGOLAND is quite a bit less expensive than Disneyland, and you can often get second-day free tickets or a free kids ticket with the purchase of an adult. LEGOLAND California will often also include Sea Life Aquarium or the water park, or it's a nominal fee to upgrade.
Disneyland gets less expensive per day the more days you pay for, but a one-day ticket is pretty expensive. For instance, we were looking at some yesterday, and it was around $95 dollars for a single-day ticket on Thursday – and this was for one park. If we wanted a park hopper, it was another $40+, and on the weekends, it was another $45 – making the one-day, park hopper ticket on a weekend nearly $200. This doesn't even factor in the almost necessity of buying Disney Genie+, which increases the cost quite a bit, too.
Obviously, you get a lot more rides, and, of course, the "Disney" experience…but if you're on a budget, it's going to go a lot further at LEGOLAND.
Tickets and Reservations 
Food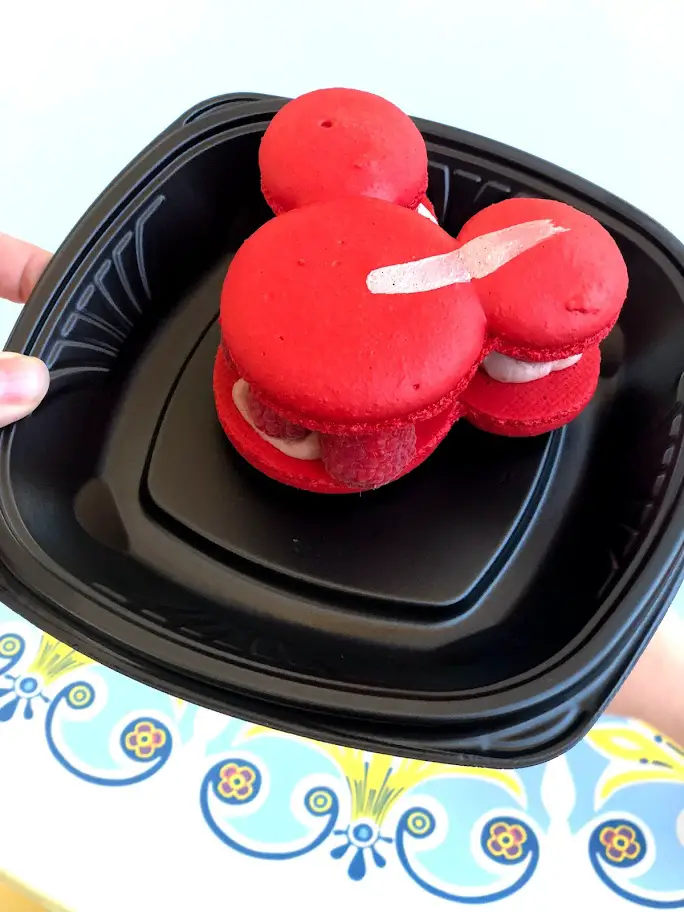 Disneyland has MUCH better food and snack beverages than a landslide. LEGOLAND has a few different restaurants and food carts, but they aren't always open, and I don't find the food to be anything to write home about.
The food at any theme park will be expensive, but the kid's meals are much more affordable, and there are better options at Disneyland. There is a lot more variety, it tastes better, and there are a lot more items available in various budgets.
We LOVE the Granny Apple Fries at LEGOLAND, but during our most recent visit, they weren't even open for most of the day, which was a huge disappointment.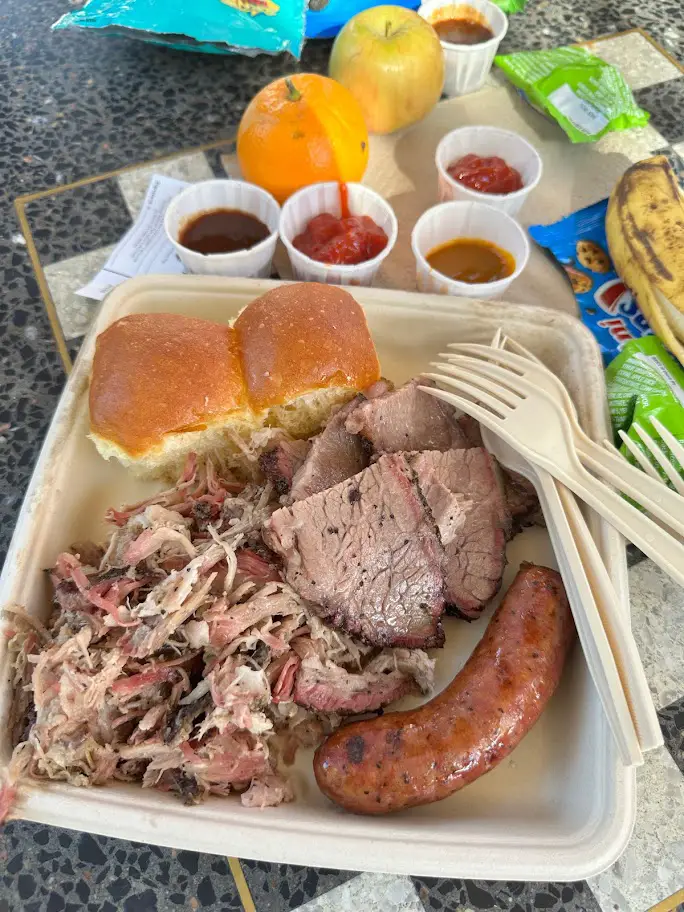 If you are a foodie and primarily going for food, Disneyland will win out. It has many more restaurants, and the quality of its food is top-notch. Disneyland is going to offer you a much broader selection and experience.
Disneyland also has a much better ordering system with its mobile ordering. At LEGOLAND, you can't even see a menu with prices in the app – and I found it hard to find a menu when you go to the restaurant.
LEGOLAND is not a foodie destination – you're probably better off bringing your food than dining on their pricey options.
Rides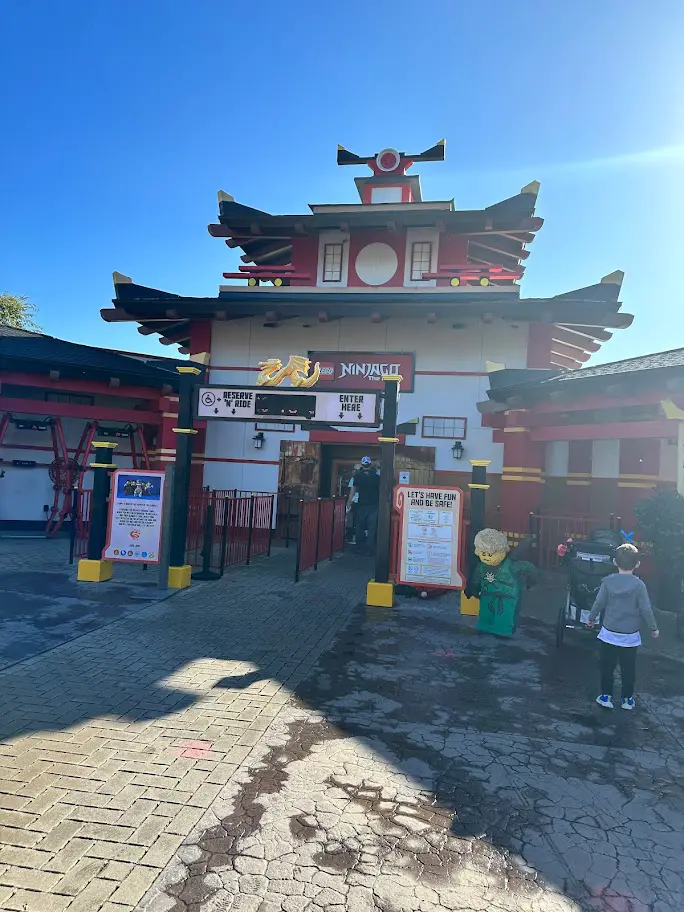 Disneyland has a lot of amazing, state-of-the-art rides that you really can't get anywhere else. They have rides for every age and type of person, and they are usually pretty reliable (though there are definitely always breakdowns throughout the day).
LEGOLAND has a lot of rides, and they are pretty fun – but few compare to some of the experiences you will have at Disneyland. I think kids under 11 aren't going to care, but for the older kids and parents, they aren't anything to write home about.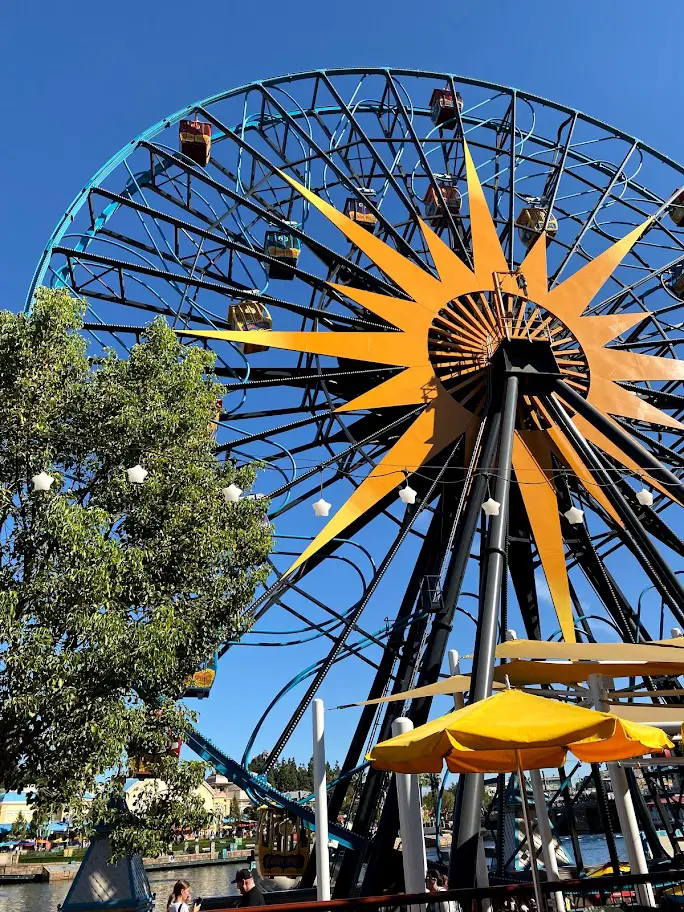 When our family talks about rides, we always mention ones from Disneyland like Web Slingers or Guardians of the Galaxy – LEGOLAND doesn't usually dominate the conversation. We definitely enjoy them – but they aren't usually as memorable.
With that said, they are generally well-maintained, which is good. There were a few rides down throughout the day during our most recent trip, but it wasn't anything too crazy (unlike the first time we came years ago, when it seemed like at least half the rides were broken!)
Hands-on Activities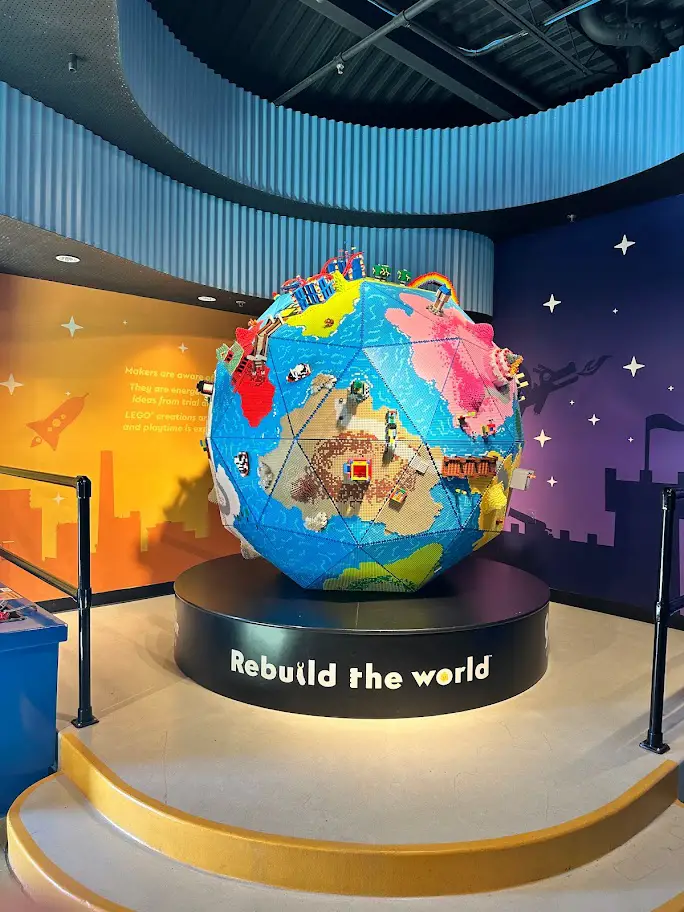 Both Disneyland and LEGOLAND have hands-on activities that you can participate in. I feel like they are more visible at LEGOLAND and easier to participate in (such as bins of LEGOs throughout the park). Here are some of the different hands-on activities at the different parks:
LEGOLAND
Coast Guard Build-a-Boat
Miniland
LEGO Ferrari Build and Race
LEGO Ninjago Training Camp
Build Watevra You Wa'Na Build
Dig Those Dinos
Various large playgrounds – we LOVE these
Mini figure trading
Disneyland
Animation Academy
Sorcerors's Workshop
Redwood Creek Challenge Trail
Pirate's Lair on Tom Sawyer Island
Pin trading
Crowds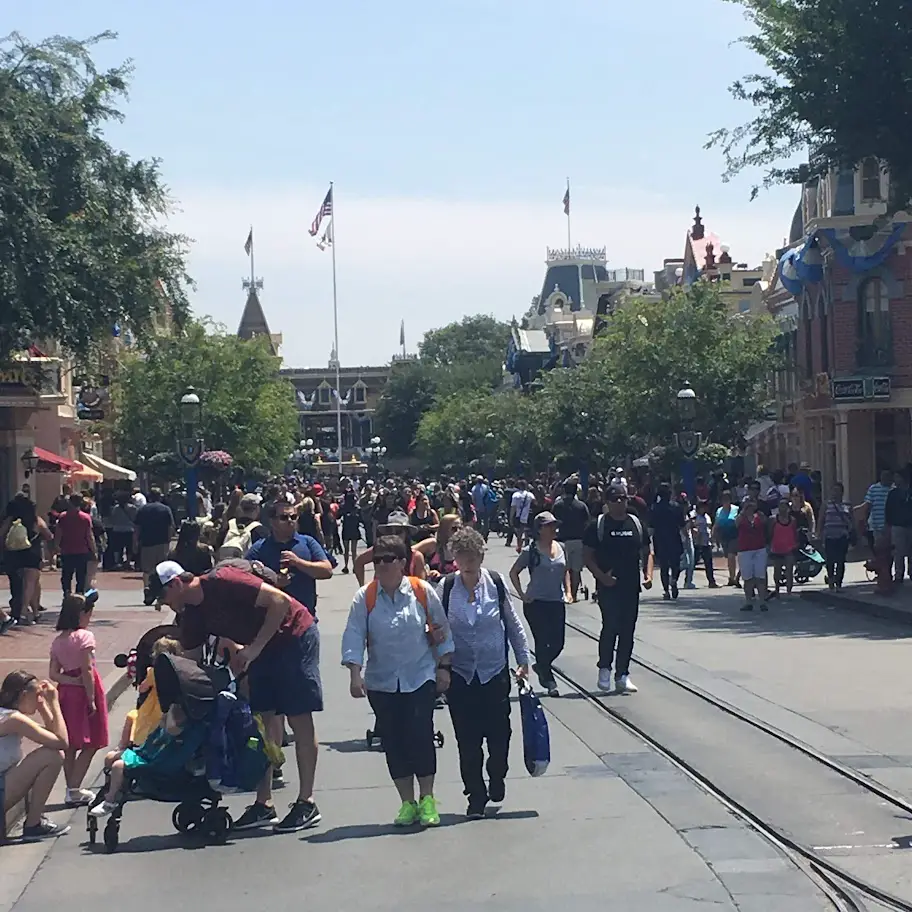 LEGOLAND can be busy, though that's generally during peak season and on the weekends. I feel like when it's crowded here, it does feel more annoying having to wait in line for a ride that is kind of lame.
With that said, out of all the times we've come, it was only busy once. The rest of the time, we rarely have had to wait in a line, we can walk for five or more minutes and never run into someone, etc. It doesn't feel like it's a constant mad dash from one place to the other.
Disneyland always has crowds. It's an absolute must to take advantage of early entrance options if you have them. While there are times that are busier than others, I think I would put the Disney crowd categories as "crowded" "more crowded" and "intolerably crowded".
Here are some tips for managing the busy season at Disneyland!
Entertainment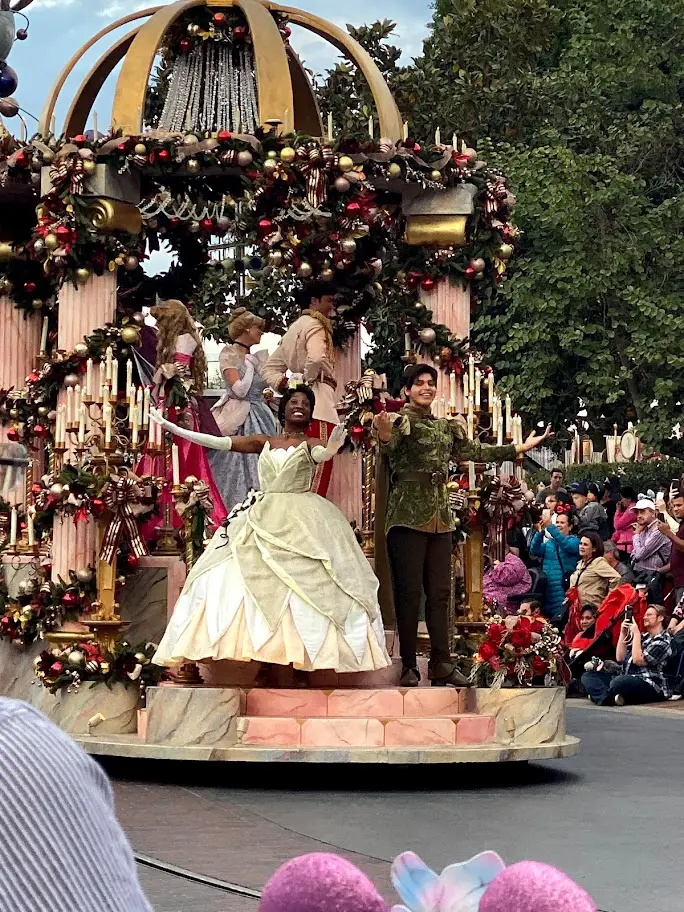 While both parks have entertainment, nothing can really compare to the parades, fireworks, and shows that you can watch at Disneyland. LEGOLAND has a 4D theater, random character meet and greets, various shows, and other offerings throughout the year.
I would say that Disneyland definitely has the best entertainment with options to keep you entertained throughout the day. Here are some of the best options:
Parades
Firework Shows
World of Color
Hyperion Theater Broadway Shows – This was closed during Covid and has yet to reopen. It's rumored to have a new broadway show coming.
Phillharmagic
Disney Junior Show
Street Performances
Mickey and The Magical Map
Royal Theater Story Telling
Employees
With a few exceptions, we've found the staff at LEGOLAND to be a lot friendlier, accommodating, and overall more pleasant than that at Disneyland. I think it's partially because LEGOLAND has fewer people, so maybe the employees don't have to deal with as many unruly guests. But overall, they've been helpful and kind and almost always have a smile on their face.
I have found a lot of Disneyland employees (especially the younger ones) to be grumpy and not very friendly. I am sure this is not the case for everyone that works at Disneyland, but it seems like many of them have the power of being a cast member go to their head a little bit (or they just have gotten fed up with annoying guests, which is entirely possible).
Age/Demographics
This one is tricky. While I think ages 0-100+, all genders, and individuals from all walks can find plenty to do and enjoy at Disneyland, LEGOLAND is suited to a specific audience.
I told my husband today that if it were just him and me, I would not come to LEGOLAND, and Disneyland would be my choice. However, with our boys being their age, it's almost a no-brainer that this is a better option.
LEGOLAND is great for ages 4-12, though I think the prime age is 7-10 when most children can do all the rides on their own. We have gone with children between the ages of two and almost eleven.
Under four can be tricky, as there are some age limits, and the height limits can be frustrating if you have a shorter child. There are a lot of fun playgrounds and rides they can participate in, but if they have older siblings that they see going on more rides, it can make it less fun.
I think tweens and teens can have fun here, but they will likely find that it's not as engaging or thrilling. Our almost 11-year-old had a great time on our most recent trip, but there were definitely times you could tell he wasn't as amused with the rides.
Unless you're an adult that absolutely LOVES LEGO products, I doubt you're going to find
Accommodations
At Disneyland, there are plenty of hotel options that give you easy access to the park. The Disneyland Hotels are pricey but convenient and very magical, however, there are tons of other hotels that are close by and in various price ranges. Here are a couple of articles that might be helpful:
LEGOLAND California has two hotels – The LEGOLAND Hotel and the LEGOLAND Castle Hotel. These are very fun, themed hotels and you can often find a decent deal to stay there.
There is also the Sheraton Carlsbad that gives you direct access to the park. Otherwise, you can find a hotel somewhere else in Carlsbad, but you will have to park your car and drive there.
Character Experiences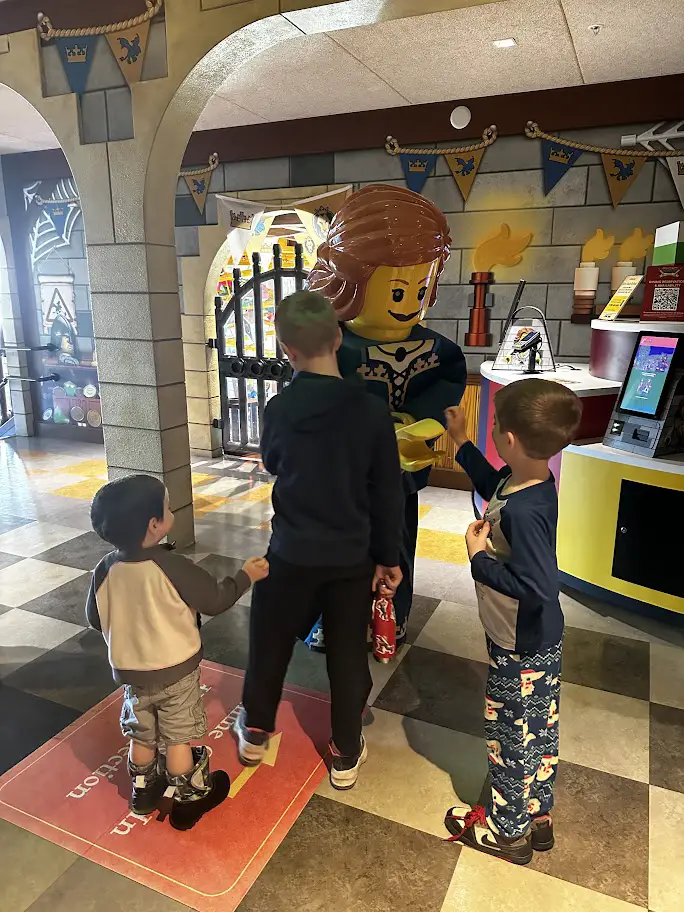 Both parks have a variety of characters. At LEGOLAND, I found we encountered them most in the hotel, with a few appearances in the park. They were engaging, and there were never any lines to interact with them.
Disneyland definitely has a lot more and a wider variety of characters. They might be more recognizable and exciting for kids (and adults) to see. The lines can get pretty long, though. We always enjoy doing a character dining experience, which allows you to have some more one-on-one experiences with the characters. To my knowledge, LEGOLAND does not have anything like this, though you may see a character walking through the restaurants occasionally.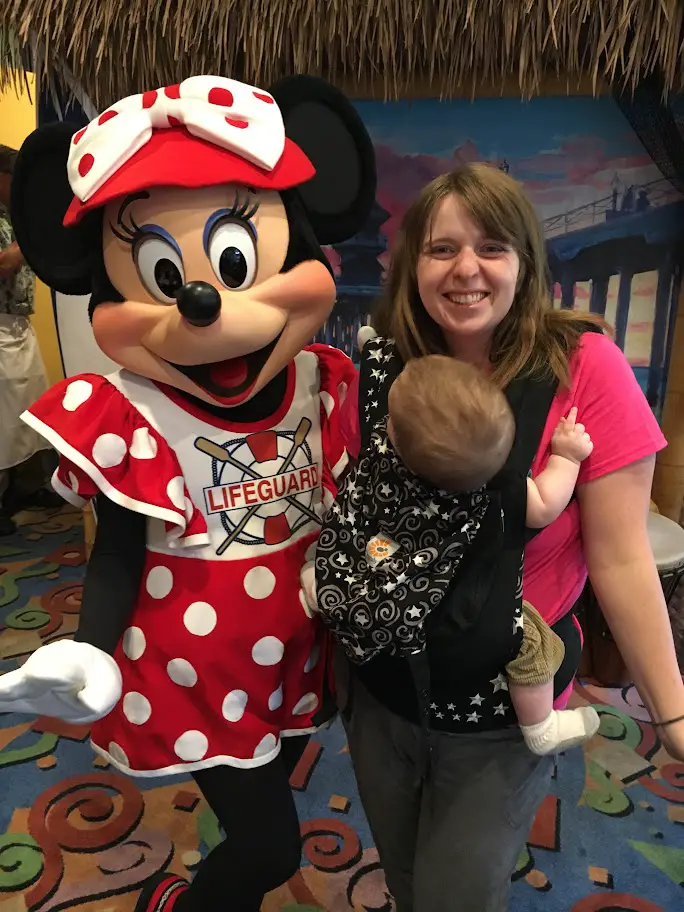 Hours
LEGOLAND is typically open from 10:00 AM to 5:00 PM (this can vary depending on the time of year). Disneyland is usually open from 8 AM to as last as 12 AM, so there is a lot more time to spend in the park. Occasionally they will close early for certain events, but when that happens, if you have a park hopper pass, you can just go over to the other park.
Because we still have a child that takes a nap, the shortened hours at LEGOLAND can make it feel like a big chunk of the day is taken up by that, which is kind of a bummer. We typically have one of us go back to the hotel for naptime and the other stay in the park with the children that don't take a nap.
We did like that the SEALIFE Aquarium was open for a little bit longer, so we were able to go over there and enjoy that for a little bit after the park was closed.
I believe there are extended hours during special times of the year at LEGOLAND.
Pace/experience 
Honestly, LEGOLAND is SO much less stressful due to the lack of crowds. Forrest commented, "You know what I don't see any of here. Kids having meltdowns." Of course, there are always exceptions, but I think the overall pace and experience is just a lot more laid back at LEGOLAND.
I feel like no matter when you go to Disneyland, with the exception of "after dark" events and early access hours, you are hustling to get from one place to the other. If you have a lot of days at the park, you may feel less way, but if you are just on a 1-3 day pass, hustling is the name of the game.
Line Hopping
Both parks offer "line hopping" options as a paid add-on. At LEGOLAND it is called "Reserve 'n Ride" and at Disneyland, it is the "Disney Genie+".
"Reserve 'n Ride" is for specific rides, such as LEGO Ninjago or Safari Trek. You can purchase them when you get in the park. They used to have a pass where you could go to the front of the line on any ride, but this appears to be discontinued. The cost varies depending on the ride and day you are going.
Disney Genie+ is a complex system that replaced the FastPass/MaxPass systems of the past. It is $20 extra a day, per person, and it includes a variety of rides. There are rides you have to pay extra for if you want to go to the front of the ride, such as the car ride. You can learn more about Disney Genie+ here.
As long as you are going during the week, I have never found Reserve 'n Ride worth it or necessary. On the flip side, Disney Genie+ is almost a necessity if you don't want to spend half your day in line. I wish they'd have a better system, because even the last time I went, it felt like we were waiting forever in the Disney Genie+ line, too!
Best time to Go
For LEGOLAND, if you go during the week and avoid holidays/school breaks, you should be pretty happy with your experience. Wintertime is a great time to go as the weather is pretty mild in San Diego, and the park is practically a ghost town.
With Disneyland, it's a little more complicated. There are tons of calendars claiming to tell you the best time to go, but I feel like the days we think aren't going to be busy are always really busy. If you can happen to go on a day that is colder, that keeps away some of the local guests. Definitely avoid school holidays, the summer, and weekends, for your best chance at a low traffic day.
Mobile app
Both parks have mobile apps that tell you about ride wait times, entertainment, etc. Disneyland is definitely more robust, and I definitely appreciate their mobile ordering feature. I really wish this was something that LEGOLAND would have!
Atmosphere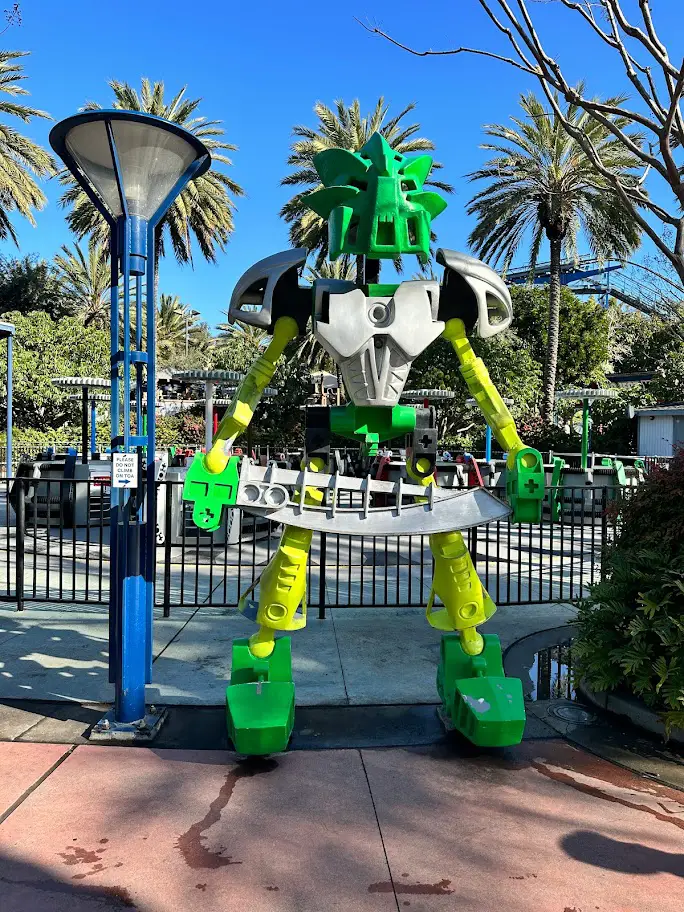 Disneyland is obviously very magical and Disney-centric. There is magic to be found around every corner. It does take having the right attitude, though, to not get frustrated by all the people. I have found there are a lot more rude/impatient people at Disneyland than I would like!
LEGOLAND is very laid back and relaxed, which our family loves! It is also a very fun and detailed place to visit. The amount of detail that goes into the LEGO creations throughout the park is incredible. Miniland is something you just can't explain!
How many days?
I usually recommend a minimum of three days at Disneyland to get the most of your experience, though if you can afford more, that will make it easier to not feel like you are constantly hustling.
At LEGOLAND, I think two days is great, though our boys would have loved if we had one more day in addition to that. ON the first day, I remember thinking, "Are we even going to fill this day" but by the end of the second, I thought, "Hey, we could totally make another day here!" If the water park is open, you might want to consider three days, though you can see everything in just one day if that's all you have!
Overall
At the end of the day, LEGOLAND and Disneyland are great destinations, but they certainly have differences. Most of the negatives can be mitigated with appropriate expectations.
But overall, if you have kids between the ages of 5 and 10 who don't care a ton about "Disney", you want a more relaxed and laid-back vacation, and your budget is smaller, LEGOLAND is going to be a great option for you.
We love both parks for different reasons, and I hope that this article was helpful. Be sure to book with our friends at Get Away Today and mention MFTG to get a special discount on Southern California vacation packages!
What do you think about these parks and our comparison? Let us know your experience in the comments!
More Articles You May Enjoy: