Disneyland Transportation: Getting Around In AND Outside the Park
Who knew there were so many Disneyland transportation options – not only to get into the park but around it! Here are some of our favorite ways to get around Disneyland (and rest your feet!).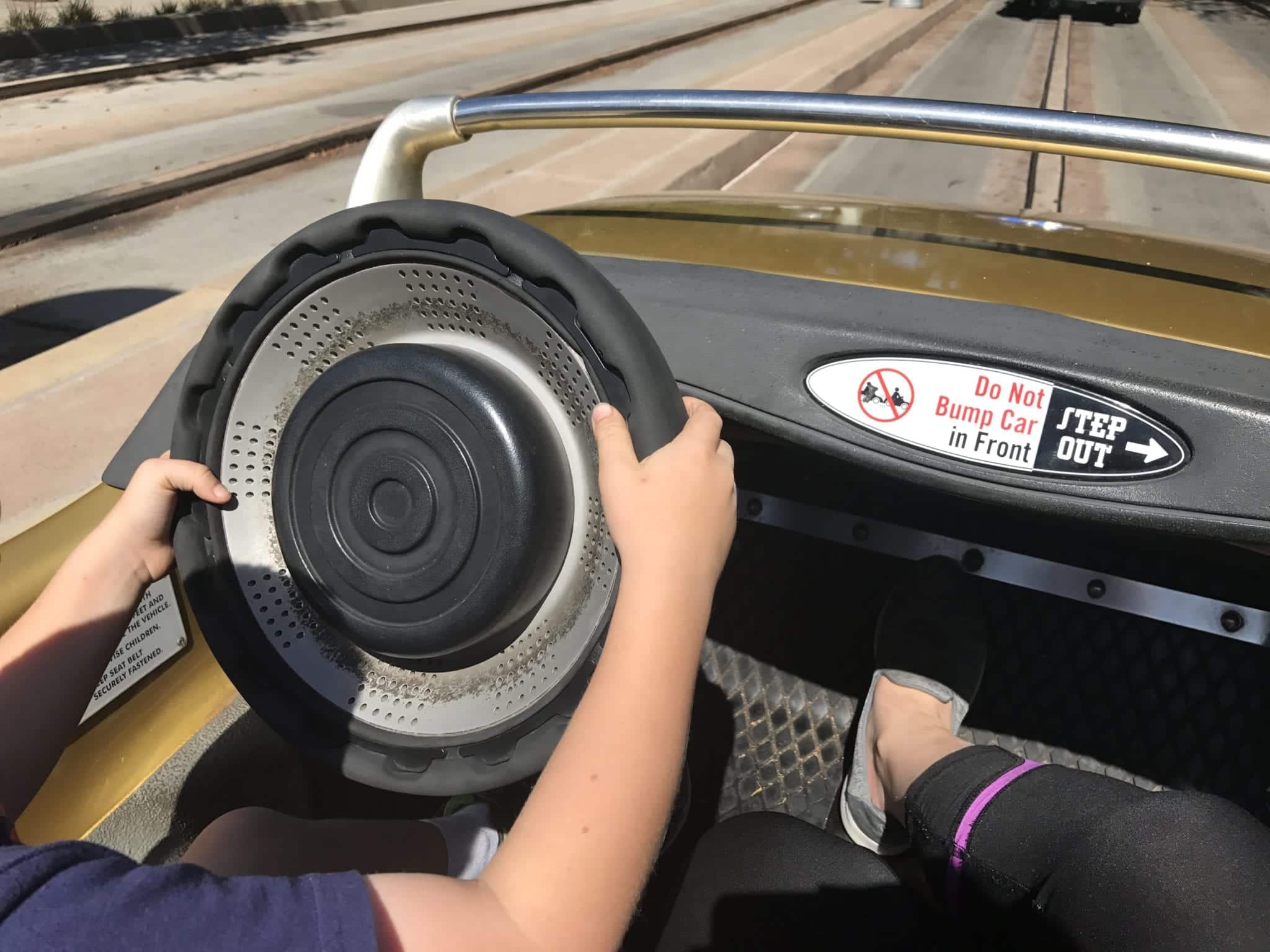 Getting Around Disneyland
When you think of Disneyland, you probably think of delicious food, Splash Mountain, and enjoying the day amidst other Disney fans. 
You probably don't think a lot about how you will get around – in and outside the park…but as it turns out…this can be a HUGE part of your day!
During our last trip, I couldn't help but think about all the different ways to get around and into the park. Some of them I think are less well known than others!
I know this might not be the most exciting Disneyland post around, BUT I think it might be one of the most useful ones as you plan your trip (you can check out all of our Disneyland posts here)
And if you are still in the planning stages, make sure you consider booking your trip through Get Away Today. We have booked all of our trips through them since 2008. They make planning your trip SO easy, and they are so helpful every step of the way.
They offer the best price guarantee, layaway packages so you don't have to pay for everything all at once, and they stand behind what they do. If you mention Magical Family Travel Guide (or use MFTG at checkout), you'll get an additional $10 off any package of two tickets or more with a two-night minimum stay. I reference several hotels below that are you can book through Get Away Today.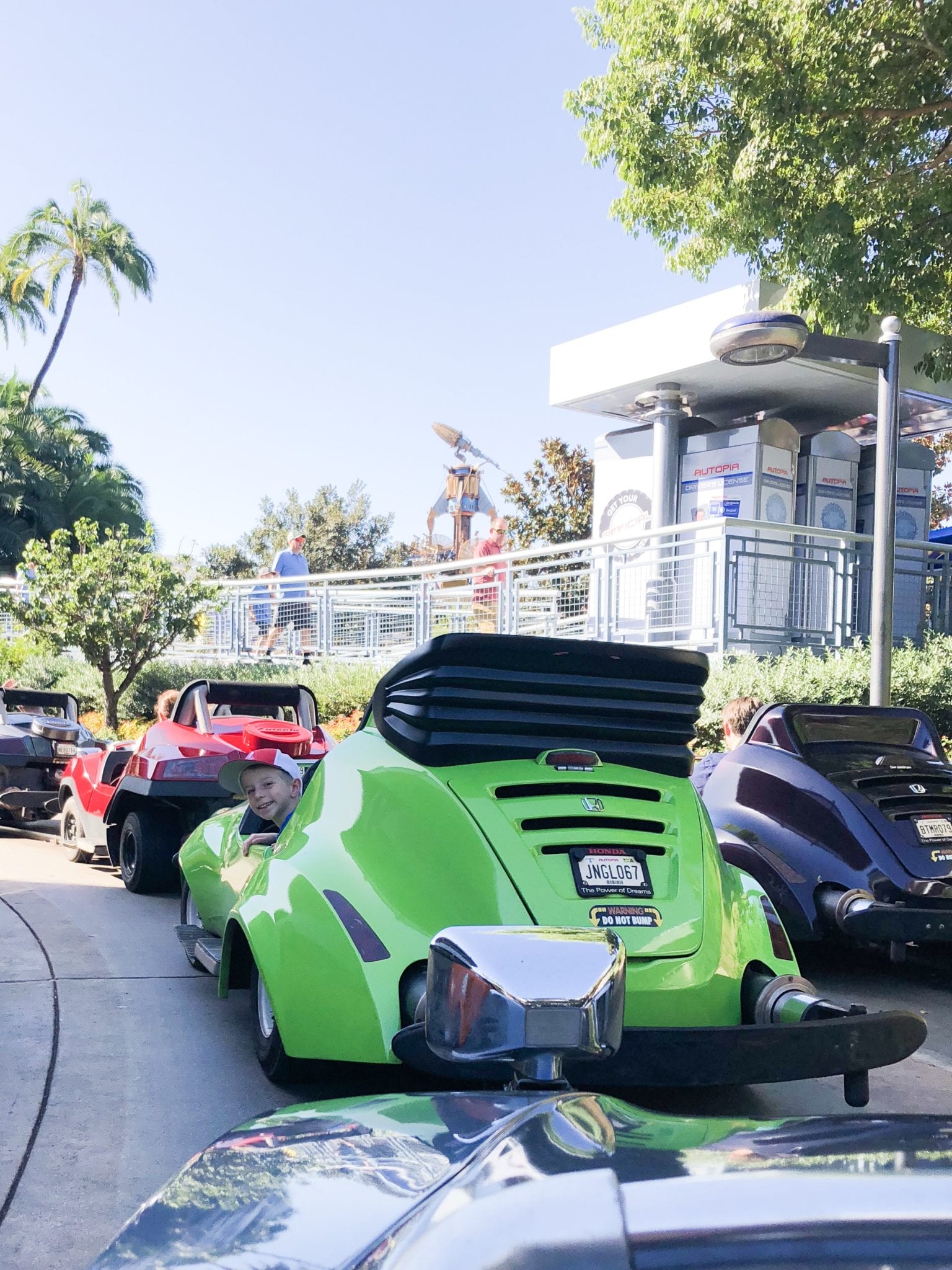 Transportation to Disneyland
Walking – make sure you get good shoes! 
If you are within a 10-15 minute walk of the park, you may want to consider walking. There are quite a few hotels that are within walking distance of Disneyland. Last time, we stayed at a hotel that was about 15 minutes away…but I have to admit, it was pushing it a little bit at the end of a long day. 
Here are a couple of hotels that are SUPER close to Disneyland. These do get snatched up quickly, though (don't forget to book them through Get Away Today! I have linked to the Trip Advisor pages so you can read review).
This is another post I am working on, but even if you don't plan to walk to the park, you will definitely need to plan on walking IN the park! So having good shoes is essential. The best shoes are ones that are worn in that you know will stand the test of time. Flip flops are not a great idea! 
At the very least, I would consider getting insoles. I recently got some sandals with insoles that were custom made through Wiivv – and they are so comfortable. I just ordered some insoles from them as well, and I know they will make a difference with walking long distances. It's so cool – when you place your order, you submit pictures of your feet (so fun, I know), 
Parking and Shuttles
This is what we've used most often when we've gone to Disneyland. There are a couple of different parking garages that Disneyland has available (The Mickey and Friends Parking Lot and Toy Story Parking Lot). 
They both cost money – at least $20 at this point – for the day. So you can leave and come back with the same ticket. However, they have little shuttles that will take you from the parking lot straight to the security checkpoints at Disneyland. 
Just be aware that the shuttles can get really busy – especially right when the park opens, right after fireworks, and when the parks close. Avoid the temptation to get into the first line you see. There are almost always shorter ones if you keep walking. 
If you have a stroller or wagon, you will need to be able to fold it up and hold it on your lap. 
ART
We tried the Anaheim Resort Transit (ART) this last time. It's a bus system that goes around to lots of different hotels in the area and drops you off at Disneyland. 
Get Away Today offered a great deal which made our kids free, and we thought it would work really well. 
It would have…but our hotel was one of the last stops, so it was packed to the brim whenever it got to our hotel. It was standing room only, and there was barely enough room for that. Oliver was terrified! We all almost fell over a few times on our drive to the park. 
We also found it to be somewhat unreliable with the times. You can track when it will get there, and it just kept moving the time it would arrive further and further away. 
It wasn't nearly as bad for the drive back to the hotel. But we ended up deciding it was much less of a hassle just to walk because we were only about a 15-minute walk from the park. 
If you can guarantee your hotel is one of the first stops, it's not that big of a deal. But if you are one of the last stops…I don't recommend it!
Hotel Shuttles
There are some hotels that offer free shuttles to the park. If you are at a hotel that has one of these…take advantage of it! 
Here are a few hotels that I know (at the time of this post):
All of these can be booked through Get Away Today! Most of them are a little bit further from the park, so that's just something to keep in mind. 
Uber/Lyft
I am sure the Uber and Lyft market in Anaheim is booming! We saw lots of these drivers around. I just checked what it would have cost from one of the hotels we've stayed at (Residence Inn Anaheim Resort Area/Garden Grove), and it was $12 for car that seats six, $8 for a car that seats four. There was a 50% off coupon applied, so if I was going right now, it would be between $4 and $8 one way. 
If you have car seats…probably not the best option. And it will end up being pretty similar to the parking garage. However, if you don't want to mess with having a car, this could be a good option for you!
Should You Get a Rental Car? 
If you are driving into the area, then obviously…no, you don't need a rental car!
However, if you are flying, you may want to consider you. You should be able to get from the airport to your hotel easy enough by using public transportation, Uber/Lyft, or hotel shuttles. 
Beyond that, you'll need to ask yourself if you will want to go anywhere outside of Disneyland. Whenever we go to Disneyland, we usually like to visit other places in the area – other theme parks, fun restaurants, or places that Forrest lived while he was serving a mission for our church in California. So for us, a rental car is a must. 
Though driving in California is not particularly fun, and I'm sure Forrest wouldn't mind if he didn't have to!
But if you just plan to go straight to your hotel, only go to Disneyland, and then go back, you should be able to get along just fine with the options above. 
We always have really good luck using Priceline
Inside the Park: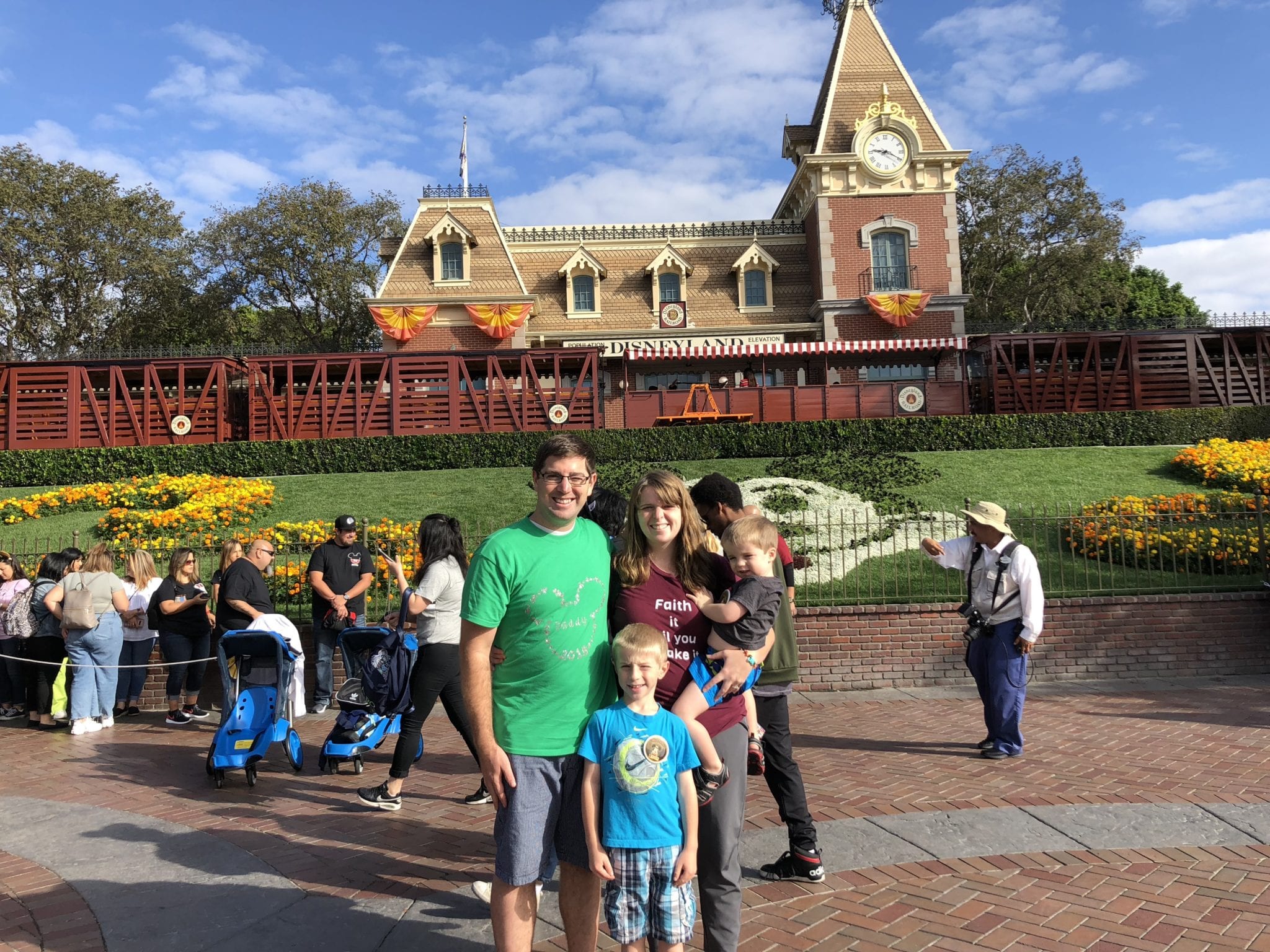 Much of your time in the park will be spent walking from one place to the next – so, as I mentioned before…make sure you have good shoes. 
However, there are some fun and easy ways to get from one place to the next. And believe me, by day three of being in the park, you are going to find every place you can to sit down.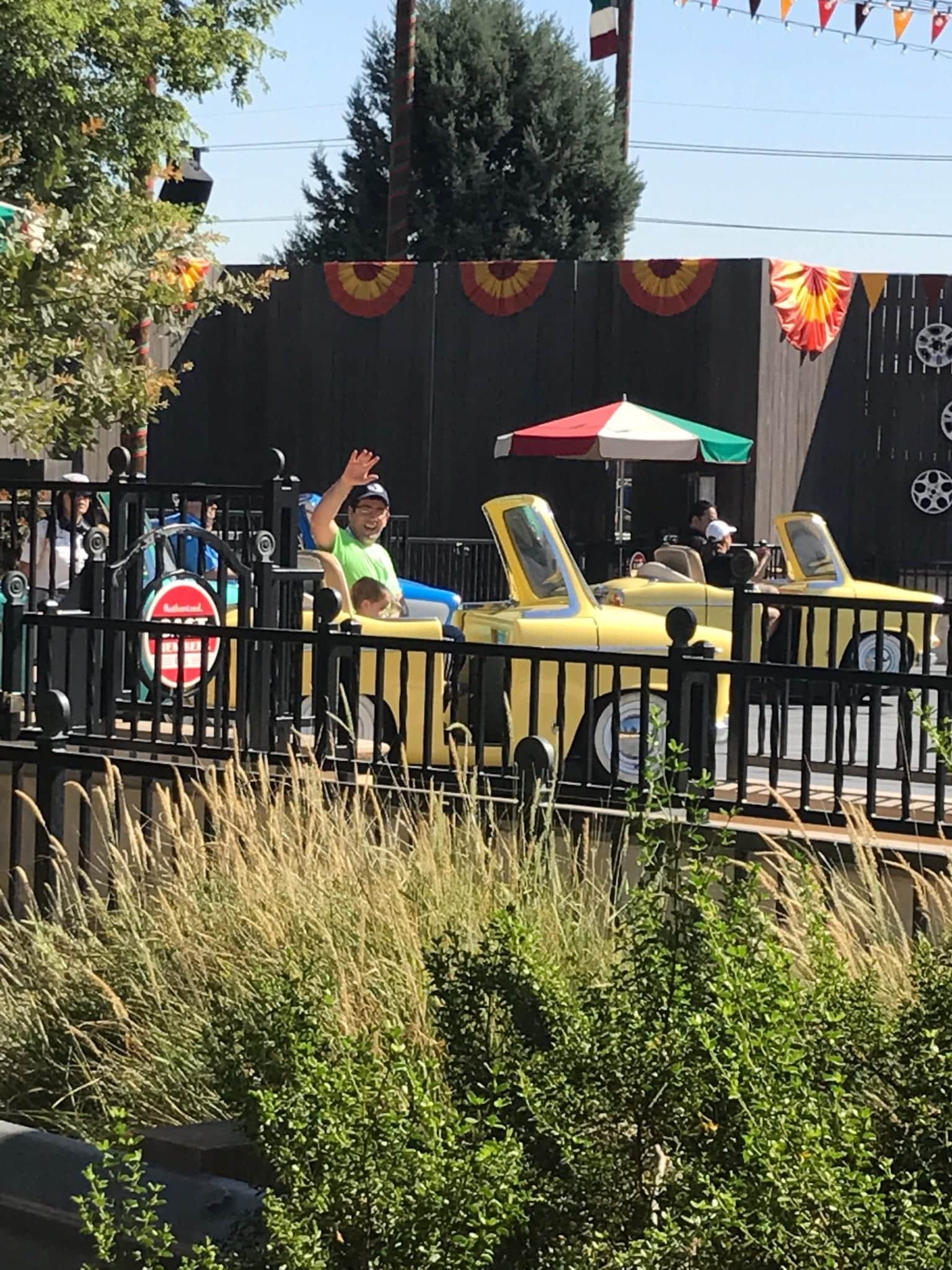 Disneyland Railroad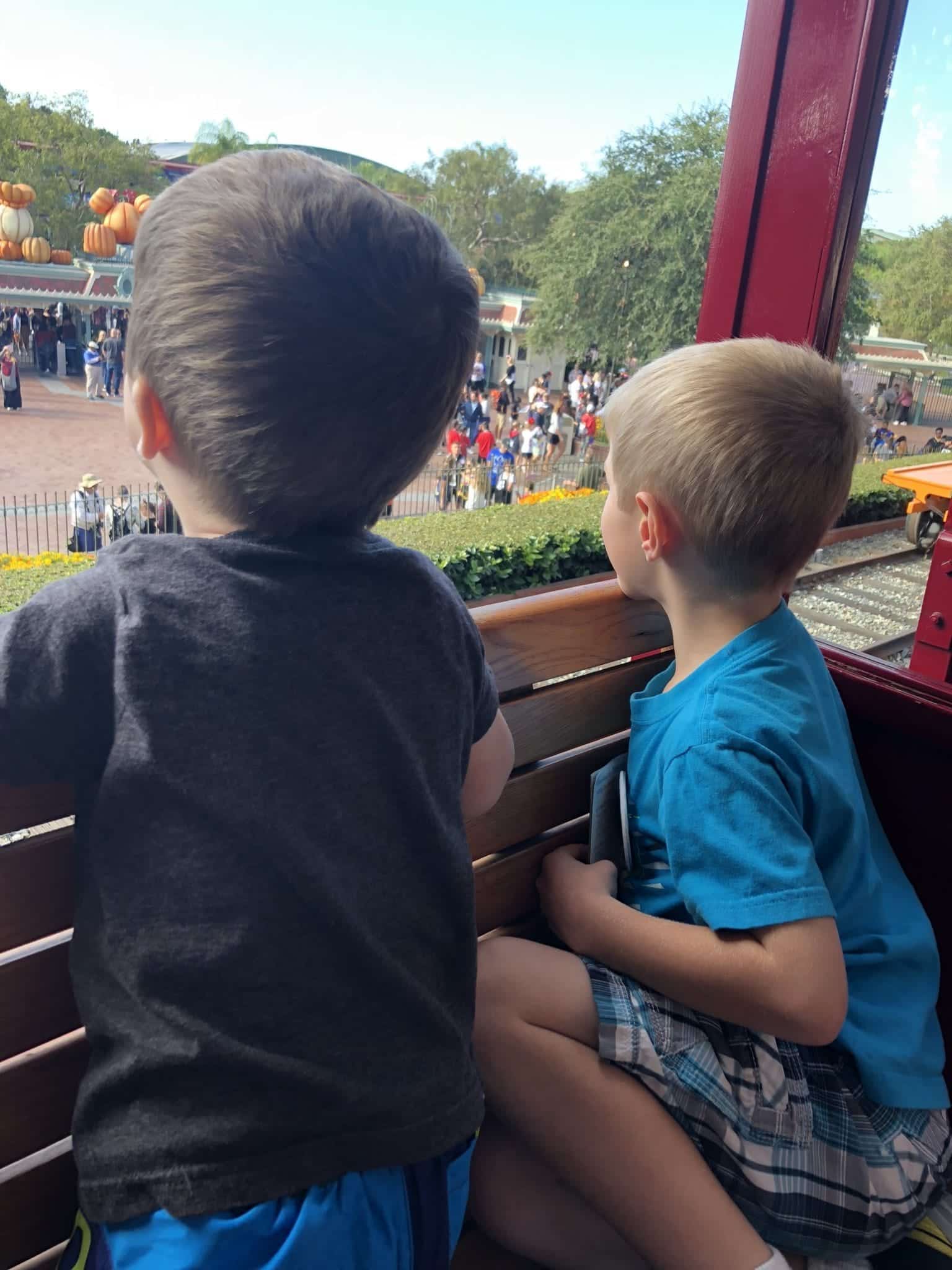 I love the Disneyland Railroad. It goes around the whole park, and it's usually not super busy (though sometimes you may have to wait a little bit, just depending on the time of day, the weather, and the business of the park). 
The Disneyland Train has stops at:
Main Street, U.S.A.
New Orleans Square Station
Mickey's Toon Town Depot
Tomorrowland Station
It's really a relaxing ride, and it gives you a nice tour of the entire park. I really like going through the tunnel and seeing the fun display that's in there. 
Monorail
I'll admit that I don't love the monorail, just because I feel like we always pick the worst time to go with the longest line. There's no real shade in the line, either, so on a hot day, it can feel pretty miserable. 
However, it's still a nice ride – there are two stops; One is in Tomorrowland and one is in Downtown Disney. Our boys really like riding the Monorail, and if you need to get to one of those places, it can get you there quickly. 
Trolley
There is a Trolley on Main Street U.S.A. and in California Adventure that you can get on – it doesn't take you super far, but it can be a fun little ride, and it gets you somewhere. 
Rental Scooters
If you don't want to walk (or are unable to), you can rent a little scooter cart. Disneyland has these available, but there are also outside companies that provide them as well. 
Strollers and Wagons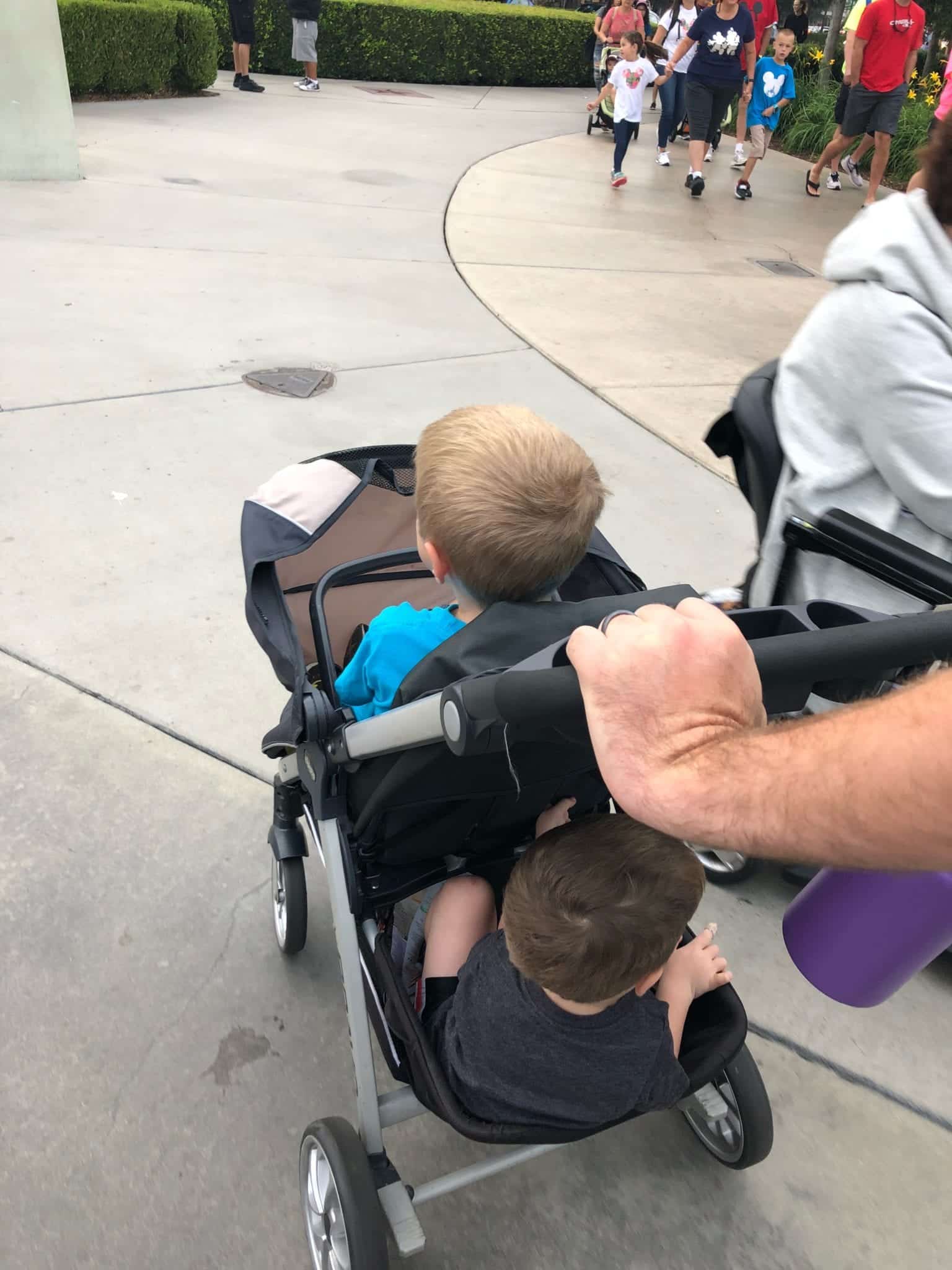 Strollers and certain wagons (such as the Keenz stroller wagon) are allowed inside the park. If you have small children, you really need one. We've brought our larger stroller and an umbrella stroller, and I prefer to bring our larger stroller. 
When Oliver was a baby, I pretty much just wore him in my carrier and Jack rode in the stroller. However, as Oliver outgrew the carrier, we have moved him to the stroller. 
Jack was 6.5 last time we went – and I know, most people probably think he should just walk. And we did make him walk. However, I wanted a stroller by the time we were done with our second day, and he's a lot smaller than us…so we let him go in the stroller. 
As you can see above, we turned our stroller into a makeshift double stroller. Ha! But you definitely want to bring something along. 
There are stroller rentals available in case you don't have room for some reason. 
Best Rides for Resting Your Feet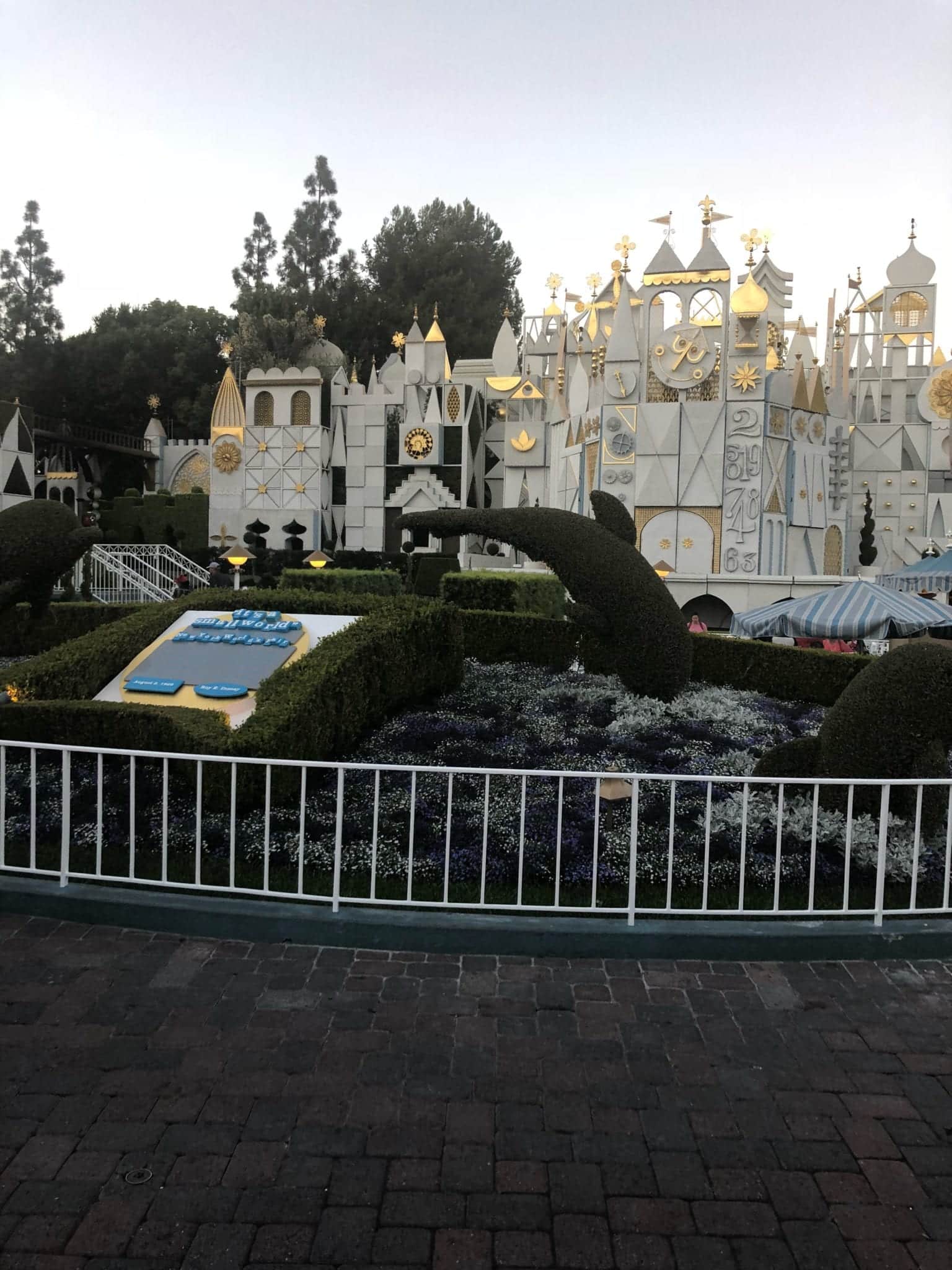 While these rides and attractions may not get you from point a to point b, they can be super helpful for resting your feet: 
it's a small world
Jungle Cruise
Haunted Mansion 
Mickey's Fun Wheel 
Frozen (live performance. Love resting here)
Other Disneyland Posts You May Enjoy: