LEGOLAND California Tips: What to Know Before You Go (2022)
Are you heading to LEGOLAND California? Make sure you read this post FIRST to learn the tips and tricks to make it easier (and hopefully avoid a busy day!)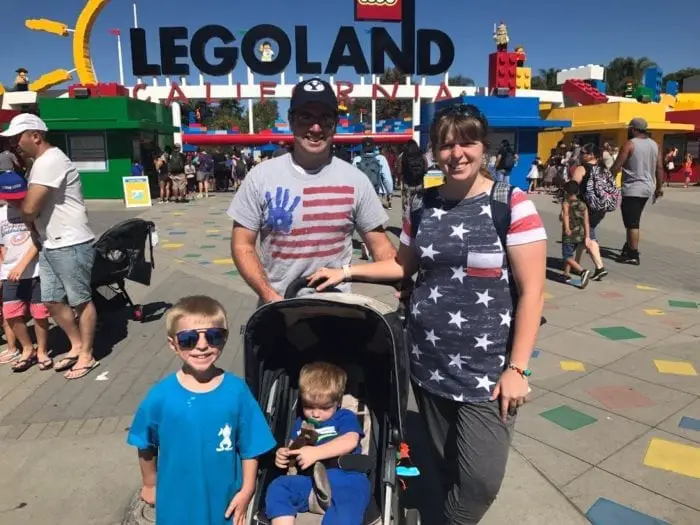 LEGOLAND Tips and Tricks
LEGOLAND is a really great destination, especially for children between the ages of about 5-10.
We have gone to LEGOLAND in California and in Florida, and both times, our kids have had a blast.
It's different than some theme parks, and if you are comparing it to Disneyland – you might be disappointed. But I actually think my kids prefer it over to Disneyland and Disney World in some ways, due to the lower crowds (most of the time).
Below you will find a review of our time at LEGOLAND a few years ago. We have since gone to the Florida location, and I am sure things have changed a bit. But regardless of when you are going and what location, I hope this will help you prepare to make the most of your trip!
We actually enjoyed our second trip MUCH more. There was almost no one in the park, and the kids had so much fun.
Be sure to book through Get Away Today to get the best deals and perks on your LEGOLAND California Adventure. We have used them for all our Southern California adventures, and they always deliver top-notch service. Use the code MFTG or mention Magical Family Travel Guide when you book your next trip for $10 off a Southern California vacation package.
LEGOLAND Deals
LEGOLAND often has some really good deals, including kids play free. I see vouchers for free kid tickets periodically (you can sometimes find them in LEGO movie boxes, magazines, etc.).
When we were buying our tickets, I think they had a deal that was 5 days for the cost of one…which, if you want to spend more than one day at the park, is a pretty great deal.
The best place to find the best deals for LEGOLAND California is through Get Away Today. Make sure you check out what specials they are offering before you book. They also offer combo tickets which can get you into other parks as well.  I think it's best to book your tickets through them if you are booking a vacation.
LEGOLAND California Hacks and Tips
Go During the Week
So many people we talked to said that they just loved LEGOLAND because they were able to just walk on rides, there were no crowds, and it was just a laid-back place.
Well, I should have realized that these people went mid-week…and not over a holiday weekend (apparently we were in California over Canadian Thanksgiving weekend AND Columbus Day Weekend. Fail).
It was SO busy. The lines were insanely long, and because of that, we didn't really get to go on a lot of rides. My sister went in the middle of the week in May, and she told us how her kids could get straight on the rides without any wait. So make sure you are careful about the time of year and week that you go!
Plan Accordingly for Children Under 34″
When we first went, our second son was about 32″, which made him ineligible for nearly every ride. He's at an age where he's not super content to just sit and watch his brother go and have fun.
He wanted SO badly to go on the rides our oldest was going on. But at the same time, I didn't want to make it so our oldest didn't have any fun.
Fortunately, there were a few places O could have fun that we discovered were great for younger kids who were under 32″:
DUPLO Play Town – this area is specifically for small children. They have a little train, which both our boys loved, some slides, giant DUPLO blocks, and lots of things to climb on. We came here first, which I'm glad we did.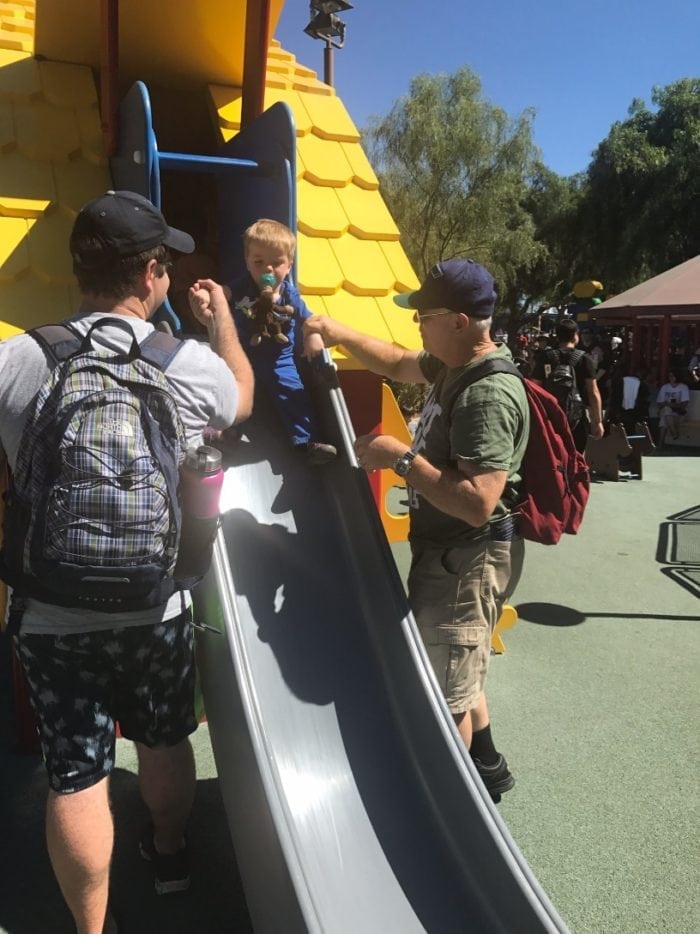 Splash Pad – there is a great splash pad for all ages over in Pirates Shore.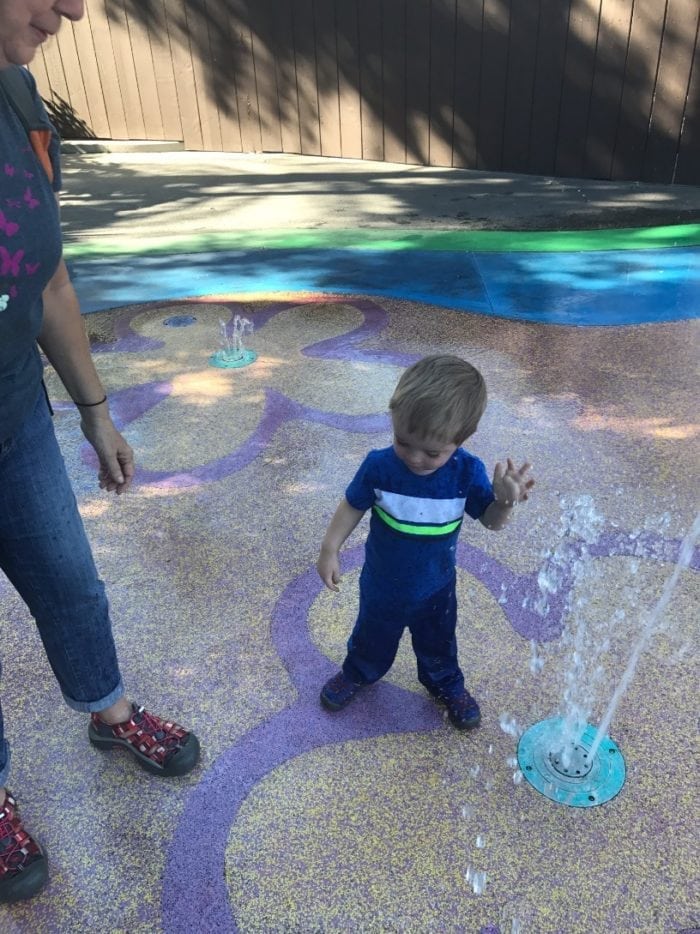 Block Area – there is a fun area with giant LEGO blocks right by the Skipper School. Oliver really enjoyed this place.
Water Park – while young kiddos can obviously not go on most of the slides, this can be a fun place to take them.  Oliver loves the water, so I wish we had taken him in there (even though he was free at LEGOLAND, I believe there was a small fee had we wanted to take him in).
Coast Cruise
Fairy Tale Brook
LEGOLAND Express (this is in DUPLO Play Town)
Mia's Riding Camp (carousel)
Download the LEGOLAND California App
Make sure you download the LEGOLAND app before you get to the park. It has a lot of helpful information and even some discounts.
You can see the approximate wait time for rides, find the closest places to buy food (as well as pinpoint where specific food you want), etc.
If you buy one of the passes that allow you to go to skip some of the lines, it's helpful for reserving those spots. I found it helpful for navigating the park and figuring out where I was and where I wanted to be.
There are some discounts for food and merchandise in the app, so make sure you don't miss the part. I did find it to be a little bit difficult to navigate the app at first (you have to toggle between family rides, just for kids, and I think rollercoasters.
I wished I could have been able to see all the rides at once). But I figured it out after a while, and it was helpful for making our day more enjoyable.
It was helpful for seeing which rides were closed; some for the whole day, some for just a little while. I did feel like there were a lot of rides that were closed for the majority of the day.
I wish we had decided to stay at the LEGOLAND hotel while we were there. For some reason, when I looked up the prices initially, I was almost positive it said like $500 a night…which was insane.
However, a few days before we went, I saw that there were rooms for like $75 a night, so I must have been looking in the wrong place.
ANYWAYS.
Staying at the LEGOLAND Hotel gives you earlier access to the park, and it just makes for an even more magical experience for your kids. As you can imagine, there are LEGO figures and blocks everywhere, the rooms are themed, and it's right next to the park.
Get Away Today does have some great deals on the LEGOLAND Hotel, so definitely check out what they have to offer.
They also have good deals on other hotels in the area. If you book two nights or more (and I believe this can be combined with other hotels and tickets in the area), you can get $10 off your vacation package using the code MFTG.
We ended up driving down and back from Anaheim on the same day, which made for a very long day! I wish we had stayed!
Check the Hours
Hours vary depending on the time of year and time of the week. We were a little disappointed that the park was only open until 5 PM when we were there! However, we were there from about 10 to 5, and I think that was the perfect amount of time.
I'm not sure what the rhyme or reason as to when it closes, but it's good to check ahead of time.
There was a special Halloween event the day we went, so everyone who didn't buy the extra ticket had to leave at five.
LEGOLAND Miniland USA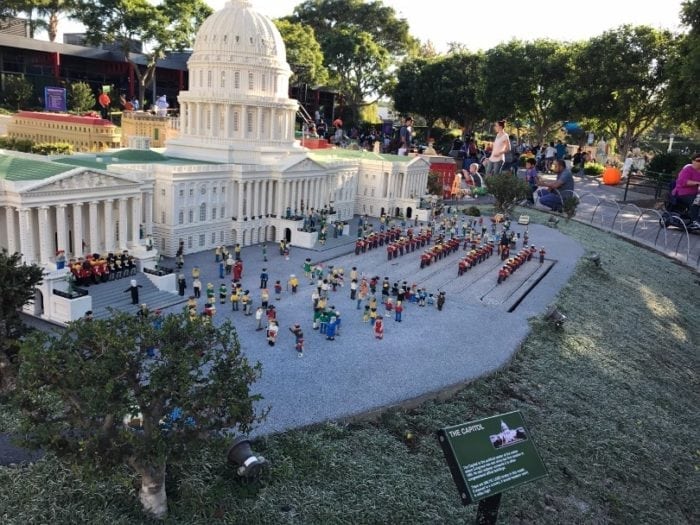 I have to say, my personal favorite part of LEGOLAND was all the amazing sculptures – but specifically, Miniland USA.
In this area, it's America built out of LEGO blocks. There are all these incredible replicas of famous cities and monuments around the world.
Not only are they spot on with their details, but many of them are interactive, move around, and make sounds. I could have spent a couple of hours looking at everything here. I kept joking to Forrest, "Well, now we don't need to travel anywhere. We've seen all that there is to see in America!"
This was the last place we went while we were there, and I"m glad we did. It really brightened my mood and made me feel a little less frustrated 🙂
Mom Lounge
I don't really think this is what it is called, but there was a nice mother's lounge available in the park. I went there to change Oliver's diaper, and I was welcomed by a spacious (and air-conditioned) building. There were places to use a breast pump, change your baby's diaper, feed your baby, as well as a place for your child to play if they just need a little break from the day.
More than just rides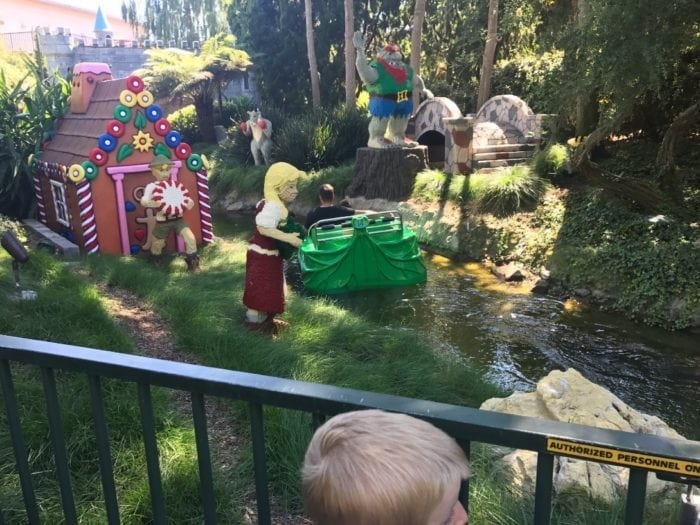 There is definitely more than just rides at LEGOLAND. As I was walking around with Oliver and my mother-in-law while Forrest, Jack, and his dad were at the water park, we discovered a few interactive exhibits and areas. Definitely take a look at the map and descriptions of things before you go so you can make sure you don't miss out on any of these fun things.
Bring Hand Sanitizer
There are a lot of giant LEGO blocks, as well as normal LEGO building stations, but I couldn't help but think about how germy they were. I'm not sure if they regularly sanitize them, but I don't think it would hurt to bring plenty of hand sanitizer.
I actually come home from our California trip super, super sick. I keep joking that I picked up every sickness possible at all the parks we went to.
Rider Swap
If you have a rider that is too small for certain rides, you can take advantage of LEGOLAND's rider swap feature. This allows someone in your party to stay off the ride with the little one and then go on the ride immediately after everyone else is done.
Buy Minifigures beforehand
One of the fun parts about LEGOLAND is that you can trade mini-figures with park employees. I didn't realize this until right before we got to the park, and Jack was a little disappointed when he saw that you could do this.
With that said, I wasn't about to buy a couple in the park just for trading. You can buy some plain ones on Amazon or eBay before you leave that you can start trading with. I think this is a fun way to get your kids outside their comfort zone, and they can take home some fun souvenirs. Just make sure they don't take their favorite mini-figures with them (unless they are okay parting with them!).
**Make sure you double-check what hours you can do this. My kids were so disappointed when we got to the place to trade them, and they had closed for the day!
Be Ready for "upgrades"
I felt like there was a decent amount of nickle and diming going on in the park. It felt like there were lots of "extras" throughout the park, which was kind of annoying at times.
A few examples:
Getting a driver's license after completing the driving school
Navigating an electronic boat in the boat by the Minifigure land
Lockers in the water park
Electronic driers at the water park and splash pad
Unlimited Digital Photo Pass (you just need one for the whole family; starts at $34.99 a day)
Reserve 'N' Ride (more on that in a bit)
VIP Experiences – these are PRICEY (we are talking 500+ per person), but it includes things like behind-the-scenes experiences, priority access to all rides, valet parking, lunch, a gift, and more.
Obviously, none of these things were deal breakers for us, but it did feel like we kept running into a lot of up charges.
I think the thing that annoyed me the most was when we arrived and realized that one of our tickets was only for the park and the aquarium – not the park and the water park.
The ticket prices between these two types of tickets was only a couple of dollars (and even when you got the water park, aquarium and park wasn't very different).
However, if we wanted to upgrade, we would have had to pay $30, which I thought was crazy.
Reserve 'N' Ride
If you want to shorten your time in line and get a few other perks, there are line hopper passes available. There are three different tiers, which I've listed below. The prices are from 2017, but I had trouble finding current prices. I would suspect they are the same. or more.
Express Reserve 'N' Ride: $25 per person; this reduces your wait time by 25%
Deluxe Reserve 'N' Ride: $55 per person; reduce wait time by 50%
Ultimate Reserve 'N' Ride; $100 per person; reduces wait time by about 90%
I wouldn't get these until you get to the park so you can see how long the lines are. However, if you only have one day there, the lines are long, kids who really want to see as much as possible, might be worth looking into.
How it works is that you get a hand-held device that allows you to make reservations for eligible rides from anywhere in the park. It tells you when it's your turn to go get into ride! It's nice that you don't have to wait in line!
I do wish there was a way to use this system without paying (like at Disneyland), but that's okay!
Quadruple check your Tickets, What they are For, and How to Redeem them
Obviously, I mentioned above why you should check your tickets beforehand. When I bought my tickets through Get Away Today, for some reason, I just thought the water park was included with the aquarium + park ticket.
I wasn't right, and because of it, not all of us got to go (because I was definitely not going to pay $30 more). So make sure you get the exact ticket that you want.
You should also double-check how you are supposed to redeem them. I thought I would just show my ID, and they'd be able to pull the ticket up (which is what they did at Disneyland, and what I could have sworn my receipt said when I bought the tickets).
I spent about an hour in the hot sun arguing with an employee about getting our tickets. I ended up having to call Get Away Today (who was amazing) and have them email the park directly my ticket voucher.
Obviously, I should have triple-checked our tickets and how we were supposed to redeem them…but I didn't, and it was a frustrating experience, and it definitely soured my day (I don't do well in the heat to begin with).
If you can, just order the hard copy of your ticket! But with that said, make sure you don't lose your ticket. Forrest misplaced his once we were in the park, and unfortunately, it was one of our water park tickets!
LEGOLAND California Water Park
I didn't go to the Water Park, but Forrest really enjoyed it and feels like everyone should consider getting it if you have time. Remember, it is not automatically included with a ticket.
It's really only a difference of a few dollars, but it's a great place for kids and adults to cool down.
There is a lot of unstructured play areas that are great for kids who just want to run around and have fun. Forest Lazy river has LEGO blocks in the river. Multiple water slides.
They didn't really have a lot of time to get to do everything, and Forrest wishes they'd had more time there.
You have to pay $10 for a locker. There is a changing area, but there was a really long line for all the stalls. They had electronic body driers (they also had this in the splash pad I took Oliver to), but they cost money to use.
It was a hot enough day, though, that getting dried wasn't too hard!
Water and Snacks
We were a little confused about the rules for bringing in food. In the end, we determined that water bottles and small snacks were okay. We brought in some different things to snack on throughout the day, and this was helpful throughout the day.
I don't think you are supposed to bring in full meals though. However, our bags weren't really checked very thoroughly, so if you want to chance it, have at it!
Best LEGOLAND California Rides
There are a lot of rides at LEGOLAND, but these were J's favorites (he is five, in case you want to use that as a frame of reference):
Fun Town Police and Fire Academy
Kid Power Towers – Jack went on this a bunch of times with Forrest and Grandpa Clark. He loved it!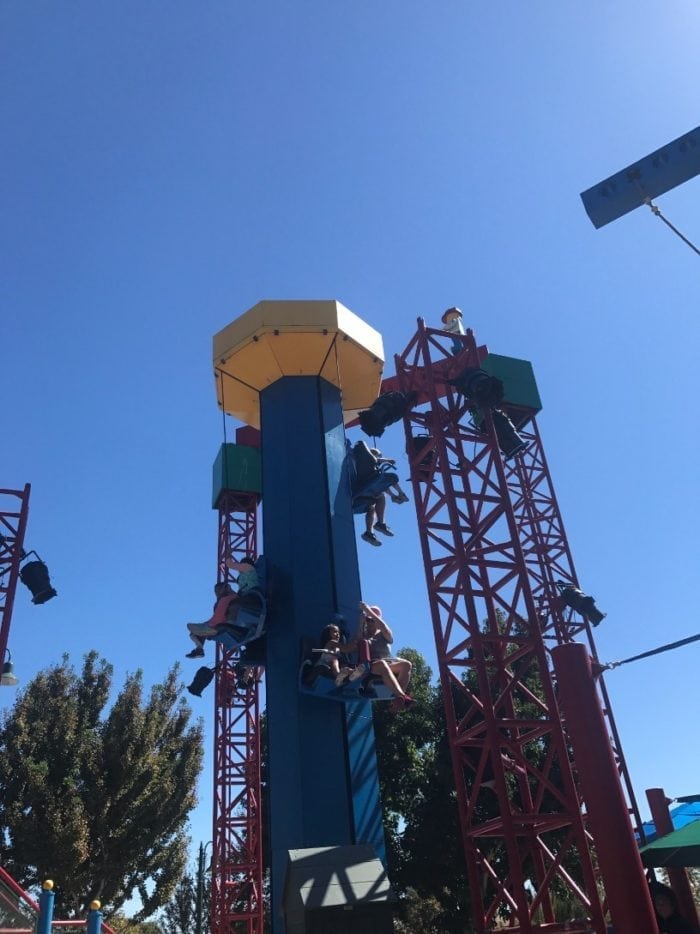 LEGOLAND Express
Junior Driving School – He wasn't quite old enough for the regular driving school, but he still loved this.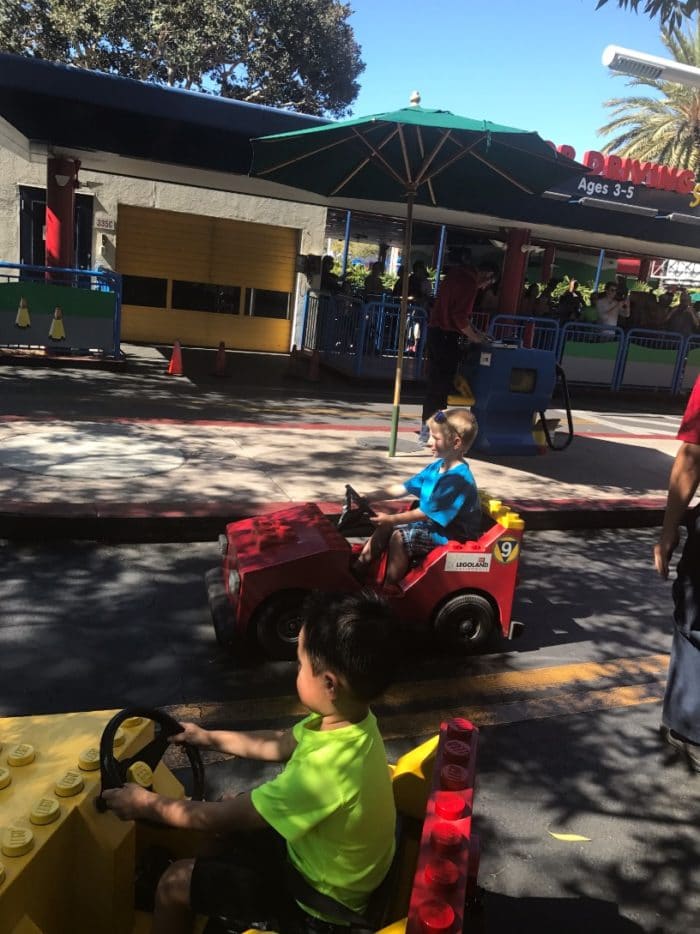 They do have some coasters, but Jack really didn't want to go any of those 🙂
Hotels near LEGOLAND California
There are quite a few hotel options near LEGOLAND California. Here are a few that stood out to me. These are all available through Get Away Today, so they would be eligible for our $10 discount (code MFTG) if you book two or more nights with two or more tickets. Remember that booking through Get Away Today gets you some great perks!