The Best Legoland Rides for Toddlers in Florida and California
Legoland is a popular destination for families with children of all ages. There are Lego-themed rides and attractions, lego toys in the gift shop, and lego characters who roam around for photo ops. But what if you're only traveling with toddlers? What rides should you go on then? We've put together 10 of the best Legoland rides for toddlers to help make your decision easier and so you can know that there are plenty of rides small children go enjoy!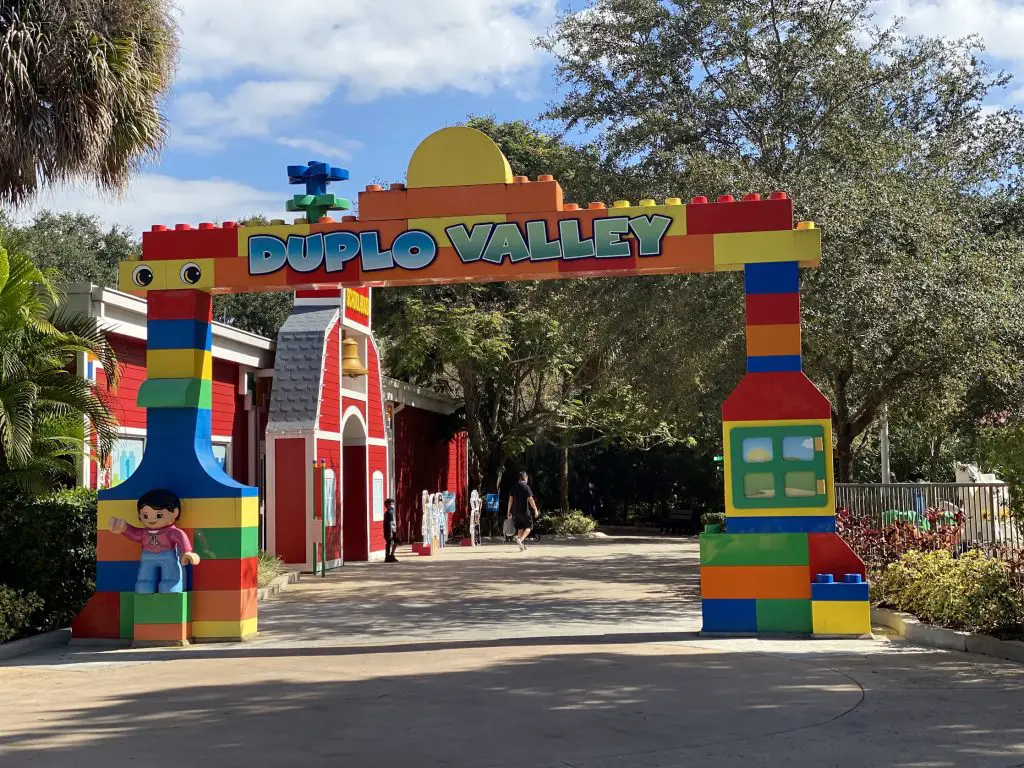 We've been to Legoland a few times with a toddler. While it can feel pretty non-toddler at times with lots of height requirements, there are actually quite a few rides and attractions that they can go on.
The key is making sure they know there are lots of activities they can do and to not make them spend half the day waiting for their siblings to get off rides they can't go on! While they may not be able to go on a roller coaster, there are a lot of toddler-friendly things that younger kids can really enjoy.
This does mean that a parent or guardian might have to skip out on some of the fun, but really, some of my favorite rides at Legoland are the little kids' rides.
In case you aren't really sure where to start, here are some of our favorite rides that our toddlers have loved. We have short kids, so yours might be able to go on additional rides – but these ones should be accessible for most toddlers.
Since we have gone to both Legoland Florida and Legoland California, I thought we'd include attractions from both. Legoland can be the perfect place for kids of all ages, especially if you go at the right time of year. There was hardly anyone there when we went, and it was a blast! We could have spent more than one whole day there.
Be sure to check out our post about Legoland California tips!
Ready to book your trip? If you are heading to California, be sure to book with our friends at Get Away Today! They are the experts for all things family travel, and they'll take care of you. Mention Magical Family Travel Guide or use the code MFTG to save $10 on a Southern California Vacation Package!
Florida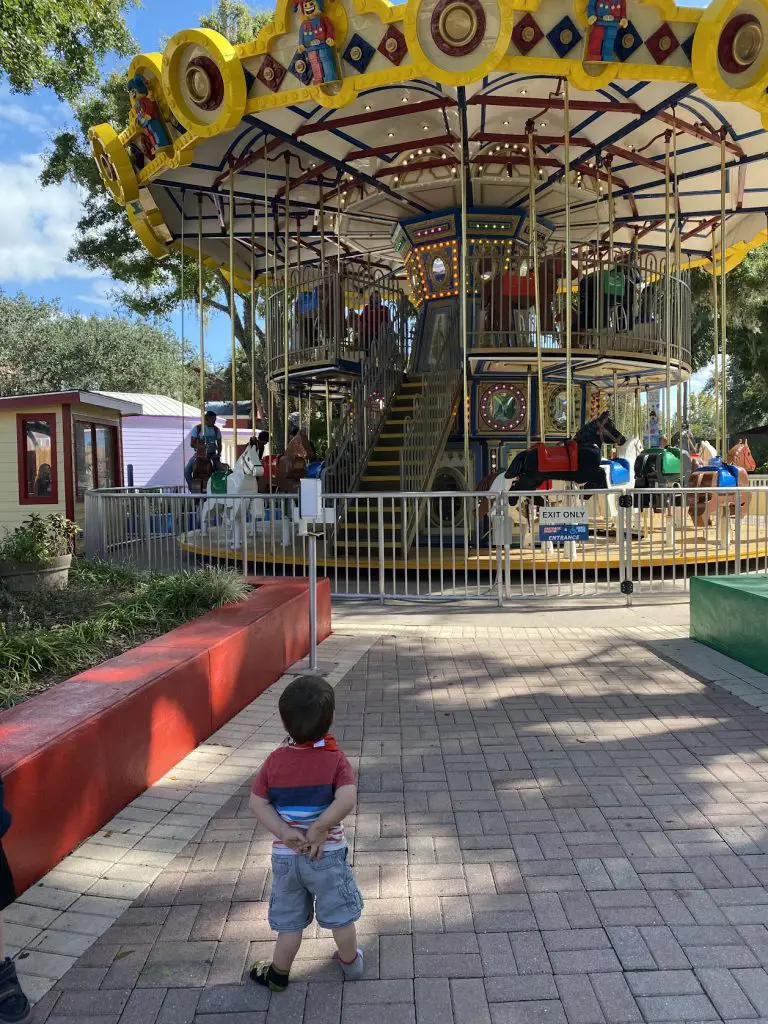 We spent a lot of time in Duplo Valley, which is specifically designed for youngsters. Because so much of Legoland isn't really toddler-friendly, I really appreciate that they have this space available.
Grand Carousel
As soon as our toddler saw this, he was so excited and insisted on going on it over and over again. This is a two-level carousel with a variety of horses and seated options. It's colorful and fun, and it's perfect for toddlers.
A carousel may not seem that exciting, but for our toddler, it was the most fun thing we did that day! This is right outside of Duplo Valley and at the entrance of the park.
Duplo Train
This train ride was another favorite – it is inside Duplo Valley. Our son was really into trains when we went to Legoland, so it was a big hit. You get to ride around the track a few times. Very fun!
Duplo Tractor
We also really enjoyed the Duplo Tractor. Our toddler loved riding with his older brother on this ride in the front seat!
Boating School
Our son was barely tall enough for this one, but he loves water, so we were excited when we saw he was tall enough.
Safari Trek
This was one of my personal favorites. You get to go around a little track on a "Safari Trek" and see a bunch of different LEGO animals. Some of them make noise. Our son got a real kick out of this one!
Lost Kingdom Adventure
The majority of the rides I've mentioned are very young child-centered. Our older boys are good sports and went on them with our youngest, but we were excited when we found a ride that everyone could really enjoy!
It wasn't too dark or scary. Our toddler obviously wasn't that good at shooting with the laser pointer, but he thought it was so fun to try. We went on this one over and over again!
Pharoah's Revenge Land of Adventure
I put this one with the caveat that if your toddler doesn't like water, you might want to skip it. However, it's a very slow-paced ride, and it's pretty fun because you can shoot your water sprayer throughout it. This is in the Lego Movie area, which is my big kids favorite!
California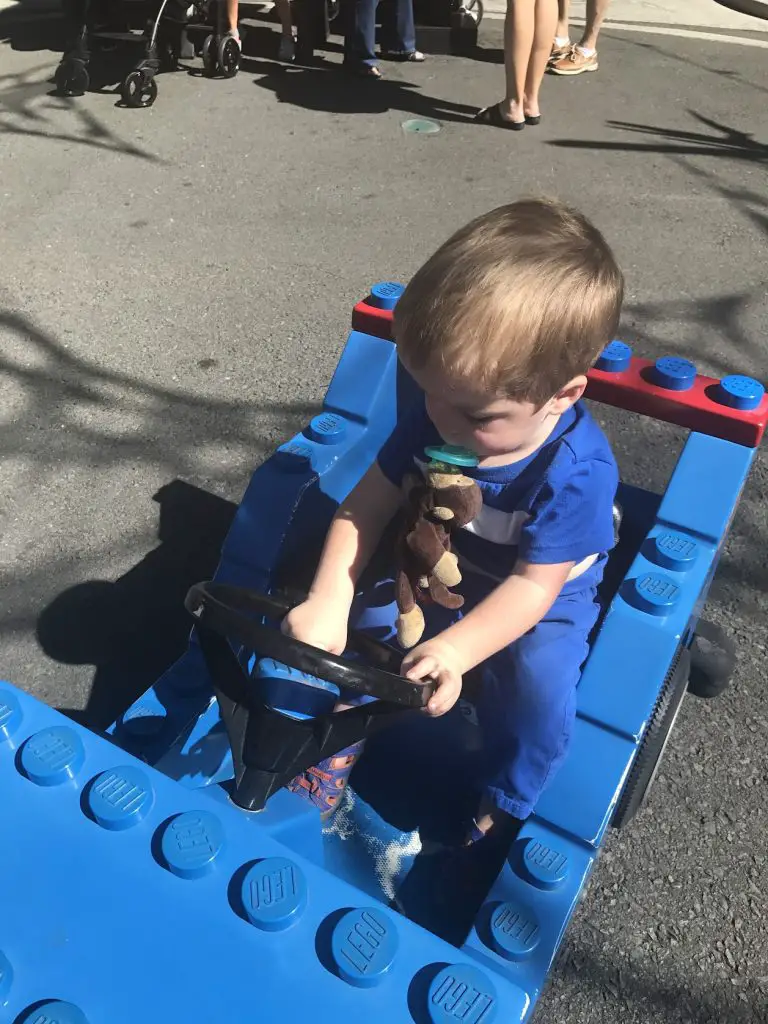 We haven't been to Legoland since our now six-year-old was just two. It actually wasn't the best experience, just because it was SO crowded the day we went, and our son was pretty sad he couldn't go on a lot of rides. But there were a few stand-out rides, and if you make sure you hit these ones, your toddler will have a great time.
Queen Watevera's Carousel
This is California's two-layer carousel. Lots of fun for all!
Legoland Express
This is in Fun Town and very similar to the Duplo Train in Florida. I remember having so much fun on this with both our boys!
Sky Patrol
If you have a toddler obsessed with flying and helicopters, you won't want to miss this one. You are in control of having the helicopter go up and down and side to side. It's a lot of fun!
Skipper School
This is very similar to Boating School. It's trackless, so it's fun to go with other family members in other boats. A toddler can help you steer or just go along for the ride!
Fairy Tale Brook
When we went to Legoland California, this ride was broken down, and I was so sad! It looked like it would have been so much fun. You float around in Lego boats and get to see timeless fairy tale stories through Lego characters. It's a fairly interactive ride that is perfect for young children.
Safari Trek
Very similar to the one in Florida, this is a great one for a toddler who loves animals!
Lost Kingdom Adventure
Just like in Florida, this one isn't particularly geared toward toddlers, but the whole family can go on it and enjoy it!
Non-Ride Attractions
There is a lot more to do at Legoland than just ride rides – be sure to check out the Lego displays, play in the Lego construction areas, and see the Lego shows.
We had a great time at one of the shows in Florida that was done in the water. Our toddler absolutely loved it!
MINILAND USA
Both Florida and California have their incredible "MINILAND USA" displays with Lego models of different cities and tourist attractions across the country. We could spend hours here! While our toddlers have been less enthused about staying for long periods of time, they definitely get a kick out of the interactive displays, such as the water cannons. The interactive element of this area makes it a great fit for all ages.
In Florida, we really liked it because they have a huge canopy over it, which can give you some much-needed relief from the sun.
Playgrounds
There are several little playgrounds throughout each park that are perfect for toddlers. In Florida, they have the "Florida Prepaid Playhouse", which we discovered way too late in the day! It had slides and other play structures inside which our kids loved – it was the perfect toddler play area, and I wish we had discovered what a great place it was earlier on! Sometimes there are larger Lego bricks available that the kids can play with.
Water Play
Both California and Florida have some really fun "Splash and Play" areas that have toddler-friendly water features, which are a lot of fun!
More Tips for Success
Stay On Site
This may not always be possible, but if you are able to stay on-site at a Legoland hotel. I would recommend you do! It was SO nice to be able to go give our toddler a nap during the day while letting everyone else keep playing. The Legoland Resort hotels are so close to the park, and it's nice if you forget something, too! It makes your trip to the Legoland Theme Park just a little bit more special!
Take Breaks
Legoland can be exhausting for anyone – but especially toddlers! Give them regular snacks and water breaks. If you find they are getting a little unruly, take them back to the little kid zone and let them explore for a while. It can be hard to see everyone else going on lots of rides!
Know the Height Restrictions
This can help set you up for realistic expectations if you know the minimum height for different rides. The first time we went, my son was about 1″ too short for SO many rides, and we didn't realize this until we got there. It was really disappointing for him and us!
Take Turns
It can be helpful to have someone assigned to the toddler, but let that person have a break every now and then, too!
Parent Swap
When we went, there were no lines, so we didn't really need a parent swap. However, if there are bigger crowds, this might be something to consider. Some rides will let you do a rider swap, where one parent/guardian stays off the ride with the toddler, and then can immediately go back on when the other part is done.
Baby Care Center
I am always grateful when an amusement park has a baby care center. This is a place where you can feed your child, change their diaper, or just take a little break from a busy day at the park (maybe when people are going on bigger rides !).
Legoland has something for everyone, and that includes toddlers! With rides like the Duplo Trains and Carousels, even the youngest Lego fan will have a Legoland ride that is made just for them.
More Posts You Might Enjoy: