Top 5 Disney World Resorts for Kids: Where to Stay With Young Children
How do you choose the best Disney World resort for your family? We've got a few tips that will help make your decision easier. Our top 5 Disney World resorts are all kid-friendly and offer various amenities to suit any need. Whether you're looking for a hotel with plenty of activities, or one with lots of onsite dining options, we have something for everyone! Read on to find out more about our favorite hotels.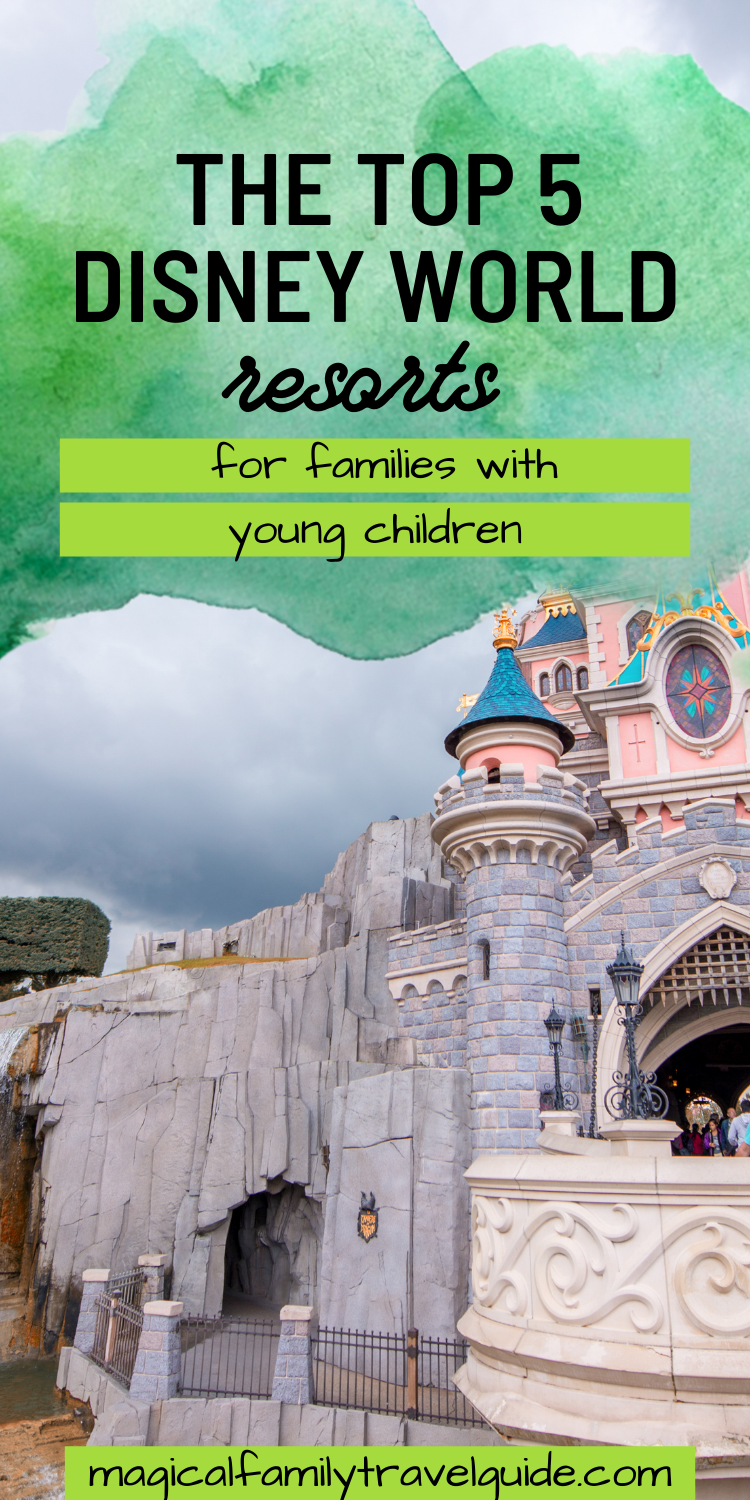 You might assume that every Disney resort would be suitable for children and to some degree you would be right. Almost everything you can do there and anywhere you can stay will be family-friendly.
Some exceptions are the tours that are only for adults, Victoria and Alberts at the Grand Floridian, and some of the drinking establishments late at night where kids aren't expected to be.
However, just because most of the resorts are family-friendly, that doesn't make them all equally good choices.
Some resorts simply favor adults, from couples to traveling business people. When traveling with children consider staying at one of these Disney resorts for kids.
While we have not personally stayed at all of these resorts (yet!), we have tried to gather together recommendations based on reviews and others' experiences!
We always recommend booking through our friends at Get Away Today. They are the Disney experts, and they will make sure you get the best resort for your family and situation – as well as the best prices. They are always so helpful with recommendations when we book our trips!
Book your next magical family adventure through our friends at Get Away Today! They are truly the Disney experts and can make planning your trip a breeze for both Disneyland and Disney World. You can browse their website or call 1-855-GET-AWAY. Make sure you tell them Magical Family Travel Guide sent you or use the code MFTG for $10 off a Southern California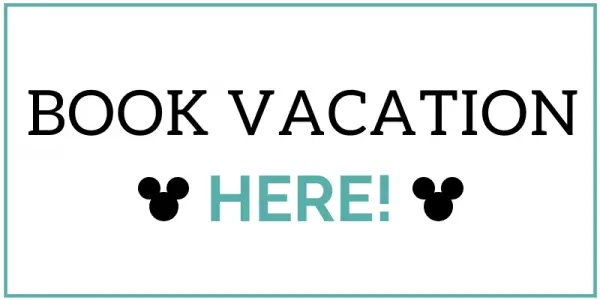 What's the perfect Disney World Resort for families with young children? With so many options available it can be hard to decide which is right for you and your family. There are five great choices in this post – each different from the other but equally as magical and enjoyable!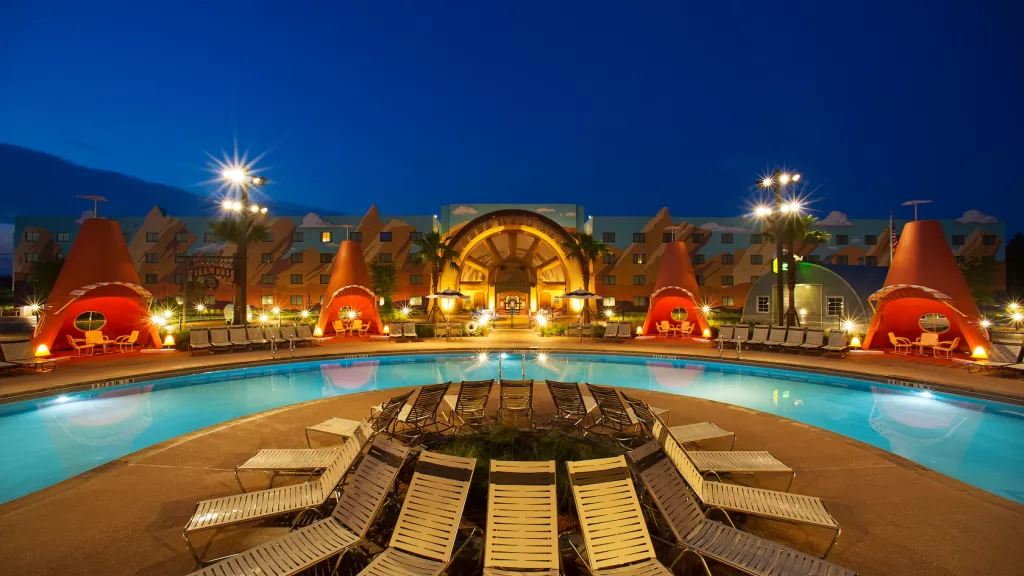 If you are looking for a lower-priced option at Disney World that presents a good value among the Disney resorts, look no further than Art of Animation.
This resort features mostly family suites and has the best theme among all of the value resorts. Kids will appreciate the overt Disney elements and the room decor designed to immerse guests in the environments of Pixar films Cars and Finding Nemo, as well as The Lion King.
There are Little Mermaid rooms, two but they are half the size and essentially a completely different resort experience. The kids are easy to feed at Art of Animation with the Landscapes food court and they will love the Big Blue Pool as well as the Skyliner to EPCOT and Disney Hollywood Studios.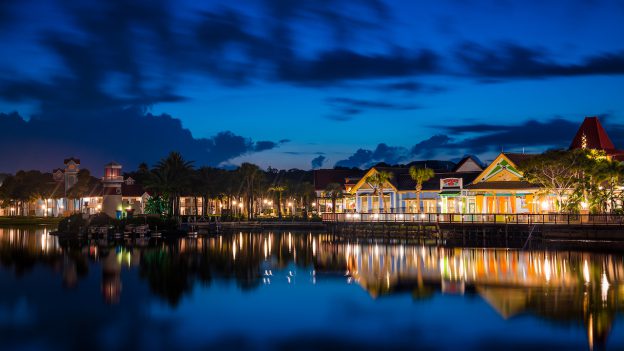 In most cases, but not all, the best value for Disney guests is actually the moderate resorts. Moderates give more of what Disney guests are after in terms of immersion, but they come at a price closer to the value resort range without sacrificing a lot for the experience.
For families with kids, Caribbean Beach is a no-brainer. Tons of immersion inspired by Pirates of the Caribbean and island-theming in general. There are quick service and table service food options, recently renovated rooms and the resort serves as the hub for all Skyliner transportation. That means ease of travel to two of the four major theme parks, plus it is close to Fantasia Gardens and a variety of resort hopping options.
Most of the resorts at Walt Disney World cost a pretty penny. Most of the deluxe resorts are pretty similar in what they offer. However, some are better at accommodating children.
Beach Club is surprisingly one of the best Disney resorts for kids. A key perk is the walking distance from EPCOT and the Skyliner to Disney Hollywood Studios. The sand-bottom pool with a lazy river and the longest resort pool waterslide on property is another.
Beach Club is the sister resort to Yacht Club which is a little bit stuffier. both are great, but it's clear which one is geared toward kids.
At the same time, many of the resort amenities are shared. Beaches n' Cream and the video arcade are among them. Beach Club also has DVC villas while Yacht Club does not.
The closest resort to the Magic Kingdom is a no-brainer for families who don't mind spending a little extra on the magic of a theme park view and easy park access.
You can walk to and from your room easily, or take the monorail from inside the hotel.
The Contemporary boasts the largest standard rooms at over 400 square feet and you can also visit Mickey and friends at Chef Mickey's. It's one of the few places you can meet Mickey Mouse without park admission.
This one may surprise you, but Fort Wilderness is a great choice among Disney resorts for kids at a fairly moderate price.
While it may feel remote, you are hardly roughing it in the spacious cabins of Fort Wilderness. The location is perfect for the illusion of getting away. While the sprawling property might make getting around internally feel like a challenge, it is just a boat ride away from The Magic Kingdom.
There is also a lot of recreation here that is great exposure for kids including horseback tours and more at the Tri Circle D ranch.
As a parent of three young kids, I know the importance of finding accommodations with good amenities and activities for children. It can be hard to find time as a family to go on adventures together so we usually stay at Disney World resorts when visiting Florida. Which one would you pick? Let us know in your comment below or share this blog post if you agree that these are some great options!
More Posts You Might Enjoy