The Ultimate Cruise Packing List for Toddlers
Not sure what to pack for your toddler for your upcoming cruise? Here is our ultimate cruise packing list for toddlers that we've developed after taking our toddlers on cruises!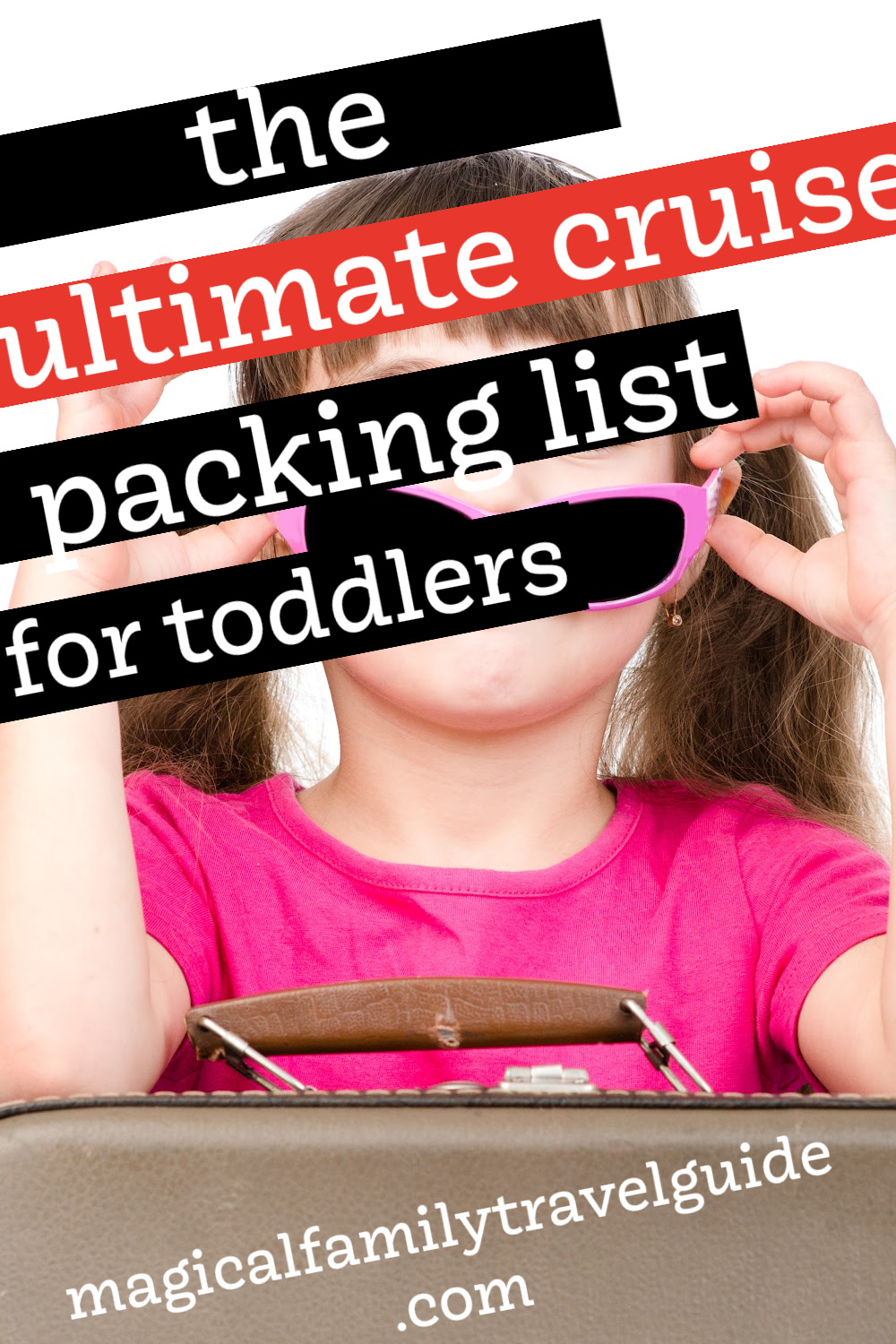 Packing for a cruise can be a challenge for anyone.
Throw in a toddler? It can get even more complicated.
We have gone on several cruises with toddlers, and there are a few things we are glad we brought (and things we wish we had brought!)
This list continues the ultimate toddler cruise packing list. Be sure to check with your specific cruise line for additional items that might be necessary
Be sure to check out our list of what we wish we packed for our first cruise!
What do Kids Need to Get on a Cruise Ship
In general, children 17 years age and under will need a passport, birth certificate, or government-issued photo ID and children 16 and under who don't have a passport or photo ID will need a copy of their birth certificate.
If you are going anywhere out of your country of origin – even if it departs and comes back to the same location – I would strongly recommend having a passport.
Equipment
You can typically have them take all your luggage and equipment to your room. Just don't go too overboard!
Umbrella stroller – I wouldn't send this with your luggage to your room. The cruise boarding lines can take a long time and having a stroller can be really helpful! We always have room somewhere in our cabin to store a stroller (usually in one of the closest)
Baby/Toddler carrier – this can be a great alternative to a stroller if you don't want to bring one. I recommend it even if you do bring a stroller – it can be easier to carry them around! Here is a list of our favorite baby carriers – many of which are compatible with toddlers!
Pack and Play (check with the cruise line first and see if they have portable cribs available)
Clothes
The clothes you will need will vary depending on the cruise you are going on, the time of year, and the weather. Make sure to pay attention to the weather report leading up to your cruise and be prepared for the unexpected.
Be sure to check out your cruise lines itinerary for any special events, such as a pirate night or formal dining night. This article is really helpful as well – Cruise Clothing 101: What to Wear on Your Cruise!
Warm Weather Cruise
Swimming suit – I highly recommend a Rash guard swimming suit – so much easier than putting sunscreen all over your kiddo's body (and having to reapply constantly)
Shorts
T-Shirts (long and short sleeve)
Sandals – we were so dumb and forget to bring sandals! One day on the beach in his tennis shoes, and they were soaking wet and full of sand. My FAVORITE shoes for toddlers are these Fisherman Sandals from Stride Rite. They are breathable, sturdy, and waterproof.
Tennis shoes
Cold Weather Cruise
Long-sleeved shirts and sweatshirts
Pants
Leggings for layering
Coat
Boots
Close-toed shoes
Warm hats
All Cruises
Plenty of extra clothes
Jacket with hood
Poncho
Socks
Sunglasses
A life jacket or puddle jumper
Underwear (if potty trained)
Toiletries
Toiletries are always super expensive on a cruise ship and at most ports. Make sure you double-check your bag for all of these!
Plenty of diapers, wipes, etc. (these aren't always available in cruise stores, and if they are, they are super expensive). When we travel, I typically buy diapers when we get there (if we fly), just so we save room in our suitcase. Stop by Walmart or Target on your way to the port!
Infant/Toddler safe medications (Tylenol, Ibuprofen, Benadryl etc.)
Kid's Seabands and other sea sickness medication/remedies
Kid-safe sunscreen – we like to spray sunscreen for the body and stick sunscreen for the face.
Kid-friendly shampoo, conditioner, and body wash (travel-size would be ideal!)
Food/Consumables
There is plenty of food available pretty much 24/7 on a cruise, but we all know toddlers aren't always the most convenient diners. Here are a few items you may still want to bring.
Favorite snacks (especially if you have a toddler who is more particular)
Formula or Baby Food – if they are still consuming either of these. Generally, you won't find them available on the ship.
Other Helpful Items
Here are a few other items that we feel are helpful on cruises with toddlers:
We hope that this was helpful! Please let us know in the comments if there is anything you are glad you brought along for your toddler or what you wish you'd brought!
More Articles You May Enjoy: