Table Mountain Inn Review: A Beautiful Colorado Get Away
Looking for a beautiful getaway for your family or your special someone in Colorado? Look no further than the Table Mountain Inn!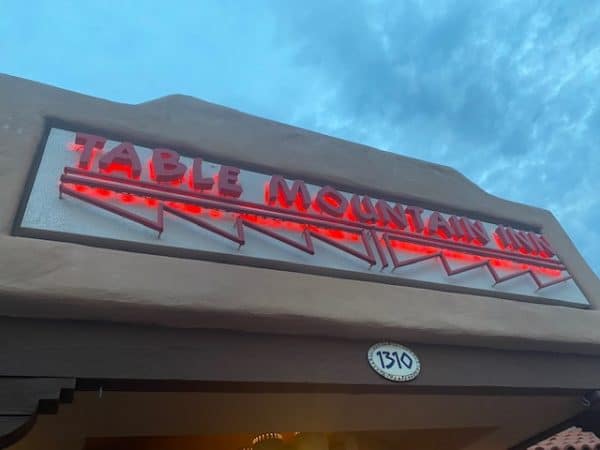 Table Mountain Inn is located in picturesque Golden, Colorado. It exudes southwestern charm, which begins with its adobe architecture. The hotel makes you think of the wild west. The wild west of cowboys, Indians, and desert. The theme is prevalent throughout the hotel. Especially, in the rooms, lobby, and restaurant.
Recently, our family was able to experience much of what the hotel has to offer. This was during times when everyone was concerned about Covid-19, but we felt safe due to the safety measures taken by the Table Mountain Inn staff.
Event Spaces
Table Mountain Inn has a number of interesting places to sit and relax, as well as a number of useful event spaces. We enjoyed visiting the lovely Kokopelli Patio area, which is such a unique outdoor event space! The strings of lights overhead add such charm to the space. It is situated next to an available indoor space, and events can be easily catered by the hotel.
Guest Rooms
Our guest room was very nice. As a father of three boys, I really appreciate the good, solid construction of floors and walls. I like it when voices and footsteps do not travel easily, and the Table Mountain Inn felt very solid. We brought our youngest son with us on this trip, and I was relieved that I didn't have to worry too much about any late night baby crying bothering neighboring rooms.
Our room happened to be a corner room on an upper floor. This meant that we had two balconies! We had one facing Washington Ave, which is the main street of downtown Golden. We had a great view of the mesa for which Table Mountain Inn is named. Bathtub jets and a fireplace in a separate seating area combined for a room that felt very comfortable and high quality.
Table Mountain Inn History
During our stay, we learned a little about the history of the hotel. The hotel has changed owners and its overall size over the years. However, it turns out, that most of the hotel is almost a hundred years old! The floor in the lobby is original.
If I remember correctly, the hotel restaurant, Table Mountain Inn Grill and Cantina is part of a long history of food and drink service that has happened at the hotel.
Table Mountain Inn Grill and Cantina
Today, the hotel restaurant is the Table Mountain Inn Grill and Cantina. To me, it appears to serve southwestern food. I enjoyed the Red Bird Cherry Pinon Half Chicken. The flavors were excellent, and everything was well cooked. It seemed like a unique dish that piqued my curiosity, and I was very glad that I tried it. Katie had the Buffalo Short Rib with mole, and it was excellent as well.
We spoke with the restaurant manager, and it was clear to me that he and the chefs are passionate about the food that they serve. The bar area was recently redone. The remodel looks very well done. It has a number of large televisions for watching sports. I enjoyed watching bits of a hockey game. It seems like a fun place to watch a big sporting event.
The restaurant serves a quality breakfast, but we thought we would try something from the downtown scene. We wanted to get out of the hotel for a bit and try to get a feel for the city. We enjoyed our breakfast, but I would be surprised if the food was better than what was at the Table Mountain Inn & Grill. The hotel's breakfast seems to have good reviews.
Location
Table Mountain Inn is located in downtown Golden, Colorado. One might guess from the name, Golden was founded during the Pike's Peak gold rush. It isn't a huge town, but it does have a nice, distinct downtown district. Golden is located at the foot of the Rocky Mountains. We headed home by driving through scenic Lookout Mountain State Park. There are spectacular views from the road, and place you can park to take in the scenery. Additionally, Buffalo Bills grave is located in the park.
Conclusion
Table Mountain Inn is a high-quality hotel with an excellent restaurant, charming decor, and a rich history. We really enjoyed our stay and we look forward to returning again. The Kokopelli Patio area is very picturesque and especially useful for outdoor events during the Covid-19 situation.