Residence Inn Anaheim Resort Area Review – Is This Hotel for You?
Choosing a hotel for your Disneyland vacation can be tough! It took me weeks to finally decide where to stay when we visited last year. We ended up at the Residence Inn Anaheim Resort/Garden Grove, which ended up being a great choice. Here are my thoughts!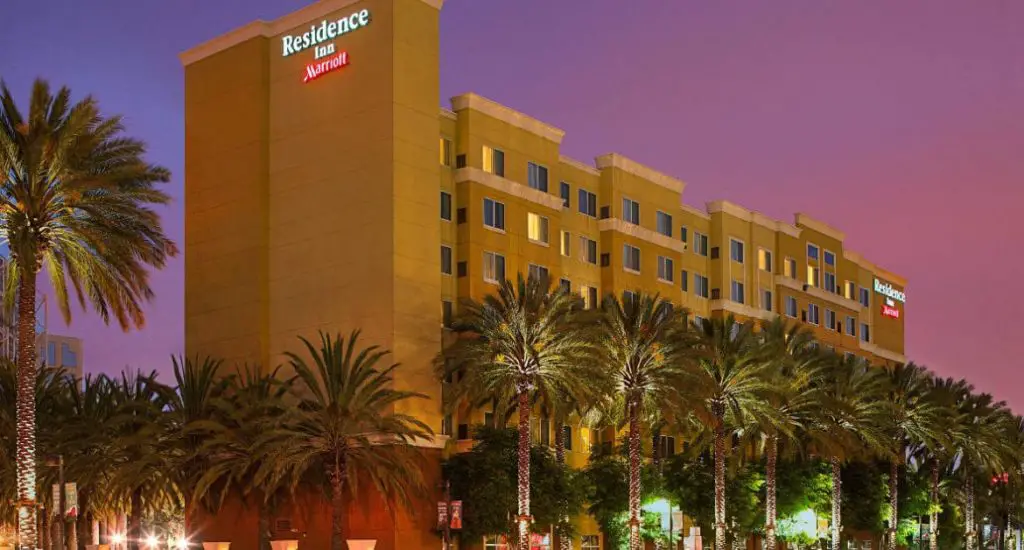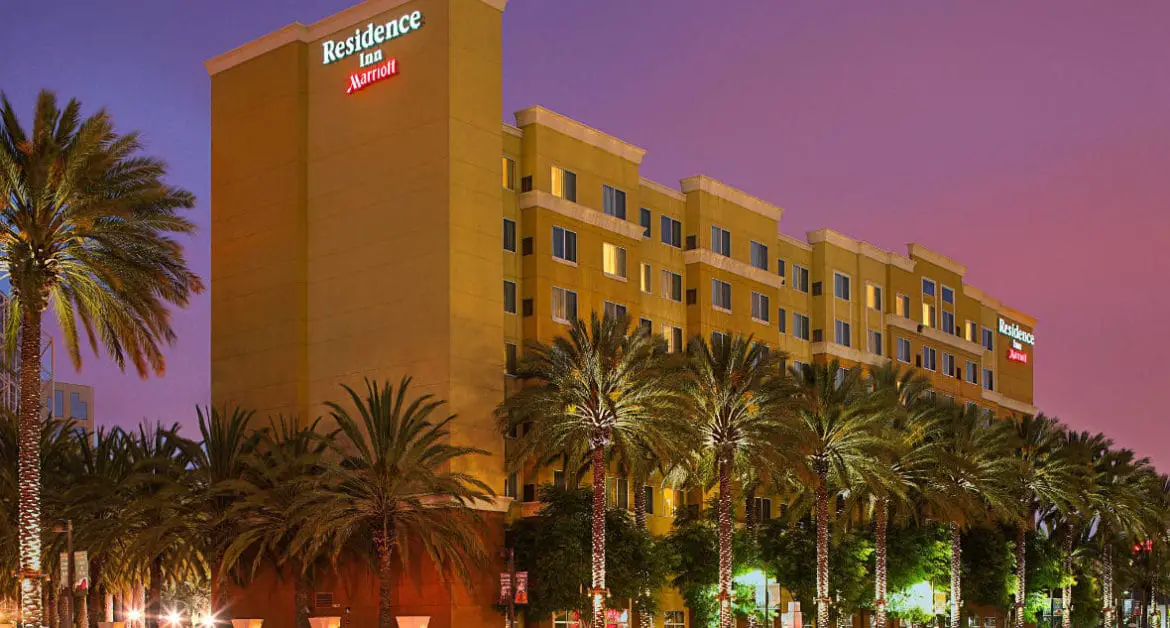 Disneyland Area Hotel Review
When I was planning our trip for Disneyland last year, I took forever to decide on what hotel we should stay at.
I ended up writing this post about the best hotels near Disneyland with family suites  with all my "research", because, you know, I'm sure someone would find it useful.
In the end, we stayed at the Residence Inn Anaheim Resort/Garden Grove. Because I always think it's helpful to read reviews before getting a hotel, I thought I would write one anyway.
I apologize for the lack of pictures – I realized the only one I took was of a slept in bed. Oops! Good thing they have some great photos on their website, and the Trip Advisor page 🙂 
**Don't forget to book all your Disneyland and Southern California trips through the travel website we have been using since 2008 – Get Away Today. You can get $10 off any vacation package of two or more nights with two or more tickets using the code MFTG**
Residence Inn Anaheim Resort/Garden Grove
Overview
Just as a basic overview, here are some of the stats about the Residence Inn Anaheim Resort/Garden Grove:
Located 1.5 miles away from Disneyland. This is a bit far – but honestly, if you aren't going to be staying SUPER close to the park and you have to drive/ride a shuttle anyways…I don't think there's a big difference.
Features guest suites that can sleep 2 to 8 people, which is great for families.
HUGE breakfast – this was definitely the best part of our stay. I was VERY impressed with the free breakfast.
Large Pool with Kiddie Pool and Hot Tub
High Speed Internet included (though I feel like it would be weird if hotels didn't include this nowadays).
Fully equipped kitchens
Fun kids area with movies near the breakfast area
Room
The room we stayed in had two queen beds with a bathroom area and then a door separating that room from an area with a couch that turned into a bed, a dining table, and a kitchen.
Because we had four adults and two kids staying in the same room, we felt that getting a suite was ideal – and it ended up being a good option.
The room was pretty spacious. The table was large enough for all of us to sit at, and the kitchen – although small – had everything we needed to cook with. We did have to buy basic spices and what not, but it wasn't a big deal. It has a fridge, oven, stove top, microwave, and dishwasher.
The bathroom was a pretty standard size, and it was pretty clean. I did find a little bit of mildew in the shower, which always grosses me out. But for the most part, I had no complaints. I like that there were sinks outside of the bathroom, which makes it easier for people to get ready while others are showering.
The actual beds were very comfortable. I believe they were two queens, and they were in a separate area that could be closed off with a door from the living area and kitchen.
Now for the downside – the couch bed. When we pulled it out, I could barely believe my eyes. I mean, I'm realistic. Sofa coaches are rarely five star bedding. However, they should at least have a mattress that is thicker than a pancake! It was literally the thinnest mattress I had ever seen.
And it was SO uncomfortable. I could feel the springs, and it was miserable the first night. I complained the next morning, and the staff was very apologetic. They assured me that they were going to figure something out. Later the next day, they came up and said they couldn't find a mattress to swap out, but they kept looking. Eventually they came back with at memory foam mattress topper, and THAT was comfortable. I slept so well afterward, and when we left, I even said it was more comfortable than my bed at home.
But that initial mattress was brutal 😉
Breakfast
If you know me, I love a good hotel breakfast when it's included with the cost of the room. It's just so nice when you are able to go downstairs and eat breakfast without worrying about finding an inexpensive place to eat – especially when you are at a place like Disneyland where time is money!
I read good reviews about the breakfast, and it certainly did not disappoint. I think it was probably one of the best breakfasts I've ever had at a hotel – there were so many options, and they varied from morning to morning.
They had the typical continental breakfast fare – fruits, cold cereals, oatmeal, and baked goods. However, they had a wide array of other options such as breakfast burritos, breakfast hashes, parfaits, individual waffles, tons of toppings for the waffles….one morning they even had tamales!
I really was impressed with it though, and it is one of the big reasons I recommend this hotel. Like I said, a good hotel breakfast goes a long way with me!
They have plenty of seating, but it can get really busy in the morning. I recommend coming earlier in the morning or more toward the end of breakfast when most people have already headed to the parks.
Amenities
The Residence Inn was very comfortable and offer some great amenities to make everything seem more like vacation.
Of course, they have the excellent breakfast, but they also offer an exercise room, a large pool area with a kiddie pool, snacks in the foyer, a small convenience store, as well as a BBQ area. We also really enjoyed the ping pong table and the tennis/basketball courts.
They have some great outdoor seating which is nice during breakfast or just to relax during the day.
Staff
The staff was SO friendly. From the moment we checked in to the moment we checked out, they were always greeting us with smiles and doing their best to help us.
With the issue regarding the horrible couch bed, they were very accommodating and really tried to help as much as we could.
On the first night, they sent up a gift basket with some treats welcoming us to the hotel. I don't know if they do that for everyone (I would assume so?), but it was a really nice gesture. I don't have any complaints about anyone who worked there, so that definitely puts them up there in my book.
Elevators
This was probably the most annoying part of our stay – the elevators were soooo slow…and on top of that, for the majority of our trip, one of them was broken. So the entire hotel was supposed to use one elevator. They did allow you to use the utility elevator, which helped. But I feel like for a hotel of this size, they should have more elevators. I would opt to just take the stairs, but the stairs led to outside and not to the actual interior of the hotel, which was kind of weird.
Transportation 
You do have to pay for parking at night, but if you book this hotel through Get Away Today, you will likely get that parking fee waived, which is great. I would double check that first before you book. Don't forget to use the code MFTG if you book through Get Away Today any two night or longer stay (two ticket minimum) so you can get an additional $10 off.
They do not have a free shuttle to Disneyland, though I think these can be hard to come by. They are close by to a stop for the Anaheim Resort Transit, which is a pretty good option if you don't want to drive to the park (which is about $20 per day for parking). If you get your passes through Get Away Today, they have a promotion that gives you 2 days free and kids for free, which is great!
Places Nearby
There are quite a few restaurants and stores within walking distance which was really nice. I believe there was a Target super close where we bought a few things we had forgotten, as well as food for the hotel.
We enjoyed the little Dollar (or so) store that was nearby. We got some $1 sunglasses which proved to be really helpful. There was a Mexican restaurant we went to nearby that was recommended by one of the staff members at the hotel, and we loved it. The portions were good, the food was authentic, and the service was excellent. Beyond that, they had a lot of other restaurants really close by which was nice.
Overall, we really enjoyed our stay at the Residence Inn Anaheim Resort/Garden Grove. I think next time we'd like to stay within walking distance to the park, but for the most part, I think it's a high-quality hotel with some great features for families.
You May Also Enjoy: