Top 5 Children Travel Essentials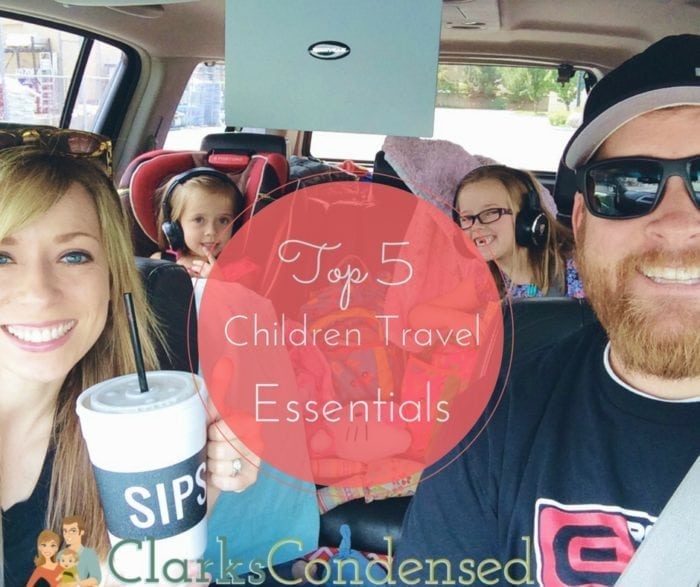 I grew up in a family with six children- but that didn't stop my parents from taking us on family vacations. Whether we were driving in our van or flying on an airplane- some of my favorite childhood memories stem from those memorable family trips.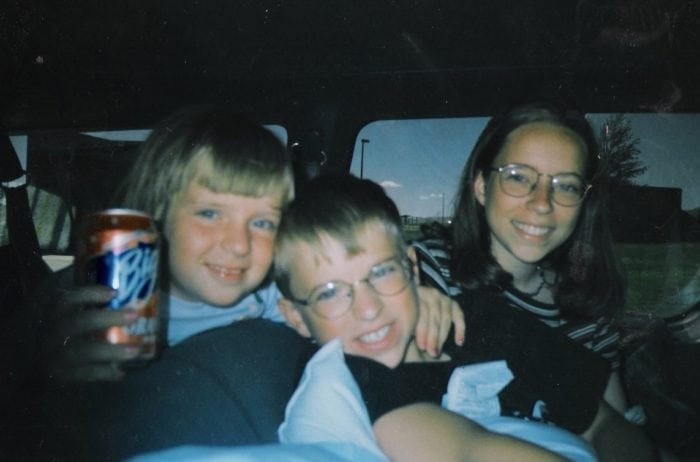 circa 1996
Now that I am a mom to two little girls- I am often amazed at my parents for packing up and traveling with six kids! Road trips with children can be hard and exhausting but in my experience it is always, always worth it.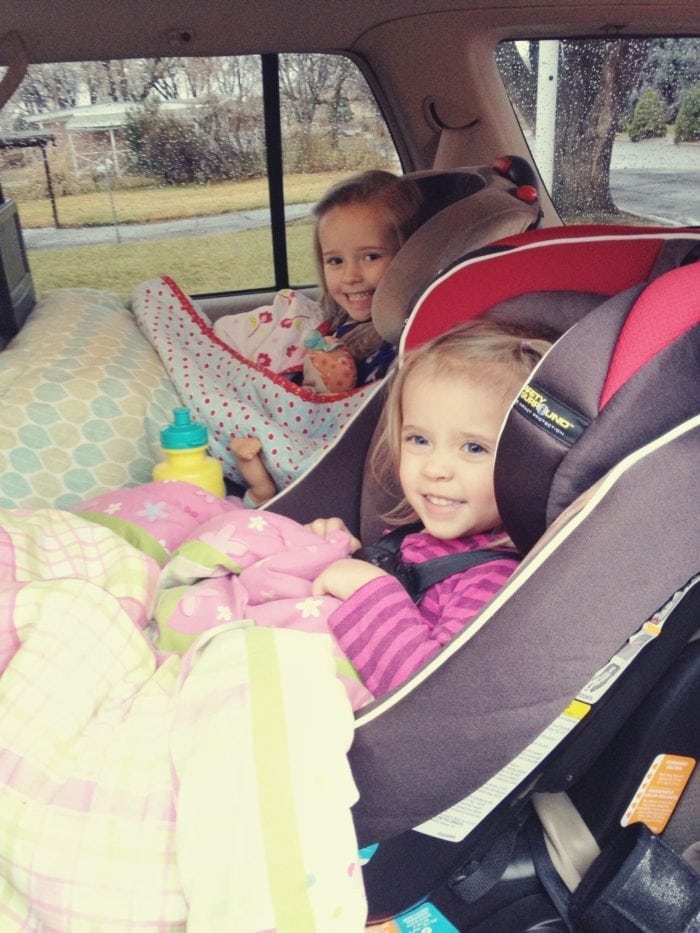 My oldest daughter took her first flight at three months old and now at the age of six she has been to several states and taken just as  many flights and driven hundreds of hours in the car. There is definitely a learning curve when it comes to traveling with kids. Now that our daughters are out of the baby stage our traveling essentials have changed slightly. We no longer need to pack diapers, boppy pillows or strollers- but there are several items we just won't leave the house without!
Today I'd like to share the items we always remember to take on trips.
 Dramamine® for Kids
This product has been a lifesaver for us- and unfortunately we had to learn the hard way how important this is to have on the road. We recently took an 11 hour road trip to Lewiston, Idaho. We had never taken the windy and twisty roads before and soon my four and six year old were complaining about feeling nauseous and queasy. Up until then they had never experienced motion sickness before so I wasn't quite sure what to do.
Thankfully, my sister who we were traveling with, happened to have Dramamine® for Kids in her travel bag and was gracious enough to share with my kids.
Soon our girls were feeling so much better and we were able to avoid any vomiting from them. It was easy for them to take because of the chewable tablet and the child friendly grape flavor it came in.
We learned our lesson- and since then we have gone on two more trips and Dramamine® for Kids was one of the first things I put in my purse. Because it comes in an adorable travel case it fits conveniently in my purse pocket and doesn't take up a lot of room.  I never know when the motion sickness in my children might hit them- but I feel better knowing I am prepared for when it does.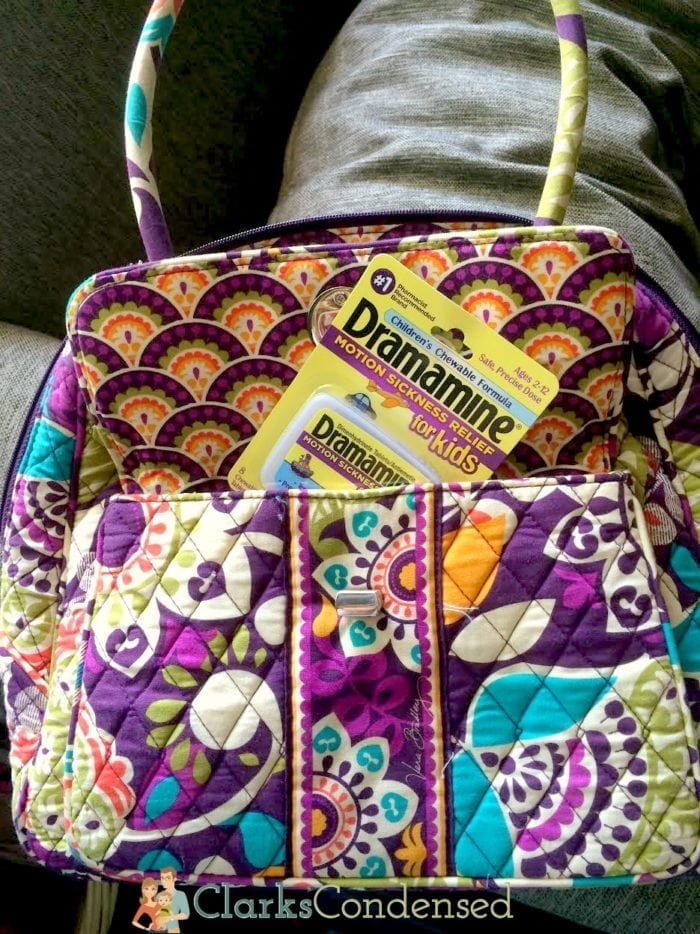 Sunglasses
I always have sunglasses in my bag and I never forget to pack sunglasses for my children when we travel either. Often times when we are on long road trips we will be traveling right at sunrise or during the brightest part of the afternoon. Because of where they  sit in their car seats they are usually in the direct sunlight. We all know how miserable it is to have the sun glaring in our faces, right? When this happens my kids know they can put on their sunglasses and it helps them become more comfortable almost immediately.  We haven't had window shades in our car since the girls were babies- and if you have older children you might have taken yours down, too – which is why sunglasses are a must when traveling with older children.
 Fun Bags
I used to pack  coloring books, crayons, toys, and books in one large tote when we traveled by car- which I kept in the front seat by me. I would hand items back to the kids to avoid spills or to avoid them dumping everything out at once. Now that my children are older they are more capable of having their own travel bag that they can get into easily. We have small backpacks that we use for every trip- even on the airplane!
In their "fun bags" we put only what they will really use. It's tempting for me to pack their bags to the brim with anything I can get my hands on but I've learned that they will only use the things they really love.  I know that my girls like to color in notebooks so I skip coloring books and put in one spiral notebook each with a case of crayons. My oldest daughter likes to read Dr. Seuss books so she gets a few of those books, while my younger daughter likes the "See and Find" books. Instead of loading them up with stuff I "think" they'll use I stick with what I know will keep them occupied. They each get a pack of gum and a few surprises like stickers, glow sticks, or a few new small toys- usually picked up from the dollar section at my local store.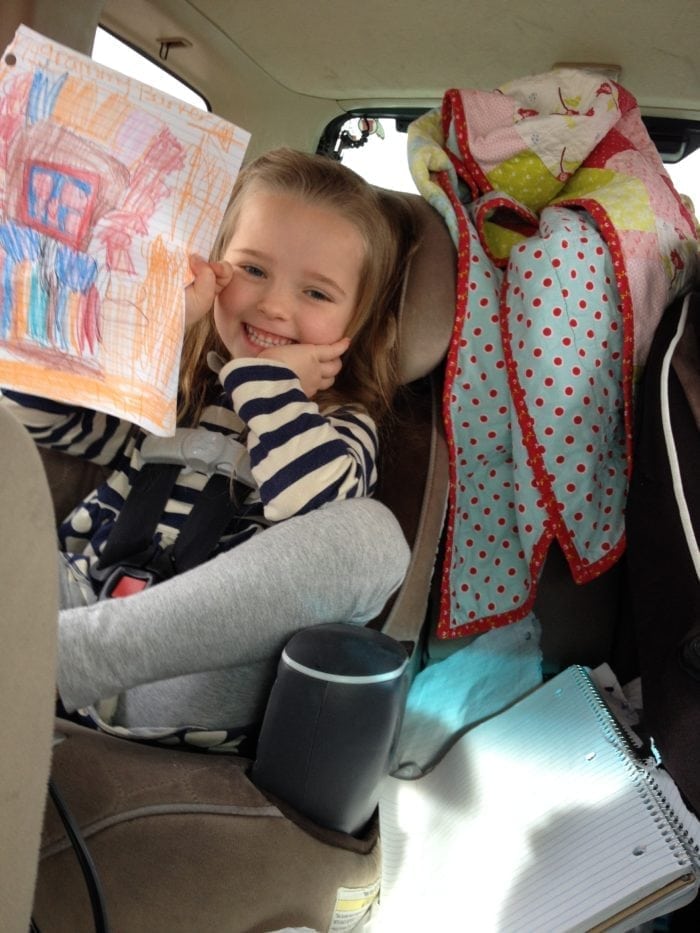 Wipes
No, we don't have babies anymore but that won't stop me from traveling with a pack of baby wipes! They come in handy for sticky hands or spills that are bound to occur while traveling. We keep them in our car's middle console at all times and they usually last us a while since they are only used sporadically when needed. I can't tell you how many times I have been grateful for wipes while not even having a child in diapers!
 Trash Bags
This might sound like a no-brainer but to be honest it took several road trips with kids to realize how helpful they can be- for several reasons.  When you travel you are going to have garbage. Plain and simple. Especially with kids! With kids you are bound to have candy wrappers, tissues, crumpled papers, take out bags and other items that need to be thrown away. When you are without a sack to put it in most likely it will end up on the ground until you get to a gas station.
Throwing a trash bag (or two) into the back of our car has saved my sanity on long trips. It helps keep all the trash consolidated in one spot and we've trained our kids to throw their garbage into the trash bag now, too. Trash bags are also great for putting your dirty clothes in while traveling. Even if you are traveling by airplane- a trash bag is still useful!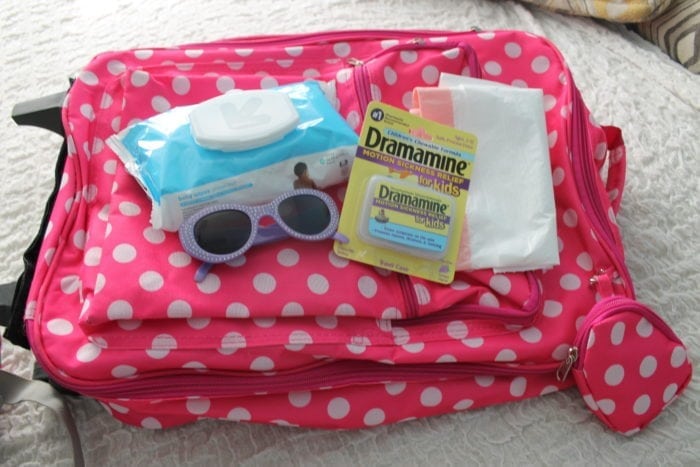 OF course there are other more obvious items you don't want to forget when traveling- such as: snacks, water,  music, pillows, and stuffed animals. All those items combined with my top 5 essentials will definitely help you as you travel with children!
What would you add to the list?