Web Slingers at California Adventure: Everything You Need to Know
Web Slingers in California Adventure is an interactive and family-friendly ride perfect for Spiderman fans of all ages. In this article, we'll be sharing the best tips for a shorter wait as well as how to get a higher score in the actual attraction!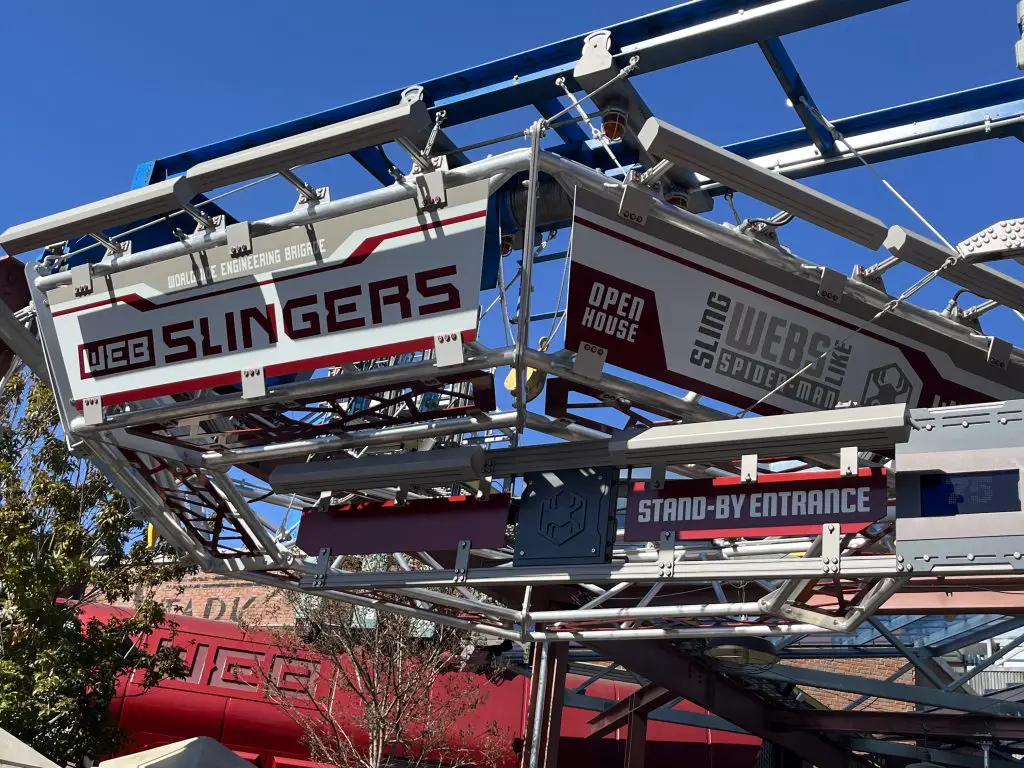 Web Slingers is the latest and greatest attraction at Disney's California Adventure – and it's not uncommon to find a wait time over an hour.
In our opinion, it's definitely worth the wait – in fact, it's one of our favorite attractions in California Adventure.
With the right strategy, you can find a shorter wait time and a higher game score. In this article, we'll be sharing everything you need to know!
Web-Slingers Overview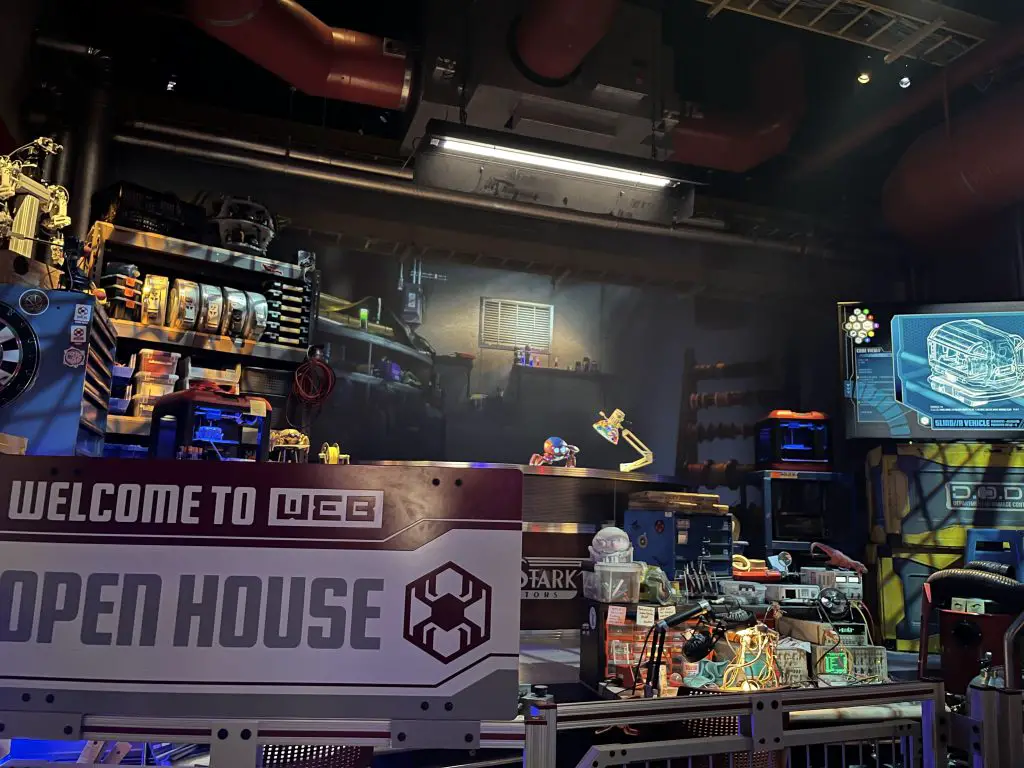 (spoilers)
Web-Slingers is a 3D, interactive ride where you are working to help Spiderman stop the self-replicating spiders. These were created to do good, but then they couldn't turn of the self-replicating mode, and the spiders started destroying everything in their way!
The experience begins when you enter the room outside the queue. There is usually about 20-30 people brought in at a time. After a few minutes, you will be funnelled into another room, where there is a fun presentation as if you were at the World Engineering Brigade (WEB), led by Peter Parker himself. He starts to explain what they do and then the spiders start to self-replicate. Despite his efforts to get them turned off, they just start going crazy.
Spiderman is summoned, so Peter Parker darts off. You are instructed to help get rid of all them, and at this point, a door will open and you'll go to the next line, which takes about 20 minutes to get through, depending on where you are in line. You'll pick up your 3D glasses at the beginning of this.
One of the best parts of this ride is all of the decor and easter eggs throughout the inside area of the waiting area. Definitely take some time to look around and enjoy the experience!
Once you get through the line, you'll be put into one of the pods to start the ride. There can be up to four people in each one. Everyone is assigned a color of web so you can more easily see what you're doing.
The ride begins, and the amount of spiders increases with each room. There will be larger ones that you have to defeat the further you go. Spiderman almost dies, but in the end, you save him!
You get an individual score as well as a team score – so while you are somewhat competing against others in your group, it's a group effort as well to get the highest score.
This ride is really a lot of fun, and it's actually a pretty good workout. If I have gone it on a few times in a row, I start to get pretty tired toward the end!
Is Web-Slingers Worth the Wait?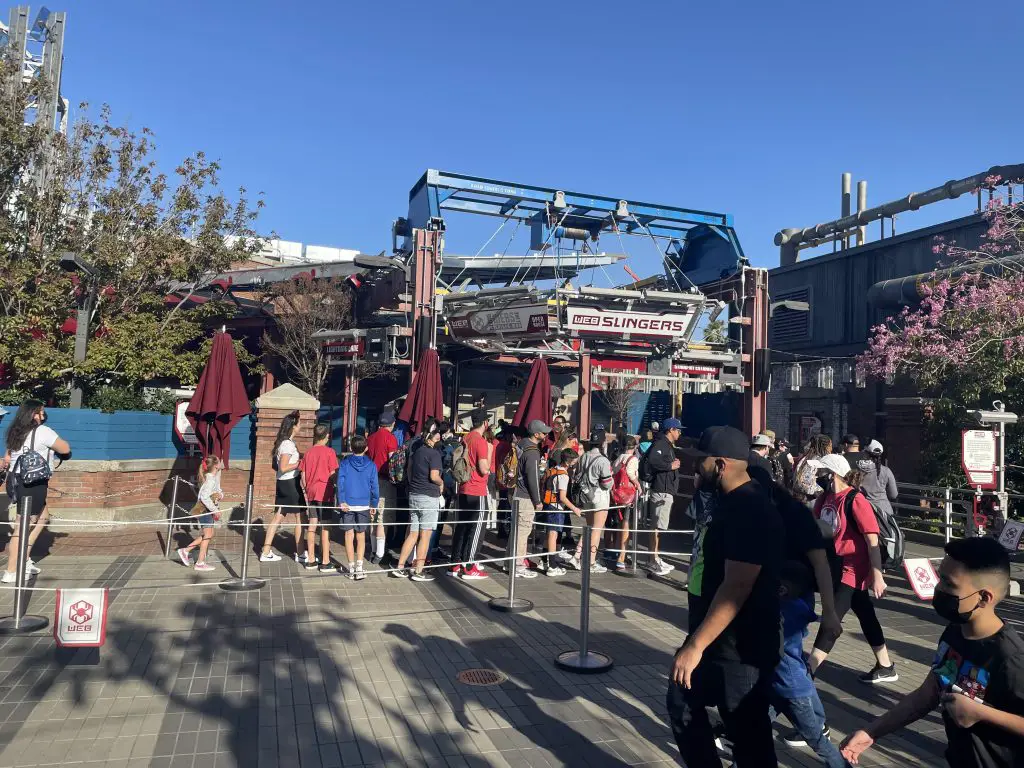 You'll hear a lot of mixed opinions on this ride. I was surprised when I Googled the ride and saw that it had such a low rating from Google Reviews.
But our family absolutely LOVES this ride, and it's totally worth the wait (within reason). Here are a few reasons why:
There are NO height limits, which means our whole family can ride. Even though our two-year-old doesn't totally understand the ride, he loves being able to do what everyone else does.
It's really fun! We love the competition aspect of it, and it's something we can all really enjoy together.
It is well-made. The graphics are high-quality, and it really doesn't feel glitchy at all. We've been on a similar ride at LEGOLAND, which is still fun, but it doesn't feel nearly as smooth.
It's Spiderman! Who doesn't love Spiderman!
So, go grab a snack (I recommend some dill popcorn from the Popcone), wait in line, and have some fun!
How to Ride Web Slingers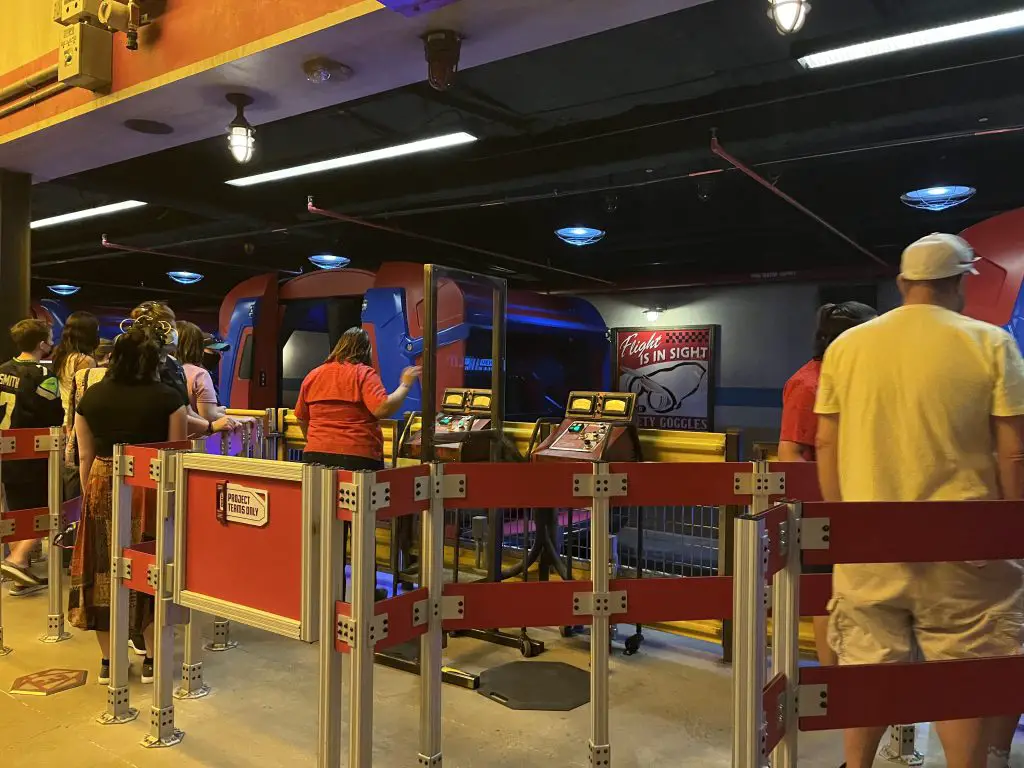 There are three different ways to get in line for Web Slingers:
Stand-by Line: This is going to be your least expensive (aka, free) option. Just hop-in the stand-by line and wait your turn.
Single Rider Line: DCA recently introduced the Single Rider Line for Web Slingers. If you are at the park by yourself or don't mind splitting up with your group, you can usually get through the line much more quickly.
Disney Genie+ Lightning Pass: This is usually going to be your fastest option, but it's going to cost you some money. You can buy an individual Lightning Pass for Web Slingers. It can vary depending on the day from $7-15 (we've seen it at $7 and $12). You will want to start checking at the beginning of the day for pass availability.
How to Get a Shorter Wait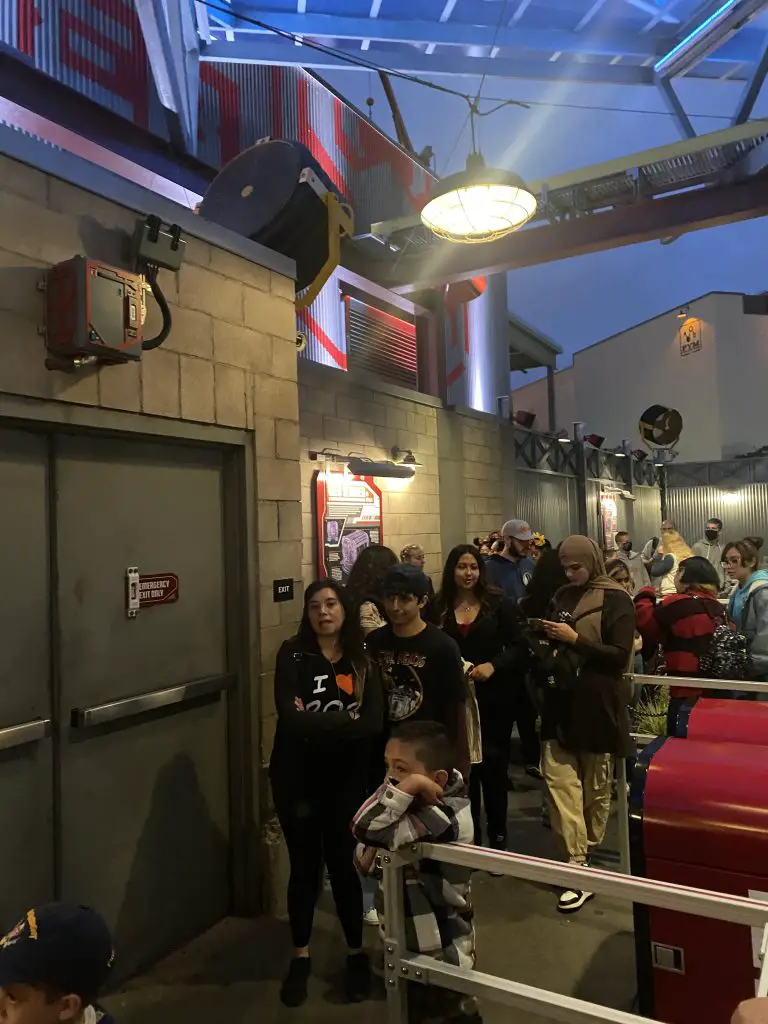 Rope Drop
If you are wiling to get to the park early to rope drop, Web Slingers can be a good option for this. Try to get there as early as you are able to before the park opens and head over to the rope drop for this ride.
In my experience, the ride doesn't always open right at rope drop, though, for various reasons – so just be aware that this isn't a fool-proof plan!
Head toward the door
This is my favorite secret. In the second room (so after you get into the building and go into the room with Peter Parker), move yourself as close as you can to the garage type-door that is on the wall. If you go into the room on the right, it will be on the left wall and if you go into the room on the left, it will be on the right wall.
This will ensure you are the first person into the line for the ride after the presentation is over. Most people don't seem to pay attention to where they are standing, and I just find my way over there. It easily saves you at least 10 minutes in line (maybe more!)
Monitor the line – not the app
This may not always be true – but the wait times are usually pretty inflated on the app and outside the ride.
For instance, we recently got in line when it said it was 75 minutes, and we waited for less than 30. We got right back on afterward, and it was probably a 10-minute wait, as opposed to the 45-minute wait it claimed.
When we first went on the ride, it said 90 minutes, and it was probably around 60 minutes.
You can get a pretty good idea of how long you'll be waiting depending on how long the line is. There are three different areas of the line – there is the main part, which is by the front door, the back area, and then the queue in front of that (and obviously that sometimes bleeds out into the park).
If you are in the main chunk, your wait will probably be like 10-20 minutes. The second area, 20-40 minutes, and the last area, maybe upwards of 60 minutes.
Go During World of Color
If you don't have your heart set on going to the World of Color, in the hour before it starts, you can usually find shorter lines, especially the closer it gets.
Watch for Shutdowns
This ride does shut down every now and then throughout the day, which is a bummer. However, it usually doesn't stay down for too long, so if you want to stick around that area, if you can get in line as soon as it starts to re-open, you can really save yourself a lot of time!
Single Rider Line
Hop in that Single Rider Line! We have had our cart only have three people in it a few times, which makes me think that there aren't a lot of people taking advantage of this line. You may not end up with a friend or family member, but if that doesn't bother you, this is going to be a great way to save time!
Lightning Pass
And of course, if your time is more valuable than your money when it comes to this ride, grab a lightning pass. This is going to send you to the front of the line pretty quickly!
Web-Slinger Hacks and Tips for a Higher Score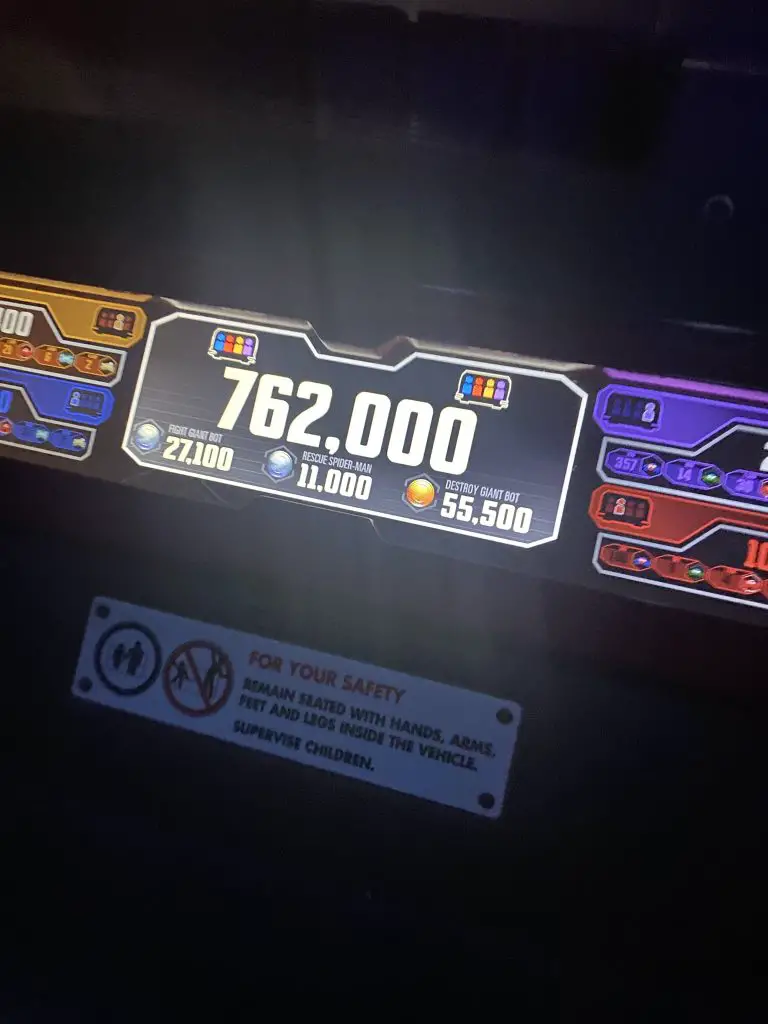 Now, this is probably what you've all been waiting for – tips for getting a higher score.
This ride really brings out the competitive nature in most of us (myself included) – and it's almost addictive to try and get a better score.
There is more strategy to the ride than just pointing aimlessly at the screen. It can take some practice, but with these tips, you'll be a pro in no time!
Hand Movements
It's pretty tempting to make long arm movements with your hands facing upward like you're actually shooting spider-webs. I hate to break it to you – but you aren't! So you don't have to do this.
Instead, I recommend doing smaller, quicker movements with your hands and with your palms facing down. I really believe this allows you to get more targets, more quickly – and you'll feel less fatigued!
Doors and Levers
There are doors and levers in each of the levels. You can shoot your spider-web at them to see what happens. Some of them will open and reveal nothing, but others will release some higher-value bots. Definitely try and open/release a few of these!
Bot-Type Matters!
I didn't realize this until the third time I went on the ride, but there are different colored Spider-Bots. And yes – they are worth different values of points.
Here are the different colors, in order of the most valuable (from least to most). There are definitely less of the higher-value ones, but they are worth trying to get!
Don't Think – Just Shoot!
This is really one of the keys – just go wild hitting every spider you can get. I try and get them as soon as they appear and sometimes will focus on clusters of spiders. But at the end of the day, I just move my arms as quickly as possible.
Upgrades
For the real diehards, you can buy some upgrades at the store right outside Web-Slingers. These give you power-ups to shoot electro-charged webs or repulsor blasts. The benefit of these are to help you hit more Spider-Bots at one time.
These are 100% not necessary to have fun and rack up a lot of points, but if you are just dying to get on the leader board, you may need to get one of these. Here are the different options:
Conclusion
Overall, we love Web-Slingers. The line length time can be a little annoying, but it is one of our favorite attractions at DCA these days. It's probably not for everyone, but I definitely recommend trying it at least once!
Do you have any tips that we missed? Be sure to let us know in the comments. We'd love to hear what your high score is!
More Articles You May Enjoy: