Galaxy's Edge Dining: Overview of Food and Drink
Whether it's Luke Skywalker's Bantha Milk or a drink served by Oga Garra herself, the food shown in Star Wars movies is nothing if not memorable. Here is a an overview of some of the dining you'll find in Galaxy's Edge.
Galaxy's Edge transports you to a whole new galaxy – and we aren't mad about it!
Besides all of the incredible details everywhere you look in Black Spire Outpost, there are dining experiences to match. The menus span from breakfast to dinner and there are no hold-ups to keep you from moving on and exploring more of the mysterious planet of Batuu. Here is a very brief overview of Star Wars: Galaxy's Edge dining.
Book your next magical family adventure through our friends at Get Away Today! They are truly the Disney experts and can make planning your trip a breeze for both Disneyland and Disney World. You can browse their website or call 1-855-GET-AWAY. Make sure you tell them Magical Family Travel Guide sent you or use the code MFTG for $10 off a Southern California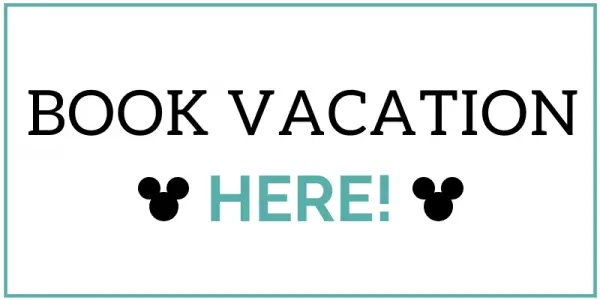 Ronto Roasters
The first food location you'll come across in Black Spire Outpost is Ronto Roasters a counter service restaurant where a droid roasts Ronto on a spit under a Pod Racer jet engine.
The primary food item here is the Ronto Wrap, which includes roasted pork, sausage, peppercorn sauce and slaw on a pita. There is also a breakfast wrap in the morning along with a cup of overnight oats. Ronto also serves jerky and non alcoholic teas.
Oga's Cantina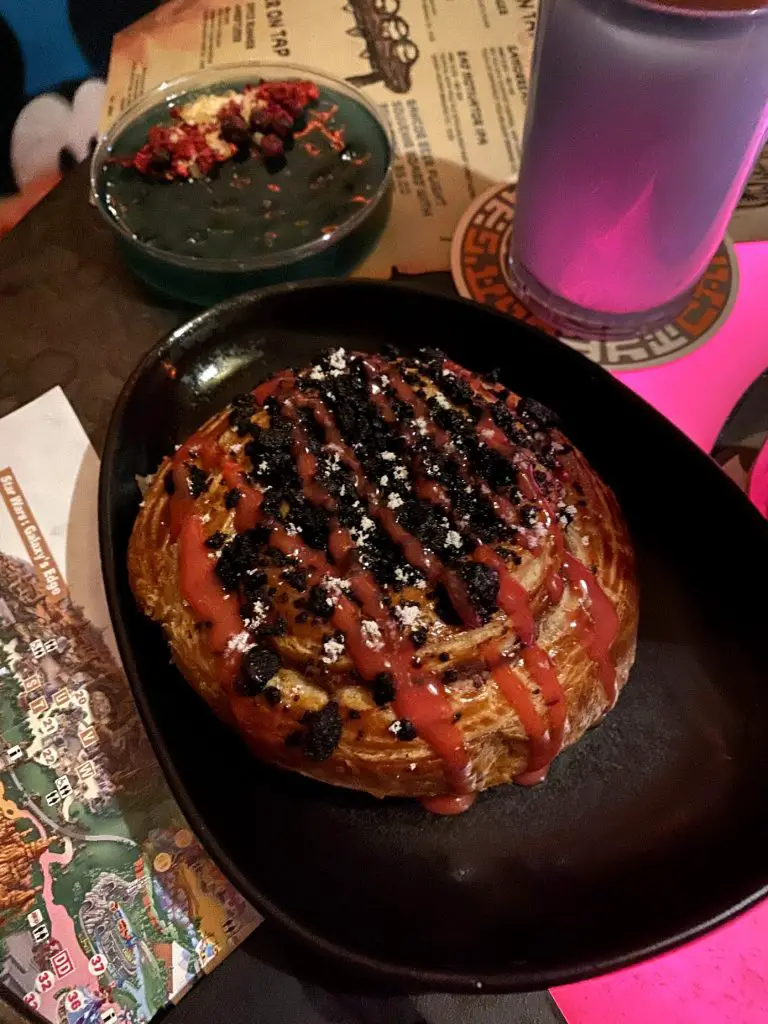 Arguably the biggest draw among the Galaxy's Edge dining experiences is Oga's Cantina. There is very little to munch on here, but there are tons of drinks. The specialty drinks include a wide variety of alcoholic and non alcoholic beverages. The Cantina is not equipped to handle large crowds and most of the tables only allow standing. However, there is a lot to look at in this venue and some pretty intricate storytelling in the environment. The bar drinks are pre mixed and come from a tap and thee menu includes four craft beers exclusive to Galaxy's Edge and two wines. There are also souvenir Porg and Endor cups, as well as a Rancor Tooth Flight Board for sampling the beer.
Docking Bay 7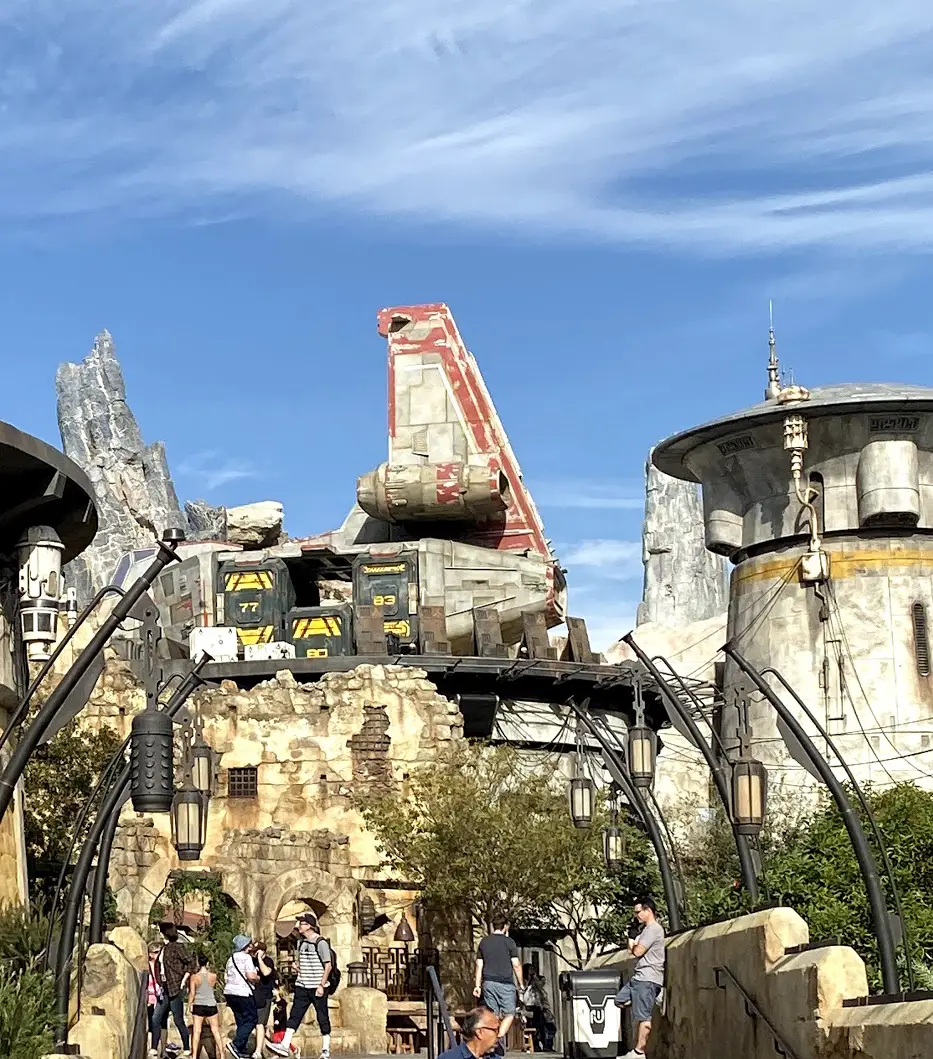 Heading the other direction, toward the Millennium Falcon, you will find the primary eating establishment Docking Bay 7. This quick service restaurant has a menu that changes with every meal time. They offer strange looking but familiar tasting plates that range from fried chicken to meatless meatloaf. One of the most popular dishes is the Braised Kaatu Rib which comes with an out of this world blueberry cornbread muffin. You can also get a breakfast platter that includes a baked egg sausages and a mini version of a sweet pastry roll that is filled with chocolate mousse and topped with cookie crumble and raspberry glaze.
Docking Bay 7 also serves an assortment of non alcoholic specialty beverages, and a kids menu with a mix of safe and adventurous entrees.
Kat Saka's Kettle
As you venture deeper into the Marketplace, you will find a kettle corn stall that serves Outpost Mix. This is a delicacy in Batuu and the sweet and spicy combination may take some getting used to. However, after a few bites, it will quickly become a favorite snack.
Milk Stand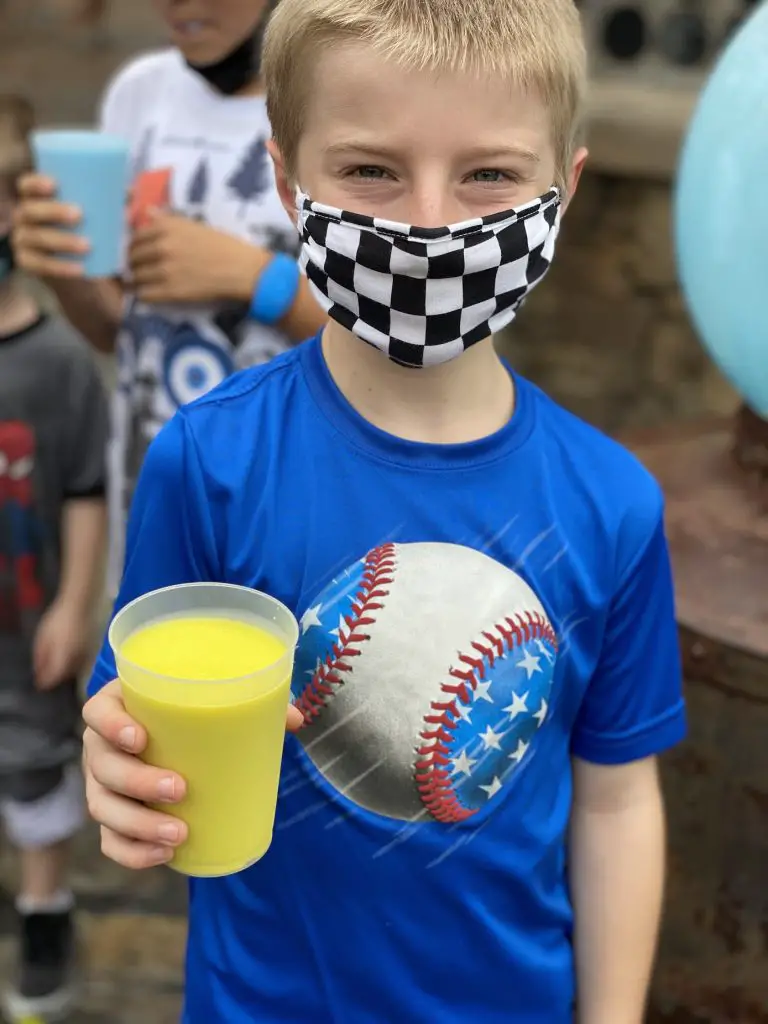 As you swing around Oga's cantina and head into First Order territory, you will find the Milk Stand where you can try a green, or blue plant based milky beverage. it's a refreshing way to finish off your Galaxy's Edge dining experience before you leave.