One Day in Washington DC with Kids
Are planning one day in Washington DC with kids? Get ready for a busy day! There is so much to do, but it's entirely possible to have a wonderful trip to Washington DC and just spend one day. Here's what our family did and ideas to make your trip even better!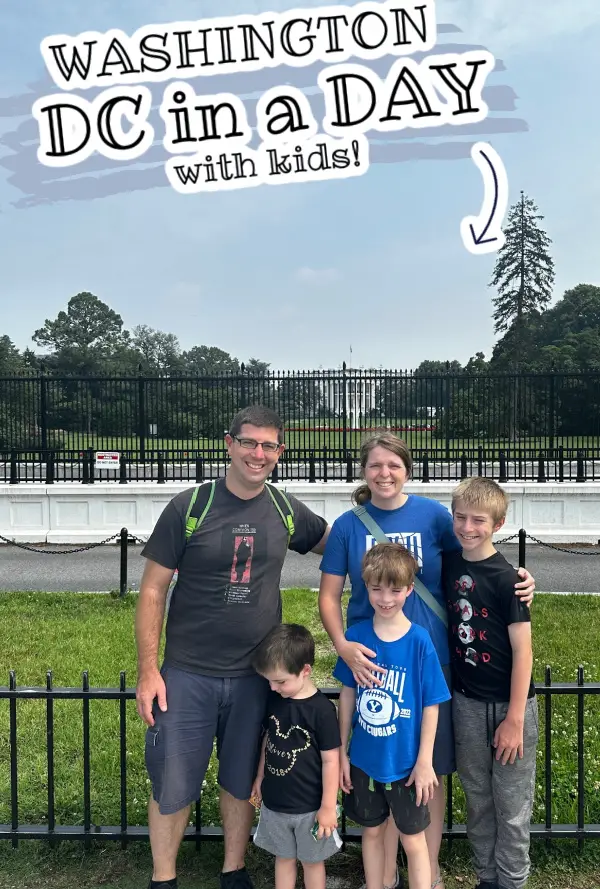 Our family recently went on a trip back East, and as part of that trip, we decided to head up to Washington DC. 
My husband has taken this trip a few times in his life, but it was the first time for me. Ignorantly, I assumed we'd just walk around, go to a museum, and eat some food. 
Thankfully, someone had suggested I book a tour through our Senator, which I had done. But beyond that, I hadn't planned a thing up until a few days before. 
Not the best approach. In those days leading up to the trip, I went into panic mode and started researching everything – and realizing it wasn't quite the "little day trip" I had imagined. 
We only had about a day and a half to spend in the DC area, and I wanted to make the most of it without getting everyone overwhelmed 
BIG PICTURE
If you are only going to be in Washington DC for one day, go into it with realistic expectations. You won't see everything – and you will be walking a lot. Our kids did awesome, and I don't remember any major complaints beyond feet/legs hurting (and some of those complaints were mine). I feel like we really got a broad overview of the DC experience, and I didn't feel disappointed at all with how things went. 
What to See in DC in One Day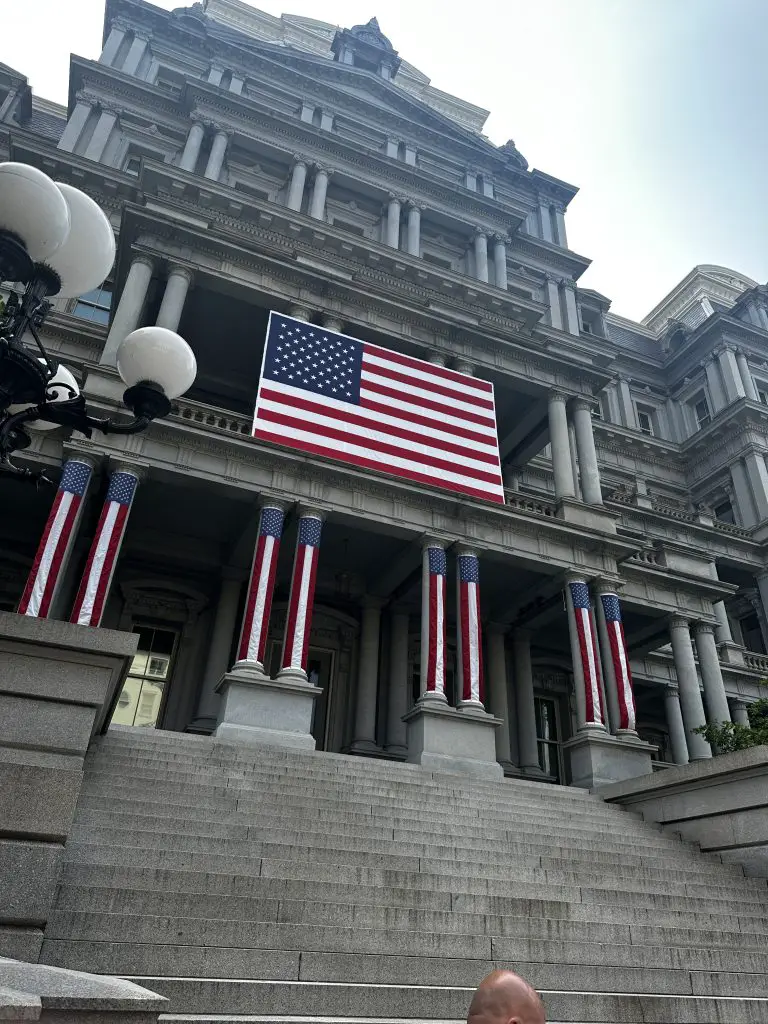 There are many ways you can do a day in DC with children – and it's really going to depend on what you want to see, the ages of your children, and even the weather. We went on a very humid day – and the air quality was horrible due to fires in Canada – which impacted some of our plans. 
I highly recommend looking through the different events and activities and figuring out what your family would enjoy the most. I would definitely stick to the main sights and museums rather than go off the beaten road.
Here is a recommended schedule based on our experience – and what I wish we had done!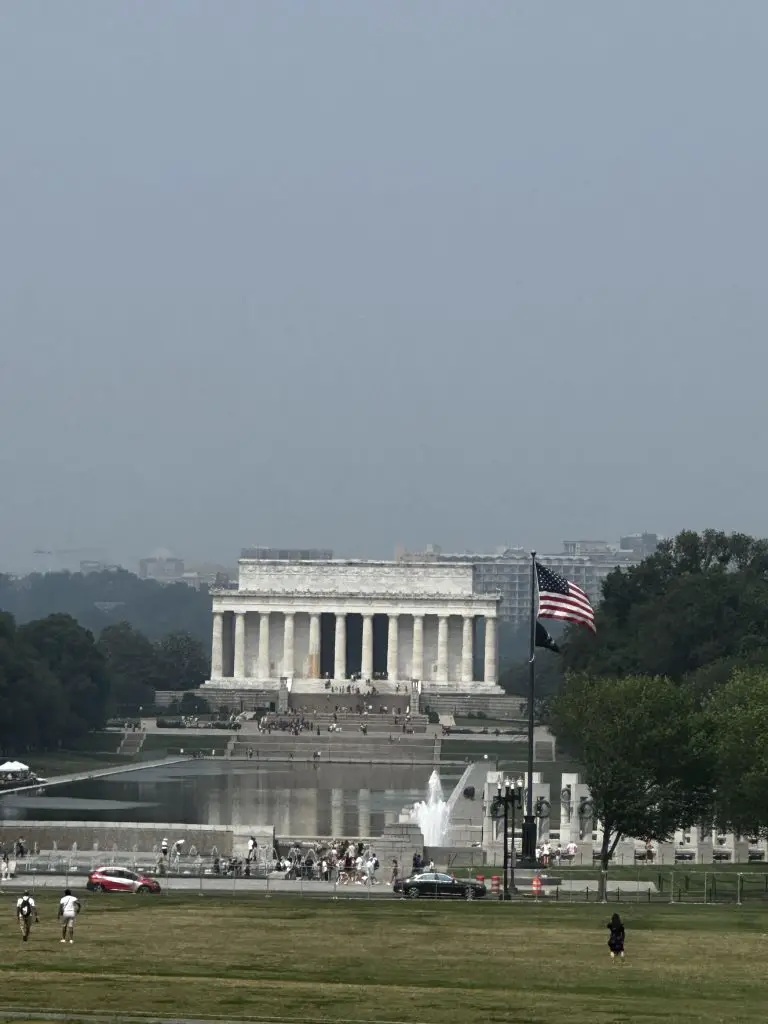 Start the day at the National Mall. It's usually cooler and there are fewer people the earlier that you are there. You can easily hit the major sights in 1-2 hours, such as: 
I'll talk more about food below, but you should plan on having a snack break and then going to get lunch somewhere after you've seen all of these places. 
After lunch, pick 2-3 museums/buildings to go to. If you really want to take the time to go through each exhibit and floor thoroughly, probably err on the side of fewer with two. If you just want to hit the "kid-friendly" parts of these museums, you could probably go to more than that. 
Keep in mind that if you decide to do a tour of the Capitol, the White House, or the FBI, you will need to adjust the plans a little bit. If you have one of these in the morning, you may want to switch the National Mall walking until the evening after the Smithsonian Museums close at 5:30. We were so exhausted by this point, and we had to get back to our family's house for dinner, but I think if we'd taken a break for dinner around 5:30, we would have had the energy we needed to go through those. 
Transportation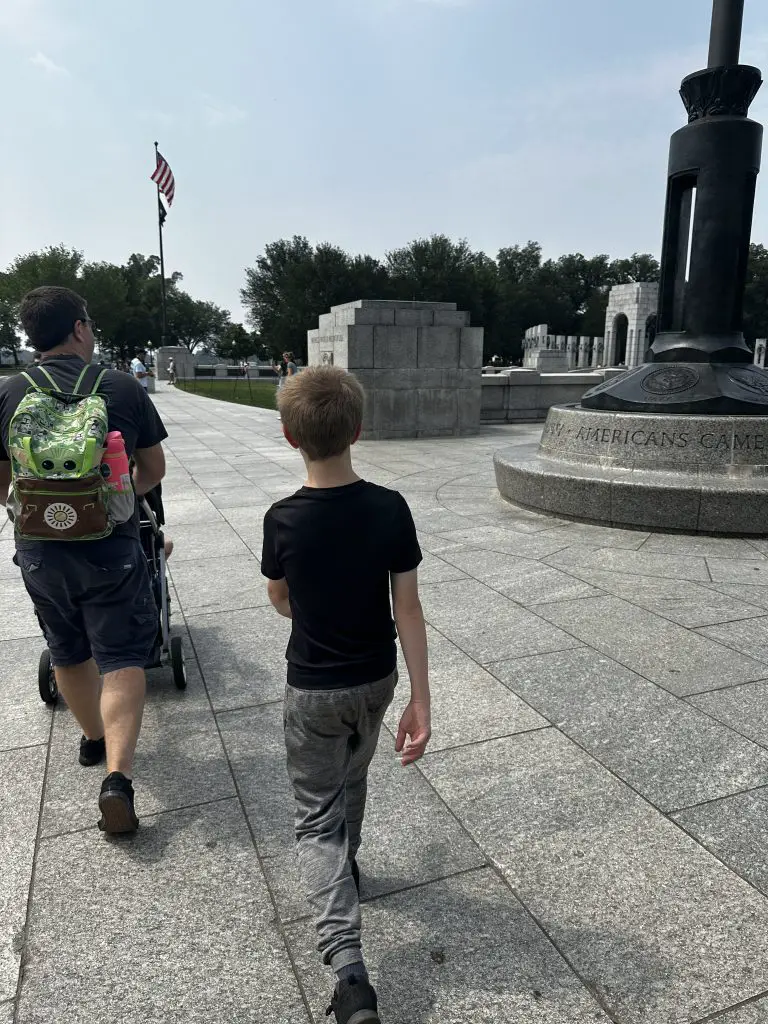 Let's talk about transportation. As I was researching this, I felt like I saw people say that the Metro was the way to go over and over again if you were staying outside the main DC area. 
A lot of people seem to think this is the easiest way to navigate the city, and perhaps that's true. But in the end, we decided to drive our car from my husband's aunt and uncle's house (who live about 50 minutes from DC). It was way cheaper than using the Metro, and I felt like it was just simpler with three young kiddos. 
We used the app, Spot Hero, to find parking really close to the place we started our day at – it was about $15 for the whole day, which was fantastic. We walked the rest of the day. 
The traffic getting into DC wasn't that bad (minus the giant truck that we almost hit), though when you actually get there, it can be pretty chaotic. However, we were still glad we drove instead of the Metro. 
However, if you choose to take the Metro, take some time to understand how it works, where the stops are, etc. to determine what kind of pass you can get. From what I understand, the day pass (which is around $15 per person) is really only worth it if you are going back and forth to the city a few times during the day. You can also pay per ride. Here is a good article on how it works. 
Feet Saving Tip: 
There is a lot of walking involved in DC, which can be exhausting. We have done Disney theme parks many times, and I don't think they compared to how I felt after that full day in DC. 
There is the DC Circulator, which costs $1 per ride (and if you do a transfer within two hours of that purchase, it is free). This goes along the National Mall, most of the Smithsonian Museums, as well as the Capitol. I actually didn't know about this until after our trip, and I wish I had been more aware. 
You can also rent bikes for a modest fee (one website I looked at had a day pass for $8 – and you can pick up and drop off bikes throughout the day). If you have teenagers, this would be a fun option, too. 
If you want to pay $40+ per person, you can also get a day pass for the DC Hop on, Hop off the trolley, which goes throughout the area. 
Museums/Attractions
I would recommend picking just a couple of museums/attractions you want to visit. We chose to concentrate our time to some of the more conveniently located museums, though if your kids really like animals, I've heard the zoo is a lot of fun. 
It would be a good idea to look at the different options to find out: 
Here are all the Smithsonian Museums available:
There are obviously tons of other museums and attractions as well. I highly recommend the National Archives, and if you are a book lover, The Library of Congress is supposed to be cool. I've also heard they have the best gift shop!
It's not free, but I've heard the International Spy Museum is really neat.
Tours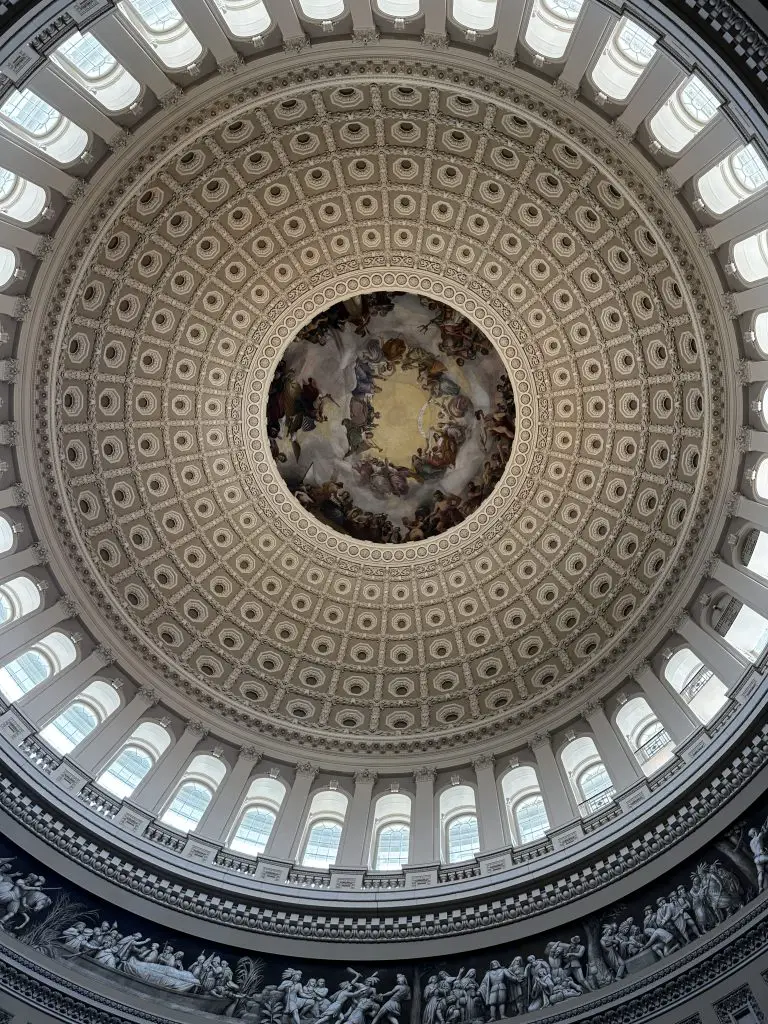 There are many tours that you can pay for in DC, and honestly, if you have young children – it's probably not the best use of your money. 
With that said, you are able to arrange a tour through your Senator (or Embassy, if you aren't in the United States) at the Capitol, FBI, or White House. 
We reached out just a few weeks before and were only able to get the Capitol tour – but I think one tour was enough. It was in the middle of the day and not super convenient with our other plans, but it made it work. If you can get it scheduled at the beginning or end of the day, I think that would work best. 
For the White House and FBI tours, are scheduled months in advance, so make sure you reach out to your Senator early. 
You can also get free tickets for the Washington Monument tours. They have tickets available 30 days before (I believe), and then they have tickets available at 10 AM the day before online and 8:30 at the actual monument. We tried to get tickets online, but they were gone within seconds. 
Food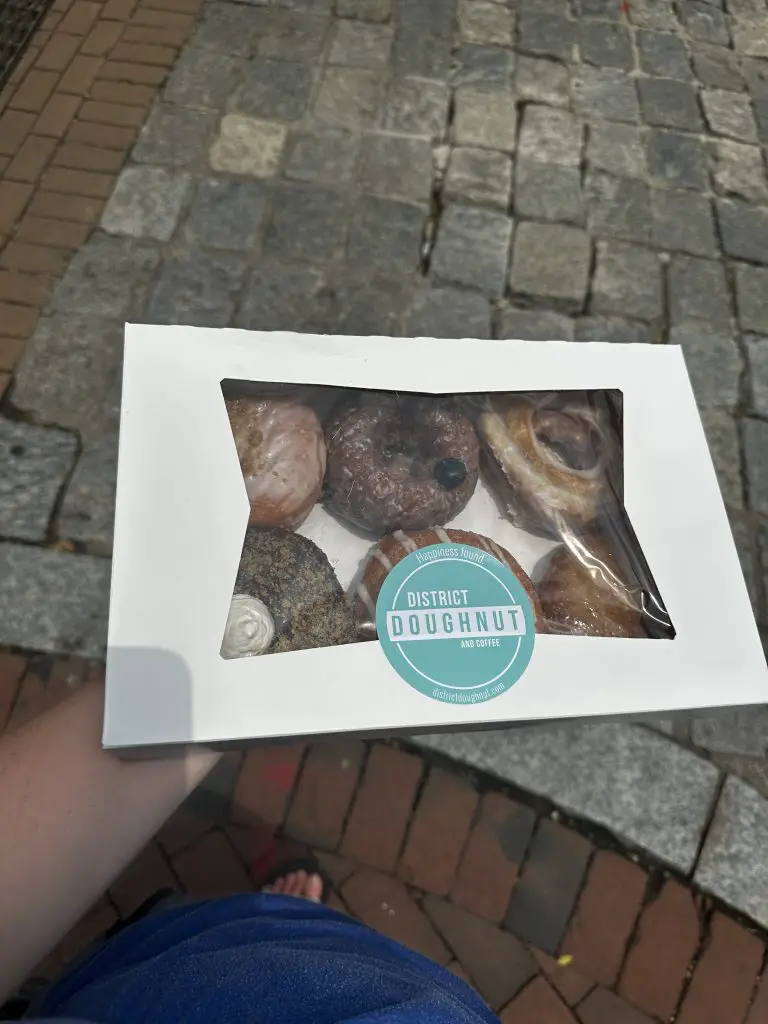 I'm sure there are tons of articles out there about the best food in DC – but I found this too overwhelming to try and care much about when we weren't spending much time there. 
There are cafeterias in the Smithsonian museums and the Capitol. There are more "traditional" cafeteria options (such as pizza, hamburgers, etc) and then each place has a different menu of more interesting foods. We were starving at the end of our Capitol tour, so we just ate lunch there. It was expensive for what you got – but the pizza was probably one of the better deals. You could get a giant piece of pizza (really, it was two) and a Caesar side salad for $8 or $9.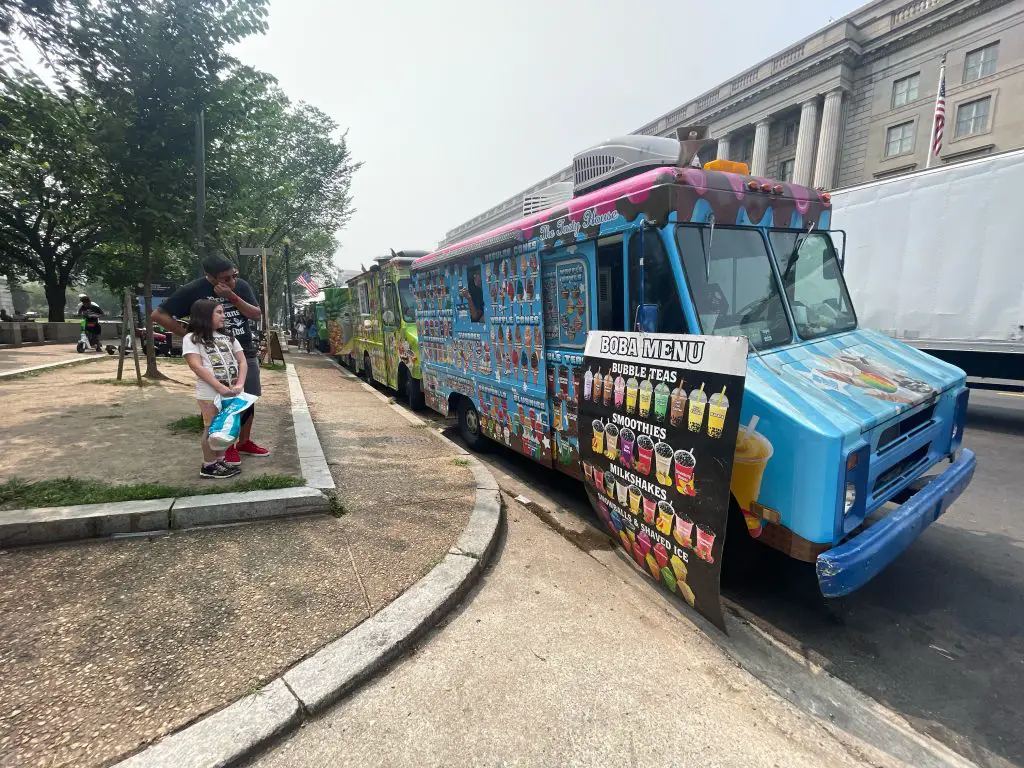 There are TONS of food trucks that line the streets of Washington DC. I had heard about this, but I didn't really comprehend them. There are literally hundreds available – and honestly, most of them sell the exact same thing. I suspect prices may vary depending on which one you go to, but we didn't test out this theory. 
The food trucks are convenient, though, and there were plenty of place to stop and eat. There are tons of ice cream/slushee trucks if you want a cool treat, but for "real" food, there are hamburgers, hot dogs, tacos, and much more. 
You can also just bring along snacks and meals you make beforehand, such as sandwiches! Just keep in mind that if you are going on the Capitol or White House tours, you cannot bring any food with you. 
I will say – we did venture over to the District Doughnuts location in Georgetown. They were absolutely DELICIOUS. Highly recommend it – especially the creme brûlée one! 
Souvenirs
The highlight of any vacation for at least one of my kids is getting a souvenir. I realized too late that all the different museum gift shops were pretty different (and I wasn't overly impressed with what they had at the American History one). My husband's aunt said that she felt like the best gift shop was the Library of Congress one. 
With that said, we ended up just going to one of the street gift shops. They all sell pretty much the same things, but they are pretty cheap (in price and quality!) but our kids quickly found just what they were looking for. Unless your kids really want to get something specific in one of the nicer gift shops, I highly recommend stopping at one of these. There are tons – I did find the prices could vary (my son got a statue of the Lincoln Memorial for $15, and another place had the exact same one for $10). They were all happy and so was I! 
Tips with Children 
This could be a whole other post, but here are a tips for making an action-packed day-trip a little more enjoyable: 
—Plan to stop; there are lot of grassy areas where you can stop and relax. Even just finding a park bench can help break up the day.
—Bring plenty of water and stay hydrated
—The same goes for snacks! 
—We had a double stroller (one of those sit-and-stand ones), which was a lifesaver. Our three-year-old rode in it most of the time, but it was also helpful for our seven-year-old to be able to sit down. Our eleven-year-old even took a short turn (he was very resilient for most of the trip!) 
—Bring hats and maybe a misting bottle if it's going to be hot
—Make sure everyone has quality shoes
—Research the best attractions for families and children in the area. 
—Be enthusiastic!
—Prepare your kids with videos pertaining to US history and/or Washington DC. Our kids loved watching National Treasure on the way up, and we also had them watch a few animated films from the "Living Scriptures" app. You can also get some great books – we just ordered The Tuttle Twins history books, and I think those – and maybe a few of their other books – would be great. Very engaging books. 
—Let your child take pictures! My kids love doing this, and I think it's a great way to help them find their own memories. You could bring a disposable camera or a small digital camera. We have a family phone that is mainly just use for texting and calling, but we let our eleven-year-old take that around. He really loved taking all those photos. 
What we did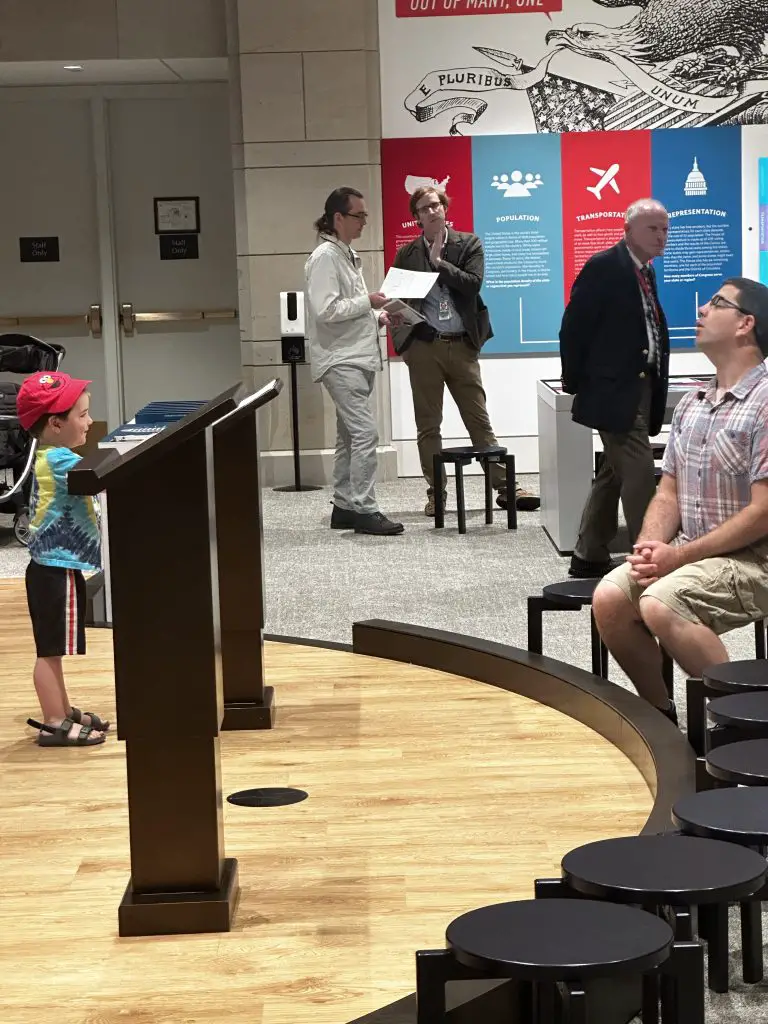 Here is just a brief overview of everything we did: 
—We went on a private Capitol tour – we also spent some time in the Capitol. They have some different exhibits, such as (include that democracy one), which our kids really liked t. We also got 2-year tickets to go into the Senate room. It wasn't in session, but it was pretty cool to go sit in there. 
—We ate at the Capitol cafeteria
—We went to the following museums: 
    —Air and Space (I wish we had spent more time here)
    —The National Archives – highly recommend. I really enjoyed it – you can see the original Declaration of Independence, Bill of Rights, and Constitution, 
    —The American History Museum
—We walked by the White House and took a picture – the walkway that was a little closer was closed
—We walked up to the Washington Monument. No tours were available but the kids thought it was cool to see up front. We had them touch it for a more "tactile " experience. 
—After that we went over to the World War II memorial. This was really one of my favorite places. It was so peaceful and a great place for reflecting on the sacrifices that were made during that war. Our kids really liked being able to take off their shoes and put them in the Rainbow Pool. 
—Then we made our way over to the Lincoln Memorial and spent some time in the Korean War memorial. We went to the Lincoln Memorial, which we all loved, and then spent some time in the Vietnam War Memorial. Forrest has a relative that was killed in that war, so we looked up his name and was able to find it on the wall. That was cool. I really liked doing things that made the trip more personal for the kids. 
There are clearly TONS of other things you can do and see. I've never done them, so I can't provide recommendations on those – but don't be like me and make sure you research all of this well before your trip! I definitely recommend planning for interruptions to those plans, though – for instance, we couldn't go to the reflection pool because it was blocked off for a Fourth of July fireworks celebration and all the walkways near the Supreme Court building were blocked off due to some big decisions that were made the day we were there that brought out protestors. 
Can you do DC in a day? 
Yes! You can absolutely have an enjoyable trip to Washington DC in a day. You need to manage your expectations and recognize you won't be able to do everything, you'll be tired at the end and your feet will probably hurt, but it's definitely possible to see and do a lot!
I'd love to hear if you've done DC with kids in a day and what advice you might have in the comments! If you have any questions, leave a comment as well – I'd love to help you plan your upcoming trip! 
More Articles You May Enjoy: